10 Cities Near Philadelphia To Live in 2021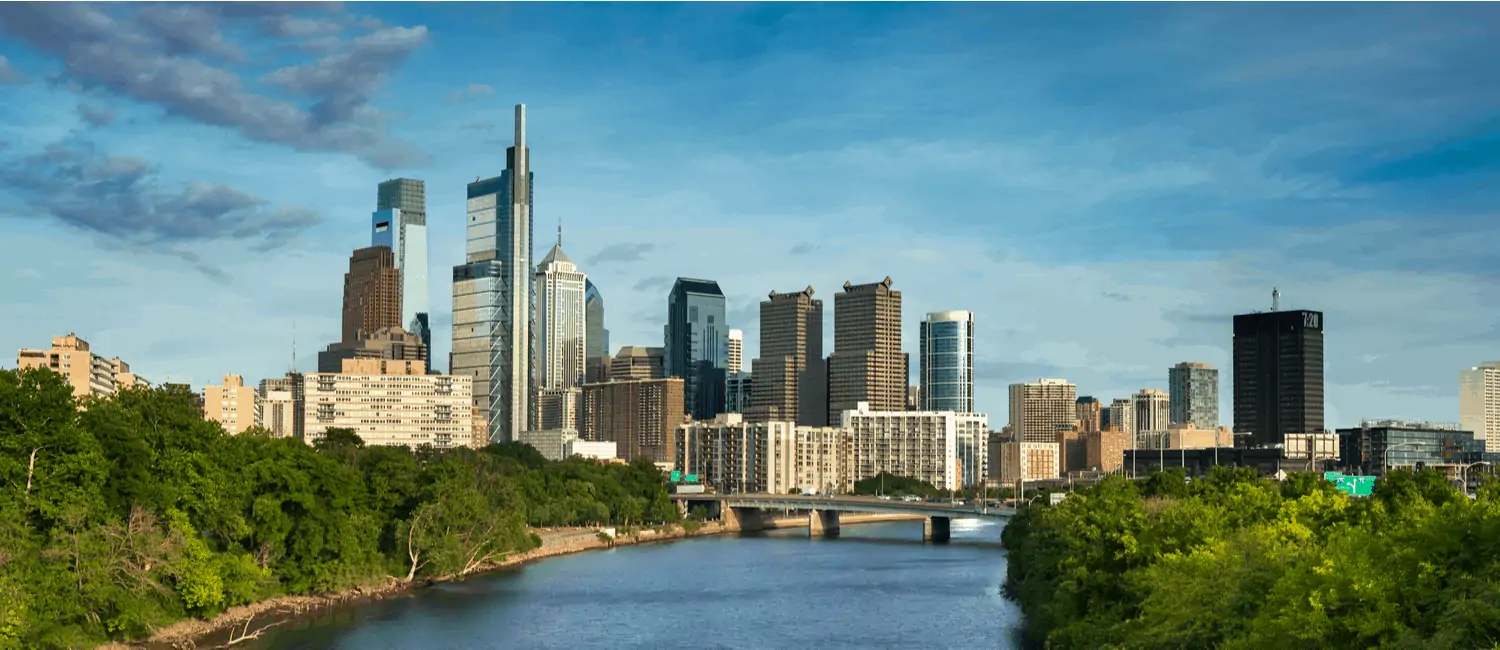 The brilliant city of Philadelphia is a wonderful place to work and play. But city living isn't the life for everyone.
Fortunately, the region – known as the Delaware Valley — has a slew of options for incredible boroughs, towns and cities near Philadelphia in which to live. These spots offer a wide range of entertainment, dining, nightlife, recreation and comfortable apartments.
Of all the incredible places to live within easy commuting distance of Philadelphia, it's hard to narrow down to a top 10. But we are sure you'll find these 10 cities near Philadelphia — all within five to 25 miles of Center City and listed by distance from the city — perfect places to call home.
Haddon Township, NJ
Ardmore, PA
Conshohocken, PA
Hatboro, PA
King of Prussia, PA
Langhorne, PA
Phoenixville, PA
West Chester, PA
Wilmington, DE
Doylestown, PA
Distance from downtown: 7.0 miles
One-bedroom average rent: $1,530 (down 3.38 percent since last year)
Two-bedroom average rent: $1,713 (down 13.88 percent since last year)
In New Jersey, townships are full-fledged municipalities, and Haddon Township is one of the region's best cities near Philadelphia. Just 10 or so minutes from the Ben Franklin Bridge to Center City Philadelphia, the township offers both the quiet of a suburb and a main street that rivals any in the state for drinking and dining options.
Bustling Haddon Avenue in the downtown Westmont section is a mile-long stretch featuring some bakeries, cheesesteak joints, pasta shops, pizza places, taquerias, bars and taverns. Farther out, chain dining and big box stores line White and Black Horse pikes.
Haddon also offers plenty of green space, from Cooper River Park in the north along the lake to Newton Lake Park and Saddler's Woods on the south.
Public transportation into Philly is a snap with Westmont Station a direct link via PATCO with park-and-ride facilities.
Find apartments for rent in Haddon Township
Buy a house in Haddon Township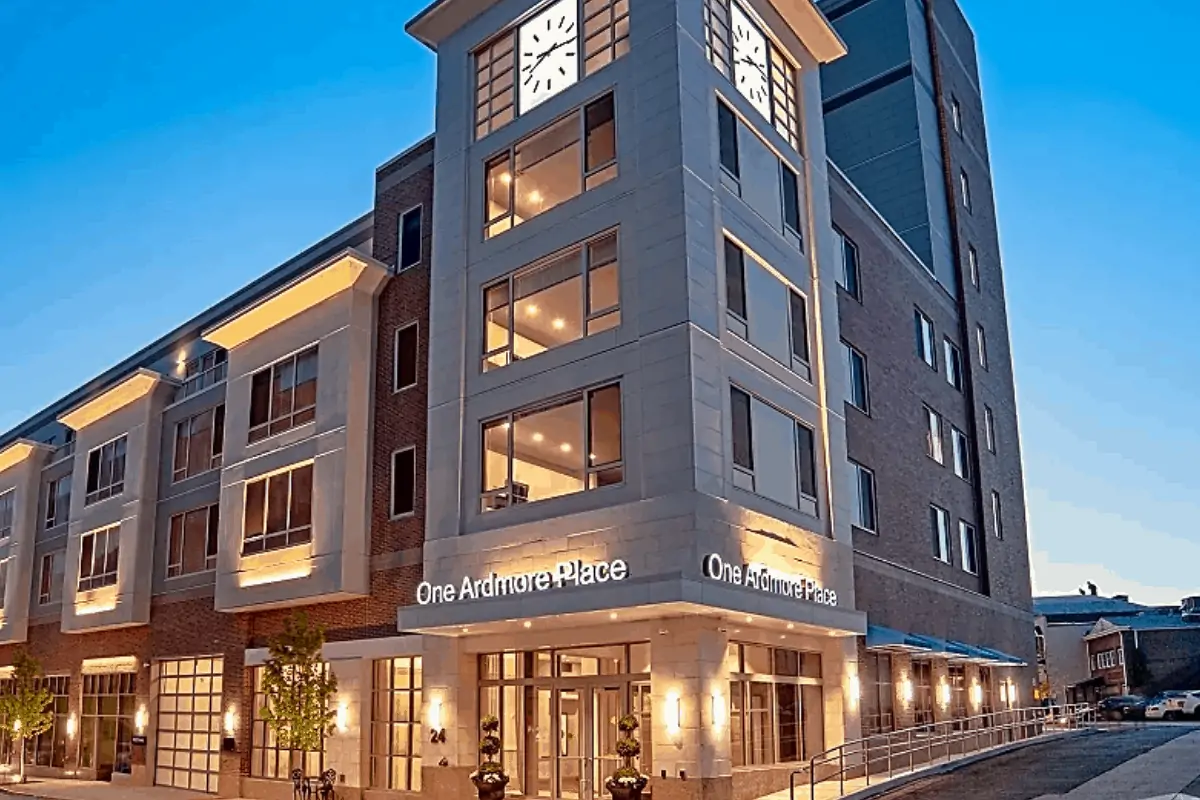 Photo source: Apartment Guide / One Ardmore Place
Distance from downtown: 7.7 miles
One-bedroom average rent: $1,357 (down 61.90 percent since last year)
Two-bedroom average rent: $2,552 (down 35.50 percent since last year)
Among swanky locales like Bryn Mawr, Villanova and Gladwyne, Ardmore is the iconic Philadelphia Main Line's most accessible city to everyday folk.
Ardmore's median income comes in at a tenth that of some of the region's richest communities and is a much cheaper home value. But Ardmore is also less insular. The city is a destination for visitors and day-trippers from across the Delaware Valley.
Ardmore splits down the middle between Montgomery and Delaware Counties and Haverford and Lower Merion Townships. Its backbone is busy Lancaster Avenue that offers retail shopping, trendy restaurants and the 500-capacity Ardmore Music Hall, one of the area's top concert clubs.
While other Main Line towns shun outsiders, the hum of Lancaster Avenue feels welcoming to all.
And on the north end of town is one of the region's best spots for retail therapy or even just window shopping. Suburban Square is a six-square-block upscale outdoor shopping plaza. Dating back to the 1920s, the square is one of the nation's oldest planned shopping centers.
Find apartments for rent in Ardmore
Buy a house in Ardmore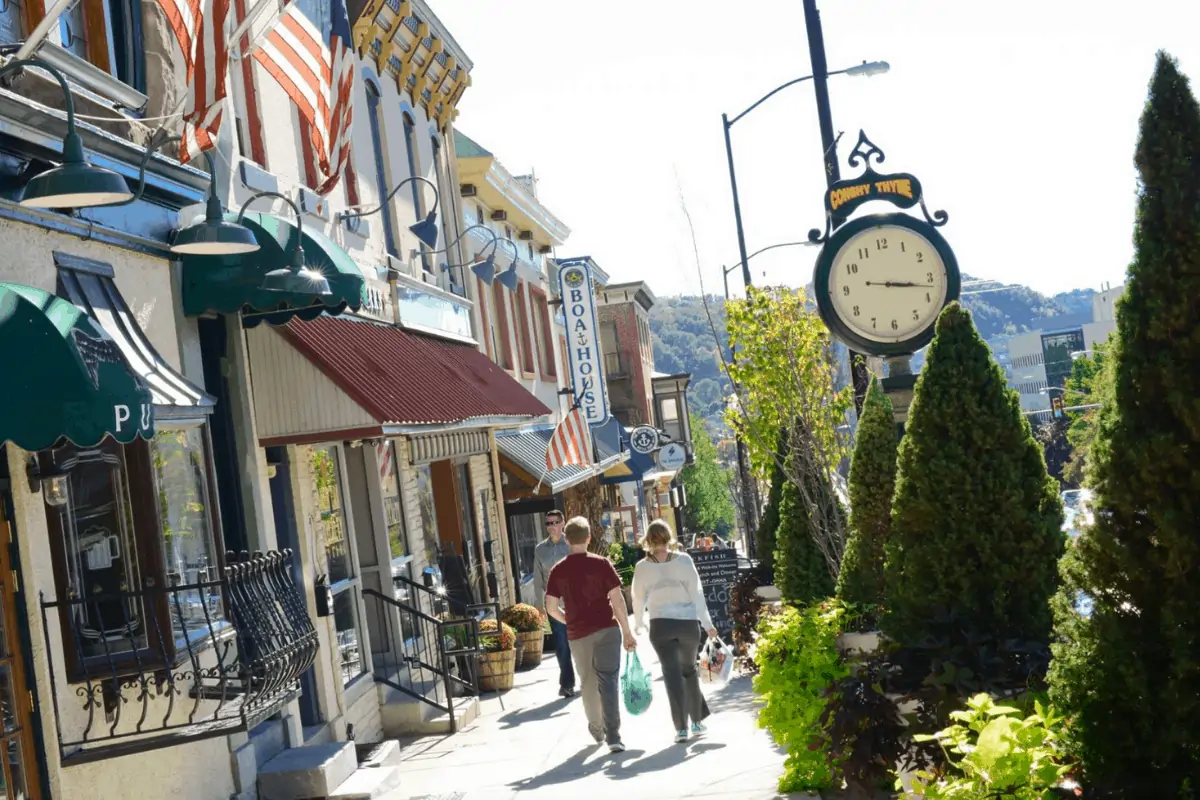 Distance from downtown: 12.6 miles
One-bedroom average rent: $1,705 (down 7.82 percent since last year)
Two-bedroom average rent: $2,265 (up 7.69 percent since last year)
Throughout its history, Conshohocken has always held an important geographic location. Sitting at one of the largest bends of the Schuylkill River, the land was originally a large milling region along rail and shipping lines.
As interstates went up, the region morphed into a factory industrial center. As manufacturing declined, it was those same highways that turned "Conshy" into one of the most desirable suburban-chic and cosmopolitan residential commuter communities in the city.
Conshohocken lies between the I-476 Blue Route and I-76 Schuylkill Expressway at the "Conshohocken Curve." As industry left, easy access to the region's two major highways transformed it into a hub for upper-middle-class commuters into the city, especially as apartment complexes and mid-priced high-rise rental towers rose.
And as the population increased, so did the enclave which features shopping and dining spots and many glittering hotels.
The shoreline also features a section of the running and biking Schuylkill River Trail path.
Nearby, Conshohocken's Fayette Street main street is popular among its young professional population, with a median age of 32 with 63 percent single. The downtown strip offers a selection of quaint boutiques, eateries and cafes, as well as a variety of notable bars.
Find apartments for rent in Conshohocken
Buy a house in Conshohocken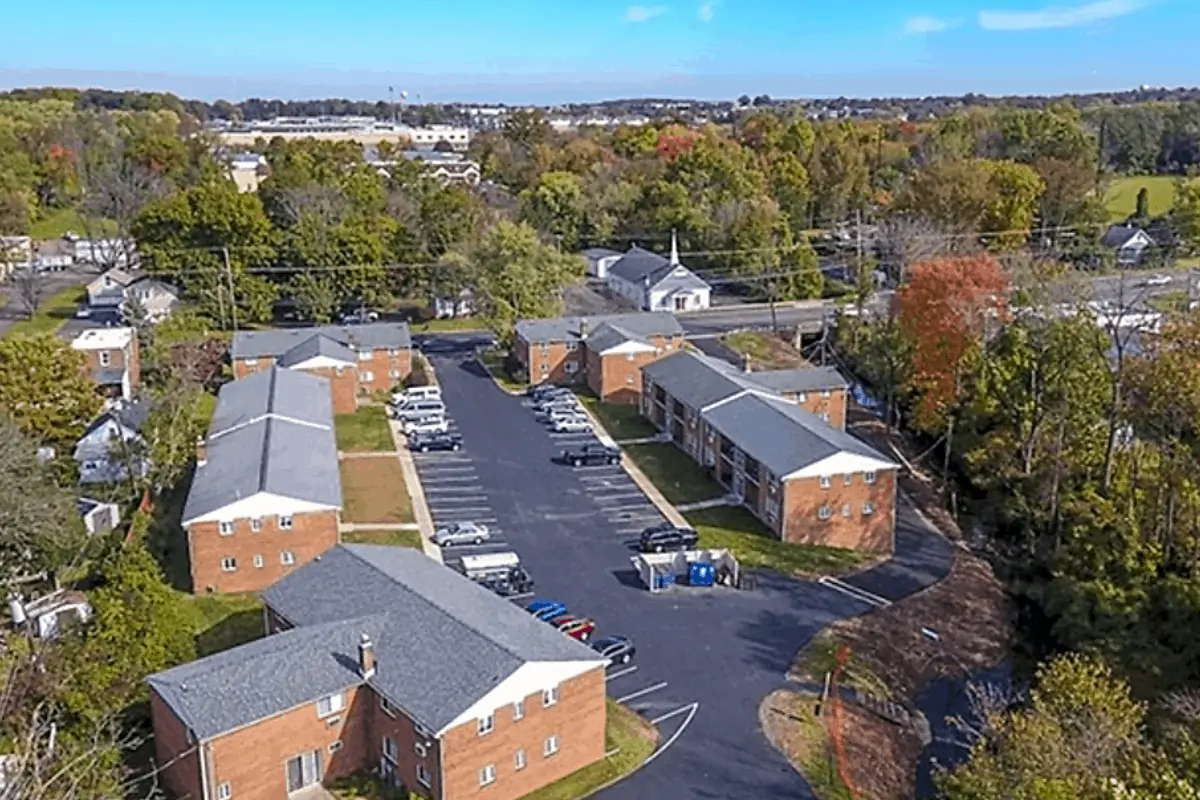 Photo source: Apartment Guide / Livingstone Apartments
Distance from downtown: 15.9 miles
One-bedroom average rent: N/A
Two-bedroom average rent: $1,695 (up 9.18 percent since last year)
Eastern Montgomery County has just a few towns with true main streets, but one of the best of the bunch is Hatboro. The borough sits along the Bucks County border, a suburban town settled among some residential communities.
Hatboro is known for its plethora of parks and green spaces, including the popular Hatboro Memorial Park and Memorial Pool. But its growing notoriety as a suburban craft beer lovers' destination that is gaining prominence.
In the heart of the Craft Beer Trail of Greater Philadelphia, Hatboro offers Crooked Eye Brewery and Artifact Brewing, both opened within the last several years.
The breweries sit along York Road, Hatboro's main street. The corridor also offers many bars and gastropubs, vintage clothing stores, hoagie shops and produce grocers, cafés and popular bakeries and Daddypops diner, a favorite of Food Network's Guy Fieri.
The borough is also convenient for commuters, with Hatboro station along the Warminster Line to Center City just off York Road.
Find apartments for rent in Hatboro
Buy a house in Hatboro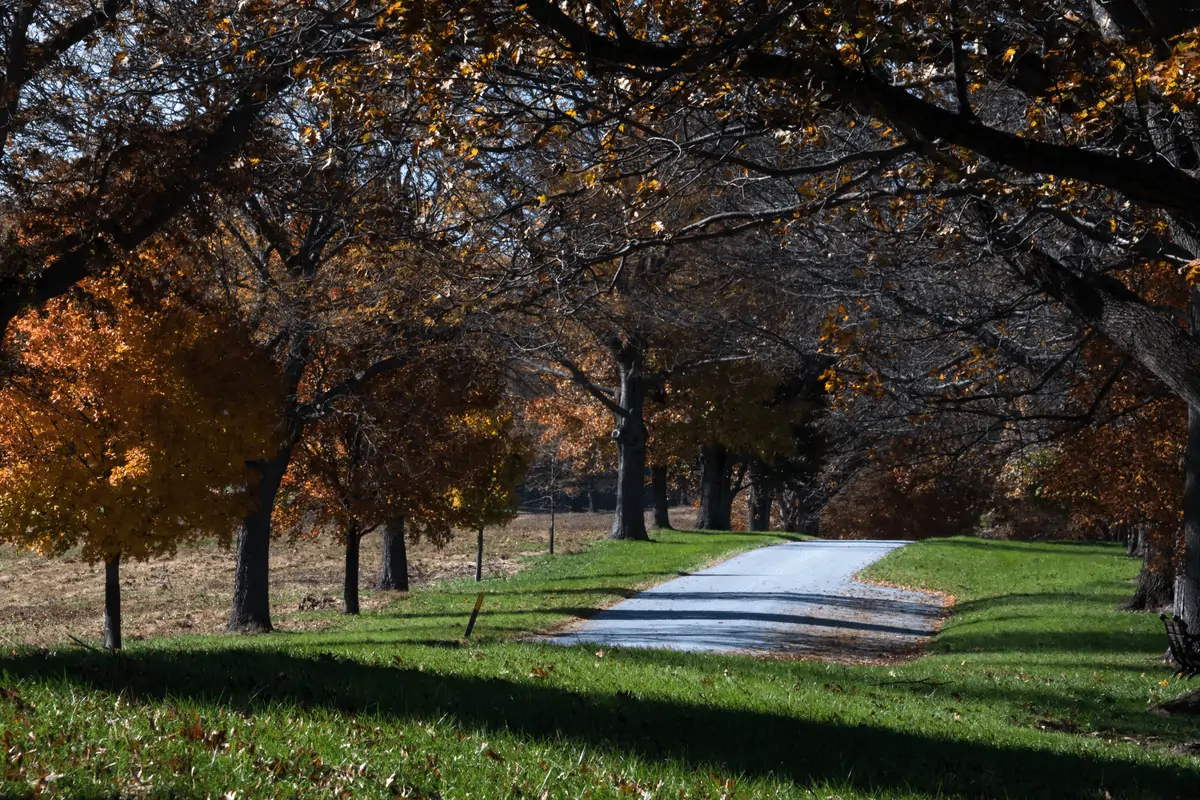 Distance from downtown: 16.9 miles
One-bedroom average rent: $2,204 (up 5.44 percent since last year)
Two-bedroom average rent: $2,544 (up 0.81 percent since last year)
To speak like a true Philadelphian, pronounce the name of the city of King of Prussia the proper way, "Kingaprusha."
If you're familiar with the western Montgomery County city, it's most likely for one thing: its megamall. The King of Prussia mall is massive, at 2.8 million square feet and 450 stores. It's the third-largest mall in the nation behind only the Mall of America and the new American Dream in New Jersey.
This central town nestles right along the Schuylkill River — between four major thoroughfares: the Pennsylvania Turnpike, I-76 Schuylkill Expressway, and U.S. Routes 202 and 422. Sitting between renowned Valley Forge Historical Park and county seat Norristown, King of Prussia is both a popular commuter city and an important edge city in its own right.
One key location in KOP is the King of Prussia Town Center. Opened in 2016, the large planned lifestyle development has become a hub of residential activity in town. Acting as the city's downtown, Town Center offers a bevy of apartments and townhouses at Village at Valley Forge with mixed-use and office space, upscale department stores and a Wegman's grocery, retail shops and several new restaurants and bars.
Nearby are several office parks, Upper Merion High School and the Valley Forge Casino Resort.
The area is growing so quickly, local transportation authority SEPTA is developing a $2 billion regional rail line to directly connect King of Prussia with University City and Center City Philly.
Find apartments for rent in King of Prussia
Buy a house in King of Prussia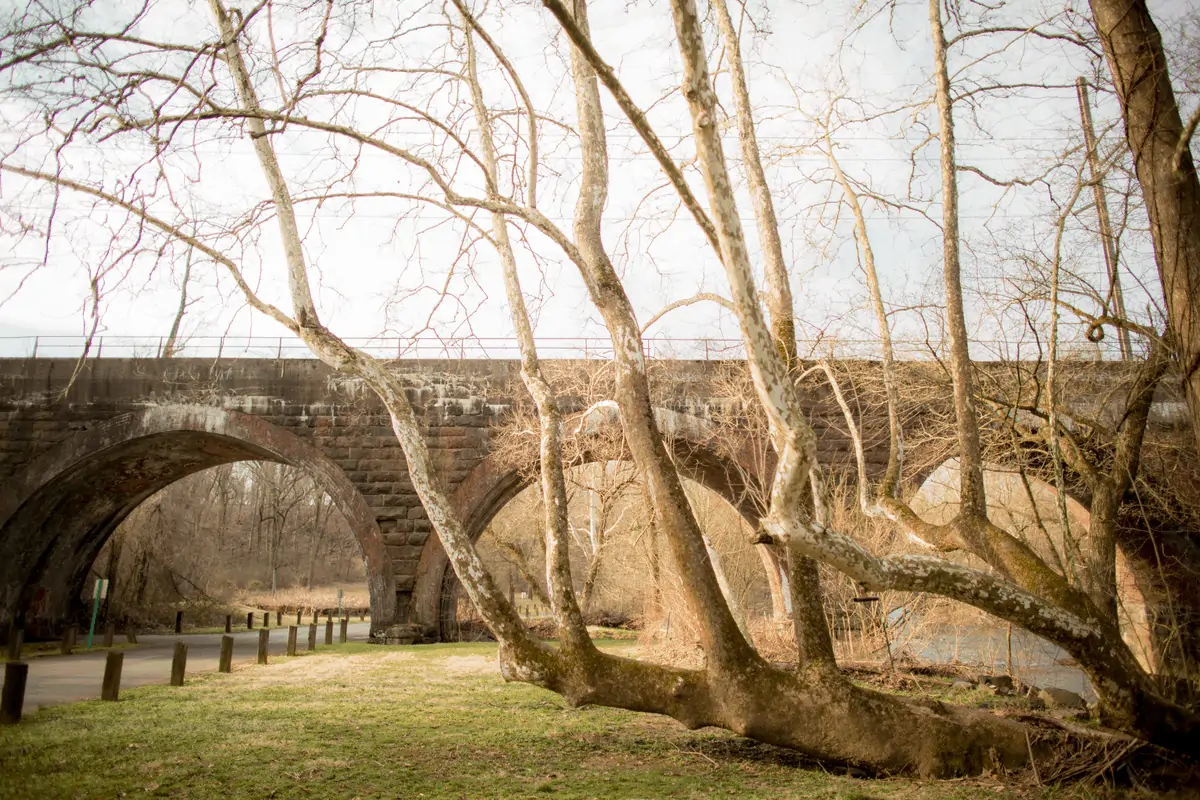 Distance from downtown: 22.0 miles
One-bedroom average rent: $1,413 (down 1.55 percent since last year)
Two-bedroom average rent: $1,691 (up 6.72 percent since last year)
One thing you can have living in the suburbs that you usually don't in the middle of a city is an amusement park down the street. That's one of the features of living in the borough of Langhorne and adjoining Middletown Township. Here you'll find Sesame Place, the Sea World-owned young children's Sesame Street theme park.
Langhorne borough proper and surrounding Middletown Township are collectively referred to as Langhorne.
The area is an important business and shopping center along Neshaminy Creek in charming Bucks County. Along with numerous national chains and big box stores, a myriad of service centers, retail shops and old-school restaurants line Pine Street and Maple Avenue.
In addition, the borough features a quaint historic district dating back to the 19th century. Sitting just off the I-295 beltway, Langhorne is a popular bedroom community for commuters to Trenton as well as Philadelphia.
The expansive Middletown Country Club splits the borough, with the multistory Oxford Valley Mall out in the Township. And surrounding Lake Luxembourg is the expansive 1,200-acre Core Creek Park. The region offers a variety of housing options, from affordable apartments to large suburban mansions.
Several locations still offer 1950s style tract housing leftover from the expansion of the nearby Levittown planned community.
Find apartments for rent in Langhorne
Buy a house in Langhorne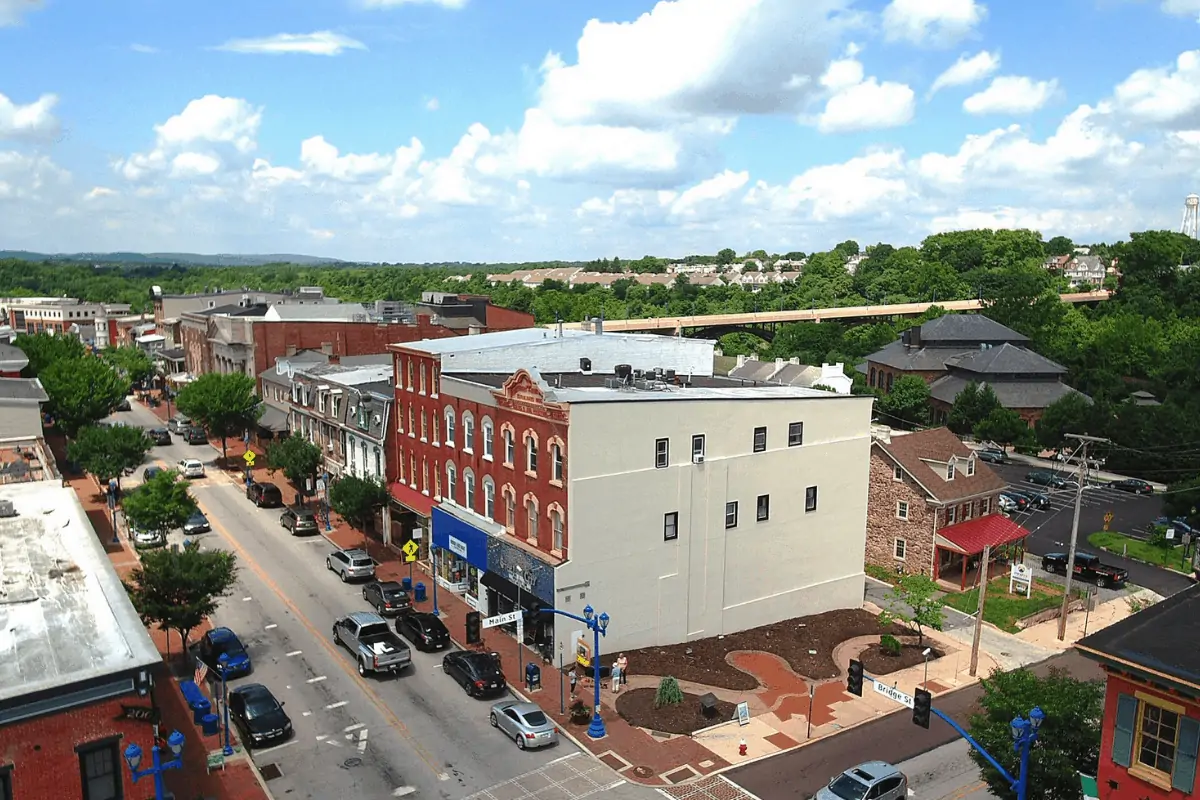 Distance from downtown: 23.9 miles
One-bedroom average rent: $1,229 (down 14.82 percent since last year)
Two-bedroom average rent: $1,426 (down 12.71 percent since last year)
In 1958, a large gelatinous alien creature was let loose and devoured dozens of residents of Phoenixville, Pennsylvania. That of course only happened on screen, in the Steve McQueen horror classic "The Blob," which filmed and took place in the Chester County suburb.
The movie features a famous scene where terrified residents flee the alien out the Colonial Theater's doors. That real-life theater is the centerpiece of Phoenixville's Bridge Street main street as well as the annual Blobfest which celebrates the landmark film.
But as important as the film is, younger residents will tell you it's the craft beer scene that makes Phoenixville special. After languishing for years as a rundown mill town, a revitalization plan included a call for brewers to set up shop. Today the city of just 17,000 offers 10 craft breweries.
On Bridge Street alone are four breweries, along with a tap house, a distillery and three winery tasting rooms. That collection gives downtown Phoenixville the distinction of having the most breweries per square foot of any place in the nation.
For residents, Phoenixville is more than just beer and blobs. Its absolutely teeming downtown along Bridge Street has boomed with pizzerias and bistros, coffee and smoke shops and boutiques and galleries.
Phoenixville Area High School offers a high ranking and a 15:1 student-teacher ratio. And many parks and green spaces dot the region, including the large Black Rock Sanctuary wildlife refuge along the Schuylkill River bend that also features Basin Trail for hiking and biking. The Schuylkill River Trail also crosses the borough, along French Creek.
Find apartments for rent in Phoenixville
Buy a house in Phoenixville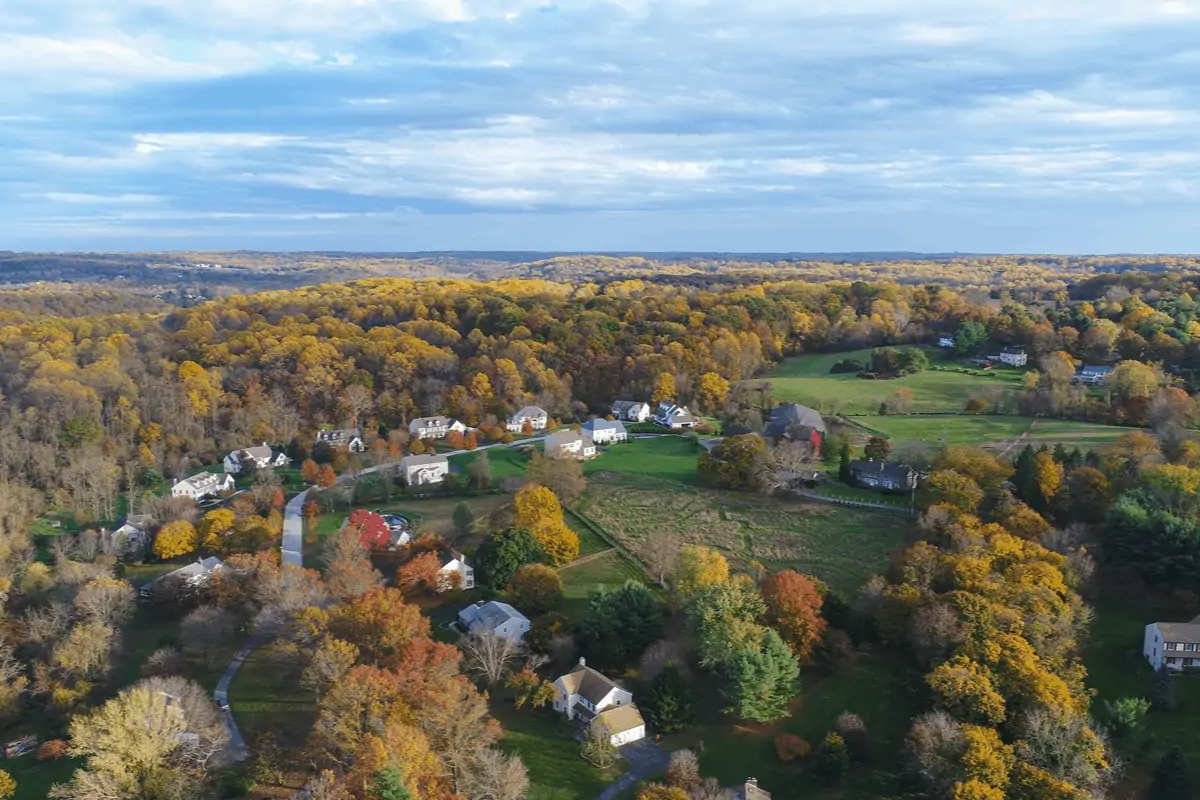 Distance from downtown: 25.0 miles
One-bedroom average rent: $1,631 (down 1.23 percent since last year)
Two-bedroom average rent: $2,095 (up 7.54 percent since last year)
A little under 25 miles from Center City, West Chester is a more affordable alternative to the nearby Main Line. The seat of Chester County offers a selection of bars, restaurants and shops in its surprising downtown along Gay and Market streets.
Local businesses are accessible, catering to the borough's young, affluent residents as well as budget-conscious clientele. Need proof? West Chester's downtown sits on the top-three list of "Great American Main Streets."
West Chester is a more affordable, younger enclave surrounded by old-money communities like Malvern, Kennett Square and Chadds Ford, with swaths of an urban-rural buffer.
The borough offers high-ranked schools and an average age of just 24.9 years old. A vibrant part of that young community is West Chester University, ranked a Top 10 Public Regional University by U.S. News.
Why is West Chester attractive to young professionals? Perhaps it's the borough's title as "Most Exciting Place" in all of eastern Pennsylvania. It's a locale to meet new people, as the state's second-most densely populated city, fifth-best for nightlife and fifth-best spot to lead an active lifestyle.
Or maybe it's because it's the world headquarters of the QVC shopping network.
Find apartments for rent in West Chester
Buy a house in West Chester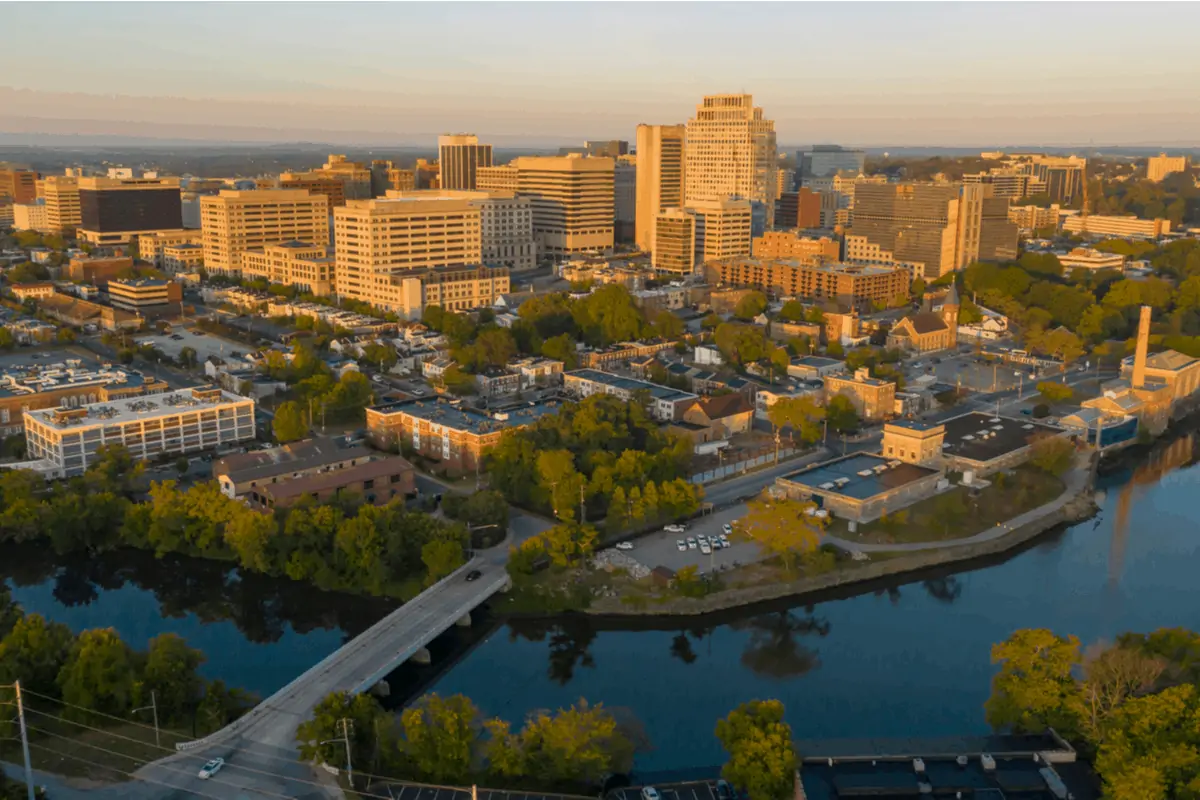 Distance from downtown: 26.2 miles
One-bedroom average rent: $1,186 (down 14.08 percent since last year)
Two-bedroom average rent: $1,477 (up 1.09 percent since last year)
Look behind Pennsylvania and New Jersey to find the best cities near Philadelphia — don't forget about Delaware!
Wilmington is certainly having a moment. While the previous president spent his weekends at swanky Mar-a-Lago or Bedminster golf club, the current chief executive has been taking his off weekends back in his home state of Delaware. President Biden famously grew up in and around Wilmington and is known to have commuted back to his residence weekly dating back to his earliest days as the Diamond State's senator.
Wilmington, despite being the largest city in a completely different state, is just a half-hour drive from Center City Philly. But it's the finance industry that fuels the economy of the Corporate City.
The 1980s Financial Center Development Act liberalized financial regulations in Delaware, removing usury laws and interest rate caps. This caused financial and insurance corporations from around the world to set up shops in Wilmington.
An attractive city to big money employers is an attractive city to its white-collar workers. And one of the favorite locals is the Christina River waterfront. Popular waterfront spots include the Blue Rocks' Frawley Stadium, the Delaware Children's Museum, a convention center, a movie theater, parks, trails, hotels and a slew of cafes, restaurants and bars.
And for those concerned about Wilmington's less-than-stellar crime safety record, there is good news. The city reports being "safer now than it's ever been." The city is noting its lowest crime rate in recent history.
Find apartments for rent in Wilmington
Buy a house in Wilmington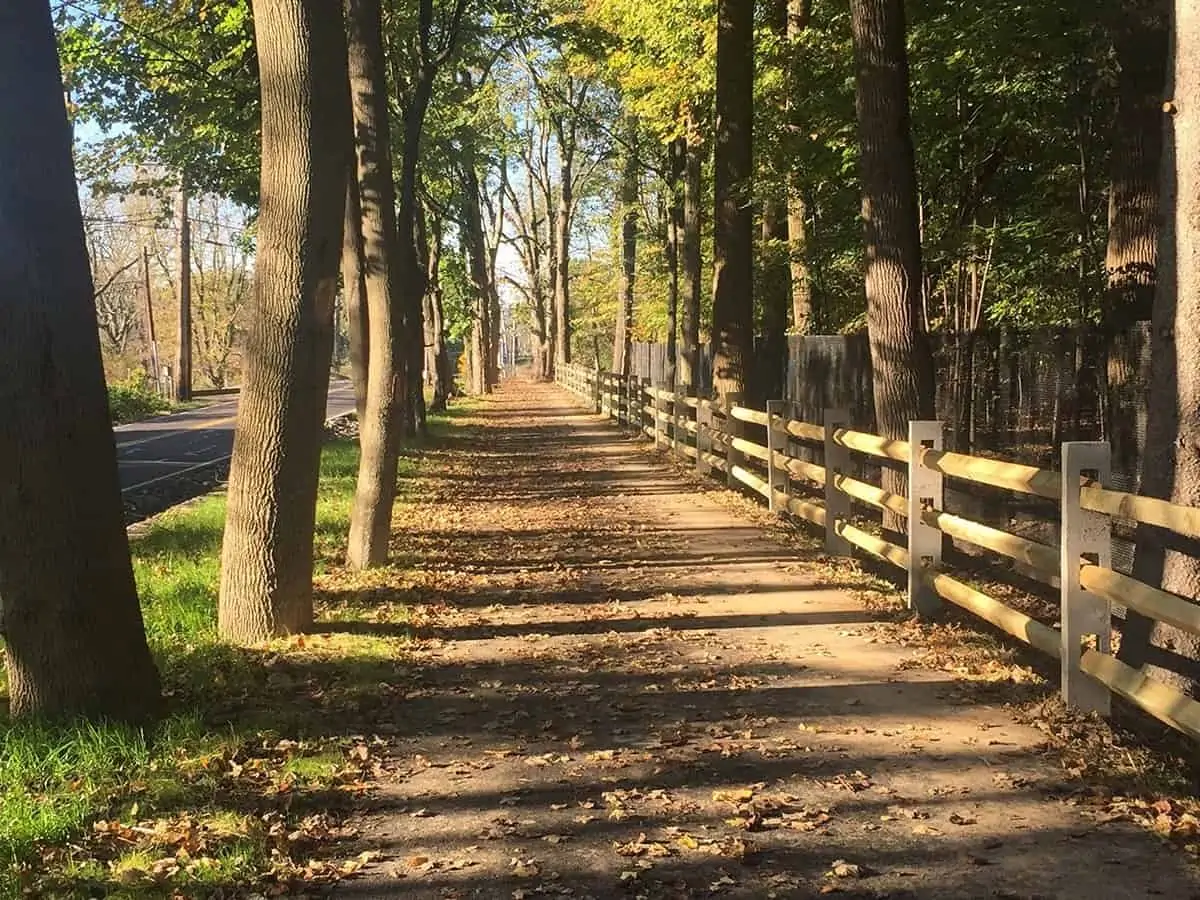 Distance from downtown: 27.2 miles
One-bedroom average rent: $1,408 (up 25.06 percent since last year)
Two-bedroom average rent: $1,999 (up 9.93 percent since last year)
Gateway to the colonial-estate-and-covered-bridge tourism lands of Upper Bucks, Doylestown is the charming exurban seat of Bucks County.
The borough offers a slew of cultural and entertainment options not usually found in a town of under 9,000, about an hour commute from Center City by either train or car.
Doylestown has one of the densest gatherings of museums out of all of the cities near Philadelphia. James Michener Art Museum (named for the native son author), the Moravian Pottery and Tile Works, the Mercer Museum and Oscar Hammerstein II Farm (the final residence of its namesake) can all be found here.
Just off the center of town is the historic art deco movie house County Theater which shows blockbusters and arthouse films alike.
Elsewhere in Doylestown's downtown along State and Main streets are quaint thrift shops, big city-worthy restaurants, bookstores, coffee shops and brewpubs.
For those seeking a more natural setting, just as appealing is the natural beauty of rural Bucks County just outside of town, packed with hiking trails, bike paths, water recreation and nature watching. Favorite spots include urban 108-acre Central Park and wooded 1,500-acre Peace Valley Park.
Find apartments for rent in Doylestown
Rent a house in Doylestown
Make one of these cities near Philadelphia your next home
No matter where you decide to call home, you can't go wrong with any of the amazing cities near Philadelphia you might choose.
Whether in Bucks, Montgomery, Chester or Delaware Counties, across the river in South Jersey or down I-95 in Delaware, you'll have tons to do all within a short commute into the city.
Rent prices are based on a rolling weighted average from Apartment Guide and Rent.com's multifamily rental property inventory of one-bedroom apartments in April 2021. Our team uses a weighted average formula that more accurately represents price availability for each individual unit type and reduces the influence of seasonality on rent prices in specific markets.
The rent information included in this article is used for illustrative purposes only. The data contained herein do not constitute financial advice or a pricing guarantee for any apartment.
Comments
comments