20 VSCO Room Inspiration Ideas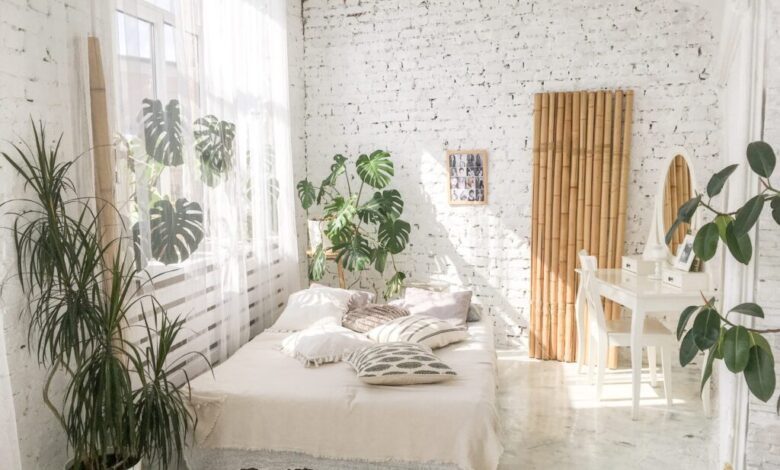 If you haven't heard of VSCO before, don't worry. What was originally a photo editing and sharing app launched in 2011 has now become a much appreciated and trendy aesthetic for Gen Z. The app's minimalist design, dreamy filters, and emphasis on creativity have inspired the masses to embrace all things VSCO in their lives, particularly with VSCO room décor. Think pastel colors, '90s-inspired items, and a laid-back, beachy vibe.
Looking to create a cute VSCO room for yourself? Here are our best ideas for VSCO rooms.
20 inspiration ideas for VSCO rooms
Crescent moon mirror
Mirrors are a great design element for any room, but for VSCO lovers, it's all about those out of this world crescent moonbeams. A moon shaped mirror It is the perfect complement to your dream decoration.
(Photo: https://www.pinterest.com/pin/375769162661594787/?nic_v2=1a7wkAYuj)
Dotted wallpaper
A monochrome color scheme of black and white works well with the VSCO aesthetic, as it won't clash with those pop art-inspired wall collages or surf-loving photography. the dotted wallpaper Style is also a great way to embrace the interior artist.
(Photo: https://www.pinterest.com/pin/329466528989097883/?nic_v2=1a7wkAYuj)
String lights
If there is one thing we can say about the VSCO bedroom, it is that it is never boring! Cover your walls in shiny string lights to ensure those good vibes never end. Bonus points if you cut out your favorite Polaroid photos for them.
(Photo: https://www.pinterest.com/pin/228557749825753173/?nic_v2=1a7wkAYuj)
Colorful wall collage
The VSCO app is also famous for its colorful photo filters that make everything look bright, sun-kissed, and highly saturated. Adopt this style on your own walls with a fun and colorful collage.
(Photo: https://www.pinterest.com/pin/700380179541902462/?nic_v2=1a7wkAYuj)
Artificial vines
VSCO can sometimes try to celebrate the elements of nature. Get some greenery in your room with fake vines, which have become an essential element in any chic bedroom. It may sound ironic, but it's the perfect way to celebrate nature … without having to water it.
(Photo: https://www.pinterest.com/pin/463026405439509693/)
Records on the wall
Perhaps what attracts some VSCO lovers the most is the app's focus on styles and elements of the past. What could be more retro than vinyl records, which (if not spinning) makes a perfect home as a cool wall decor?
(Photo: https://www.pinterest.com.au/pin/661184789036858176)
Turntable
VSCO tends to be all about looks, but you can add a bit of functionality there too. A nostalgic record player is another common element of the VSCO bedroom. It's about embracing the art of the past. Contemporary musicians are even jumping on the trend and releasing their albums on vinyl.
(Photo: https://www.pinterest.com/pin/750060512929322047/?nic_v2=1a7wkAYuj)
Retro decals
Do you think the vibrant 60s are a thing of the past? Not with the VSCO room decor! Follow your rhythm with retro decals, great for adorning your walls, doors, or even that old school record player. Whether it's a teen boy or girl bedroom, these add a touch of fun.
(Photo: https://www.pinterest.com/pin/255016397638415543/?nic_v2=1a7wkAYuj)
Light projector
Remember how we said that VSCO lovers have to do with things that are "out of this world"? Well, when it comes to VSCO room ideas, it doesn't get any more popular than this. A light projector lets you enjoy the wonders of the galaxy, all from the comfort of your pretty room.
(Photo: https://www.pinterest.com/pin/120049146306603093/?nic_v2=1a7wkAYuj)
Hollywood mirror light
Why should only A-listers see themselves in bright, flashy lights? Again, the VSCO aesthetic is about keeping things clear, bright, and beautiful. What better way to do this than with a Hollywood mirror light? Also, it is perfect for lighting up your favorite wall collage.
(Photo: https://www.pinterest.com/pin/697213586041427010/?nic_v2=1a7wkAYuj)
Neon light
Neon lights they are an ideal way to decorate your interior space. Not only are they cool and affordable, but they're also key to perfecting that VSCO bedroom look. Make it fun with cute shapes and symbols, or inspiring with your favorite quote.
(Photo: https://www.pinterest.com/pin/349943833543602078/?nic_v2=1a7wkAYuj)
Surf table
Is there anything more relaxed and beachy than a surf table? VSCO lovers like to keep theirs decorative and true to appearance, be it with flowing designs or pretty pastel shades.
(Photo: https://www.pinterest.com/pin/2322237292945139/?nic_v2=1a7wkAYuj)
Inspirational quote wall art
Is your room an exclusive zone of positive vibes? A typical VSCO bedroom would also include inspirational quote wall art as a way to lift your spirits and remind you how beautiful life is. Quotes are usually minimalist with a black and white color palette or paired with a pop art style background.
(Photo: https://www.pinterest.com/pin/577657089698725953/?nic_v2=1a7wkAYuj)
References from 'friends'
There are very few things as characteristic of the 90s as the full-length sitcom, Friends. If you need more VSCO room ideas, just look to the beloved American TV series for all things decor. Think wall decals, framed art, and quotes that contain ""Friends" references.
(Photo: https://www.pinterest.com/pin/422281199721078/?nic_v2=1a1Aabzw8)
Polaroid camera
Polaroid Cameras – and the instant revival of photography in general – play a huge role in the VSCO lifestyle. His instant gratification creativity blends modern technology with the photographic media of decades past. Plus, Polaroids are perfect for updating that wall collage.
(Photo: https://www.pinterest.com/pin/2814818505201877/?nic_v2=1a7wkAYuj)
Velvet cushions
Velvet is a much loved retro material and as such has really become part of the VSCO aesthetic. If they aren't using it, then VSCO lovers are decorating their rooms with cozy cushions.
(Photo: https://www.pinterest.com/pin/1407443622536865/?nic_v2=1a7wkAYuj)
Tassel blanket
By now, you've probably realized that the typical VSCO bedroom is all about comfort and feeling like home. That is why a thick and warm tassel blanket The decoration of the VSCO room is vital. Just place it on a chair or your bed and voila!
(Photo: https://www.pinterest.com/pin/765330530416481059/?nic_v2=1a7wkAYuj)
Hanging plants
If fake vines aren't your thing, another VSCO room idea is to use hanging plants to liven up the blanks. Hang them from the ceiling to fill your nature space, just be sure to place them where they get enough sun.
(Photo: https://www.pinterest.com/pin/149815125092256794/?nic_v2=1a7wkAYuj)
Hats as wall decoration
Talking about sun hats They are necessary to keep the sun off your face, but VSCO lovers have adopted them as practical wall décor as well. Keep it understated and stylish with a muted color palette or similar. All you need are adhesive wall hooks and voila!
(Photo: https://www.pinterest.com/pin/8866530502197623/?nic_v2=1a7wkAYuj)
Wall shelf
Sure, VSCO room decor is all about making a space beautiful and inspiring, but many of these VSCO room ideas are practical too! Drink Wall shelves, for example. They are great for breaking up a wall collage and displaying books, plants, or other accessories.
(Photo: https://www.pinterest.com/pin/5348093294664446/?nic_v2=1a7wkAYuj)
The bottom line
You don't have to be Gen Z to enjoy all the room décor that VSCO aesthetics offer. With key elements and a few helpful tricks, you can infuse your space with a laid-back, creative, '90s-inspired look.