21 Questions With Design Gallery Owner Jean Lin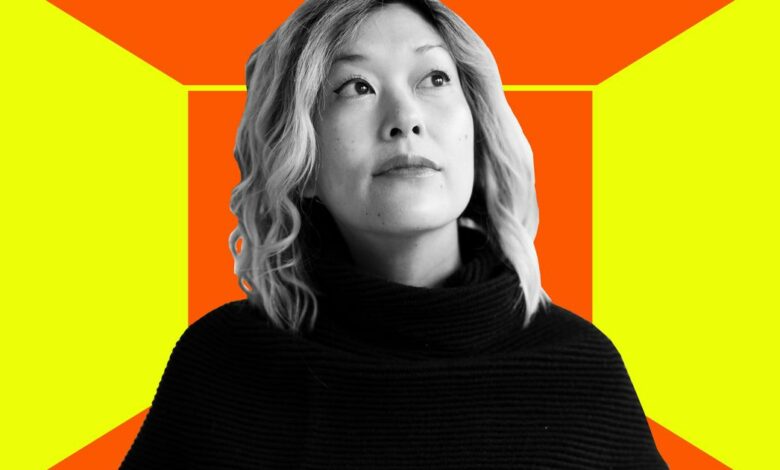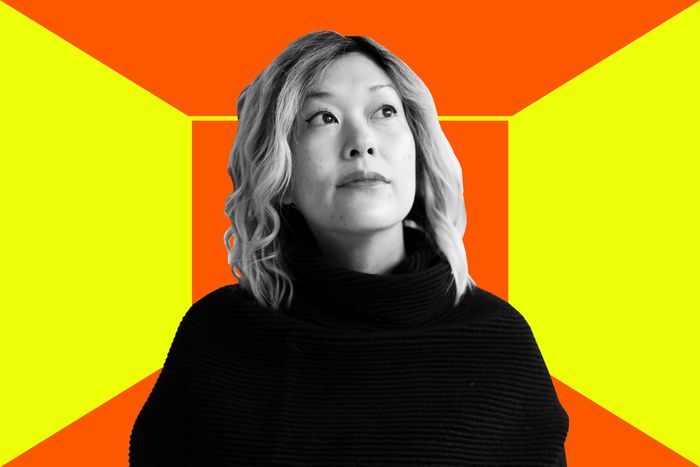 Photo-Illustration: Lined; Photo: Christie Blickley
New YorkThe "21 questions" of are back with an eye on New York creatives. Jean Lin is the founder of Colonya cooperative design gallery and interior strategy firm in Tribeca. Lin and his team have collaborated with designers and developers such as Worrel Yeung, DeMuro Dasand Douglas Elliman on interior design and styling projects.
Last name: John Lin
Age: 40
Piece: Woodside, Queens
Occupation: Design entrepreneur
What's hanging above your couch?
A large round mirror from Blu Dot with a ox blood frame. It makes the room look bigger and more luxurious, and the round shape looks less obvious.
What was the first job you had in New York?
My first paid job was for J.Lo's fashion brand. I was straight out of Parsons and only lasted a few months. All of those stereotypes you hear about being a fashion assistant are based in reality. Jennifer Lopez was always professional and perfectly nice, but the company culture was pretty unfortunate. We were once working well past midnight dazzling these bare skullcaps on polystyrene mannequin heads with Swarovski crystals. Another time I was asked to dye a white cashmere sweater red. I was given a small bottle of dye and a trash bag and shown to a bathroom sink. It came out badly. To dye a fabric, you need heat, which would have damaged the cashmere. In this job, I learned that you can work really, really, really hard and not be rewarded for it. And in fact, your success in a job doesn't always correlate with your skill level.
What color are you always drawn to?
My whole apartment is painted mauve – walls, woodwork, doors, ceiling. Color is masculine and feminine at the same time.
What art or artifact are you most surprised to own?
I had a baby in January and have his umbilical cord stump in a glass terrarium that I bought 100% for a plant. When you cut the umbilical cord and it dries up, it's like this crusty thing on his stomach. It's disgusting, and I didn't think I was the kind of person who would cling to my baby's umbilical cord. But when he fell, it felt like a momentous occasion. And I was like, What do I do with this thing? Throw it? It seems weird. It didn't look like a trash can, and I had this terrarium empty, so I put it in there.
Which New Yorker would you like to date?
Alexandria Ocasio-Cortez. She represents my district. I was just talking to him about the city and the shitty politics and complaining about certain things. She is inspiring, and I would definitely be looking for some kind of inspirational words to gain hope for the future of our country. She also looks like a normal person who happens to be in Congress, so I want to ask about her dog and her skincare routine.
What's the last thing you did with your hands?
During lockdown, I started making a top using vintage kimono fabric that I collected. I haven't finished it, and it's still on my dummy.
Is there something you have multiple versions of?
I'm the type of person who will buy a really comfortable sports sneaker in multiple colors. I have Stella McCartney Ultraboosts from Adidas in white, yellow and pink orange.
Which museum in New York do you always go to?
The Noguchi Museum is a complete retreat and getaway from the city. Noguchi's carvings are so textured and layered that even if you see the same piece more than once, you discover something new about it.
What do you always have next to your computer?
Boxes. I don't really consider myself a collector, but I have a lot of them, and people give them to me now. I have maybe 40 in all. They are decorative and functional little jewels, and I can keep everything inside: pebbles, lipstick, change.
Where is the best view in town?
Gantry Plaza State Park, which is a really lovely place to slow down and relax. The park is a place where you can go lay down a blanket, have lunch, make bubble tea and hang out with your dog or baby or whoever and just enjoy the city.
What building or object do you want to redraw each time you see it?
There are a number of tall buildings in midtown Manhattan and on the Brooklyn waterfront that feel forgiving. These are horrors. They have "poor doors" and are very incongruous with everything that is happening in this neighborhood.
What is one thing you would change in your field?
Although I like the design, it's not as inclusive as I would like. Design is meant to be about diversity of thought and problem solving. It makes sense that hearing more voices will improve the design. Unfortunately, it's very new to go beyond the 100 or 200 people who usually contribute to the conversation.
If you could live anywhere in New York, where would it be?
I love where I live now, but if money wasn't an issue I would move to Tribeca. The area around N. Moore, Beach and Franklin looks like a small town. Right now we have clients there, and I'll take their apartment in a minute! It has a rooftop, a loft-style top floor and bedrooms on the ground floor.
What would you do in reserve if it ceased to be produced?
Beauty products. Growing up as an Asian girl, products and magazine tutorials never made sense to my face. So when I find something that works for me, I'm very loyal. I'm going to be 70 and then outmoded! I've been using the same Maybelline Great Lash Waterproof Mascara since I started wearing mascara. I like this Givenchy lipstick that looks black but stands out as a berry color. I use Niod Fluid Photography every day.
What do you do to get out of a creative rut?
Increase my personal care: I will train longer, stay in a hammam longer, get a massage. I let myself relax physically to undo creative blockages.
Where was your first apartment in New York and how much was the rent?
It was on 96th Street and 3rd Avenue at Normandie Court, which we knew as "Dormandy Short" because it was inexpensive and large. I was living with my boyfriend at the time and a roommate in one bedroom, and the rent was $1,400 divided into three.
Where in the city do you go to be alone?
I walk to the piers on the Hudson River. They're really close to my gallery, so it's a convenient escape.
What's the worst career advice you've ever received?
I don't want to throw my dad under the bus because he was the most supportive person in the world. But out of love and concern, my parents told me to study business and finance and get a job with health insurance and a good salary. I think that's good advice for a lot of people, but it never really clicked for me.
What have you given someone that you wish you could get back?
I don't give anything unless I really know I'm ready to let them go. I never wanted anything in return.
What is your favorite restaurant in NYC and do you order regularly?
There is a restaurant in Flushing called Nan Xiang Xiao Long Bao. It is known for its soup dumplings, but in the morning it has Fan Tuan, which is a stick of deep-fried dough with mustard greens and pork tang wrapped in sticky rice. When I was pregnant, I ordered it every weekend. Some days I bought two, in case I wanted some later.
What descriptive phrase do you want on your obituary?
"Courageous and caring."