'21 Questions' With the Artist Coco Fusco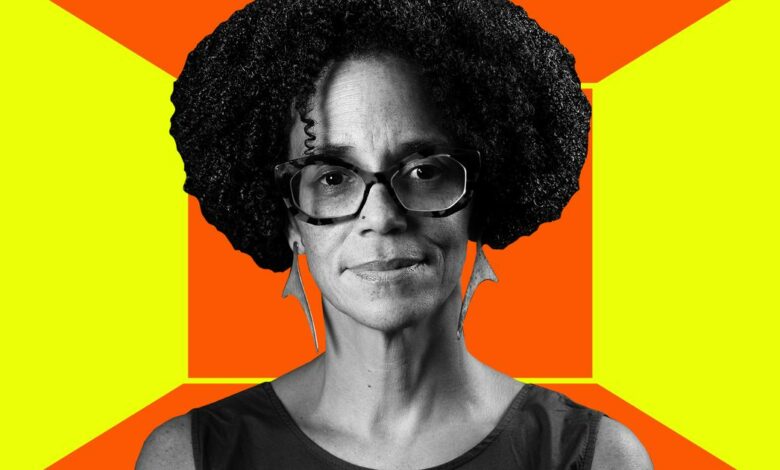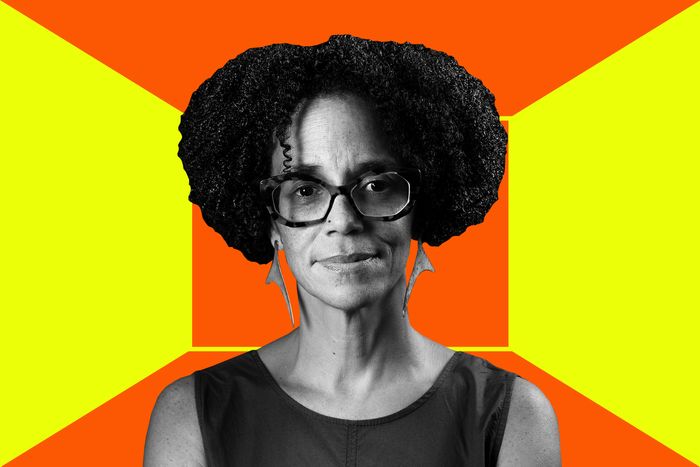 Photo-Illustration: Lined; Photo: Geandy Pavon
New YorkThe "21 questions" of are back with an eye on New York creatives. Coco Fusco is an interdisciplinary artist, writer and teacher at the Cooper Union. For nearly 30 years, her work has offered pointed commentary on the dynamics of power and the politics of cultural representation, war, race and gender, such as the 1992 performance The Couple in the Cage: Two Unknown Native Americans Visit the Westa reconstruction of world ethnographic exhibitions that criticize museums, carried out in collaboration with Guillermo Gómez-Peña. His film Your eyes will be an empty word — an elegiac video in which Fusco rows a boat around Hart Island and throws flowers into Long Island Sound to honor those buried in the Potter's Field — is part of the 2022 Whitney Biennale.
Name: Coco Fusco
Age: 61
Piece: Bedford Stuyvesant
Occupation: Artist
What's hanging above your couch?
It's something I really like: a poster by Hélio Oiticica that was used to promote a book by one of my friends, Irene Small.
What was the first job you had in New York?
I was born here and grew up here, so my first job was babysitting. My first office job was as a fact checker for the American lawyer magazine, and it was pretty awful. I lasted less than a year. Steve Brill was the editor, and it was a very toxic and repressive environment. I've talked to lawyers all day and found out how aggressive and argumentative they can be.
What color are you always drawn to?
Let's put it this way: I am sensitive to the symbolic resonance of colors. There are colors I like but wouldn't wear, and there are colors I would work with to create a particular mood. I'm not going to tell you that I like blue. It's not my thing.
I'm working on a video based on the story of a person who was imprisoned as a teenager in Cuba for writing a poem in the 1970s. At the prison, there's a cement plant, and everything in the prison is cement: the walls, the floor, everything. How do you create a world in the video that feels like that kind of starkness and dullness? But gray is not my favorite color.
What work of art or artefact are you most surprised to own?
Most of what I have on my walls are images given to me by other artists. Sometimes it's an exchange because I wrote for them (I give them a try, they give me a work). Sometimes they were given to me for my birthday. That's most of what I have. The other things on my walls come from research for my curatorial projects. I imagine that most of my research may seem strange or arcane to people who are outside the art world or have little exposure to foreign cultures. I would prefer not to subject my house to an exotic interpretative paradigm.
Which New Yorker would you like to date?
My son! He's a teenager, and teenagers in general don't care about their parents. I spend a lot less time with him than when he was younger.
What's the last thing you did with your hands?
The kind of art practice I have isn't something you do with your hands, unless you plan on typing on a computer. I think the question is modeled on an archaic notion of artistic creation as being practical. This week I had a lot of writing to do, I had two editing sessions on a movie I'm working on, I have three cats to take care of, I'm cooking, I'm trying to keep my house clean, and that's it.
Is there something you have multiple versions of?
I have many, many books. I had to stop buying books. A few times I made the mistake of buying the same book twice because I thought I didn't have it. I don't remember any of the books specifically, but I'll find out about this error when I have to pack up and move.
Which museum in New York do you always go to?
I'm more motivated by what the exhibit is than by the museum it's in. If the museum has something I want to see, then I'll go. If there's nothing I want to see, I won't go. I love seeing art, and I love that, but it's also something that I feel I have to do because I'm an artist. It helps me focus my interests and understand what's going on in art. It also helps me to teach because it gives me a broader frame of reference. I go to the Whitney, the MoMA, the Met, the Brooklyn Museum, and sometimes smaller entities like Dia or the Morgan Library, depending on what's going on.
What do you always have next to your computer?
A legal stamp. I write a lot of things: lists, draft essays. I have a stack of legal notepads on my desk.
Where is the best view in town?
My 60th birthday fell during the first months of the pandemic, and no one wanted to see each other, and they couldn't be in an enclosed space. All of my dreams of having a big party were somehow made impossible, so I decided to rent a sailboat to cruise around Manhattan. It was a lovely evening ride with my son and two close friends and their children. Due to the pandemic, there was hardly any commerce on the water, so the sea was completely calm and calm. It was an extraordinary evening. And the view of the city was amazing.
What building or object do you want to redraw each time you see it?
There are buildings that I think are eyesores, or just not where I want to live, although I think they are interesting. All the glass buildings along the West Side Highway that are part of the hedge fund and billionaire expansion of the West Village, Tribeca and downtown – I would never want to live so exposed or be in a house of glass like this. It looks nice from the outside, but I can't imagine trying to inhabit a space like that.
What is one thing you would change in your field?
The polarization of wealth in the art world. I don't think it's more grotesquely polarized than the rest of the US economy, but the fact that New York has become unbearably expensive and there are extremely low salaries for entry-level arts professionals creates a work environment really unfriendly for young people. This is a major obstacle to the diversification of the field. It is economically very undemocratic and unsustainable for people who are not independently wealthy.
If you could live anywhere in New York, where would it be?
I wish I had been in Soho or Tribeca in the late 60's and 70's when it was all inhabited by artists who weren't interested or focused on selling art but on creating the most for each other. It was a really fertile period for the avant-garde.
What would you do in reserve if it ceased to be produced?
Books and movies. I survived the pandemic because I could read a lot of books and watch a lot of movies.
What do you do to get out of a creative rut?
Sometimes I look at art or see a play or a show. Sometimes it's exercise, and I go to a dance class or the gym. I try to break up, eat, breathe, sleep well, see other things to stimulate myself, and get back to work. Last week I saw Camille Norment's sound installations at the Dia Art Foundation. I found them very elegant and very beautiful.
Where was your first apartment in New York and how much was the rent?
The first place I lived outside of my home was an apartment on Bank Street that I shared with someone who had a rent-controlled lease, so it was really cheap. I think the rent was about $500 a month, and we split it 50/50. I left in 1987 and found an apartment in what is now East Williamsburg. It was like $475, or something like that, a month. I had a lot of space for so much money, and that meant I didn't have to work full time. I worked three days a week and the rest of the time I pursued my interests.
Where in the city do you go to be alone?
I have a lot of privacy at home because it's just me and my son. I spend a lot of time alone, so it's not like I have to struggle to find solitude.
What's the worst career advice you've ever received?
It's hard to say which is the worst, but maybe I can say the most inappropriate. I am the child of immigrants. My mother was a widow when I was a child. She really emphasized stability, respectability and financial security. She wanted me to be a lawyer or a doctor – one of those very conventional things. And she really didn't support my interest in the arts. She said that if I stayed in the arts, I would "end up unemployed, drinking cappuccinos on the Lower East Side." It's a literal phrase she once used that I've never forgotten. I didn't end up unemployed, and I don't live on the Lower East Side anymore because it's too expensive!
What have you given someone that you wish you could get back?
I wasted time with people I shouldn't have.
What is your favorite restaurant in NYC and do you order regularly?
I don't eat a lot at restaurants. I don't make a lot of money and I don't want to spend it on restaurants unless I absolutely have to.
What descriptive phrase do you want on your obituary?
I get a lot of questions, when I do public talks, about, "Well, what about the audience and what do you want the audience to think?" and "What do you want people to think of you?" And I'm like, Listen, I'm not an authoritarian ruler. I can't control what people think of me or what I do. They will do what they will do. They will think what they think. After my death, I will no longer be able to answer. I can say a lot of things and then a bit of New York Time the journalist will come and make it into minced meat – you know what I mean? So why waste my time?