21 Questions With Writer and Curator Laura Raicovich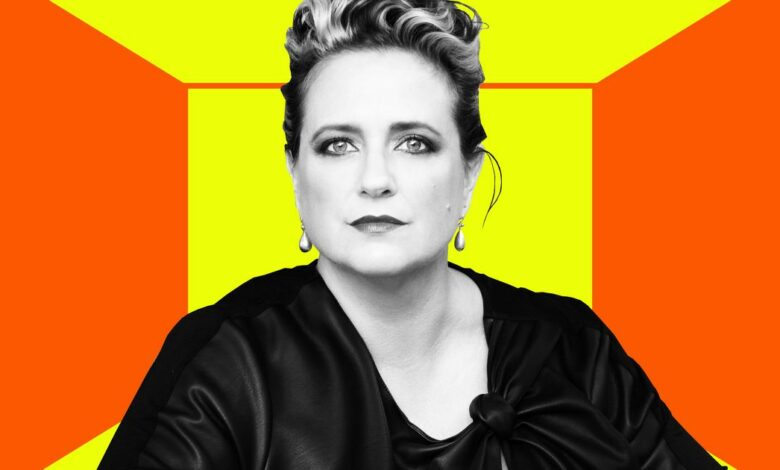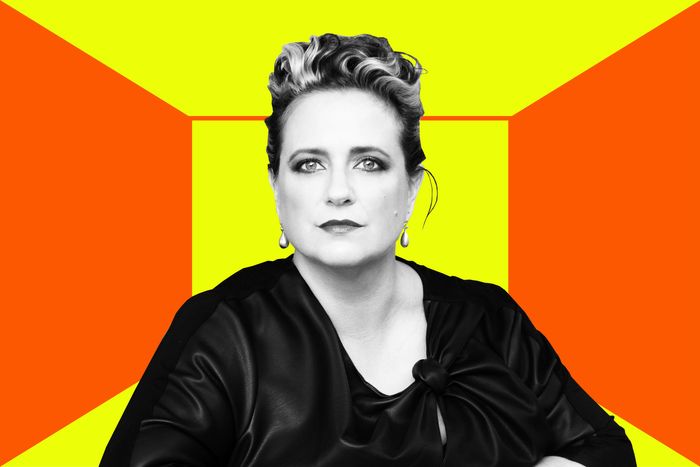 Photo-Illustration: Lined; Photo: Michelangelo
New YorkThe "21 questions" of are back with an eye on New York creatives. Laura Raicovich was previously Executive Director of the Queens Museum, Deputy Director of the Dia Art Foundation and led global initiatives at Creative Time. Last year she wrote Cultural Strike: Art and Museums in the Age of Protest.
Last name: Laura Raicovitch
Age: 49
Piece: chelsea
Occupation: Writer and curator
What's hanging above your couch?
A drawing of Rico Gatson and printed by Shahzia Sikander, Mickalene Thomas, Elizabeth Peytonand Paul Ramirez Jonas. The pieces that I have are related to projects that I have worked on or that have been offered to me.
What was the first job you had in New York?
I was an intern at the Cloître after my first year of college. It was the best. I had no idea of ​​all the jobs that existed inside a museum. The restorer at the time, Michele Marincola, was in the middle of this crazy project to remove these insects from medieval polychrome sculptures without damaging the wood or the paint. She came up with this ingenious way of suffocating the insects with plastic bags which she put all over the sculptures and sucked out the air and they died. I was like, Is it museum work? ! Cool. I gave tours to day campers and worked very closely with visitor services staff, some of whom I am still friends with today.
What color are you always drawn to?
Deep reds and burgundy. They are bodily and inner colors, in a sense.
What art or artifact are you most surprised to own?
Just before the pandemic, I was redefining how and where I worked in my apartment. I decided my dad's drafting table would be the perfect desk because I could adjust the height. I like my desk to be a little higher than the average table. My dad wasn't an architect, so it always bothered me that he had that architect's table. He died a few years ago, and the table was seated at my mother's.
Which New Yorker would you like to date?
My son and his friends because they are all 13 and have come of age in this incredibly strange and difficult time. My son is at that magical moment where he's still a kid, but he's also a bit tall, so he has access to this really intense and beautiful space of imagination. We were doing one of our walks during the pandemic and passed by the ship at Hudson Yards and he just looked at it and said, "That's an artifact of stupidity." We weren't even talking about the Vessel. I was like, "Wow. That's deep analysis right now!
What's the last thing you did with your hands?
I do sashiko, which is a style of Japanese embroidery. It's about recycling scraps of fabric and plugging holes in the fabric. I have been obsessed with this for over five years and have been known to do embroidery at meetings or retreats as it helps me relax my mind. There are some patterns that you sew with heavy white thread and I have at least 50 samplers that I have made.
Is there something you have multiple versions of?
I have a slight obsession with vintage Carlos Falchi handbags from the 1970s and 1980s. I think that's partly because they were a thing when I was in high school. They were ridiculously expensive and fancy back then and I couldn't afford them. Now nobody seems to care about them, so I can find some nice ones. I use a pretty plain, very dark purple shoulder bag almost every day. I also have a rich salmon colored snakeskin bag, a python bag and another lime green. I feel a bit virtuous for giving these vintage bags a good home.
Which museum in New York do you always go to?
The Cloister is always a touchstone for me because it was my first job. I grew up on Long Island, and we made an annual pilgrimage there. It's magical during the Christmas period and the park is really beautiful during the summer.
What do you always have next to your computer?
A glass of water. I believe in hydration.
Where is the best view in town?
I live in one of the oldest and tallest buildings in Chelsea – about 14 floors – and the view from my roof is pretty good. It's not spectacular, but we have 360 ​​degree views of the river, New Jersey and downtown. It's a more human-scale view than those coming from great heights. I love the quirky, outdated and anachronistic architectural elements of New York and one of the things I especially love about the view from my building is that you can see water towers everywhere.
What building or object do you want to redraw each time you see it?
Vessel. I just want to delete it. Like my son said, it's an artifact of stupidity because of its own importance. I have no idea what it's supposed to do. What is its purpose? What relationship with the city? I understand the craziness and am a big promoter of creatives and artists who expand our imagination. But there's also a responsibility that goes along with that to not create places of harm. How could a designer allow this to be a problem?
What is one thing you would change in your field?
The grow-or-die sensitivity in cultural realms has become so ingrained in what we do that we don't think about how we do things. In order to produce cultural initiatives that resonate with more people, outside of a narrow audience, if that is indeed a goal, one has to radically slow down. We need to understand that the rate at which we produce culture is actually detrimental. We are unable to fully reflect on it. As efforts have redoubled around diversity, equity and inclusion initiatives, there needs to be space to truly address these structural issues. It just can't be added to the usual workload. We need fewer exhibitions per year, but more engagement with the structural pieces of the puzzle.
If you could live anywhere in New York, where would it be?
I've always had this romantic view of the East Village. I love the low rise vibe, the community gardens are beautiful and I have some great friends who live there. One of my favorite walks is to go to the East Village and I will host any non-Zoom meeting in the neighborhood. Despite gentrification, there is economic diversity there. There are still a lot of small businesses there. There is always a very clear idiosyncrasy and strangeness.
What would you hoard if it stopped being produced?
Handmade things that are also usable. I have a stack of textiles from Indonesia and the idea that someone physically made the dyes and wove the fabric is so special. It's so rare for this kind of production to happen in the 21st century. I respect and really like that.
What do you do to get out of a creative rut?
I do two things: one is cooking. My grandfather was a cook in the Italian Navy and later on merchant ships from Italy to the Americas. He was a cook in one of the city's first northern Italian restaurants. My whole family is obsessed with food. I love going to the Greenmarket, buying all the awesome stuff and planning a menu for the week. The other thing is to play tennis. I love hitting that little yellow ball hard. It's a real stress reliever.
Where was your first apartment in New York and how much was the rent?
I lived on Eighth Avenue and St. John's in Park Slope when I graduated from college. It was 1995 and my share of the rent was $550. I was living with a crazy medieval musicology student who was 20 years older than me. Let me tell you: it didn't last long.
Where in the city do you go to be alone?
Hiking in Central Park. It gives you a fake loneliness where you are alone, but only because you don't see the people around you. It is one of the most beautiful places in the city because of that. I love that as city dwellers we can convince ourselves that we're not living on top of each other being in this absolutely constructed wild environment.
What's the worst career advice you've ever received?
Someone told me not to have a baby. Raising a child is the most transformative thing I have ever done and it has given me insight into all that I do. It's such a backward notion that people shouldn't do it out of some kind of career-killing fear. A number of artists have told me similar stories where they were told they shouldn't have kids because they wouldn't be taken seriously. I find that incredibly petty.
What have you given someone that you wish you could get back?
Oh my God – I've given so much time to people, institutions and situations that weren't needed and weren't beneficial either. I would like to regain that time and that energy.
What is your favorite restaurant in NYC and do you order regularly?
My favorite restaurant is Txikito, which is a Basque restaurant on Ninth Avenue by 24th near my house. It's run by friends of mine who also have a few restaurants in Brooklyn, but it hasn't reopened since the pandemic. It's amazing and we have a largely standard tapas order which includes calamari with pine nut sauce which is amazingly delicious, croquetas and this thinly sliced ​​octopus terrine which is amazing. And it's also one of the few restaurants to offer vermouth.
What descriptive phrase do you want on your obituary?
That I made a difference and there is something I did that helped other people think about the culture or the way they live. I'll be dead, so it won't really matter! But at the same time, I wish I had helped someone imagine our present in a better place than it is now.