25 Studio Decor Ideas to Maximum Your Space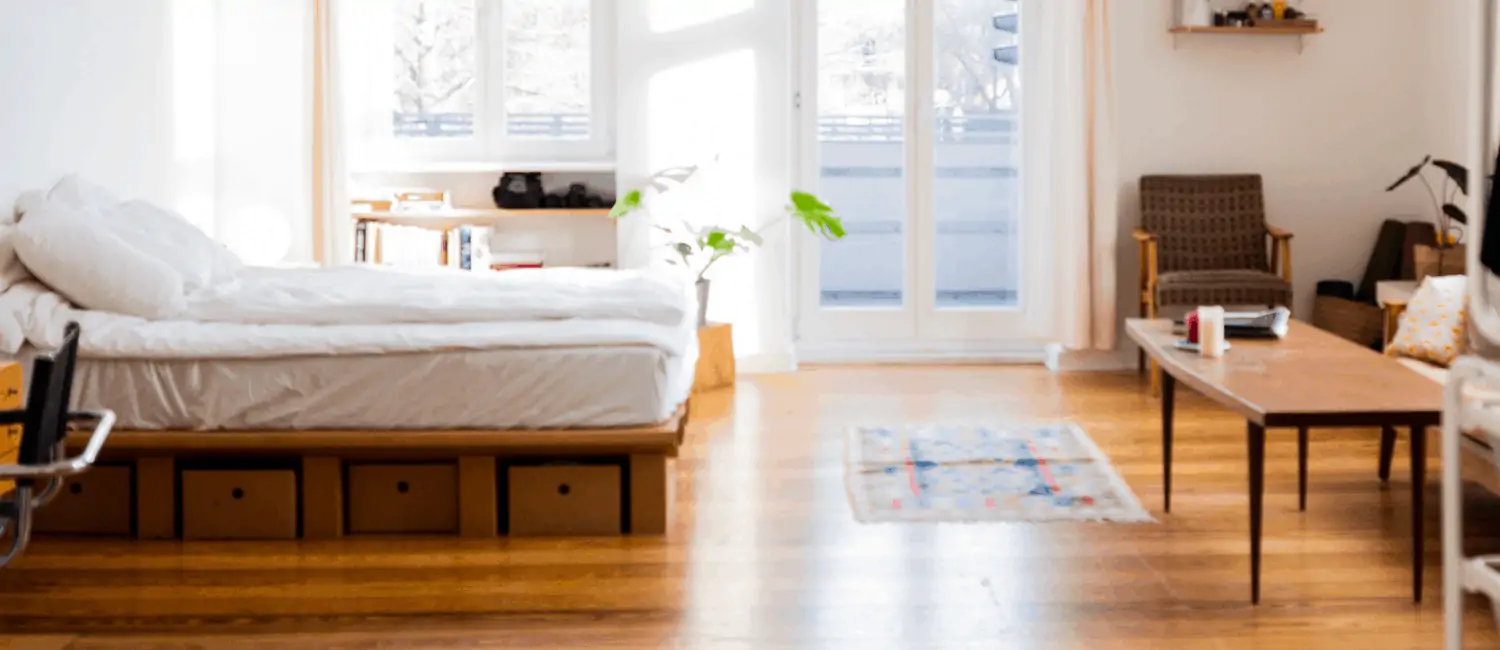 You finally moved into your new place. Sure, it's not exactly what you envisioned. All those years of watching sitcoms set in big cities may have given you some unrealistic expectations of realistic studio decor ideas based on what you could afford. But it's yours and you have big plans for your small space.
Using the right studio decor ideas will help make your new home a modern, hip place to entertain while making your place seem bigger.
1. Have less stuff
This sounds a little reductive, but it's good advice no matter the size of your home. You'll learn the longer you live in any one place, the more stuff you manage to accumulate — stuff that seems to come out of nowhere and you don't remember buying.
The best way to get around that is to move less stuff into your new apartment. Sort and donate clothes, appliances, gadgets or old furniture that either won't fit or won't serve you well in your new studio apartment.
It's best to start with a clean slate.
2. Organize and maximize
Look for furniture with built-in storage options. Organize your closets so you can fit more clothes in them. The only thing smaller than your apartment will be your closet, assuming you even have one.
Things like strategically placed bookshelves, entertainment centers, coffee tables and end tables with drawers will be a key part in keeping everything organized.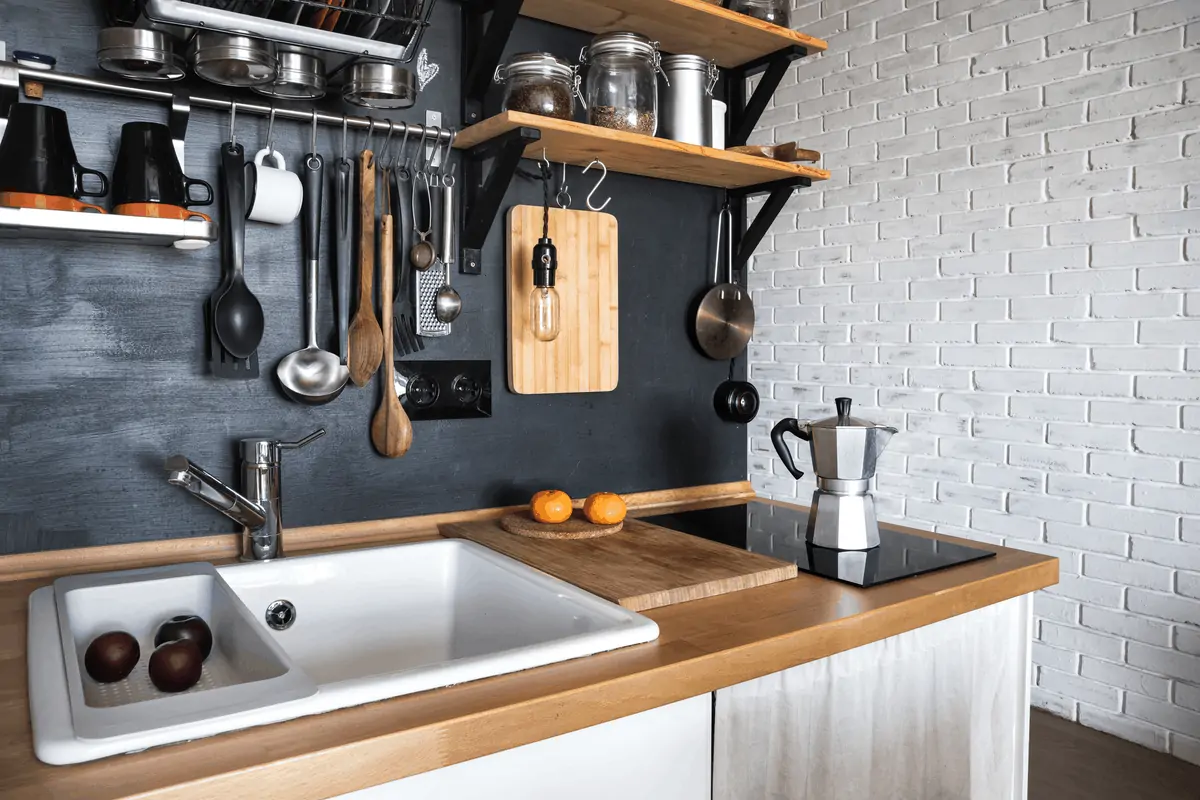 3. Keep your kitchen simple
Don't opt for trendy kitchen items. Kitchen gadgets are like toys for grown-ups. Immersion blenders and standing mixers and French-presses, oh my!
It is not fancy but go ahead — invest in good, sturdy utilitarian kitchen tools. Kitchens are often the first room in the house to get cluttered with a bunch of gadgets and appliances you thought were good investments at the time.
Remember to keep it clean to avoid any unwanted critters!
4. Divide and conquer
A studio apartment is exactly what it sounds like: one big room for everything. If you're not careful and conscious in how you assemble your space — your bed can wind up in the kitchen and your sofa will be too close to the bathroom.
So look into room dividers, shelving units or even a well-placed curtain to give the illusion of different spaces. This is an especially good idea if you're working from home.
5. Make it pop
You don't want your studio apartment decor to look as bland and beige as the walls. But on the other hand, furnishing your apartment with everything in bright, bold colors will not only clash, but it will also make your new home look like a yard sale.
Instead, consider small accent pieces that will add a bright pop of color. A bright floral accent wall or nook in your apartment will give it a sense of depth without looking cluttered.
6. Keep it out of sight, out of mind
We've discussed storage options for your living space, but if you want to keep your things in your place but not all over the place, look into organizing your closet. Need some ideas? We have 50 for you.
7. Think small
There's nothing better than plopping down on the couch at the end of the long week. But perhaps your apartment doesn't have the space for that luxurious seven-foot sofa with a chaise you found on Pinterest.
Instead of a sofa, consider a smaller love seat. Or if you want to conserve living space for something else, a chair and a half and an ottoman have all the cozy comfort you need and it takes up just a fraction of the space.
8. Stacks on stacks…of stools
You have grand plans for your apartment. Cocktail parties, Friendsgiving dinners. Your oven is big enough for the turkey and your fridge is big enough to hold all the wine, but what about seating for the meal? Nesting stools or ottomans are the best solutions for you.
You can find coffee table options that feature matching nesting stools inside it so when your guests leave, you can get your floor space back. Look for stackable nesting stools that can stack up and be placed in a corner.
When not in use, consider using it as an end table or use it for a small lamp to improve your lighting.
9. Keep it bare up there
This one may seem counterintuitive but trust us. You don't need a ton of stuff hanging on your walls to make your room look complete. In fact, oftentimes, people will go overboard with filling their walls with art and photos — making the room look smaller than it is.
If you have light walls and low ceilings, consider keeping your walls minimally decorated because it will let more natural light. The more natural light, the larger your space will feel.
10. Give up some and get way more
This is your place and you can decorate it any way you like and there's no rule that says you must have a dining room. By sacrificing the space that would house your table and chairs, you open up a good amount of floor space for entertaining.
Moving your bed to where your dining table would otherwise go gives you a much larger living room space — perfect for having friends over to watch the game or binge on movies or trashy reality TV.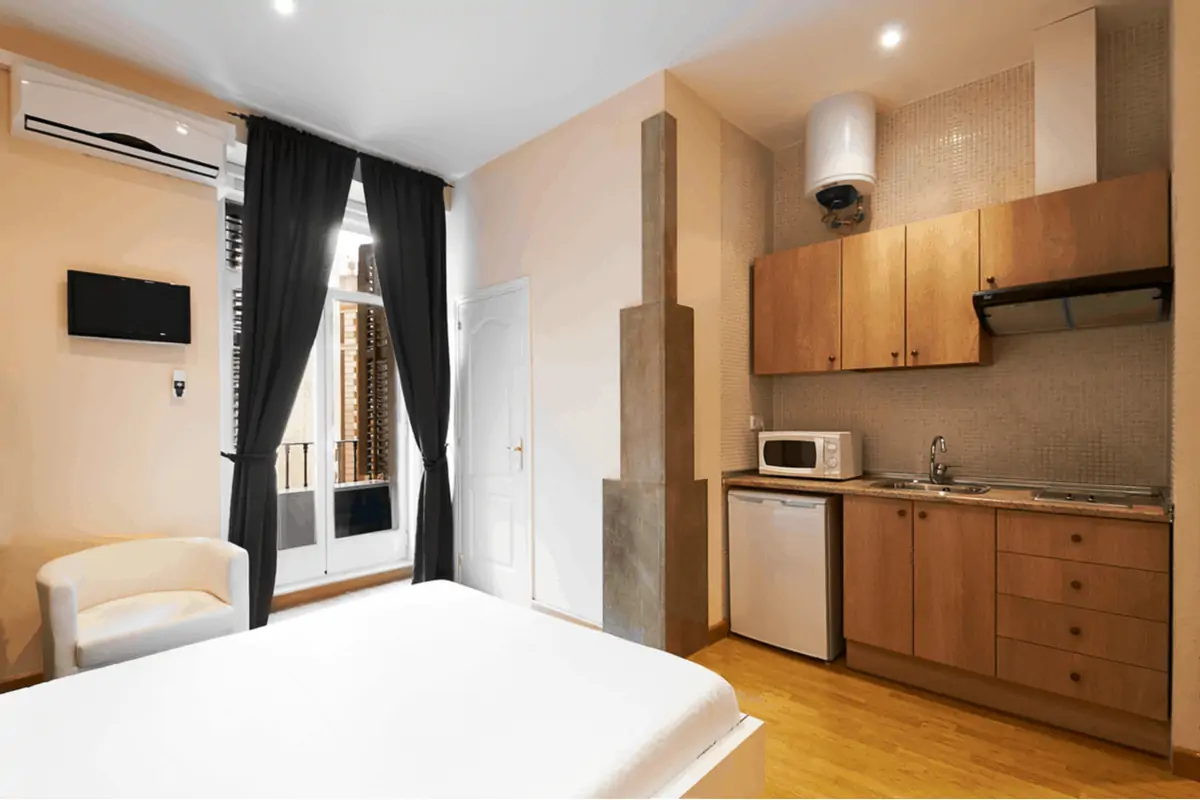 11. Create a home away from home…at home
Have you ever stayed at a super chic boutique hotel and been in awe of how well everything works? Take a tip from microtels and European hotels and layout your apartment like a well-appointed efficiency hotel room — just don't expect maid service or a mint on your pillow.
12. Look to tiny homes for big inspiration
You've watched the shows on TV and you've seen the YouTube videos. Why not draw inspiration from your favorite TV tiny homes?
You can loft your bed, invest in a convertible coffee table that can become a full-height dining table and use all the other tricks of the trade.
13. Go mad for mid-mod
A mid-century modern aesthetic isn't for everyone. But if it's a look you enjoy, you have a lot of options for studio decor ideas. Designed sleeky with a smaller footprint — mid-century modern furniture embodies the concept that less is more.
An open space with an armchair, lamp and end table looks more put together than a room packed to the gills with Ikea's finest.
14. Pick a color and stick with it
If the idea is to make a small space feel larger, consider finding a color you like and making it the centerpiece of your design strategy. While bright colors and accent walls may work for some spaces, yours may not lend itself to that plan.
So instead, pick a color that contrasts with the color of your floors and find bedding, furniture and other accent pieces in that shade, giving the illusion of more breathing room.
If your floors are nothing to write home about, look around for a rug that will really tie the room together.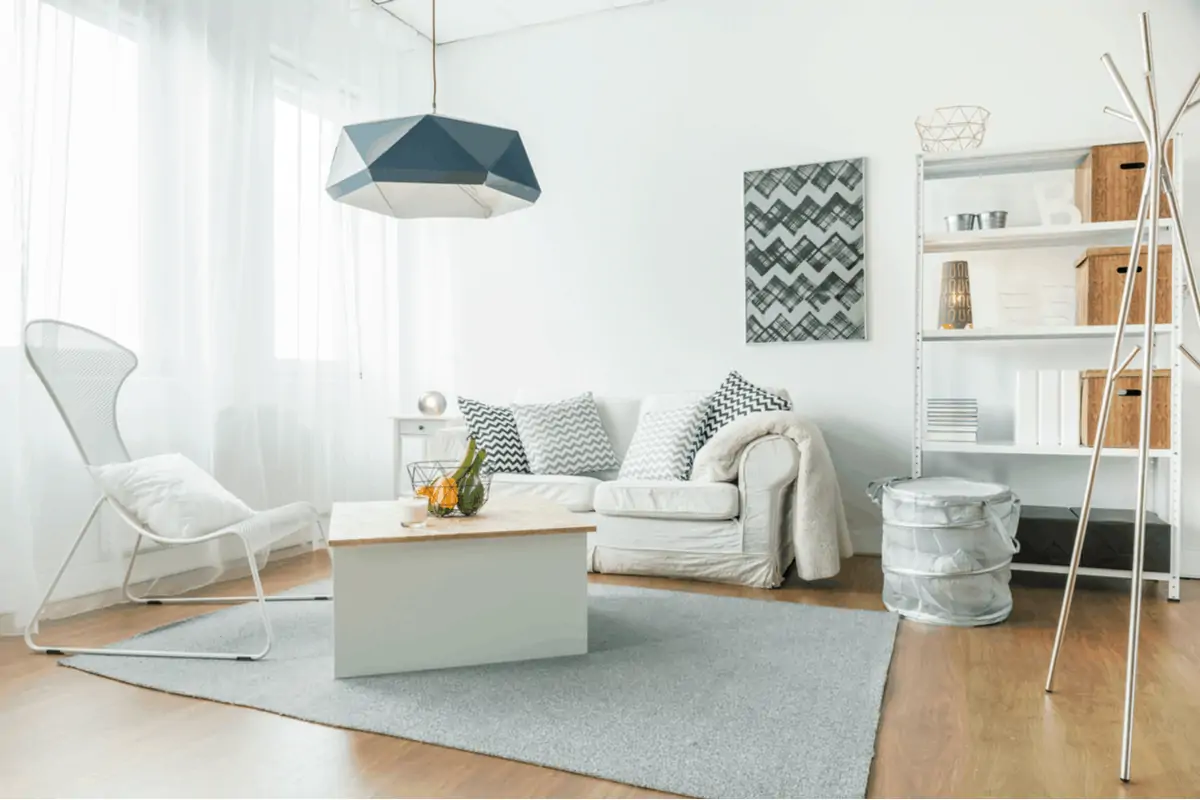 15. Hang in there, baby
If your apartment is one large cube with no nooks or hidden corners to work with, your options are limited…but not as limited as you may think. If you don't like the idea of room dividers or partitions or bookcases to give the illusion of separation, try hanging art but not on the walls. Try hanging it from the ceiling. Suspending art pieces from filament wires from the ceiling will give your studio apartment a funky art gallery feel on an instant ramen budget.
If you find a large art piece that would look gorgeous over your sofa, but your sofa isn't against a wall, suspend it from the ceiling.
16. Get low
Another idea for fans of a more modern aesthetic: If your room is small and your ceilings are low, consider low seating with an Adirondack chair look.
Low slung furniture in bright accentuating colors will have the look and feel of a really great beach chair but will be infinitely more comfortable and stylish.
17. Spread out your space as much as possible
This is especially helpful if you're a light sleeper. Measure out your room and put your bed at the furthest possible spot in the room away from the door. Make a design plan to put your sitting area closer to your door.
Installing lighting fixtures or sconces near your bed will eliminate the need for floor-hogging nightstands and lamps that can make the room look more claustrophobic.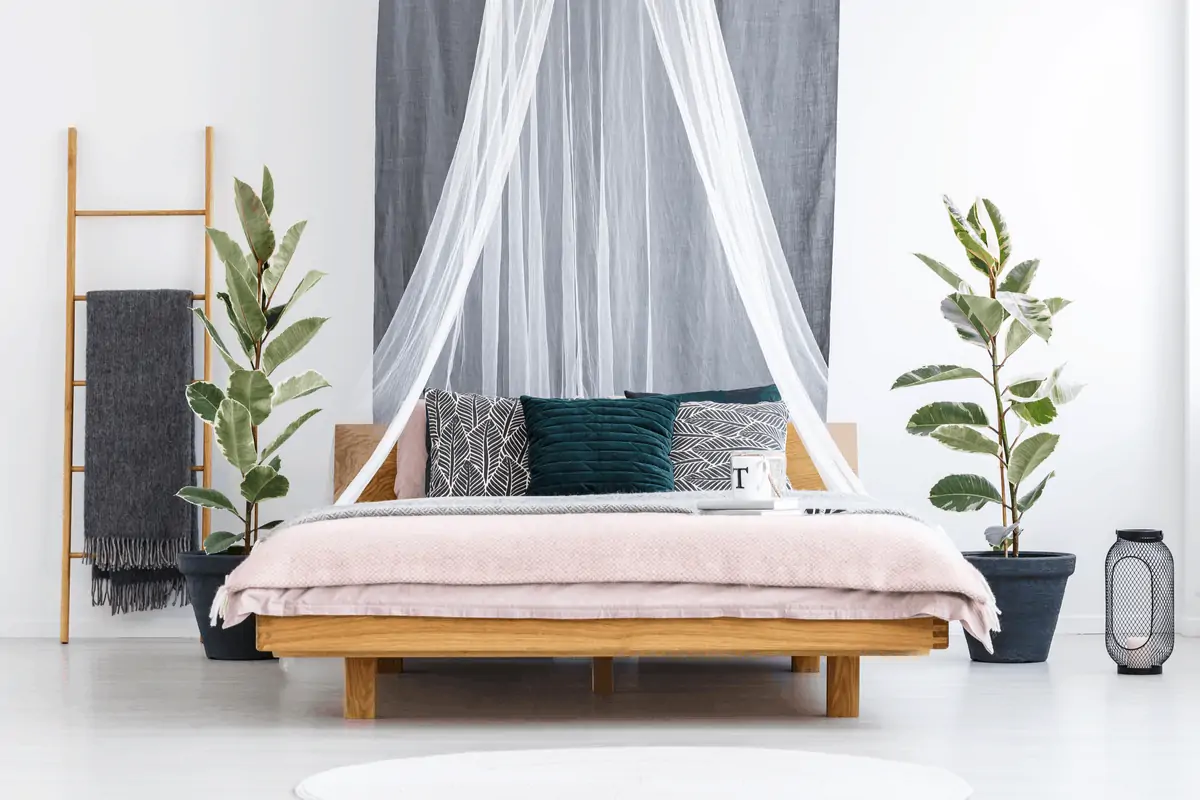 18. Yes, we canopy
A canopy bed combines a couple of the studio apartment decorating ideas we've already discussed. The canopy can act as a curtain separating your sleeping space from your living space.
The canopy can provide a nice contrast with your furniture and be used with plants or a floor lamp to not only fill out your living space but the light from the other side of the canopy will soften the light on the bedside of the curtain while you're reading in bed.
19. Sleep in a big box
Remember when you were a kid how much fun you had playing with boxes? They were spaceships and caves and race cars and when you'd get tired from using your imagination, you'd just conk out and take a nap. Well, this is DIY project is a more upscale and modern take.
Constructing a large plywood box on wheels is the perfect size for a box spring and mattress. The industrial strength casters allow you to wheel it to different sections of your apartment based on how you need the space at any given time.
It's a fun and unique way of solving your space problem (but know you will have to disassemble it when you move out).
20. Murphy's law doesn't apply to Murphy beds
These beds are just cool and if you talk to your landlord, they may welcome the idea of installing a Murphy bed in your apartment. For the uninitiated, a Murphy bed is one that folds up into the wall and easily stores away behind a bookcase or French-style doors.
There are bookcase designs that allow you to fold down the bed without the items on the bookcase falling over. There are dozens of styles and sizes for every taste and preference.
Plus, if you don't feel like making your bed in the morning, you can fold it up into the wall.
21. I want to take you higher
If you think your space is starting to feel a little small, your options are about as high as your ceiling.
Hang your drapes as high on the walls as possible. Get bookcases that will barely skim the ceiling. Not only will this give you the extra storage options you need but it will take up less valuable floor space in your apartment and draw the eye up.
22. Go for full transparency
It may seem a little '80s (you'll have to trust us here), but clear furniture like acrylic tables or Lucite chairs are perfect for a small space because light refracts when it passes through a clear material. This style of furniture doesn't detract from the brightness that would otherwise happen when furnishing a place with standard plastic or wooden furniture.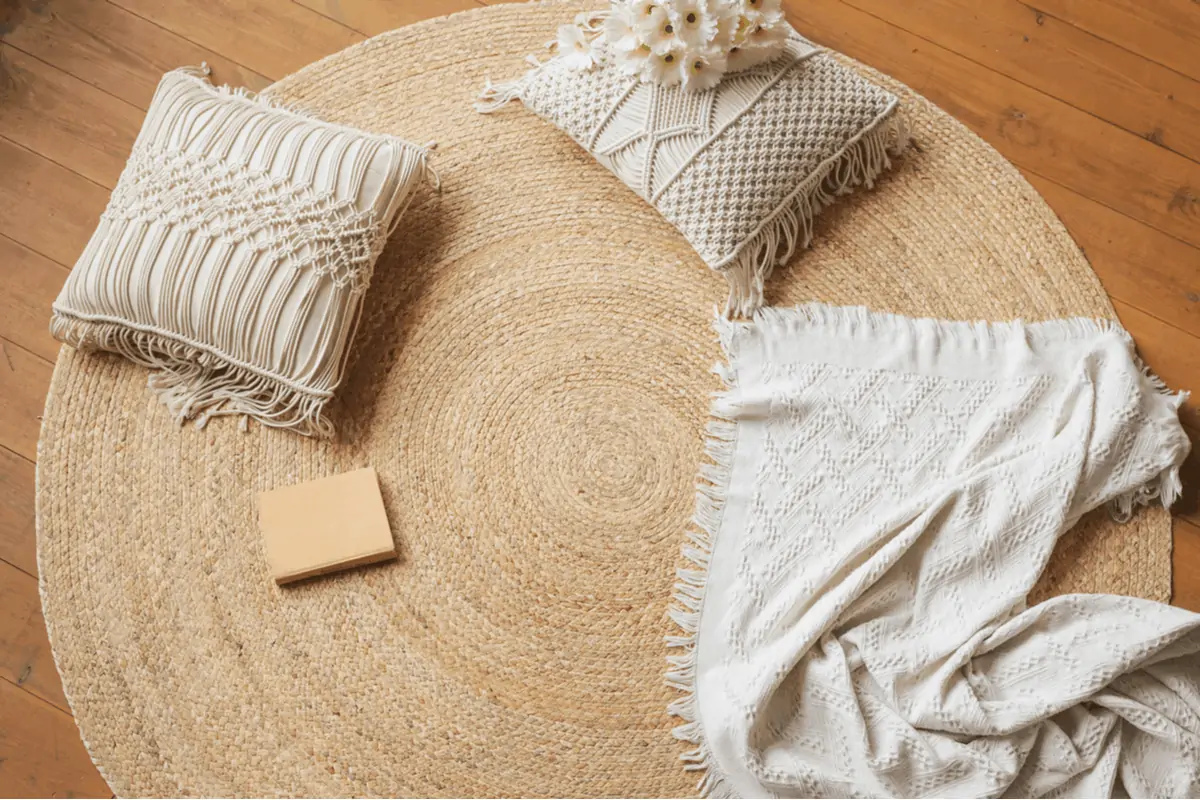 23. Try boho
If you're looking for more of a bohemian, chill vibe then skip the furniture altogether — invest in some high-quality sitting pillows. Yes, that is a fancy way of describing bean bag chairs.
It's not strictly limited to bean bag chairs thought. You can also get some handsome square pillows or tufted ottomans or footstools. Items like these are comfortable, fashionable and endlessly customizable.
Stack your pillows in a corner when you need more room or leave them out for a fondue party.
24. Embrace your inner art collector
There's an old saying that's been attributed to everyone from Mark Twain to Orson Welles: "I don't know much about art. But I know what I like." So find some really beautiful pieces within your budget that you like (especially if it's coordinated pieces like matching prints).
You don't need to go overboard with a full gallery wall because not every space will accommodate that plan. However, finding a couple of small pieces that are mindfully hung in a way that accents your space will give the room a brightness and sense of flow. Design your room and furniture placement around what's on your walls, not the other way around.
25. Float like a butterfly
Floating shelves are an inexpensive, high-value way of displaying your belongings while adding a sense of space and depth to any apartment while doing minimal damage to the walls. You can find them in a wide array of styles and sizes.
When shopping around, make sure you pick the right one for the weight of the items you'll be putting on them. Remember, in a studio apartment, hang them as high as you can to take advantage of the dimensions of the wall.
Studio apartment decor ideas for all tastes
You will be forgiven for feeling overwhelmed when it comes to an apartment roughly the size of the living room in your family's home — however, this is your home now and you get to decorate it how you please (as long as it's cool with your landlord).
Deck it out in bright colors or a calming white and top it off with as much or as little furniture as you like. So get low, build high and look for studio decor ideas wherever you can.
Comments
comments