7 Ways to Make Your Home Feel Bigger and Brighter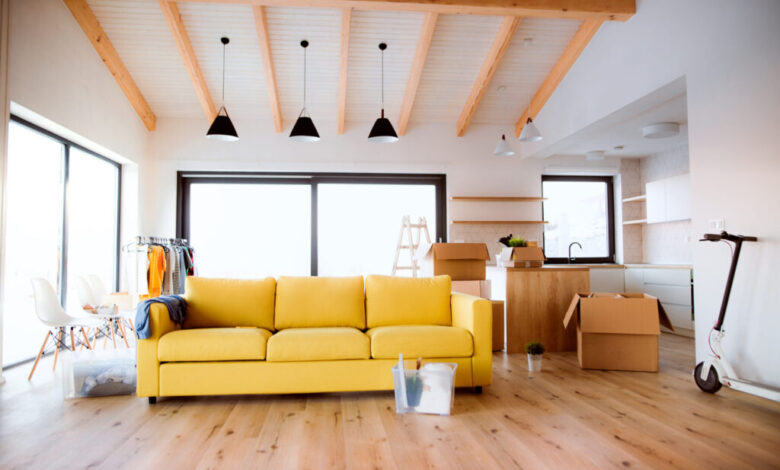 Thanks to stay-at-home requests across the country, we all suddenly spend a lot of time in the same small spaces. To combat the coronavirus cabin fever, we've spoken with professional organizers, interior designers, and an organizational psychologist about ways to make your home feel more spacious.
Before you begin, think about the spaces that have made you feel calm and how they were organized. Shalae Price, a professional organizer, gives hotel rooms as an example: "Most hotel rooms are designed to appear much larger than they actually are. The placement of the furniture is well thought out and the decor (in most cases) would be considered minimalist. "
1. Order, order, order
Tidying up is an obvious first step in clearing your space. Anyone can do it and with few resources. Walk from room to room and put things away, pick up random papers or cardboard boxes, and gather the little things that don't have a home. If an item is not for decoration and is not used regularly, consider keeping it out of sight or donating it if local donation centers are still in operation.
Craig Anderson, editor of Appliance Analysts, says you have to earn your free space. "Any good minimalist will tell you that free space on the surface makes you freer. It is also the first thing that is lost when we get lazy and leave the mess. Having unused surfaces (desks, tables, counters) makes a room feel MUCH bigger. "
A good way to get in the habit of ordering regularly, based on Amy bloomer, a professional organizer with a master's degree in Organizational Psychology from Columbia University, is a dedicated container for clutter. "I encourage clients to keep a basket at the foot of the stairs. This becomes the "wild card" for things that have migrated down and / or out of place. Once a day, make it a habit to put away everything that you have accumulated in the basket. It won't take long and will help keep spaces clear and quiet before retiring for the night. "
2. Clean floors and walls
The more space on the floor, the larger the room will feel.
"The floor is not a storage space, but we often create piles in the corners that grow and expand over time. These piles tend to be delayed decisions, items that are homeless and left on the ground. As these piles invade our living space, we feel overwhelmed. Our actual physical living space shrinks. Tackling these piles and freeing up floor space will immediately create clearer and brighter spaces. In our experience, if you haven't looked at the items in these stacks for a long time, they are often items that can come loose. "

– Andrea Walker, Certified Professional Organizer, Smartly organized
This also applies to the floor space between furniture and walls. When all your furniture is placed against the walls, it really delineates the boundaries of your room and highlights how small that space is. By making sure some of your furniture has some air between the wall, you create a better sense of spaciousness.
3. Store smart
Get creative with how you store things and be more critical of what you choose to take out. You can make it simple by folding blankets into a chest or basket, having a dedicated basket for pet toys, and hanging photos instead of propping them up on furniture.
Multi-functional furniture that doubles as storage is a great way to optimize your space. Hidden storage seating, coffee tables and ottomans can help keep blankets, movies, games, or furniture and floor clutter out. You can also install floating shelves to lengthen the walls and store things away from the floor.
Anderson He advocated putting away the things you don't use every day, "There are so many things that we own that we use maybe once or twice a year. These should be kept well hidden in a chest, under the bed, or in a DIY closet. "
4. Mirrors are magic
Debra Newell, owner and president of Ambrosia Home, told us that "large mirrors are essential. You want to reflect in the room and give the illusion that you have more space. "
Mirrors will bounce more light, give a sense of movement, and visually double the size of your space. You can use mirrors to the floor, mirrored closet doors, or hang smaller mirrors on the walls.
5. Be deliberate with your décor
Decorate your space with intention and don't be afraid of dead space. A bunch of little things scattered around can look more like a mess than a few larger statement pieces. Computer walls, shelves, dressers, countertops, and desks can all benefit from a "do I need this?" scan.
Price He advised us: "Pick one room at a time, then look at its walls and surfaces. Do you really LOVE everything you see? Eliminate the elements you don't like and of course keep the elements that mean something to you or define your style. "
Concentrate that decor in a few spaces, like an accent wall, rather than scattering it everywhere. Leaving some surfaces and walls open will visually lengthen the room.
6. Keep furniture low
If you are in a position to buy new furniture, keep it low. Furniture that is generally lower can help an area feel much larger simply by leaving more open space above. This also applies to the style of the furniture legs; Spread or pole-style legs will show more space and appear to float, compared to large pieces of furniture that rest directly on the floor.
Newell advises: "Keep arms and backs of chairs and sofas low, even legs on a sofa are important. Add ottomans to sit on. There is no large floating furniture in the middle of the room. "She also recommends dining chairs that you can push completely under a table for storage when you're not using them.
7. Use lighting
Light is a simple and powerful tool that can completely transform a room. Brightening dark corners and having multiple fountains around the room will create space.
"Extend your lighting. It may be more cost effective to use a large light in the center of the room, but it is a surefire way to make everything appear smaller. Cultivate an atmosphere by using 2 or 3 ambient lamps around your space. By literally spreading the lighting, you are also metaphorically expanding the room. "

– Craig Anderson, editor of Appliance Analysts
Now is the perfect time to reorganize your space. Use what you have at home, order online, and minimize travel. You can also use this time to prepare and plan larger projects for when stores are open and going out again is recommended.