A Creative Office and Upstate Retreat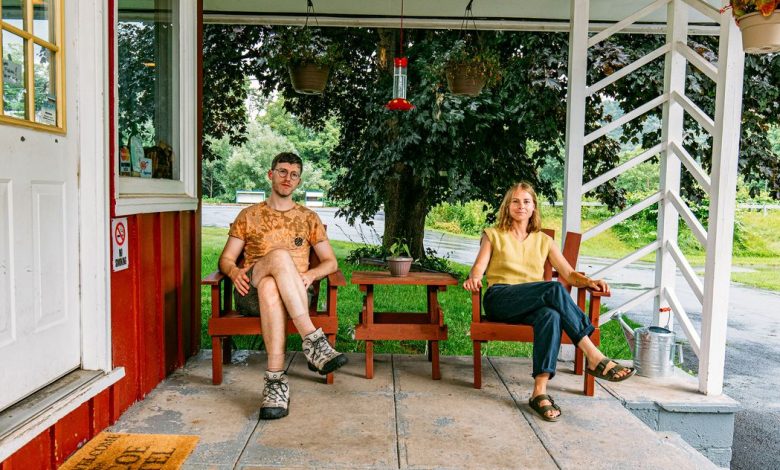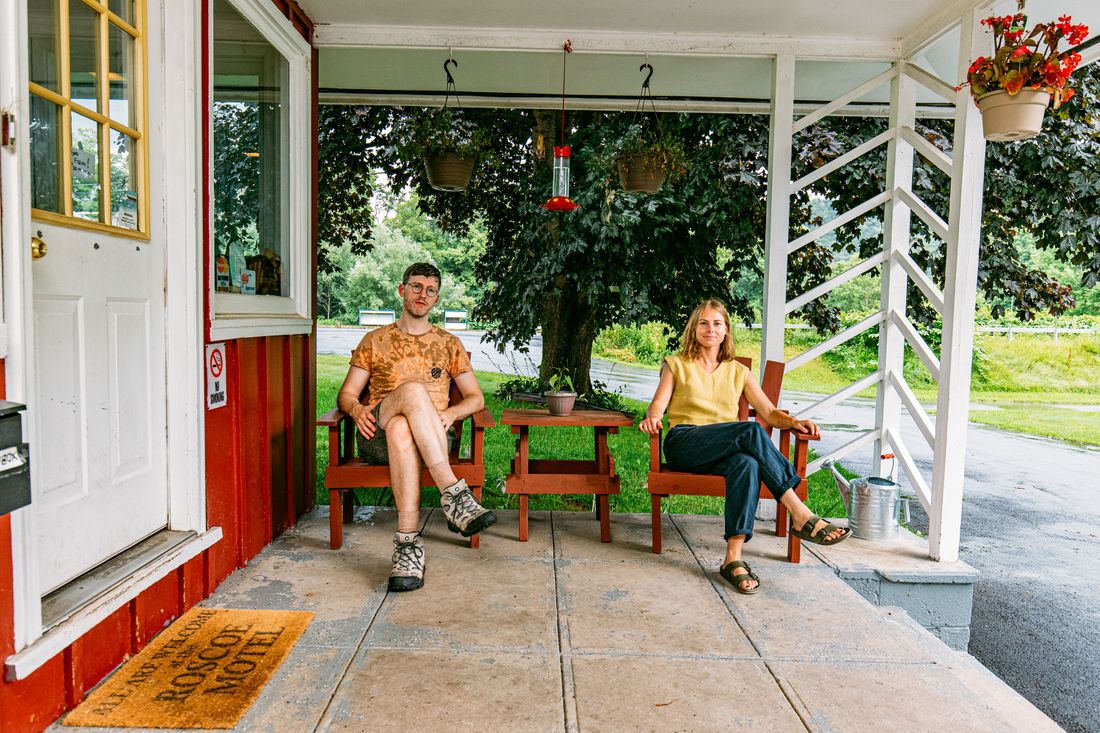 Michael Ray (left) and Rachael Yaeger (right) moved their creative agency to a Catskills motel.
Photo: DeSean McClinton-Holland
Summer days start early at the Roscoe Motel. Anglers suited in chest waders emerge from their rooms while the morning air is still cool and the sun is starting to inch over the surrounding hills. After a quick stop at the reception office for a hot cup of coffee, it's off to their favorite fly-fishing spots on the Beaverkill River, which runs right behind the red-and-white building, or to Junction Pool, just south of the mid-century roadside motel, where, as local lore has it, a two-headed trout lives. That morning routine hasn't changed much over the years, but the activity in reception has. Along with chatter about yesterday's catch, guests may hear Rachael Yaeger, the motel's new owner, on the phone at the reception desk scheduling photo shoots and talking about wireframes for a new website. That's because she also runs Human, a digital creative agency she co-founded with Michael Ray seven years ago, out of the motel. "It feels like this Easter egg that secretly designers and web developers own it," says Yaeger.
The 18-room motel, which opened in the 1950s, is just a couple hours north of New York City in the Sullivan County hamlet of Roscoe, affectionately known as Trout Town, USA. With its cold rivers wending through forested hills, the area has been rich with trout since the Lenape first lived here, and has been a destination for anglers from around the world since the 19th century. With a built-in clientele of fly-fishers who come back year after year — some renting the exact same room each time they come — the Roscoe hasn't changed much over the decades. When the windows on the west side of the hotel are open, the gentle rushing sound of the river fills the rooms. There's still a phone booth out front, and an off-kilter sign that reads "Roscoe Motel" in red block letters and advertises its triple-A seal of approval. The rooms are still outfitted with simple wooden furniture and headboards that are attached to the walls, and the wallpaper, comforters, and carpet still vary room to room — beige floral chintz in one, red-and-gold stripes in another — since the previous owners just replaced things as they got worn out.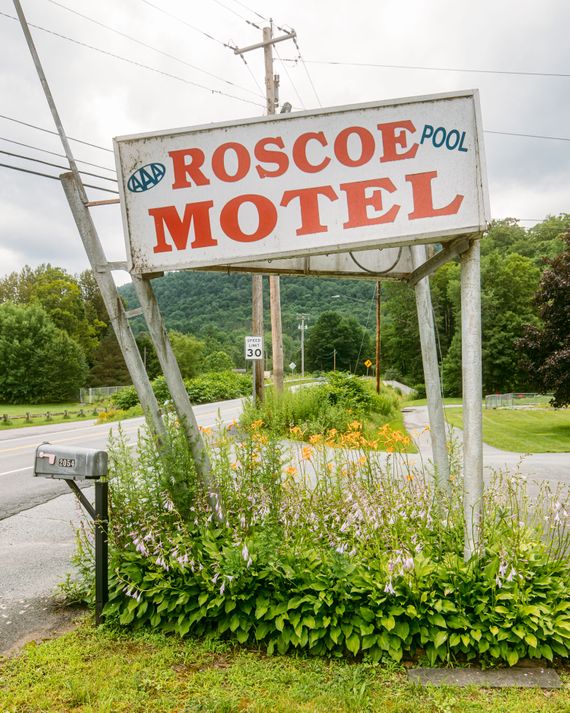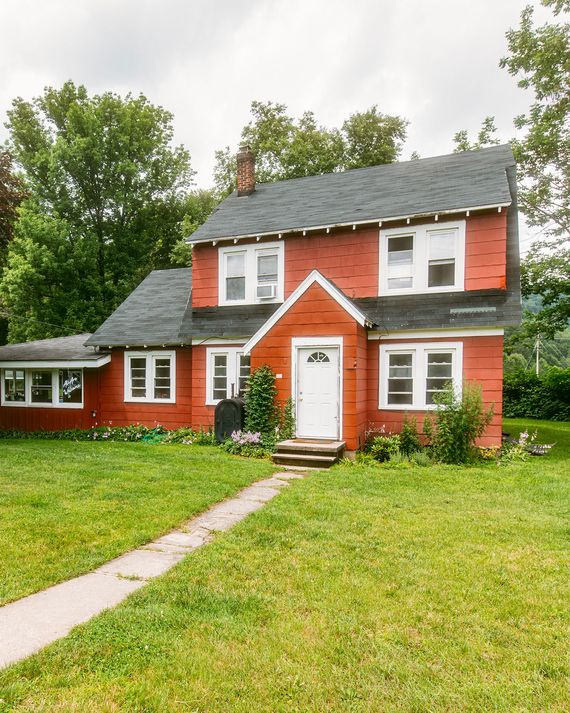 Yaeger bought the Roscoe last September after falling in love with the town's friendly vibe (one of her friends works at the local fly-fishing museum) and the hotel's nostalgic mom-and-pop sensibility. A regular visitor to the Catskills, she happened to drive by the motel on the same day the previous owners set a for-sale sign on the lawn out front. For years, she had harbored dreams of escaping the hustle of New York City, her home for over a decade, to become a hotelier upstate. After all, it runs in the family: She grew up in the Adirondacks, and her family owned the Cranberry Lake Inn before she was born. "I grew up hearing stories of 'Oh, we had this rocking party.' My parents were shutting down the bar at 2 a.m., then opening for breakfast by 6 a.m. The hard work was contrasted by spur-of-the-moment camping and sailing trips," she said. "I wanted a place where all my friends could hang out and have a great time." The move also made a lot of financial sense: Human was paying close to $5,000 a month for its Chinatown office, and the mortgage for the $375,000 hotel (which includes a five-bedroom caretaker's house where Yaeger now lives) is about half that.
The design agency usually goes on an annual camping trip upstate, but last year, the retreat began with the move to the motel. In October, the eight-person team filled a U-Haul with computer monitors, Cesca chairs, conference tables, and the office library from their Canal Street space and drove it all up to Roscoe. The weekend was a test-run of sorts to see how the hybridized business — now a place to stay, a place to work, and a retreat — could operate. Instead of the usual hiking and story swapping around a campfire, they spent the weekend turning the motel's reception area into something of an office. The team hung custom blonde-wood bookshelves to hold their library of design books, and arranged the furniture that was once in the Canal Street office — like an emerald-green sofa and Bertoia Diamond chairs — into a seating nook. One of the web developers found some old wood headboards in storage and turned them into desks by sanding them down and mounting them to the walls.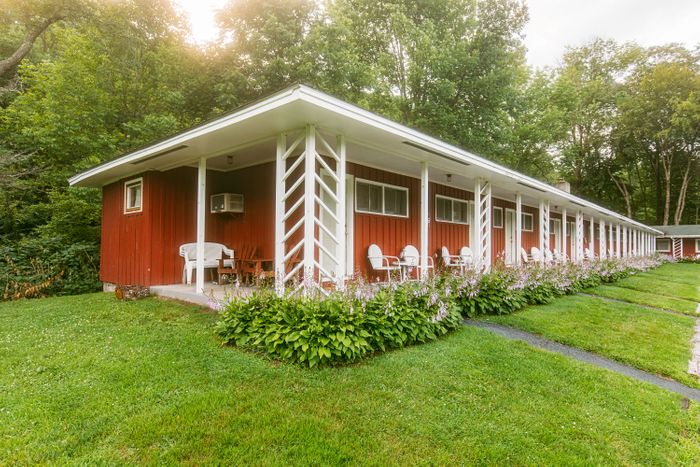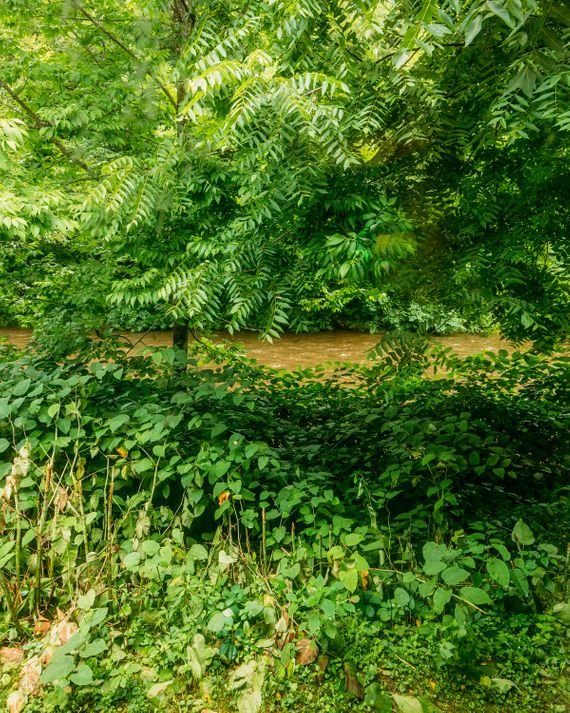 In the motel rooms, one of the first orders of business was yanking out moldy carpets and musty curtains. "I've never seen our lead designer, Pam, as excited as she was when she was ripping up carpet and discovering wood underneath," recalls Rahily Sutton, a project manager at Human. Some of the staff measured windows and sewed new curtains from canvas drop cloths. The bathroom in room five got a fresh coat of white paint, courtesy of Sutton's partner.
They had no intention of turning the Roscoe into an Arnold House or Red Rose, upscale retreats nearby run by a new generation of Catskills hoteliers who seem to follow the same design playbook of greenhouse yoga studios, vintage Americana, and Scandinavian farmhouse aesthetics. The motel's rates, about $95 a night, are the same as they were with the previous owners. "Most people wouldn't appreciate or respect the structure and the history," says Jordan Kupserschmid, a 56-year-old regular who learned to cast a fly rod on the motel lawn as a kid. "They could have just knocked down the entire thing and built a luxury resort or house. It could have gone any direction." The biggest change Yaeger made is that you can now book a room online.
Work on the hotel has continued at a slower pace since the retreat. Yaeger originally imagined that the team would meet in person once a month at the motel, and individual team members could come up whenever they wanted for however long they wanted. That hasn't quite happened. When Human had its annual retreat earlier this month, it was the first time since last year that everyone had been together at the Roscoe. For most of Human's employees, the relocation to the motel hasn't changed their day-to-day all that much — they just work from home now, like so many others in New York City.
But at least one employee has taken on a renovation of her own. Leila Bartholet, a designer at Human, has slowly converted one of the unused bedrooms in the caretaker's home into a room for phone calls or quiet work. She removed the carpet and revealed the beautiful wood floors underneath, just as they did in the motel rooms, painted the walls a bright Pepto-Bismol pink, and furnished the room with a pink Cold Picnic Rug from the design boutique Coming Soon, one of Human's clients; a green velvet chair from Yaeger's grandmother's sewing room; and a custom wood bookshelf like the ones in the lobby.
Plenty of wood paneling to go around in the motel rooms.
Photo: DeSean McClinton-Holland
A couple of people — like Sutton and Ray — visit the motel every month and stay for a few days. While they're there, they like to chip in. "I clean rooms, check people in, take payment — it's been fun," Sutton says. "Especially just after the last year of usually being alone with your computer screen, it's been nice to have something physical to do but also feel productive." And they're often doing double duty as well. "We're often troubleshooting stuff for Human while cleaning a room. Or taking a conference call," Sutton says. Of course, the motel's operations take precedence. A guest who needs to check in can't wait until someone is done checking Slack. But that's not always a bad thing. "You clean some rooms for a couple hours and you feel physically like you've just accomplished a lot. And then I'll sit down at my computer and use my time more wisely," said Yaeger.
There have been times when Ray has to tell Yeager, "I need your head in Human today," but overall the experiment seems to be working. Since the move upstate, Human has designed and launched two new websites, for Cero magazine and Cup of Jo, a lifestyle site, and the agency is developing new sites for other food and clothing brands.. The move has also yielded some collaborations — Wallpaper Project, one of Human's clients, is working with Bartholet on a custom pattern for some of the motel rooms, in exchange for Human doing some website work for them.
Yaeger does miss the camaraderie of the office and its face-to-face interactions. "Michael always tells me, 'Oh, you're not a project manager, you're a project distractor,' because I am always in the office like, 'How's your mom? Oh, I like your shirt. How's your music stuff going?'" But the dream of having a place where clients and friends could hang out and relax has slowly taken shape. Initially Yaeger was nervous about telling clients, who had regularly visited the Canal Street office, that Human had moved upstate. "There was an element of, are my clients gonna respect me?" Yaeger says. "I'm not in a buttoned-up shirt. I'm not meeting them in a neutral conference room. I'm really meeting them as I am." It turned out that her main contacts at two of the companies Human is starting to work with are both fly-fishers. Clients and friends whom she has invited to visit inevitably become charmed with the place. Ali Francis, a writer, and her partner Joshie Fishbein, a creative technologist, stayed for eight months helping out at reception before moving to Utah. A graphic-designer friend spent a week at the motel working remotely and ended up helping Yaeger build and plant a garden with squash, tomatoes, eggplant, and herbs.
In late July, a new client from Berlin visited Roscoe for a long weekend. Yaeger picked her up at the train station on Thursday morning and brought her to the motel, which was fully booked for the weekend. They started going through strategy for the new project, but each time they started talking, something came up. A plumber needed access to a utility closet, a flood insurance agent came to take pictures, and then the exterminator showed up. Plus, two rooms needed to be turned over before new guests checked in at 3 p.m. "It was the first time I was like, Oh man, a client is really seeing the motel in all of its glory and it's really rocking today," Yaeger says. "Luckily, she's seeing this as really genuine and comical and totally fine."
But after the maintenance workers left and all the new guests were checked in, Yaeger and her client were able to retreat to the caretaker's house and make dinner in the kitchen together. They got a trout (bought from the local hatchery, not off of a fly) and stuffed it with lemons and dill they picked together from the garden. Her client had gone to culinary school, so she made garlic scape pesto and a salad flecked with parsley, all from the garden, too. Over dinner at the long, wooden dining room table — formerly the conference table at the Canal Street office, now dressed up with a red-striped tablecloth — Yaeger talked about naming and branding her client's business, a restaurant focused on locally sourced organic ingredients.
"I was like, okay, here's one of the upsides to this craziness: I get to actually spend time with this client in a way that I wouldn't in our traditional office," Yaeger says. "This is why we're doing this."
The low-slung motel is shaped like an L and faces an open lawn and an out-of-use swimming pool that Human hopes to reopen soon.
Photo: DeSean McClinton-Holland