A First Look at Sag Harbor's Rebuilt Cinema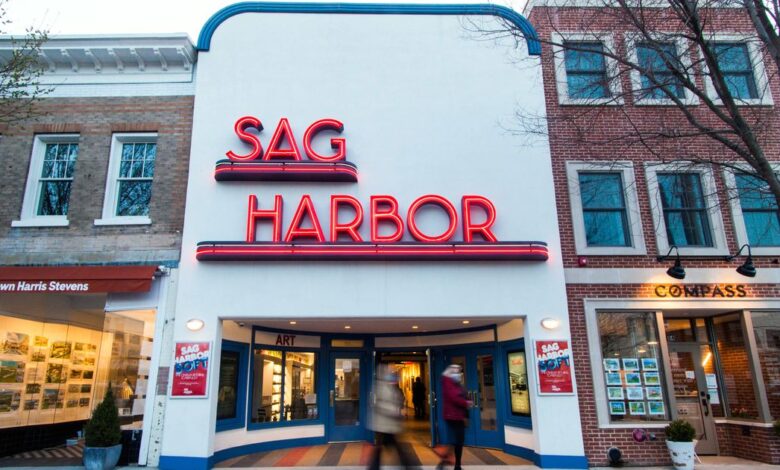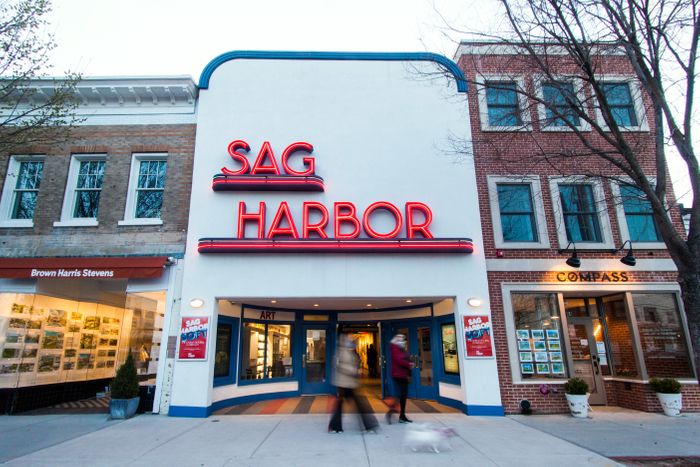 Photo: Konstantin Sergeyev
From the sidewalk, the Sag Harbor Cinema, with its red neon sign, curved stucco exterior, glass portico and blue recessed doors, appears to have been intact since Jean Harlow was the main draw. But much of what you see today at 90 Main Street is brand new. In 2016, the theater was almost destroyed by fire this would have started in a neighboring building. The new facade is a meticulous reproduction, and although the neon sign is original – it was saved from the fire by local firefighters – it had to be rebuilt and restored. Much of the interior also had to be rebuilt. It's the work of the Sag Harbor Partnership, a local nonprofit community organization run largely by volunteers, that has launched a massive rebuilding effort, raising money from donations and grants. Artists Eric Fischl and April Gornik were among those involved in launching the project; Fischl made an early donation and Gornik chaired the campaign. Reconstruction took several years and was delayed by the pandemic; This month, the century-old theater reopens in stages, and it's the first in-depth look inside.
After the 2016 fire.
Photo: Jennifer Peltz / AP / Shutterstock
For the locals, his return is an exciting and moving event. Growing up nearby, I often went to the theater. This was where my friends and I met on weekends to watch old horror movies, and it was where I went every December with my parents to see It's a wonderful life. It was the site of many summer mornings and rough high school dates. The theater smelled damp and dusty, squeaky red seats and perpetually stale popcorn. Everyone in town, it seems, has a history of being the only person in the house – or one of the few – at a winter night screening. In recent decades, like Sag Harbor suitable for a modern (and extremely rich) clientele, the theater has remained comfortably shabby, a lingering piece of the old village.
Built in the 1890s, the building originally housed a vaudeville and a burlesque theater. By the turn of the century, a projector and screen were introduced in silent films – Charlie Chaplin's films and others, on celluloid – could be shown on Saturday nights. As film technology developed, the theater developed, and in the late 1920s loudspeakers were installed and the auditorium was enlarged to show walkie-talkies. In 1936, architect John Eberson – known for dozens of 'atmospheric' theaters across the country – reshaped the cinema, establishing its distinctive Art Deco aesthetic, installing a curved marquee, plush red carpet and box office. Brass. In 1978, Gerald Mallow, a local film buff, bought the theater and turned it into an art house, and it remained his for 38 years. After the fire, Mallow – who by then was approaching 80 – sold the charred building to The Partnership, whose restoration was aimed at removing the theater's underlying rickets while retaining the small town feel.
Photo: Konstantin Sergeyev
The biggest change in the theater was to reconfigure the single 500-seat auditorium into two smaller venues: one with 227 seats and another with 98, with a concession stand in between. "A 500-seat theater is sort of outdated," says executive director Jamie Hook. "We opted for a design that would offer more flexibility." The new structure also includes a 40-seat projection room upstairs (with "big fancy seats") for special events.
Photo: Konstantin Sergeyev
Although the building's facade and lobby were destroyed, the main auditorium was largely spared and designers, Hook says, embarked on painstaking reconstruction work. Light fixtures and lighted exit signs, for example, are original, and the ends of the cast-iron seats have been stripped of their lead paint, repainted and rewired. Likewise, the golden fleur-de-lis wallpaper is a careful reproduction of the original, hinting at the opulence of the previous auditorium. "The old theater was really lavish, with gold chandeliers, thick curtains, and lots of pink velvet," Hook says. "We wanted something more discreet that still gives you an idea of ​​its former grandeur."
Photo: Konstantin Sergeyev
"Another main objective was to transform this theater – which for many years had a rather small program of independent films and art-house – and to broaden the palette. The booth can now show digital films as well as 35mm. and 16 mm. movie. It's unusual these days, says Hook, "but we felt it was important to be equipped to show archival films in their original format." And he is happy with the audio equipment: "We have invested in a Dolby Atmos audio system, which is basically the most faithful system on the market," says Hook. (These are 53 speakers in custom fixtures distributed around the walls and ceiling.) "It's hard to find one outside of Lincoln Center."
Photo: Konstantin Sergeyev
Photo: Konstantin Sergeyev
On the newly built third floor, they added a rooftop bar and lounge overlooking Peconic Bay – the most decidedly modern space in the new old building. "Back then, the theater was loved but a little run down," says Hook. "What a lot of people liked is that you could go to the movies and there would only be two or three people in the theater. You could drink whiskey and smoke cigarettes in there, and no one would notice. Obviously those days are gone, but the updates offer potential for new kinds of fun (if maybe not quite so illicit), and Hook is hoping this will be a place to gather. for the community. The bar is scheduled to open to the public on May 27.
"We also want it to be the place where high school kids can come together after class, where you come to meet a friend or colleague for coffee, where connections are made." To this end, a cafe on the ground floor will be open during the day, well beyond rush hour for watching movies.
Photo: Konstantin Sergeyev
Vintage movie posters, some dating from the 1940s, line the walls of the lobby and central corridor. "We have a poster orphanage," says Hook. "Kim Cattrall donated an old poster to us, and after that tons of people called us and gave us theirs. Joe Mankiewicz's granddaughter donated it. It's pretty amazing – we have dozens of them.