Adopting a Pet While Renting an Apartment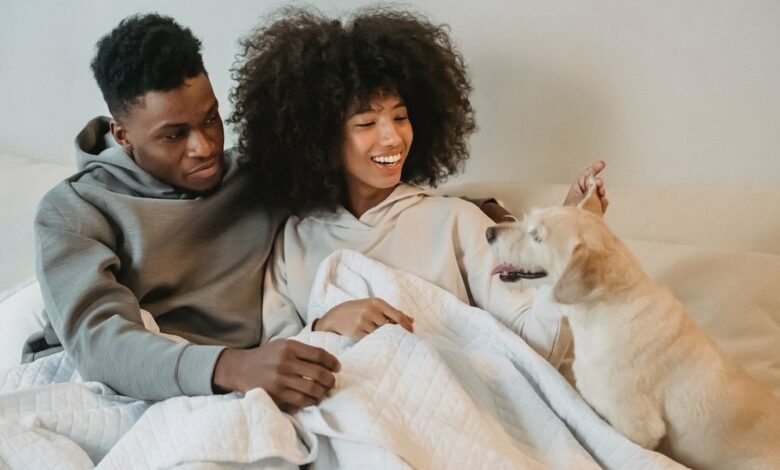 Adopting a pet is one of the best things you can do for both the animal and yourself. Indeed, since the beginning of the pandemic, the ASPCA estimates that more than 23 million American households have adopted pets.
However, hiring a new furry friend is a big responsibility – and when you're renting an apartment, it can get even trickier.
For this reason, we've put together a quick guide to the most important steps you need to take and things to consider when adopting a new pet as a tenant.
Find the perfect apartment for pets
If you're looking for a pet-friendly apartment or thinking about moving out of your current place to adopt a friend, be sure to research your options thoroughly before landing on the right one. For example, although many property managers are increasingly pet-friendly, it's best to go directly to pet-friendly properties to find out exactly what to expect.
Also, when you submit a rental request, be sure to share your intentions of adopting a furry roommate and your plan for caring for them, while keeping the apartment clean and nice.
Check with the owner first
Maybe you have your mind set on a certain rental, but the pet policy is unclear. Or maybe you want to continue living in your current apartment and adopt a pet, but the owner isn't known for his pet-friendly leanings. In these two situations, the number one rule is: do not adopt the animal and hide it! This will not only get you in trouble, but it will also break the trust between you and the owner.
Rather, the best option is to test the waters and see if you can change the owner or property manager's mind. Specifically, clarify your intentions; introduce the idea and benefits of owning a pet, take responsibility for all the extra costs and tasks that come with it, and why not, even consider creating a short resume for your pet. This will help the owner get acquainted with the animal and maybe even melt his heart. However, if the answer is still no, forget it. Then, if your intention is really to adopt a pet, keep looking for a new rental.
Know your rights
If you're lucky enough to get a positive response, that's amazing! But don't settle for a verbal agreement. Like any other rule or condition of the house, this too must be in the lease. Be sure to discuss this with your landlord – in as much detail as possible – and ask for an additional clause to be added to your contract, to specify everything that you both agreed to. This way you will ensure that your rights and responsibilities are noted.
Even if you're good friends with your landlord, having a contract in place ensures that you never have to deal with unpleasant surprises and that you're both clear about renting with a pet.
Be prepared to spend extra money
There are additional costs to owning a pet, and even if you adopt instead of buying, there will likely still be adoption fees. The advantage of bringing your dog or cat to a shelter is that they've usually already had all of their vaccinations and are most likely neutered or neutered, which will save you money.
However, you also need to consider the long-term costs of having a pet. These include not only his food, but also any recurring vaccines, dewormers, toys, bowls, leashes, and unexpected illnesses. Also be aware that renting an apartment with a pet means you will likely have to pay an additional deposit and in some cases your monthly rent may also be higher.
Find the right pet for you
This applies to any type of animal you obtain, whether you buy or adopt. In order to have a good relationship with your four-legged friend – and also to be able to keep the apartment clean and "unscathed" – you need to find an animal that matches your needs and living conditions.
Fortunately, the advantage of adopted pets is that they are usually already house trained. Plus, their unique personalities are already developed and advertised by the shelter or nonprofit coordinating the adoption. Certainly, puppies or kittens may be more desirable. But, before taking on the responsibility of raising a "baby", ask yourself the following questions: "Do I have time to educate a puppy/kitten? ". "Do I have the patience?". "Will I get in trouble if they mess up furniture or curtains or do their business inside?" Keep in mind that an older pet is more likely to be calmer, less active, and already used to the daily adventure that indoor life entails.
Welcome your pet
If all goes well and you score a pet-friendly apartment and the perfect fluffer, it's time for the fun to begin! When you bring your pet home, make sure you have all of their information. An adopted dog or cat may have had a completely different life before coming to live with you and may have specific needs or preferences. It's important to be patient and give them time to get used to the place, explore every nook and cranny, and feel at home. For cats and dogs, be sure to create a safe space where they can go to relax, something like a small bed placed under a table or in a hidden corner. Plus, there's no harm in spoiling them a bit with interactive toys, a comfy bed, a cat tree, or whatever they might like.
Take the time to educate your pet
Sometimes loving your animal is not enough. Some animals, especially younger ones, have a lot of energy to spare and in some cases this energy overflows and causes domestic accidents. So set clear rules early on and give your adopted pet the proper training. Sure, dogs may be easier to train than cats, but it's important to invest time in this aspect of your life together.
Additionally, pets are often able to tell how you feel about their action just by the tone of your voice. For example, if he carried out an order or did a good thing, be sure to praise him and use a calm, happy voice. When they mess something up, use a firm tone to let them know you're not happy. Remember that no matter how they behave, pets (like children) will end up doing a little harm.
There are many helpful training resources and videos online. In any case, be sure to be armed with patience and lots of love. Then you will surely build a lifelong friendship between you and your adopted pet.
Check out our blog section on renting with pets for more helpful tips on finding the right apartment, ideal dog breeds that don't bark or shed, tips to avoid cat atrophies or easy DIY pet toys.