American's Grossest Bathroom Habits [Survey]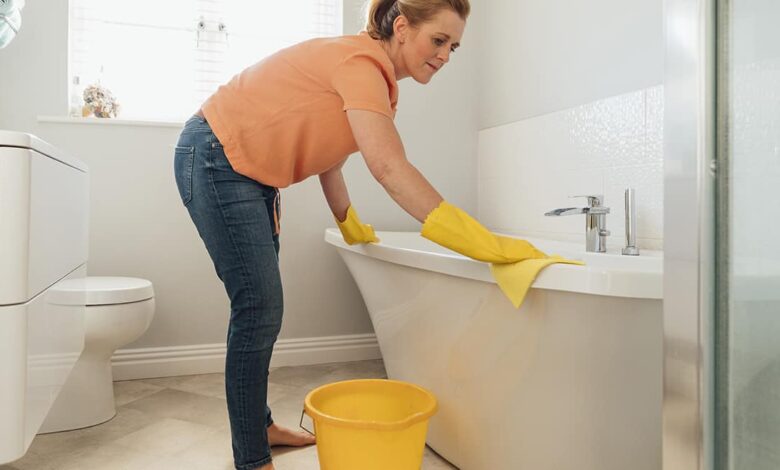 If you think your bathroom is where you clean yourself, you may need to face reality. While many of us think of our bathrooms as our own private sanctuary, they can be a lot dirtier than you think.
We spend so much time in the bathroom – on average 416 days of our lives, in fact. This equates to over a week each year.
Despite the amount of time people spend in their bathrooms, many people don't clean their bathrooms as much as they should. We're not just talking about the obvious things like toilet seats, sinks, and towels – ironically, your shower could be the grossest part of your entire bathroom.
By finding out about people's real cleaning habits, we surveyed over 3,000 Americans to find out the dirty truth about Americans' bathrooms in homes.
Nearly 4 in 10 Americans clean their bathrooms once a month or less
We asked our survey respondents how often they clean their bathrooms and what we found might surprise (or disgust) you.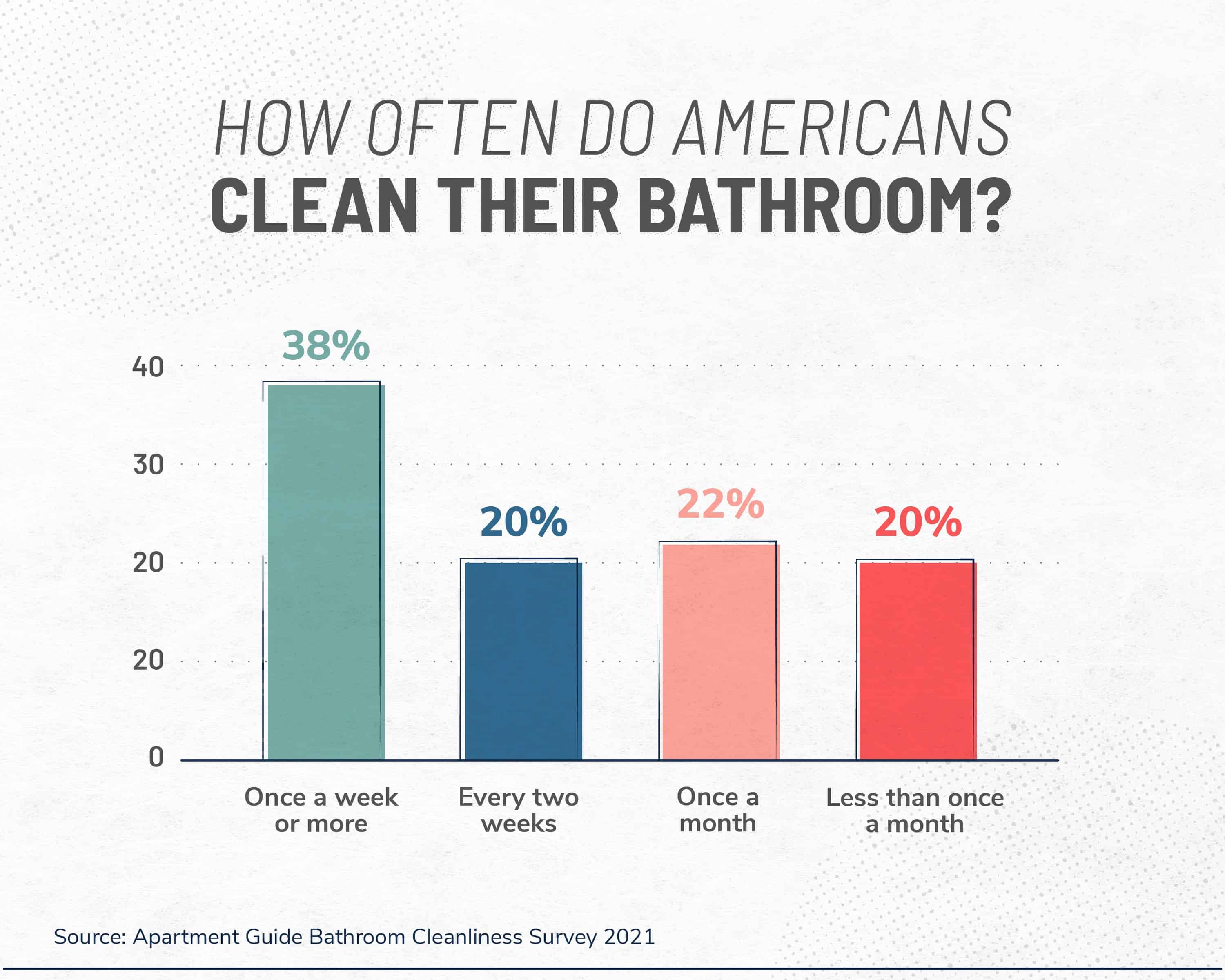 According to our research, only 38% of respondents clean their bathroom at least once a week:
Once a week or more: 38%
Every two weeks: 20%
Once a month: 22%
Less than once a month: 20%
The cleaning of the bath and toilet is the most dreaded task by the Americans. But if you are part of the 42% of Americans who clean their bathroom once a month or less, you might not have thought about how grossly disgusting this is – or where these germs actually come from.
Shower curtains are the most overlooked
A recent study looked at colony forming units (CFUs), or the number of microorganisms in a test sample, and found that toilet seats on average contain 235,000 CFU. While that might sound like a lot, it's overshadowed by the number of CFUs in your shower.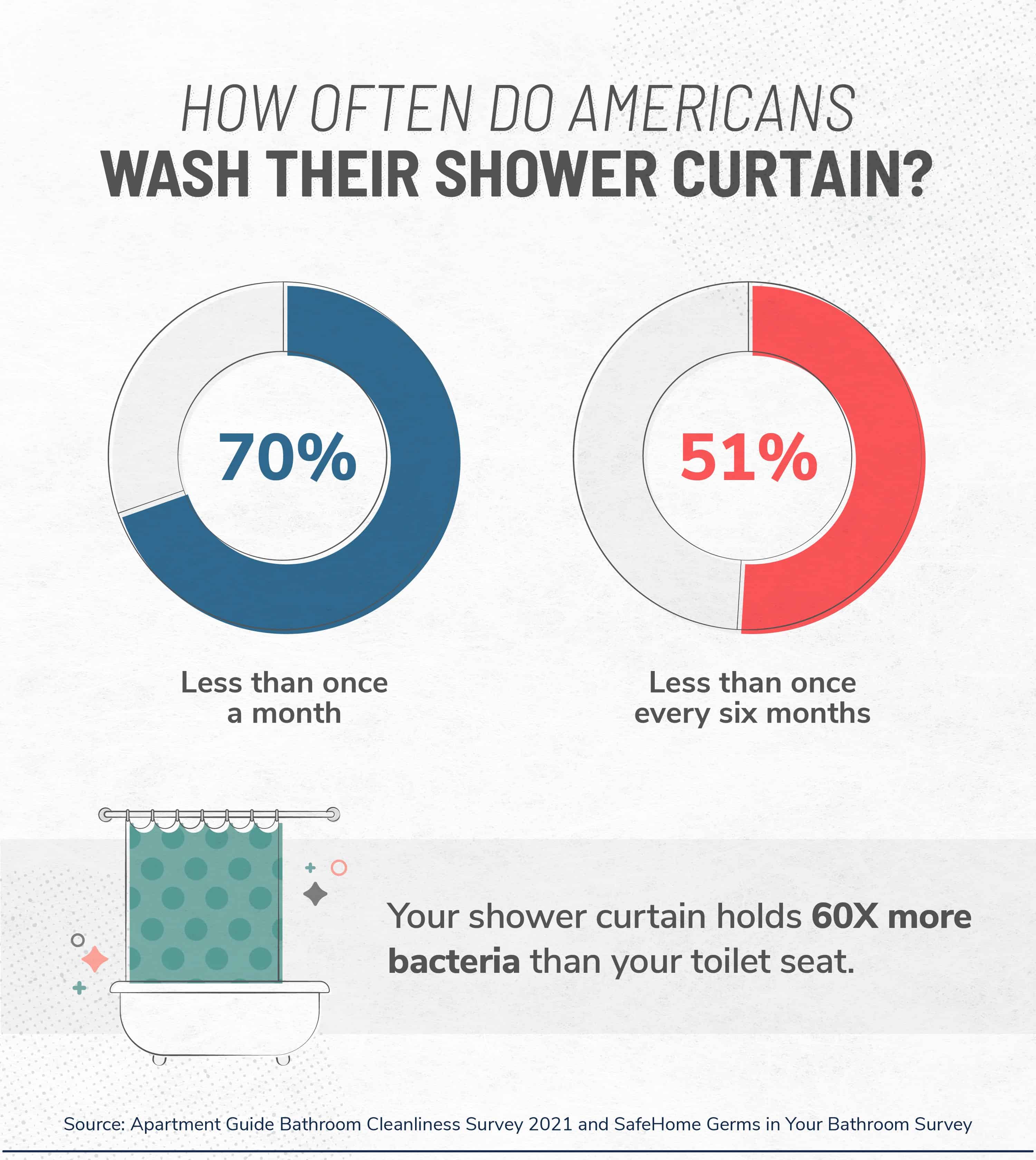 Shower floor averages 15.8 million CFUs, and shower curtains take the top spot with over 16.2 million CFUs – more 60X more than your toilet seat. Although shower curtains hold the number one spot for bathroom bacteria, more than half of Americans only wash their shower curtain every six months or less. Even grosser, that number climbs to nearly three-quarters of those who used to shower their curtain once a month or less.
When it comes to shower hygiene, only 1 in 5 Americans live up to it
According to Jason Tetro, a visiting microbiologist and scientist at the University of Guelph, shower curtains should be sanitized weekly – and sadly, less than 20% of Americans meet Tetro standards. So what happens when you jump to wash your shower curtain?
David Cusick, chief strategy officer at House Method, says neglecting this chore can lead to mold and mildew build-up due to the humidity in your bathroom.
While many people are guilty of washing their shower curtains less than recommended, it is not due to carelessness. According to our research, 29% of Americans willfully ignored the dirt on their shower curtains.
So if Americans are so willing to turn a blind eye to a dirty shower curtain, what other bad bathroom habits do they admit?
The Dirty Truth: Americans' Crudest Bathroom Habits
Sadly, grimy curtains aren't all you need to worry about in your shower. We wanted to know what other bad showering habits Americans admit, and what we found might make you want to take the soap.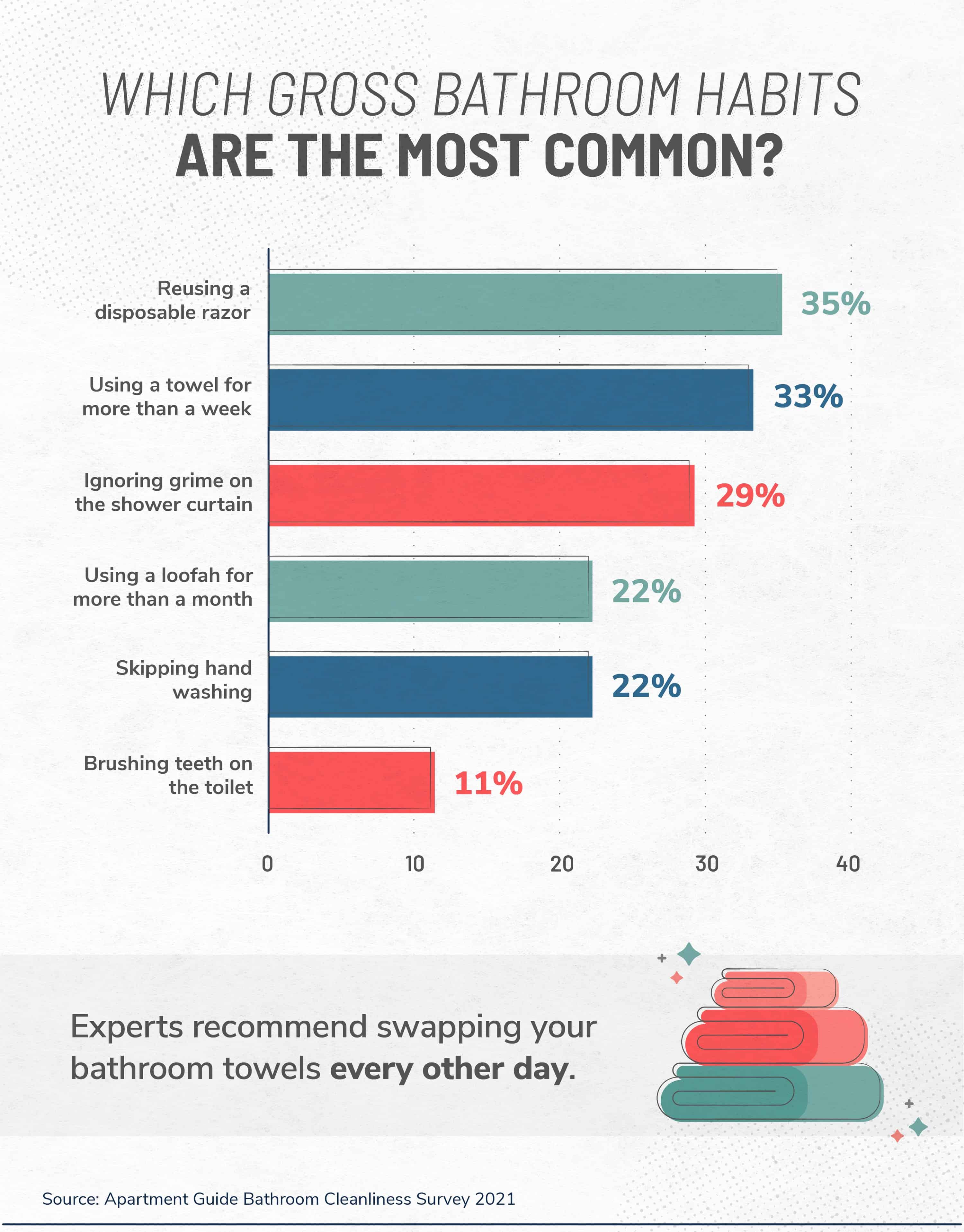 With more than one in three Americans admitting to both reusing a disposable razor and using a towel for more than a week, we realized that Americans' grooming habits could be even worse than we think. The most common bathroom habits Americans admit to having include:
Reuse of a disposable razor: 35%
Use of a towel for more than a week: 33%
Ignore dirt on the shower curtain: 29%
Using a loofah for more than a month: 22%
Skip hand washing: 22%
Brushing your teeth in the toilet: 11%
35% of Americans Reuse Disposable Razors After Their Date
Reusing a disposable razor a few more times isn't a big deal, right? Although 40 percent of Americans agree, you might be surprised to find that an old razor can actually cause microscopic tears in your skin that increase the risk of infection.
According to Dr Jessie Cheung, MD., these tears increase your risk of viral infections like molluscum contagiosum – and some researchers think it might even put you at risk for get HPV.
33% of Americans use towels for more than a week
Experts recommend swap your bath towels every other day – an amount that may come as a surprise to the one-third of Americans who constantly use their towels for more than a week. This is because bath towels are loaded with staph and fecal bacteria, which can get worse when your towel is not completely dry between uses. Also, if you use a towel for the hair, you may unintentionally spill fungi causing dandruff.
Other common bathroom habits Americans admit include using a loofah for more than a month (23%), failing to wash their hands (21%), and brushing their teeth. using the toilet (13%).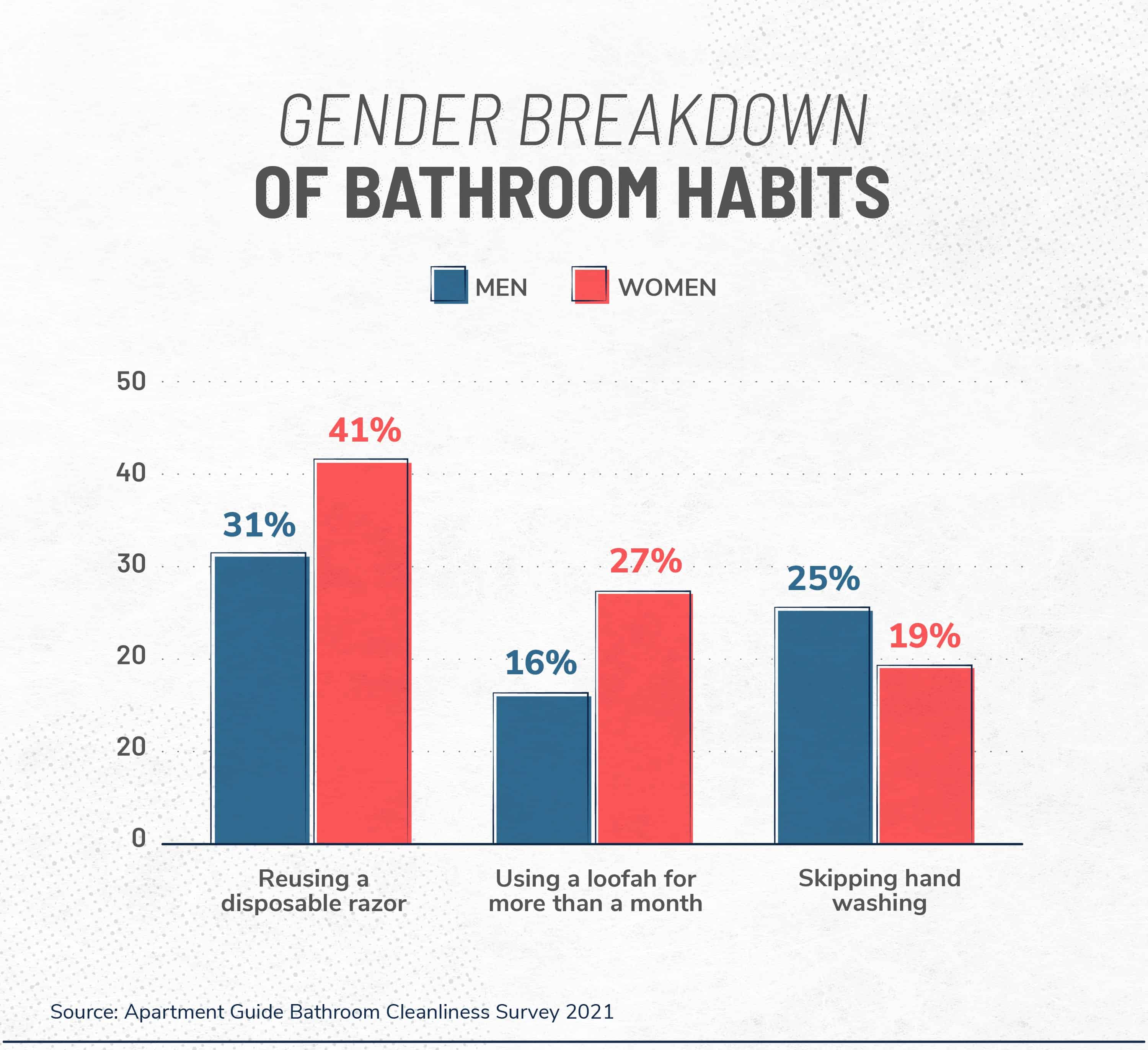 When it comes to loofahs, women were 80% more likely to use theirs after the date. However, when we looked at hand washing habits, men were 40% more likely to admit that they forgot to wash their hands after using the toilet.
While only 13% of respondents admit to brushing their teeth in the toiletIt should be noted that your toothbrush can still be full of bacteria just by staying in your bathroom. After flushing the toilet, fecal matter can become airborne and nestle in your toothbrush – which is why experts suggest replacing it every three to four months.
It's time for the spring cleaning
If you are a renter, it can be difficult to make a small bathroom warm and inviting. Even if you are working with a limited building stock, smart bathroom organization can transform your space from an ordinary space into the ultimate space to relax.
Are you looking for a perfect home for you? Visit our apartment finder to find new apartments near you.
Methodology of the survey
An online survey of 3,000 Americans was conducted for Apartment Guide using Google Surveys in May 2021.
Post-stratification weighting was applied to ensure an accurate and reliable representation of the total population.
Fair use statement
The information from this survey and associated graphics are available for fair use. Please credit correctly and link to the survey information on this apartment guide page.
comments
comments