Apartment Management Magazine It's Difficult to Prioritize Empathy When Managing At Scale. Here's What You Can Do.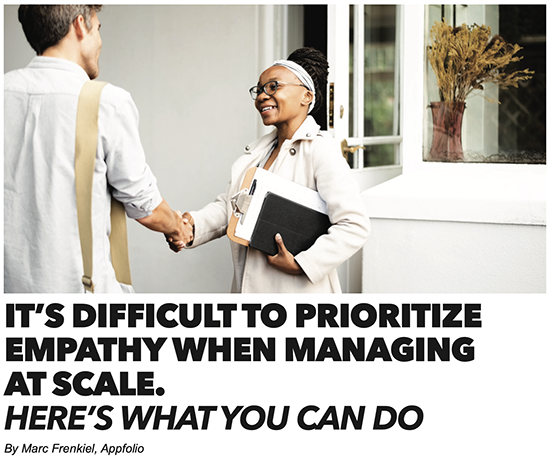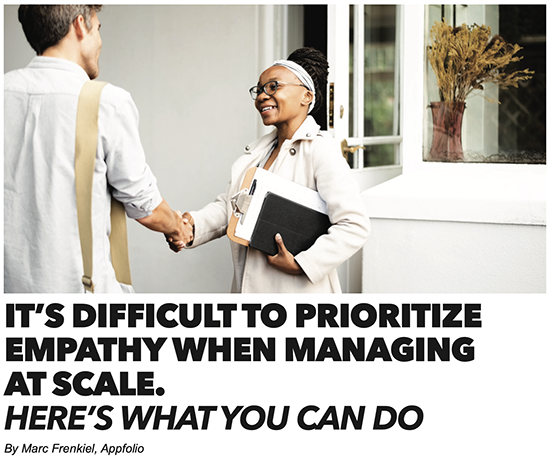 Property management is typically thought of as the operations that ensure real estate is maintained, both physically and financially. While this is undoubtedly the case, successful property management companies know that there is also a more human aspect to it — and that incorporating empathy into property management leads to many desirable outcomes, such as renter satisfaction, stellar online reviews, positive word of mouth, and more renewals.
Empathy, defined as "the ability to understand and share the feelings of another," is applicable to resident-property management relations when viewing it as one of service, rather than just management. Most good property managers do view their residents as "humans who live in homes," rather than just "tenants who occupy units." Through this lens, there's a clear connection between property management and empathy. Residents want and deserve prompt service and kindness in their interactions with their property managers or landlords.
The challenge, however, arises when it comes to managing multifamily real estate at scale. As routine tasks and new demands pile up on your team, it becomes much more difficult to provide an excellent experience in every interaction with a renter. But handling resident concerns promptly is more than just the right thing to do, it's also good business practice — an unexpected plumbing issue, where the water needs to be turned off in one residence, is much easier to manage than one that knocks out water to the entire property. It's far easier to address one affected resident with empathy than it is an entire building of upset, confused, and inconvenienced renters, especially while simultaneously trying to resolve the issue at hand. Responding quickly and thoughtfully to each individual residents' concerns and needs is ultimately the best way to avoid situations like this.
Real-world proof
AppFolio recently conducted five Metro Resident Motivations reports and one National Resident Motivations report with the goal of helping property owners and managers stay on top of, and better understand, the changing preferences and expectations of their residents.
When asked the open-ended question, "How has your property management company or landlord disappointed you in this past year," a lack of empathy was a common answer across all metros surveyed, as well as in the greater US Here are some examples:
Dallas: "I did not get an official notification by mail of the new owners' names, how to pay my rent, etc. Things were pretty chaotic for a while, and I felt it was fairly unprofessional."
Los Angeles: "The management company doesn't fix anything in the building and the person they do bring is rude and unsafe during COVID."
San Francisco: "Poor communication, lack of empathy, and care."
Miami: "The support after the lease signature has been very poor."
Atlanta: "They are rude and they don't care about fixing things."
National: "Rude repair staff, vermin in the unit, plumbing issues, and repairs not made."
Most of these complaints could have been avoided had property management or ownership succeeded in prioritizing individual residents' needs, keeping in mind that these residents are humans with emotions, needs, desires, and aspirations, just like you and me — regardless of income level. It's important to acknowledge that no property manager intends to treat residents this way (or at least we should hope not!). The problem doesn't stem from an innate lack of empathy, but rather from not having the right tools to prioritize and deliver empathy and kindness as the property management business scales and faces new challenges.
Why does empathy matter in property management?
The complaints above will most likely lead to renter dissatisfaction, poor online reviews, unfavorable word of mouth, and possibly less renewals. "Possibly" is the operative word here, because in supply constrained markets like New York and San Francisco, renters might be more willing to "bite the bullet" and live with unempathetic property management. But in markets like Miami and Dallas, where construction cranes dot the skyline, renters have more options and they, along with their property managers, know this. Interestingly, our Metro Resident Motivations reports found that dallas and Miami renters are the most satisfied with their property managers or landlords, while renters in Los Angeles and san francisco came in as least satisfied.
With that said, if a lack of empathy and kindness leads to renter dissatisfaction, poor online reviews, unfavorable word of mouth, and possibly less renewals, then it can also be said that an abundance of empathy and kindness leads to renter satisfaction, stellar online reviews, positive word of mouth, and more renewals.
What can I do to create space for empathy on my team?
The property management "to-do" list is never ending, making it harder to add that extra level of empathy, especially on days where things get chaotic. Additionally, property managers are often on the receiving end of seemingly unrealistic and unfair complaints. If a team member feels that they are not being treated fairly by a resident, it's human nature to not necessarily respond with kindness.
If you work on site at a property, think about ways that you can take ownership of delivering the best possible resident experience, and highlight challenges or obstacles that prevent you from doing this to management.
If you are a leader of property management teams, the solution starts with training. First and foremost, it's important to train your staff to respond empathetically to residents. Mindfulness training can help property managers remove the ego from a given situation and not take things personally. Ultimately, it's not necessarily a "money issue," it's a matter of emotional intelligence.
Then, ask yourself whether your operations are set up to empower your team to consistently provide the level of empathy and service your residents deserve. If not, the next step is to make a structural change that gives your team the tools and support they need to respond to each and every resident issue quickly and effectively — your business systems must be geared towards delivering this outcome.
What is this structural change, you ask? It's incorporating property management technology into your operations.
The right technology partner allows and leaves room for more empathy from your team, helping to make it the focus of their role.Stay tuned for part two of this series, where we'll explore in greater detail the connection between empathy and property management technology.