Apartment Management Magazine Tenant Anti-Harassment in Long Beach and Los Angeles, But Who's Looking Out for the Welfare of Landlords?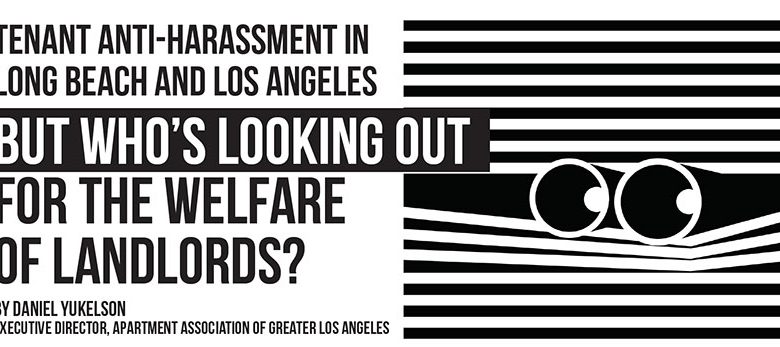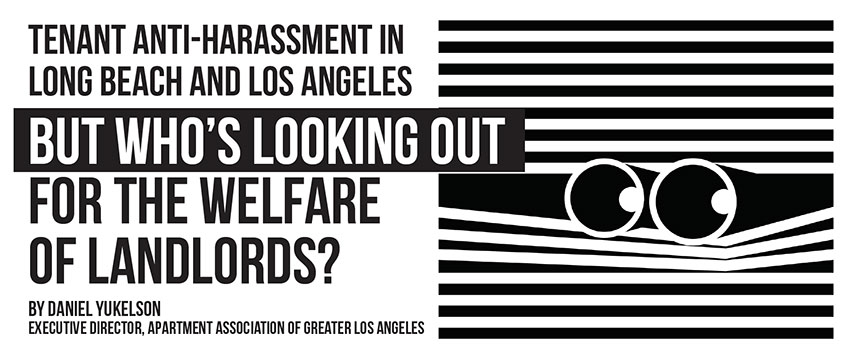 Late last year, the city of Long Beach again embarked on the warpath by attacking a small group of residents made up of those of us in the city who voluntarily provide rental housing to the vast majority of the city's residents. As "landlords", we are too often portrayed in a negative light by our elected officials who are unstoppable in their efforts to bow to a voting bloc of city tenants. For the sheer daring of providing roofs over the heads of the City's tenants, harsh negativity is constantly directed at us in the form of unbalanced ordinances that always seem to favor those who are pardoned, who in our case are still tenants. This is the situation in Long Beach with the city's so-called "tenant anti-harassment ordinance" that was passed late last year.
More recently, and now making its way into the City of Los Angeles "system", is a newer and much more draconian version of an anti-tenant harassment ordinance. After crossing the boundaries of the city's housing committee (a / k / a, anti-landlord committee), many controversial and potentially harmful amendments to the ordinance had been proposed by the socialist and far-left council member Nithya Raman. While many of Ms Raman's amendments failed in committee due to our advocacy efforts, those who remained may still expose rental housing providers who have not committed harassment to being the subject of litigation and litigation. futile prosecutions.
If this Los Angeles ordinance is to be passed in its current form, the result could be a cottage industry set up by unscrupulous lawyers who only make false allegations of harassment against homeowners. court, extortion payments to get rid of these nuisance claims. And yet there is more – the proposed order contains a private right of action extended to third parties literally allowing "any person, organization or entity that will fairly and adequately represent the interests of an injured tenant (s) … may initiate civil proceedings. "In other words, a simple passer-by or visitor to a property is entitled to take legal action against a landlord for harassment.
However, who is going to protect the housing providers? Often times I hear stories of housing providers being harassed – don't we deserve mutual protections against harassment? So many "small business owners," mothers and parents "" are elderly and subject to verbal and physical abuse and deal with tenants destroying property or allowing other occupants to remain without permission , which affects the peace of the other residents. Until recently, residents were relegated to their apartments under 'stay at home' orders, working from home or unemployed, taxing plumbing and appliances through overuse and, in extreme situations, arguing with other residents whom they had usually only seen occasionally. before or after commuting. Stress levels are heightened and housing providers who attempt to intervene have found themselves in danger and threatened.
Unfortunately, this is the situation we find ourselves in today. Imbalanced, unfair, one-sided and imbalanced regulations aim to punish a group of citizens who are simply trying to provide much-needed housing. And regulations like these just end up costing us more money in the form of legal fees and increased insurance premiums – and our elected officials just sit there with their eyes raised and a finger pointed to their cheek, wondering why. rents continue to increase at the same time. the supply of rental housing is declining.
When such blatant regulations such as moratoriums on evictions, rent freezes and now anti-harassment orders for tenants that seemingly have no limits are imposed, one has to wonder what is obvious: is it just a game of ultimate government takeover of rental housing? It looks like an evil, twisted version of the Monopoly board game, but without the money changing hands.
I also wonder why is it always the case that "we" have to be the adults here? Why do we constantly have to educate tenants about their rights and obligations? When is "ignorance of the law no excuse" suddenly no longer true? We gave the required notices for Assembly Bill 3088, then again for Senate Bill 91, Assembly Bill 1482 required new notices depending on whether a property is covered or no, and of course there is the constant onslaught of advice, sometimes conflicting advice, required by local ordinances.
And, quite often, failure to inform tenants of the rules, ordinances and regulations that they should not ignore often becomes an affirmative defense when our tenants do not pay their rent or for other breaches of their lease agreements. . Even if notice is given, if not given properly, owners have to start from square one (the "Go" box in the Monopoly analogy, but we hardly ever get our $ 200 back. there!) and follow the rules perfectly – failure to thread that needle is expensive. For our tenants, however, few rules follow business when the "bridge" has been stacked so severely against the opposition.
I don't hope things will get better for us. Hope is not a strategy. We need to shake things up to not only change the rhetoric against us in the press, in city halls and in Sacramento, but we need to start strategically "cutting back" on non-compliant regulations. This means that we must support candidates who are sensitive to our problems and who want to come up with real solutions capable of solving the state's housing crisis and not the same retreaded solutions that we have seen for over four decades. It also means that 'talking is cheap' and that we must, if necessary, resort to costly litigation when we can achieve realistic and favorable results. Sadly, here in California we have to feed the political beast and understand that it takes money for any kind of change to happen.
As of this writing, our Association is involved in four federal lawsuits as we deploy a significant and strategic effort to effect the changes necessary for our survival. These lawsuits are not cheap and are a huge drain on resources, but if we identify other causes of action and credible plaintiffs, we have an appetite to take a lot more, and we absolutely will. I can assure you. You can help us in our efforts to make badly needed changes. Please consider making a generous contribution to our Legal Fund at www.aagla.org/legalfund and give us the resources we need to continue the fight for change.
Question: Who takes care of the well-being of the owners? Answer: The Greater Los Angeles Apartment Association is.