Artist Lynda Benglis Remembers Life At 222 Bowery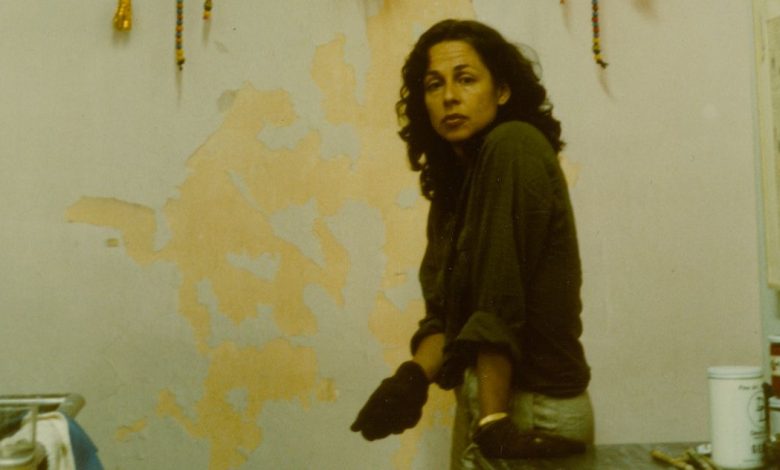 At work in his workshop, at 222 Bowery
Photo: Courtesy of Lynda Benglis
At 79, legendary irascible artist Lynda Benglis spends most of her time in Santa Fe, New Mexico, where she has done much of the work for herself. show in progress at the Pace Gallery. But she appeared in the motley artists' bohemia of the 60s and 70s. For a while she lived and worked in 222 Bowery, a former YMCA taken over by artists, including Fernand Léger, Marc Rothko, and William Burroughs, who called it the Bunker. John Giorno, who lived there for over 50 years, once called him "an Italian-inspired palace for beggars." Here Benglis – known for her 1974 nude with a dildo advertising for itself in Art Forum – remembers his time there.
There was no other building with the wrought iron gate. The building itself had significantly beautiful spaces and the largest studio belonged to Rothko. However, this building currently stands out from the Bowery, as nothing has changed and it faces the New Museum, which in itself is an architectural statement. I entered the building for the first time because Mike Goldberg invited me to see his works, which were enlarged in power and in gesture beyond what Rothko could have imagined. I was taken by their grandiloquence, because the space and the paintings matched the scale. Mike played sports Meledandri suits and then appeared in jeans falling well below his waist with paint on the floor and on himself – quite the opposite of Meledandri's image. Mike introduced me Joan Mitchell. I was interested in Mike and Joan because they were considered young artists when I was in school. At the time, I had known both Rothko and Mitchell since I had read ARTnews in my years of painting at the Sophie Newcomb School of Art at Tulane University. Rothko had visited Tulane at the time, and the professors there, including the graduate students, actually did some terrific Abstract Expressionist paintings. So when I met Mike Goldberg walking into the Grove Press Bar, next to Barney Rosset's theater [Evergreen Theater], I unwittingly began to participate in the history of the 50s and 60s. The rest is history.
Photo: Courtesy of Lynda Benglis
That being said, Mike Goldberg's floating wall space was given to me in 1970 so I could design something bigger, and at that point I knew I wanted something to stand out from the Wall. I was fed up with the paints and texture of the planar brushstrokes, and wanted something to mimic the painting. I had long experimented with different forms of both encaustic wax and natural rubber, and it interested me that these materials were raw materials and that they came from places other than our country.
And then I did the Mike Goldberg play [Wing, polyurethane foam, 1970]. I wanted to hang it on the wall of his space. I did my first wing on his floating wall which had to balance on the ground, so he went from floor to wall, but he tiptoed down to the floor. It was my first wing, and as a form it was very complete and very unique. It was a form of what could have been a monster underneath, but it was divine. It came down from the dirty floor of Rothko's and later Mike Goldberg's studio, which had never been cleaned and was blackened with soot and paint from yet another century.
I continued to work, having studios elsewhere in Baxter Street and LA. In my old studio on Baxter Street, the people who owned it went elsewhere. They loved me. They were always happy when I arrived. I paid maybe $ 65 at the start and it went down to $ 75. I left when a new owner bought the building. The Chinese moved to Little Italy and became its new owners.
On the Bowery I also briefly rented this large place in which I never really lived, in the building where Klaus Kertess lived, on Bowery and Bond, provided by Jack the "Loft King" [Jack Levine]. He ended up becoming something of a hippie. Klaus' loft was really the storage for the Bykert gallery. It was formerly rented by Gordon Hart and had previously been occupied by Gerald Laing. The Bouwerie Lane theater was below. I paid a lot of money per month and moved stuff there, but not a lot. Jack may have introduced me to another space on the Bowery. Brice and Helene marden lived at the end of the street. Who else lived there was Chuck Close. Tom Bronk lived in Leo Castelli's warehouse on Canal Street. He lived in Leo Castelli's warehouse and he used Jasper Johns' hot plate to cook. I picked it up and used it in Baxter Street. I think Tom is a great artist and I support Tom in his work. It's part of the Bowery for me. He helped me get started.
When I signed the lease in 1977, 222 Bowery was in its 19th century condition and had been a YMCA. It was built in 1884. Bill Walton had my loft before I had it. He gave it up when he bought a big spot on the corner of Hell's Kitchen. He was a painter who painted barber shop icons: red, white and blue. He was a retired Washington, DC reporter who escorted Jackie Kennedy to parties when she was married to the President. He had a fantastic house in Georgetown and a beautiful house along the Hudson.
There were all kinds of ventilated areas on the ceiling of my space, round and square patterns of ventilated areas on the ceiling. In order to transform the space into my studio so that I could stick heavier wax paints on the walls, I covered all the working walls with three-quarter inch plywood. Bill Jensen made the floating wall for me at the Bowery, which he floated with pipes. I didn't want it to go all the way. I wanted the beautiful oriental light of the Bowery. It is excellent for painters.
I had nothing in there. I had to clean up the space. The space was messy. Mike was a mess. I bought one of the first Castro convertible beds – used, but brand new. It was a sofa bed, simple, but without a back, and I remember I had also bought a light striped sofa, which was mainly a sunshade type sofa – that and a Biedermeier table, which I bought after briefly teaching at Cal Arts. I bought an old used file cabinet and painted it gray. It was above all the extent of my furniture.
Photo: Eeva-Inkeri, courtesy of Lynda Benglis
222 Bowery didn't seem like a wonderful place, except for the people there; it seemed to float only like a wonderful house, much like the old woman in the shoe. It looks like the old woman in the shoe because everyone in the building was simpatico. And especially I spent a lot of time with Mike Goldberg because he organized great parties. And when lynn umlauf moved in, I was pretty good at Mike and Lynnie's, taking a break with a glass of wine and really wonderful food. Mike was truly the best at pasta when it came to cooking, and Lynnie loved following recipes in a focused and wild way, which turned out to be an ace when it came to eating. Before Lynnie moved in, I shared an old rusty portable shower on the third floor with John's day and Mike Goldberg. We all had to go upstairs for what seemed like forever as it was inconvenient to get in and out with a small or a large towel.
Negative space and positive space have equal size and weight in my world. And most sculptors think so. I commented along the way that the Bowery has equal positive and negative dimensions. The negatives and positives of the place: The stairwells are still a bitch, but there is positive reinforcement from people. The energy of the place still vibrates.
"Lynda Benglis: An Alphabet of Forms "is at the Pace Gallery, until July 2.