Can Rockefeller Center Ever Be Hip?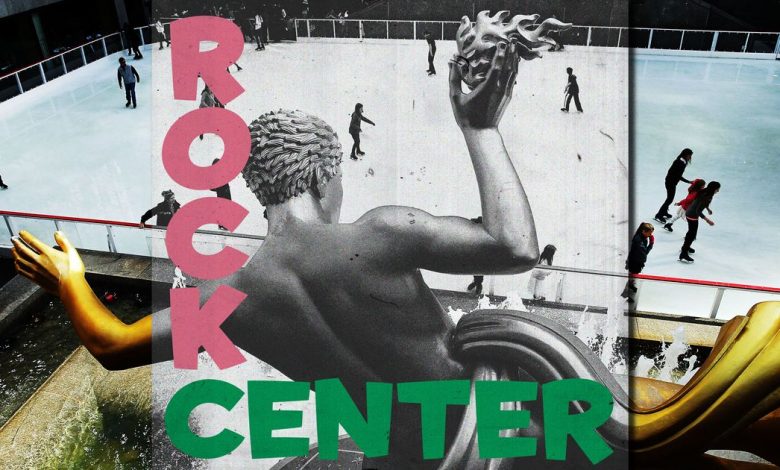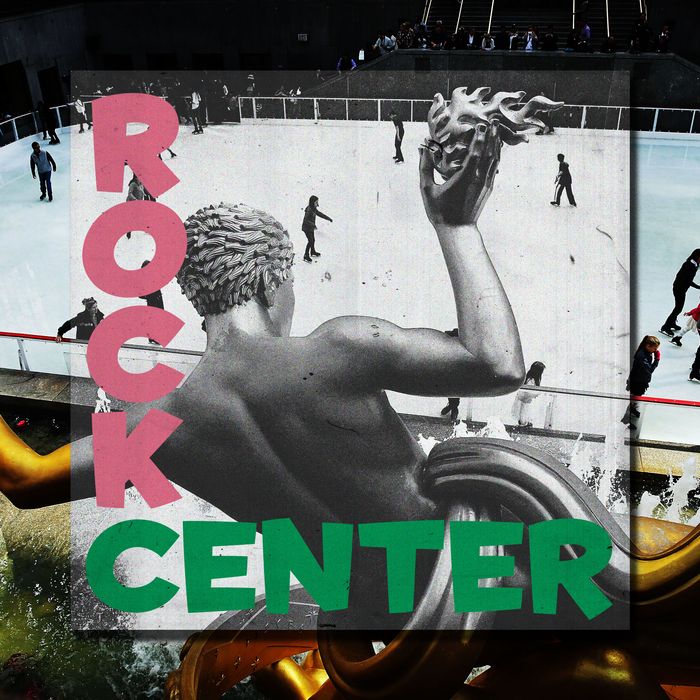 Photo-Illustration: by Curbed; Photo Getty Images
In early June, the record store Rough Trade, which grew out of London's 1970s punk scene and had, until last year, run its New York location out of a former warehouse in Williamsburg, moved its bins of LPs to Rockefeller Center. Later that month, the very hip Lower East Side housewares store and speciality market Beverly's followed, joining several other recent arrivals: Côte à Coast, a men's lifestyle shop whose other location is on the Bowery, and Jill Lindsey, a Fort Greene boutique and community space that offers tarot-card readings. Frenchette is coming, as are Dough Donuts and Caffè Lodi, the next project of Ignacio Mattos, the founder of Spring Street hot spot Altro Paradiso.
Rockefeller Center is, arguably, the most elegant office and retail complex in New York. But cool? That's not a word most would associate with the Art Deco behemoth, whose retail offerings reflect the most powerful global brands of any given era: Lego, Tiffany, Michael Kors. It also has a lot of upper-to-mid-priced stores that are nice but not especially hip: Cole Haan, J.Crew, Banana Republic, Kate Spade, Ann Taylor, Ann Taylor Loft. For somewhat alternative fare, you can visit Anthropologie or Free People, two branches of the same giant retail conglomerate that professionalized the aesthetic of an eclectic East Village thrift store. It's part of the Fifth Avenue corridor, which is dedicated to the largest and most deep-pocketed brands (LVMH, Nike, Harry Winston). That area is, after all, "one of, if not the, top-performing retail district in the Western Hemisphere," said Andrew Kahn, an executive managing director of retail services at Cushman & Wakefield. It is not, in other words, a place where one expects to find playful new retail concepts, independent stores, buzzy restaurants, or the people who patronize them. The rent is high — even now, in semi-post-pandemic times, annual asking rents are $2,750 per square foot for retail spaces along the Fifth Avenue corridor, according to the commercial real estate firm CBRE — and thus the tolerance for risk is low.
But we are living in a city at least somewhat remade by the COVID-19 pandemic, where, it seems, familiar ways of doing things might be open to negotiation. Especially when it comes to brick-and-mortar retail, which was struggling even before it became (briefly but significantly) impossible to buy anything in person except medicine, groceries, and wine. So maybe, just maybe, a hipster revamp of Rockefeller Center is not such a contradiction after all?
That process began well before the pandemic closed everything down and people started talking about converting office buildings and hotels into housing. "We're in the midst of a very large-scale reimagining of Rock Center, which is centered around ensuring that Rockefeller continues to be the beloved New York destination that it has been," said EB Kelly, a managing director at Tishman Speyer, the owner of the complex. "Particularly, we want to make sure that it is a terrific draw for New Yorkers." (The reimagining is not purely retailer-based: Rock Center is also undergoing a major overhaul of the sunken plaza and underground shopping concourse.) "Frankly, there are lots of other neighborhoods where you might want to go shopping, you might want to go to a restaurant. By delivering the kind of shopping experience you'd only have on the Lower East Side or Williamsburg, we can reconnect with New Yorkers."
Which, in a time when tourists and office workers are a bit thin on the ground, makes some sense. Hence the hip retailers—some so hip that they exist only in pop-up form. "That's the interesting part of this — we haven't even opened a permanent store yet," said Beverly Nguyen, the stylist who opened the first Beverly's on the Lower East Side this spring (its presence has just been extended through July). "When you think of Rockefeller Center, you think of these huge conglomerate heritage brands. I find it beautiful and inspiring to be like, let's bring all these neighborhood businesses that, without a pandemic and people leaving, places closing down, would never have an opportunity to be in a space like mine." (Beverly's new location is stocked with Beverly's own olive oil sourced from a family-owned farm in California, table linens produced by her parents' textile-and-garment-manufacturing facility, and a sparse, exquisitely chosen selection of kitchen and household implements.)
Though neither Rockefeller Center nor these new tenants would disclose the terms of their leases, Kelly said that many of the deals were not traditional ten-year leases like the $4 million one that Lego signed last year. "We want to meet brands where they are," she explained. "We are open to doing short-term structures" — as short as six months — "that make sense and are in service of long-term value creation. Could I go out and lease spaces in which I'm doing short-term activations for a higher rent? Yes. But I'm not sure that would be in our best long-term interests."
According to retail brokers, pop-ups and more flexible lease structures were increasingly popular even before the pandemic. Retail rents hit incredible highs in 2015, then started to drop as online shopping and social-media marketing turned the tide against money-losing flagships. Robin Abrams, a vice chairman and retail broker at the real-estate firm Compass, said that Rockefeller Center's strategy reminded her of what Brookfield Properties did when it bought up a string of buildings on Bleecker Street. There, the storefronts had been been left vacant after soaring rents pushed out even deep-pocketed luxury retailers like Michael Kors and Marc Jacobs. Brookfield installed up-and-coming shops with large social-media followings, like Lingua Franca (cashmere sweaters embroidered with verve-y sayings) and Bonberri Bodega, "a wellness blog turned health food market."
"The likelihood is that they're doing deals with subsidized rents or percentage rent only or percentage against a low base rent," said Abrams, who has worked on deals in the area and is familiar with pop-up lease structures. "Maybe they're delivering the space in white-box condition so that the tenant doesn't have to invest a lot of money in order to open the store. If the tenant makes money, they pay a rent based on a percentage of their sales and there may be an option to stay on a long-term basis if they perform. It's a win-win."
It's also, she pointed out, a strategy similar to what Related did at Hudson Yards, when it leased a floor of the mall to online retailers. "It gave the project a cool vibe and they had the illusion of being fully occupied versus half leased," Abrams said. "Rockefeller Center isn't going to get rid of their Lego and their Tiffany's and their real rent-payers. But instead of having vacancies with signs in the windows, they have this cool story."
As for how it selects which independent stores to work with, Kelly said that Rockefeller Center "spends a lot of time going out to brands we think are doing interesting things." (Retail brokers who have done deals at Rockefeller Center said it has a reputation for being unusually thoughtful and thorough when it came to evaluating and placing tenants, not just independent ones.) She's also working with outside advisers and consultants like Jenna Lyons, whom she calls "a great thought partner."
For many independent stores, an opportunity to open in a place like Rockefeller Center is a little bit like being tapped on the shoulder by the retail fairy godmother, even if the fit seems strange at first. Not only is it an iconic destination, it's an incredibly well-trafficked one, at the nexus of several major subway lines, with the midtown grid running through it. "We certainly surprised ourselves taking this route," said Stephen Godfroy, one of the owners of Rough Trade. "Our ambition was to move to Manhattan. Rockefeller Center wasn't somewhere we had considered before, but like anything, you don't necessarily rule it out straight away."
Besides the neighborhood ambience, there's another good reason independent retailers don't consider Rockefeller Center: Retail rents in the 50s along Fifth average more than $2,000 per square foot, though brokers say that the spaces fronting Sixth Avenue and the Channel Gardens — the double aisle down the middle of the Center — are not quite so stratospherically expensive. (Soho retail rents, by comparison, are in the hundreds.) Most Fifth Avenue spaces are also large, making it hard for independent retailers to open up shop.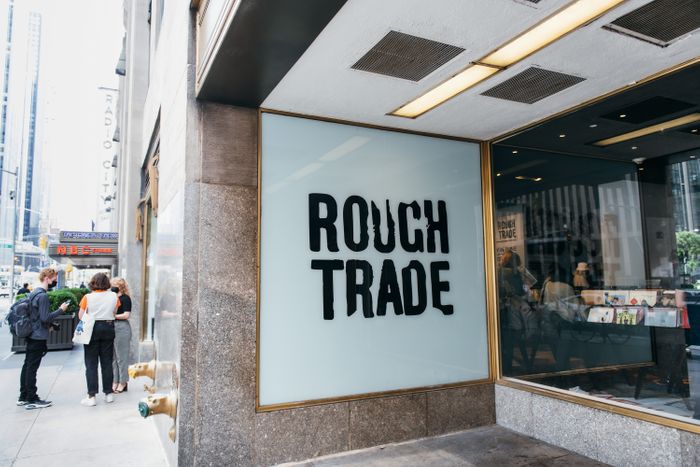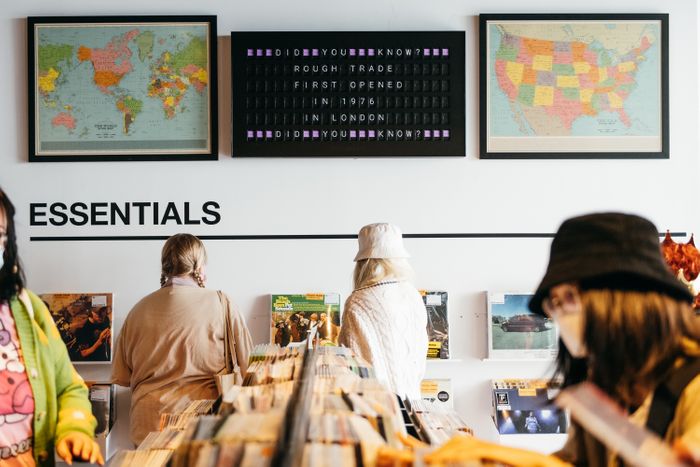 When Rough Trade opened in Williamsburg seven years ago, Godfroy had assumed that foot traffic would pick up over time. "But it remained very much a nights-and-weekends district. The area we were in in North Williamsburg — people call it the brunch district, and to some extent that's true. Even though the demand for vinyl was rising rapidly, we didn't feel like we were connecting with that demand."
In addition to taking a retail space that is the very opposite of off the beaten path — the new store is on Sixth Avenue between the audience entrance to The Tonight Show Starring Jimmy Fallon and a subway station — Rough Trade will be a part of Rockefeller Center's programming, hosting live performances in the plaza and at the Rainbow Room. "I remember as a teenager coming to midtown to see the Beastie Boys play at Roseland, so I have fond memories of watching my favorite band play around the corner," said Godfroy. "It's kind of a personal journey. There's a natural ebb and flow to cities. We felt like it was a good opportunity to bring some counterculture back to this area."
"I think it's indicative of Rough Trade's somewhat rebellious character to open up a store in a place like Rockefeller Center," he added. "You want to try these things, reach more people, and maybe have some fun." And certainly Williamsburg, with its Whole Foods and J.Crew and Sweetgreen, is hardly the definition of counterculture any longer.
But will midtown ever really be a place where people want to, by choice, hang out?
A common theme voiced by Rockefeller Center's new independent retailers is that they, and they thought by extension others, were excited to rediscover New York after a year of relative isolation. "Some of my clients are like. 'Oh my God, I haven't been up here in years. It's so much fun,'" said Jessica Resler, the founder of Sharks, a pool club that rents out private rooms via an app and opened in the underground Concourse this April. "I've lived here for 22 years and I've never done so much shit as I have recently. Like I hadn't been to Lincoln Center in like ten years; I haven't been to Central Park in forever. I had never been to the Bronx before."
And certainly, as Kelly pointed out, many companies loaded with cultural capital have their offices at Rockefeller Center: NBC, Simon & Schuster, Christie's. Those employees may want to shop in slightly less conventional stores. (As several brokers pointed out, the complex's substantial office space also makes it financially feasible to bring in less lucrative retail tenants.) This is not, after all, a conventionally dull office complex. As Kelly put it, "No one builds an office destination today that has a bit of whimsy on the outside, like the skating rink."
The new Beverly's.
Photo: Kat Harris for Tishman Speyer
"I've worked in midtown," added Nguyen. "I've worked at Fallon and SNL, dressing people for the show. I'm aware that there is a lack of fun, interesting things to do if you're of a certain age and in a certain income bracket." Since opening a few weeks ago, she said she's seen "so many cool Asian guys and girls who come to the store on their lunch breaks. They're dressed like the kinds of people who would hang out in Dimes Square."
Historically, Rockefeller Center has been creative in adapting to whatever the situation called for, according to Daniel Okrent, the author of Great Fortune: The Epic of Rockefeller Center. "Trying to fill space during the Great Depression, the Center charged the U.S. Passport Service $1 a year for rent, which ensured that consulates, travel agencies, shipping lines, and luggage stores would rent space there as well," he said. As for the ice rink? Perhaps the most iconic part of the whole complex was only added after the first plan — using the sunken plaza for high-end restaurants and shops — failed.
Although the national retail chains that defined Rockefeller Center's most recent era may seem stale in 2021, bringing them in during the late 1990s was seen as visionary. "It doesn't sound creative now, but when Tishman Speyer wrested control of the property from the Japanese in the mid-'90s, they brought in Peter Fair, who did a brilliant job of re-merchandising the center," said Richard Hodos, a vice chairman at CBRE, a commercial brokerage. "Before, there were banks and airlines. It was not retail as it is today. Cole Haan had a really tiny store there, Liberty of London had a tiny store there. They enlarged the windows, made it much more pedestrian-friendly, combined floors. A lot of what they did then was revolutionary. But looking at it now, it's boring. Banana Republic, for instance, they aren't the same — well, part of the problem is that they are the same. They didn't change."
Now the general consensus, especially after the past year, is that retail needs to be more fun and experiential to lure consumers off their couches. It doesn't only have to be for New Yorkers, either: "Tourists love unique, too," Hodos said. And even if Rock Center doesn't ultimately become the weekend shopping destination of the Bushwick set, it might simply be a better draw than it is now. "I don't know if midtown is going to become cool," said Jonathan Bowles, the executive director at Center for an Urban Future, a nonprofit research and policy organization. "But Rockefeller Center is one of the premier office-retail destinations in the world. It could be a place a lot of New Yorkers give a second look to."
"The thing that never really worked with Rockefeller Center was making it a nighttime destination. It was a daytime place, and it still is," said Okrent. "Maybe it's the association that it's a business center. Or the fact that John D. Rockefeller Jr. was an absolute teetotaler. His associates had to persuade him to allow alcohol to be served in the Rainbow Room." Also, he added, "The components of nightlife that would go with it, clubs and restaurants, aren't there and haven't been there for decades. It's a really high-rent district." The jazz clubs of West 52nd Street, for example, trickled away long ago.
Last Thursday, the complex was quiet compared to the pre-pandemic bustle New Yorkers associate with midtown. "Quite frankly, I generally avoid this area," said Eric Hensley, one of five or six customers flipping through records at the new Rough Trade the other day, a Strand tote hanging from his shoulder. "But while I was here, I wanted to check this out." (He left without buying anything.) "We did get a lot of backlash from the people who went to our old location," said Emma Sorenson, who was working there that afternoon with Andy Waldron. "I get it. As a born-and-bred New Yorker, I've always had an aversion to midtown. Like, midtown, eeewww. But we get a lot of people from all over the world. There's a lot more serendipity with people coming across the store," said Sorenson. "It's been like a new adventure," added Waldron. "It's more High Fidelity on Hulu than High Fidelity, the novel."
There were tourists — teenage couples with M&M's bags, families with matching hats, a group of exchange students waiting in line for Top of the Rock, and in Rough Trade, a few of the beautiful, well-dressed variety, speaking Portuguese softly to one another — but they were sparse: individuals, not crowds. It was also, to be fair, a muggy summer weekday afternoon when New Yorkers who aren't mandated to be at the office would typically avoid midtown. Talking Heads was being piped into the plaza. Beverly's, Alumnae, Côte à Coast, and Jill Lindsey were empty. In Jill Lindsey, the lone saleswoman was fixing her hair in a mirror. Tiffany had five customers peering into the display cases.
"We've had people come by from MoMA to buy Pin-Up magazine — I think we're the only place in the U.S. that sells it," said Dakota Butler, who was working at Beverly's that afternoon. "And I literally just had a customer who came here to buy a broom. He lives in Alphabet City and his roommate wanted him to go to Duane Reade, but he wanted a nicer broom."
By contrast, Ben and Jerry's and Van Leeuwen were both bustling, and the Lego store was packed. A small boy was losing his mind with joy, twirling in delight as masked salespeople roamed the floor, navigating around families.