Christmas in the Kitchen | 2020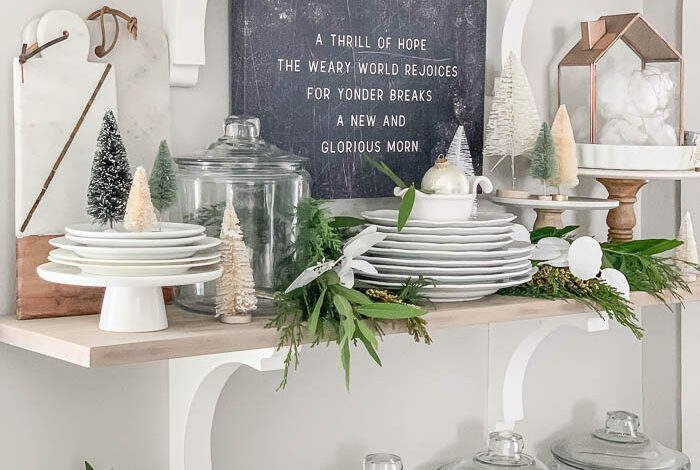 Hello friends!! Today I'm sharing how I decorated our open shelves in the kitchen! Every year when it's time to bring out the Christmas decor, I head straight to those shelves in our kitchen. These are my favorite places to decorate Christmas in our kitchen, if not in our whole house! The last few years I've kept things pretty consistent in the way I've decorated them, each year a little better than the last. However, this year I wanted a little change. Like the rest of our Christmas decoration this year, I added my new favorite Christmas decoration clip in our shelves, and while some things still remain, like green boughs and bottle brush, I've changed things up a bit this year, and I love the freshness!
Come take a look ~
The first thing I always add to my open shelves is greenery! It's the only time of year that I feel like I have the excuse of the holidays to add a little spice, and I love the extra sprucing up in our kitchen!
I sleep in fresh cedar, with a little bay leaf and real eucalyptus. And then for an added touch, I topped the greenery with my new favorite this year – faux white eucalyptus! I shared more HERE, just in case you missed it and used it throughout our Christmas decoration around the house this year!
I replaced the artwork on the middle shelf with this canvas by Lindsay Letters. Last year I hung it on our kitchen plate rack wall, but this year I loved hanging it here so it could be the focal point of our Christmas shelves.
With my greenery and artwork in place, it was time to add some brush trees. Last year I did a combination of bottlebrush houses and trees, but this year I decided to mainly do bottlebrush trees in different shades of white and green.
All of my bottle brush trees have been collected over the years, but I found this set of white bottle brush trees, which come in different heights, available at Walmart HERE.
Finally, I filled my dough bowl on the bottom shelf with shiny ornaments. I started doing this a few years ago, and I love the extra festive touch it adds. Just a subtle reminder that it's Christmas, once it makes me want to give up using my bowl of dough for the month of December while they are away 🙂
For all the information on our open shelves, including dimensions and how far we hung them, check out this article HERE.
Be sure to check out how I've decorated our shelves for Christmas from previous years below ~