Easy Christmas Morning Treat – Apartment34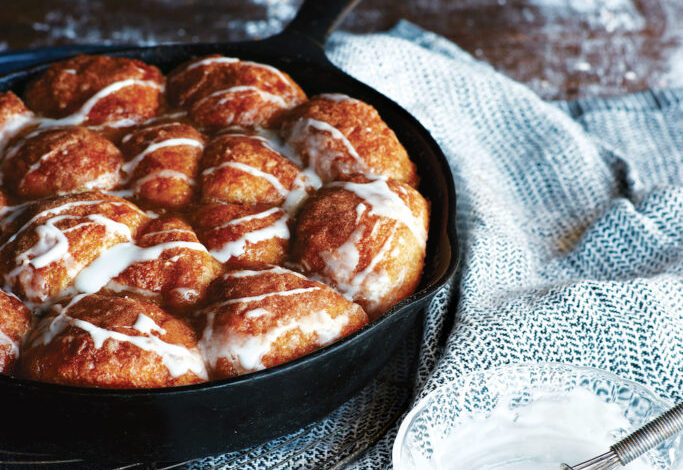 With only four nights until Christmas, chances are your holiday traditions will be a little different this year. We don't all get together at Grandma's or get a bunch of cousins ​​on a noisy Christmas morning. And if you're like me, that means we can't rely on our family members to deliver the traditional Christmas morning treats. Fortunately, I recently discovered Ali Stafford and his new cookbook, Toast, Crumbs. You may know Ali from his blog, Alexandra's Kitchen – she has a list of 25 Christmas cookies I'm drooling now.
But for now, I'm focusing on creating a special Christmas morning memento – preferably one that doesn't require days of advanced prep or a mountain of baking skills because I don't have them.
Luckily, that's what Ali is best known for – creating recipes that real people can emulate! I immediately perfected her cinnamon sugar monkey bread. My son loves all things cinnamon, so I know this recipe is a winner, but it's a little less of a sugar bomb than cinnamon buns, which I enjoy. I will have enough five year old energy. No further assistance is required.
As so many of our traditions are overturned, I am actually excited to take the opportunity to create new memories that could turn into new traditions for years to come.
RECIPE: Monkey bread with cinnamon and sugar (4 servings)
The key to making monkey bread, sweet or savory, is to handle the dough as little as possible. Don't dwell on forming perfect balls – irregularity is part of the charm of this common breakfast or dessert. As the portions of dough rise, their imperfections dissolve into a puff pastry encrusted with cinnamon and sugar. Frosting is optional, although a drizzle just before the mass is broken into pieces gives a nice presentation.
Ingredients
2 cups (255 g) unbleached all-purpose flour, plus ¼ cup (32 g) for dusting
1 teaspoon of kosher salt
1 teaspoon plus ¼ cup (55 g) granulated sugar
1 teaspoon of instant yeast
1 cup of lukewarm water
Softened unsalted butter, for greasing
1 teaspoon of cinnamon
4 tablespoons (½ stick) unsalted butter, melted
½ cup icing sugar
2 teaspoons of milk, and more if needed
instructions
In a medium bowl, whisk together 2 cups of the flour, salt, 1 teaspoon of granulated sugar and instant yeast. Add the water. Using a rubber spatula, stir until liquid is absorbed and ingredients form a sticky ball of dough. Cover the bowl with a damp kitchen towel or plastic wrap and set aside in a warm place to rise for 1 to 1.5 hours, until the dough has doubled in size.
Place a rack in the middle of the oven and preheat it to 375F. Grease an 8 or 9 inch cast iron skillet or circular or square baking dish with the softened butter. In a small bowl, combine the cinnamon and remaining ¼ cup granulated sugar. Sprinkle 1 tablespoon of the mixture over the bottom of the prepared pan.
Spread ¼ cup of the flour on a clean surface. Using two forks, deflate the dough by freeing it from the sides of the bowl and pulling it toward the center. Twist the bowl a quarter turn as you deflate, turning the mass into a rough ball. Use the forks to lift the dough onto the prepared clean surface. Using as much flour as needed from the surface, sprinkle your hands and the outside of the dough, then shape the mass as best you can into a ball. Using a bench scraper or knife, divide the mass into twelve to fourteen equal-sized pieces, each 1 to 2 inches in diameter.
Using as much flour as needed to avoid sticking, shape each piece into a rough ball and immediately transfer them to the greased pan, at regular intervals. Let rise for 20 to 25 minutes. The balls may not rise to completely fill the pan, but they will swell when cooked.
Brush each ball with melted butter, then pour over the rest. Sprinkle with the rest of the cinnamon-sugar mixture. Transfer the pan to the oven and bake for 20 to 25 minutes, until golden brown.
Meanwhile, prepare the frosting: whisk together the sugar and confectioner's milk in a small bowl until it reaches a pourable consistency, adding more milk as needed. Take the monkey bread out of the oven and let it cool for 5 minutes in the pan before turning the pan over onto a plate, then flip it onto a serving platter. Drizzle with icing. Serve immediately.
For more of my favorite holiday recipes CLICK HERE.
Monkey Bread photo credit: Reprinted from Bread Toast Crumbs. Copyright © 2017 by Alexandra Stafford. Photographs by Eva Kolenko. Posted by Clarkson Potter / Publishers, an imprint of Penguin Random House, LLC.