Greenpoint Parents Rumble Over Playground 'Fight Club'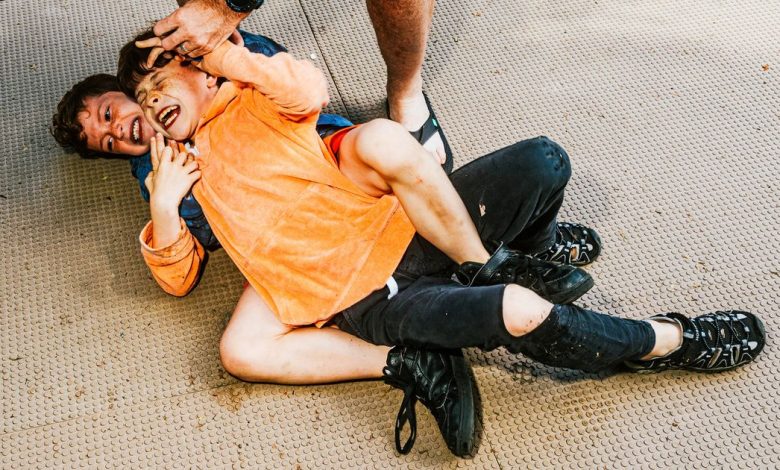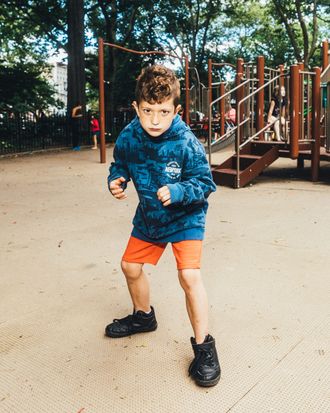 Zack faces off in the playground.
Photo: DeSean McClinton-Holland
On a sweltering day in June, a multitude of yapping arose from the playground in the northeast corner of green and tidy McGolrick Park in Greenpoint. The play area was lined with sturdy foam in 2018 to soften children's landings. But there were still wounded. The heat wouldn't deter the reunion of the Greenpoint Fight Club, a group of children ages 5-7 who meet after school most days in parent-sanctioned fights.
If this had been a real fight club, of course, it would have remained a secret. As any Chuck Palahniuk fan knows, Fight Club's first rule is not to talk about Fight Club. (This is also the second rule.) For months that was also true for the GFC. the silence was observed until a Thursday night in May, when a relative named Betty Kang posted a question on the Brooklyn Baby Hui Facebook group. "Has anyone seen the children's 'fight club' taking place at the McGolrick Playground today?" " she wrote. "I don't know how to describe it any other way… I was a little shocked at how aggressive it was and apparently it was sanctioned by the parents because there was a group watching."
His query sparked a brawl among parents at Greenpoint over a forum normally reserved for queries about pediatricians and nannies and the mysterious but minor symptoms of sick children. At stake was not just a bloody nose, but the use and purpose of public space; what level of fear or discomfort, if any, was acceptable in a park; how, if at all, should an individual's parenting decisions be tempered by concern for others; and if there were safe spaces, on Facebook or in McGolrick.
For his part, Kang feared that his children, who saw the fight, were afraid. "I am for children who struggle and have fun," she wrote. "My kids do it at home all the time, but watching this full fight festival was very shocking and I wouldn't want my kids to witness it." Kang ended his post by suggesting that "maybe the parents involved can take the kids to a grassy area instead. There's plenty of room at McGolrick.
The comments came quickly and loudly. Some agreed with her that the violence was terrifying. As one parent wrote: "The public playground is a great space for everyone to enjoy. [blow off steam] but everyone should also feel safe and this message is about someone who expresses that they do not feel safe. But another, Jordana Jacobs, whose child often participates in the fight club, replied: "We should certainly not be banned from the playground." Then another mother, Christina Parrella Grunwald, wrote "[Roughhousing] maybe not a behavior that everyone wants their children to be exposed to. Claudia Regina Gaimaro asked acerbically, "So you want to get a 6 year old to move on the grass because he wants to play a sport that he does so your kid doesn't see it. It seems a bit legitimate to me, "before adding," a lot of things happen in a public park that I don't agree with. But it comes with the territory of living in New York. "
Eventually, Julie Wilson, the mother of one of the children involved, intervened to clarify that although the parents do Calling the fight club a fight club, what happens has little to do with Brad Pitt's nihilistic flick. "Here's the story," she explained. "There are a bunch of kids out there who like to play combat. Some of them (including mine) are taking martial arts lessons and using the skills they have learned. Some just like to wrestle and jump on top of each other. Because we all have VERY active boys, we are in the park every day. At some point most of the time the kids end up fighting, usually on the rubber mats near the tightrope where there is the most room. As parents we don't want nobody hurt, but we want our kids to play the way they want, so we make the rules (no kicks, no punches) and let them do their thing. .
Zack and Aaron, fighters-clubbers.
Photo: DeSean McClinton-Holland
And so on. Parents offended by the notion of fight club confronted parents offended by parents offended by the notion of fight club. It was a parental opinion ouroboros. What was clear was that whatever your private parenting choices, regarding brutality or 10,000 other things, in a public park, that choice itself will be subject to countless other parenting choices. This, as Gaimaro wrote, comes with the territory. In this sense, Kang had sparked a debate about which values ​​matter most on a ground designed to be neutral. The spirits were heated. Never has the red heart emoji been used to such passive-aggressive devastation.
"As a community we all spend a lot of time in the park during the year," Kyle Hepp, whose son is with the fight club, later explained of the foofaraw. "The families have become close. My son is looked after by many families in this community. I guess you can think of the fight club as a private parenting issue in public, but I see it as a bunch of people who didn't want to be part of the community. I mean, the thread got so crazy. People were commenting on things they had never seen.
Last month I decided to go see the Fight Club for myself. McGolrick Park has an almost small town feel. The park, in the heart of Greenpoint, is used almost exclusively by those under 15 and over 75. The elders are, on the whole, Polish; young people are not, by and large. The pretty paths are lined with London benches and plane trees; a central colonnaded square hosts a farmers' market every weekend. Above all, the park is confined, and perhaps for this reason, groups of children roam the grassy areas, playgrounds and porticoes like Lenore Skenazy's loose brood, wielding fallen branches, running through the fields. areas of water spraying and jumping with joy. As part of a renovation, two play areas had opened on the northern edge just before the pandemic: one for 2 to 5 year olds and, just east of it, one for 5 to 12 year olds, which is where the fight club meets.
It was 2:45 p.m. when I pushed through the creaky gate of the playground to meet Julie Wilson, dressed in a black tank top and khaki blouse with her curly hair tied back. Although she grew up in Manhattan, Wilson has a little air of "Mayor of Greenpoint", knows everyone, has an opinion on most things. Her son, Zack, as she mentioned in the Facebook group, is with the fight club, which has a total membership of less than ten according to Wilson. Usually, she said, there aren't more than four at a time. "
Aaron and Zack.
Photo: DeSean McClinton-Holland
The fight club takes place in the older kids' play area, this is where I spot Zack, a lively 6 year old wearing camouflage pants and whose black T-shirt pulls out a slightly mischievous face and smiling. Around his lips, the fine dust of freshly eaten Cheetos formed a dim smile. Next to Zack, in the padded area near the water lily in the older children's play area, stood Daniel, a 7-year-old but a few inches shorter than his opponent. The two were apparently playing benevolently with a broken jump ball Zack had brought. For about ten minutes Julie and I watched, each of us secretly wanting the children to fight. Finally, the two boys began to surround themselves. For a brief moment, it looked like they were going to engage, but the pair then took to the skies. Above and below the climbing frame, Zack chased Danny. They passed other children playing peacefully, girls swinging on monkey bars, boys rolling down the spiral slide. Beyond them, around the perimeter of the play areas, parents were seated, many looking into their phones, some, no doubt, following Brooklyn Baby Hui's high delusions. Each, no doubt, held firmly to their own private parenting philosophy but, at least, for now, kept those feelings to themselves. Other than the cheerful cries of the children playing, there was no visible conflict. No parents in a hurry to clash over the use of public space or children banned from rolling around in glass and rocks.
Eventually, near the monkey bars once again, Zack finally reached his opponent. Deftly lowering himself under an outstretched arm, Zack regained control. He held Danny's arms behind his back and threw the young man to the ground. No sooner had Danny's chest touched the ground when Zack flew away like a rabbit again. Danny sprang in pursuit. He was winning over Zack but at that moment the icy cart rang its distant chime and the boys stopped, as if dogs distracted by squirrels or sailors by sirens. Zack and Danny stopped in their tracks and ran to their mothers to plead for Icees. The Fight Club was over for the day.
At least it was IRL. But what children forget about scratches and bruises, parents feed them for years. The discussion was not resolved. It was just fallow. As another McGolrick mum texted me, when I requested an interview, "I'm reluctant to post anything that might make enemies of me among the 'parents of the park' community. (It's throat slit, let me tell you!) "