HFZ Capital and the Ugliest Divorce in Manhattan Real Estate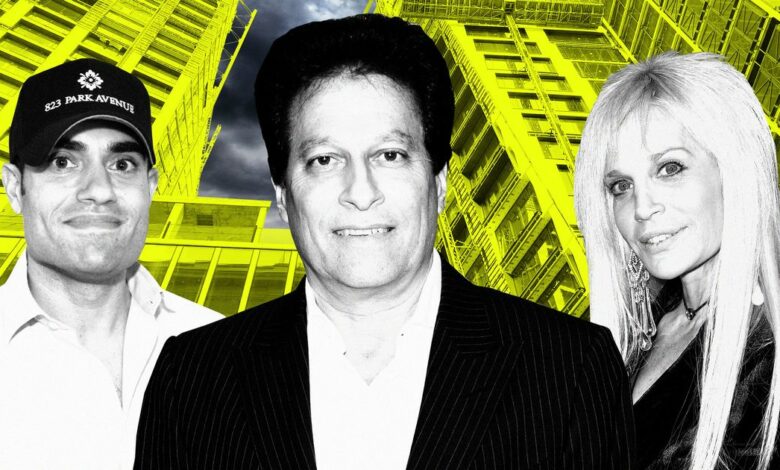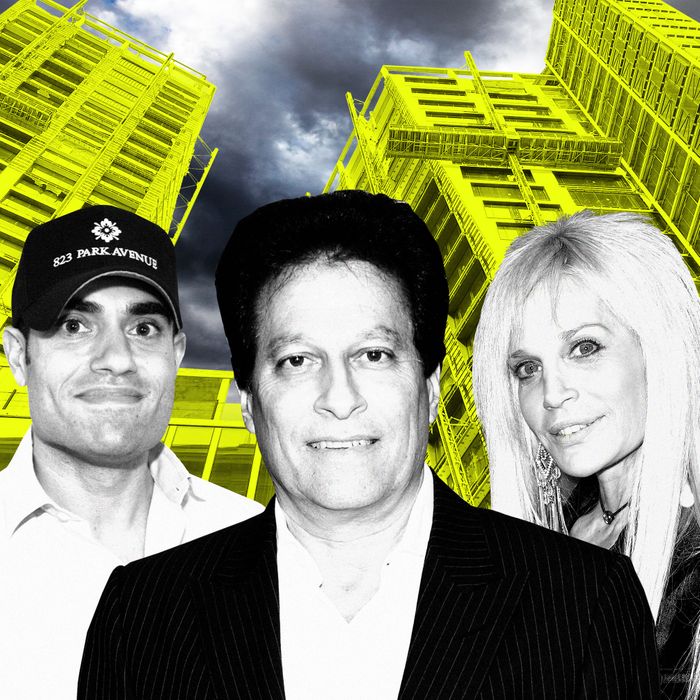 Nir Meir, Ziel Feldman, and Helene Feldman.
Photo-Illustration: Curbed; Photos: Shutterstock/Getty Images
This article was featured in One Great Story, New York's reading recommendation newsletter. Sign up here to get it nightly.
Ziel Feldman is in good company. At least that's what the real-estate developer at the center of one of the most spectacular meltdowns in recent memory has been telling himself. The Manhattan real-estate industry is a game of winners and losers, Feldman says, and even titans lose big sometimes. Over the past 18 months, Feldman's firm, HFZ Capital Group, has been obliterated by foreclosures and investor lawsuits, a collapse that has dredged up unflattering details about the company's inner workings. Which is why Feldman, on a cloudy afternoon earlier this year, ticked off the names of prominent developers who have, at one point or another, stared down the barrel of bankruptcy. Stephen Ross, Arthur Zeckendorf Sr., Harry Macklowe.
"Every single one — bar none — has run into potentially career-ending roadblocks," Feldman says, sitting at a coffee table in his corner office, which, despite the imperiled state of his business, overlooks the Plaza Hotel and Central Park beyond. "It's not for the faint of heart," he says. "Most successful ones have been bankrupt."
Though the tabloids and real-estate journals have covered HFZ's fall with a journalistic fervor usually reserved for war and the Kardashians, this is the first time Feldman has spoken to the press about his company's implosion. He's clean shaven and his hair, a jet-black bouffant before the pandemic, is trimmed short and gray.
That Feldman can so easily string together a list of billionaires who have bounced back from financial ruin probably says more about the ludicrous nature of the Manhattan real-estate business than it does Feldman's own circumstances. In truth, it's hard to compare any other builder's misfortunes with the enormous pile of rubble through which Feldman is presently wading. In addition to losing its portfolio, HFZ has been sued by a slew of contractors, lenders, and investors. Lawsuits are to be expected during bankruptcy proceedings, but the allegations of impropriety within some of the suits — including accusations that Feldman and his partner skimmed millions to fund their extravagant lifestyles — are not.
To make matters worse, last year, one of HFZ's key investors, an Israeli diamond magnate, was convicted of bribery and sentenced to five years in a Swiss prison. And the company's former managing director of development — someone Feldman employed for more than 20 years — was arrested and sentenced to prison for awarding contracts to the Mafia. Last year, the New York State attorney general confirmed her office was reviewing a fraud complaint against HFZ, though to date, nothing seems to have come of that investigation.
Manhattan has always been a playground for the rich, and the decade-long all-they-can-eat asset buffet that followed the Great Recession nurtured a fresh crop of luxury developers including HFZ, who soaked the city with units that advertised floor-to-ceiling windows and hotel-quality amenities. The boom was fueled in part by overseas buyers — from Russia, China, Latin America, and the Middle East — who stashed their money in those units, investments that offered stability and, thanks to the city's tolerance of LLC property owners, anonymity. That influx of extreme wealth transformed New York. In little more than a decade, the city's median sale price nearly doubled, driven by luxury condos in neighborhoods essentially invented by property developers and their marketing teams: West Chelsea along the High Line and Billionaires' Row, a neighborhood with a boundary primarily defined by its being above everyone else.
Luxury developers raced to keep up with demand, and HFZ was among the splashiest of the bunch. By the mid-2010s, the firm was responsible for a significant percentage of the luxury condos coming to market. By 2015, HFZ's two top executives, Feldman and managing director Nir Meir, were appearing on lists of the most powerful developers in the city. Their rise culminated with HFZ's announcement that it was building the XI, a $2 billion megadevelopment along the High Line. The XI, which Feldman called his "shining star" during our conversation, should have bumped Feldman and Meir into the highest echelon of builders, masters of the most recognizable skyline on the planet. Instead, over the course of a single real-estate cycle, their company went from being the industry's darling to its biggest bust.
Insiders and former employees say there is no one reason HFZ imploded, pointing to an array of issues — poor decision-making, a chaotic work culture, extravagant spending, spreadsheets that said whatever the bosses wanted to hear. Even those who didn't have a front seat to the turbulence sensed something was awry.
"I would never in a million years do a deal with Ziel," said one major developer. "He had too many deals, too much leverage, too much razzle-dazzle.There was always a sense that things weren't what they seemed to be. The pandemic was like that Warren Buffett line: Only when the tide goes out do you see who's swimming naked."
For a time, Feldman also blamed the pandemic for HFZ's woes. In December 2020, HFZ filed a notice with the New York State Department of Labor indicating it had laid off 31 people, almost its entire staff, because of "unforeseeable business circumstances prompted by Covid-19." But sitting in his office, the 63-year-old trains his ire on one person: his former partner, Meir.
Feldman and Meir worked together for 20 years and, according to former colleagues and friends, never seemed to have any issues until everything came crashing down. Since then, the two have been engaged in an ugly, very public divorce.
"We were like his family. I always said I have three children and that I gave them an older brother, Nir," says Feldman's wife, Helene, who is sitting beside him in his office. A former prosecutor in the Brooklyn district attorney's office, Helene served as HFZ's "design and creative" principal. She has blue eyes and platinum-blonde hair and wears black leather platform shoes she designed herself. "Ziel really took him in as a son."
In August, Feldman filed a lawsuit against Meir accusing him of engineering a "Machiavellian scheme to enrich himself through theft, deception and 'charm.'" Feldman alleged that Meir diverted millions away from HFZ accounts into his own pockets. The lawsuit seeks $688 million in damages. (Meir would not speak to me on the record for this story.)
"With Nir at the helm, we were doomed from the beginning," Feldman says when he's done listing formerly bankrupt billionaires. "I'm not aware of any other developer who relied so heavily on a person who turned out to be a very talented sociopath."
The XI in April 2022.
Photo: Gary Hershorn/Getty Images
A Queens native, Feldman started his career as a real-estate attorney in the mid-1980s, a time when, as the journalist Jerry Adler observed, "real estate replaced sex as the venue for the everyday fantasies of most Americans." Sex never reclaimed the top slot, and in the wake of the 1987 stock-market crash, Feldman sensed there was more money to be made as a developer than as a developer's attorney.
Eventually, Feldman co-founded a development firm, Property Markets Group, with a banker named Kevin Maloney. There was no shortage of opportunity in the early '90s. PMG went after SROs, troubled walk-ups, and neglected buildings it could afford to buy and refurbish before raising rents. As a young start-up, PMG's partners prided themselves on keeping overhead low, stuffing employees into a cramped office with space heaters. Everyone except Feldman worked off cheap folding tables.
"At one end, there was Ziel with his leather-topped partner's desk, and at the other end, there was me with my card table," said Maloney. "Ziel liked to have a higher standard of living than I did. That was important to him."
In 1994, Maloney and Feldman partnered with Gary Barnett, who today runs Extell Development, one of the most successful luxury-condo developers in the city, to purchase the Belnord, a sumptuous Beaux-Arts building on the Upper West Side. The building had been neglected, and its tenants were locked in a bitter fight with their landlord. Barnett and PMG paid $15 million for the building, funded largely by the secretive Israeli diamond dealer Beny Steinmetz, and promised tenants they would spend $5 million on renovations in exchange for the right to increase rents. The project would serve as a blueprint for Feldman for two decades.
Feldman earned a small fortune at PMG. He and Helene built a mansion in Englewood inspired by a Fontainebleau chateau they'd toured on their honeymoon. But by the early aughts, Maloney, who continues to run PMG, wanted to spend more time concentrating on deals in Florida, while Feldman was eager to expand in Manhattan.
People who knew and worked with Feldman say he seemed to be driven by an unspoken desire to reach the penthouse of Manhattan real estate: the dynastic families — Durst, Zeckendorf, Speyer, LeFrak, Rose, et al. Feldman liked to talk about what made a successful developer, and more than anything, he thought of himself as a tastemaker attuned to the city's trends and needs. In 2005, Feldman started HFZ (Helene, Feldman, Ziel) and brought with him a few PMG employees including Meir, whom Feldman tapped to be HFZ's managing principal. In his 20s at the time, Meir was younger than Feldman. He had short, dark hair and the chiseled jaw of an action figure. He'd grown up between Israel and Paris, and he told people he served in the Israel Defense Forces before moving to New York in the early aughts.
In Meir, Feldman found someone whose skill and ambition matched Feldman's own desire to grow HFZ. Meir was excitable, a fast-talking bulldog who dug into the minutiae of every project. During the day, he poured over spreadsheets, adjusting projections and timetables, and at night, he'd hit the town to develop relationships with lenders and investors. In that way, Meir complemented Feldman, who increasingly enjoyed playing the part of the elder statesman, providing big-picture strategy.
After the real-estate bubble burst in the late '80s, Feldman learned a frustrating truth about postrecession markets: While there was no better time to buy real estate, there was also no harder time to find investors and lenders. To Feldman's great satisfaction, Meir proved to be particularly adept at raising money from both institutional lenders and overseas investors. "JPMorgan loved him," Feldman says.
According to Feldman and former colleagues, Meir had a magnetism that drew in wealthy investors, people he would wine and dine at Carbone or La Esquina before taking them to clubs. With their backing, HFZ went on a buying spree that resembled deals Feldman made in the '90s with PMG, snatching up distressed buildings other developers wouldn't touch. The press took notice. "Developer turns flops to gold," read a 2013 Crain's headline that referred to Feldman as the "man of the hour." The Observer published a feature on Feldman, saying he'd "emerged out of nowhere" to rescue One Madison Park, the all-glass residential tower with a penthouse that would serve as Rupert Murdoch's postdivorce bachelor pad. The Daily News called him the "modern-day John Jacob Astor" for his renovation of prewar apartments on the Upper West Side.
"These guys were magicians about playing the capital markets. They knew there was so much capital in the world and that banks and bankers were hungry to put that money to work," said someone who worked with Feldman and Meir. "But they were the step-kids trying to get into the world of the big families controlling real estate. They were successful, but they were doing it in a shady way."
Historically, the families haven't needed to rely on foreign money to fund their projects. They are so obscenely rich that they can, for the most part, afford to play the game on their own. But if Feldman's goal was to establish a dynasty, he needed to do so with other people's cash.
By the late aughts, Steinmetz's fortune had ballooned to make him one of the richest people in Israel, and he was pumping hundreds of millions of dollars into real-estate projects around the globe. It was an open secret among HFZ employees that Steinmetz, who is intensely private about his business and personal life, was a major HFZ backer. But when a reporter from The Real Deal asked HFZ about its relationship with the diamond dealer in 2016, a spokesperson emphatically denied any personal or professional connection to him.
Emails, text messages, and interviews with former HFZ employees show Steinmetz was intimately involved with HFZ. In fact, at one point, Steinmetz had employees based inside HFZ's office. Multiple former HFZ employees recalled Meir taking last-minute trips to the Mediterranean to meet with Steinmetz. According to emails made public in court proceedings, Steinmetz would email Meir to discuss details of deals. Once, Steinmetz's lawyer emailed Meir to ask him to scrub the diamond dealer's name from an investment organization chart. Meir dutifully agreed.
Feldman denies ever lying about his connection to Steinmetz. He claims Meir erected a firewall between Feldman and the diamond dealer, as he did with most foreign investors. But HFZ and Steinmetz had good reasons to conceal their relationship. In 2009, Steinmetz's company won the rights to mine the Simandou mountains in Guinea, one of the most prized mining contracts in the world. A year later, Steinmetz sold half of those rights to the Brazilian mining firm Vale for $2.5 billion. Then, in 2014, the Guinean government revoked Steinmetz's rights, alleging his company had bribed the youngest of the late Guinean president's four wives to secure the deal. In 2021, a Swiss criminal court found Steinmetz guilty of corruption and forgery related to the Simandou deal, sentencing him to five years in prison. (Steinmetz, who lives in Israel, has indicated he intends to appeal the decision. Last year, Steinmetz was briefly detained in Greece on an Interpol red notice related to a 2020 bribery case in Romania in which he was found guilty and sentenced to five years in prison.)
For years now, Vale has been trying to recoup its initial $1.25 billion payment to Steinmetz. As part of that action, Vale's attorneys have traced money from the Simandou deal to investments Steinmetz made in HFZ projects including the XI. (HFZ isn't the only developer Vale's attorneys are interested in; they've also subpoenaed Aby Rosen's RFR Holding.)
Helene, the daughter of a Holocaust survivor, and Ziel, whose father ran a family textile business, often talk about their humble roots in Queens. But as HFZ's portfolio grew, so did the Feldmans' presence in watermarked photos taken at New York society parties. They attended galas from Palm Beach to Antibes, were staples at Art Basel in Miami, and hosted charity fundraisers at their 8,000-square-foot home on Dune Road in Bridgehampton, where guests mingled between an infinity pool and a pool-size infinity hot tub. They chipped in $25,000 for Donald Trump's 2016 presidential campaign and sat on the board of directors of a hospital in Israel. Acknowledging a connection to Steinmetz, a controversial figure by Feldman's own admission, may have put his success in a new light.
"Ziel is a very high-flying guy, but he was never in the families," said a former colleague. "He wanted to establish that for his family. He wanted a generational business. But Rob Speyer is not in bed with Steinmetz."
The opening of the XI gallery on April 25, 2018.
Photo: Craig Barritt/Getty Images for XI Gallery
In 2015, HFZ made its most aggressive move yet, purchasing the empty 1.75-acre lot at 17th Street and 11th Avenue with a plan to build a large luxury condo and hotel. Before the sale, the lot had an unremarkable history, hosting a few houses, a string of gasworks facilities, a rail yard, and Edison Properties parking lots. But in 2009, the neighborhood around the lot started to change. Thanks to a Bloomberg-era rezoning and the reinvention of the High Line, West Chelsea very quickly became an Eden for high-profile architects looking to leave a mark on Manhattan. In little more than a decade, Frank Gehry, Thomas Heatherwick, Renzo Piano, Jean Nouvel, Zaha Hadid, and others planted expensive buildings that crisscrossed the High Line with shadows. Property values skyrocketed, and by the time Edison put the lot at 76 11th Avenue on the market in 2014, it was a very valuable tract of land. When the dust settled, HFZ had the highest bid: $870 million. It remains one of the largest residential-land sales in New York City history.
"Everybody gasped. No one could believe the price they paid for the land," said Andrew Gerringer, a veteran real-estate marketer who has worked with HFZ on a number of projects. "Everybody thought it was a good area, but those of us in the development business were like, Jeez, this is a really high number."
Feldman's willingness to pay stemmed, in part, from his vision for the building he planned to erect there. Feldman believed the XI (variously pronounced ex-eye, eleven, eleventh, zee, or shee, like the general secretary of the Chinese Communist Party, depending on whom you ask) would be so spectacular that it would woo one-percenters away from the Upper East Side and Billionaires' Row. The XI would embody what Feldman believed to be the ultimate 21st-century fantasy: a self-contained urban-resort life with spaces and amenities that made residents feel as if they were living in a hotel — a 75-foot swimming pool, a sauna, a wine-tasting room, and an art gallery.
Luxury-condo sales were booming in 2015, but even the most data-driven developers were rolling the dice. By spending $870 million just for the land, HFZ was starting in a very deep hole, and it would need to sell the XI's 576,551 square feet of residential units for roughly $4,000 per square foot, a price rarely secured in neighborhoods that don't abut Central Park. And that was assuming the market kept apace.
"Very few people in the office thought that the XI was a smart deal," said a former employee. "There was no ability for any of us below Ziel and Nir to influence this decision. My guess is that Ziel liked the idea of it. He liked the attention it brought him, and Nir needed to grow the company and get big deals and keep money coming in the door."
Developers are by nature optimists, and Feldman was no exception. When The Real Deal's Hiten Samtani asked Feldman about criticism of the $870 million price tag, Feldman balked at the question, saying he had too much experience to let naysayers influence him. "It meant nothing to me," Feldman replied. "It was actually kind of humorous."
One reason Feldman shrugged off naysayers was because he had bagged Bjarke Ingels, one of the most sought-after architects in the world, to design the XI. Starchitects can charge as much as 25 to 30 percent more than their lesser-known colleagues, and Ingels was all but guaranteed to deliver a complicated, expensive design, but that didn't matter to Feldman. Partnering with the young, swaggering Dane would send a message to the entire industry: HFZ was ready to leave its mark on the Manhattan skyline. The final plans called for the top floors of the XI's two towers to cantilever over the shared base by 50 feet, so they seemed to be leaning, unnervingly, like the Tower of Pisa. Engineering reports talked of "torsional irregularity" and "gravity load induced lean," which added to the "inter-story seismic drift."
By January 2018, some 800 workers were employed at the site. Rebar shot out of the ground like fingers poised to pull the rest of the building up behind it. After the concrete was poured, Ingles's design took shape, and the first of the building's 11,000 travertine panels, imported from a quarry in Tivoli, was put in place. Someone called 311 to report "a building that is leaning south."
From the start, some HFZ employees expressed apprehension about bringing Ingels onto the project. They knew Ingels would deliver a complicated — and expensive — design that would have a greater likelihood of hitting snags than a conventional building. And when the XI's concrete settled, it did so in such an unpredictable way that the initial batch of windows didn't fit into their frames, triggering one of a number of costly delays that befell the project.
"The true risk to a developer is the time and the cost of funds. That's for the good developers who estimate everything properly and don't take too much for granted," said Barnett, who partnered with Feldman on the Belnord in the early '90s and whose company, Extell, is responsible for two of the twiglike towers swaying over Billionaires' Row. "There are cautious developers and there are ultracautious developers, and Ziel has never been either."
Es Devlin's "Egg" on display in the XI gallery in 2018.
Photo: Johannes Schmitt-Tegge/picture alliance via Getty Image
By 2016, HFZ had grown to employ more than 100 people, and its Madison Avenue offices reflected the company's fast success, looking more like a modern-art gallery than a real-estate development firm. Feldman regularly talked about the connection between art and real estate. "Artists tend to be frustrated developers," he told Artnet in 2018. "Architects think they're artists. Developers, we think we're all of those things." (He and Helene say some version of this to me again during our interview.) Employees and visitors alike rolled their eyes at some of the over-the-top pieces from the Feldmans' collection on display at the office — including Patricia Piccinini's The Student, a hyperrealistic pig-baby made with actual human hair, a Gimhongsok dog made of stuffed garbage bags cast in bronze, and the George Condo portrait Girl With Green Hair, which was auctioned at Christie's for $437,500 after HFZ's downfall.
Former employees' descriptions of the art ranged from "zany" to "so, so, so terrible." Everyone believed the art was an extension of their bosses' approach to development. Feldman's obsession with art, and the status his proximity to the art world conferred upon him, frustrated some. "Ziel was always focused on stuff that didn't matter," said a former employee. "He thought he was an arbiter of design, style, and taste. He'd sit in architecture meetings and bring his wife in and think that that was the important part of the business."
The art wasn't the only disconcerting presence in HFZ's offices. Feldman and Meir, employees say, ran HFZ as a diarchy in which they shared total power. Employees who expressed professional opinions — or, several claimed, facts that contradicted the leaders' points of view — were disregarded or ridiculed. One former employee, talking about her experience on a recent wellness podcast, described HFZ's atmosphere as "icky," "Wolf of Wall Street-y," and "Machiavellian."
Former employees said it was Meir, more than Feldman, who set the tone. By the time HFZ broke ground on the XI, Feldman was hardly involved in his own company's day-to-day operations. Meir floated around the hallways, popping into people's offices to grill them about HFZ projects. In addition to his talent for raising capital, Meir had a gift for numbers. At times, former employees said, it was as if the company's true ledger existed only in Meir's head. HFZ proposals were not submitted to investors until Meir looked over the numbers. Sometimes, Meir would ask employees to juice spreadsheets so projects looked better on paper. Occasionally, if an employee refused to alter a projection, Meir would ask the employee to send him the Excel spreadsheet, presumably so he could make the adjustment.
In the spring of 2018, HFZ opened the XI Visionaries Gallery, a 12,000-square-foot salesroom located in a storefront a few blocks from the XI. The space was unlike any sales gallery anyone in the industry had ever seen before. At its center were "multi-sensory installations" by Es Devlin, a British artist known for designing elaborate stage sets for Kanye West, Lady Gaga, and the Weeknd. At the gallery's opening, men in black suits poured complimentary glasses of Macallan 25, which retails at $1,999 a bottle. One former employee estimated the total cost of the sales gallery to be at least $25 million. Units went on sale in the fall of 2018. Jeff Bezos reportedly showed interest in a penthouse before opting for a Madison Avenue spread. Graeme Hart, the richest person in New Zealand, snatched up one of the XI's penthouses for $34 million.
Then the luxury-condo market started to strain under the weight of excess inventory. A 2019 analysis by StreetEasy estimated that a quarter of all new luxury apartments built after 2013 had not found buyers, an inauspicious indicator for a developer that had recently brought 236 glistening units to market. (Filings would later show that just 38 of those units, or 16 percent, were sold by the time HFZ went bust.) Feldman remained optimistic that his brand of luxury was strong enough to buck market trends. "It's about the buildings — you can't broad-stroke an entire market," he told the New York Times.
Yet HFZ was already showing signs of distress. In October 2019, HFZ failed to pay an $8.2 million invoice to Pioneer Window, which had a $98 million contract for work on the XI. Initially, executives at Omnibuild, the construction firm overseeing the XI, weren't surprised by the unpaid invoice. "We knew through the industry that they may be a little bit of a crazy bunch, but I guess everybody's crazy in this business," Omnibuild COO John Mingione told Crain's. But not all of HFZ's contractors could afford to be so patient. "GUYS — CABINETS ARE READY — I NEED 'my' MONEY," Jan Efraimsen wrote in an email in November. Efraimsen's company had been producing millwork for an HFZ building on the Upper West Side, and Efraimsen was trying to collect an outstanding balance of $163,652.90, a lot of money for his small operation. "I am desperate for money right now–anything will work," he wrote in a follow-up email. "Unfortunately we just don't have answers," David Szczapa, a project manager at HFZ, wrote back to Efraimsen, who was later forced to lay off three of his carpenters. Szczapa's hands were tied. By the end of 2019, it seemed as if all payments depended on Meir's approval. According to three former HFZ employees, project managers would tell Meir that some contractor was complaining because they hadn't been paid only to be told that he would handle it.
The unpaid invoices were the first flutters of HFZ's tailspin. At the end of 2019, the FBI arrested John Simonlacaj, HFZ's vice-president of construction, for offering lucrative XI contracts to Gambino associates in exchange for free work on his Westchester home. (He eventually pleaded guilty to filing a false tax return and was sentenced to four months in prison last summer.) This wasn't Simonlacaj's first arrest. In 2015, he had spent three months in prison for tax fraud. Simonlacaj had worked for Feldman going all the way back to PMG, and when he finished his prison sentence, Feldman allowed him to return to work, a decision Feldman now calls "a big mistake."
"They just let him show back up. It was mind-blowing that they never acknowledged it," one former HFZ employee said. "Why would they let a convicted criminal come back?"
Then COVID-19 hit, and a wave of existential dread swept through the real-estate industry. "We were overleveraged even before COVID," said a former HFZ employee in the accounting department. "They were depending on acquisitions to pay the payroll, insurance, everything. So there was suddenly no money." HFZ's foreign investors were getting agitated. Yoav Harlap, an Israeli car importer and art collector who had given HFZ more than $20 million for a development on the Upper East Side and a $10 million investment in the XI, began pestering Feldman and Meir about repayment. Meanwhile, the Los Angeles–based hedge fund CIM Group, which had loaned HFZ $90 million to convert four prewar buildings on the Upper East Side, was pestering Meir about a late payment. "What's the latest? Running out of time," wrote Adam Gibbons, a managing director at CIM, one afternoon in July. "On it. 2 min," Meir wrote back. Four hours later, Meir sent Gibbons a confirmation code showing he'd initiated a payment. The code turned out to be fake, according to CIM.
In the early days of the pandemic, Meir and his family, like many Manhattanites, decamped to the Hamptons. In 2013, Meir had knocked down a ten-bedroom beachfront "cottage" on Southampton's Meadow Lane and built a modern 6,600-square-foot mansion. The home had been a gathering place for friends, family, and the occasional HFZ employee. Meir and his wife, Ranee Bartolacci, regularly hosted omakase nights, bringing a sushi chef from Manhattan for private dinners. Sometimes omakase nights would be followed on Sundays with pizza catered by Nolita's Pasquale Jones.
"Nir spent more money than God," said a former HFZ employee. "No one was clear where the money was coming from. What success had the company realized that we were unaware of?" Feldman's complaint against Meir alleges that Meir's monthly American Express bill often exceeded $400,000. Meir spent hundreds of thousands on wine and kept a stable of luxury cars including five Mercedes G-Class wagons and a 1996 Porsche 911 Turbo valued at $300,000.
Back at the office, I ask the Feldmans why they never questioned Meir's spending. In retrospect, Feldman says, he knew very little about Meir's personal life. He and his wife claim they'd assumed the money had come from Bartolacci's grandfather, not from HFZ. That assumption might be plausible if Meir had merely been someone they occasionally bumped into at Hamptons parties and not someone with whom Feldman had entrusted his multibillion-dollar business or someone whom Helene, minutes earlier, called an adopted son.
"It's hard to describe," Helene pleads. "You have to start with the mind-set that there was no reason not to trust him."
According to Feldman, a series of incidents in the fall of 2020 tipped him off to how bad things had gotten at his company. One day at the office, Feldman said he checked in on a group of accountants carrying out an audit for an HFZ investor. When Feldman asked if they had everything they needed, the accountants told him Meir had instructed them not to bother Feldman because he'd recently had open-heart surgery. (He had not.) Then Feldman said he was alerted to documents bearing his signature, which he alleges Meir forged. Feldman also found out about a term sheet that he claims Meir doctored to look as if HFZ had received a $900 million loan from JPMorgan Chase in 2020. (HFZ had received the loan in 2019.) The final straw came when Feldman spoke to an investor who said Meir had fabricated a Korean investor, even enlisting someone with a Korean accent to dial into a phone meeting, according to Feldman's complaint. Feldman fired Meir in December 2020. It was the last time the two spoke.
Former HFZ employees were quick to cast Meir as a rogue, but their descriptions of Feldman were more complex. He was aloof or asleep at the wheel. No one could say how much Feldman did or didn't know about the way Meir was handling HFZ's business. But they agreed that Feldman reveled in the success Meir brought to HFZ, and they blamed him for the company's downfall just as much as they blamed Meir.
"You get complacent. Of course I'm to blame," Feldman says, admitting for the first time that he made mistakes beyond trusting Meir. "But there really is no scenario, if you really study it, where it turns out to say that Ziel may have known, should have known, or was involved with it."
That line of defense hasn't played well in court. In March, the Appellate Division of the New York State Supreme Court said Feldman was fully aware of Meir's role and authority at HFZ, ruling that he was liable for the claims brought by Harlap, the Israeli car importer. "For several months, Feldman had notice of all the underlying transactions, as well as the default thereunder and negotiations to resolve it," the court wrote. "He then received actual copies of the allegedly unauthorized agreements, signed by Meir and one bearing his own ostensible signature, but conducted no investigation and made no objection for three months prior to being sued."
Because Feldman offered personal guarantees on HFZ projects — risking his net worth, some $110 million — the company's collapse has come at considerable personal cost. A year ago, the Feldmans sold their mansion in the Hamptons for $50 million, and they recently reduced the asking price for their 6,100-square-foot, black-marbled penthouse at the Marquand, an HFZ building on 68th Street and Madison Avenue that is also mired in litigation. They've sold off most of their art collection as well.
"People tell you all the clichés: 'Oh, your family will be so much better off.' Yeah, it's very sweet and very nice. You read The Daily Stoic, it's wonderful," Helene says, rolling her blue eyes back. "I think, for us, it has really given us a chance to reset. It has changed our life drastically, certainly from a lifestyle perspective. No, we don't have the house in the Hamptons anymore, and we don't know what tomorrow's going to bring. But as a family, and speaking as a mother, I've seen my family and children rise to the occasion and then some."
When Meir listed his Southampton home last year, Feldman filed a lawsuit claiming the beachfront mansion had been HFZ's property all along. Feldman accused Meir of forging his signature — again — to gain control of the house. In May, New England Patriots owner Robert Kraft bought the home for nearly $43 million. (The vast majority of the proceeds ultimately went to Bartolacci, under whose name it was registered. In a deposition, Bartolacci claimed the house was a birthday present but was unsure who had actually put up the money to purchase the property, per The Real Deal.) According to Feldman's suit, Meir continues to spend like a Saudi prince, blowing hundreds of thousands on fine wine, strip clubs, private jets, and yachts. He and Bartolacci also spent $1.5 million on gold coins and bullion.
Meir is still on the hook for a $19 million judgment Harlap won against him. Harlap has alleged that, in order to avoid payment, Meir transferred his assets to Bartolacci and fled New York. At least part of this is true: Last summer, Meir and his family rented a modern bayside home in Miami Beach for $150,000 a month. In September, the landlord sued Bartolacci, whose name is on the lease, saying she had made some unauthorized modifications to the rental, which included the installation of a new dock, the replacement of the natural grass with synthetic turf, and the construction of a cage for the family's bearded dragon.
Of the half-dozen major developers interviewed for this story and many more real-estate insiders, none would predict the end of either Meir's or Feldman's careers. That's because their futures depend on whether they will be able to raise money, and as one former HFZ employee put it, the market's blind hunger for New York real estate is insatiable.
"People are so hot for New York real estate — private investors are so eager to put money into New York real estate — that they don't even pay much attention to the people they're investing in," the former employee said. "They just gave HFZ hundreds of millions of dollars because they trusted Nir or Ziel? It all kind of made me see how unsophisticated private-lender capital was. Banks were lending and then turning a blind eye for years. HFZ borrowed billions on what? A personal guarantee? A one-page balance sheet Ziel had?"
In the meantime, the luxury real-estate market has moved on without HFZ — sales of high-end units remain more than 50 percent higher on a monthly basis than they were in 2015. As for Feldman's shining star, the XI, work on the building stopped in 2020, and the construction site has been eerily quiet for the better part of two years. In December, the Witkoff Group partnered with billionaire Len Blavatnik to purchase HFZ's stake in the project for $900 million at a debt auction. Witkoff found a new contractor to oversee the site, and in the past few weeks, there have been signs that construction is restarting. Scaffolding has been repositioned, and the cladding is again creeping up the sides of the towers, securing the XI's place in Manhattan's skyline one travertine panel at a time.