Home Tour: Worldly and Warm in Chicago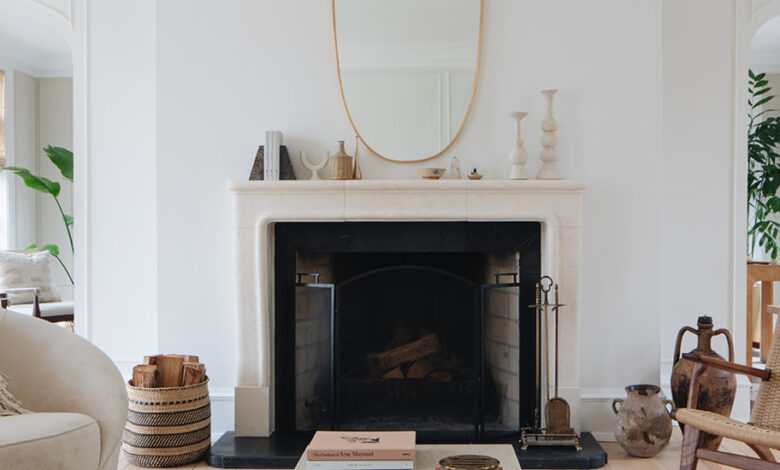 Hi friends. Well, look at this – it's mid-April. Turns out I'm not very good at designing an entire house from top to bottom (and do it all 1200 miles away) and blog about it simultaneously, especially as you embark on pandemic parenthood, the pursuit of endless cooking and cleaning, and attempting to take care of myself on occasion. There just aren't enough hours in the day and I can't burn the midnight oil like I once did (thank you 40's). As a result, this little old blog is simply overlooked. For that, I ask your forgiveness.
To compensate, I'm bringing you an insane amount of design inspiration over the next few days with a series of home visits and interviews that informed my design choices at the Cottage Hood Canal (and certainly makes me want to change groups at That old victorian as well as).
For those who die of Updates from Hood Canal Cottage, I a m sharing a bunch of major insights on Instagram this week. Even though I have a love / hate / romance relationship with Instagram these days, for some reason I find it easier to give quick updates there – so if you aren't following already, please visit Instagram if you want to see the Hood Canal Cottage in mid-construction.
Now, let's dive into a truly mind-blowing home visit as a little palette cleaner for your week.
This house is designed by Pernille Lind, one of my favorite design studios. Based in London, Pernille skillfully combines modern and traditional styles to create warm and inviting spaces that only draw you in. This project is a perfect example. At first glance, you might think it's a stately home somewhere in the UK, but it's actually a Colonial Revival style house in Chicago. The beautiful mix of design styles and materials immediately caught my eye. It shows how you don't have to stick with a 'modern', bohemian or antique look, whatever the architectural style of your space.
Keep scrolling for a closer look and for my interview with Pernille on his process!
What was the scope of the project and how long did it take?
I flew in to see the house just as the client got the keys in May 2018. We then found a local architect to help with planning permissions and a contractor for the renovations. The construction team started on-site in October 2018. I have been regularly attending meetings to appoint local cabinet makers for our kitchen and custom joinery, as well as to oversee some of the construction processes and key material choices. with the customer. The client was then able to move in August 2019, where I flew out to set up all of the main furniture, as well as find smaller items, such as unique vintage pieces and art. We spent some time finding them in local stores and markets. We added additional travel in early 2020, as some items still needed sourcing and we could then photograph the project.
What sources do you use for inspiration?
For each project, I always look at the architecture of the building and the interior spaces, its character, its light and its period features. This informs the direction of the inner experience and the key notes to play on. In general, I will seek inspiration through a variety of artistic mediums, however, materiality and color seem to be the first steps I take in familiarizing myself with the concept of a new project.
In the living room we have a curved sofa from Eichholtz and two Carl Hansen CH25 armchairs in oiled walnut and natural cord. We found a stunning vintage Italian travertine marble table from a local antique store South Loop Loft with the Italian brass mirror above the fireplace. The black metal and fiberglass floor lamp is also from a local vintage "Salvage One" store. This piece really steals the show in the room, and unfortunately the seller didn't have a lot of information on the origins of the light, I guess it's in the 1950s.
The living room is the jewel of the house. Late afternoon sunlight reflects long shadows from palladium windows onto the floor. It's very dramatic and creates that extra visual layer in the room.
In the veranda office we found an office chair from Jayson Home in oak and cane, associated with a vintage Parsons style desk in olive burl Scene Two by Henredon. The wall color is Farrow & Ball 201 "Shaded White".
How did you work with the client on creating the vision?
The client's mission was to create a calm and natural environment, as well as to incorporate an essence from their many years of living in Europe and traveling the world. In addition, they were looking for a thoughtful approach to create a functional home for a modern family who enjoys entertaining and entertaining friends and family.
The house has abundant daylight and beautiful period features, such as arched palladium windows, frame moldings and European-style cornices. So I kept the color palette muted and soft, in order to let the architectural features be the main heroes of the spaces and the key to the client in short – obtaining a calm atmosphere only punctuated by a few contrasting furniture, such as the tinted dining table. black and vintage pieces in dark wood.
To achieve a more modern lifestyle, I opened up the kitchen and dining room on the ground floor, and then created a luxurious master bedroom en-suite, converting a walk-in closet with an existing bathroom. . I then located the walk-in closet in an adjacent bedroom and added a connecting door to the master bedroom.
In the kitchen and the dining room, the dining table is by Gubi called 'Moon' board with black painted wicker and bentwood chairs from Thonet. The pendant is a new production 3-arm Serge Mouille light. More in the kitchen island we have chosen Louis Poulsen PH 3/2 pendant lights on the island and Gubi Bestlite BL7 wall lights on the kitchen counter.
Renovating old houses always means surprises. Where are there in this project?
The house has only had 4 owners in its lifetime. The current owners are the 5th. During the renovation they came across many interesting relics. While replacing damaged floorboards at the attic level, they discovered a metal plate (attached with brass tacks) that was plugging a hole. Upon closer inspection, the plate was an old, cut and flattened box of crackers – it was labeled "National Biscuit Company." The company is known today as Nabisco, and they believe the pewter dates back to some time before 1928.
They also discovered some interesting historical features in the house, such as a coal chute in the basement and a coal room with a sloping floor, a root cellar that stays cool all year round (it has been converted into a wine storage space), and a separate stairwell for the maids and maids' quarters.
In the master bedroom, the bed is the Nelson Thin Edge bed by Herman Miller with a vintage four-tiered, gold-plated Kinkeldey chandelier from the 1960s. The artwork above the bed is from Josh Yöung. Bedside wall lights are Signal wall lamp in bronze, by Workstead. The wall color is Farrow & Ball 211 "Stony Ground".
To see more home visits, CLICK HERE.
conceived by studio pernille lind, photograph by john and maura stoffer