How Much Space You Can Rent for $1,100 in These 63 Michigan Cities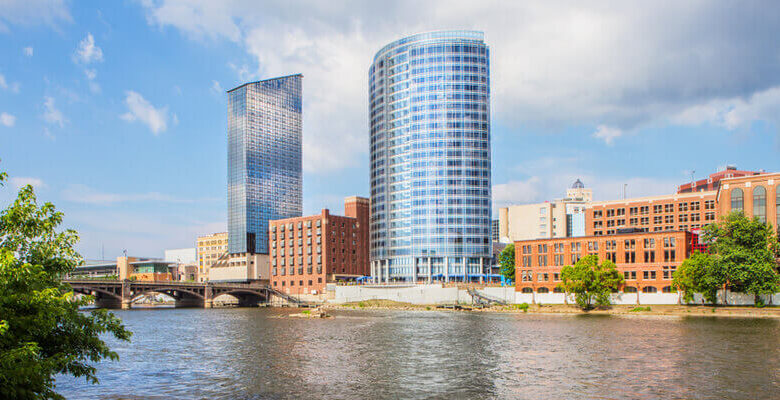 For $ 1,100, you'll get about 43% more apartment space in Michigan than the 651 square foot average in the 100 most populous cities in the United States.
Of the 63 Michigan cities included in our research, Flint and Ann Arbor had the largest and smallest apartments, respectively, for $ 1,100.
Use the calculator at the end of the article to find out how much space you can rent in Michigan, whatever your budget.
Undeniably, space is something we have all come to appreciate over the past year during the pandemic, as it has become increasingly important to everyone, especially apartment dwellers.
So RENTCafé analysts looked at how much space you could rent in Michigan for $ 1,100, which is close to the state's average monthly rent of $ 1,066. Based on Yardi Matrix data – and a bit of research – we've highlighted the cities where apartments offer the most and the least bang for your buck.
It turns out Michigan is a great place to live, as most cities offer fairly spacious apartments. On average, you can get 934 square feet of living space for $ 1,100 in the state, more than the 651 square feet you can rent for the same amount in the 100 most populous cities. This means Michigan apartments offer 43% more space for the same price.
We've put together the following infographic, which compares apartment sizes across the 63 Michigan cities included in our study. The tile size represents the actual proportion of the space available in the apartment for $ 1,100.
Statewide, the sizes of apartments you can rent on a budget of $ 1,100 range from 608 square feet in Ann Arbor to more than twice the space in Flint (1,403). Notably, although they are at opposite ends of our rankings, these two Michigan cities are located just 50 miles from each other.
Top 5 cities with the most apartment space for $ 1,100
Flint, located 70 miles from Detroit, is where you can find the most apartment space in the state, at 1,403 square feet, for that fixed amount. The city has an average rent of $ 679 – one of the lowest in Michigan – making this community of nearly 97,000 an affordable place to live.
Meanwhile, $ 1,100 can also pay for generous amounts of square footage in other cities, such as Taylor (1269) – a suburb of Detroit – as well as Battle Creek (1174), a town sixty miles to the south. east of Grand Rapids. Davison and Jackson also placed in the top 5, with 1,145 square feet and 1,134 square feet respectively.
All of these cities boast local average rents between $ 679 and $ 846 – lower than the state average – making them a great choice for those looking for a large apartment and lower rents.
Top 5 cities with the least apartment space for $ 1,100
Conversely, the least space you can get for the same price in Michigan is usually found in cities with higher rents, but overall apartment quality is better and they are generally considered like more attractive places. For example, Ann Arbor Apartments – where rents average $ 1,595 per month – offer about 608 square feet for $ 1,100.
Next is Dearborn and Detroit, both on the Detroit subway and among cities in the state where you get less space for that money, but you'll live in some of the more desirable locations. Specifically, in Dearborn you only get 777 square feet and in Detroit apartments only 790 square feet for the monthly rent of $ 1,100.
The top 5 is closed by the East Lansing and Royal Oak apartments where the same amount will get you smaller apartments of 797 square feet and 808 square feet, respectively. So, if you decide to choose one of these cities, be aware that you will have to shell out between $ 1110 and $ 1595 for the monthly rent. On the plus side, you'll enjoy better locations, so this is something definitely worth considering.
What you can rent for $ 1,100 in Michigan's 3 largest subways
Here's how much space you can get for $ 1,100 in Michigan's three largest subways:
In the Detroit Metro, Taylor apartments tend to offer more living space for that money. Here you can get 1,269 square feet for the monthly rent of $ 1,100. Roseville and Brownstown Township also prove to be good towns to live in, as the space you could get here would also be substantially large at 1,095 square feet and 1,093 square feet, respectively.
Meanwhile, the cities that offer the least space in the Detroit subway are Dearborn (777 square feet), Detroit (790), and Royal Oak (808).
In the Grand Rapids Metro, the main cities that offer the most space for $ 1,100 are Comstock Park (1,038 square feet), Kentwood (1,001 square feet) and Grandville (968).
On the flip side, Grand Rapids is where you'll find the least space on the subway, at 835 square feet. However, its healthy job market and beautiful scenery make this place more than ideal.
Haslett Apartments are 1,133 square feet, the largest space you can get for the monthly rent of $ 1,100 Lansing Metro. Holt and Lansing are also generous towns in terms of space, as they both offer over 1,030 square feet for the same amount.
On the other hand, the least space in this area is in East Lansing, where you can only get 797 square feet, considerably less than the rest of the metro.
See how much space you can get on your budget
Want to know how much space you can afford based on your budget in these 63 Michigan cities? Use the calculator below.
Apartment size for your budgetSq. Ft.

Methodology
This report was prepared by RENTCafé, a nationwide apartment search website that makes it easy for renters to find apartments and houses for rent across the United States.
To compile this report, we analyzed data on average rental prices and apartment sizes provided by Yardi Matrix, RENTCafé's sister company that researches and reports on large-scale multi-family properties of over 50 units. . Yardi Matrix is ​​a business development and asset management tool for brokers, sponsors, banks and sources of equity underwriting investments in the multi-family, office, industrial and self-storage sectors.
Information on average state rent and apartment sizes is based on data for 328,000 units at market rates and 1,700 multi-family properties across the state of Michigan.
Average apartment square footage per $ 1,100 in rent was calculated by dividing $ 1,100 by the average rent cost per square foot in 63 Michigan cities with a statistically relevant sample of apartments.