How New York's Indie Movie Theaters Are Gingerly Reopening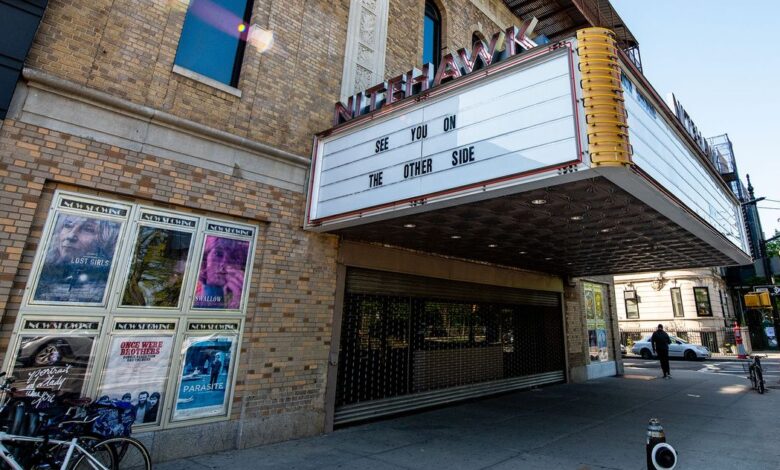 Photo credit: Roy Rochlin / Getty Images
On March 13 of last year – just two days after Tom Hanks announced he had contracted COVID-19 and the NBA suspended his season – Nitehawk Cinema closed its two locations in Williamsburg and Prospect Park. Within a day, BAM, Metrograph, IFC Center, Film Forum and downtown Brooklyn from Alamo Drafthouse had all followed suit. The announcements all included some variation on closing their doors "until further notice", although internally there was cautious optimism that they could be back on line in a few weeks. (The Film Forum even suggested a possible reopening on March 31.) But things haven't been the same for New York City moviegoers since, and they won't be today, even though theaters will reopen for the premiere. times for almost a year.
Under the new rules, city cinemas are limited to 25% capacity and 50 guests per screen. Masks will still be required in all theaters except when eating or drinking seated, and all theaters must use assigned seats that will ensure that guests who are not in the same group are kept separate.
The film industry itself has changed a lot since last March. Throughout the past year, studios have either postponed their films until 2021 and beyond, or avoided theaters entirely in favor of VOD releases. Warner Bros. has made the drastic decision to deliver all of its 2021 movies to its fledgling streaming service HBO Max on the same day they open in theaters. It was a blow to theatrical exclusivity, which had traditionally protected theater owners with a three-month window before anything could be seen on television.
Yet the reopening is particularly encouraging news for independent theaters, which traditionally shy away from financially sound blockbusters and often have extremely tight profit margins. Nitehawk will relaunch with a limited menu and five of its seven working Prospect Park screens. Alamo Drafthouse, which filed for Chapter 11 on March 3 and closed a number of its theaters for good, will reopen its downtown Brooklyn location Thursday through Sunday, but the House of Wax bar remains closed. (The company also maintains that its slated Lower Manhattan location will still open this fall.) The Film Forum's long-running Village space won't reopen until April 2, and its scheduling and security protocols have yet to open. been announced.
As the theater owners and managers gear up for their first screenings – whether it's tonight or a few weeks or months later – they told us more about what the reopening will look like and what they think it will be like. future holds for cinema.
We analyzed which places made the most sense to open up, but Brooklyn and Los Angeles were always obvious. We did some superficial assessments to make sure we weren't going to waste tons of money doing it, but [laughs] yes, we knew we were going to reopen Brooklyn on short notice. We've got a bit longer than most people – we're not going to do March 5th. More realistic, towards the end of the month or the first part of April.
We will be offering a reduced menu so that we can make sure the cooking stations are well apart from each other so that staff are not working side by side with someone on an eight hour shift. We also closed the box office – we only do online ticketing. We have built an online ordering system so that you can order your food in advance through the app. All this to minimize interactions. We have these weirdos ghost hunters-Style misting units, so that each room will be disinfected after each screening, and will have a team that ensures the disinfection of any public space, including toilets.
Going to the movies is a very safe norm that people can happily start over. I have streamed and consumed a lot of movies at home, but it's just not the same. There is the phone that distracts you. Or the children. Or someone is outside. The main thing I can't wait for is to leave it all at the door and indulge in an amazing story.
This is why I think the film exhibition is not going anywhere. There has been a lot of unhappiness and sadness over the last year when it comes to our industry and honestly it has gotten pretty ugly. I know a lot of the big theaters might not make it to the other side. But we are focused on competing with streaming because we offer a much different experience than what you get at home.
While we are aware of the governor's office's recent announcement allowing New York City theaters to reopen, in the interests of the safety of our staff and audiences, Lincoln Center theaters will remain closed. We continue to monitor the situation closely and will share further information on our plans to reopen when possible.
We don't sell concessions at all to begin with, so we can have a clear, comprehensive all mask policy all the time. We believe it will make people more comfortable to sit indoors with strangers. Some people might not be sitting six feet away from a couple who have popcorn on their knees and are masking all the time and chatting with each other. It's hard enough to attract people in large numbers with capacity restrictions, so we just wanted it to be as comfortable as possible for as many people as possible. I just wanted to be able to serve the more adventurous moviegoers, in terms of what they're willing to do, but also have a mind towards people who feel more conservative about coming back. We wanted it to be an inclusive experience and not just for the intrepid. For this phase, however, we're just happy to be able to open.
We reopen with Principle in Village East in 70mm., fully realizing that people have had the opportunity to go to New Jersey or Long Island to see this movie. But we feel that the opportunity to come back to the cinema and see a movie on film is a really great opportunity to bring our audience back and celebrate the cinematic experience.
They can sit with their friends and family together in the auditorium, but we can assure them that there will be at least six feet between them and the other parties. Our ticketing system will do this automatically, so there is no problem. We disinfect the seats between each show; we have improved our filtration systems and all the other protocols that people expect. You can purchase tickets on the app, and we now offer food and drink purchases on the app or at in-person kiosks to minimize human contact. We will still open at 10 a.m., as we did before closing, and we will remain open for our last shows, which will start at 9 p.m.