How to Shop for Your First Apartment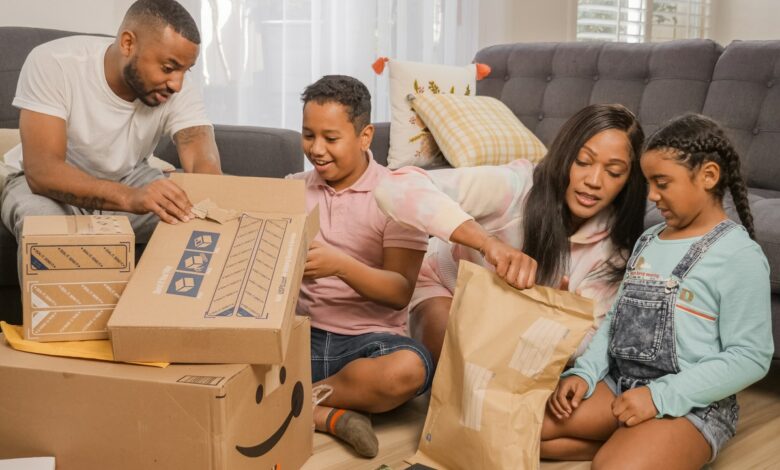 So, after graduating from college, you've just moved out of your parents' house, the empty apartment you've reserved for yourself is staring at you, and the least you can do is fill it up with your first paycheck.
Even yet, renting an apartment for the first time entails a slew of charges, including a security deposit, first month's rent, an apartment pet policy fee, and moving expenses, all of which might be difficult to fit into your first salary, especially when you have to shop for your first apartment.
It's an exciting time when you have a lengthy list of things you've always wanted to buy for your first apartment, but a major thing that may be standing in your way is your income, which is rapidly becoming thinner with each additional item you add to the list.
Nonetheless, you must get going and settle into what will be your home for the foreseeable future, before moving out again (see our guide on how to move-out of an apartment). There is a way out if you're concerned about your limited financial resources.
It's natural to want to buy a few things more than you can afford, but you may initially want to settle into your first apartment with what you have.
You don't have to buy everything at once; you can create your first apartment categories into two sections:
1. Items to buy now, before you move
2. Items to buy later, after you relocate
So, if you're not sure about shopping for your first apartment, here's a quick guide to help with your first apartment checklist.
What You Should Buy Before Moving In
Breaking down your first apartment checklist will allow you to cover the most crucial items first, then purchase additional items after you've settled.
Consider this section to be stuff you can't live without, and make it a top priority to purchase them before your relocation.
Things like art and storage, overhead lighting, wall hooks, for example, are some of the stuff you can put off and buy later, while prioritizing items like mattresses and other necessities.
Essentials for the Bedroom
One of the most important tips for moving into your first apartment is setting it up for a good night's sleep. Anything less than that will not only ruin your day, but also make your work life uncomfortable and unbearable. With that said, you should invest in your bedroom essentials before moving in.
One of the most important things to consider on your first apartment checklist is the mattress. Look for the correct mattress size and other bed needs, like duvets, pillows, and sheets, among other things, on the web.
Since sleeping on an air mattress isn't as comfortable as resting on a decent mattress, you should think about investing in a long-term solution.
If you're a fashionista, sheets in sets, with the duvet, are a good idea. Decide on a color and see if it goes with your bedroom's color scheme. White sheets, in general, look good and can simply be mixed and matched with any other color on the wall.
The window treatments are the next item on your checklist that you might wish to check-off. The majority of bedrooms have windows. According to the International Residential Code, a bedroom must have at least one window that is 24 inches tall by 20 inches broad.
In other words, a window opening of at least 5.7 square feet is required. Since this measurement covers such a large area, it will expose your bedroom. If you need privacy, you should get curtains or shades before moving.
You'll also need hangers because you'll need to hang your items in the closet. Purchase enough hangers right away to get you started after unpacking.
In a recap, here is what you should buy for your bedroom.
Decent mattress
Window treatments
Pillow
Bedsheets
Bed frame
Duvet
Mattress pad
Clothing hangers
Essentials for the Living Room
The living room requires furniture, so you should consider what type of furniture you want. Since the space here is typically not humongous, consider purchasing multi-functional furniture as a first step.
This means you should purchase items that may be used for multiple purposes. For example, if you don't want to buy an extra bed for your guests, consider sofas that double as beds and a convertible table.
You'll also need a coffee table, but not just any coffee table. Look for one with a storage compartment so you can store your books or laptop beneath it and keep your table clean.
Purchasing goods that may be used for multiple purposes saves money and helps maximize space in an apartment. People buy a lot of home products over time, so if you have the opportunity to preserve space, take advantage of it so you don't have to search where to find affordable storage units when you start buying more.
Essentials for the Bathroom
When it comes to apartment purchasing, the bathroom is another important consideration. After a long day or night of work, you deserve a decent shower in the evening, or when you wake–up in the morning.
It's normal to want to keep yourself clean by showering, so consider purchasing the necessary bathroom items before you move-in.
Of course, if you don't already have a favorite shampoo or soap that you use frequently, buy it before you move-in. Also, your shower will most likely require excellent curtains, so choose one that complements your personal taste or style preferences.
If you don't already have a towel, go ahead and choose the appropriate size and color. Decide on a theme color ahead of time so that you can have a clean bathroom look with appropriate colors, rather than one that seems out of place. This is also a good way on how to make your apartment feel like home.
Toilet paper, shower curtain liners, hand towels, bath towels, shower caddy (in case the apartment didn't come with a built-in one) and shower curtain hooks are just a few more things amongst various bathroom essentials.
Essentials for the Kitchen
The kitchen is, without a doubt, one of the most often used areas of an apartment. Everyone enjoys a well-designed kitchen with all the essentials, but will yours be one of them?
Before you move-in, make sure you have all of the necessary kitchen supplies for basic home cooking. Consider buying paper plates and cups and stick with them for a little while.
Preparing dinner can take a long time, and you may need to sit somewhere other than your living room couch while doing so. Consider if you require a full kitchen table with seats, or whether bar stools will serve.
If you don't have enough money to buy everything at once, consider purchasing the goods below first, and then adding the rest later:
Mug
Water glasses
Fork, knife, spoon
Food storage containers
Kitchen trash can
Table and chairs or barstools
Dishtowels
Plates
Cereal bowl
Cleaning Supplies
By the time you read and sign the lease agreement, the unit has usually been cleaned and painted. With that said, you may wish to conduct your own cleaning of your apartment and dust the room before moving in.
Keeping this in mind, you should consider purchasing all of the cleaning essentials you'll require. Of course, you won't only undertake a full cleaning before moving in; you'll do it on a bi-weekly or monthly basis to help make your apartment smell good year-round.
Consider the cleaning materials in the bathroom and kitchen surfaces, which are prone to stains and food scraps. Make a list of the items you want to purchase and add them to it, such as:
Broom
Mop and bucket
Rags
Sponges
Static duster
Toilet brush
Bleach
Toilet bowl cleaning solution
Dish soap
Paper towels
Trash bags
Dustpan and broom or vacuum
Vinegar
When relocating, make sure cleaning materials are in a convenient location where you can obtain them quickly and have them close at hand so you can get started as soon as you unpack.
Safety Essentials
Safety is crucial, and you may want to improve the apartment's security features before moving in. Smoke detectors, for example, are frequently required for safety reasons. Most apartments, especially if it is brand new, come with smoke detectors already installed. Carbon monoxide detectors and fire extinguishers are two more items to consider.
You'll also want to find out if renters insurance is required for your apartment. When it comes to renters insurance, safety features will get you a significant discount and help you save money. Most renters insurance firms offer discounts to tenants who have installed safety systems in their flats.
Home Toolkit Essentials
A home toolkit will make life easier for you. A toolkit will supply you with the essential tool, no matter if you need to screw or unscrew something.
Your toolkit, at minimum, should have the following items:
Duct tape
Power strips and extension cords
Light bulbs
Measuring tape
Screwdrivers
Hammer
What You Should Buy After Moving In
As previously stated, you do not have to purchase everything at once if you do not have the financial means to do so. With that in mind, here's a list of things you should save for after you move-in.
Investing in Wall Decoration or Art
Although wall art is enticing, putting it ahead of cleaning essentials or the living room sofa may not be a good idea. So think about what kind of wall art you want once you've settled in.
It's natural for everyone to want their apartment appealing, so look for ideas or inspiration on Pinterest or other online home decor sites.
Acquiring Side Tables
We're not suggesting that side tables are unnecessary; rather, they can wait a little while as you focus on the more crucial goods, such as mattresses and cleaning supplies.
Enjoying drinks with friends and using the side table as a holder, while playing computer games or watching football games, is quite luxurious and comfy. With that said, this may not be as critical as purchasing a bed frame or the mattress on which you will sleep.
Buying a Headboard
Purchase a headboard once you've completed buying all of your other vital items. A headboard will enhance the appearance of your bedroom, but is it truly necessary? No, we don't believe so!
Save it for later and get a headboard just after you've sorted out all of your other crucial items.
Buying Serving Dishes
When it comes to moving in for the first time, you generally don't need all of the extras, like serving dishes. As you prioritize critical items, purchase your mug, plates, and bowls first.
Serving dishes, or measuring cups and spoons, for example, can wait until you've settled in and have more money to spend.
Dining Table and Chairs
Is it necessary for you to have a dining table and chairs in order to eat? No, it's not!
You're in a better position if you have a sofa or a kitchen stool. Use it for your meals and then purchase the dining table with chairs later on, as you settle in.
If you have visitors, just cram yourselves into the couch while you wait for the dinner table to arrive.
Investing in Storage Units
In your apartment, you probably don't have quite as much stuff that necessitates additional storage.
Being a first-time renter should ideally mean you have fewer belongings, allowing you to concentrate on the most critical stuff while putting storage units on the back burner.
Kitchen Space and Appliances
For now, we recommend keeping things basic. Before you move, you don't need to have all of your kitchen appliances (things like a coffee maker or refrigerator, just to name a few).
You can concentrate on other household tasks while leaving the kitchen equipment until the end.
If your own space doesn't have a microwave or toaster, make it a priority to get them.
You'll also need to buy pots and pans after you move-in. Think about the types of pots and pans you want.
Here are a few to think about:
Large stockpot
2-quart saucepan
10-inch frying pan
Rimmed baking sheet
Tools and Supplies
After you've moved in, you'll need some tools and materials. It's not enough to have pots and bowls on your first apartment checklist; these tools and supplies will make your life in the flat easier.
Here are some items you should consider purchasing after you've moved in:
Cutting knives
Cutting board
Bottle can opener
Aluminum foil
Three Silly Mistakes Renters Make When Furnishing a New Flat
Moving to a new unit is exciting because you get to choose your living area's furniture, decorations, and layout.
On the other hand, freedom can be a curse at times, clouding our judgment when shopping for the first apartment essentials immediately after you just signed the lease.
With that in mind, here are three common blunders made by first-time tenants when furnishing their apartments:
Buying Things You Don't Truly Need
This is something that everyone has done at some point in their lives. When you're in charge of everything and don't have to answer to anyone else, it's very tempting to buy items you don't need.
No one is always present to remind you that you already have a similar pot in your kitchen and that you shouldn't buy that fancier one. This want for new goods causes many people to become indebted, and money that was intended for other purposes mysteriously vanishes.
When you're first starting out, choose solely useful goods. Try to control your need for new things; you don't need everything to figure out how to adjust to apartment living. If you can resist the impulse to buy new things, you'll be able to take responsibility for something that many people struggle with.
Buying All Your Furnishings at Once, Right After You Move-In
You're probably excited as a first-time renter and want to get everything in one place. We'll forgive you if you believe you're saving time because it is true, if you buy everything at one store, everything is simple!
With that said, if you think of the big picture, you'll see that you're making a massive error by undertaking that shopping. Consider buying furniture at various periods throughout the year and from various furniture stores. This way, you'll receive better prices and save more money than if you bought everything from a single place all at once.
If you're months away from starting your new lease, consider purchasing items one at a time if you want to save money, and check out several thrift shops for better deals.
Buying High-End or Delicate Furniture, Assuming You'll Never Move Again
As a first-time renter, you should be aware that you will most likely relocate one or two more times after your initial move. As a result, the items you're buying should be able to withstand a few trips to your next destinations, if you decide to relocate again.
Since you're on a budget, don't make the mistake of shopping at high-end retailers when you may find better offers elsewhere. This type of decision can frequently make or break your apartment living experience.
Instead, be a wise shopper and read user reviews to determine the item's durability. This way, you'll be able to make purchasing decisions that will end up saving you money in the long run.
Final Thought
The apartment living experience might be thrilling for a first-time renter, but the real effort begins during the process of finding an apartment.
Shopping for a new apartment necessitates thorough consideration to make informed judgments and avoid purchasing stuff you don't require.
All you'll need for your first apartment are a few essentials to get you started. Concentrate on it and the rest will fall into place.