IHM's ones to watch in the year ahead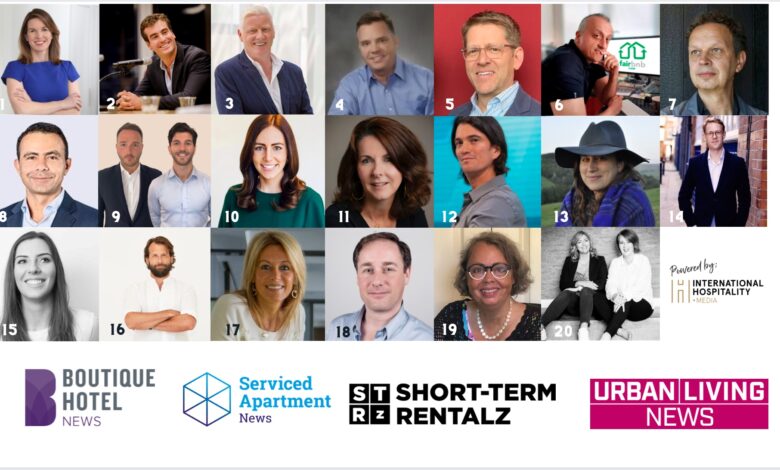 Worldwide: Drawing from the knowledge gained by publishing four sector-leading b2b websites, the editorial team at International Hospitality Media [ IHM ] has created a list of 20 influential leaders across travel, hospitality and real estate who they believe have a big 12 months ahead of them.

1. Allison Beer, JPMorgan Chase & Co.
If the distribution market was already crowded with Airbnb, Booking.com, Expedia and Hopper, it is about to get even more so as JPMorgan launches its own full service travel agency.
The investment bank is not new to travel – the firm has participated in numerous transactions and advised on IPOs – but one figure who will be pivotal in broadening its travel offering is Allison Beer, the CEO of card services and connected commerce.
In her role leading the connected commerce business unit at JPMorgan Chase, Beer, who was previously at American Express, is heading up the firm's expansion beyond its core financial services and strengthening its travel arm with the acquisitions of the Frosch luxury travel agency, a booking system and a restaurant review company to entice even more customers.
To disrupt the traditional OTAs, JPMorgan will seek to control the entire shopping and purchasing experience, capturing the entire spend of the trip from accommodation to car rentals to excursions, while partnering with global hospitality brands.
As more financial companies invest in their travel firms, Beer will need to tap into loyalty and rewards to convert travel customers into "lifetime" members of the Chase rewards programme, so that they spend more money with the bank and Chase can fend off highly targeted offers from competing large credit card issuers.
If JPMorgan captures $15 billion in bookings by 2025 as intended, it will become the third largest travel agent worldwide and Beer will have led a significant shake-up of the global distribution market.
2. Jordan Bem, Moliving
Is it a bird? Is it a plane? This hotel might not have wings but it does have wheels, and Jordan Bem is the man behind the concept.
Moliving is described as a "nomadic hospitality solution" that enables hoteliers to adjust their inventory based on seasonal demand. Like with yurts, cabins and treehouses, Moliving develops and operates external units which can be fully self-sufficient or connected to the host property. These units take between three to five months to construct and are built on custom chassis, allowing them to be rolled on and off premises. Each unit is also sustainably designed with green steel, lithium batteries, gray water recycling technology, and more.
Bem has a real estate and private equity background, working for most of his career with Arizona Investissements. He then leveraged his network to bring the Moliving concept to life which will be rolled out as joint ventures between the brand and prospective land owners. Profits will be shared as a result of the JV with Moliving overseeing the manufacturing, assembly, operations and marketing of each site.
This year, Moliving is set to debut at Hurley House in Hudson Valley. Bem is also targeting locations such as Cape Cod, Florida Keys, Joshua Tree and others in the US, as well as international outposts in France, Italy, Portugal and Spain.
Salt Hotels is a collection of eight independent properties across the US, co-founded by former Morgans Hotel Group executives David Bowd and Kevin O'Shea. Salt integrates the design, amenities and technology of lifestyle hotels with the personalised and intimate touches of luxury inns; and it's the group's foray into the members' club scene which qualifies Bowd for a place on our list.
Certainly no stranger to clubs, Bowd helped launch the Chateau Marmont and Chiltern Firehouse prior to establishing Salt Hotels. Now, The Aster in Hollywood is Bowd's hospitality-led adaptation of a members' club, and one that's been dubbed "anti-Soho House".
It's the idea of a hotel being run as a members' club as opposed to the other way round which gives Bowd his edge. Having worked alongside industry entrepreneur Ian Schrager who launched the infamous Studio 54 – where Hollywood's elite rubbed shoulders with ordinary people – it's possible to trace Bowd's inspiration for creating an inclusive and welcoming venue.
The Aster has a 'no discrimination' policy where pretty much anyone can sign up for membership, unlike the strict application process of others. Meanwhile, the addition of a podcast studio, pilates studio, gym, a salon, cabaret room, movie theatre, coworking space and more, positions The Aster as a different breed altogether – existing at the intersection of live, work and play.
4. Ron Burgett, Choice Hotels / WoodSpring Suites
The performance of the US extended stay hotel sector was one of the hospitality success stories of the pandemic, and the impressive numbers are showing no sign of slowing down. At the vanguard of the sector is Choice Hotels' WoodSpring Suites brand, which celebrated the signing of its 300th property in September last year.
Four months later, however, 111 of these properties were bought by investment giants Blackstone and Starwood Capital for $1.5 billion – the same partners who had dropped a cool $6 billion on acquiring Extended Stay America the previous year. It didn't take a crystal ball to see that these 111 hotels would be reflagged to ESA and WoodSpring would lose more than a third of its portfolio.
Ron Burgett, SVP of development at Choice, is the man with the job of replacing those lost hotels and adding more. No-one knows the extended stay market better than Burgett, a 30-year sector veteran, and he is set for a busy 12 months ahead – given the state of the sector it should be a fruitful time too.
5. Jay Carney, Airbnb
When Carney was announced as global head of policy and communications at Airbnb last month, he arrived with a decorated CV having served as Amazon's senior vice president of global corporate affairs and as press secretary to President Obama during his two-term stint.
Upon formally taking up the position next month, Carney will have no time to waste as he aims to repair the image of a firm that was tarnished by polarising cancellation fees and policies early on in the pandemic.
At Amazon, he was responsible for directing Amazon's investments into community projects and initiatives, including disaster responses, humanitarian relief for refugees fleeing the war in Ukraine, and educational programmes for children and young adults from under-represented communities.
Succeeding Chris Lehane, Carney will be tasked with lobbying key policymakers and addressing key regulatory challenges ahead, in particular in Europe where pan-European short-term rental legislation is being considered and more cities are combatting perceived over-tourism.
After going public, Airbnb is being scrutinised more than ever. Ukraine remains at the top of the humanitarian agenda, anti-party technology is being introduced, and the company is facing intensifying pressure to retain hosts in a fragmented distribution market with Vrbo (Expedia Group), Booking.com, Hopper and potential entrants such as JPMorgan Chase.
As Airbnb improves its transparency and repairs relationships with its community, it promises to be a challenging environment for Carney. However, his background in the political arena will stand him in good stead to navigate more choppy waters in his new role.
6. Emanuele Dal Carlo, Fairbnb.coop
As co-founder of ethical holiday rental site Fairbnb.coop, Dal Carlo is building the future of "community powered tourism" and leading a new wave of consumers to consider the environmental and social impact on their travels.
Officially recognised by the European Commission, Fairbnb.coop is now backed by institutional investment, while its 40+ members across 10 European countries contributed to the cooperative's €1 million funding campaign last year.
Dal Carlo is sticking to his principles, operating a business model that engenders social innovation and systemic change in the economy of the tourism sector. For example, Fairbnb.coop donates half of its 15 per cent commission to funding local community and social projects, while enabling travellers to participate in an equitable tourism model.
In a recent report published by Ethical Consumer, Fairbnb.coop came out on top of a ranking that assessed the ethical tourism and environmental credentials of 29 travel booking platforms. Conversely, global brands such as Expedia, TripAdvisor and Airbnb ranked in the bottom ten of the ethical practices list.
Where Dal Carlo leads, others will follow. As more representatives come on board, Fairbnb.coop is broadening its operations at a national and international level, including helping those affected by environmental disasters and the Covid-19 pandemic to create a long-lasting impact for a sustainable future.
Dal Carlo will be speaking on a ShortTermRentalz RockSTRz webinar, titled The new era of smarter, sustainable, responsible tourism, on Tuesday 27 September at 4pm BST – sign up for the free session here.
7. Tom Dixon, Unity 
British designer Tom Dixon is a restless innovator who works mainly in lighting, accessories and furniture. But his latest venture is to put his personal stamp on addressing the shortage of quality affordable rental housing. Dixon has launched the first in a series of experimental coliving and coworking spaces, under the brand name Unity.
Opening in November, the first property is located in a former transformer production factory in Stockholm. It offers 140 studio apartments, 200 flexible and fixed coworking spaces, an event space, a gym, and a café. Each residence has been designed with multiple room layouts accommodating different uses depending on the tenant's preference.
The Unity concept has been designed in response to a brief set by the Unity housing company, with students, freelancers, families and travellers in mind. The rest of the properties – two further locations in Stockholm, two Finnish locations in Helsinki and Tampere; Malmö, Sweden; and Aarhus, Denmark – are expected to complete during 2023.
Dixon said: "Young professionals and students deserve quality design and future thinking. Lower cost doesn't necessarily mean less design value. Unity is a response to this challenge. A key element in our thinking is that the future will have to become more cooperative. For us to achieve higher specifications, sharing becomes the solution. Unity is a step towards addressing some of these fundamental issues or capturing the opportunity to rethink affordable housing with top-quality services, spaces planning, and community building."
Rahul Ghai, managing director and co-head private real estate Europe at investment manager Partners Group, is overseeing his company's end of an ambitious £1 billion JV with Irish developer O'Flynn Group. The partners are looking to the coliving and student sectors for growth – the agreement involves finance from Partners Group and assets owned and operated by two of O'Flynn Group's subsidiaries, Host Student Housing Ltd and Tiger Developments. It is seeded with two Host-owned operational PBSA assets in Leicester and Colchester, a PBSA development project in Bournemouth and a coliving development project in Guildford, with around 900 units between them.
In addition, a pipeline of more than £250 million of PBSA developments has been identified, comprising more than 1,000 beds in Manchester, Bristol, Edinburgh and Birmingham. Ghai says the student sector benefits from "long-term tailwinds", such as favourable population growth trends and rising enrolment rates, as well as the continued strength of the UK's higher education offering globally. The JV has a robust pipeline, and we look forward to hosting students across some of the most dynamic cities in the country."
9. Toby & Charlie Guest, Your Apartment
Brothers Toby and Charlie Guest run one of the UK's fastest growing independently owned serviced apartment and aparthotel brands, and the next 12 months should see continued expansion for the brand which has its roots in Bristol.
Establishing a foundation of more than 160 units in the brand's home city, the brothers have their sights set firmly on nationwide expansion, and have added properties in London and Milton Keynes this year – with locations such as Birmingham and Cardiff also on the agenda.
Offering tech-enabled 'plug and play' properties with thoughtful bespoke designs in each individual property, the Guests are effectively targeting both the leisure and corporate guest through a broad range of distribution channels. So far 2022 has been a big year for the company, which has grown to a sufficient size to potentially attract investor interest, opening up possibilities for a range of growth strategies in 2023.
10. Elizabeth Herzberg, Mint House
Described as "straddling an interesting line between hotels and short term rentals", New York-based Mint House has recently closed $35 million Series B financing led by Mohari Hospitality, taking its total funding to date to more than $50 million. It has also appointed J. Allen Smith, the former CEO of Four Seasons, to its board.
Mint House prides itself on disrupting the extended stay sector and has embraced smart technology at its properties, ditching key cards and room service for apartment kitchens, groceries and workout space. The name of the game for Mint House over the next 12 months is adding inventory, and this is where Elizabeth Herzberg, VP of real estate development and strategic partnerships, comes to the fore.
Just a month ago, she signed two upmarket properties in Philadelphia which demonstrate the flexibility of the Mint House approach. One is made up of apartments in an adaptive reuse of a 1923 former industrial building, the other is apartments which are part of an extension to the Divine Lorraine hotel.
Mint House currently has 22 properties in more than 15 major US cities – Herzberg will be looking to get this number above 30 over the next 12 months.
11. Karlene Holloman, Common
Hospitality veteran Karlene Holloman has taken the CEO role at coliving operator Common at a challenging time. She has more than 30 years of experience in hospitality operations, strategy, and management and has taken the role from Brad Hargreaves, the founder of Common, who will remain as the company's chief creative officer and chairman.
Holloman has previously held executive roles as CEO of Point Hospitality Group and SVP of operations at Commune Hotels and Resorts, and she will need every ounce of her experience to guide the company, which aims to "make the experience of renting better". But its rapid growth – it has 7,000 units under management and a further 18,000 in the pipeline – is set against a background of frequent tenant complaints about lax security and maintenance delays.
Hargreaves says Holloman has already "done a tremendous job levelling up the quality of operations" at Common since she joined as EVP of property management a year ago. Now her role will be to make the company profitable for the first time.
12. Adam Neumann, Flow
Adam Neumann's fall from grace at WeWork was spectacular, very public, and has even been dramatised in an Apple TV series. But although some of his predictions were outlandish, failed to materialise and eventually led to his ousting from the company he co-founded in 2019, the concept and offer WeWork provided was – and continues to be – very good.
Now Neumann is back, with Flow, a "community-driven" residential rental start-up. He has been spending a fair chunk of his WeWork pay-off on 4,000 residential units across the southern states of the US. And he has some influential supporters. Silicon Valley venture capital firm Andreessen Horowitz (a16z) has signed a $350 million cheque to help get Flow off the ground.
It's going to be fun to watch Flow launch and grow under intense scrutiny, and it certainly won't be dull. Neumann has presumably learned a lot from the WeWork experience. He may yet achieve one of his reported aims – becoming the world's first trillionaire – but whether he also manages to become Israel's prime minister, the president of the world, and to live forever, remains to be seen.
13. Alyssa Ravasio, Hipcamp
In a glamping market predicted to be worth $3.9 billion in value by 2027, according to Mews, outdoor stays booking platform Hipcamp is one to watch in the years ahead, as is its founder.
Recently featured in Outside Business Journal's list of the 20 Most Influential People in the Outdoor Industry, Ravasio has built up a platform that capitalises on the surge in demand for nature travel. As a result, Hipcamp is set to make its mark in a market where there is currently no identifiable global leader.
Since the onset of the pandemic, Hipcamp's purpose has become even clearer. The platform took its funding to date to $97.5 million last January after closing a bumper Series C round, which has enabled it to expand internationally from the United States into Australia, Canada, and the UK, where Hipcamp acquired Cool Camping in May.
By unlocking access to private land for camping, glamping and other outdoor recreation, Hipcamp has increased its supply beyond campsite listings and works with farmers and other landowners to create income for rural communities. This led to Ravasio being praised by Outside Business Journal for her "vision, ethics, measurable impact and the potential to inspire others".
In the midst of a global cost of living crisis, Hipcamp is poised for further expansion with Ravasio at the helm. Counting renowned rapper Jay-Z among its notable backers, Hipcamp can provide people with more affordable outdoor lodging options at a time when people are looking closer to home domestically for their getaways.
14. Ben Russell, City ID
Things changed radically for City ID, an Amsterdam aparthotel operator with three properties trading, in September 2020 when it was chosen by two heavyweight pension fund managers – Australia's Aware Super and APG of the Netherlands – as the vehicle for a €1 billion pan-European expansion. It was a surprise to the industry that such a small operator should have been chosen, but City ID's Amsterdam properties consistently achieve some of the highest customer ratings in the city, so it knows what it is doing on the operations side.
It will be a fully integrated asset-heavy owner-operator – a relative rarity in the hospitality sector, but an increasingly emergent model in extended stay. The man tasked with finding the opportunities the company needs to take to expand is Ben Russell, formerly chief development officer at Ennismore, where he spearheaded the expansion of The Hoxton brand.
Russell's endeavours are starting to bear fruit, with a London property achieving planning consent earlier this year, and a Dublin site acquired in May. The ball is rolling, now Russell will endeavour to ensure it gains momentum over the next year.
15. Katie Sharples, Design Hotels
Having just joined Design Hotels, Katie Sharples has the media power and industry connections to ramp up the brand's exposure. With a marketing background in luxury and lifestyle travel and events, her latest post with edyn overseeing the brand strategy for Locke has raised Sharples' profile and put her name on the PR map.
The Design Hotels portfolio includes over 300 privately owned and operated hotels across the world. Properties in the collection are notably covered in consumer travel magazines and newspapers by virtue of gram-worthy interiors. Where Sharples will play a major role in the company's growth is within B2B communications.
Thus far, Sharples has worked with brands that are well known for pushing boundaries. For example, her experience leading the programming and organisation of L.E Miami's Ministry of Ideas business event in 2019 speaks to Sharples' knack of identifying trendsetting individuals within the travel industry. Given the talented, independent hoteliers part of Design Hotels, Sharples will be key in showcasing their story and amplifying the Design Hotels brand.
16. Richard Valtr, Mews
The gradual move towards cloud-based property management systems places technology companies like Mews advantageously in the market. Founded by Richard Valtr, the company is on the journey of acquiring numerous tech partners to boost its product offering, suggesting Valtr is eagle-eyed when it comes to innovative hospitality solutions.
A progressive move from the company came in July this year when Valtr launched Mews Ventures. Valtr aims to use the investment vehicle as a catalyst for accelerating the speed of tech transformation within the industry. Hoteliers' hands in particular have been forced to adopt digital services and systems at a time when travel-tech startups are spying opportunities to capture new business. The result? Overwhelmed hoteliers wading through an ever-growing sea of vendors.
For those already familiar with Valtr, it's perhaps unsurprising Mews Ventures has become the latest company initiative. A charismatic and outspoken leader who encourages fresh ideas, IHM looks forward to seeing what will emerge under the Mews Ventures umbrella.
17. Carrie Wicks, CAW Ventures
After leaving Firmdale Hotels where she spent 19 years, closely followed by a short stint at Leeu Collection, Wicks has gone on to form her own development and management company CAW Ventures. Notably, and to much media hype, her first project is Chateau Denmark in London.
An unusual concept but one that transforms notions of what a hotel is, Chateau Denmark occupies 16 different buildings along Denmark Street. With provocative interiors inspired by the gothic and punk eras, it certainly takes a gutsy leader to launch such a risqué hotel (in one of the bedrooms, handcuffs and leather whips are padlocked to the wall above the headboard).
Wicks has begun to stamp her mark on the London hotel scene – Chateau Denmark is opening in phases, with more to come over the next year. The fact that a hotel can exist beyond four walls hints at endless possibilities, and IHM wouldn't be surprised if Wicks acquires additional buildings to extend the brand's offer. It takes a talented hotelier with high operational finesse for one team to deliver a five-star service across multiple locations, and Wicks has the experience and bold vision to do so.
18. Wybo Wijnbergen, infinitSpace
Earlier this year, infinitSpace, a white label flexible workspace provider, launched its first London location in Aldgate Tower. Co-founded by former WeWork MD of North and West Europe Wybo Wijnbergen, and his brother, serial tech entrepreneur Wilco Wijnbergen (CTO), the company works with landlords to transform traditional office space into modern, flexible and inspiring workspaces, ensuring maximum traction with tenants as businesses' demands evolve.
The company has got off to a flying start in the UK, with an institutional partner – Aldgate Tower is owned by Brookfield Properties, which has agreed terms with infinitSpace to operate its workspace brand Beyond in 60,000 square feet of the building.
Wijnbergen has conducted research into post-pandemic working patterns and is confident his company's approach is in tune with demographic trends. The pandemic has fundamentally reset what people want and need from a workspace and, as the research clearly showed, it has also emboldened employees to seek greater flexibility.
More than ever, employees have the power to shape their working week around the realities of everyday life. The evolution of work is largely being set by employees and employers in tandem. Those who fail to meet the flexible and dynamic demands of today are going to find it very difficult to attract and retain the best talent. Evidently, though, the office landscape also needs to evolve, and fast, with "demand for flexible workspace outstripping demand in many places", he says.
19. Lorraine Woodward, Becoming RentABLE
Based in Conway, Arkansas, Woodward is a leading advocate for travellers requiring mobility and accessibility support in the short-term rental industry, working tirelessly on their behalf on a range of platforms.
As the creator of Becoming RentABLE, a property directory site educating users about making short-term rentals accessible to travellers of all abilities, Woodward is striving to build visible solutions and filters to overcome barriers for people facing difficulties with mobility, vision, hearing, intellectual and developmental disabilities (IDD), and for individuals on the autism spectrum.
Before venturing into travel and hospitality, she created the National Barrier Awareness Foundation, founded Realistic Reflections to increase the visibility of people with disabilities in print materials and on websites, and established Lorraine's Canes to provide artistic walking canes for children and adults.
With a TV show in development and a dedicated social media platform in place, Woodward brings her knowledge and expertise to short-term rentals to advocate for and create accessible rental properties across the United States.
Her campaigning has won her the support of HomeAway co-founder Carl Shepherd, who said at the 2022 Rent Responsibly Summit: "The next five years is all about the rise of the niches and that's what Lorraine is trying to do with folks looking for perfect houses for people with disabilities. Lorraine and I are a part of the disability community and therefore it's important."
Like Handiscover and Travaxy, Becoming RentABLE is one of the newest channels that is targeted to the specific needs of its demographics and communities.
20. Christine Young & Gillian Sloan, loopliv
The founders of loopliv are on a mission to deliver the award-winning levels of service they brought to Glasgow's PBSA sector to a new demographic – the active over-55s. loopliv will offer a range of options for partnerships including forward funding, joint ventures and turnkey opportunities to build a portfolio of new purpose-built communities for the over-55s in locations across the UK.
Sloan says: "The later living market hasn't fully blossomed in the UK and we have identified a massive opportunity. There is lack of provision for energetic, vital, inspirational and fun people around 50 plus who wish to enjoy every aspect of life, not be written off, make new friendships, enjoy community, work, socialise and live their best lives."
The pair have thrown themselves in to the new venture with gusto, developing a concept called 'let to live' – an option for their residents to keep their house as an asset, gain an income through letting and "experience the most amazing new way of living". "Loopliv Group will be responsible for some pretty fundamental changes, specifically to the way people from mid-life onwards choose to live their lives", says Sloan.
To learn more about our 'ones to watch', make sure to read and subscribe to the respective weekly e-newsletters of each of the media brands in the International Hospitality Media portfolio [BoutiqueHotelNews.com, ServicedApartmentNews.com, ShortTermRentalz.com and UrbanLiving.news].