It Wasn't Just Shadows That Stopped the Towers by the BBG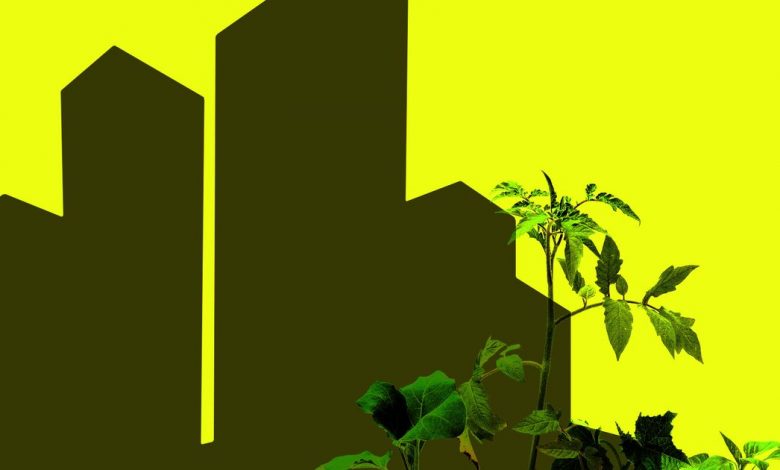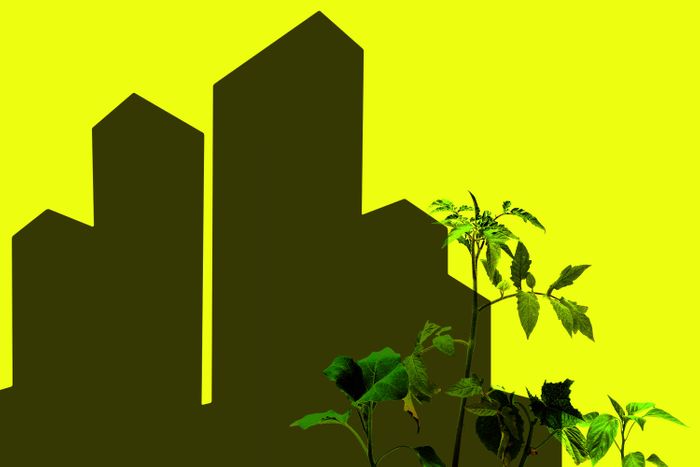 Photo-Illustration: by Curbed; Photos Getty Images
It's easy to see why developers would be drawn to the stretch of Franklin Avenue that runs through the southern part of Crown Heights between Eastern Parkway and Empire Boulevard. Sloping down from the section of the neighborhood where restaurants sell $23 plates of fish and chips are long stretches of empty lots where the grass grows tall. There's a block-long parking lot, several single-story buildings, and a defunct brick spice factory that still scents the air with whiffs of cardamom and curry. Nearby are tangles of train lines and a trifecta of cultural destinations: Prospect Park, the Brooklyn Museum, and the Brooklyn Botanic Garden. And therein lies the problem, or rather one of the many problems, that the developer Ian Bruce Eichner, chairman and CEO of the Continuum Company, ran into when he tried to build two 39-story rental towers on the site of that spice factory, at 960 Franklin Avenue.
When plans for the towers were first unveiled in 2017, their height — more than 400 feet — was immediately (and unsurprisingly) controversial. Even in midtown Manhattan, tall towers face local opposition; here, they were almost universally criticized, even before it emerged that they would cast shadows for part of the day on the Botanic Garden, a beloved institution whose greenhouses are about 150 feet away.
Yet the project seemed hard to reject. Fifty percent of the apartments would be designated affordable, and it would be built and run entirely with union labor. And although the towers would require rezoning — without it, anything built there would top out at about six stories — it seemed quite possible, even likely, that the mayor would be onboard. Early on in his first term, Bill de Blasio, whose affordable-housing policy encourages developer-initiated rezonings, had lauded another project, Astoria Cove, as the gold standard of his new housing plan. That building was 27 percent affordable and paid union wages.
But Astoria Cove was, significantly, never built. It's widely believed that the project died because it wasn't going to be profitable: Local market-rate rents were just not high enough to subsidize those promises. Some developers believe that 960 Franklin is also overpromising, that there's no way the numbers pencil out with so many affordable apartments and union pay.
We will likely never find out. On August 16, the Franklin Avenue project effectively hit the end of the city's land-use review process when the City Planning Commission said that it intended to reject the rezoning application. Despite its many sweeteners, 960 Franklin has been, from the start, incredibly — even spectacularly — unpopular. Every rezoning in New York is contentious, and it's rarely about a particular building or street but instead about what is often described nebulously as "neighborhood character": change (and resistance to change), who deserves to live there and under what conditions, who in turn gets to decide that, and — perhaps most contentious of all — how those decisions get made. The fight over 960 Franklin had every element of every land-use battle in the city, only in this case, heightened, much like the tower itself. But they were so completely overshadowed, to so speak, by the concerns over the Botanic Garden that it became easy to overlook all the other dynamics at play. Like the vision — or hubris — that it takes to try to build a 1,500-unit, 50 percent affordable project more than six times what zoning allows in brownstone-adjacent Brooklyn. Or the tenacity of the local activists who were convinced that a 50 percent affordable project would be a mechanism of displacement and gentrification, such that the local state assemblywoman claimed that, if 960 Franklin were built, it would be "the premeditated murder of Crown Heights." The demise of 960 Franklin was seen as a win for sunshine against a developer's dark vision, and maybe it was. But what it took to kill the building — and what it means for the future of development in New York — is another story.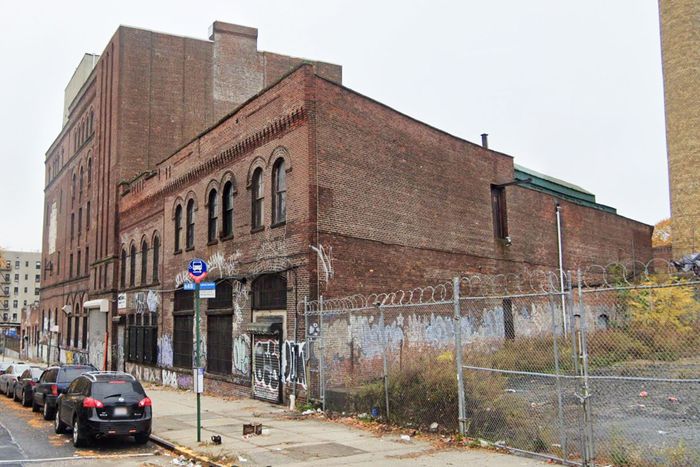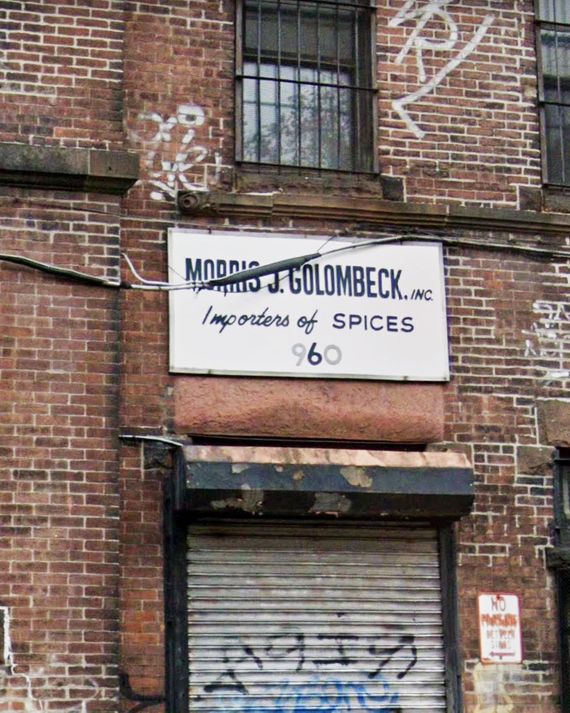 "Lost in this unfortunate saga is the intent of a private developer to build affordable and workforce housing," said that developer, Bruce Eichner. He's 76, a former Brooklyn assistant district attorney who grew up in Sunnyside, Queens, and got his start in real estate by buying and renovating Park Slope rental buildings in the 1970s. He is affable and energetic and eschews the use of a traditional desk or computer (he reads all his emails on his phone). He is looking forward to his 17th safari next year in Botswana, where he will be tracking wild dogs, although he does not hunt, maintaining that he would be "more likely to take a shot at a human being than an animal." He says he likes big bets and projects that require problem-solving, and 960 Franklin is both.
"The two issues every city talks about are crime and lack of urban-workforce housing," he says. "It appealed to me intellectually. Most real-estate companies are in the replication business. This company has always been about thinking creatively." Indeed, Continuum's projects have been varied, as has its scorecard of success. There is CitySpire, a late-'80s midtown skyscraper that was the tallest mixed-use tower in New York (it was, as it turned out, a little too tall — then-mayor Ed Koch made a point of trying to force him to take 11 feet off the top), 1540 Broadway (the Times Square office tower that he lost control of in a bankruptcy in 1992; Eichner also lost CitySpire that way), a $4 billion casino in Las Vegas (that he was forced to surrender, partially built, to his creditors when capital markets crashed in 2007), a 777-foot condo tower at 45 East 22nd Street that required an impressive air-rights assemblage (the block, he realized, had no height limit). He also built a successful 530-unit condo development in South Beach and Manhattan's first timeshare (after which he was sued by several owners who claimed that they couldn't book units because they were being rented out to the general public). During the last market cycle, he bought a lot next to the 125th Street Metro-North station in East Harlem with plans to put a 350-foot glass apartment tower there, but was forced to sell it to the Durst Organization when he couldn't raise the capital. "The real-estate business is cyclical, and when there's a tsunami, even the S.S. Olympia and York doesn't make it," he once told the New York Times.
In addition to being a big bet, the 960 Franklin site was also "a big piece of dirt," said Eichner. "122,000 square feet. A standard lot in the city would be like 100 by 200. It was the equivalent of a suburban piece of land in the city of New York. What do you need in order to build this kind of thing? Inexpensive financing, density, and cheap land." The land this time wasn't cheap, but with enough density, it was close enough. Next, he went after the low-interest financing: approaching the AFL-CIO, whose $7 billion housing-investment trust invests in affordable, union-built projects for about 400 pension funds. The union said the terms of the financing wouldn't be finalized until the project was approved, but according to Eichner, they agreed to fund about 75 percent of the project's cost.
Eichner in 2017.
Photo: Matthew Eisman/Getty Images
The embrace of union labor makes some other developers dubious that the project, which Eichner said is expected to cost $650 million, would pencil out. "Very impossible," said one, after reviewing the distribution of affordable apartments. Here, as in many such buildings, they fall into two bands: 315 units for the truly needy — earning 50 percent of area median income, or $51,200 for a family of three — and 474 units for middle-income earners, those between 80 and 120 percent of AMI, or $81,920 to $122,880 for a family of three. The rest go at market rate, for the relatively affluent.
That multi-tiered arrangement of low-cost apartments, created to give developers more flexibility, turns out to be a Catch-22 in gentrifying areas like southern Crown Heights. In another neighborhood — say, Williamsburg — high market rents help to offset more deeply affordable units. Here, you need more of the midlevel apartments to subsidize the lowest-rent ones. But because they require tenants to apply and deal with some bureaucratic rigamaroles, many potential renters just avoid them and look for an unregulated apartment elsewhere. There's no setting on all these dials — labor costs, five different levels of rent — that works unless you pack enough apartments into the building to really make the land pay. "How do I build it? Density, density, density!" cried Eichner. For this to work, it had to be a really, really big development: 1.4 square-million-feet big. And then the Botanic Garden got involved.
There seems not to have been a cause as broadly appealing as the Botanic Garden's since Jackie O. saved Grand Central. What could be more satisfying than a fight against shadows? And not just any shadows, like the ones that 960 would also cast on a nearby playground and a college plaza, but shadows falling on an adored cultural institution that needs sunlight to survive. Quite simply, the plight of the Botanic Garden captured the public imagination. "I came into a battle that had already been won," said Adrian Benepe, a former NYC Parks commissioner who became the Botanic Garden president last year. Still, he hasn't let up: Ahead of a recent hearing on the project, Benepe could be found outside the Botanic Garden leading a rally in a FIGHT FOR SUNLIGHT T-shirt.
Over the course of several years, that campaign has collected more than 60,000 petition signatures. Mayor de Blasio waffled, first expressing support for the rezoning — "I don't think it ruins the garden forever. I just don't," he told Brian Lehrer — but later claimed that he had confused the development with another nearby project, calling 960 Franklin "grossly out of scale with the neighborhood." Appeals have tugged the heartstrings: At the City Planning hearing in late July, an elderly man recounted how, as a child growing in Brownsville, he used to come to the Botanic Garden to buy seed packets for a few cents so that he could grow plants on his fire escape. "There's nothing the developer can do to counter that," says Benepe. "This is Brooklyn's backyard — that's why, in the court of public opinion, we're winning."
Just how much the towers would affect the Brooklyn Botanic Garden is a matter of debate, but that there would be some damage is not. The BBG said its analysis had shown that some greenhouses would be in shadow for up to four and a half hours a day in the shoulder seasons, which would make it impossible to propagate and keep many plants alive. The developer's own Environmental Impact Statement says that the development "would result in significant adverse shadow impacts." To mitigate all that, the developer dropped the height of the towers to 34 stories, which seemed to placate exactly no one. Benepe calls it "an existential struggle," one on which "we've spent thousands of hours, hundreds of thousands of dollars. That's money that should have been spent on the collection and educating children, but we didn't have a choice."
And the battle between the Botanic Garden and Eichner was only ever carried out in the public eye, as the Botanic Garden maintains that it has no role in any of this beyond self-defense. "From the very, very beginning," said Eichner, "the attitude of the Brooklyn Botanic Garden was remarkable. We made a first phone call to the previous director, Scott Medbury — no return call. At the first scoping session, our chief of government relations handed Medbury a business card and he handed the card back and said, 'I know who you are.' They have refused to meet." Benepe essentially agrees: "They have reached out. I have not interacted with them. There's nothing to talk about. There's nothing on the table that's reasonable." (Medbury did not contradict Eichner's account. Through a spokesperson, he replied that "the Garden doesn't seek nor has ever had a role in advising private developers on their real-estate ambitions.") Not even a 17-story alternative that Continuum recently proposed would be an acceptable compromise, Benepe insisted. What would be acceptable, he said, would be an as-of-right building — that is, the six-story structure allowed by the current zoning, which Eichner has said would inevitably be condos. In a nearby, similar building, two-bedrooms are currently listed for around $1.2 million. "I don't think condos are in the best interest of the city," said Eichner. "The BBG seems like a fairly elitist organization to me. Look at the board. Do they live in Crown Heights? Contrary to the inaccurate statements made by people who want to obfuscate this issue, [960 Franklin] is workforce housing."
The project's many opponents claim that its affordable units wouldn't be all that affordable to Crown Heights residents anyway. According to the Furman Center, median household income in Community Board 9 was $67,840 in 2019, an income that would qualify for around half of the affordable apartments. "I think it's important to remember that the affordability for this project is substantially different than what would be affordable for the neighborhood. The chances that if you're a Crown Heights resident right now you could move into this building are extremely slim," said Elizabeth Goldstein, the president of the Municipal Art Society. (Presumably she means longtime residents, given that a lot of newcomers to the neighborhood tend to be wealthier.) Continuum was also, she added, using an unusual combination of zoning and zoning tools to step back and go higher, including one intended for buildings next to elevated train lines. "The subway lines here are depressed and in a trench," she said. "We don't understand why it's applicable." So Continuum had been creative in its use of the zoning code? "Creative is one word," she said.
Alicia Boyd, who runs the anti-gentrification group Movement to Protect the People, has won every land-use fight she's picked since she started showing up to Community Board 9 meetings in 2014. She has a flair for drawing attention to her causes: She showed up to the court hearings over 960 Franklin surrounded by her supporters, all of them garlanded in flowers. "You can't bring signs into a courtroom, but there's no one to tell you you can't put flowers in your hair," she said. At community board meetings, she shouted down speakers and got into screaming matches with board members and local politicians, accusing them of corruption and filing lawsuits. She has been forcibly removed from numerous meetings in handcuffs; she has been arrested and charged. But she is also formidable in less brash tactics, skilled at not just filing lawsuits but in FOIA-ing documents. The 960 Franklin project, she said, "is not going to get approved, and the only reason this is not getting approved is that we found that memo from the Parks Department."
She's referring to an internal document, sent from the Parks Department to the Department of City Planning, revealing that Parks believed certain greenhouses would suffer "long-term cumulative" effects as a result of "even very limited winter shading." It went on to say that the health of the cacti would decline, that some orchids would no longer flower and that the garden's propagation facilities would be significantly affected, which BBG has said would severely hamper its ability to sustain the collection.
Boyd has a lot of issues with the zoning that Continuum is using to try to build 960 Franklin. But she wanted to be clear: She was opposed not to just this rezoning but to any rezoning that wouldn't "work for the community," as she put it. She will fight any attempts to change the zoning in place now, and she will probably succeed: She strangled the rezoning of Empire Boulevard in its infancy — attacking during the study phase, because after a study is conducted the rezoning will almost surely proceed. She has, in the process, preserved an unlovely low-rise commercial strip of fast-food drive-throughs, carpet warehouses, and self-storage buildings. It runs between Crown Heights and Prospect Lefferts Gardens, where Boyd owns a house on Sterling Street (purchased with a settlement she received from a legal dispute with her landlord in Boerum Hill).
If Empire Boulevard had been rezoned, Boyd says, "everyone would have suffered. They would have done exactly what they're doing downtown. You'd have a whole school of monstrosities," she says. "I have a two-story house. If they put a 50-story building there, people would have been throwing things off their balconies into my backyard as though it were a garbage dump."
Alicia Boyd at a rally in 2016.
Photo: Erik McGregor/LightRocket via Getty Images
She does not let niceties get in her way. "I think being successful was about educating the community, doing really good organizing and, yes, being obnoxious," she said. "When you deal with Black community struggles, they tend not to get the spotlight that white community struggles get. It's about public awareness and those unsavory tactics that people complain about, it brought people to the meetings." Boyd is also, it should be noted, extremely adept at identifying when organizations have not followed protocol, including their own bylaws, and using those transgressions to file lawsuits. She also has benefited from local allies like the Crown Heights Tenants Union, which is one of the best-organized tenants' groups in the city.
By forcing the memo to be disclosed as part of the rezoning, Boyd said that she'd effectively removed all political cover for the projects' supporters. Whether or not that's the case, there is no longer any political support for the project despite the unions' backing, which is somewhat remarkable. In February, Laurie Cumbo, the local councilwoman, and Corey Johnson, the council speaker, released a joint statement against it and both the community board and the borough president (and mayoral shoo-in) Eric Adams, voted no. "You don't want to piss off the entire Crown Heights community and liberal white Brooklyn," said one person.
Boyd is, like Benepe, unmoved by the threat that Continuum will develop luxury condos if the rezoning doesn't pass. "Don't threaten me. You want to put another luxury development in: That's what it was going to be anyway. Fine." She and many others in the Crown Heights community oppose 960 and other nearby developments on the grounds that they would be engines of gentrification and displacement, drawing wealthier people and incentivizing landlords to raise rents and illegally destabilize rent-regulated apartments. (Affordable-housing researchers say this isn't exactly the case: "People look at a new building in their neighborhood and see the rents going up, and assume the new building is the problem," said Mark Willis, the senior policy fellow at the NYU Furman Center. "But a new building in a neighborhood actually slows the rate of increase. A 2019 study by Furman Center doctoral fellow Xiaodi Li found that, even at a hyperlocal level, this was the case: For every 10 percent increase in the housing stock within a 500-foot buffer, residential rents decrease by one percent.) In the fight over 960, Boyd and the Botanic Garden are allies, but she has also fought against the board, on behalf of the garden in the past, against two 16-story towers that the garden said posed no shadow issues but Boyd believed did, putting her in the unusual position of defending the BBG against itself. "New York City politics are complicated," says Benepe of their relationship. "The old expression of 'politics makes strange bedfellows' applies here, too. People who might not see eye to eye on all issues can see eye to eye on some."
On July 29, the City Planning Commission held a public hearing on the project that stretched to nearly three hours. More than 40 people spoke out against the project. "We're not willing to watch as another disrespectful old white guy colonizes Black and brown folks out of our own communities," a local tenants' activist, Esteban Giron, told the commission. There were tears, impassioned pleas, and a lot of "Fight for Sunlight" buttons. Only one person, a representative for the labor union 32BJ, spoke in favor. "This is a real test for the elected officials," said Eichner afterward. "It symbolizes the disconnect that is taking place in the city of New York. The community says they want nothing. Nothing means more condos. If there is no home for a project that has this level of support from the constituencies who both vote and work, it's a very bleak future." Boyd, for one, had already called the fight. "This developer put a lot of money down to get this rezoning and he did not get what he wanted," she said. "I think developers are kind of arrogant, they always have a long-range goal, they'll try a different strategy. But maybe not, Maybe they'll move on. They don't like to develop in communities with a lot of savvy. It costs them a lot of money."
A few weeks later, at a comparatively bloodless follow-up meeting, the City Planning Commission met again, and declared 960 "both grossly out of scale and inappropriate for this location." At the end, it announced that it would reject the application.
"There is a capacity for density in this area, with Ebbets Field and Tivoli Towers, but it's just a little too big," said Cea Weaver, the left-wing tenants activist and campaign coordinator for Housing Justice for All. But the real problem wasn't the size, she said, but that people didn't think de Blasio's affordable-housing plan worked. "People don't believe it's 50 percent affordable. They believe it's 50 percent market and 50 percent income-targeted to wealthier people. Whether or not that's true, it has been the ethos of de Blasio-era rezoning and development. People have no trust." Maybe de Blasio should have tried harder to pass a neighborhood rezoning, she said. Then there wouldn't be so many spot rezonings like the one Eichner tried for at 960 Franklin. But the community had insisted on nothing, which had, in a very real way, led to a proposal for a gigantic development like 960 Franklin and the current impasse.
Eichner could indeed try again, applying for another rezoning with the alternative proposal he put forth, a 17-story tower with 25 percent affordable apartments. That is not, as Eichner says he envisioned, a new model for affordable housing, using density to achieve an unusually high ratio of affordable on private land. But it would be something. "I suspect the story of 960 Franklin is not yet finished," he said after the Planning Commission's decision.
Or Continuum could sell the lot and let another developer try his luck. Either way, it seems likely that the old brick spice factory and the long grass will remain for some time. "It smells nice, but it's really sad," Weaver said. "The homelessness crisis is so bad, and we live in a world where real-estate developers are the ones building housing." That's not the world she wished we lived in, she clarified, rattling off a list of the many things she'd like to change about housing policy. "But this is the world we live in right now."