New Apartment Buildings In Chicago – 2021
New and exciting places to call home are helping Chicago apartment renters break out of a stale rental situation, with everything from large-scale apartments that are proper skyscrapers to more intimate buildings with fewer units opening their doors to attract new renters in 2021. Here are new apartments in Chicago that we're seriously looking forward to in 2021.
Logan Square Apartments Soar to New Heights at The Grand Logan Lodge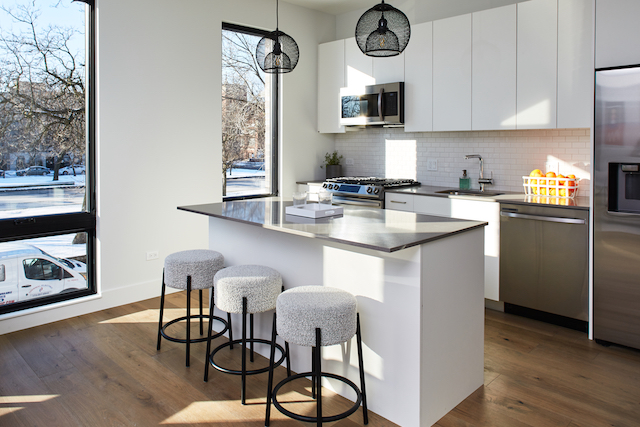 The Grand Logan Lodge
The Logan Square apartments for rent at The Grand Logan Lodge feature top-of-the-line finishes, from Grohe fixtures and floating vanities in the bath to custom cabinets and quartz counters in the kitchens. Unique details like soaring 32-foot ceilings in select units also help this revitalized historic property stand out from neighboring apartments for rent in Logan Square. Open concept floor plans allow for full utilization of these amazing spaces, while natural light pours in through ample windows and balances a sense of the serene surroundings on the Logan Square Boulevard system with the thoughtfully detailed interiors of the apartments for rent at The Grand Logan Lodge.
West Loop New Apartments that Hybridize Live, Work & Play into One Stunning Package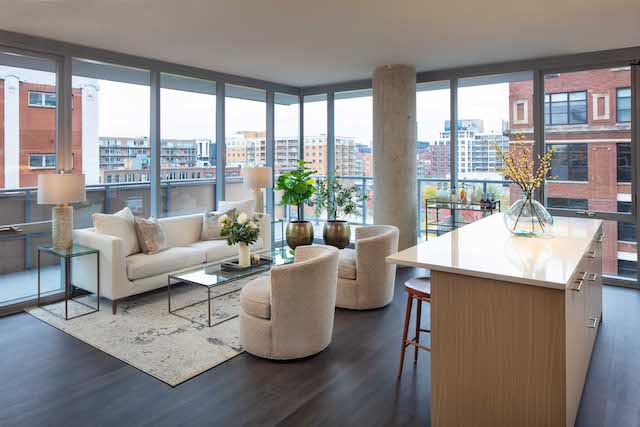 Milieu Apartments
A famous park located right across the street. The boutique shopping scene along W Madison St only 2 blocks away. The Loop is to the east and the United Center is a few minutes to the west. Yes, the West Loop location is the first thing to grab attention about the new luxury apartment building Milieu, but it's hardly the last thing to note. The building has an outdoor dog run, high-end amenities like rental bikes and other assorted sports equipment available to check out. Meanwhile, the units are finished with light wooden cabinets and hardwood flooring for a premium feeling throughout. Even more substantial are the perks awaiting renters who sign on for the "club level" of Milieu that comes with monthly organized events, premium parking spots, and package delivery right to the apartment door.
A Modern Take on Apartment Life in Logan Square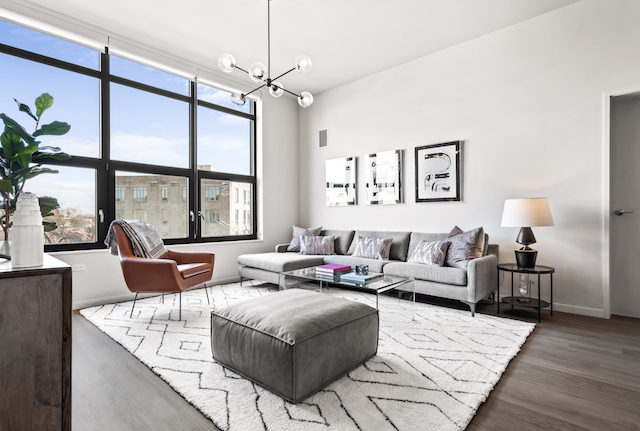 Logan Apartments
If renters are searching for a new way to experience life on the northwest side's bustling Milwaukee Ave Corridor then they should definitely check out the new apartments for rent at The Logan. This building opened its doors in 2020 and invites renters to explore comfy, modern apartments that are available in either 1 or 2 bedroom layouts. The building may be brand-new but it nails the classic Chicago apartment look with a refined red brick exterior and bold window frames that bathe the apartments in natural light.
A New Type of Printer's Row Apartment for Renters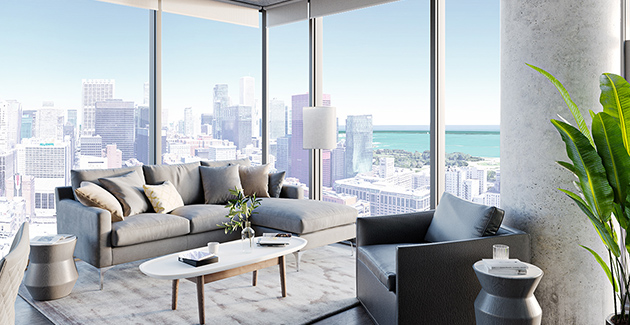 Imprint Apartments 
The Printer's Row neighborhood is sandwiched in between two of the hottest areas of Chicago that have received lots of fanfare for several high profile new luxury apartment buildings in recent years. Meanwhile, the cozy confines of Printer's Row remained a bastion of former factories and warehouse lofts. This new apartment building is resetting the type for Printer's Row, though. The building is packed with first-class amenities like an outdoor yoga studio, private dog run and a 24-hour doorman. Look to these new apartments to be the standard bearer for high-rise apartment living in Printer's Row for years to come.
Panoramic Views from New West Loop Apartments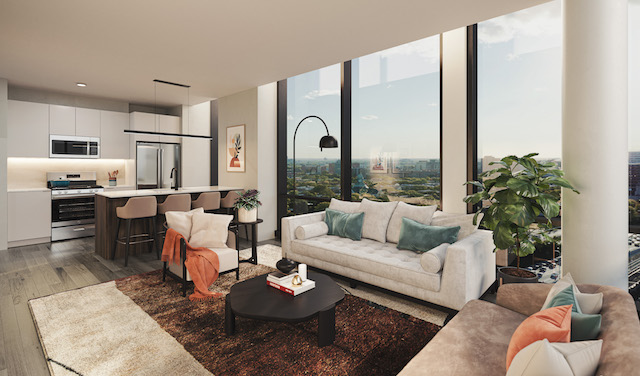 Avra West Loop
The buzz of the West Loop resonates in these crisp, new apartments for rent at 1125 W. Van Buren St. Everything that renters could need is within reach of Avra, from convenient shopping options to renowned eateries. Renters will undoubtedly appreciate that the cluster of tech-centric companies making their headquarters in the West Loop are reached within minutes — no long commutes required! For longer road trips, though, there is convenient access to the expressway and this luxury apartment building is located walking distance from the Racine station on the CTA Blue line.
Sophisticated South Loop Luxury Apartments Equipped for Modern Renter's Lifestyle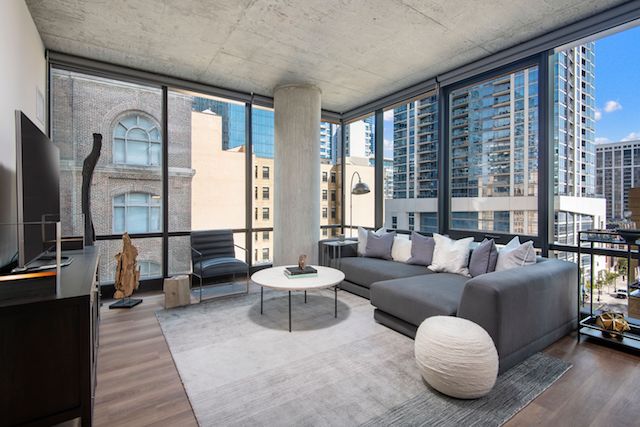 COEVAL Apartments
Renters who take the time to tally up the items on a wishlist of premium apartment features will find a winning scorecard at COEVAL Apartments in the South Loop. These apartments boast in-unit washer and dryer, smart thermostats for optimum climate control, large windows that bathe the units in natural light, tall ceilings with exposed concrete and smart locks for the doors. These new apartments are fully equipped for the modern rental lifestyle in a superb South Loop location near museums, parks and shopping.
New Transit-Oriented Development Lets Renters Explore the West Loop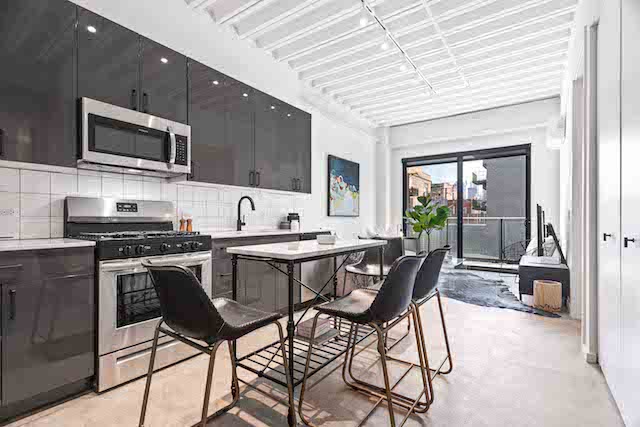 The Jax
These West Loop apartments are a stone's throw from the acclaimed flavors of Restaurant Row. Foodies will delight in the endless dining options located just a few steps from these brand-new apartments but there are ample diversions for any renter in The Jax Apartments. Renters who commute regularly will love being able to easily hop on the expressways or the CTA Blue line, and for anyone who wants to explore the city via bicycle the building's secure bike storage is a welcome feature.
Bike-Friendly Apartments Roll into Logan Square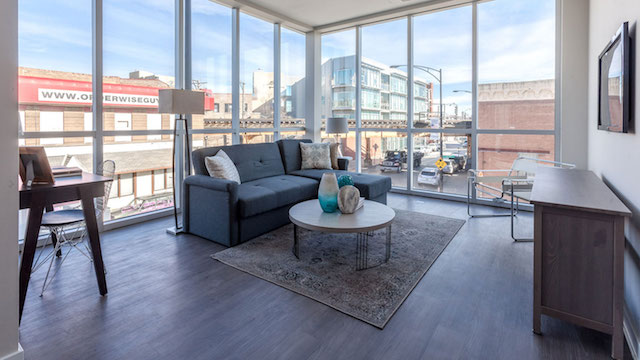 Mode Logan Square
The new apartments for rent at Mode Logan Square let renters achieve their goals of having a smart, eco-friendly home in one of Chicago's hottest rental areas. The design is smart, no doubt about it, thanks to clever features like built-in power outlets in the generously sized kitchen islands and USB-compatible charging ports in the apartments. The eco-friendliness comes into play thanks to the bike storage and repair facilities located on-site for renters at Mode Logan Square. Lest we forget, Logan Square is one of the more bike-friendly areas to call home in Chicago thanks to the miles of protected lanes on N. Milwaukee Ave and the lush boulevards that criss-cross this dynamic neighborhood.
Open the Door to the West Loop's Best Offerings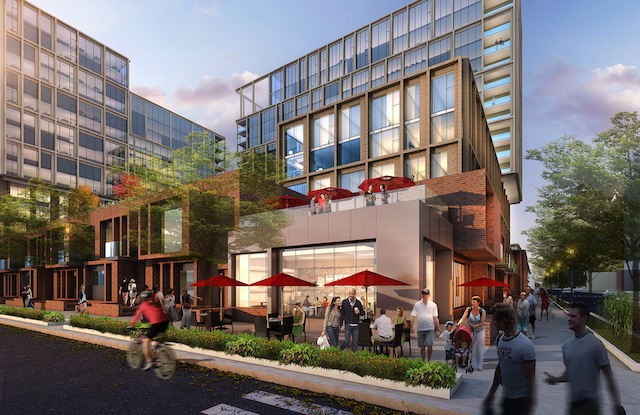 The Porte Apartments
Renters will get premium amenities at The Porte Apartments like a round-the-clock concierge, a fitness center, work spaces, a game room, a sprawling rooftop deck, a dog run, and a swimming pool. The building sits in the heart of the West Loop, close to some of Chicago's best restaurants like Monteverde, Girl & the Goat, sweetgreen, and Green Street Smoked Meats to name a few.
New Apartments Rise on Historic Wolf Point Site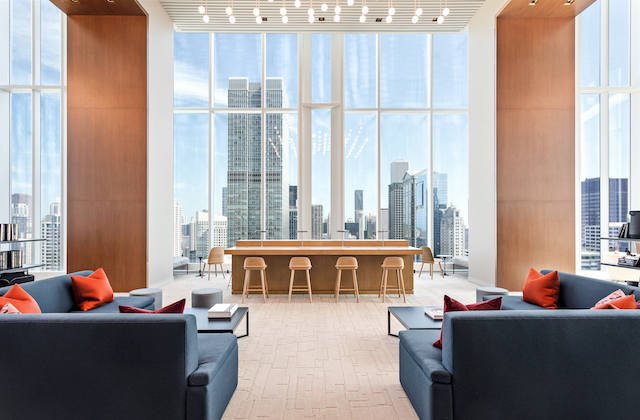 Wolf Point East
Wolf Point has a historic place in Chicago's history. The site where three branches of the Chicago River converge, this parcel of land was once home to the city's earliest tavern and non-native settlement. Now, it's home to stunning new apartments with inspiring views of Chicago's world-class architecture. Step out from one of the pet-friendly River North apartments to find the beautiful Chicago Riverwalk, the Merchandise Mart, Kinzie Street Bridge, River North's hopping nightlife scene, and so much more. The building has an indoor-outdoor pool so renters can relax and lounge poolside 365 days of the year. More fun can be had at the game room and there's a dedicated co-working space in Wolf Point East as well.
New Loop Apartments Heighten Downtown Living for Renters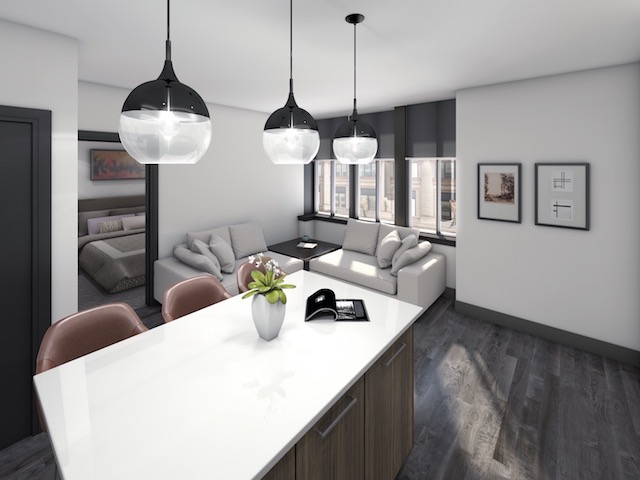 Millennium on LaSalle
These apartments are opening up in spring of 2021, making them one of the newest entries among this list for new Chicago apartments. Renters will get a full appreciation for this Loop building's location from the rooftop terrace. Going one step further, this residence actually provides a new life for a former office building near Chicago's financial district. Public transportation is close by and the unique charm of Loop living will greet renters at the door to these new apartments. 
Renovated Albany Park Apartments Shine with New Appliances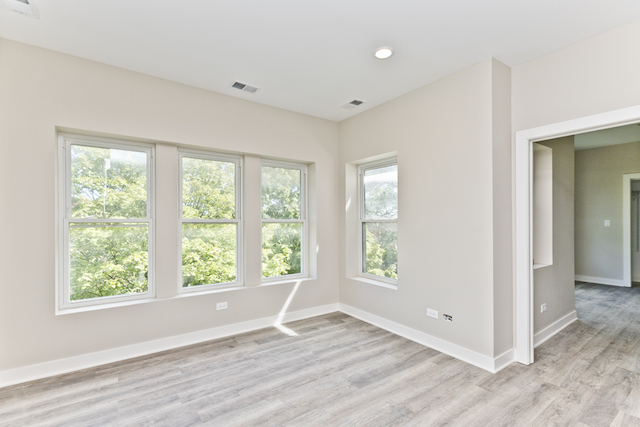 3601 W. Ainslie Apartments
These newly upgraded Albany Park apartments offer renters a fresh start with features like new appliances, gleaming floors and brand new windows to let sunlight stream in to the living areas. These apartments boast convenient features like in-unit laundry and a great location that's steps away from the CTA Brown line.
A Skyscraper That's Redefining South Loop Renting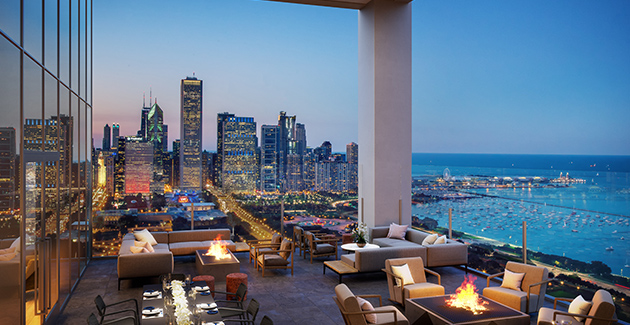 NEMA Chicago
If you're thinking, "Hey, hasn't this site covered this South Loop giant previously?" Yes, you're on the right track. Whether discussing the building's awesome height, the dazzling array of amenities, or its impressive Lake Michigan and city views, there's a wealth of interest in this new apartment building. Perhaps because it's proving to be such a game changer. And it's only getting started. Leasing and move-ins did begin for 2019 but those have only covered a portion of the building as the yet-to-be-completed phases are wrapping up with an eye for the 2020-21 moving seasons. What does that mean for apartment renters who are still trying to scope out that perfect South Loop place to call home? There's still time to find your place in this huuuuge building.
Brand New Apartments Arrive in Old Town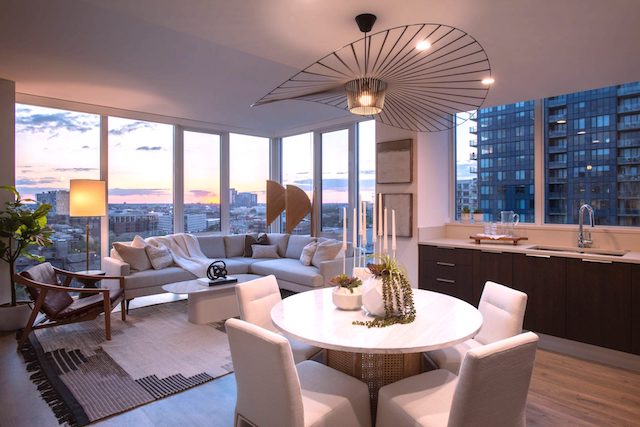 Two Old Town Park
These new apartmens in Old Town represent the second phase of a multi-building plan that's reinvigorating the apartment landscape around Wells St and Division St. With an ideal location that puts renters steps away from the Red Line station at Clark/Division and all of the neighborhood amenities along Wells St, this is as close to a sure thing as renters can hope to find in Old Town. Stack the incredibly luxurious interior finishes and creative building amenities (does your building's game room include skee ball? Well, this one does!) onto the can't-miss location and what you have are the makings for one of the most intriguing new apartment buildings in Chicago on our list.
 
New Upscale Looks for Lakeview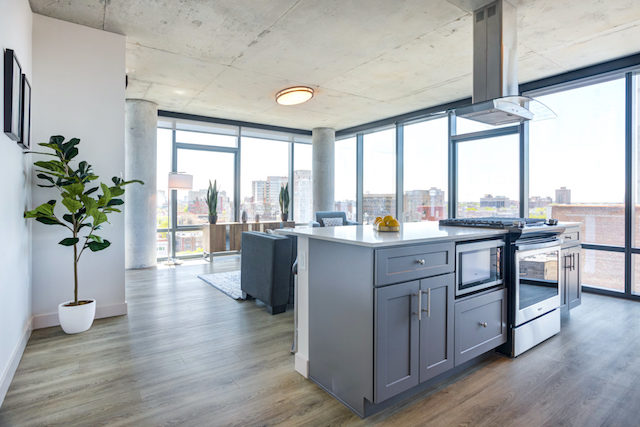 Four50 Belmont
If you're browsing the best new apartments for rent in Lakeview, the luxury apartments at Four50 Belmont deserve to be on the list. This slightly boutique-ish apartment building (it has around 80 units total) welcomed its first renters in late 2019. With easy access to the lakefront, Lake Shore Drive and public transit, the location is a no-brainer for anyone who's been searching for a perfect Lakeview apartment without compromising on the quality. While most of the city's recent new apartment building boom has been concentrated in and around downtown, Four50 Belmont is the exceptional case that proves high-amenity living needn't be confined to the central neighborhoods of Chicago. Some of Four50's modern amenities that distinguish the building from its vintage neighbors include a state-of-the-art fitness center, in-unit laundry, pet-friendly facilities and sweeping views from the rooftop deck. All things considered, Four50 Belmont looks like it may be a serious contender in the race to be Lakeview's most desirable new apartments.
River North Apartments Bring a New Outlook to the Neighborhood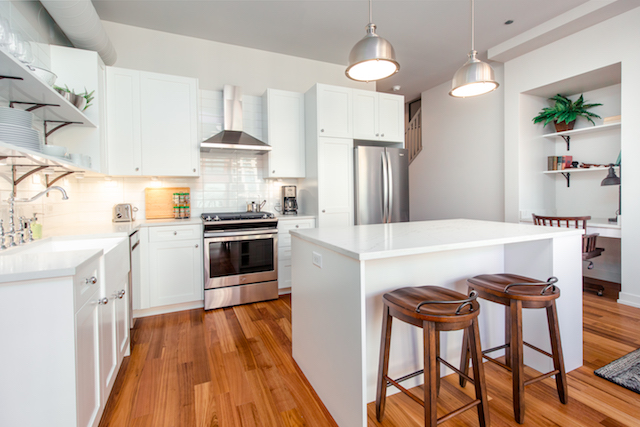 The Ardus
Renters at this brand new River North apartment building can treat themselves to stellar views at any time of day or night by heading up to the plush rooftop lounge, but the views inside these chic downtown lofts shouldn't be overlooked. The building does an impeccable job melding the old with the new: one half of this new apartment building is actually a completely gutted and rehabbed warehouse that stood in River North for generations before being converted into fashionable apartments.
Uptown New Apartments Brighten the Outlook for Renters in 2021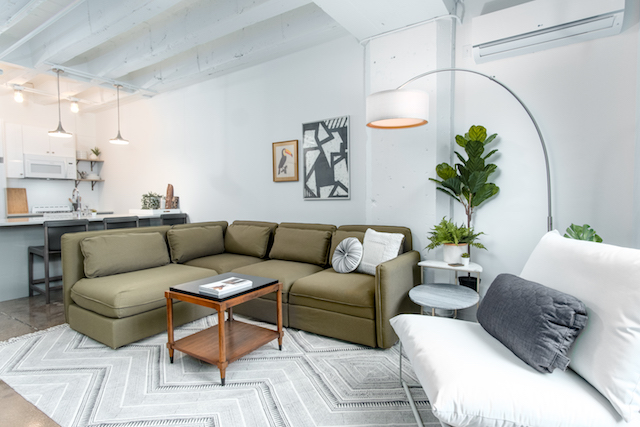 The Draper
Be part of Uptown's next chapter from this rehabbed office building that's now home to 342 sophisticated urban loft apartments. The building's transformation from an insurance company HQ to a modern and amenity-laden new apartment building was completed in 2019. The resulting conversion gives apartment renters in Uptown a truly unique place to call home, with units that boast cool industrial loft features like coffered concrete ceilings, floor-to-ceiling windows, a multi-level gym, rooftop lounge and swimming pool.
West Loop Lofts Breathing New Life into Neighborhood Landmark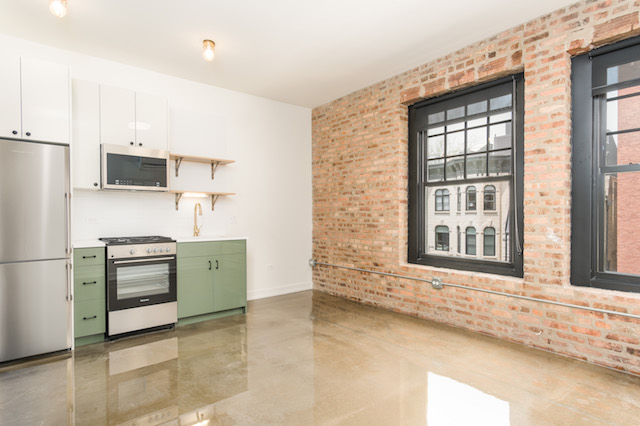 The Duncan
Another converted building making its debut in 2020, The Duncan is a new West Loop loft apartment building that was a YMCA in its previous life. The building has been restored to suit a new purpose for this red-hot neighborhood and gives renters the chance to rent on of its 100 brand-new apartments. Renters will find historic details, ranging from the exposed brick walls to the original, oversized windows that allow ample amounts of natural light into these bright apartments.
New Ravenswood Apartments Arrive to Meet Increased Rental Demand in 2021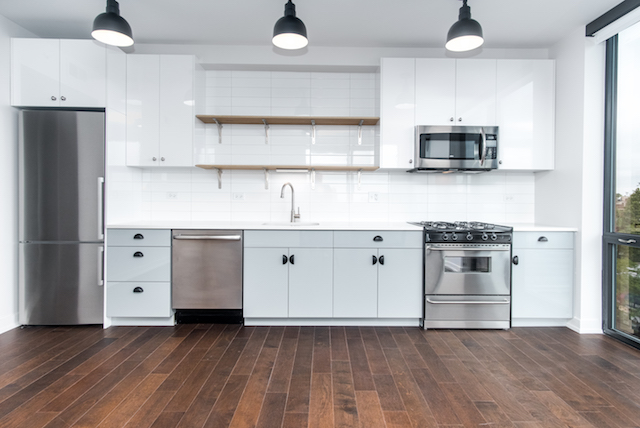 The Henry Apartments
Ravenswood apartments are in high demand among renters in 2020. Why? It might be due to the accessibility of this neighborhood, which boasts several CTA Brown line stations as well as a Metra UP-N station for commuters, combined with its relative affordability. Renters love the tranquility of Ravenswood's leafy neighborhood streets and the view from The Henry's floor-to-ceiling windows lets renters feel like they're resting comfortably among all those treetops without ever having to set foot outside their apartments. The amenities are on par with most new apartment buildings, like the in-unit laundry and central A/C, but the neighborhood feel and sharp design will distinguish the new apartments for rent at The Henry for renters.
Chicago Apartments and Condos Coming Soon in 2021
Cascade Apartments
These new apartments are sprouting up in Chicago's Lakeshore East neighborhood. Renters who want unparalleled access to the lakefront and its pleasant scenes during the summertime (or year round for that matter) will want to explore this spot near the mouth of the Chicago River and DuSable Harbor.
Cirrus Chicago
Another hotly anticipated addition to the Lakeshore East neighborhood, this new development will be home to luxury condos alongside the Cascade Apartments.
One Chicago Apartments
Coming 2021 to River North, this new apartment building will be home to 735 rental apartments alongside more than 70 condos. This high-rise apartment tower is rising at the intersection of Chicago Ave and N State St.
1000M
A forthcoming apartment tower designed by renowned architect Helmut Jahn, this residence promises to reimagine life in the South Loop for renters.
Aspire Apartments
This South Loop apartment building will put renters within reach of Wintrust Arena, home to Chicago's WNBA team and also home to DePaul University's basketball programs. The neighborhood is also teeming with restaurants, parks and historic loft buildings.
Avenir Apartments
Located right in the heart of River West, these new apartments offer renters flexible options for floor plans and some really smart features to boot.
Panorama Apartments
These new Wrigleyville apartments are right in the middle of the action for renters who love the vibe of Lakeview during Cubs game day or any other day for that matter. This will be home to 140 new apartments just a stone's throw from Wrigley Field.
The Grand
This new addition to River North's apartment landscape will offer renters one of 365 new apartments that puts them in proximity to the Chicago Riverwalk, the Merchandise Mart and more prime neighborhood amenities.
Parkline Apartments
These new Loop apartments are poised to let renters enjoy full access to Millennium Park, Grant Park and the redesigned Chicago Riverwalk. Renters will be able to appreciate the myriad cultural destinations within the Loop from these apartments, which are being completed within walking distance of the Art Institute of Chicago and Chicago's theater district.
Superior House
If you're going to rent in River North, then why not rent in one of the signature downtown neighborhood's most posh enclaves? The area surrounding Superior House is made up of stunning single family homes, timeless townhomes and lovely little parks.
AMLI 808
This new apartment building in Chicago's River North neighborhood plans on opening its doors in spring of 2021. The location can't be beat: steps away from the thriving Wells Street Corridor, this is a great spot to kick off some Chicago adventures.
Alta Grand Central Apartments
These apartments in the South Loop are part of a burgeoning neighborhood that will be dubbed "the 78" as new apartment buildings fill in the gap near an undeveloped stretch of land beside the South Branch of the Chicago River.
The Mason
These sophisticated concrete lofts in the West Loop put renters near neighborhood mainstays like Union Park.
The Westerly
This River West apartment building offers renters a choice location paired with top-tier amenities.
Union West Apartments
Renters enamored of the West Loop lifestyle will find lots to love at these new apartments that provide world-class amenities in an excellent location amid the city's most renowned restaurants.
Old Town Park 3
Coming soon to Old Town.