NY Is Giving Vaccine to Prisons But Needs Prisoner's Trust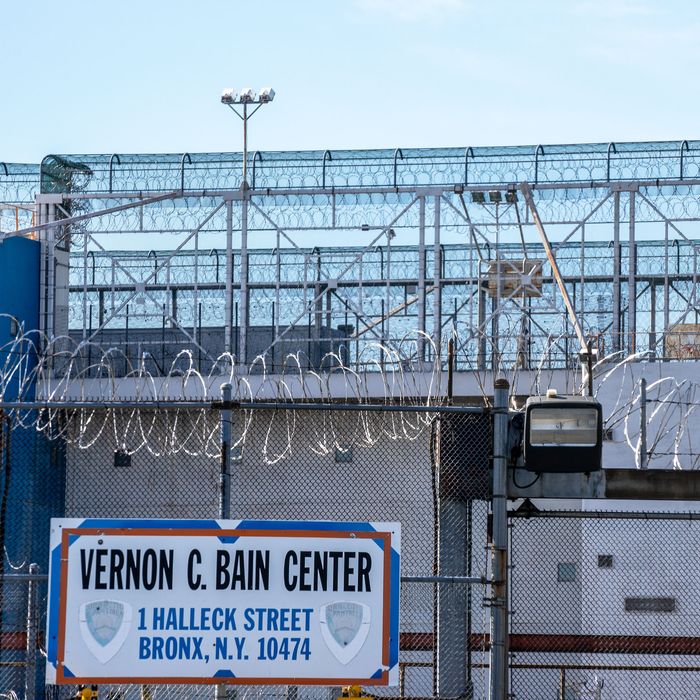 Photo credit: David Dee Delgado / Getty Images
The associate warden of the prison rolled up his sleeve, preparing for the vaccine. There was an unusually large audience for someone receiving a quick photo: a group of incarcerated men, security personnel and the New York City prison system's chief medical officer. It was in 2009, in the midst of the first global influenza pandemic in 40 years. Crowds at Vernon C. Bain Correctional Center – the royal blue and white barge moored just off Hunts Point, better known as the "boat" – rocked slightly during the show without incident. After all, it was just a shot.
Months earlier, the governor had called a state of emergency as swine flu spread throughout New York and the rest of the country. With a vaccine finally available for the city's prison system after months of political wrangling and the introduction of fragmentary security measures A crucial test came: would those in prison actually be vaccinated? At that point, the vaccination theater, like the shooting performed on the boat, became part of a concerted effort to sell incarcerated people on the vaccine. Now, with the rollout of the COVID vaccine for people 65 and older underway in New York City prisons starting February 5, the same question persists: will enough prisoners actually take the vaccine?
"I'm actually scared to take it, mainly because there's too little information available," said Darr Williams, who is incarcerated at the Shawangunk Correctional Facility in Wallkill, New York. He also says he sees correctional officers refuse the vaccine: "The officers continue to introduce the virus into the facility, refuse the tests and now refuse the vaccination.
Shawangunk's lack of confidence runs deep: prisoners report drinking "prison potions" made from honey, ramen seasoning and garlic to treat colds, or putting toothpaste on cuts when medical treatment fails. is not trustworthy or simply unavailable. But Williams is a prime example of someone who could disseminate information about the vaccine: he is the coordinator of the Prisoners for AIDS Counseling and Education program and has taught HIV and hepatitis C classes in the prison for a decade. . And he's not alone: ​​currently he oversees 14 facilitators who provide education, counseling and support to incarcerated peers. But no one asks.
The swine flu outbreak in 2009, just like the current pandemic, was also marked by the spread inside correctional facilities, and mistrust vaccine. (Williams, for example, refused to get a swine flu shot while incarcerated for the same reasons he wouldn't take the COVID vaccine.) But COVID is significantly more deadly, especially for black Americans, who are dying at 1.5 times the white rate. Prison populations like New York, which is almost half black, are particularly at risk: more than 5,500 confirmed cases COVID-19 among the approximately 38,000 people incarcerated in state prisons and over 4,400 cases among prison staff. Thirty-one prisoners and seven staff members died. To date, less than 10 percent of prisoners have been vaccinated and prisoners report virtually no outreach efforts.
Jonas Caballero, who served 25 months at the Brooklyn Detention House and upstate Greene Correctional Center prior to his release in December 2019, says he struggled to receive medical attention throughout. throughout his sentence. Appointments with specialists have been canceled several times; a doctor fell asleep during a consultation; all four of her limbs were handcuffed to a hospital bed following a cardiac event. Caballero says his "confidence in the correctional health care system has been virtually shattered.
"When there is something so crazy-scary as [the] coronavirus that comes into play, for people who have had mediocre experiences with health services like me this begs the question, are you really going to have people who will volunteer to [the vaccine]? Said Caballero, who now works as a paralegal for the Abolitionist Law Center and plans to attend law school. "Especially now when everyone's locked up for more than 23 hours a day, they're going to suddenly say, 'Hey, get out of your cell and let us put a needle in your arm?' You can imagine there would be some apprehension.
In addition to this lack of confidence, there is also the outright fear of experimentation. "We just don't want to be the lab rats," said D, a 45-year-old incarcerated in North Carolina who worked as a self-taught prison lawyer for 19 years and is an attorney and spokesperson for Jailhouse. Lawyers Speak. . "Today, when you look at the disparities in health care systems, you look at black people at the bottom. You look at doctors who really don't care about us.
While there is no way to undo generations of damage overnight, small confidence-building exercises have proven successful in the past. Williams suggested that prison officials disseminate information about the vaccine and its potential side effects, while Caballero said having an outside organization to educate prisoners without the involvement of correctional health staff would help strengthen trust. And then there is the issue of correctional officers themselves.
"I think it would help sway some of the thinking if we saw the staff do it first," D said, noting that the Federal Bureau of Prisons has already chosen to vaccinate staff first. "We feel like they're not going to kill their own staff like that – even just asking the staff to come back and say 'Hey, I got the hang of it and I'm fine.' '
This approach proved successful on the boat in 2009. "Getting the vaccine early in the day in front of a large number of people in prison had a huge impact," said Dr Homer Venters, former chief medical commissioner of the New York prison system and author of Life and Death on Rikers Island.
After watching the swine flu vaccination go off without a hitch, security personnel and people held in city prisons lined up to receive the vaccine. Venters says he had to send back to Rikers twice to get more vaccines in order to meet demand. "We can't undo all the fractured relationships between correctional patients and correctional health services at once, but I think it's an opportunity that requires us to start reaching out to our patients, to understand. their concerns and to think about how we can meet them through education and engagement, "says Venters. "These are really life-saving interventions."