Patio Flooring Buying Guide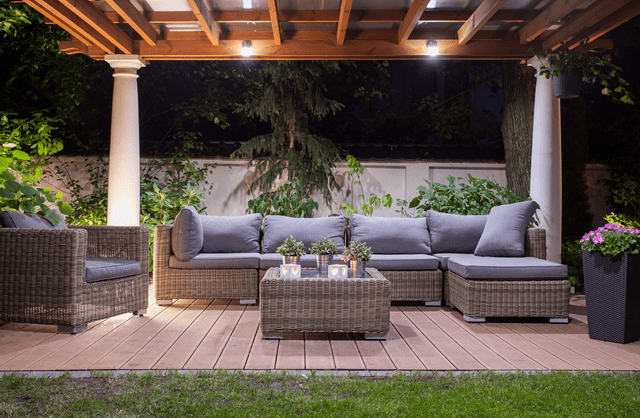 A well-designed patio can become a second living room for your home, so making smart design decisions is important. One of the most important decisions you will have to make is what to use for your patio flooring. With so many patio flooring options, it can be difficult to decide which one is the best. Here is a detailed guide to your options.
What is the patio floor?
As the name implies, patio flooring is any flooring option used in an outdoor patio. Choosing the style and color of your flooring is an opportunity to show your personal expression. The best flooring for an outdoor patio is structurally sound, resistant to weather events, and comfortable for year-round walking.
How to buy the best patio flooring
Ideas for outdoor patio flooring range from cozy wood to elaborate natural stone motifs. In choosing the best flooring for your patio, consider the pros and cons of each type, as well as their costs and installation options.
Types of patio flooring
There are many different types of patio flooring. Some of the more popular types include:
Wood: A hardwood patio floor is timeless and unlikely to go out of style. Wood floors are an extremely versatile material, providing an excellent backdrop for patio themes ranging from seaside to rustic to modern. It can also be sanded and touched up multiple times, making it a great long-term investment. If local hardwood is available, this can also be a very eco-friendly option.
Natural stone: If you're creating a high-end patio with a luxurious feel, natural stone is hard to beat. Its inherent color variations add an artistic touch to any design. Choose irregularly shaped stones for a meandering look, or cut modular stones for a more cohesive look. Popular natural stone options include slate, travertine, granite, and even marble. Although natural stone is maintenance-free, it is not as durable as other materials, so it may not be the best choice for homes with children or pets.
Ceramic tiles: Ceramic tile is a classic flooring material. Patio tile floors should not be glazed, as the smooth finish of glazed tiles could become slippery in rain or snow. Tile is especially popular in hot climates, as it remains cool to the touch even in extremely hot conditions. Consider adding a sealer to protect the tile from wear and tear and grout from cracks.
Brick: A brick patio can be as simple or as elaborate as you like, depending on the pattern you select. Brick is low maintenance and slip resistant, imparting an old world feel to any patio. However, it may not be the right choice for locations that receive a lot of snow, as natural changes and settlements can create an uneven surface that is difficult to clean. If you want the look and feel of brick without the investment, brick pavers are a great DIY alternative that fits like a mortar-free puzzle.
Concrete: Concrete is a wonderful and time-tested option for those who want to let their imaginations run wild. It can be molded to fit almost any shape, and there are many options to customize it, such as coloring, stamping, brushing, painting, marking, and modeling. You can even use concrete as a base for textural elements like pebbles. When painting or detailing a concrete patio floor, be sure to use only materials that are designed for concrete and exterior applications. Also, consider adding a sealer to protect your work.
Choose the right size patio flooring
Sizing your patio floor has three basic steps. First, you will need to decide how big you want your patio to be. Patio sizes run the gamut, from spaces that can accommodate a single bistro table to massive areas that can really double as an alternative living room. Base your decisions on the amount of space you have and the furniture you want to place. The next step is to determine the size of the material you want. For example, ceramic tiles are available in sizes ranging from 1-inch to 24-inch squares. Hardwood floor planks can be 2 1/4 inches to 6 inches wide, 5/16 inches to 3/4 inches thick, and 12 to 84 inches long. Finally, determine how much floor you need to cover your chosen area. While many flooring materials are sold by the square foot, you will need a different number of pieces based on the size of each piece.
Compare patio flooring costs
The cheapest patio flooring options vary depending on whether you will be doing the work yourself. Wood, concrete, and tile are among the cheapest materials for patio flooring, but paying a qualified contractor to lay them can reduce savings. The price also varies depending on the exact item you choose. For example, basic untreated lumber can cost as little as $ 8 per square foot, but higher quality lumber can cost $ 20 per square foot. Natural stone is among the most expensive options, between $ 25 and $ 35 per square foot.
Read Patio Flooring Reviews
Reading patio flooring reviews can be more complex than anticipated. Since most patio flooring is installed by professionals, it is important to separate comments on the installation from comments on the material itself. Reviews are certainly important when choosing an installer, but don't let a bad installation experience keep you from choosing a product that is actually of excellent quality. Look for comments on durability, ease of cleaning and maintenance, and complexity and cost of installation. Also, pay attention to whether multiple reviewers mention any specific issues, such as fading or flare.
Installation
Installing a patio floor is generally a job for professionals, but DIY enthusiasts can often handle a few materials. Wood is generally considered the most DIY-friendly patio flooring option. Brick pavers are also relatively easy to install. More experienced DIYers can try installing ceramic tile, especially if the selected design is quite simple. Concrete, real brick, and natural stone are more complicated to install, and professional installation is highly recommended.
Patio flooring brands
Armstrong
With more than 150 years of experience, Armstrong is one of the best known names in flooring. Under the Armstrong label, engineered tile flooring it is an excellent option for patios. The Bruce line offers 361 different types solid and engineered wood, most of which are suitable for patio flooring.
Engineering tile
$ 3.59 to $ 7.09 / square foot
Durable: scratch and stain resistant and not prone to cracking
Easy to install
Solid wood
$ 2.99 to $ 10.99 / square foot
Of national origin
Durable and long lasting
Engineered hardwood
$ 2.99 to $ 8.22 / sq. Ft.
More stable than solid wood
Five to seven layer construction
Wood liquidators
Founded in 1993, Lumber Liquidators has one of the Larger Wood Flooring Inventories in the industry. The company has also diversified into other types of flooring, including porcelain stoneware. Both hardwood and porcelain tile are popular materials for patio flooring.
Porcelain
$ 0.98 to $ 6.89 / sq. Ft.
Stone or wood look options
Hardwood
$ 1.39 to $ 9.99 / sq. Ft.
Obtained directly from mills without intermediaries
Use only sources with sustainable practices
Shaw
Since 1946, Shaw has long been known as a carpet innovator. Today the company has expanded to many other flooring lines and has won awards of the top three posts. The company's tile and stone products, as well as its engineered hardwood, are appropriate for patio flooring.
Engineered hardwood
$ 2.99 to $ 7.36 / sq. Ft.
Sustainability and ethical sourcing
Tile and stone
$ 1.49 to $ 19.99 / sq. Ft.
Options range from ceramic and porcelain to slate and travertine
Also, consider locally sourced produce in your area. While the best brands are reliable and worth considering, local materials can be of the same quality.