Public Space Designed for Neurodiversity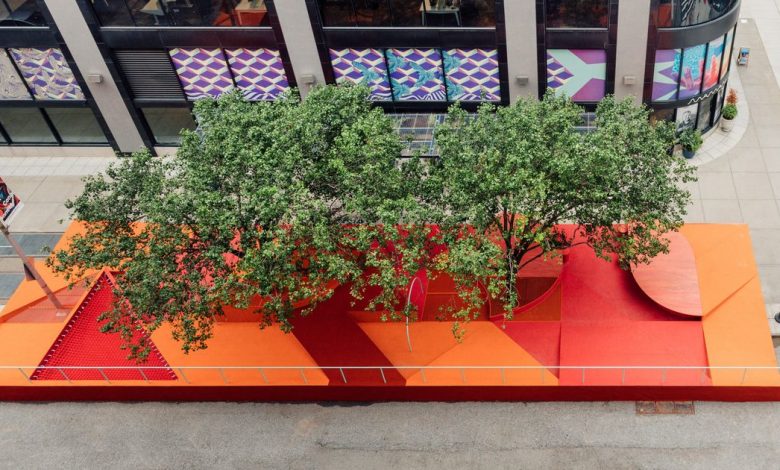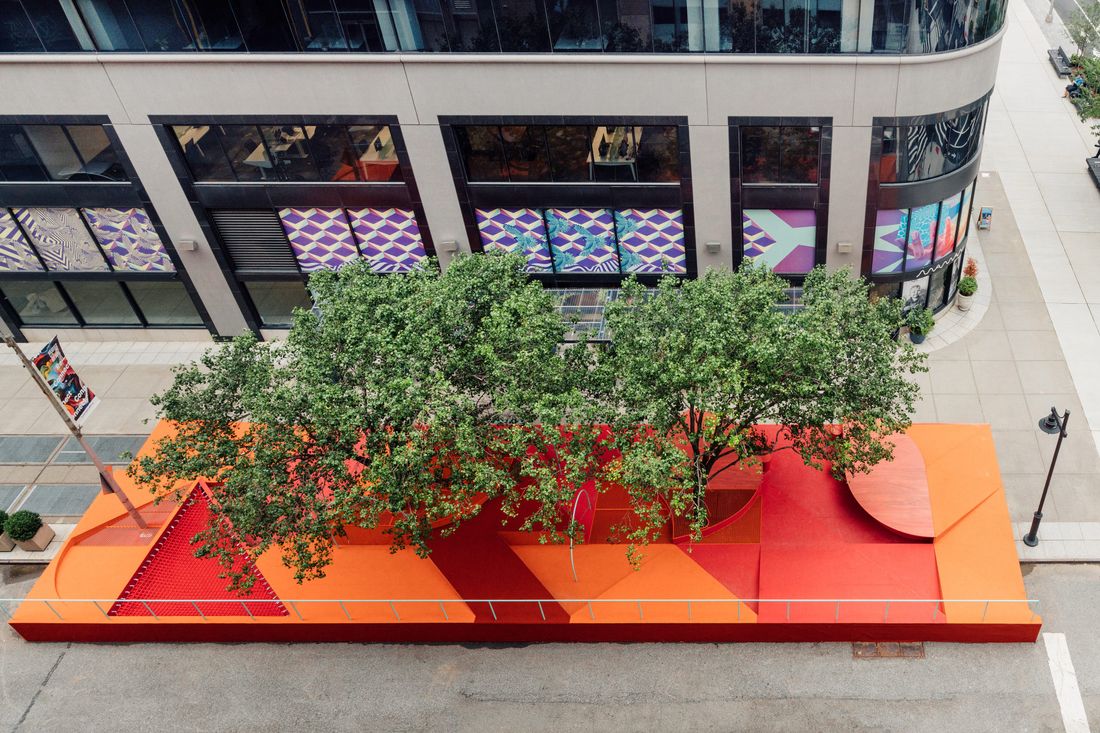 Photo: Meghan Marin / Courtesy of WIP Collaborative
At the corner of Hudson Street and King Street in Hudson Square, there is a new 80 foot long orange and red electrical structure straddling the sidewalk and the road. During my visit last Thursday afternoon, I saw a woman having lunch at one of the built-in tables and a couple having coffee on a bench behind one of the street trees built into the design. I immediately walked over to a hammock at the back and dropped into it. A nearby Con Ed employee approached me and told me he had wanted to sit in the hammock all day but was too nervous to do so. After he sat down next to me, he told me that if I had arrived a few hours earlier, I would have seen children swinging on the bars and climbing up and down the benches, which are covered with soft rubber. and rough Astroturf and double as a playground. Once we got up the couple asked how the hammock was (answer: surprisingly relaxing for something on the street!) before settling in. It's an experience I didn't expect to have in Hudson Square, an area I tend to think of as a slip road to the Holland Tunnel that is now trying to turn into a new business hub.
The idea behind the colorful structure, aptly named Restorative Ground, was to "create a varied 'landscape of choice'," says Bryony Roberts, member of WIP Collaborative, the group that conceived the project. "I hope there is something for everyone, at different times of the day, week or year. »This is the winning entry for Caring for Hudson Square, a competition that invited architects to make the streets of the neighborhood more dynamic, restorative and relaxing for families, workers and visitors when the city reopens. Restorative Ground also shows how Street seats, a program that the city currently has in its arsenal of creating places, could be improved by designing a space for neurodiversity. Away from the private streets that have sprung up everywhere over the past year, it exemplifies a type of inclusive and publicly accessible architecture that the city should develop further. As Roberts says, "How can streets support social uses and not just infrastructural uses? "
A few years ago a typical installation of public seats – tables, chairs and umbrellas on a platform surrounded by planters – stood on the same corner of King in Hudson. He came out of the DOT's Street seats program, which helps ground-floor businesses install seats on streets and sidewalks. WIP Collaborative, a new practice comprised of women with backgrounds in architecture, landscape architecture, and fashion, has researched how to create more inclusive public spaces and believes updating programs that set design standards, such as Street Seats, could change their ideas. "In an overly standardized public domain, this generic public space is applied everywhere," explains Lindsay Harkema, founder of WIP Collaborative. It certainly doesn't work for everyone, and finding ways to give more variety to public space could make the city more enjoyable for more people. "What we found in our research by discussing with [autism] advocates and self-advocates is that you find yourself either in a very active, noisy and overwhelming public space – like a playground or Times Square – or in an empty plaza, which is under-stimulating ", she says.
Restorative Ground takes a bigger picture of what a Street Seat can be: it's a playground, a quiet refuge, a place to meet a friend, and a landscape to explore. As Harkema says, "the audience is diverse and the public domain should provide these experiences."