Raf Simons's Shaker Goods and the Tin Building Renovation
Photo: Clockwise from top left: Philip Messmann, Nicole Franzen, Courtesy of Larrie and artist Paul Lachenauer
Objects, creators, news and events to know.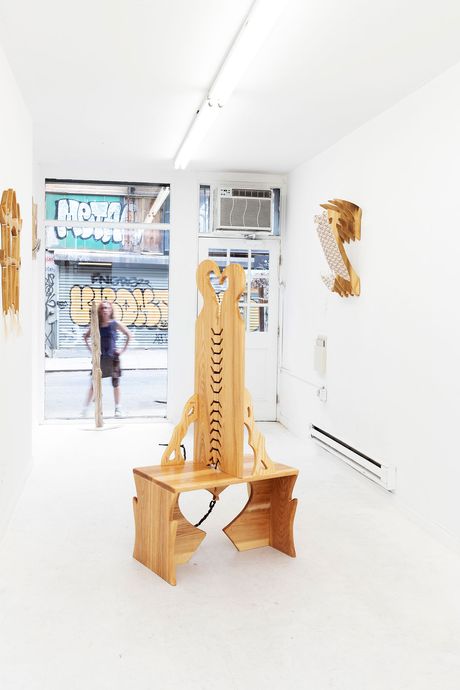 During the pandemic, a Brooklyn-based artist Fi Isidore spent hours browsing the digital collections of the V&A and the Met and reading those of Paul Preciado Pornotopia, who interprets furniture as psychosexual objects. Isidore's first solo exhibition, 'Pomegranate Carved in the Round', at Larrie through August 27, is filled with pieces based on his research into the era of lockdown: designs inspired by Victorian clothing and shoe designs and made with materials like leather, lace and human. hair and teeth (from her sister and Etsy, respectively). A wall altar called Block of the False Door of the Chapel of Mery (Julian, Lily, Eliza, Kara…) is inspired by mourning veils and reliquaries; a chair titled Figure: Twins is adorned with leather donned like a corset and riffs on traditional conversation seats, but Isidore's version plays up the tension with back-to-back Siamese seats. (She designed it with a friend, saying they "wanted a place to sit at an after-hours party.") "I felt most guided by reading Preciado that furniture is just an object within our dark, formative experiences," says Isidore. . "He plays this shadow-self role."
The South Street Seaport appears to be in a constant state of redevelopment – with the Howard Hughes Corporation determined to turn the tourist trap into a luxury destination. Pier 17 has recently gotten a lot of attention with a sprawling dining and entertainment complex that hosts rooftop concerts. The final element of the pier's post-industrial transformation is the historic Fulton Fish Market's transformation into a food hall, the Tin Building, curated by celebrity chef Jean-Georges Vongerichten, which is now complete. The redesign, by SHoP Architects with interiors by Roman and Williams, is not without controversy – the building was dismantled and moved 32 feet to the east – but the results are breathtaking. The ground floor resembles a European market with its green Art Nouveau tiles on the walls, marble countertops in the bars and restaurants, and lots of natural light. The building's design pushes you to explore the 53,000 square foot space – from the charred cedar walls of the sushi bar to the neon green escalator upstairs and the candy and ice cream shop furnished with walls roses like a Wes Anderson set. "We wanted it to be everyone's dream of what a candy store should be," says Roman and Williams half Robin Standefer. "Even the crazy terrazzo floor looks like something you could eat."
The Met's escalators have always seemed like an afterthought – a rather unceremonious (and rather ugly) amenity in an otherwise grand building. Fortunately, the museum commissioned artist Michael Lin to create a site-specific installation for the escalator closest to the Great Hall steps. For Pentachrome, a permanent installation that opened on August 15, Lin covered the walls with floral designs borrowed from two of the museum's Qing dynasty porcelain vases: one with rocks and flowers and one with plum blossoms and birds. The vases usually live hidden on the balcony overlooking the steps of the Great Hall; Lin's installation brings the art of porcelain to the fore.
Whereas Shaker design never goes out of fashion, per se, it's been experiencing a resurgence lately – as evidenced by contemporary designers and artists exhibit in historic Shaker villages, Rita Sodi and Jody Williams' new restaurant filled with wooden tables and stools, and household goods stores like Salter House channeling the aesthetic. Raf Simons is the latest to reinterpret the utilitarian style of furniture (traditionally made by the religious Shaker sect) with a collection of accessories for Danish textile company Kvadrat. Simons has designed key rings, tote bags, a magazine rack, pillows, throws, and a mirrored tray, all of which can be hung from a padded rail with hidden hooks inspired by the Shaker peg rail. "I was not drawn to simply making a series of objects", Simons Told vogue. "I thought, how can I give all these things an identity together and make them relate to each other?" Would the Shakers have approved of the Simons derivation? Probably not. They followed strict rules around creating "honest" furniture and avoiding deceptive ornamentation and garish colors. It's safe to say that millennial pink and a padded powder coated rail wouldn't have been allowed, but they would have appreciated the attention to everyday items and the ability to store them close at hand. "My interest in industrial design has always been, at its core, serving people and making people's lives easier, better, more functional," Simons added.
MASA, the Mexico City design gallery that took over an abandoned post office last spring (painting the entire space ivory and filling it with modern art and design), is in the Hamptons for "Harmonious contradiction", an exhibition organized with Sotheby's. For the show, which runs until September 18, the artists created bronze furniture and sculptures and explored a variety of themes – from childbirth to caregiving at an archaeological site in Oaxaca. Stars include Mario García Torres A cast of the space under my chairwhich was cast from negative space under a traditional Jaliscan Equipal chair chair and that of Milena Muzquiz Cast bronze stoolsinspired by African wooden stools and how they hug the human body.
In The street project, documentary filmmaker Jennifer Boyd examines the intersecting causes of pedestrian deaths in the city: culprits include hundreds of years of car-centric urban planning, oversized SUVs that make driving more dangerous, the auto industry rejects the blame on the pedestrians and the political resistance to fixing the problem. Those who follow transportation politics know the subject, but Boyd's film provides a public service by making a rickety conversation widely accessible. (It's streaming on PBS, Amazon, and Apple TV, which certainly helps.) Boyd talks to activists and urban designers in New York City about work to transform Queens Boulevard (aka the "Boulevard de la death") into a cycle street. She reports from Phoenix, one of America's deadliest cities for pedestrians, finally adopting a Vision Zero policy. And she's heading to Copenhagen to show how the transformation of a bike-centric city – which began in the 1990s – can lead to more livable cities. The street project makes the case for protected cycle lanes, shorter crosswalks, more signals and generally safer streetscapes, showing that we can (and should) design them better.