Regional Plan Association's Exhibit in Grand Central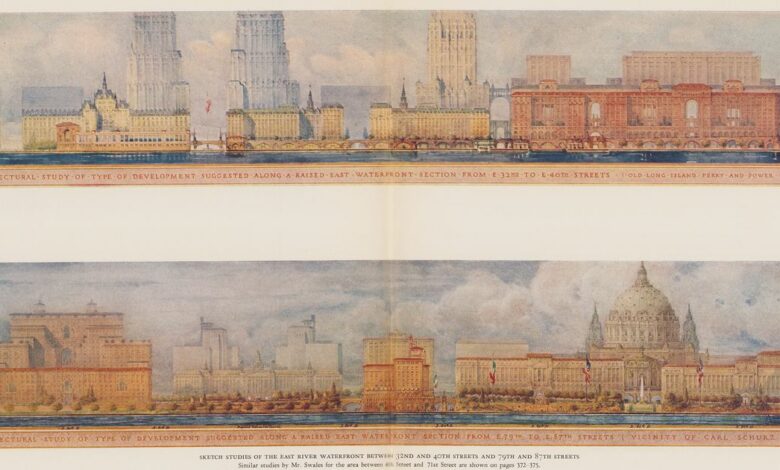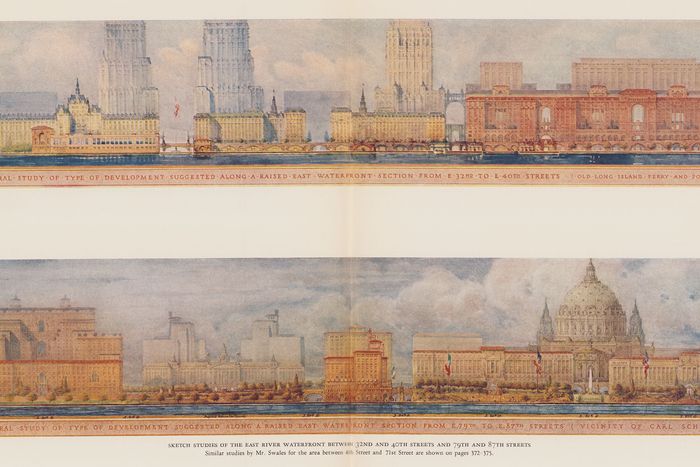 What Might Have Been Along the East River, by Francis Swales circa 1930.
Illustration: Courtesy of the Regional Plan Association
From pavement level, New York looks like an accumulation of chance, organized according to impenetrable rules. Its pieces get stuck next to each other, underneath and on top of each other like a litter of kittens. Any bits of graceful order seem accidental or the product of wild competition between builders. Yet some of this energized jumble is deliberate – large parts of it are mapped out in a vast overarching strategy of almost inconceivable hubris. In 1922, a handful of mandarins (including banker Charles Dyer Norton, Henry Street Settlement founder Lillian Wald, and Manhattan Borough President George McAneny) decreed that the city was too chaotic to be trusted. to evolve on its own. What New York needed was a plan – a close-up. To draft it, they formed the Regional Plan Association (which remains today a collection of civic-minded benefactors with no official power beyond the persuasiveness of their ideas). The document they crafted seven years later was no abstraction: Along with the zoning resolution of 1916, the area plan of 1929 was the founding document of modern New York.
"The Constant Future: A Century of Regional Plan," an exhibit occupying Grand Central Terminal's Vanderbilt Hall from October 7 to 24, tells the story of the ongoing effort to discipline the growth of the metropolitan area. The show, produced by architect James Sanders (who wrote the great celluloid skyline and collaborated with Ric Burns on New York: An Illustrated History), is well situated in a building that predates the planning effort, but symbolizes both large-scale thinking and private initiative. Formerly a national railway hub, it now serves a fractured territory at a time when the city-suburb relationship is once again being renegotiated.
Even if you're walking briskly along 42nd Street or trying to catch a train, it's worth taking part in this spectacle if only for its unexpected visual appeal. What could have been a wonky slog is instead a compact illustrated epic. That's partly because RPA sold its ideas with visions of a future city that blended Haussmann's Paris, Wren's London and Caesar's Rome, and the display is given the glow of a imaginary majesty. Among the central images in the exhibition is Francis Swales' painting of an indefinite-use palace complex along the East River – complete with cupola, twin turrets, obelisk, colonnaded wings and gardens French-style.
The planners of this era (virtually all white men) saw themselves as adepts in a noble calling, even an art. It was a way to tame the future, a tool to channel the torrents of chance to desirable destinations. They contemplated the city from the top of their know-how. They huddled around maps, diagrams and aerial views – rarely venturing into the streets they offered to wipe down or talk to the people they expected to move. Yet it would be easy, in our age of six-hour parking lot hearings and regular rezoning protests, to dismiss their achievements as the work of arrogant technocrats preying on the fabric of the city. The RPA visionaries were blindsided by the social arrangements of their day – like all of us – but even so, it's amazing how their imaginary metropolis was ultimately realized and how we continue to live off their investments and their imagination.
The spectacle is by turns moving and horrifying. On the one hand, it reminds us that the city has always been a work in progress. Those who have a long enough view and a long enough life see the ideas evolve into plans and the plans turned into concrete and steel. The APR watches the city as Richard Powers in The dominant story calls it "tree speed" – a timescale so slow it feels like stasis – until you look back and see events rumble. But New York's timescale is a disorienting, incoherent pattern of long drowsiness, sprints, and jerky steps interspersed with eons of procrastination. A text panel reports that just over a decade after the first plan was published, "thanks in large part to the unstoppable determination of Robert Moses, nearly 40 percent of the 2,548 miles of highway proposed by the plan of 1929 had been completed – with the Triborough Bridge, Henry Hudson Bridge, Bronx-Whitestone Bridge, Marine Parkway Bridge, Riverside Park, and Jacob Riis and Orchard Beaches." Then there was the Second Avenue subway, which came to fruition 97 years after the RPA first suggested it.
On the other hand, noble intentions and visionary projects have yielded appalling results: decades of urban renewal, slum clearance, sprawl, stubborn segregation and huge parking savannas. As this list of routes suggests, Moses was most interested in one part of RPA's transportation program: car-friendly things. He surrounded the area with parkways and freeways that the plan had mapped, but showed no interest in his proposals for an integrated commuter rail network.
All these decades later, Moses remains anchored in the popular imagination as the singularly Mephistophelian figure of planning, a potentate whose legacy continues to shape our days. We frolic in its playgrounds, drive on its highways, stroll through its parks, inhabit the remnants of the neighborhoods it divided and live with the disastrous consequences of its faith in the automobile. This fall, Ralph Fiennes embodies it in David Hare's play Crazy in a straight line and Moses reappears as a character in A wonderful order, an opera by Judd Greenstein, Tracy K. Smith and Joshua Frankel which has its world premiere at Penn State. And now here he is again, watching us from the walls of Vanderbilt Hall with that Mussolini sneer, a map of his estate slung across his shoulders.
The RPA broke with Moses in 1939 over how best to connect Brooklyn and the Battery. (He wanted a bridge; the RPA fought for the tunnel.) But in many ways they shared a vision that the RPA has since spent decades trying to correct. "The Constant Future" recounts the aftermath of the plan. In the 1960s, even as it looked at a record of major projects developed and executed, the organization concluded that "a second regional plan was needed, in part to remedy the Pandora's box that the first plan had opened ". Specifically, the authors decided they needed to seek the advice of non-planners. Released at a time when so many white, middle-class New Yorkers were using all those beautiful roads to get out of Dodge, Regional Plan II had to deal with a domestic cold war between suburbs and the center. Sections spanning the third (1996) and fourth (2017) iterations continue to trace the evolution of conventional wisdom from Olympian patterns to surgical interventions, from obsession with greatness to anxiety over climate change, from decrees of the planner-knows-best at whaddaya-think consultations.
Despite the show's celebratory tone, it's disheartening in 2022 to look around New York and see how the spirit of 29 has dissipated. Decrepitude is everywhere, and little thought reigns. Even something as shabby as widening sidewalks has become a bigger job than bureaucracy can handle. The city fights against climate change by distributing inflatable dam kits. Periodically, the Portal Bridge swing bridge over the Hackensack River seizes up and commuters have to sit at Penn Station for hours until someone comes along with a hammer to take it off. (It was built in 1910. A new one is supposedly in the works.) Penn Station is so far gone that the Governor says the only way to fix it is to turn the surrounding blocks over to private developers (Vornado, mostly), which who will build office towers that we may never need. And the city is tackling the shortage of affordable apartments by measuring the number of units in teaspoons. This is not because the future will be sweeter or the challenges more modest, but because we have made up for the hubris and abuses of power of the past by deferring to the obstructionists and letting the developers fill the void. The RPA's helpless defenders continue to look to distant decades, while our officials can barely cobble together tomorrow.