Rent is Going Up. How to Negotiate a Rent Increase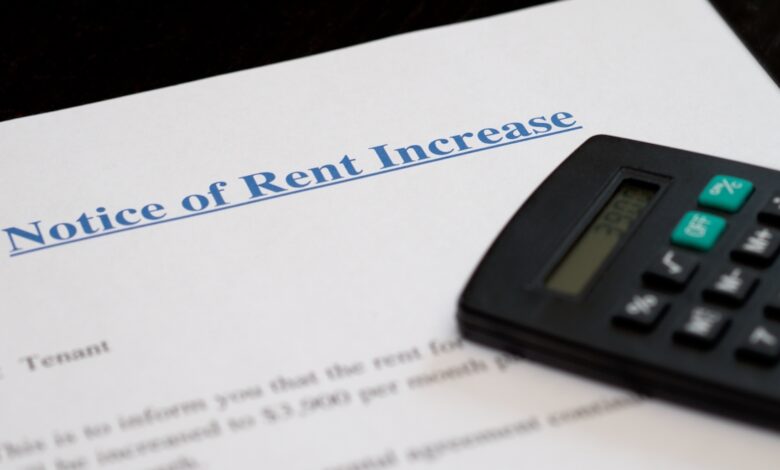 With the possible exception of "crazy neighbors" and "rat infestation," no word scares tenants more than "rent increase." If you know or suspect a rental price increase, don't wait for it to hit your bank account. Speak with your landlord. Let it be known that you want to negotiate a rent increase.
Not sure how to negotiate a rent increase? Here's what you need to know about today's rental market and some ideas to consider if you face a rental price increase.
A look at current housing cost trends.
Rent increases are – unfortunately – something most Americans are facing right now, especially if you live in or around a busy metropolitan area. Whether you're looking to rent or buy, chances are you've discovered that this is a competitive housing market: the selections are slimmer, and your dollar won't equal as many square feet as it should. could have been before.
At $2,002, the average median rent price in the United States is at an all-time high in 2022. According to red fin, "Rents are up more than 30% in Austin, Seattle and Cincinnati. In Los Angeles, the median asking rent is $3,400. Even in once-affordable cities like Nashville, it's now $2,140, ​​up 32% from last year.
It means many are struggling to pay their rent – and may even face potential eviction.
But
Why
are rent prices so high in the United States now?
As with any commodity, house prices and rents are directly linked to factors such as economic inflation and supply and demand. The current demand for housing is greater than the current supply, which has led to higher prices. Inflation refers to rising costs in everything, including housing, groceries and other essentials.
When will rental prices go down?
If you're wondering, "When will rent prices go down," we'll have to go back to supply, demand, and inflation. House prices will decline – or at least stabilize – when demand declines or supply increase. In other words, house prices are likely to drop a bit as more housing options are built or created. Factors such as building material costs, labor availability and interest rates can also play a role in rent and housing prices.
What are prime rent, rent stabilization and rent concessions?
When you want to negotiate the cost of rent, you will have a few options. Generally, you will ask for either a preferential rent or a rent concession. Depending on where you live, you may even be able to apply for rent stabilization. Although the terms may sound similar, there are key differences between each of these terms.
Preferential rent
To start: what is preferential rent? Preferential rent is when a landlord agrees to charge a rental price that is lower than the legally regulated rent that the landlord could legally collect. To get preferential rent, you'll need to talk to your landlord or leasing company and ask them to create a new rental agreement with your agreed-upon terms, including the price of your rent.
Stabilization of rents
Depending on the deal you make with your landlord and where you live, prime rent could turn into "rent stabilization." Rent stabilization means that your rent will not increase as long as you remain a tenant. In some cases, this may even mean that if a family member takes over your lease at any time, they will be able to pay the set rental price. This is why many keep NYC apartments in the family for generations.
Rental concessions
The term "rent concessions" can refer to a special offer or a discount. Property managers or landlords can provide a rental concession to entice new tenants to move in – "First month's rent free" or "No security deposit required" are two examples of rent concessions. Current tenants may also be offered rent concessions – sometimes in the form of waiving a month's rent, maintaining the rental price despite increases throughout the property, or some other benefit such as a free parking space in an otherwise paid lot. The difficulty with rent concessions is that they can be one-time or long-term. You should take care to read the terms and conditions of your rental agreement.
Whichever route you choose, you'll want to familiarize yourself with your state and city laws and renter rights. And don't forget to read your rental agreement carefully!
5 tips for negotiating a rent increase
1. Be clear in your request.
So, you are currently a tenant, want to stay in your unit, and are facing a rent increase. As if you were negotiate a short term lease, you will want to have a clear idea of ​​the terms you are asking for. In this case, you are probably looking for a preferential rent or a rent concession. Basically, it's legalese because you'll need to have a conversation with your landlord to keep your rent at its current level and have a new lease drafted and signed.
2. Collect data.
Rentometer provides an overview of similar rental unit costs in your area. It lists the dollar amounts, categorizing the results in easy-to-digest language like "good deal," "reasonable," and "way too high." ApartmentSearch is a great way to collect up-to-date data on apartment for rent in your area too. Not worried about a rent hike right now? Still, consider identifying comparable units, printing their related data, and ranking them. Or take screenshots and save them to your computer. This information will provide you with historical data that you may be able to use to your advantage.
3. Use money and time.
It may seem strange at first, but you may be able to negotiate a lower rent by agreeing to pay cash or offering to sign a longer lease. After all, less time spent trying to fill an empty apartment means more money and peace of mind for your landlord.
4. Be on your best behavior.
Speaking of peace of mind: Your good behavior as a tenant can be a valuable negotiating tool. Industry leader Alex Larsen said Time.com"If you're renewing a lease, your track record as a good tenant can be a negotiating tool for landlords who don't want to risk losing you or paying the cost of finding a new tenant if they pay the fees. of a broker."
Attorney Alex Stern told the same website: "From a landlord's perspective, a bad tenant can cost a lot more than lost rent. Emphasize your positives that you always pay rent on time, you have a stable job, you've never had problems with other landlords, etc.
So if you've proven yourself to be a reliable tenant who pays rent on time, don't be afraid to leverage those strengths in negotiations with your landlord. Consider using some of the tactics you might try if you were struggling to find someone to hiresuch as writing a letter of request and using friendly, professional language.
5. Apply some elbow grease.
This is the era of the gig economy. Uber, Lyft and other companies have commoditized hiring people. Approach your landlord with the idea. Handy with a hammer? Available to resolve on-site issues for other tenants? There could be cost savings for both of you. A real win-win. There is even online forms to help you get started!
Find an affordable apartment with ApartmentSearch
So can you negotiate the rent? Absolutely. But it's not as simple as a simple request. Make sure you are ready to guarantee a win-win scenario for everyone. If your landlord doesn't want to budge, turn to ApartmentSearch. With our advanced filtering options, you'll be able to find apartments within your budget that suit your needs – there's no need to sift through dozens of dead-end ads. Don't pay too much rent. Get started with ApartmentSearch today.