Richmond's Confederate Monuments, One Year Later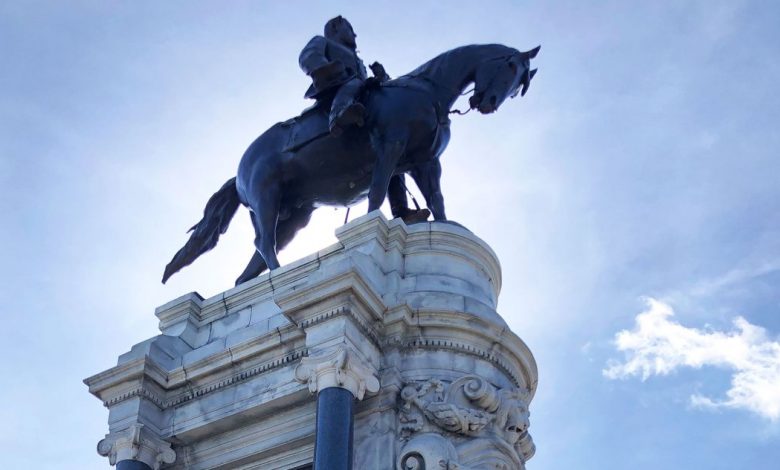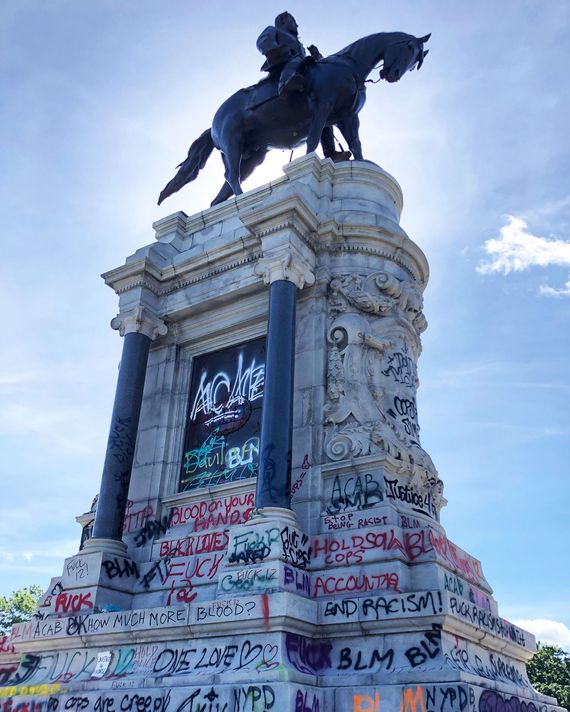 I had never lived south of Brooklyn, New York, USA until about seven years ago, when I moved with my child to Richmond, Virginia. One of the most jarring aspects of the city – the former capital of Confederation – is Monument Avenue, the "cobbled" four-lane asphalt boulevard stretching about a mile and a half along a wide grassy median. lined with trees. Every few blocks, cars circle roundabouts where bronze statues on granite or marble plinths pay homage to those who fought for Confederation: JEB Stuart, Jefferson Davis, Stonewall Jackson, Matthew Fontaine Maury and of course, Robert E. Lee, whose one foot tall, 12 ton likeness hangs over the city. During the warmer months, the youngsters – mostly white – hang out on the medians, drinking, sunbathing, and playing cornhole.
Civic groups installed the monuments after the end of the Civil War, from 1890 to 1929, during a period of intense anti-black violence and the expansion of racist laws imposing segregation. Since then, Monument Avenue, designated a National Historic Landmark, has served as a constant physical reminder of a deeply rooted commitment to honor and promote Confederation and its cause.
Following the murder of George Floyd on May 25, 2020, the monument to Lee has become a central target of protesters demonstrating against police brutality and anti-black racism. For nearly a year, people gathered at its base to participate in events and protests, branded it with graffiti and paintings, and planted offerings and signage that transformed the site. As the Asian American parent of a Blasian child (readable only as a black boy, especially here in Richmond), I have a special interest in these ongoing struggles. For almost a year, I photographed the events at the Lee Statue with my child by my side. He was 10 years old when the May 2020 protests began, and we've been in a lot of them. We have witnessed the transformation of what was once a rarely used grassy area around the statue of Lee into a space where people demonstrated, distributed food and drink, pitched tents and gardens, played basketball. ball, played music and built a library of free books. Artists screenprinted T-shirts and banners at the site and projected images of George Floyd (and many others killed by police violence) on Lee's statue. From all over the city and surrounding counties, people have come together to collect the monument and revise what it means.
Protesters reclaim the monument to Robert E. Lee on June 30, 2020.
Photo: Chris Cyn
The national press quickly realized this. In October 2020, the New York Times Magazine named the statue of Lee "in its present condition" on most influential work of American protest art since World War II. In January 2021, National Geographic featured a similar photograph of the statue on the cover of its "Year in Pictures" issue – though she carefully explained that it "had the emphasis of 10 instances of the f-word that were visible".
Less visible in the aerial and long shots of the monument were the paintings, photographs and signs posted around it recalling those who were murdered by the police. These ephemeral landmarks contrast with the bronze, marble and granite of the Lee monument. Perhaps their transience is an integral part of their power. The memorials of black life grouped around the monument offer ephemeral and fleeting counter-stories that challenge Confederate symbols and their formal conventions. Today, the majority of Confederate statues have been removed after protesters removed several in June and the city announced on July 1, 2020 that it would remove the rest. Richmond recently offered to replace the remaining baseboards with asphalt, grass or plants. Located on state-owned land, the statue of Lee has yet to be dismantled.
The images here are a selection of hundreds that I took during the hectic year as we walked in protests across town and walked and biked along Monument Avenue – our daily exercise during the pandemic. As a teacher of literary and visual texts, I am particularly interested in symbols and signs and their material effects, in the stories preserved and commemorated in monuments, and in attempts to intervene in the memory and transmission of the 'history. At the same time, I am well aware that the struggle for statues does not replace the ongoing social struggles and that the removal of certain monuments does not mean that real and long awaited structural and systematic transformations have taken place. The images for me, as an insider and an outsider in Richmond, serve as a record of individual and collective attempts to tie the legacies of white supremacy to ongoing racism and to assert the potential for alternative futures.