Scenes from Ida's Chaotic, Tragic Night in New York City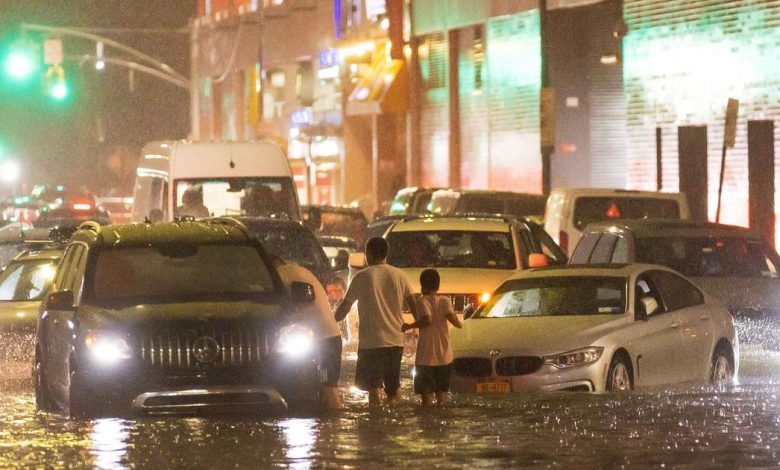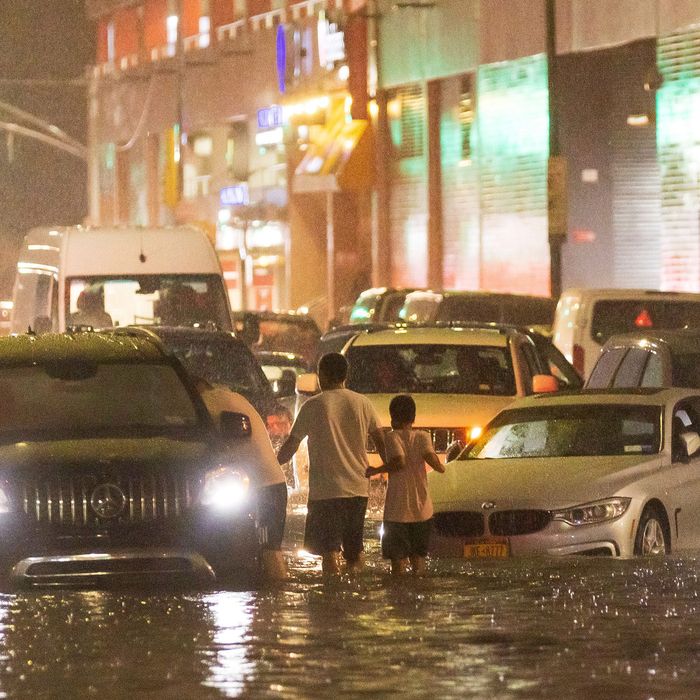 Photo: Justin Lane/EPA-EFE/Shutterstock
There were some warnings yesterday afternoon about the storm headed to New York: the sky turned steel-gray, emails from utility providers alerted people of possible outages, and amber illuminated signs over the freeways and bridges warned of rain and flooding. But after a summer of record rainfalls, no one seemed to be on high alert. Hurricane Henri had come and gone — what was another tropical storm? But at 9 p.m., phones across the city lit up with a flash-flood warning — the first ever for New York City. Then the deluge: more than 7 inches of rain in some parts of the city, and a record-smashing 3.15 inches in one hour in Central Park. Subway stations were filled with torrents, the BQE and FDR were brimming, and even a ramp to the Brooklyn Bridge flooded. The water that surged into basements in Queens and Brooklyn trapped and killed at least eleven people.
Tropical Storm Ida wasn't supposed to be this bad; it arrived in the tri-state area three days after making landfall in Louisiana as a Category 4 hurricane and traveling inland across Appalachia. Usually a storm that's spent that much time away from the open sea will have lost a lot of its power, but Ida claimed more lives in the New York area than in the South.
Today, Curbed asked eleven people who were at work, driving buses, at the movies, watching the U.S. Open, or simply sitting at home when the storm hit to tell us their stories.
Bryan Roman, 46, drove the No. 1 train into the 28th Street station.
"I was operating the train, and everything was fine. There was a lot of rain outside, so there was some flooding. But when I got to 28th Street, it was a whole different ball game. A monsoon was coming out of the platform—like Niagara Falls over there. It was coming right from the platform ground. It was so bad, I couldn't tell if it was coming from the floor or out of the wall. The first thing I thought was, I can't go through that, and I can't back up the train. If I went through, there probably would have been some sort of explosion or a fire.
"It was happening pretty quick, the waters rising to the third rail. I knew it might take a little time for them to actually get the power off, and I worried about someone getting electrocuted. The way I see it is, if I'm going to get out of here, everybody else is going to get out of here. That was my main focus. Luckily, I was one car into the station and there was an exit for the 27th Street side right next to the door that I could open to let everyone out. I was like, I can get everyone out because it's dry over there — I just have to act quickly. My partner Oniel Francis, the conductor, goes to the back; there's ten cars on the train, so he does from car ten to five, and I go from car five to one. We gradually get everyone out single file, smoothly, calmly. Everyone kind of knew the drill. It was only when they got out that they had the faces of, Oh my god. I've never seen anything like that since I've worked here, almost eight years.
"We had to stay with the train. Another train operator and conductor came to relieve us at about a quarter to 11 p.m. When they came, we had to be pushing 18 hours on the clock. I felt relieved and exhausted. It just felt like, I got the job done, and now I can breathe."
Selena, 37, is from Nassau County, Long Island.
A doctor who works in Manhattan and declined to give her last name, Selena went to the U.S. Open in Flushing yesterday with thousands of tennis fans. Even though Ida halted play, she had a fun night—and then, upon leaving Billie Jean King National Tennis Center at 10:20 p.m., encountered the heaviest amount of rainfall she had ever seen. "The water was higher than my knees," she says, "and I was almost swimming out of the stadium."
Selena found her SUV and merged onto the Long Island Expressway toward her home in North Hempstead, without giving the storm another thought. But when she pulled off Exit 36 around midnight, she sped through a deep pool of water — and her car began to float.
"I couldn't see clearly. It was very dark and I thought it was just a little bit of water pooling there, like usual," she said. "I freaked out and did not know what to do until I saw the water kept pouring into the car. The water was up to the dashboard."
Thinking quickly, she rolled down the window, climbed out, and walked home. Then she called a nearby auto shop to tow her vehicle out of the flash flood that had formed on the exit ramp. She'll have to buy a new car, she expects.
"I slept only a few hours last night. My body is still very cold from staying in the rain too long," she said. "Good thing the windows still worked, otherwise I might have drowned in the car."
Photo: Ed Jones/AFP via Getty Images
Ashley Avecillas, 17, lives with her family in Corona, Queens.
"I was home with my brother and mother last night, and around 9:30 we started seeing rivers forming on the streets and the sidewalks. Some neighbors were already saying, 'Oh my God, the basements are starting to fill up in my house,' and we were like, 'No way!' We didn't think it was gonna be that bad. We live in a three-story house that my parents own, and rent out the first floor, but we have a basement that we use to watch movies and do family stuff there. So we were like, Let's go check what's going on down there. When we opened the door, water started coming from the toilet. The sink was basically launching water without us turning it on — shooting water. The tub started filling up and spilling everywhere, too. We were so scared because it got to a point where the water was almost up to our knees.
"We have a prevention system for floods installed in the sewage pipe, but apparently it didn't work. A few weeks ago during Hurricane Henri nothing happened, so we were confident that nothing was going to happen again. We were trying to get most things off of the floor and out of the way but it was too late because the water was already in. Today we went down there and there's still water there, and it's so high that we can't even get it out. The furniture is just completely gone. The fridge won't turn on. The boiler room, we're still trying to see what we're gonna do with that, because there's no hot water. It's just complete chaos right now. We have no way to get rid of that much water; it's basically like a pool down there."
Kari Cholnoky, 33, was trying to get home after a friend's art show at Lyles & King Gallery.
"There were signs and symptoms everywhere, like we should be paying attention to the outside world. I opened the MTA app and saw every line was suspended. I was like, Okay, something major is happening outside, and just out of sick curiosity, we tried to call a car and it was $75, $100. And then nobody would come—you'd get the ride cancelled from Uber or Lyft. In my mind I was like, 'We can all sleep at the gallery'—someone had a key—'and sleep on a polished concrete floor, or we can just, you know, get out there and see the world.'"
"I love chaos, so I was like 'We should walk.' The rain was calm until we got up on the Williamsburg Bridge, and then the wind was absolutely bananas, and then the rain started up. On Delancey there were people in torrential downpour trying to hail cars. Of course, no one was pulling over. The rest of the people were like 'Fuck it, we're walking,' and they had amazing contraptions, plastic bags on parts of their body. All of that blew away—like this man with bags on his legs. It was a mess, but we were all walking to Brooklyn. It was like New York always is, a slow-moving disaster on multiple levels.
"We left the bar at about 12:30 and we got home at almost 2 o'clock. And the basement had flooded. We have a bunch of stuff in the basement—we have it all up because of Henri. Weirdly, we had prepared for something that never happened, and then it happened 10 days later."
Juvenal Gayosso, 55, is a deliverista who lives in Woodside, Queens.
"It was already pouring at 8 o'clock, and by 8:30 the streets in the East Village were really flooded. I had on my rain jacket and rain pants but I still got wet — cars would splash all over me. There were areas in the East Village where the water would cover my e-bike's battery, which is 9 inches above the ground, so I had to shut it off toward the end. On Second Avenue in Manhattan, there were stretches that had nearly a foot of water.
"We usually get $3 to $5 from the DoorDash delivery app per order, plus around $3 or $4 in tip from the clients. Sometimes the app gives us $2 extra per delivery when the weather's bad, but not yesterday. The clients should give us more tips, yes — but, you know, there are really understanding clients, but there are others who don't care about what kind of weather we're facing. Even if it's snowing, they order their food, and that's it.
"At around 9 o'clock, I went to pick up two deliveries at 14th Street and take them to 23rd Street — that was one of the last ones I did, because my app froze. I wanted to keep working until around 11:30, but my phone got wet and the screen got all black. I usually get home in 30 minutes, but yesterday it took me more than an hour and a half to get from Union Square to Woodside — I could barely see the street. Thank God I made relatively good money, because there were more deliveries compared to days when it doesn't rain."
Gabrielle Jensen just wanted to watch a movie.
"I was going to go see this movie—I figured since I live in Manhattan that it would be fine. We saw over an hour of La Piscine. It's an erotic thriller and things were starting to heat up. All of a sudden, the lights turned on and everybody started looking around. I thought there was a shooting or something. The worker who came in was very shaky and seemed very afraid and was like, 'The theater's flooding, you literally can't stay here anymore.' Everyone starts leaving, and then we go into the lobby and there's water everywhere and people are panicking. This one woman came up to me and was like 'Should I take a car?' I was like, 'Umm … I don't know where you live.' None of us had seen what was going on, because we'd been in the movies. And we couldn't figure out how to leave. Should I walk home from the Film Forum to my place in the East Village? I had my work computer with me and everything. Then I turn around and there's so much more water all of a sudden in the lobby. It had risen by a few inches. I decided to walk out and try to get a yellow cab, so then I did that—and the cab had a hole in the roof and there was water everywhere there, too. My friends who I was with had a harder time getting back to their place in Bed-Stuy. They took the train and got evacuated from the train and had to take a bus through the water, so it was pretty harrowing for them."
Evonne Pearson, 53, is a bus driver on the B60 route who lives in Springfield Gardens.
"I was approaching Linden Street and Wilson Avenue, and there was a whole bunch of water that prohibited me from going any further. Another bus was coming from the opposite direction and I saw that he made it through. He stopped and he told me don't go any further once I make it through this water. So I proceeded, because there's no way that I can make a left or a right—I have to go through. I was scared but I didn't want to show that to my passengers; I'm trying to keep them calm. And once I proceeded into the water, the bus stalled. I tried to turn it off and put it back in drive to see if it would move. It wouldn't move. Then the water started rushing onto the bus. It filled up to the seats. At the back of the bus, the first step was covered in water. It was something I've never experienced and didn't expect.
"I had four passengers. They wanted to leave the bus. I said, 'Are you sure?' And they said, 'Yes.' So two passengers left the bus, two passengers remained, an elderly woman and a young fella. As the water's rising, the elderly woman is panicking. I'm sitting on the dashboard. She's standing on the seat. When the water started rising more she climbed onto where the passengers put their luggage, because she was trying to come sit next to me. I didn't want her to slip and fall into the water, so I'm trying to comfort her and keep her from panicking. She didn't speak English. I'm panicking because the water is rising and it's polluted. We saw shit in it. And all around us outside the cars are floating. The fire department came and they were no help. They told us we either exit the bus or we stay on the bus. I told them I wasn't going to exit the bus in this polluted water. I said 'I'm going to call my union, and they're going to direct me on what to do.' The elderly lady started crying, and she was trying to grab me—she wanted to stay—but the fire department picked her up and they flung her onto the corner. She didn't know where to go. The whole area was blocked with flooding.
"I was nervous, because now I was left on the bus by myself. A guy came and knocked on the glass and asked was I good, and I got nervous—you know, people take advantage of certain situations. So I just told him I was good. But I was really scared because I didn't know what would take place with me being on the bus by myself. The dispatcher finally came with a pick-up truck. He had on a protective suit, and he tried to start the bus up. It wouldn't start. So he said he was going to see if they could get a tow truck to tow the bus while I'm on there. And I said, 'Well, how long is that going to take?' He said he couldn't tell me. So I'm like this, this is unbelievable. Eventually the truck was able to move and they took me to the depot, where my car was flooded. I was on the bus from, I would say, 9:30 p.m. to 1 a.m. It was a crazy day for me. And yesterday at midnight was my birthday, so I had my birthday on the bus."
J.G., 38, was at home in Forest Hills, Queens. 
"It took me three hours to get home from work because of the storm, and then I was watching Netflix at like 9, 9:30 p.m. when I got a text message from my friend who lives on the first floor. She said, 'Why are you not outside?' and I'm like 'It's raining, why would it be outside?' She goes, 'If I were you, I'd pack your dog, grab your mom, and go.' So I was like, what is she talking about? When I looked out the window, I saw a bunch of fire trucks. I grabbed my medication, threw it in a bag, grabbed my wallet, took my dog, threw her basically in her bag, grabbed my mom, and I was just like, let's go! We took the stairs down, and I was thinking about the building collapsing in Florida: How strong is the foundation of the building? Are we gonna survive?
"When we got to the lobby, there were 60 people or so. It was packed. So I'm asking, What happened? When we looked out on the street and walked a little closer, we saw the cars floating like toys in a bathtub, crashing into each other and everything. My friend said she'd left the building because she was sitting in her apartment and felt like the walls were shaking, like there was felt like an earthquake. People started texting each other to come downstairs.
"A neighbor said, 'Do you know what happened to this lady on the first floor?' And I was like, 'I don't know.' So he was saying she was sitting in her living room. And apparently the water just crashed through her window, and when she saw the tsunami of water in her apartment she ran to get out — but the water pressure pushed the door at her and she was basically crushed by the door. I don't know if the details are hearsay, but I did read this morning that somebody who's 48 years old did die in our building. And I heard that they found a second body too. It's crazy—who knows how many more bodies they could discover as they pump the water out. That gave me paranoia. Oh my God, how would I ever be able to go back into the basement, or into the garage or the laundry room?"
Martha Suarez, 53, lives in Woodside, Queens.
Martha Suarez works with special-needs children and had just started with 2-year-old Lobsang Lama last week. She had arrived on Thursday morning at Lama's home in the basement of a multi-family brick house on 64th Street when she learned what had happened inside.
"They didn't cancel me, so I was coming as usual," she said between sobs, minutes after discovering that Lama; his 50-year-old father, Ang, and his 48-year-old mother, Mingma, had all drowned in their basement. "This is too much for me," she said between tears. "He was a happy boy and it's a really nice family."
Police had cordoned off the house where the family, originally from Nepal, had lived. The ground near the home outside was strewn with leaves and piles of debris. Next door, children were running across a small playground. A neighbor, who didn't give their name, heard desperate pleas from the basement floor as the water rushed into the building on Wednesday. That night, Mingma had phoned Choi Sledge, who lives on the third floor, telling her, 'The water is coming in right now,' according to the New York Times. "The last thing I hear from them is, 'The water coming in from the window.'"
Knickerbocker Avenue in Bushwick is at the bottom of a hill, and flooded on Wednesday night. By Thursday morning the water was gone from the street, but a number of businesses were dealing with the aftermath of Ida.
Abdullah Ersoy, 47, is the owner of a small clothing store.
Ersoy owns Ersoy Fashion on Knickerbocker Avenue between Hart Street and Dekalb. He was home on Ocean Parkway when he saw the water filling his store on his security camera. "I got here around 10:30. It was crazy. There were more than ten cars stuck in the water blocking the street. I saw those kids swimming over there."
"We are totally messed up here. There was nothing we could do. We tried to put cloths to stop the water, but it was coming up from the toilet. More than $150,000" in merchandise was destroyed, he estimated, getting emotional and pausing to step into the store he's owned for about seven years. "And the worst part is, the insurance company doesn't cover any of it. The whole store, water. It was crazy, crazy, crazy."
Placido Heraclio, 48, owns La Villa Produce and Deli.
Heraclio arrived at his store on Knickerbocker Avenue around midnight, well into the deluge, parking his car two blocks away. "The water was taking the cars from the street."
"This morning when I came in all the water was inside the store. The basement is destroyed. All the merchandise on the floor is going in the garbage. A lot of meat, a lot of produce, fruit and vegetables, all the merchandise I have in stock downstairs. It's like $200,000. You can see the mark of the water on the wall, it was up to maybe four feet."
In La Villa's basement the following morning, there was still a few inches of water. Slabs of meat sat half-thawed in boxes; dried peppers and beans spilled out into the concrete, with lemons, limes, and peaches rolled out on the floor. Over it all hung a ripe, musty smell. Heraclio's employees were still sweeping water out the front door, accepting a delivery from a supplier. "Hurricane Sandy, nothing happened here."