Self Storage Widely Used Among Renters, With Gen Xers in the Lead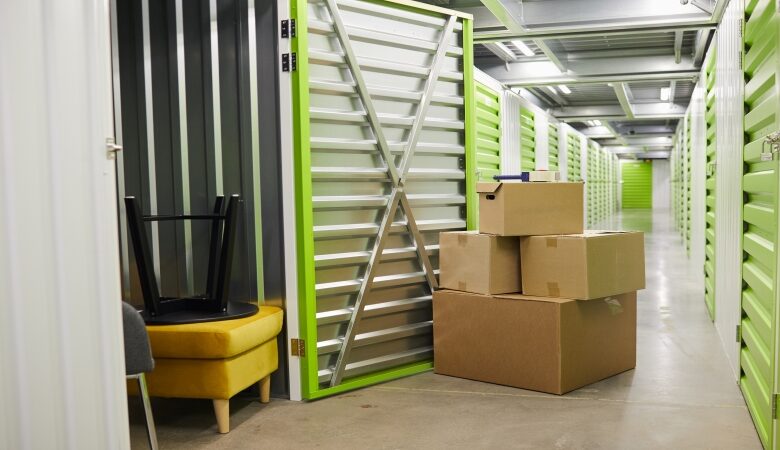 21% of US renters are currently leasing a self storage unit while an additional 12% are planning to use the service in the future.
Gen Xers are the most likely to need extra space for their stuff, followed by baby boomers and millennials.
Moving is the most popular reason for using self storage among renters
The most popular sizes are 5'x10' and 10'x10' storage units.
Furniture and clothing are the items most frequently stored by renters in the US.
As a service largely responding to life events, self storage is becoming increasingly popular. The recent need to carve out space at home for home offices or gyms, plus an increase in multigenerational living, have joined the traditional reasons for using self storage including growing families, living with roommates, moving and downsizing.
Moreover, interest in using self storage is further amplified by the growing share of renters among American households. Around 44 million households in the US, or 36%, are renters – a number that has grown gradually over the past decade, from around 40 million in 2012. Generally speaking, rental units, whether apartments or single family homes, are significantly smaller than owner-occupied units: 1,190 square feet vs. 2,040 square feet on average, according to the US Census, hence the bigger need for extra space away from home.

Also, renters tend to move more frequently than homeowners. The extra storage requirement associated with renters, arising both from less space at home and increased mobility, goes hand in hand with the expansion of the self storage sector, which has now gone beyond 1.6 billion square feet of storage space.
Currently, about 21% of renters in the US are using self storage, and another 12% are planning to use it in the future. This is one of the main findings of our analysis of renters' habits and preferences regarding self storage, based on over 4,200 survey responses.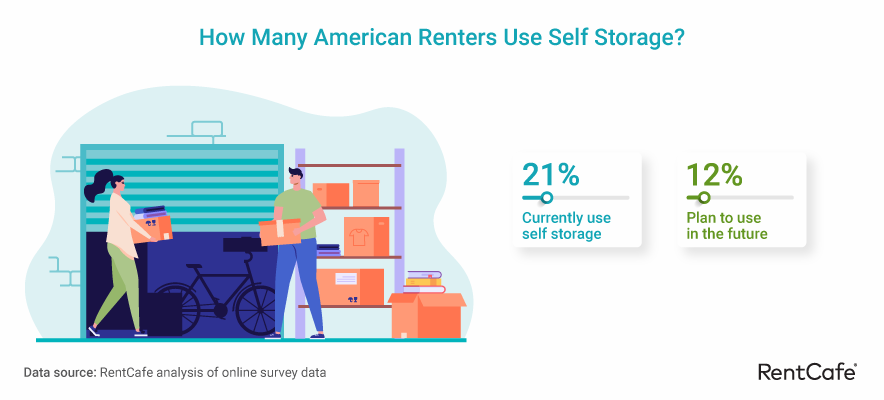 We also investigated other fundamental aspects including the most frequently stored items, the main drivers behind the need for self storage, and who is relying most on self storage in America.
With more baggage than other generations, Gen Xers rank as top self storage users among renters
Breaking down the numbers by the type of home renters reside in, 20% of them who live in apartments turn to self storage for maximizing living space, with an even larger share of renters living in single family homes relying on self storage (25%). Single family homes are usually bigger than apartments, but the people who rent them usually have larger families, which may explain why they have more complex storage needs.
Among the different age groups, Gen X renters are by far the most interested in using self storage: 44% are current self storage users, and another 21% declared they plan to use the service in the near future. Baby boomers follow closely, with 38% reporting an interest in self storage, while 30% of the millennial renters also keep some of their belongings in storage. Gen Xers and baby boomers are traditionally more likely to use self storage as they generally own more stuff, but millennials are slowly catching up. Whether seeking better jobs or improved living conditions, millennials are much more mobile than other generations, and their need for self storage mostly relates to moving. Moreover, millennials tend to focus on experiences – including camping and RVing – which adds to this generation's demand for self storage.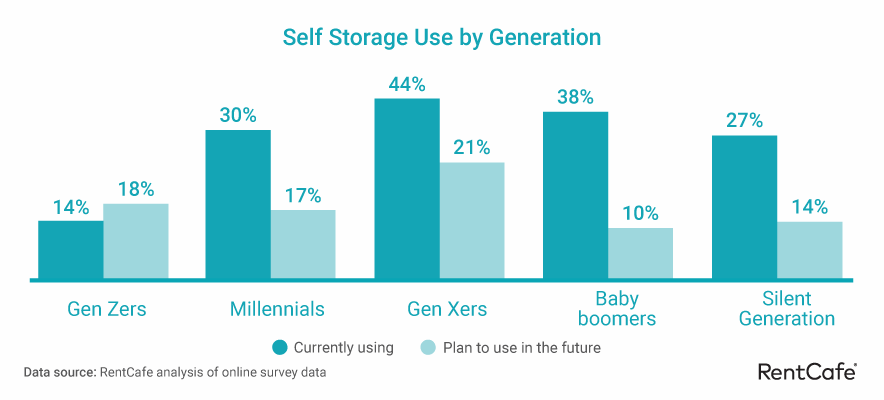 Perhaps unsurprisingly, as women's closets tend to fill up more quickly than men's, women are also using self storage more than men: over half of the female renters said they are currently using self storage, and an additional 22% of them are planning to rent a unit in the future. On the other hand, only 22% of male renters are also self storage users, and 14% of them show interest in this service for the future.
Moving and a lack of space at home are the main reasons why renters use self storage
Moving is the most frequent reason why renters need to use self storage – 42% of them rented a storage unit while switching homes. A lack of sufficient space at home is the second-most popular reason pushing renters to self storage, with 31% indicating homes that are too small for all their stuff being a main driver.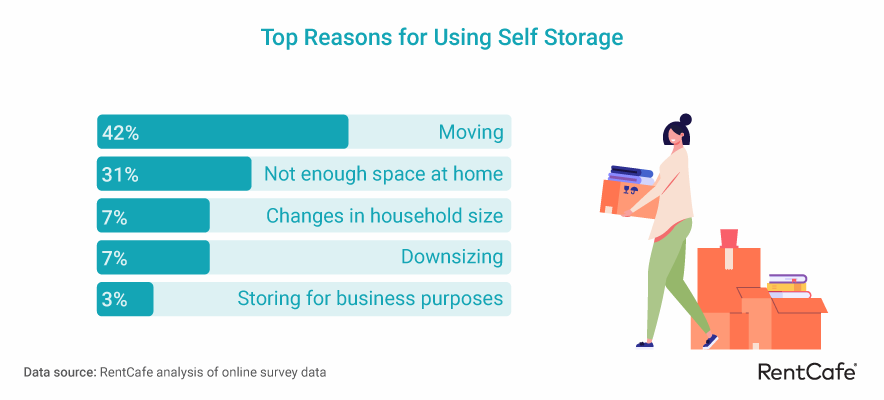 Millennial renters are very likely to use self storage during a move – 45% of those who declared they use self storage do so for moving-related reasons, followed by Gen Xers. On the other hand, Gen Z renters who use self storage do so primarily because they can't fit all their belongings in at home.
Bigger doesn't always mean more space: self storage is most popular among 3-bedroom home renters
Living in larger homes is associated with more self storage usage – about 28% of the renters in 3-bedroom homes need a unit for their extra belongings, compared to only 20% of the renters residing in studio apartments.
The same trend is witnessed when looking at self storage popularity in relation to home sizes: 28% of those living in homes between 1,500 and 2,499 square feet lease self storage units to keep some of their belongings, while only 23% of those in homes under 1,000 square feet do the same.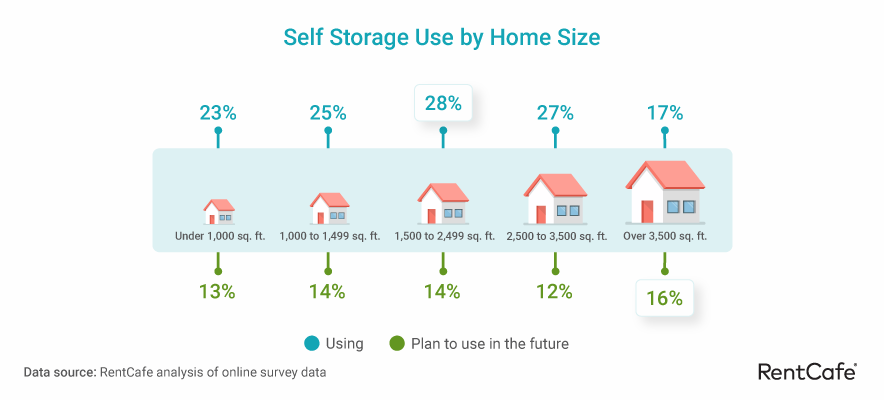 In addition, lack of space at home is also more frequently cited as a reason for using self storage by those who live in 2-bedroom homes (36%) compared to those who live in 1-bedroom homes (26%).
While this might sound counterintuitive at first glance, it is essentially a matter of household composition, as bigger rentals generally house more family members with diverse storage needs. Additionally, in the current economic and job market context, it is very likely that at least one of the adults is working from home, adding extra pressure to the living space.
Small and medium sizes are the most popular storage units
The 5'x10' and 10'x10' unit sizes are the most popular ones, with each type getting the votes of 25% of the self storage users. These two sizes are convenient and versatile, allowing people to store a variety of items, including furniture and appliances, clothing, tools or even small vehicles. The 10'x10' storage unit is suitable for renters who are moving out of a small apartment and who need to temporarily store their belongings. Other relatively popular unit sizes are 5'x5' (15% of the self storage users rent one) and the 10'x20' type, leased by 13% of the self storage users.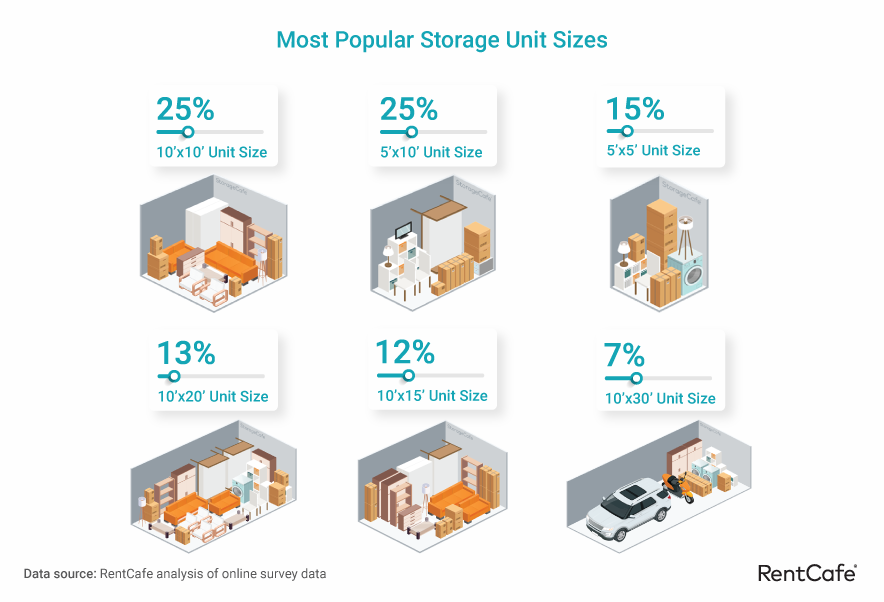 Gen Zers show a strong preference for small storage units: 38% of their votes went to the 5'x10' unit, while 26% to the 5'x5' unit. Seeing as many Gen Zers are college students, it makes sense they choose small units, just enough to fit their dorm room belongings and some boxes with books or clothes that they might have around.
Millennials, on the other hand, do need storage units to be a bit more spacious: 34% of their options go toward the 5'x10' unit, and another 25% to the 10'x10' unit. Gen Xers and baby boomers both lean toward the 10'x10' unit – 27% of each age group declared they prefer one of them.
Furniture and clothing are the most frequently stored items by renters
Around 29% of the renters who use self storage use their unit to store extra furniture. Many of the people living in rentals decide to temporarily store some of their furniture in order to create space for other necessities – maybe a working out corner, a reading nook or a small home office.
Clothing is another frequently stored item, with 24% of the renters who are also self storage users saying they need to place some of their outfits in a unit, followed by home appliances and equipment (21%).
Looking at the residence types, those living in studio apartments are slightly more likely to store clothing (26%) than furniture (25%), which is in accord with the idea that young people use self storage as an extension of their homes. Renters using self storage and residing in 2-bedroom homes, on the other hand, are the most prone to storing furniture – 30%.
Both women and men declared they store furniture and home appliances and equipment in almost equal shares. However, the consensus ends here, with women far more likely to store clothing than men (28% vs 18%). Similarly, men tend to store sporting items and hobby gear more frequently than women (14% vs. 9%).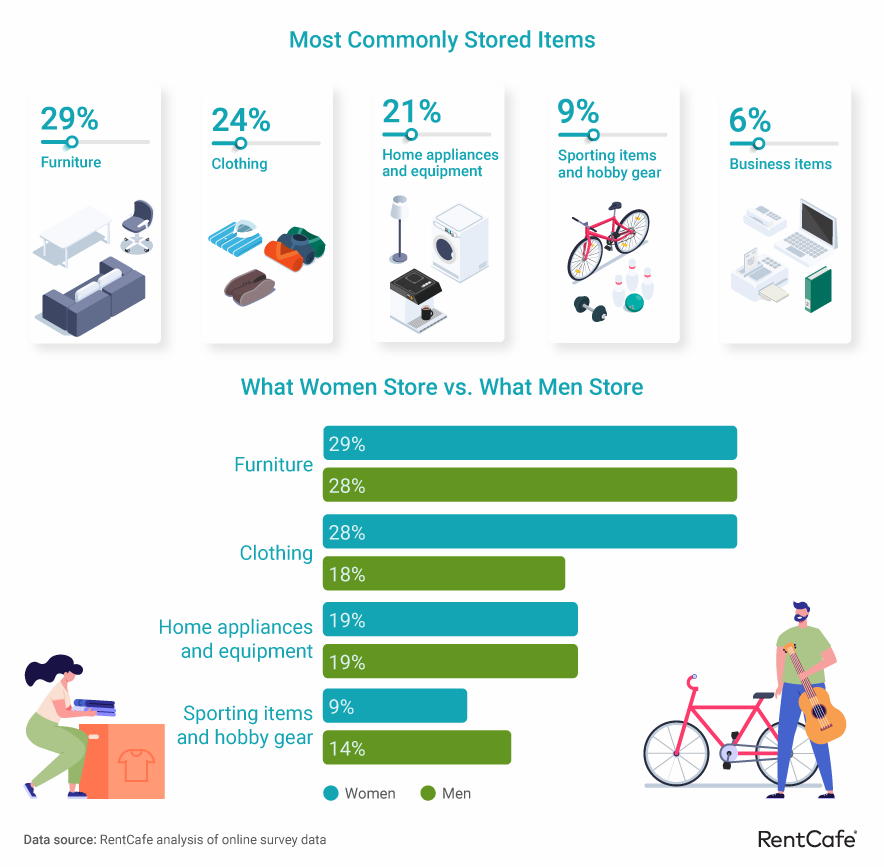 Some storage units house pretty peculiar items – from LOTR movie props to old bubble gum machines
Most people use their storage units for practical items, such as furniture, clothing or home appliances. However, some people use their storage units for far more unique belongings – or should we say 'treasures,' at least in some cases? One vintage car afficionado rents a self storage unit to protect their '78 Alfa Romeo Spyder car – a smart decision, since valuable old vehicles should not be exposed to the elements. Antique maps and a vintage train set were also listed by respondents, as well as bird cages, old bubble gum dispensers and sewing machines.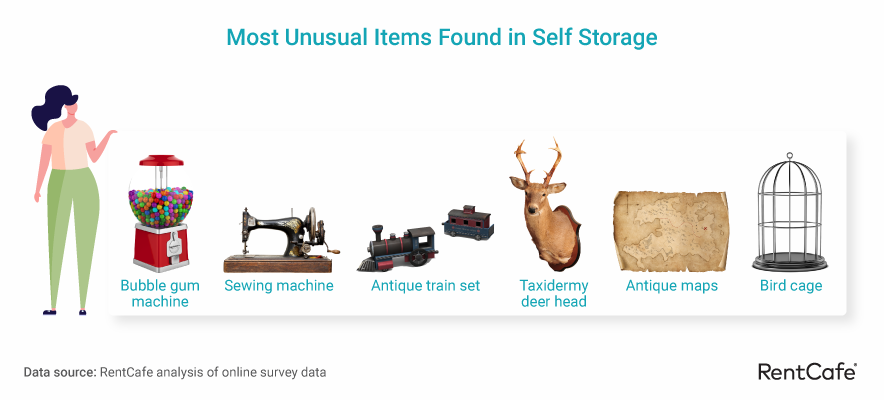 Someone obviously decided that they can't part ways with their taxidermized deer heads – but they would rather keep them in storage, and not inside their home. However, maybe the most spectacular items listed by a survey respondent were certified Gandalf-associated movie props from the beloved Lord of the Rings movie series.
What the experts are saying:
Doug Ressler, Business Intelligence Manager – Yardi Matrix
What's the status of the self storage market?
Self storage, once regarded as a niche real estate sector, is on a strong growth path in 2022. Occupancy rates at self storage facilities across the country increased to 94.5% in 2021 from 91% in pre-pandemic 2019, according to 2022 Self Storage Almanac data.
Self storage street rates are also on an upward trend nationally, with the average monthly rent for a 10′x10′ self storage unit rising 4% year-over-year this June to $132, according to Yardi Matrix. 
Read more….
Where is demand for self storage coming from?
For self storage companies across America, the pandemic meant a surge in business, as people turned their extra bedrooms and garages into home offices and found themselves with extra stuff that needed to be stored somewhere.
Now we're witnessing a second surge in self storage use, as companies plan to bring employees back to offices, oftentimes under a hybrid scenario. The need for self storage will be further driven by people moving back into cities from rural or suburban areas, prompting the need to downsize. It's worth noting that many of them will continue to need a home office for the foreseeable future. These trends are turning self storage into a durable business, a service that people need and use long-term.
Isaac Hiatt, Product Specialist – Yardi Matrix
 What's the status of the self storage market?
Fundamentals remain healthy for self storage, and existing facilities are enjoying the benefits of seeing high occupancies, steady rate growth and 'in place' rents increasing. However, given the current economic climate, many operators are expecting moderate growth through to the end of the year. One aspect that benefits storage is that due to the need-based nature of the asset class it is positioned well against inflation, with counter-cyclical factors leading to storage doing well during economic down turns.
Read more….
Development is still taking place, and new facilities are being proposed weekly. However, due to supply chain issues, rising cost of materials and labor shortages, construction of new facilities is being delayed and becoming more difficult. Investor demand remains strong, but buyer pools have shrunk. Sellers' expectations have shifted due to increases in interest rates and other factors that have made transactions more difficult.
Where is demand for self storage coming from?
Over the past couple of years, demand for self storage has been driven by a host of anecdotal factors including increased housings costs, increases in commercial space cost, and hybrid work. However, many operators have said recently that they are starting to see a return of seasonal moving activity to pre-COVID levels. Also, when the typical factors of storage demand such as death, divorce and downsizing are factored in, demand for storage is only increasing.
Methodology
This analysis was done by RentCafe, a nationwide apartment and self storage search website.
The survey was conducted on rentcafe.com for a period of one month. The sampling was designed as a non-probability sample, and the platform's active users voluntarily engaged in taking the survey. The respondents to our survey are a self-selecting group and so will not constitute a perfectly representative sample in terms of age, gender or location.
About 4,250 valid questionnaire results were interpreted for this study.
Fair use and distribution:
This study serves as a resource for the general public on issues of common interest andh should not be regarded as investment advice. The data is true to the best of our knowledge but may change if amendments to it are made. We agree to the distribution of this content, but we do require a mention in return for attribution purposes.