Small Bathroom Ideas to Spruce Up Your Home
Homes come in many shapes and sizes, and smaller homes usually have to sacrifice space in certain rooms to fully function. The bathroom is often the first room people make smaller, which can be annoying when you need to use it. Storage space is hard to find, and decorating can be even harder. How do you design your bathroom so it can be functional and stylish? You can employ many easy tips and tricks to make your bathroom perfect for you and your guests. Some of the best ones include:
Bathroom Ideas for Style and Functionality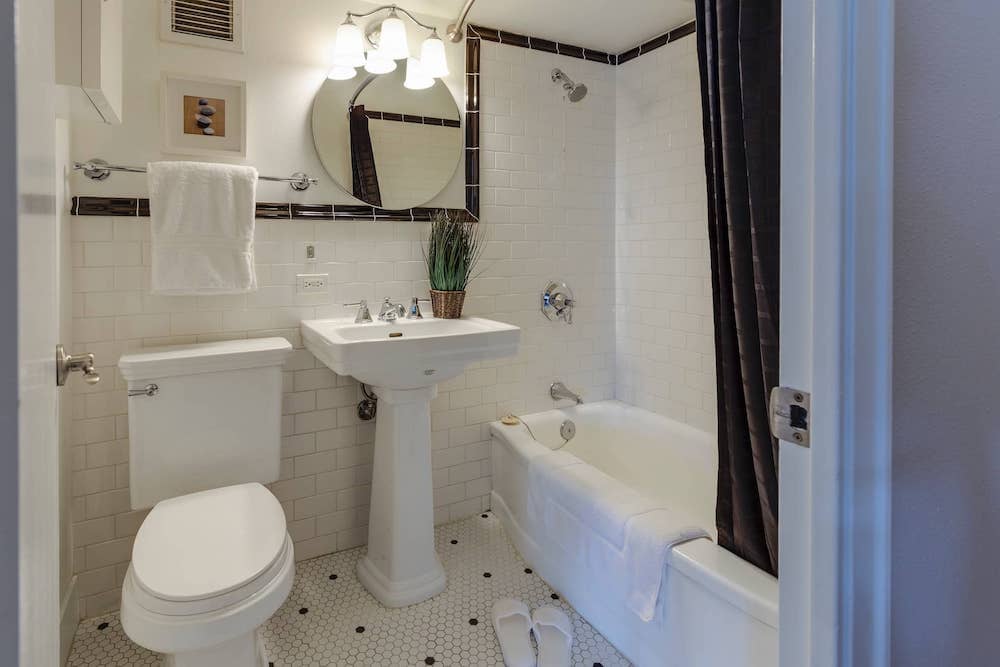 1.) A Bright Paint Job
The worst bathrooms are dingy and dower with a dark paint job. Bathrooms need to be comfortable spaces, and bright colors can help make them feel homier. The standard bright color for bathrooms is usually white, but pink or turquoise walls could really make the space pop. This isn't true for every bathroom or person, but a brighter paint color will make your bathroom feel more personal and less like something you'd see in a restaurant.
2.) Decorative Wallpaper or Tiles
Another option to brighten up your bathroom or powder room is decorative wallpaper. Floral designs are extremely popular because of their delicate yet dynamic designs, but they are far from the only option available. Patterned tiles would work well for this too, plus they'd be easier to clean. Either way, the right pattern, like vertical strips or a mosaic, will make your restroom look larger than it actually is. 
3.) Additional Shower Light Fixtures
Ever been in a bright bathroom only to be shrouded in darkness once you've closed a shower curtain? Some added lighting can change how you and your guests experience your bathroom in a whole new way. There are many options to choose from, and some people even opt for a small chandelier! No matter what you choose, additional light will make any shower bright, relaxing, and a safer experience for everyone using your restroom. 
4.) Vanity Lights
In the same vein as shower lighting, vanity lighting on or around your mirror is a feature that will make your bathroom brighter and more functional. Vanity lighting is perfect for those who need to apply make-up or shave in an otherwise darker bathroom. These lights come in various designs that can fit any aesthetic, be it sleek, rustic, or classic, and being next to the mirror will brighten the room, making it feel larger.
5.) Buy a Cloth Shower Curtain
Many plastic shower curtains are nice, but many more can be tacky. A cloth shower curtain, however, can still have an elegant design while adding some extra class. This is your opportunity, as well, to contrast the colors in your bathroom, as a darker curtain will draw the eye if lighter walls surround it. It pays off to hang the curtain higher so it doesn't touch the floor. Getting it too wet will make it likely to get mold. However, your cloth curtain can last a long time with proper care.
6.) Ventilation
One of the biggest dangers facing bathrooms is the threat of mold. Even with an open window, the moisture in your bathroom can create the perfect conditions for mold and mildew. Having a vent in your bathroom can save it from such a vile fate. It will also remove condensation, so your mirrors aren't foggy when you get out of the shower. Make sure you get a vent with multiple settings so you can adjust it depending on the situation.
7.) Get a Glass Enclosure For Your Shower
Walk-in showers are extremely classy, but they aren't the only ways you can have a glass enclosure in your bathroom. Even bathtubs can have a glass wall rather than a shower curtain. This will allow extra light to enter your shower and reduce the risks of mold and mildew. It can be a bit expensive, but adding a glass enclosure is a great way to go for some added style and show off your shower if you have some decorative tile in there.
8.) Invest in a Classy Bath Rug
Many items used to decorate bathrooms are cute but can also be tacky. Having a classy bath mat is the way to go if you want a more mature restroom. You can even find ones that will match your cloth curtains. This is another great chance to contrast the colors of your bathroom. Having a rug will also help keep your floors clean and prevent you from slipping after you've gotten out of the shower.
9.) Simple Plants
Plants are a great way to make any room in your home pop, and the same can be said for bathrooms. Small plants, like a cactus, work great for a small bathroom and even make it smell pleasant if the plant is in bloom. Even if the plant is fake, it will still be a nice touch that will add to your bathroom's style. Don't buy a plant that will require a lot of maintenance or grow too big. Simple and elegant are the way to go when it comes to the greenery in your bathroom.
10.) Potpourri
Potpourri is a classic in the bathroom, and there's a good reason for that. Even in small clumps, it smells amazing, can come in various scents, and looks beautiful too, especially if it should come in the right decorative bowl. It's an extremely simple way to enhance every aspect of your bathroom for you and your guests, which is why it's a popular alternative to scent sprays.
11.) Scented Candles
For a more romantic vibe, nothing beats candles surrounding a bath. Additionally, candles can be a cheaper and more potent way to enhance the small of your bathroom than scent sprays. Smaller candles are definitely the way to go here, as larger ones will take up space that likely will be needed for storage. But even a small candle by your sink can go a long way. Trying buying seasonal scented candles as well for an extra impressive pop.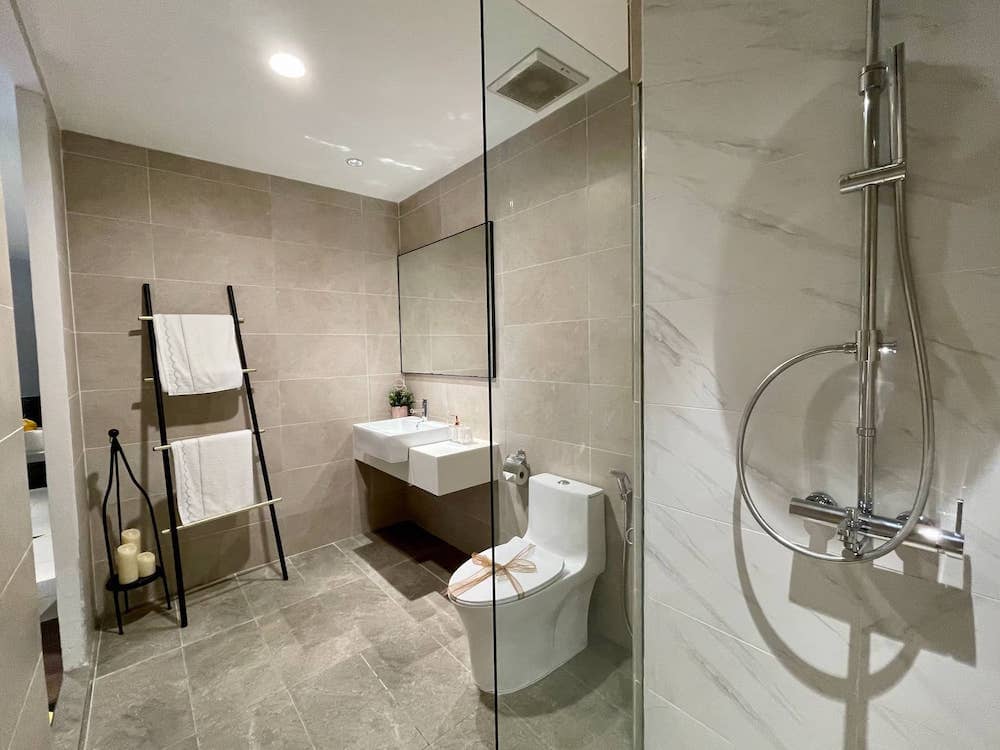 12.) Additional Shelving
Adding some classy, bright shelving is a great way to declutter your bathroom, add storage, and make the space really pop. Whether they attach to the walls or come in a stylish floor unit, shelving is a bathroom necessity, especially in smaller units where storage is next to impossible to find. Try to look for baskets to go on the shelves, as this will be a safer, more strategic way to store larger bottles, towels, and washcloths.
13.) Additional Cabinets
Some of the things you need to store in your restroom are not for public consumption. These unmentionables need to be stored somewhere, and adding extra cabinet space can meet that need. Cabinets will take up more space than shelves, but many units can be sorted under a sink or in a corner that hasn't been utilized. Try to find cabinets with multiple options for storage, like pieces with both interior shelves and sliding drawers.
14.) Vanities
Many sinks in the city don't have storage underneath them. Replacing your current sink with a vanity sink will increase your storage options and can even add to the aesthetic of your bathroom. Choosing a bright color, especially, will be a classy touch. Check out lighter wood options with a granite countertop. It's also helpful to get a unit with interior shelves for even more storage capabilities. 
15.) Shower Shelving
Small bathrooms are a nightmare for storage, especially if you have a tiny bathtub or walk-in shower with no place to put soap and shampoo. Luckily, there are a ton of shower storage options that can fix this issue. Shower caddies and shelves keep your shower supplies at the perfect, easy-to-reach height. Many even come with self-draining adjustable shelves, as well as hooks to hang razors, washcloths, and squeegees.  
16.) Medicine Cabinets
Built-in storage is one of the best features a bathroom can have, and a medicine cabinet combines storage and a mirror for a supremely functional space. These pieces are perfect for storing grooming materials and smaller toiletries subtly, and most have adjustable, interior shelves that are perfect for separating specific items. Plus, many medicine cabinets have fantastic designs to add to your bathroom's decor.
17.) Shower Mirrors
This design choice is severely underutilized. Many people shave and even brush their teeth in the shower, and a mirror is extremely helpful for seeing those hard-to-reach places. These tiny mirrors can even come with a rope to hang right off your showerhead or shower caddy, meaning two useful items can fuse into a classy, cohesive unit. Smaller mirrors are recommended over medium and large mirrors, though. Something too big will ruin the aesthetic of your shower.
18.) Decorative Mirrors
If you're all set for storage and don't need a medicine cabinet, invest in a larger, more decorative mirror. It will make the bathroom feel like it has more space, brighten and enhance the room's natural light, and the frame of the piece can be a work of art all on its own. Just make sure it matches the rest of the decor. You never want to run into a situation where your mirror sticks out badly.
19.) Hang Some Art
Most people don't think of the bathroom as a place to see great art, but it's actually the perfect place to hang some decorative pieces that will make the space pop. It's wise to keep a consistent theme when choosing your bathroom's art, but you can add a lot of class by putting up some tasteful, framed paintings or photographs. There's no reason your restroom has to be the only room without art.
20.) Hide the Uglier Aspects
Many smaller bathrooms sacrifice style for functionality, but you can have the best of both worlds. If any pipes stick out from under your sink, hide them with some shelving or a plant. Have a small radiator under the window? Hide it with some curtains. Every bathroom has an ugly side, but master designers can hide these eyesores while making their space more comfortable and refreshing.
21.) Invest in an Adjustable Showerhead
Many smaller bathrooms are outdated and have equipment that looks and feels bad. One of the worst features a bathroom can have is an out-of-date showerhead. Luckily, these fixtures are quite easy to replace, and many options for adjustable showerheads that are perfect for any bathroom. See if you can get one with an adjustable height and different pressure settings. This will really impress your guests.
22.) Invest in Relaxing Bath Items
Though you might be the only one taking a bath in your bathroom, it's still nice to have an abundance of relaxing accouterment. Things like bubble baths, bath caddies, and bath bombs are great ways to relax and unwind. Dunking a bath bomb into some warm water and turning on Netflix with a glass of wine will destress anyone, so it's worth investing in these items so you can also invest in yourself.
23.) Invest in Nice Towels
It's easy to get a little too comfortable in your own space, but a nice pair of towels is a great reminder that you and your guests deserve nice things. No one is saying you need to have monogrammed towels, but ditch that old beat-up towel from college and get some thick newer ones that will go with the room's decor. There's nothing worse than a guest who is forced to use an old, dirty towel.
24.) Get a Small Trash Can
This one might seem obvious, but many people don't have a garbage can in their restroom. This could be for a variety of reasons. However, if the issue is space, you should know that many small, stylish trash cans can fit in even the tiniest corners of your bath or powder room. A garbage can will also help guests know not to flush paper towels or other things down the toilet.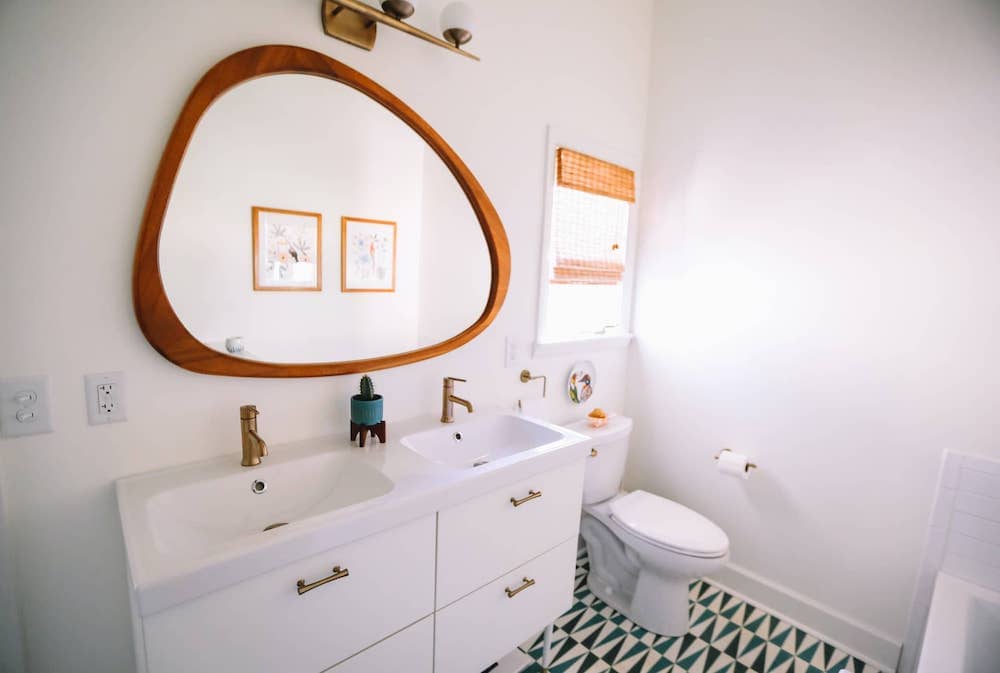 Advice When Styling Your Bathroom
1.) Go Big or Go Home
Even if your decorating budget is small, don't beat yourself up if you go over it. Items for bathrooms can be expensive, and it's okay to splurge a little. You want the best for you and your guests, which means going the extra mile for renovations and decorations. You want people talking about your bathroom, but you also want that conversation to be full of compliments. Don't buy low quality goods to just save money.
2.) Be Creative With Space
Many bathrooms, especially in big cities, have an interesting shape to them. Some even have alcoves and odd angles that seem to stick out like a sore thumb. Turn these oddities into opportunities. Alcoves and odd corners are perfect places for trash cans, extra storage, and even a tasteful art piece. Even if your bathroom is weirdly shaped, that's just a chance to get creative and show off your artistic side.
3.) Be Cautious When Renovating
When getting a new sink, showerhead, or toilet, be sure to contact a professional and tell them exactly what you want. You should talk with your landlord before doing anything that will permanently change your apartment. Also, unless you're a plumber, you shouldn't be attempting any of these projects yourself, as a burst pipe can cause huge problems for your house or apartment complex. Additionally, when you hire said professional, work closely with them so you can get the aesthetic and useability you envisioned.
4.) Don't Clutter Your Space
We have listed many things that can be purchased to enhance your bathroom, but don't go shopping for all these things just yet. First, list out the things your bathroom absolutely needs to function. Then you can worry about decoration. Remember that buying too much stuff will make your restroom look cluttered and cramped. The idea is to make a small bathroom feel open and comfortable.
5.) Have Fun With It
Everyone has their own sense of style, and you should trust your gut when it comes to renovation and decoration. We've talked a lot about how bright colors can make a bathroom feel larger than it is. However, if you prefer darker colors, have at it! What matters most is that you will be comfortable in your own bathroom. The suggestions on this list are just that: suggestions. Your style is your choice, so have a good time with it.
---
Having a small bathroom can be annoying, but it's not the end of the world. There are many ways to make your space look bigger, brighter, and cozy. You never want to sacrifice functionality for style, but we live in a world where most people can have both. It's all up to you to decide how to make your bathroom great, and the suggestions on this list will help you achieve that goal. So make a list and get shopping.