The 20 Best Neighborhoods in Baltimore in 2021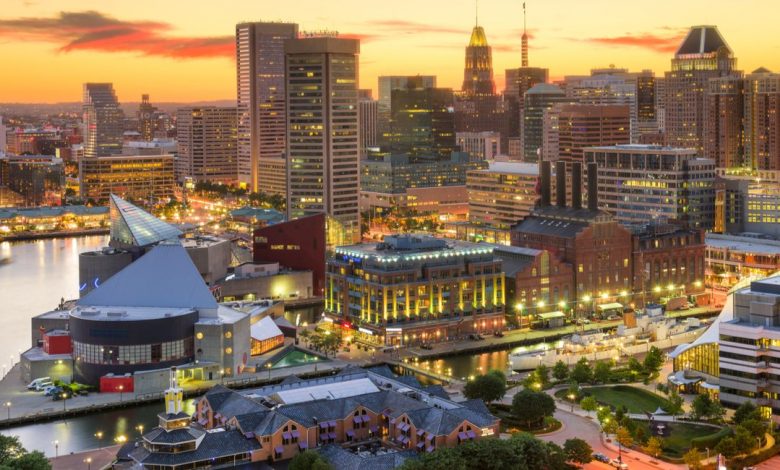 Among the metropolises on the eastern seaboard, Baltimore can often be overlooked. Philly, Boston and New York are massive. And B'more too often gets lumped in with DC. But Charm City offers an east coast vibe all its own. The city, to those in the know, is much more than crab cakes, John Waters, Duff Goldman and "The Wire." It's a gorgeous city of neighborhoods, each unique in their own way.
No matter your tastes and budget, there's a Baltimore neighborhood just your style. Many filled with rollicking bars and seafood joints. Some surround Camden Yards or massive parks. Others have choices between friendly rowhomes or Victorian mansions. But all offer wonderful living for a variety of lifestyles.
But among the 120 or so Baltimore neighborhoods which are the best in this new normal? We evaluated every one for livability. Factors include commute time, green spaces, schools, walkability, entertainment, drinking and dining, waterfront access, safety, recreation, rent prices, cost of living and more.
From this, we determined the 20 definitive best neighborhoods in Baltimore to live in 2021.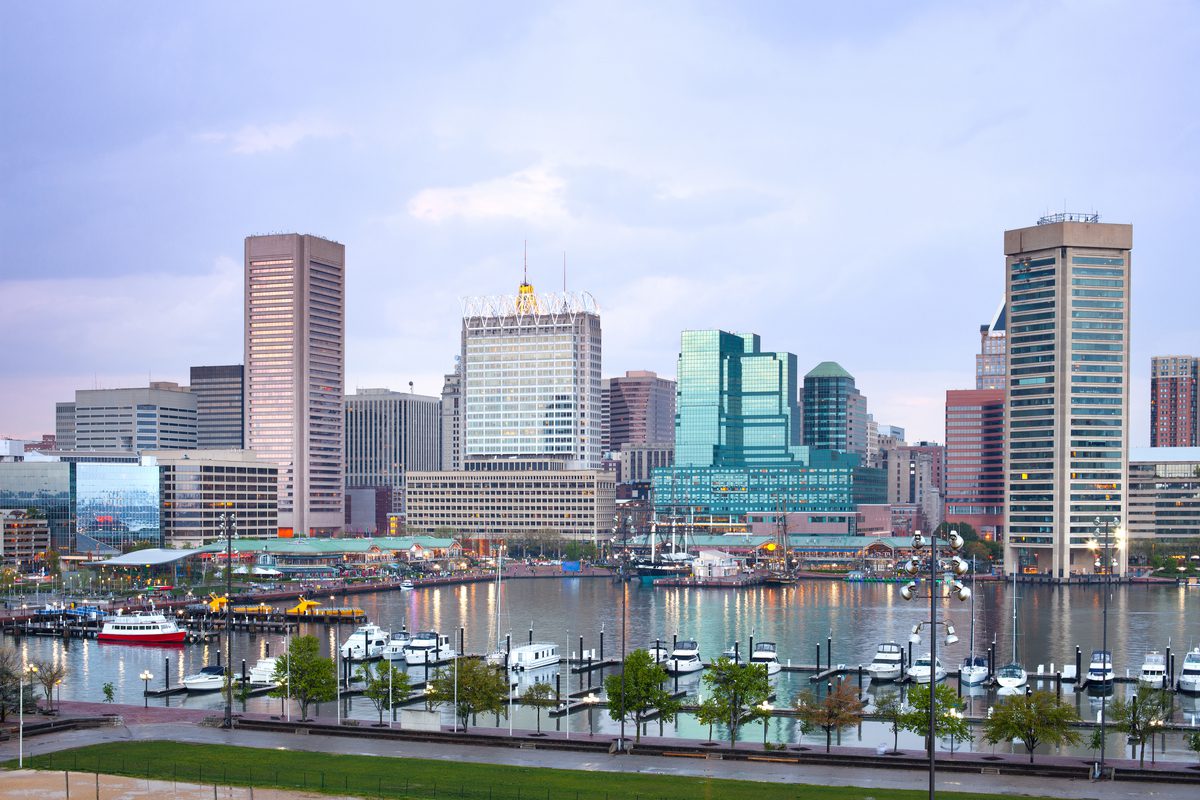 It's been over 100 years since the devastating Great Baltimore Fire. This gave Downtown Baltimore a chance to transform itself. Just north of Inner Harbor, Downtown is now a bustling neighborhood of nearly 40,000.
Central Downtown is the financial center of Baltimore. It's where you'll find most of the city's tallest office towers. These include the Transamerica Tower, Bank of America Building and William Donald Schaefer Building. Most Inner Harbor-adjacent hotels lie here as well.
On the southwest corner of Downtown is Westside Baltimore. This region is the heart of Charm City's contemporary arts and retail culture. It's where turn-of-the-century department stores once stood. Today, Market Center is found here, along with the Baltimore Convention Center and University of Maryland Baltimore. It also features several entertainment venues like the Hippodrome Theatre and Royal Farms Arena.
Also Downtown is the "Superblock" development site. This region will include shops and restaurants surrounding hundreds of condos and apartments.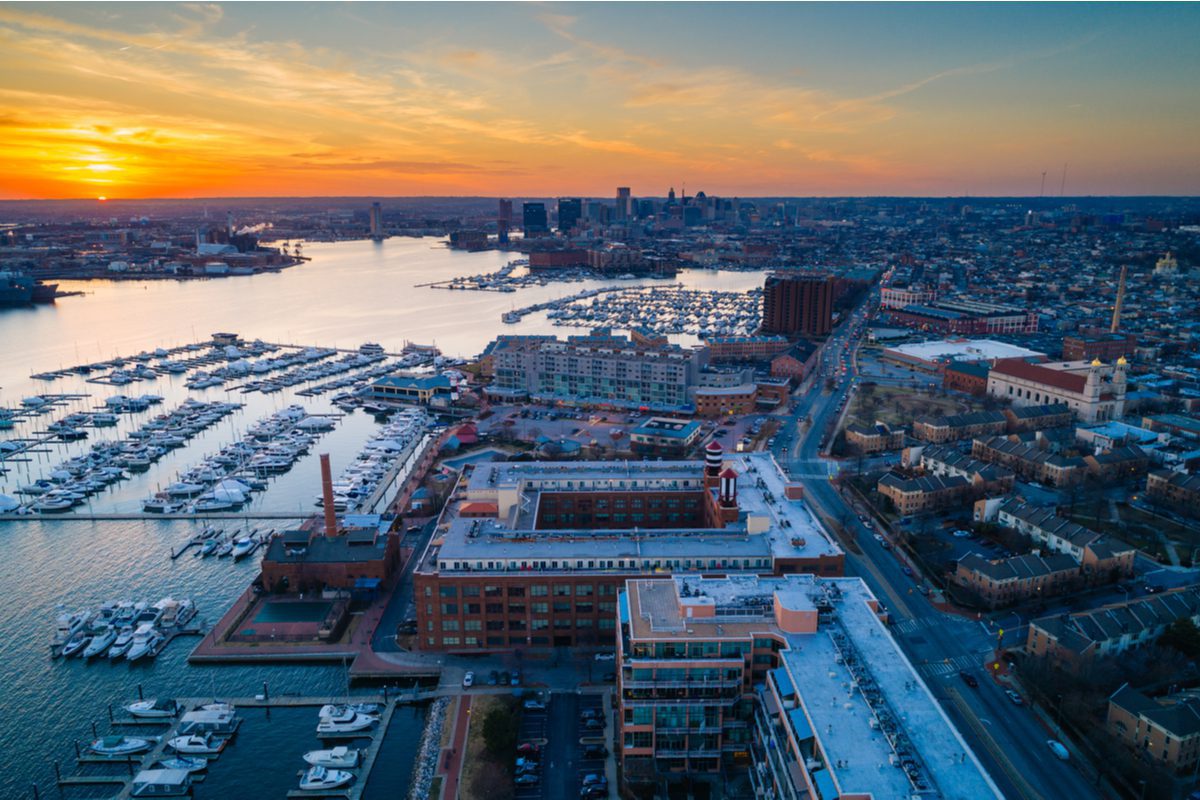 You know Baltimore's Inner Harbor. Well, you should also get to know its Outer Harbor. Its most renowned neighborhood is Canton — it's located on the north shore of the Patapsco River, east of Inner Harbor and Fells Point. The historic Baltimore neighborhood is known as the city's trendiest and most lively.
Like Williamsburg, Brooklyn, Canton is a former industrial district turned hip living and loft oasis. The former warehouses and marinas have transformed into desirable housing and stylish retail and dining blocks. Some of the city's coolest restaurants serve here, including Alma Cocina Latina, Mama's On the Half Shell, Café Dear Leon and Iron Rooster.
Away from the river, Canton offers interesting low-rise apartments, turn-of-the-century rowhomes and modern townhomes. Many of those surround O'Donnell Square. This historic district is the site of many bars, eateries and retail along with popular O'Donnell Square Park. Others greenspaces include Canton Waterfront, Boston Street Pier and Saint Casmir's parks and adjacent Patterson Park.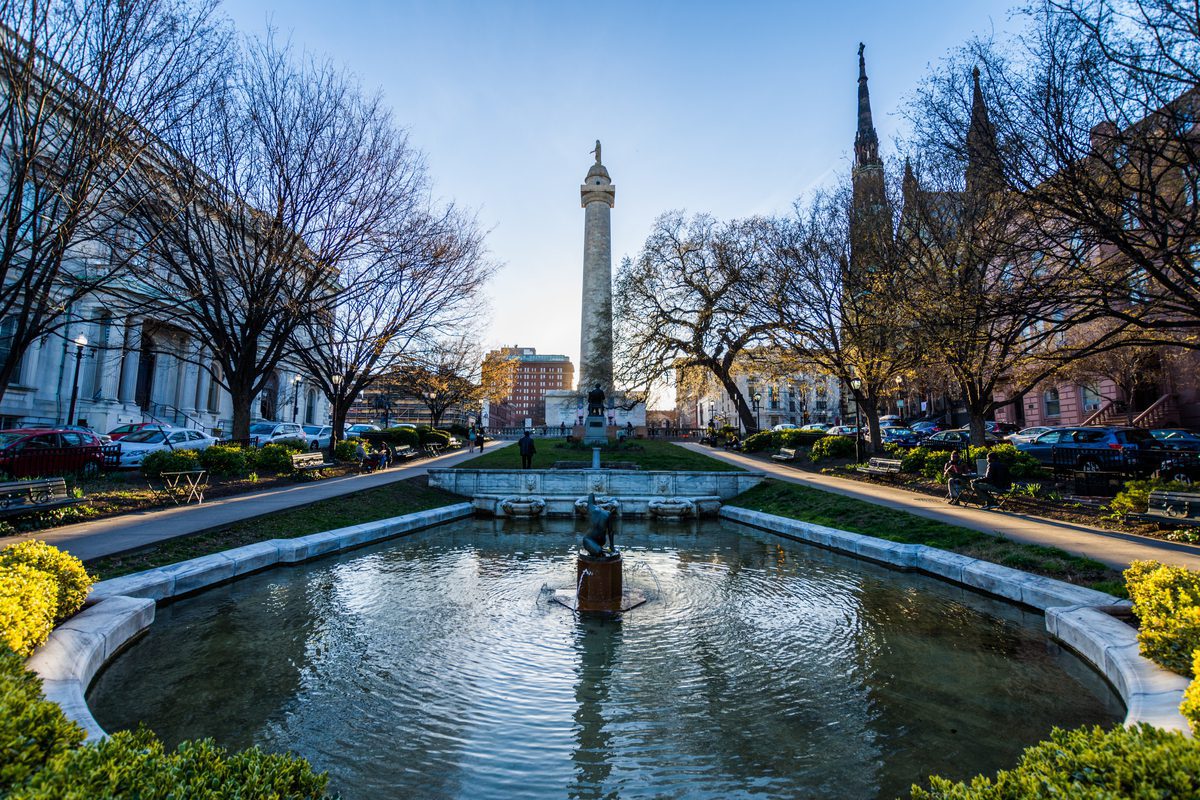 A direct line north of Inner Harbor through Downtown takes you to Mount Vernon. The historic neighborhood lies both in the past and the future. It's rife with historic homes and cherished museums. But it's also a top destination for chic and trendy restaurants and cafés.
Mount Vernon surrounds Baltimore's Washington Monument. The Monument City version is over three decades older than its D.C. namesake. In the 1800s, Baltimore's elite loved the neighborhood for its tree-covered streets and quiet living. They built elegant townhomes and mansions that still stand.
The neighborhood is known for its proliferation of professional service providers. Many doctors and medical practices, law offices, architectural firms and financial advisors set up shop here. As a result, Mount Vernon retains an upper-middle-class vibe and suitable housing. With that came a boom of art galleries, cafes, taprooms and bed-and-breakfasts.
While primarily residential, Mount Vernon features a plethora of cultural landmarks as well. The Walters Art Museum, George Peabody Library, Peabody Conservatory and Center Stage all entertain here.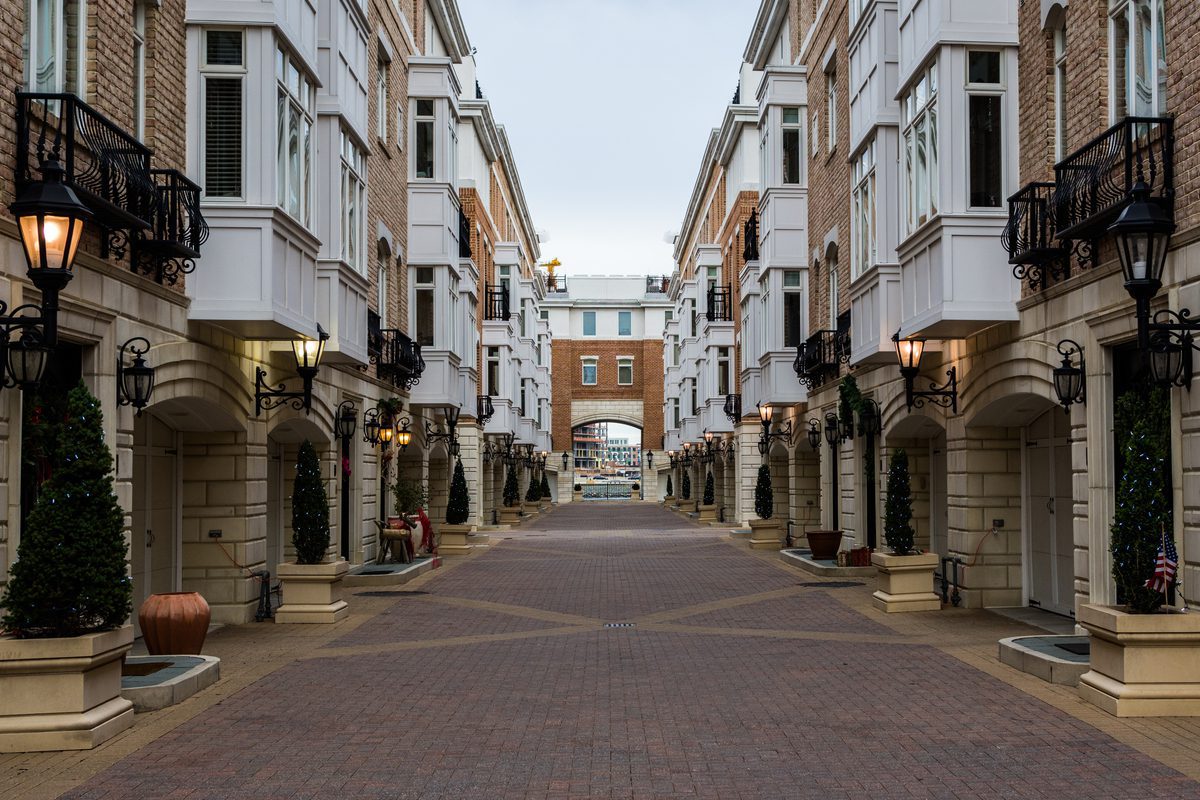 Looking out over the water from Inner Harbor is a view of a lush plateau on the water. This overlook is known as Federal Hill. The hill is the focus of Federal Hill Park and the surrounding eponymous neighborhood.
Lying behind the prominent hill is a historic neighborhood occupying the point of the South Baltimore Peninsula. The district has row and townhouses, apartment buildings and multi-story family homes. In Federal Hill's southwest corner is Cross Street Market. The historic marketplace and adjacent areas offer a plethora of homey eateries, grocers, bakeries, butcheries, coffee shops and vendors.
While Federal Hill overlooks the water, its waterfront is actually part of the Inner Harbor neighborhood. But that does give residents easy access to the Maryland Science Center, volleyball beach, harbor marina and the famed Rusty Scupper.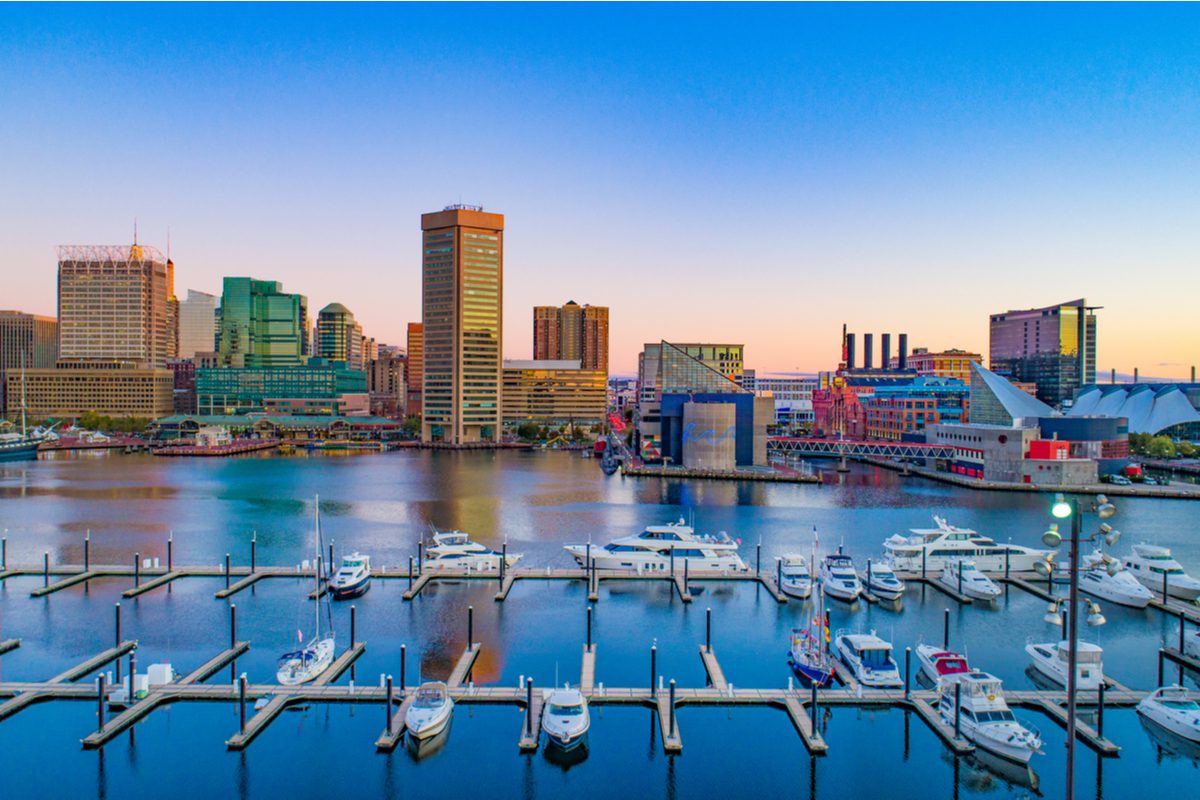 To no one's surprise, Charm City's most beloved district is also one of the best neighborhoods in Baltimore. Inner Harbor is as described. It's the downtown tourist and loft district surrounding the Patapsco River harbor. It covers the entire north side of the harbor region from Riverside to Jones Falls.
In recent decades, neighborhoods like Fells Point, Federal Hill and Canton have surpassed Inner Harbor in trendiness. But Inner Harbor remains reliable and popular, both among locals and tourists.
For better or worse, dependable locales like the Cheesecake Factory, Hooters and Bubba Gump Shrimp Company still hold attraction. Inner Harbor still remains the city's key district for tourism and family entertainment. The National Aquarium, Port Discovery and USS Constitution attract scores of visitors.
There are very few rentals and homes in Inner Harbor. That means those that come to market demand high prices. Living in Baltimore's most touristy district isn't for everyone. But for those that do, your own bed just steps away from some of the city's most beloved attractions and eateries and a picturesque waterfront.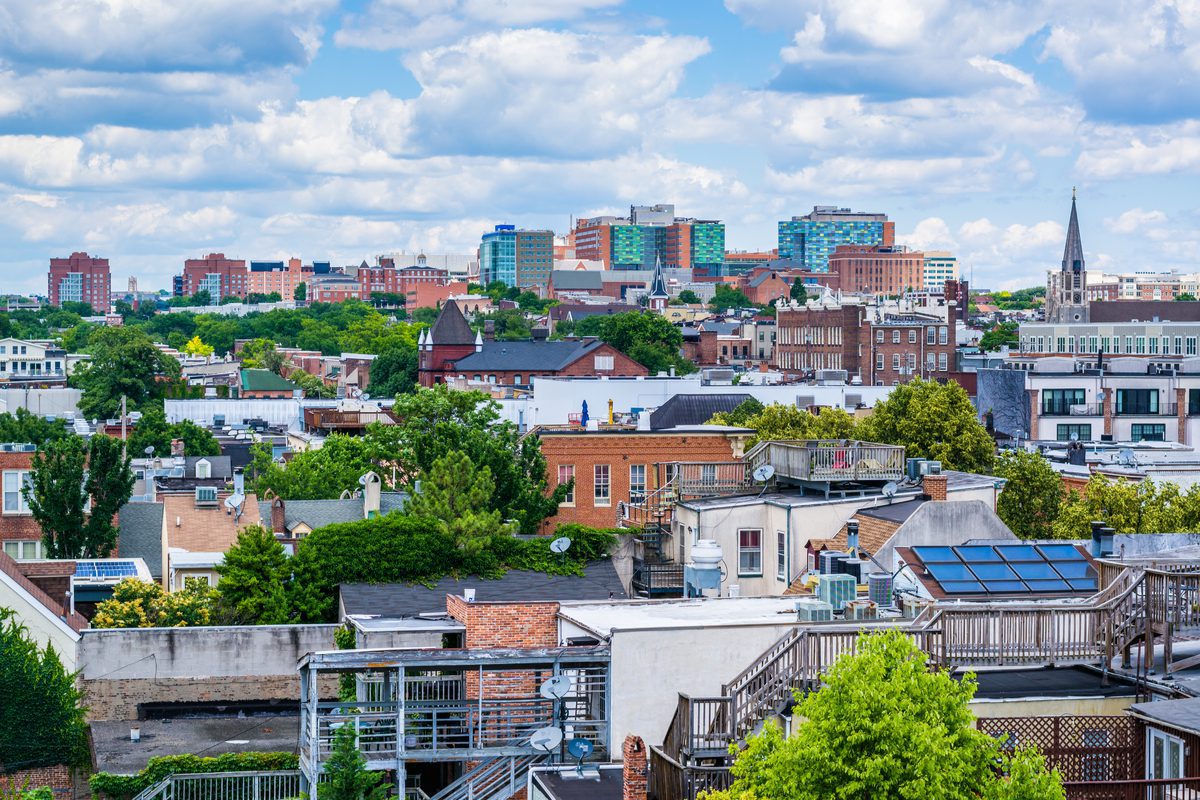 If Canton is cool, Fells Point is hip. And while "Homicide: Life On The Street" left viewers with the impression the neighborhood was downtrodden, it's actually one of the city's most vibrant.
Unlike its more commercialized neighbor to the east, Fells Point has a more organic vibe. Lively streets show off with record stores, friendly restaurants, coffee shops, a market house and well over a hundred bars and pubs.
Fells Point is one of Baltimore's most traditional immigrant neighborhoods. Eastern European ex-pats poured in during the postwar years. Today, nearly a quarter of Fells Point residents have Latino ancestry. Over the last half-century, more upper and upper-middle-class residents have folded in alongside.
But along the Fells Point waterfront is where the neighborhood becomes much more upscale. Luxury hotels, stylish restaurants, upscale bars and marinas line the river.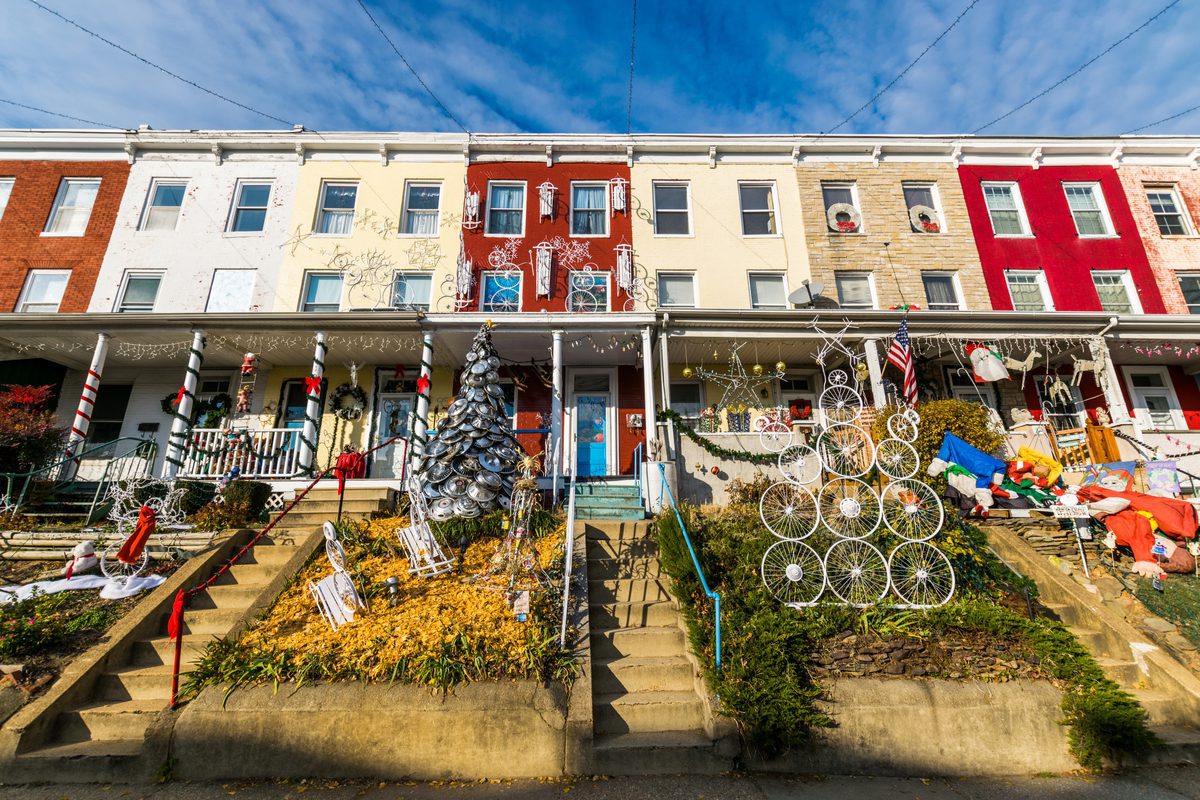 The leafy neighborhood of Hampden is one of the best neighborhoods in Baltimore away from downtown. It fields a prime location, tucked in between Druid Hill Park and the campus of Johns Hopkins University.
For years, Hampden's atmosphere was quiet, residential and family-oriented. But starting a decade before the millennium, there was a shift. Artists, creatives and young professionals left downtown and moved in and transformed parts of the neighborhood. Soon after, art galleries, yoga studios, wine bars and vintage boutiques popped up. This created a unique blend of residential and hip, which saw rents and home prices soar.
Hampden is a mix of rowhouses and single-family homes in and around former factory blocks. Being farther out from downtown, apartment complexes thrive, particularly along Roland Avenue. New apartments have also sprung up in the north end of the neighborhood around the Rotunda Shopping Center.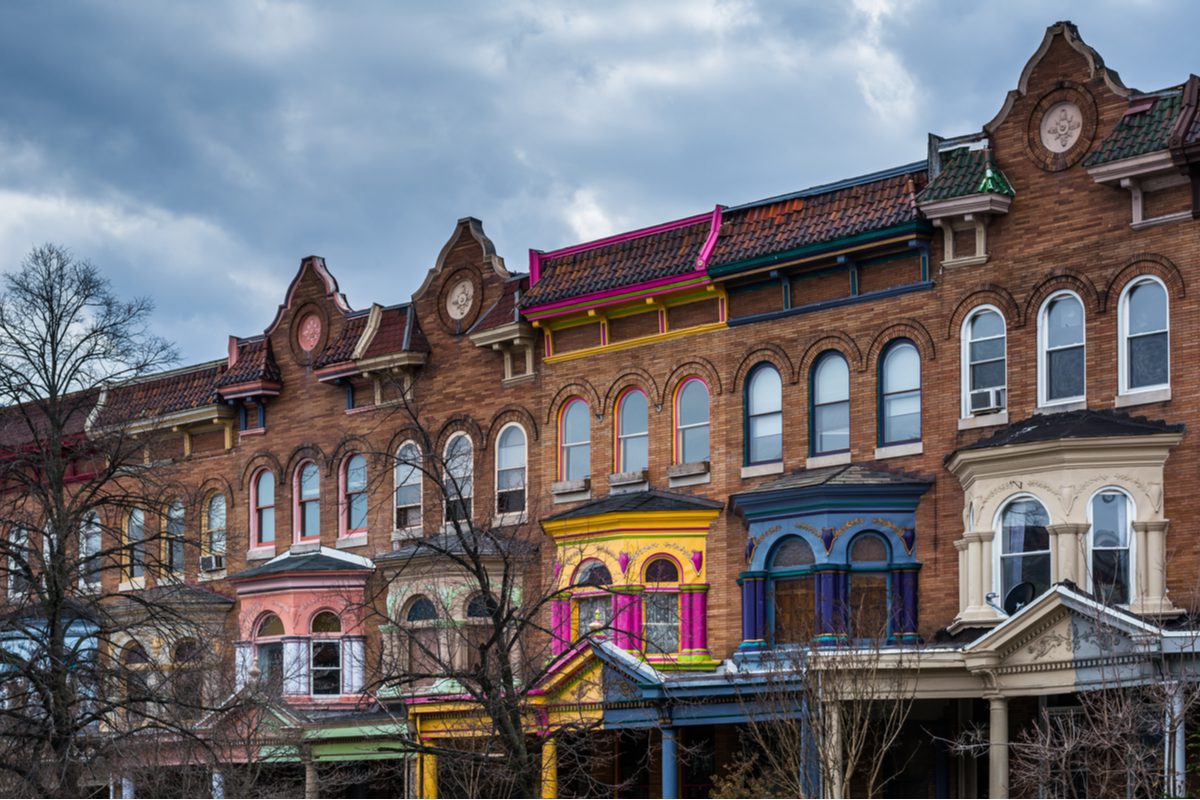 Across the Johns Hopkins campus from Hampden is the quaint neighborhood of Charles Village. The proximity to the university creates a "college town" vibe. Charles Village actually houses many Hopkins' students and staff.
With so many university residents comes the other trappings of living in a college neighborhood.
Many shops cater to students and the hip crowd that comes along with. Vintage boutiques, cheap beer bars, casual restaurants, pizzerias and bookstores line St. Paul Street. And right next door are university museums like the Baltimore Museum of Art and inviting parks like Wyman Park Dell.
Charles Village's mix of students and permanent residents allows for a mix of housing as well. Multi-story rowhomes house families, professors and commuters. But there are also a number of apartment buildings along the neighborhood's north end.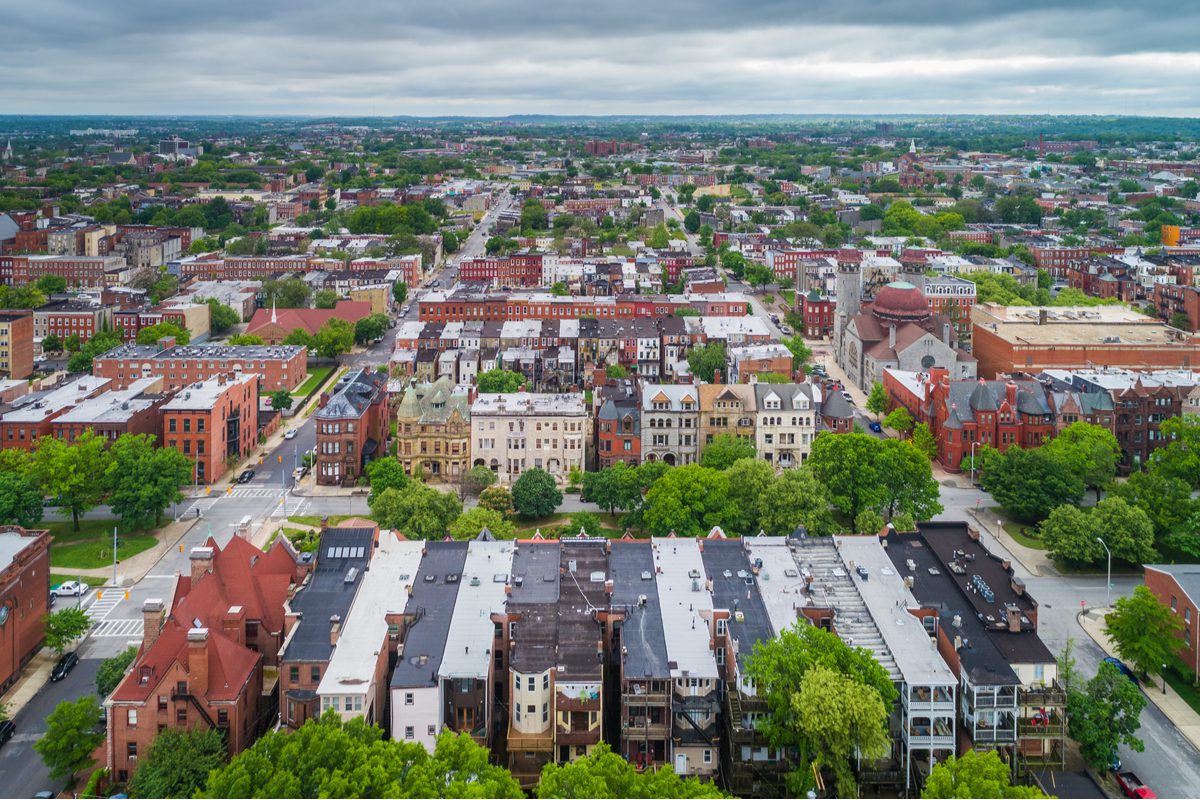 Tucked below North Avenue and I-83 north of downtown is the heritage neighborhood of Bolton Hill. The leafy district is primarily residential. Many of the buildings in the area are historically preserved. Both three-story rowhouses and small-lot single-family homes stand among historic residences. And rising from tree-lined streets are several large, mid-rise apartment buildings.
Many of the restored historic brownstones now house stylish eateries, brewpubs and bistros. Along Bolton Hill's western border is the nine-block Eutaw Place greenway. The 19th century Brown Memorial Church, with its Tiffany stained glass windows, is a neighborhood landmark. And the Maryland Institute College of Art lies in Bolton Hill's east end. The institution has a number of art galleries and performance venues nearby.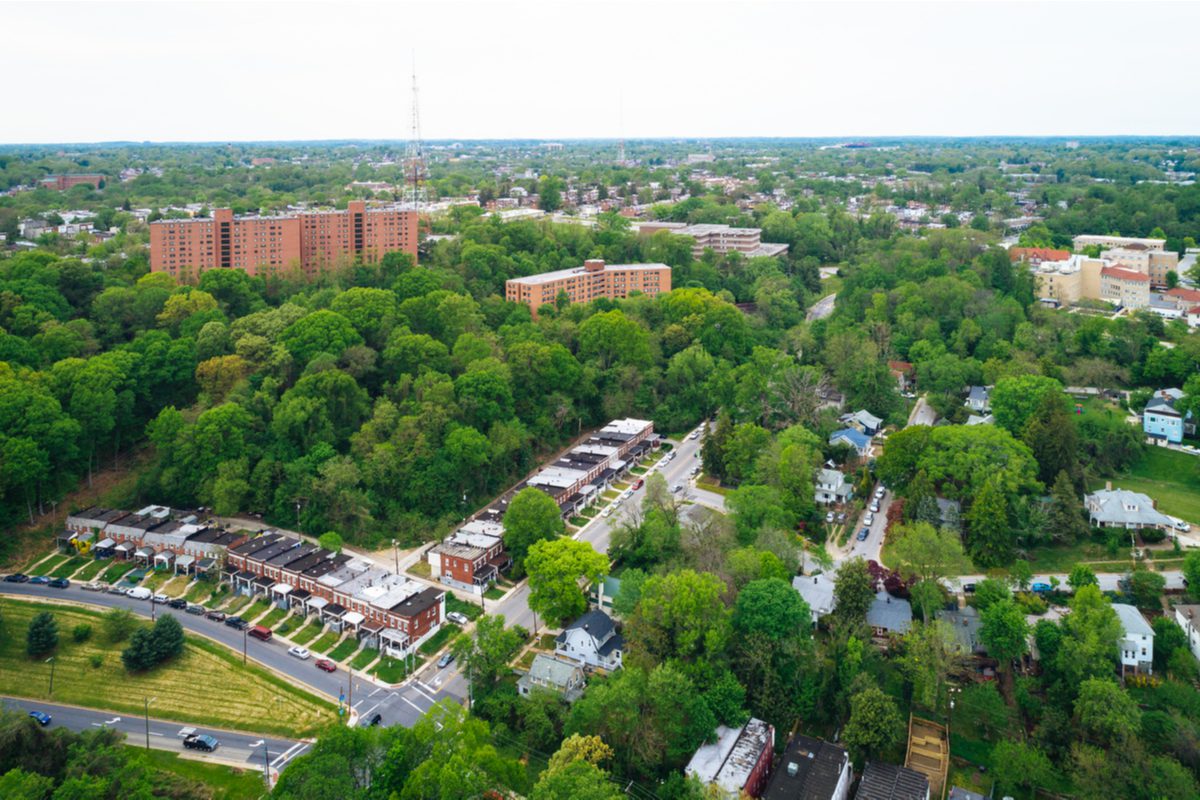 Rising above the city is the hilly neighborhood of Woodberry. So elevated is Woodberry that it is the home of most of Baltimore's broadcast transmission towers. Smack in the middle of residential blocks are masts for six television and four radio outlets. In fact, five Baltimore television stations have their main studios on or near what is known as Television Hill. Local news anchor sightings are commonplace.
The parks that fill the north end of Woodberry offer a bevy of outdoor recreation. The large Woodberry Woods and Cold Spring Park offer a number of paved hiking and biking trails under dense forests. Intercollegiate athletics fan? Woodberry is the site of the 6,000-seat Ridley Athletic Complex. The stadium is home to the Loyola University Greyhounds men's soccer, lacrosse and rugby teams. On the north end of the park is McClure Tennis Center where the Greyhounds' tennis teams battle Patriot League opponents.
The residential sections of Woodberry lie north of Druid Hill Park. In the shadow of TV towers are turn of the century rowhomes and a smattering of apartment complexes.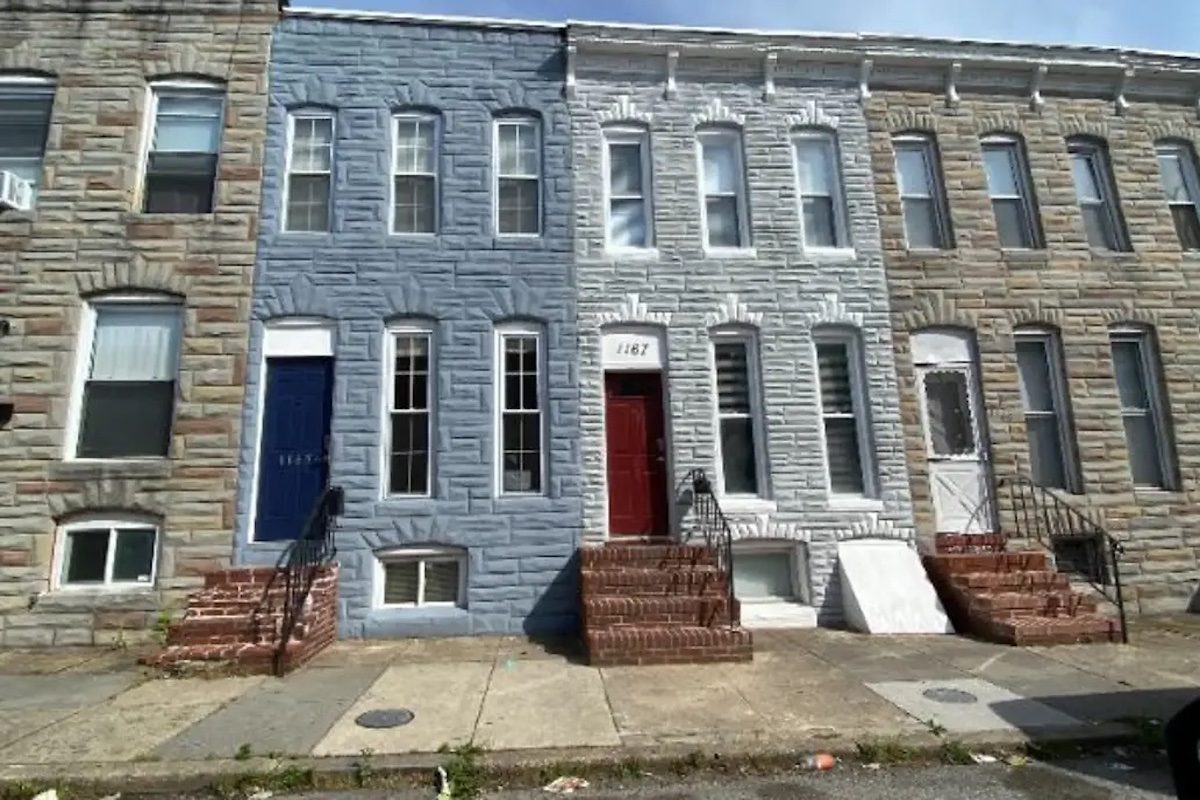 Photo source: 1165 Cleveland St. Apartments / Apartment Guide
Civic leaders and real estate developers would very much love for you to call it Washington Village. But one of the best neighborhoods in Baltimore will never not be known as Pigtown. The neighborhood's unusual name comes from its 19th-century life as a pork processing hub. It was home to scores of packing plants and butcher shops by rail lines.
Pigtown sits southwest of Downtown Baltimore. Its key component is its convenience. It's just west of the stadiums of both the Orioles and Ravens, walkable to the Harbor and down the street from both I-95 and Route 1. It's also adjacent to large Carroll Park. The park is home to several athletic fields and running paths.
The neighborhood still pays honor to its porcine past. The district celebrates yesteryear with the annual Pigtown Festival. The festival's highlight is its famous pig race, The Squeakness. And (apologies to Memphis and Kansas City) the neighborhood bills itself as the "BBQ Capital of America."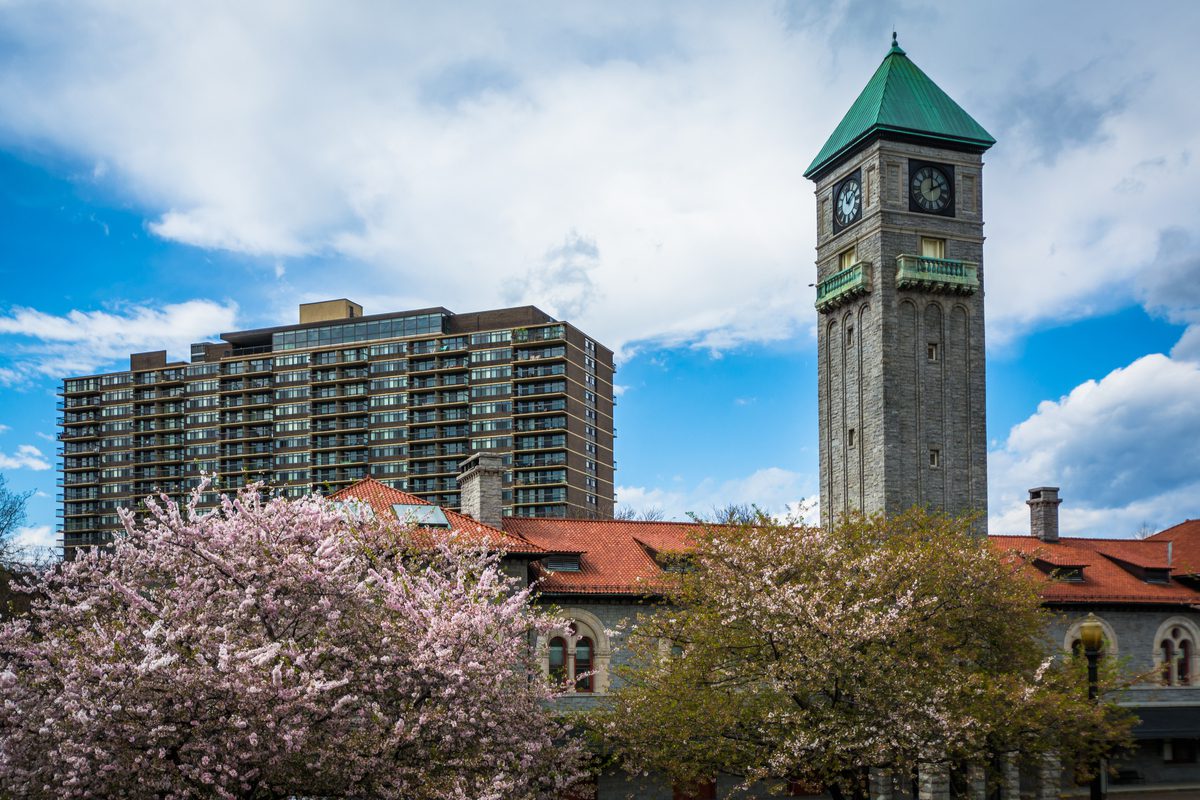 It's located in midtown Baltimore. Its most famous landmark is the 120-year old Belvedere Hotel. It's not too hard to see how Mid-Town Belvedere got its name. It sits just north of popular Mount Vernon. It offers much of Mount Vernon's same atmosphere and amusement, but with fewer tourists and non-locals.
Enjoy Mount Vernon? Its wonders are just steps away. But Mid-Town Belvedere holds its own. The neighborhood features cultural institutions like Meyerhoff Symphony Hall, the Baltimore Theatre Project and Modell Performing Arts Center. It's the site of the urban campus of the University of Baltimore. And it offers a plethora of its own trendy shops, restaurants, galleries and bars, including the legendary Owl Bar.
Mid-Town Belvedere lies adjacent to Amtrak's Baltimore Penn Station. This makes the neighborhood popular for a variety of residents. Most housing in the neighborhood is rentals.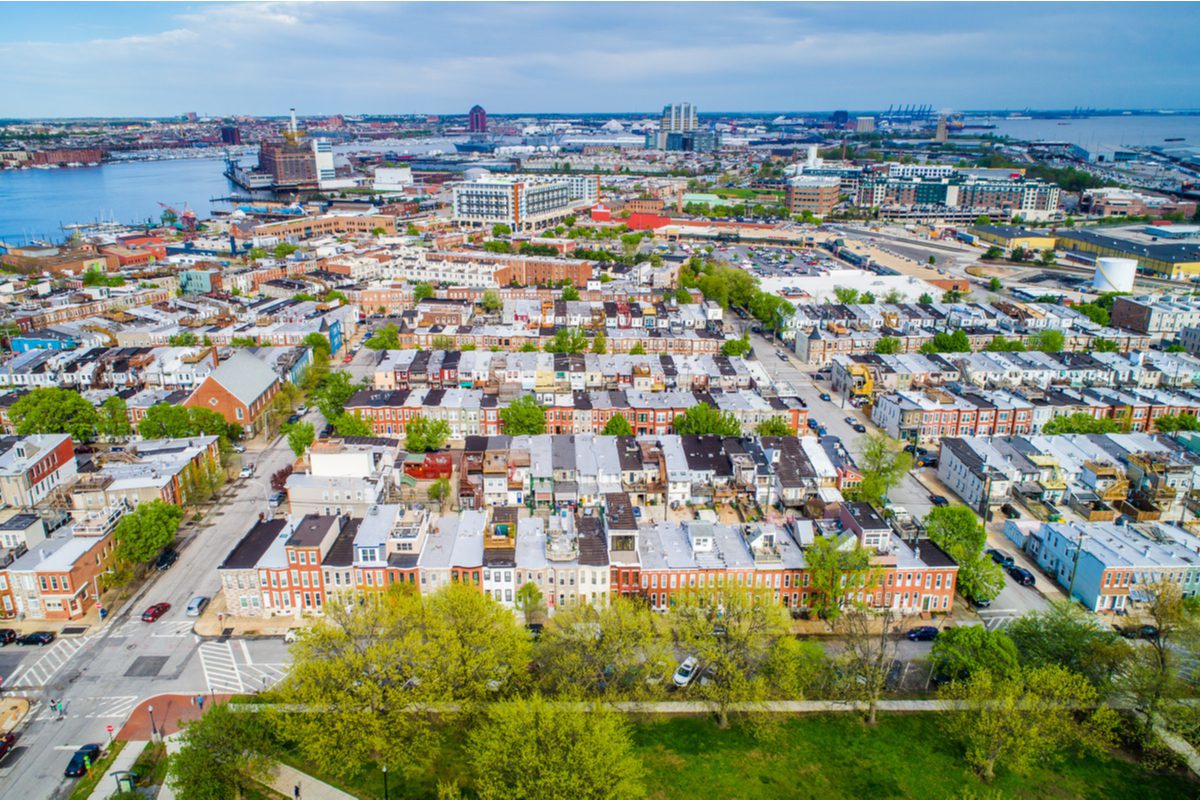 Locust Point is one of the most unique and historic Baltimore neighborhoods. And it's right here in 1814 where Francis Scott Key wrote "The Star-Spangled Banner." The ensign penned the future National Anthem at Fort McHenry. The fort and its predecessors sit at the edge of the South Baltimore peninsula. The location was a key to victories in the Revolutionary War and War of 1812.
Through the early 1900s, the neighborhood became a key industrial region. Recent decades have seen a rebirth of Locust Point as a vibrant spotlight. But the inviting residential district remains surrounded by the Locust Point Industrial Area.
In the elbows of railyards, Locust Point offers the trappings of a young and hip neighborhood. But its somewhat insulated location prevents the full-scale gentrification invasion of Canton or Fells Point. Locust Point's fashionable pubs, wine bars, cafes and restaurants still feel like local hangouts.
Locust Point was once the third-largest immigrant intake community in the nation. Its immigrant past remains in its blocks of identical rowhomes interspersed with apartment houses — revisit that history at the Baltimore Immigration Museum.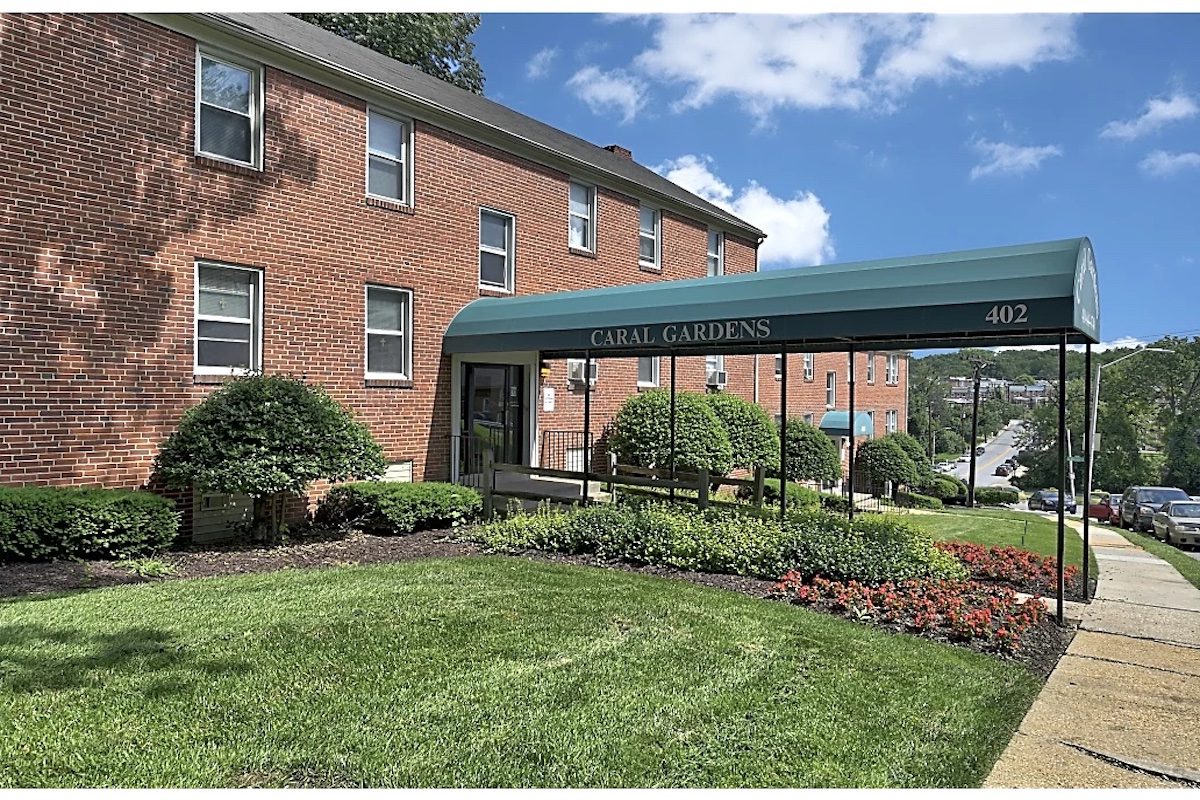 Photo source: Caral Gardens / Apartment Guide
Way out in the western corner of the county is Beechfield. The border Baltimore neighborhood offers a suburban feel and is nearly entirely residential. Among the single-family yarded homes are a number of apartment complexes and townhome villages.
Half of the 72-acre Baltimore National Cemetery also lies in Beechfield. The historic burial ground takes up much of the neighborhood's western section.
The University of Maryland Baltimore County lies just over the city border from Beechfield. With a number of UMBC shuttle bus stops in the neighborhood, it's become a popular location for staff, students and grads.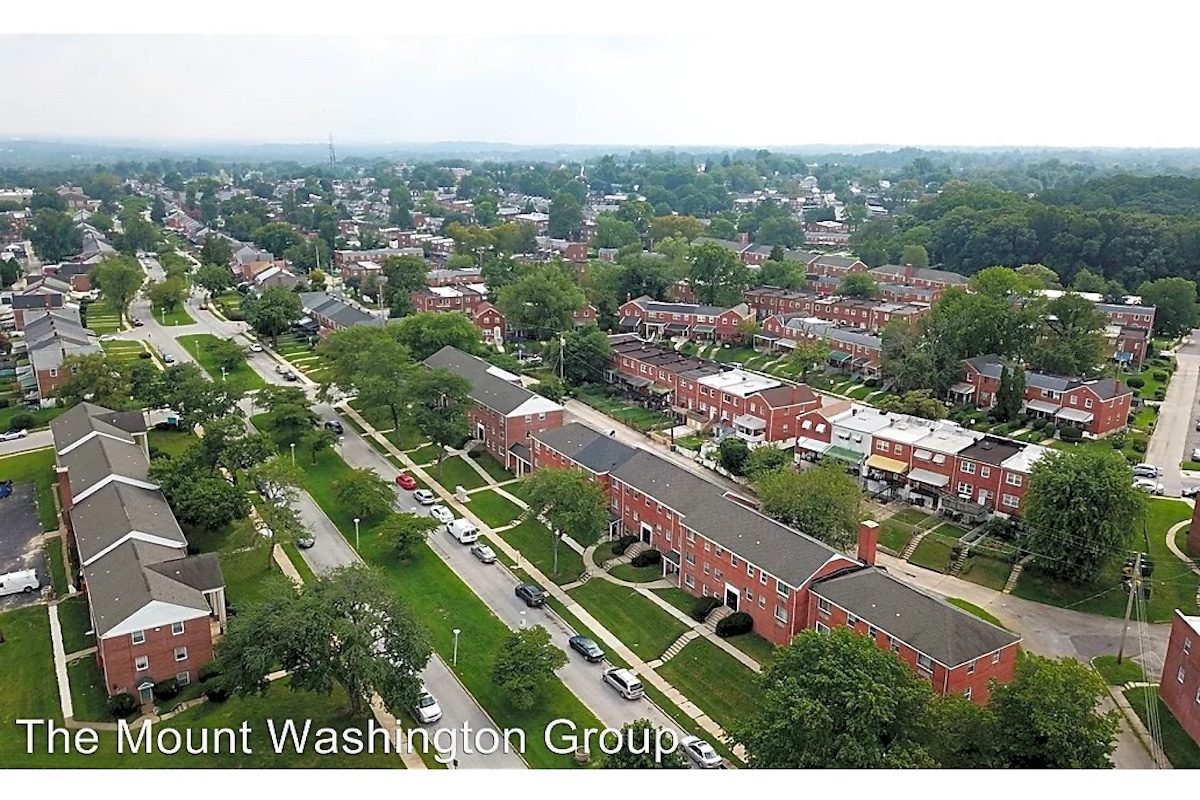 Photo source: Wildwood Gardens / Apartment Guide
A historically Black neighborhood, Edmondson Village saw most of its residents of color vacate the neighborhood in the 1960s. Unfair real estate processes all but forced Black families out of the district. Thankfully, that is changing. Today, Edmondson is a vibrant, diverse middle-class community on the city's west side.
Edmondson Village is a quiet, suburban-style neighborhood. Mostly known as simply Edmondson, the district's entire northern border sits alongside the heavily wooded Leakin and Gwynns Falls parks.
The neighborhood is convenient for downtown commuters. US-40 Edmondson Avenue steers motorists right into Downtown.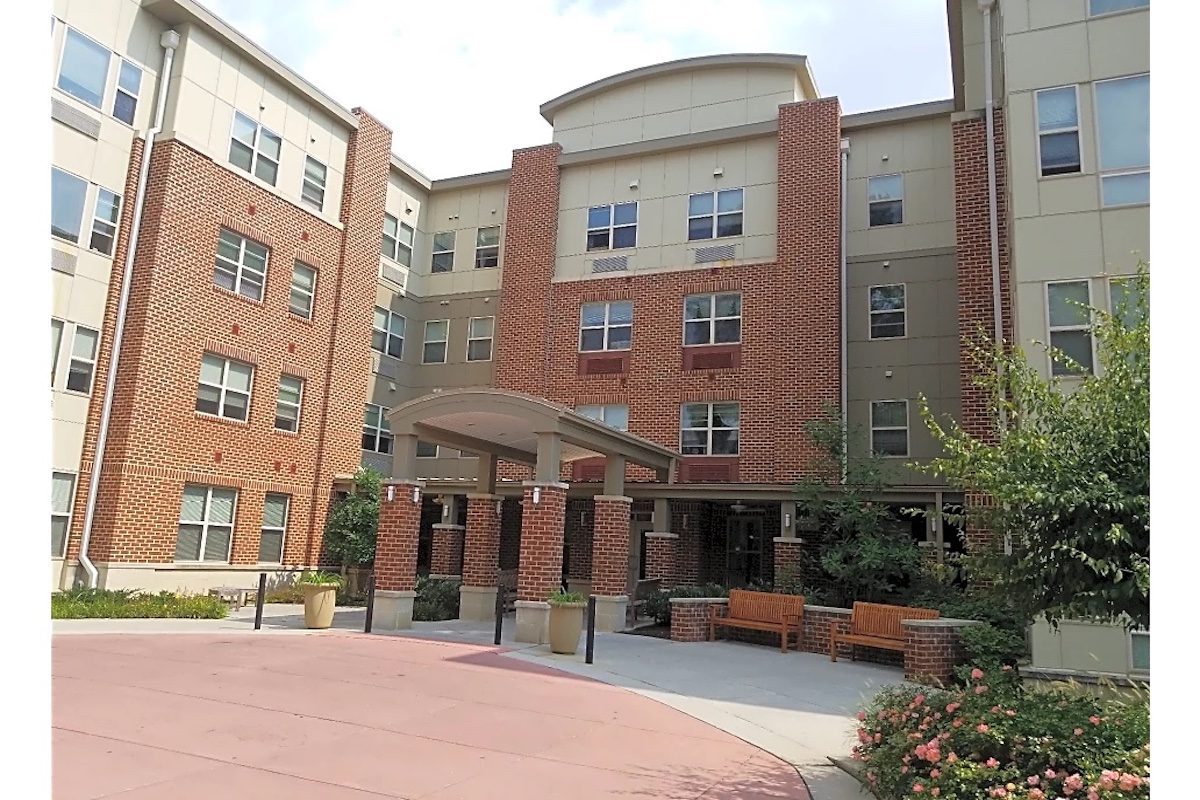 Photo source: Renaissance Gardens Senior Living / Apartment Guide
Just north of massive Druid Hill Park and alongside wooded Cold Spring Park is the neighborhood of Greenspring. The convenient district offers residential solitude with convenience to suburban amenities.
One of Greenspring's top features is its plethora of apartment buildings and complexes. As well, outdoor recreation is right across the street in Woodberry Woods. The neighborhood also lies adjacent to chain restaurants and service stores along busy Park Heights Avenue.
Greenspring is also home to the Sankofa Children's Museum of African Cultures. The educational institution sits in conjunction with the neighborhood's community center.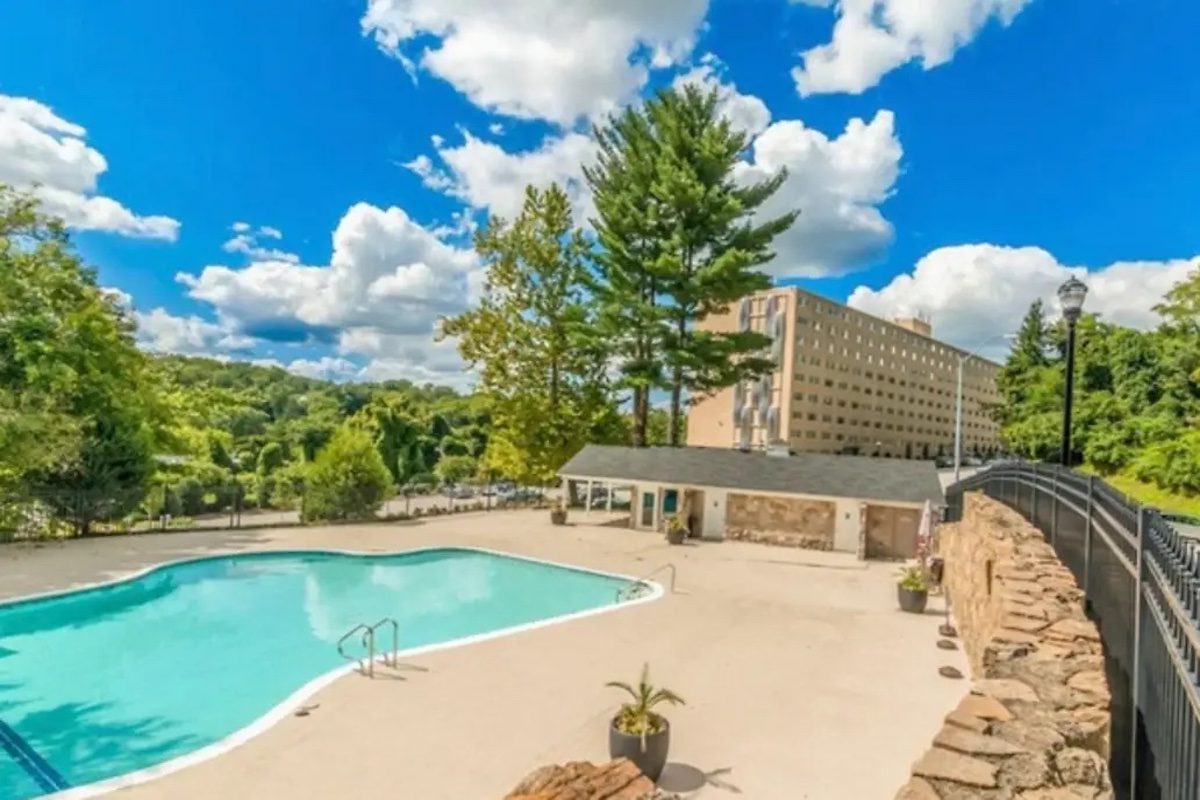 Photo source: The Falls at Roland Park / Apartment Guide
Cross Keys is a small strip of land slid between wooded Roland Park and I-83. But there's really only one thing you need to know about the neighborhood to decide if it's for you.
Oprah used to live here.
Before Oprah became Oprah, Ms. Winfrey was a news anchor at Baltimore's former ABC affiliate. The young journalist lived in a modest rowhome at 8 Cross Keys Road. Her commute was just nine minutes to WJZ and 12 to downtown.
Lady O's block aside, residences in Cross Keys are primarily apartment complexes and condos. This differentiates it from its Roland Park neighbor. Apartments and homes in the district are largely upscale. That is thanks to financier James Rouse. In the 1960s, Rouse developed the land and owned most of it.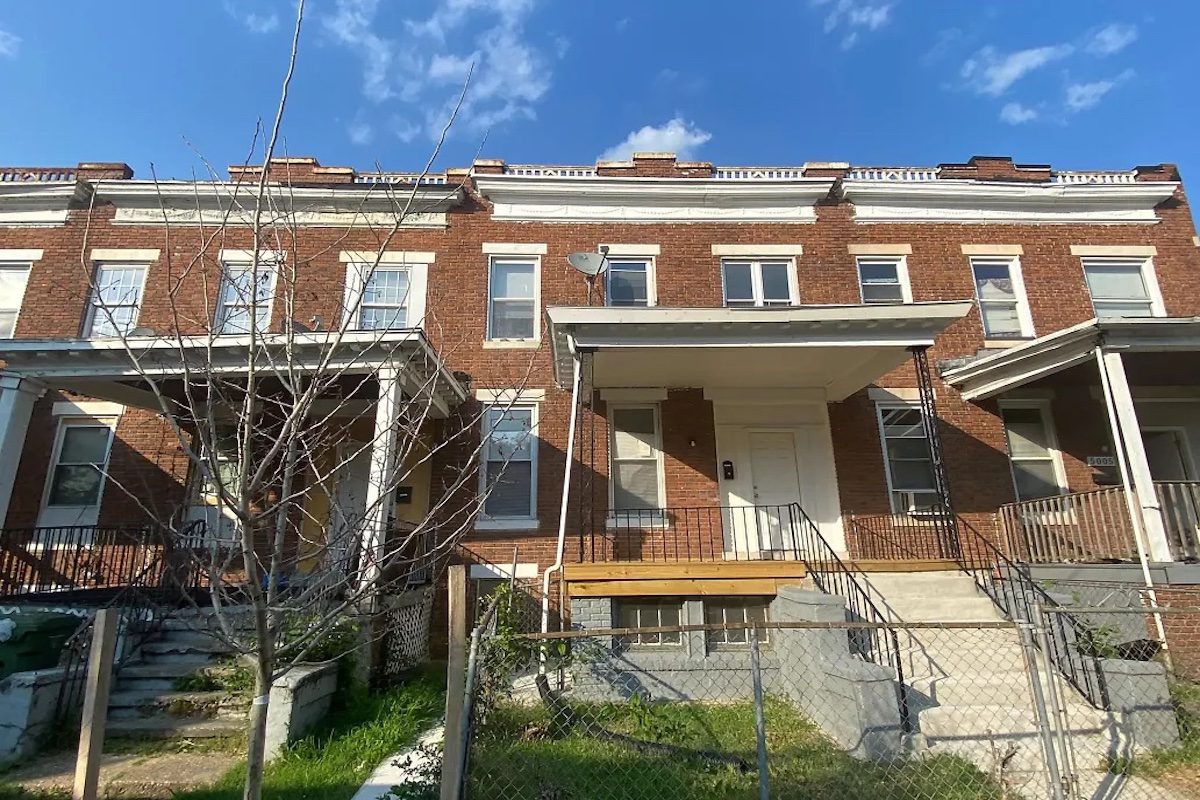 Photo source: 5007 Elmer Ave / Apartment Guide
You're probably familiar with Pimlico Race Course. You may know it best as home to The Preakness, the second leg in horse racing's Triple Crown. And just off the first turn is the neighborhood of Central Park Heights. In fact, residents along West Belvedere Avenue can take in the action from their upper floors and roofs.
Horse racing aside, Central Park Heights is a diverse residential neighborhood five miles north of downtown. Former rail boulevards Park Heights Avenue and Reisterstown Road serve as commercial hubs. Radiating out are shady residential streets. Most of Central Park Heights' apartment complexes lie northwest of the Avenue.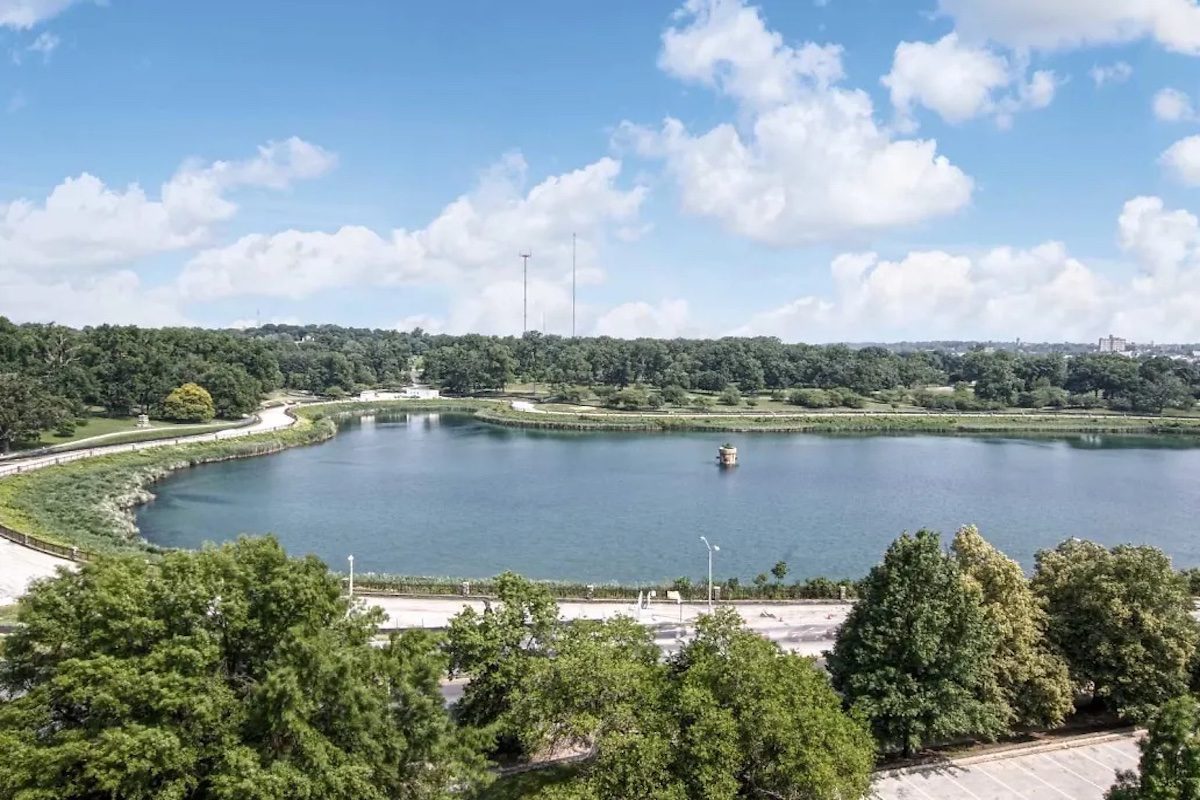 Photo source: Renaissance Plaza / Apartment Guide
It's easy to see how Reservoir Hill got its name. Fifty-five-acre Druid Lake sits just off the neighborhood's north side. The 150-year old reservoir is one of the nation's largest earthen dammed lakes.
The district that lines Druid Lake is Reservoir Hill's most distinctive feature. Druid Park Lake Drive is a kilometer-long scenic boulevard that separates the reservoir from the neighborhood. And the residences along its route are a distinct dichotomy. Several elaborate century-old Victorian mansions line the lakeshore. And interspersed among them are a number of midrise apartment towers overlooking the lake.
Elsewhere in Reservoir Hill, residences mostly consist of brownstones and brick rowhomes. Several lie in the preserved Reservoir Hill Historic District. On the eastern side of the neighborhood is the Mount Royal Terrace Historic District. The region lies between I-83 and the Park Avenue greenway. The deep-rooted preserved mansions have distinctive terraced front yards along tree canopies.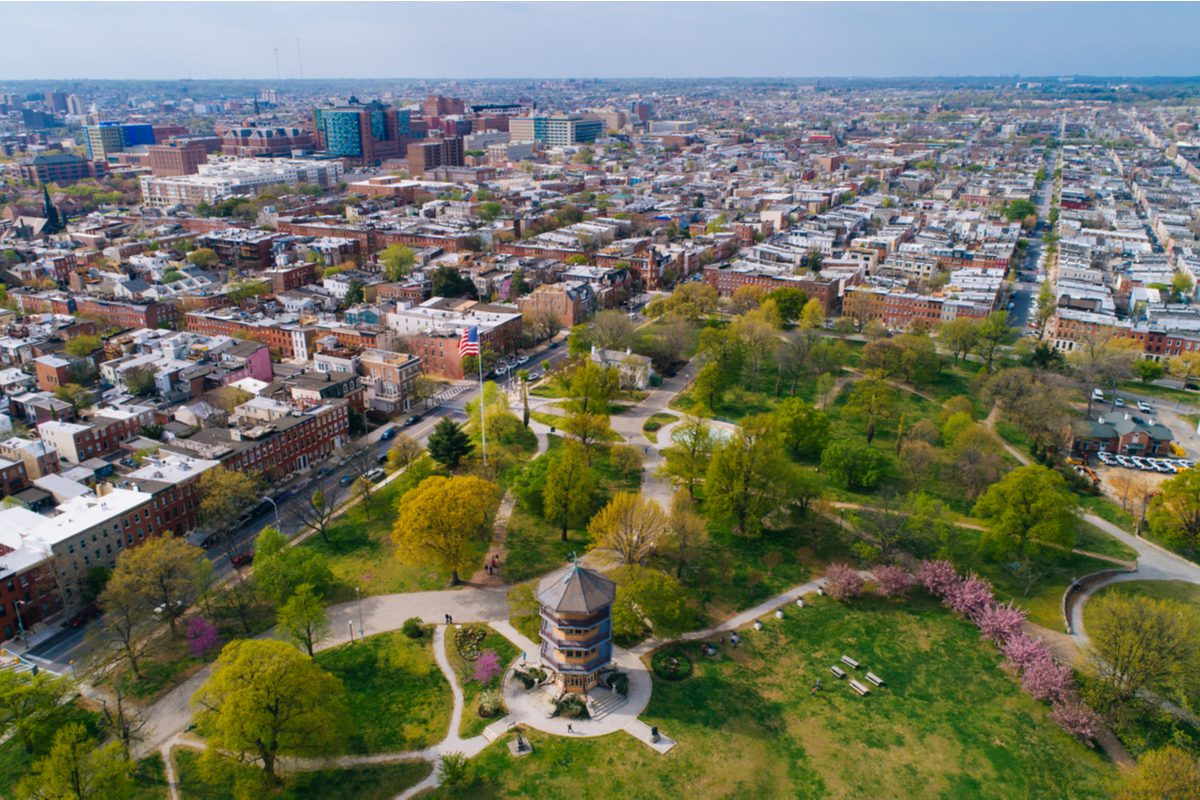 Without hyperbole, most of the neighborhood of Patterson Park is made up by the park of Patterson Park. In fact, the park covers over half of this southeast Baltimore neighborhood.
The residential side of Patterson Park is a neat accumulation of blocks of single-family homes dotted with small apartment buildings. The neighborhood is at the intersection of Baltimore Street and Linwood Avenue. There is little commercial business in the district. A few restaurants and shops line the Fayette Street border.
But the primary benefit of living in Patterson Park the neighborhood is its namesake park. The 137-acre green space is the largest urban athletic park in the city. It is best known for its 60-foot high, 130-year-old pagoda. The Patterson Park Pagoda serves as an observation tower with stunning views.
Elsewhere, the park is a recreational and athletic oasis. Patterson Park offers miles of interlaced walking paths and trails. Residents can enjoy a dozen ballfields, basketball courts, a soccer field, swimming pool, boating lake, community garden and ice skating center.
Finding your best neighborhood in Baltimore
Did your favorite Baltimore neighborhood make the list? Is where you live or thinking of moving to one of the best neighborhoods in Baltimore? No matter where you decide to reside, from Arlington to Windsor Hills, somewhere in B'more is exactly the right place for you.
If you're ready to find your dream Baltimore apartment, brownstone, townhome or rowhouse, be sure to check out rentals on Apartment Guide or home listings on Redfin.
Comments
comments