The 20 Best Neighborhoods in Brooklyn in 2021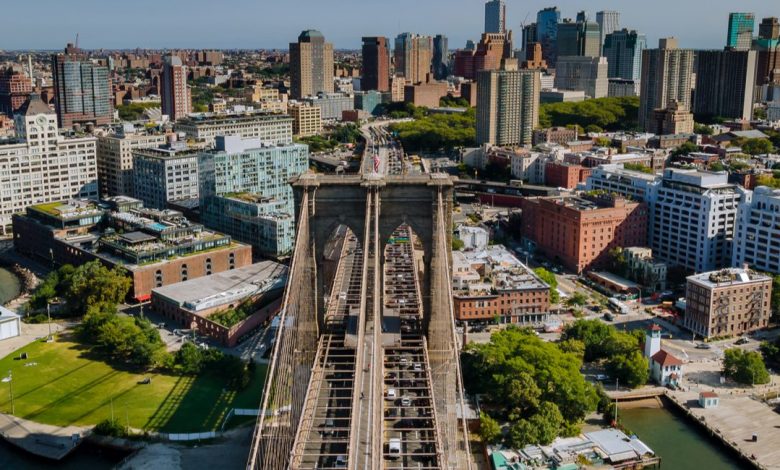 From Manhattan, New York, to Manhattan, Kansas, moving to Brooklyn is a lifelong dream for many. The best neighborhoods in Brooklyn are pretty much around every corner of this part of New York. Brooklyn is a different vibe than living across the river. It's not the Lower East Side, Tribeca, Midtown or even Jersey. It's an eclectic borough, diverse in population as well as lifestyle.
No matter what type of Brooklyn neighborhood you're interested in, there's one for you. The borough offers quiet, family-friendly neighborhoods full of parks and brownstones. It has bustling regions teeming with nightlife, skyscrapers, concert venues and sports arenas. And of course, you'll find every shade of hipster, millennial and bohemian intermingling with yuppies and young families on blocks lined with music stores, cafes, yoga studios and chic restaurants.
But among the 77 or so Brooklyn neighborhoods, which are the best post-pandemic? We evaluated every neighborhood for walkability, commute time, livability, parks and green spaces, schools, entertainment, drinking and dining, waterfront access, safety, recreation, rent prices, cost of living and more to determine the 20 definitive best neighborhoods in Brooklyn to live in 2021.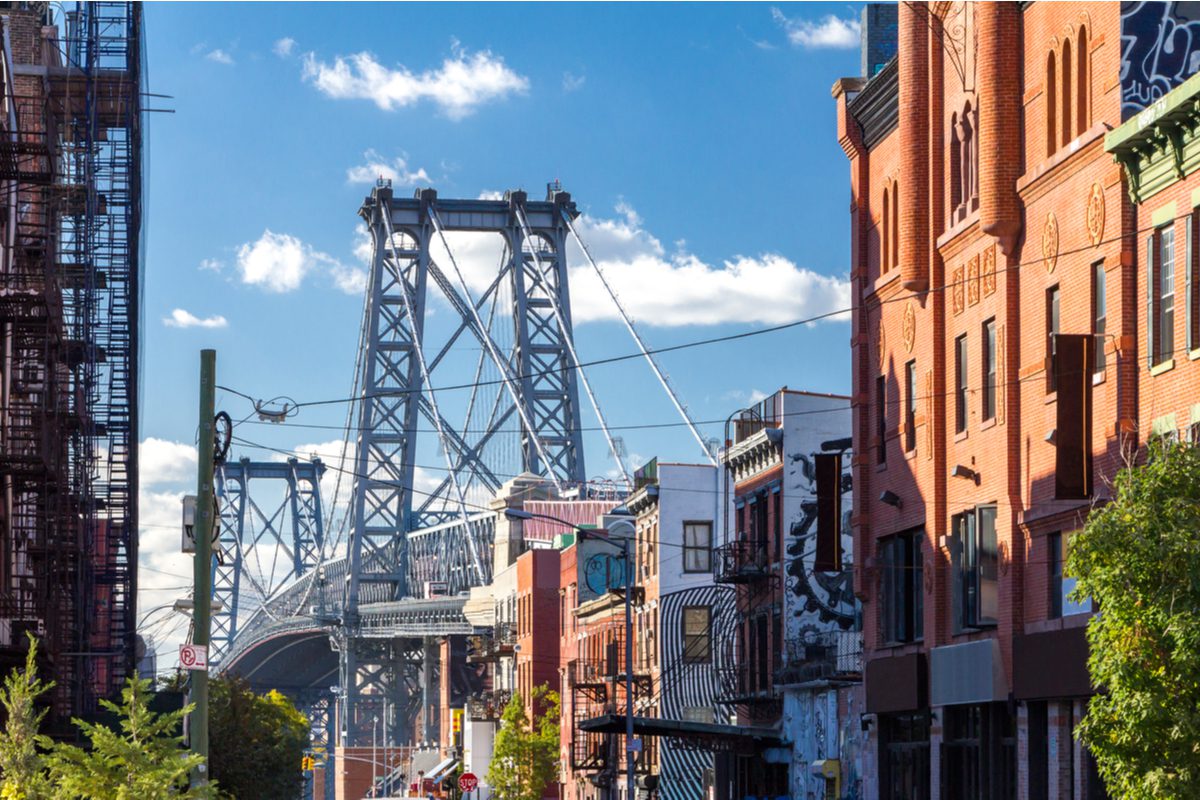 Walk Score: 97
Transit Score: 96
Bike Score: 90
It's known around the world as the epicenter of hipster culture. It's Brooklyn's hotspot for young folks across cultures. Williamsburg has a little bit of everything for anyone. The first stop from Manhattan on the L train, the "New SoHo" features fancy art galleries set up next to grungy bodegas, high-end condos next door to crowded laundromats and million-dollar apartments on the same block with still-churning factories.
Williamsburg was a crowded immigrant and industrial enclave until the opening of the Williamsburg Bridge changed everything. Today, it's the dictionary definition of a cool, hip and bustling gentrified yet diverse neighborhood. Williamsburg has pricey condos, luxury apartments, lofts, studio high-rises and two-story single-family homes. It's a mix of young professionals, artists, millennials, families, real estate entrepreneurs, incubators, Hassidic Jews and generational legacies.
Whatever you're looking for, you can probably find it in Williamsburg. A movie theater, an Apple store, riverside parks, a Whole Foods, breweries and tobacco shops. It's also the spot for some of the best restaurants in the city including Peter Luger's Steakhouse, and a dozen or so music venues like Brooklyn Steel, Music Hall of Williamsburg and Baby's All Right.
Williamsburg's popularity, desirability and high profile land it at number one on our list as the best neighborhood in Brooklyn. But be prepared to pay for the privilege. Its success and status have translated into some of the highest rents in all of New York.
Walk Score: 95
Transit Score: 98
Bike Score: 84
Just southeast of Williamsburg is its less famous sibling, Bushwick. On the other side of Flushing Avenue from its hipster neighbor, Bushwick has a similar attitude, many sites and tons of people. Yet it features slightly lower prices and maintains a pre-gentrification vibe. And you're always just a few blocks from Williamsburg nightlife.
If you're looking for a spot like Williamsburg, but before Williamsburg became Williamsburg, Bushwick is the place.
Locals have kept the historic and homey charm of the old neighborhood. The large Latinx population easily intermingles with artists, filmmakers and young families folding in. Rents have stayed comparatively low as the neighborhood maintains blue-collar roots.
Old Bushwick stands strong and attainable in the face of change. The neighborhood offers accessible green spaces, dive bars and old school restaurants, street art and warehouse galleries. Yet you can also find trendy eateries, fancy wine bars and new-age boutique condos full of locals young and old. The neighborhood's diminutive size has allowed the traditional to exist aside from the new.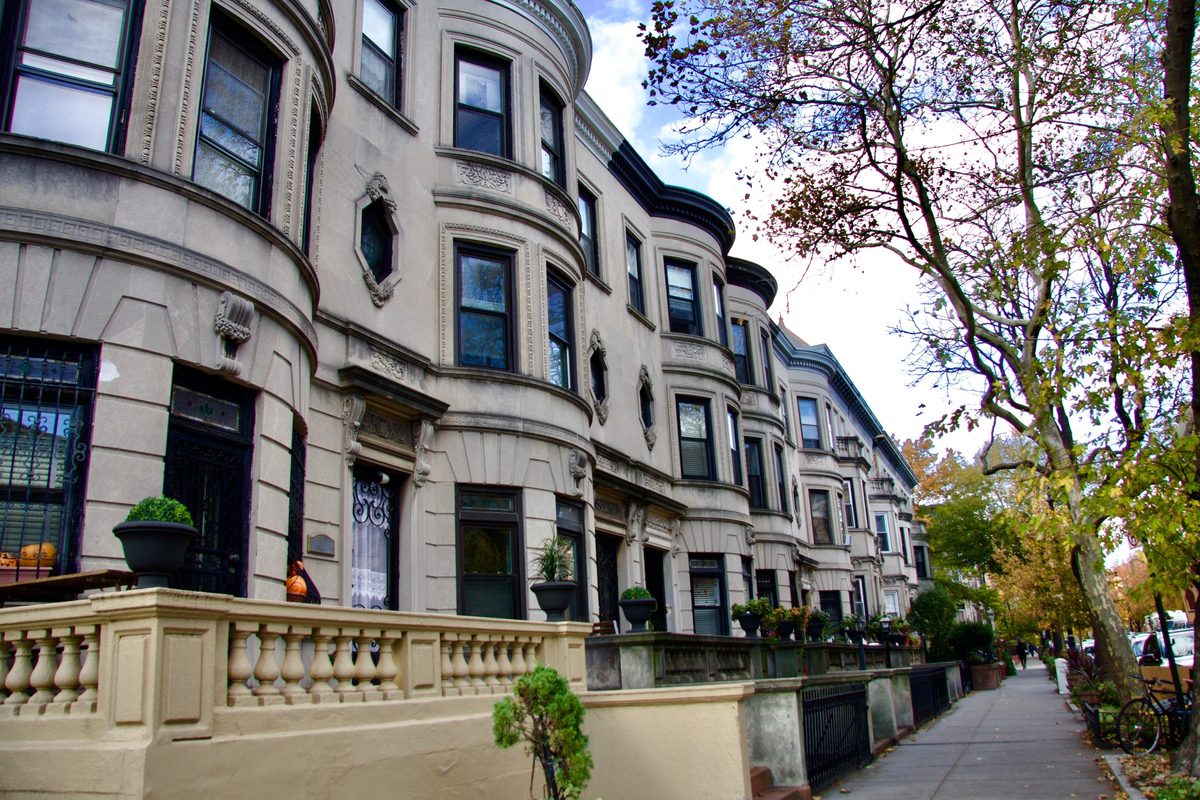 Walk Score: 95
Transit Score: 97
Bike Score: 79
Before hipsters hit Brooklyn, Bedford-Stuyvesant was arguably the most popular (or at least the most well-known) neighborhood in the borough. Today, Bed-Stuy is a traditional neighborhood that fought off gentrification while becoming desirable and affordable. It retains the amenities being proximate to Williamsburg and Bushwick.
Bed-Stuy has been an epicenter for New York Black culture for a hundred years. It's been home to icons from Jackie Robinson to Chris Rock, Jay-Z to Mike Tyson. And it also features 9,000 pre-20th century Victorian buildings, the largest collection in the country, including ever-popular brownstones. It's renowned for tree-canopy streets, giving Bed-Stuy a leafy, close-knit neighborhood feel.
Bedford-Stuyvesant is home to political activists, hipsters, writers and artists, attorneys, singers and rappers and multi-generational families. Its many restaurants serve an incredibly diverse cuisine alongside a friendly blue-collar bar scene. Bed-Stuy engenders an intimate communal feel, with summer block parties, movies in the park and active community churches.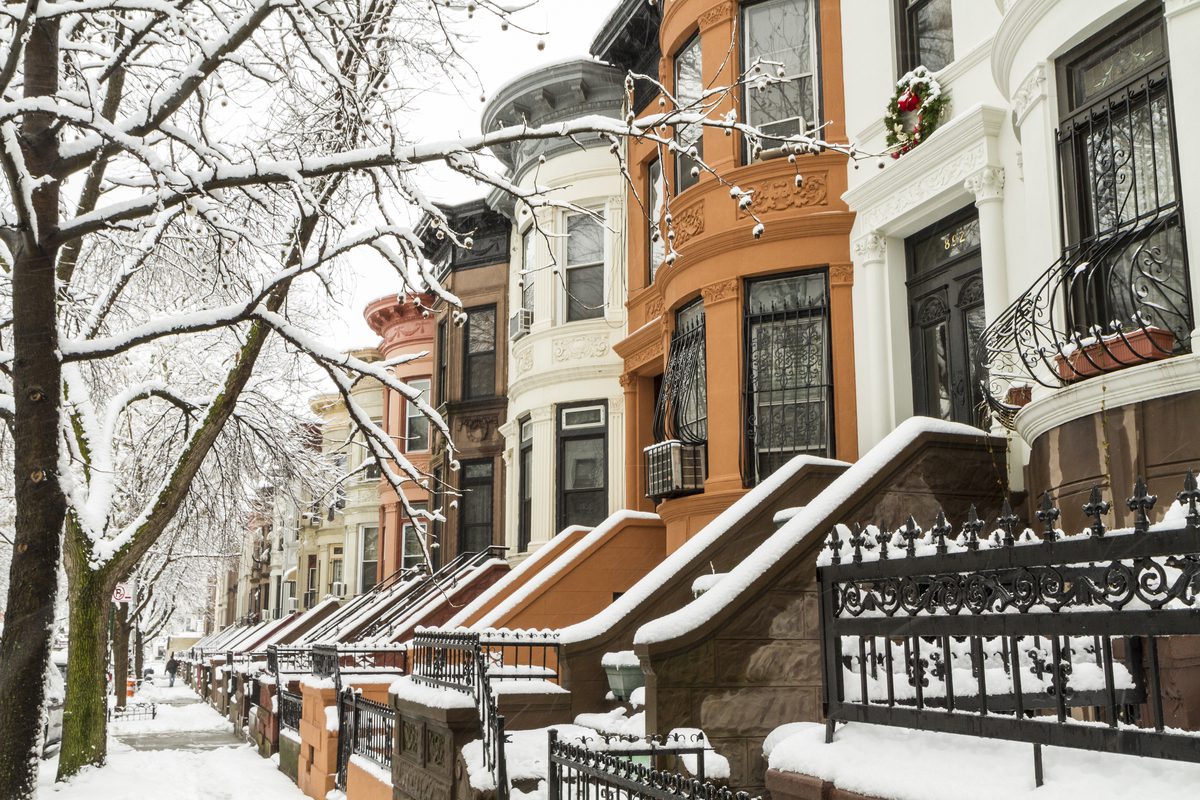 Walk Score: 95
Transit Score: 100
Bike Score: 88
In his iconic 2004 song "King Without a Crown," Hassidic reggae-rock artist Matisyahu sings, "Out of darkness comes light, twilight unto the heights, Crown Heights burnin' up all through till midnight." The track plays tribute to the vibrancy of the artist's Brooklyn home. But in recent years, the traditionally Hassidic district has evolved into a multiethnic enclave. While it remains the epicenter for Hassidic Jewish culture in the US, it now also houses the most varied population of Caribbean immigrants outside the West Indies.
The ever-changing neighborhood maintains the old-world feel of West Indian Black and Orthodox Jewish cultures. But it has also become a popular neighborhood for young professionals, families and white-collar office crowds of all backgrounds. A district of single-family homes, brownstones and high-rises, Crown Heights has slowly become the most desirable region of the borough outside North Brooklyn.
Rents and prices have remained relatively low in Crown Heights. The neighborhood is an attractive alternative for renters priced out of areas like Park Slope. It's comparatively safe and family-friendly. And there is much to do with Brooklyn Botanic Garden, the Brooklyn Museum, Brooklyn Children's Museum and adjacent Prospect Park.
Walk Score: 97
Transit Score: 100
Bike Score: 89
After the city permanently preserved Prospect Park in the late 19th century, Park Slope rose. Victorian mansions and turn-of-the-century multimillion-dollar brownstones flowered above shade tree streets. For decades it was one of the richest neighborhoods in the world. In the 1980s, it became a mecca for yuppiedom.
Today, the makeup of the neighborhood has expanded beyond its yuppie core. Young urban professionals have joined tech workers, creatives, Wall Streeters and college professors, most with children. Park Slope has become the superlative neighborhood for young families as Williamsburg is for hipsters. It's no surprise as the area is known for its slower pace, safety, transit accessibility and excellent public and private schools. It's also Brooklyn's most LGBTQ-friendly district.
While residents might appear as tailor-made suburbanites, the Park Slope neighborhood certainly is not. Among the museums and 600 acres of green space are community gardens, trendy restaurants and bakeries, quaint boutiques, wine stores and coffee shops mostly along Seventh Avenue. With all these amenities, rents in family-friendly Park Slope are among the highest in Brooklyn.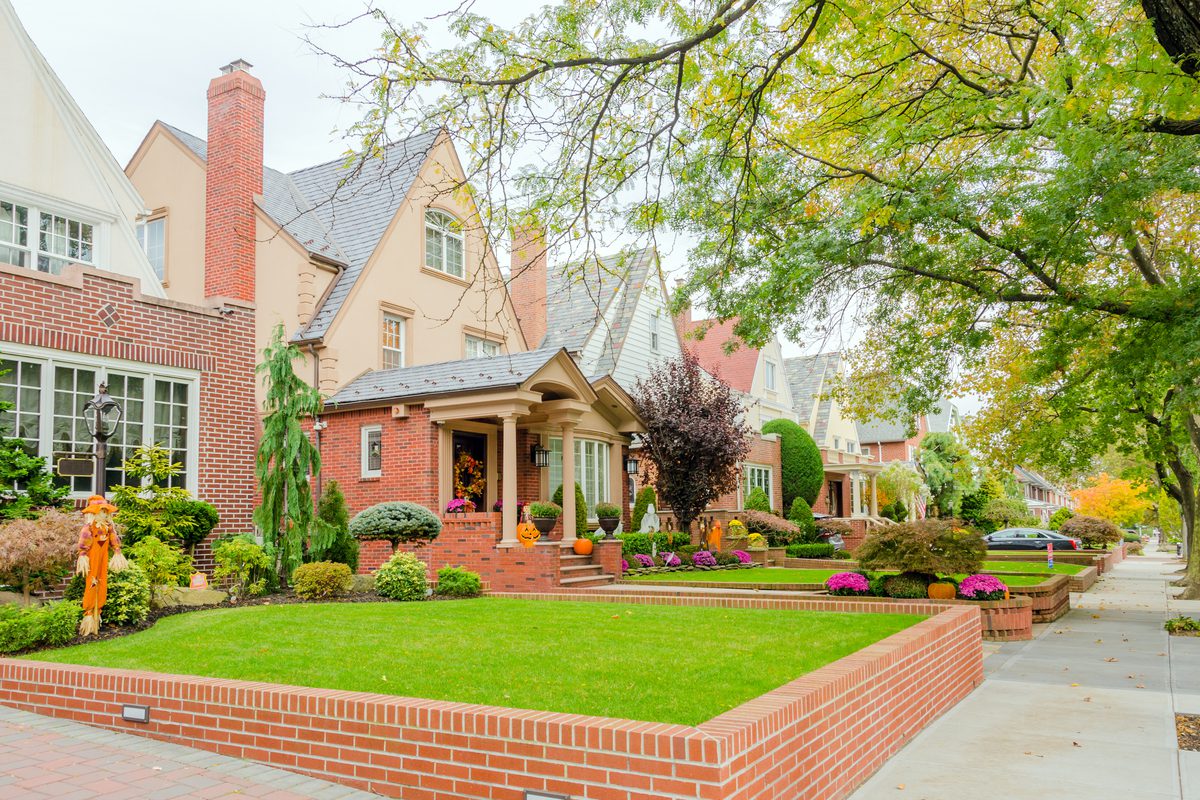 Walk Score: 90
Transit Score: 84
Bike Score: 75
There are a number of Brooklyn neighborhoods noted as family-friendly. But Bay Ridge has been family-friendly for so long, many residents' children have long since grown up and moved away. This left Bay Ridge as a virtual active senior community perfect for older renters.
Generational Bay Ridge residents are very protective of their neighborhood from gentrification. Thanks to that, not much has changed in half a century. The old neighborhood still looks much as it did, with few high rises and isolation in the southwest corner of Brooklyn. It retains a small feel, with detached homes offering backyards, driveways and garages. Two-bedroom homes are often under a million, outside of the old money-gated Harbor View mansions.
Most residents today are professional married couples in their 30s and 40s with families. But Bay Ridge offers much for renters of any age. Upscale shopping and boutiques inhabit 86th Street and restaurants and nightlife spots sit along Third and Fifth. It's one of the few neighborhoods with a full-scale movie theater. Head to the Narrows Botanical Garden for fabulous views of Verrazano Narrows Bridge.
Be warned that its isolation also makes Bay Ridge less commutable. It's the last stop on the R Train, about an hour from Midtown. However, it is also convenient to the South Brooklyn NYC ferry route.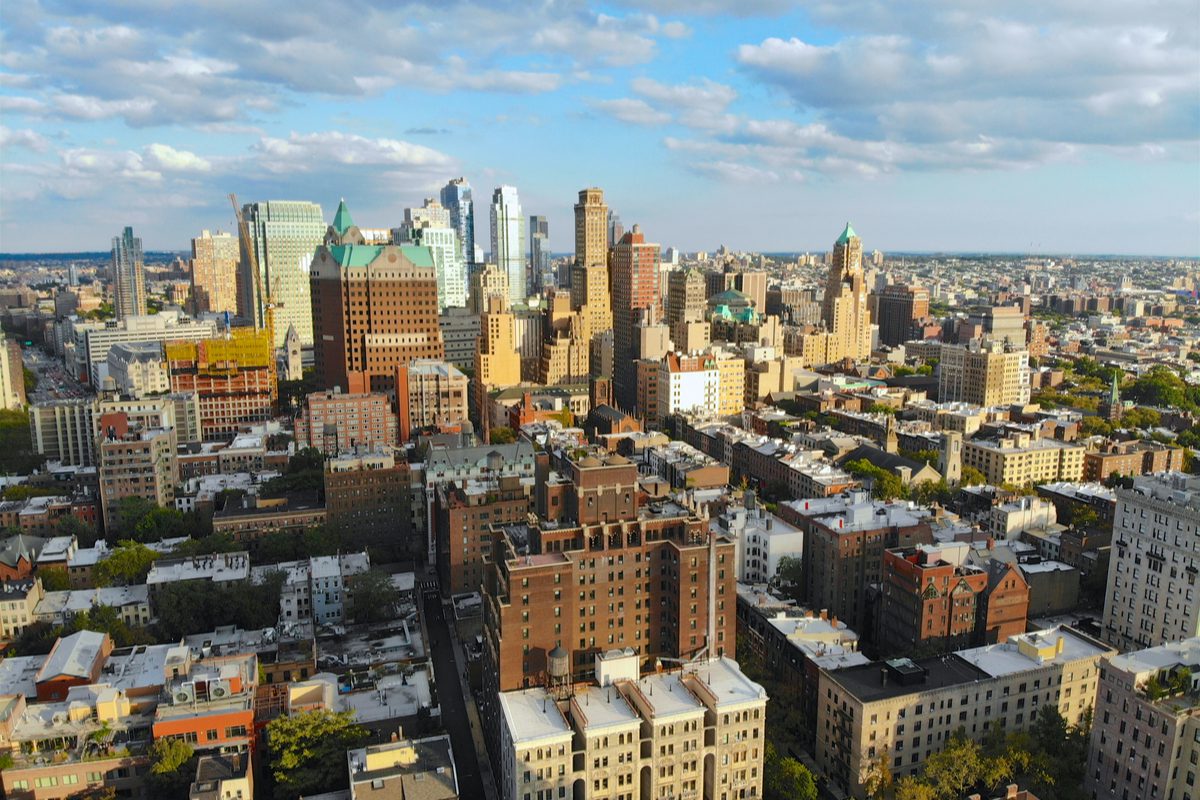 Walk Score: 98
Transit Score: 100
Bike Score: 91
Among the trendiness of Williamsburg and yuppie money of Park Slope, Downtown — the area of Brooklyn across the Manhattan Bridge — often slips under the radar.
The district in the northwestern section is a bustle of commerce and skyscrapers. It's a Central Business District with financial towers and office buildings, high-rise apartments and glistening condos. A wieldy transportation hub in and out of the borough. The center of higher education in Brooklyn, home to New York City College of Technology, Long Island University Brooklyn, St. Francis College and an NYU expansion. It's also the borough's governmental district.
Downtown Brooklyn is a similar alternative to Lower Manhattan or Midtown. At the turn of the millennium, rezoning allowed many unused office buildings to transform into condos, apartments and townhomes. The result was a Downtown opened up to residents it wasn't before. It offers less the charm, hipness and brownstones of Brooklyn, and more the private gyms, doormen and high-floor views found across the river.
Construction all over Downtown continues daily. At 73 floors, a new rental building at 9 DeKalb Avenue going up will be the first mega-skyscraper in Brooklyn. And at its base are the giant DeKalb Market Hall and a Trader Joe's.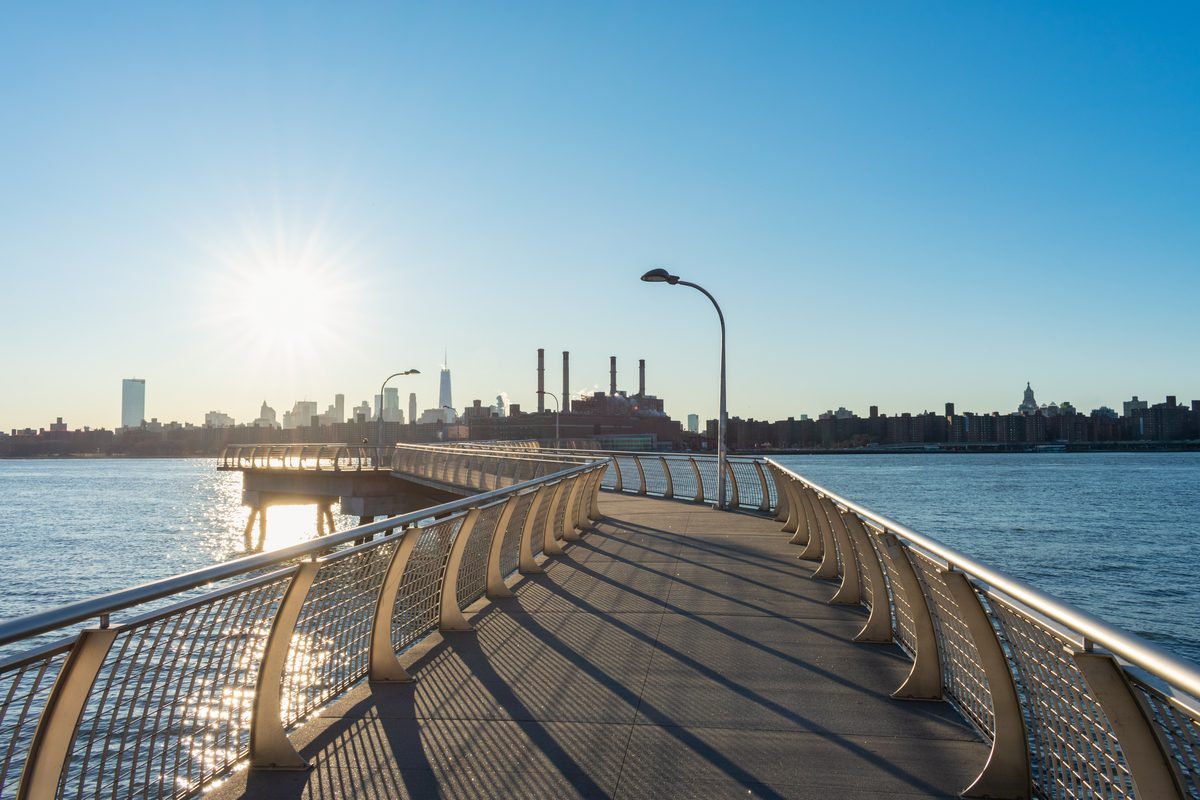 Walk Score: 94
Transit Score: 82
Bike Score: 87
Perhaps its location as home to the girls on HBO's "Girls" encouraged Greenpoint's reputation as a fashionable residence for Brooklyn hipsters. It's become a popular alternate locale for those priced out of or simply over Williamsburg.
The northernmost neighborhood in Brooklyn, Greenpoint sits between Williamsburg and Long Island City at the confluence of the East River and Newtown Creek. Traditionally, Greenpoint was a stronghold of Polish immigrants for decades. But the neighborhood's trendiness is a recent development. That has allowed the neighborhood to feel both young and vibrant as well as traditional and vintage at the same time.
Along Manhattan Avenue, residents will find old-world grocery stores, holistic crystal shops, Eastern European restaurants and delis selling pierogis by the handful. But they mix seamlessly with indie boutiques, converted warehouse lofts and chic cafes on Franklin Street.
Original rowhouses and brownstones line many blocks of Greenpoint. Many of these historic homes enjoy easy access to the G Train central to the neighborhood. As well, the East River Ferry terminal sits right at the end of India Street (where the "Girls" girls lived). Just up the river is unique WNYC Transmitter Park and its 400-foot pier offering Brooklyn's closest view of Manhattan.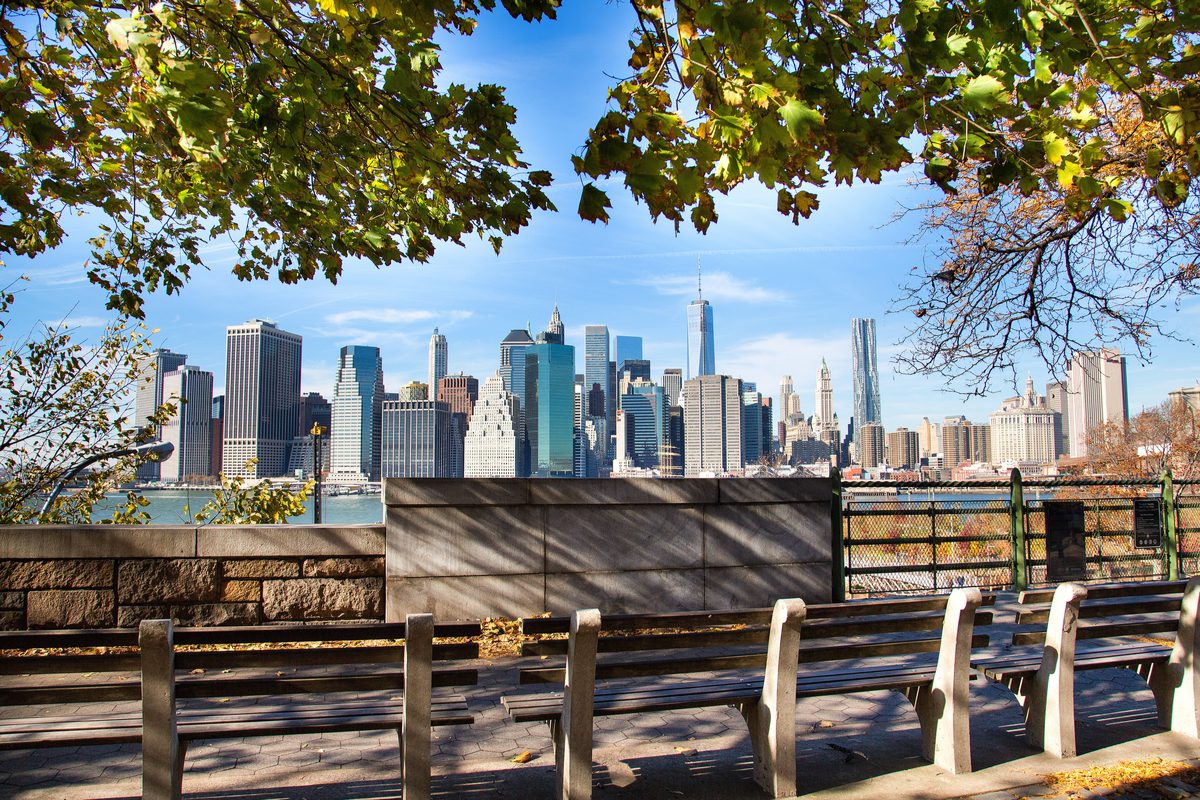 Walk Score: 98
Transit Score: 100
Bike Score: 87
Brooklyn Heights lies directly across the East River from the Financial District and sits in the shadow of Downtown Brooklyn. That is a recipe for a neighborhood of white-collar commuters. One might expect gleaming skyscrapers and crowded streets with upscale chain shopping. Brooklyn Heights is anything but that.
Instead, Brooklyn Heights is one of the few that close to Manhattan set with legacy rowhouses, cobblestone streets and a distinct lack of high-rises. That's thanks to its place as the first neighborhood preserved under the 1965 Landmarks Preservation Law. Dating back to pre-Civil War days, the district west of the Brooklyn Bridge is known as "the first suburb." Because of this, Brooklyn Heights offers tree-lined boulevards settled among acres of preserved parks. Tenants reside in a bevy of homes from pre-war co-ops to stooped rowhomes, classic borough brownstones and 19th-century wood homes.
In return, Brooklyn Heights is one of the most expensive neighborhoods in the city for renters and owners. But inhabitants tend to get what they pay for. For such a charming and cozy district, it's right in the middle of the action. The neighborhood offers easy commutes to anywhere in Brooklyn or across the river by car, train or ferry.
Locals enjoy elite (and pricey) private schools, chic restaurants and hot nightlife right nearby. Access is easy to historic Brooklyn Promenade on the waterfront, one of the best green spaces in the city. And even the affluent need to eat. Brooklyn Heights is home to legendary Grimaldi's Pizzeria, right under the Brooklyn Bridge, and Juliana's rated the best pizzeria in the nation.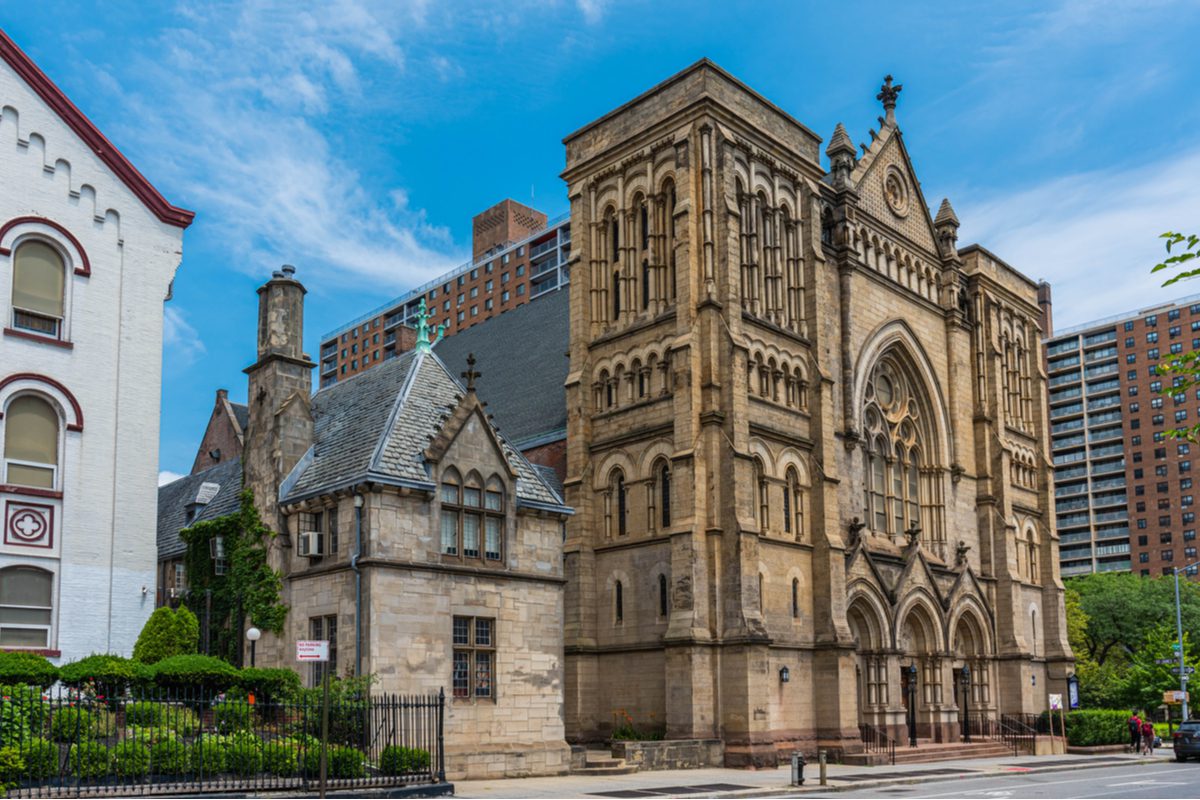 Walk Score: 96
Transit Score: 100
Bike Score: 94
To many New Yorkers, Clinton Hill and its western neighbor Fort Greene are pretty much the same. Despite combined real estate listings and shared thoroughfares, they are most certainly not. The gentrification that has transformed Fort Greene has not taken over Clinton Hill to as great an extent.
If artists flooding in foretells gentrification in most neighborhoods, the opposite is true in Clinton Hill. In Clinton Hill, the artists were already here. This is thanks to the 140-year-old Pratt Institute on the neighborhood's east side. The neighborhood's arts community surrounding Pratt has existed for decades and is key to holding off development. It's allowed the neighborhood to maintain its original charm and quaintness.
In part to Pratt and also to its location, Clinton Hill has become a popular neighborhood for millennial professionals. Historic mansions, rowhomes, brownstones and apartments abound. But they tend to carry steep rents and prices.
But savvy home seekers are starting to discover a micro-neighborhood within Clinton Hill. At the north end between Park and Flushing Avenues is a block-wide and mile-long district known as Wallabout. The former Navy Yard-adjacent industrial strip tucked in the elbow of the Brooklyn-Queens Expressway is seeing a transformation ready to boom. Local experts are tagging it as "the next Dumbo."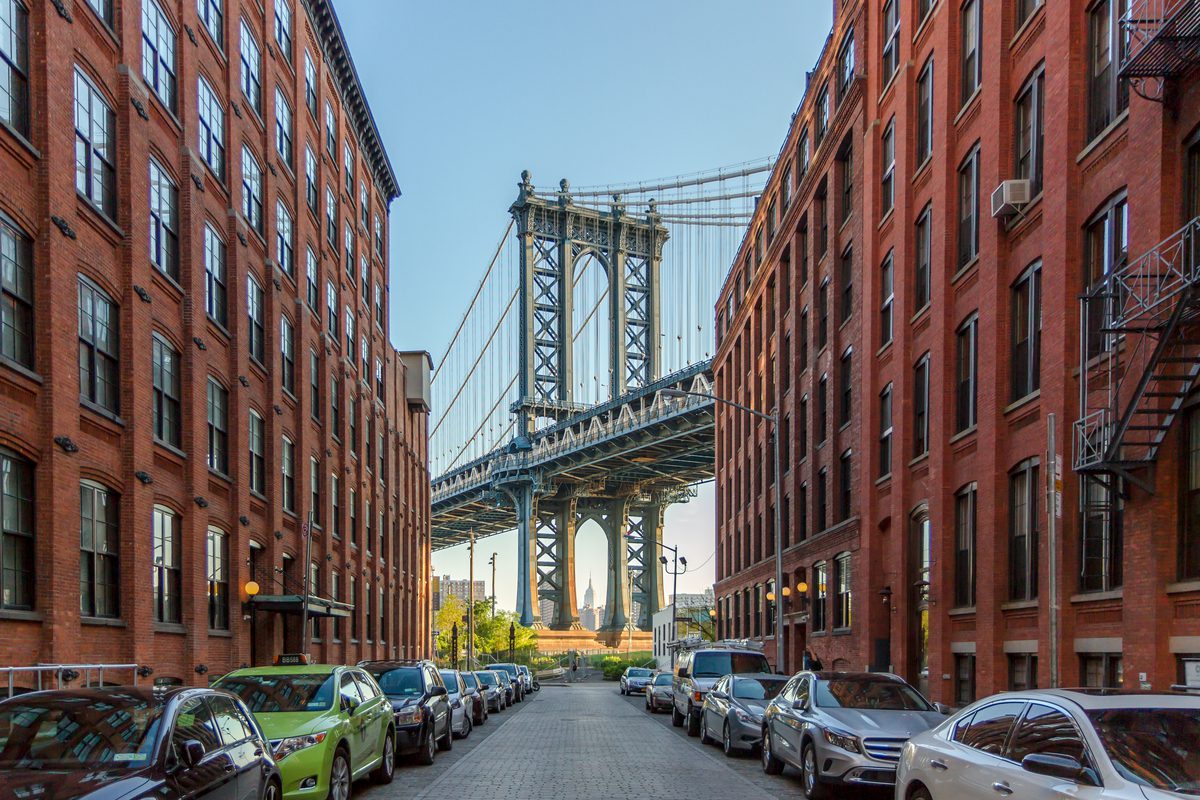 Walk Score: 97
Transit Score: 100
Bike Score: 84
Even if you don't know Dumbo, you know Dumbo. We've all seen the famous photo. Redbrick warehouses over the cobblestone street. The perfect frame of Manhattan Bridge with the Empire State Building peeking out from between the towers. That's Washington and Water Streets in Dumbo.
Dumbo is actually DUMBO. It's an acronym for "Down Under the Manhattan Bridge Overpass," which describes the neighborhood's location. At the north end of South Brooklyn, Dumbo is only about 20 blocks along the East River among the Manhattan and Brooklyn Bridges. That location and those views make it one of the most expensive regions in the borough.
The former ferry landing is now sorted with luxury warehouse lofts, art galleries and massive terraced condos. It's one of New York's most ritzy residential communities and a vibrant upscale commercial district. Dumbo is home to a quarter of all tech companies in the entire city. Here is the headquarters of West Elm, Etsy, Huge, BioLite and more.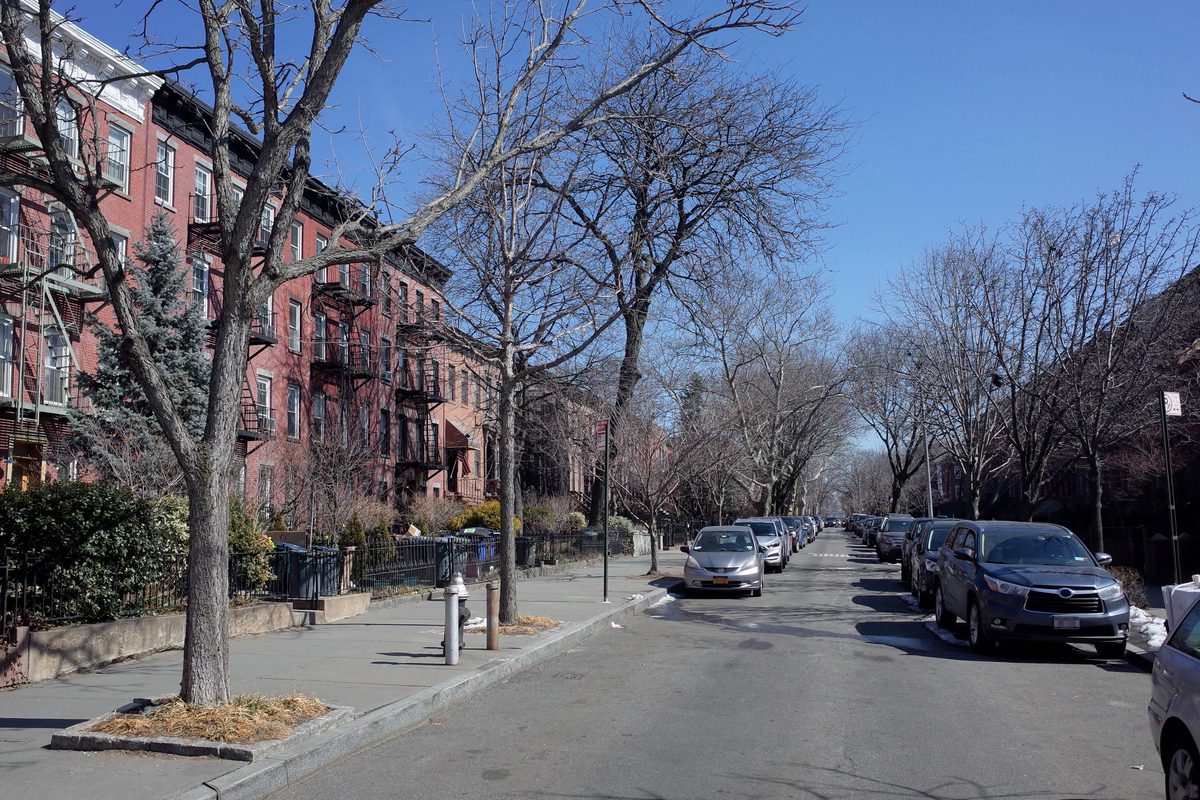 Walk Score: 97
Transit Score: 96
Bike Score: 94
The southern third of South Brooklyn's BoCoCa triumvirate is quiet Carroll Gardens. In the heart of the brownstone district, it sits at the elbow formed by the Brooklyn-Queens Expressway and the Gowanus approach to the Battery Tunnel.
With all it offers, Carroll Gardens is the borough's most kid-friendly neighborhood. It's a favorite of trendy young professional families looking for a green place to raise children.
The neighborhood is a traditional Italian-American Brooklyn quartiere. Streets have old-world cannoli bakeries, classic pizzerias and upscale pasta joints alike. But a recent influx of French ex-pats has led to a boom of new French restaurants, cafes and boutiques.
Alongside its Western European influence, Carroll Gardens offers much for trendy millennial parents. Together with its prime culinary scene, the neighborhood is rife with yoga studios, frozen yogurt stores and artisan groceries.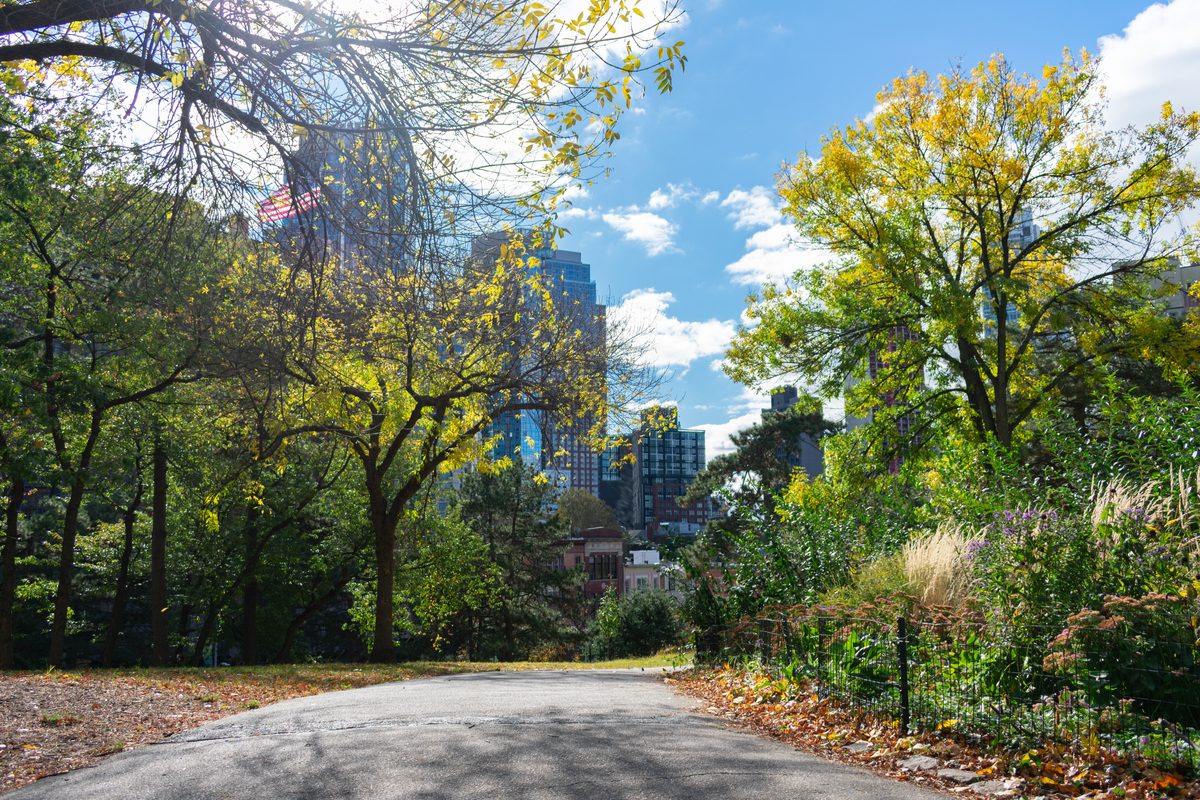 Walk Score: 99
Transit Score: 100
Bike Score: 94
Of all the neighborhoods in Brooklyn, Fort Greene is the one most similar to a Jersey or Connecticut commuter suburb. Among tree-lined streets are busy commercial thoroughfares. Along Myrtle and DeKalb avenues, Fulton Street and others are shops of every ilk from bodegas and corner stores to national retailers, mom and pop eateries and chain restaurants.
But it's not just about shopping. Like its neighbor Clinton Hill, Fort Greene is a long-running artists' hub. Blocks offer a varied entertainment scene, a movie theater, museums and the Brooklyn Academy of Music.
Rents are pricey in Fort Greene, but homebuyers may find reasonable prices relative to similar neighborhoods.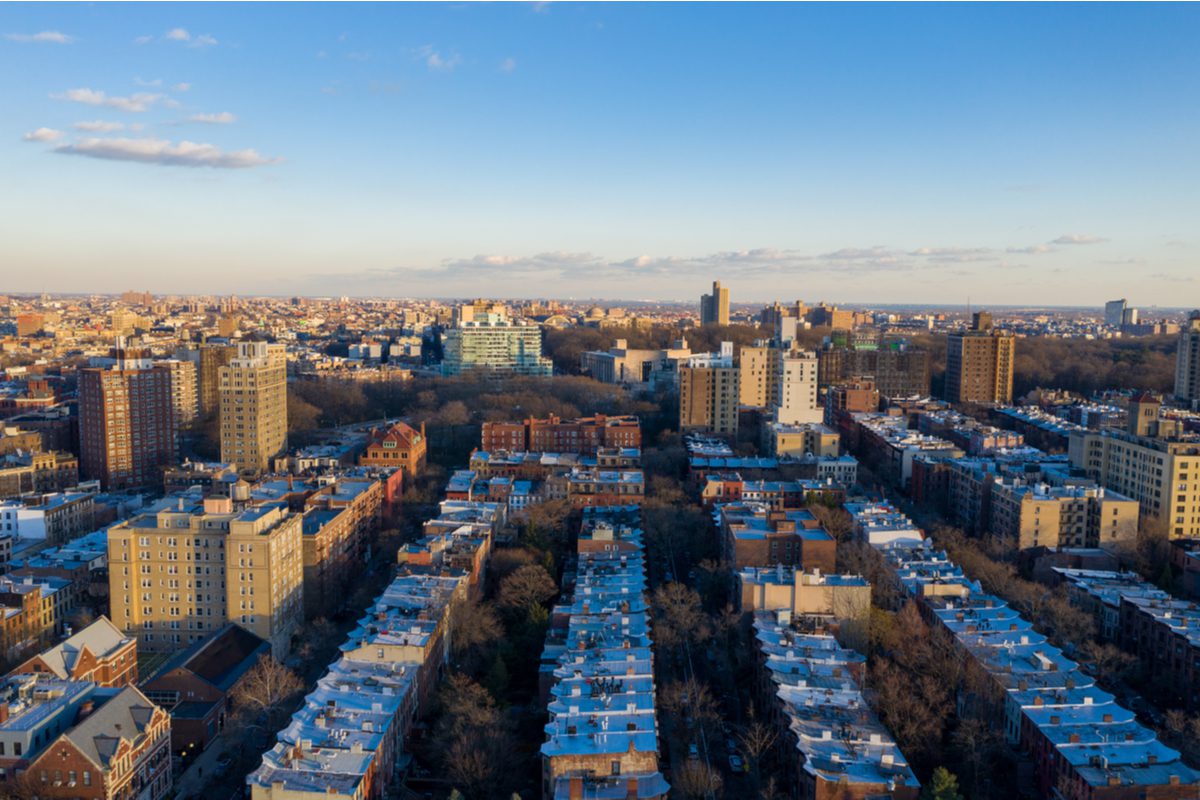 Walk Score: 99
Transit Score: 100
Bike Score: 94
Talk about location. On one end is massive Prospect Park, the Brooklyn Museum and Brooklyn Botanic Garden. At the other, Barclays Center, home to the Brooklyn Nets and New York Liberty. In between is the bustling residential neighborhood of Prospect Heights. But these Heights have two stories: one now and one in the future.
The current Prospect Heights is one of the most beautiful Brooklyn neighborhoods. The unique street grid features a number of odd-shaped and angled buildings. It's uniquely middle class with a casual, young atmosphere. It's relatively affordable and extremely convenient by foot, bike and transit. And crowds enjoy gathering at craft bars and trendy restaurants surrounding Barclays Center before and after games.
But the neighborhood is going through a major change. Along renowned Atlantic Avenue, a giant is rising. A massive $5 billion, 22-acre development project known as Pacific Park is underway. The project, due for completion in 2025, will see 17 new high-rise buildings tower over the north end of Prospect Heights. The project and surrounding development is already transforming the neighborhood, prices and traffic.
Construction getting you down? Take a walk to Tom's on Washington Avenue. The line for the iconic pancakes is often long, but queuers sample free pastries and coffee while they wait.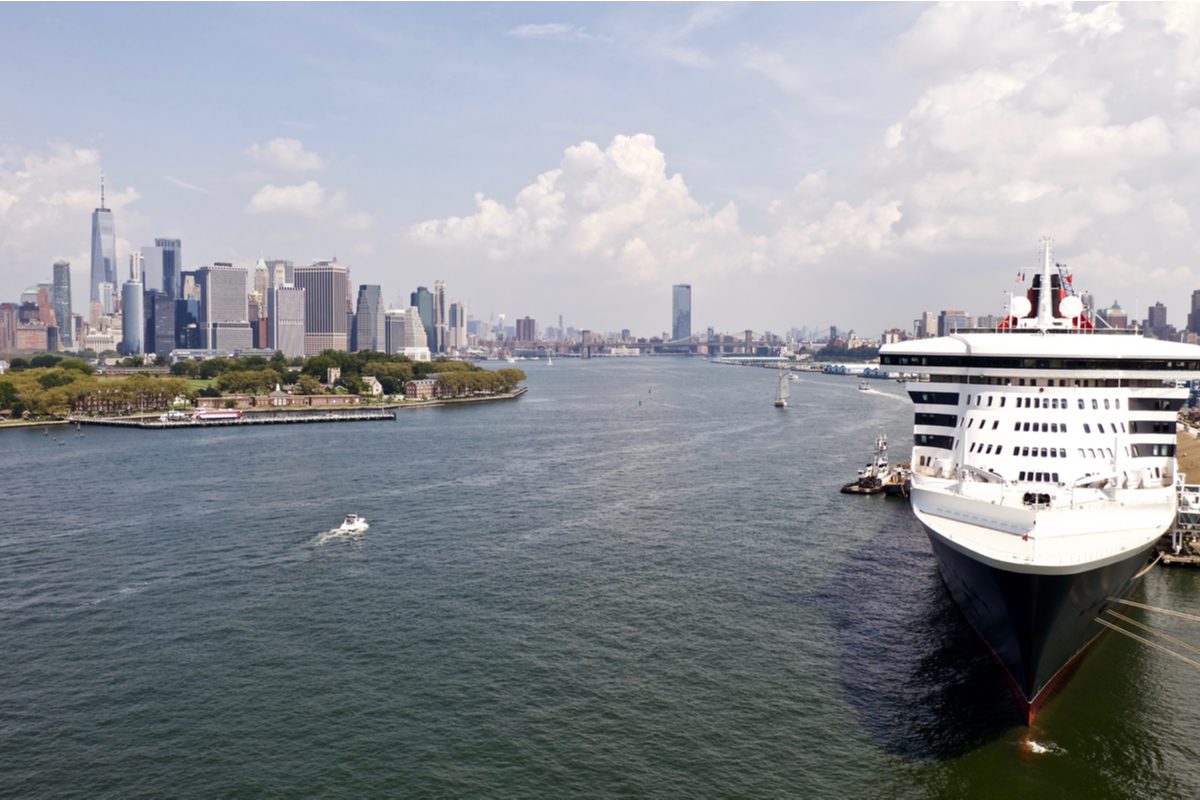 Walk Score: 90
Transit Score: 75
Bike Score: 94
The South Brooklyn peninsula of Red Hook is a compromise. Settled in the 1600s, the neighborhood has water on three sides. It's cut off from the rest of the borough by the Gowanus Expressway. And it's inaccessible by subway — making it an inconvenient place to live.
But there's a trade-off. If you're looking to live in riverside Brooklyn but stay disconnected from the bustling city, Red Hook is an out-of-the-way neighborhood. It offers a fishing village vibe and a leisurely atmosphere not normally found this close to more lively areas. And its location gives Red Hook the only unobstructed front view of the Statue of Liberty. It feels so close you could touch it.
Home of Al Capone, Red Hook once was a gritty Mafia enclave. Today it's a family-friendly neighborhood in transition. Former industrial factories on the riverfront are now upscale condos. Art galleries, boutiques and trendy restaurants and bars are popping up. Along the river, are parks and pedestrian piers, the massive Food Bazaar Grocery, a sprawling Ikea and the Brooklyn Cruise Terminal.

Photo source: 509 Pacific St / Apartment Guide
Walk Score: 99
Transit Score: 100
Bike Score: 92
The western piece of the BoCoCa tripod is the busy district of Boerum Hill. The neighborhood offers the expected "boutiques, good eats and brownstones." But with a slightly lower profile than adjoining regions, prices stayed more reasonable.
Like its neighbors, Boerum Hill is a favorite for young professionals and young families. Brownstones and townhomes line the tree-shaded streets and sidewalks. The friendly neighborhood gives off a distinctive village ambiance. And the sense of community is in full exposure during its numerous street fairs and festivals.
Among the residences are a variety of popular bars and restaurants, cafes, bakeries and independent shops. These spots line Atlantic Avenue and Smith Street, its main thoroughfares. It is also home to the New York Transit Museum and Invisible Dog Art Center. And on game and concert nights, Boerum Hill is teeming with fans spilling out of nearby Barclays Center.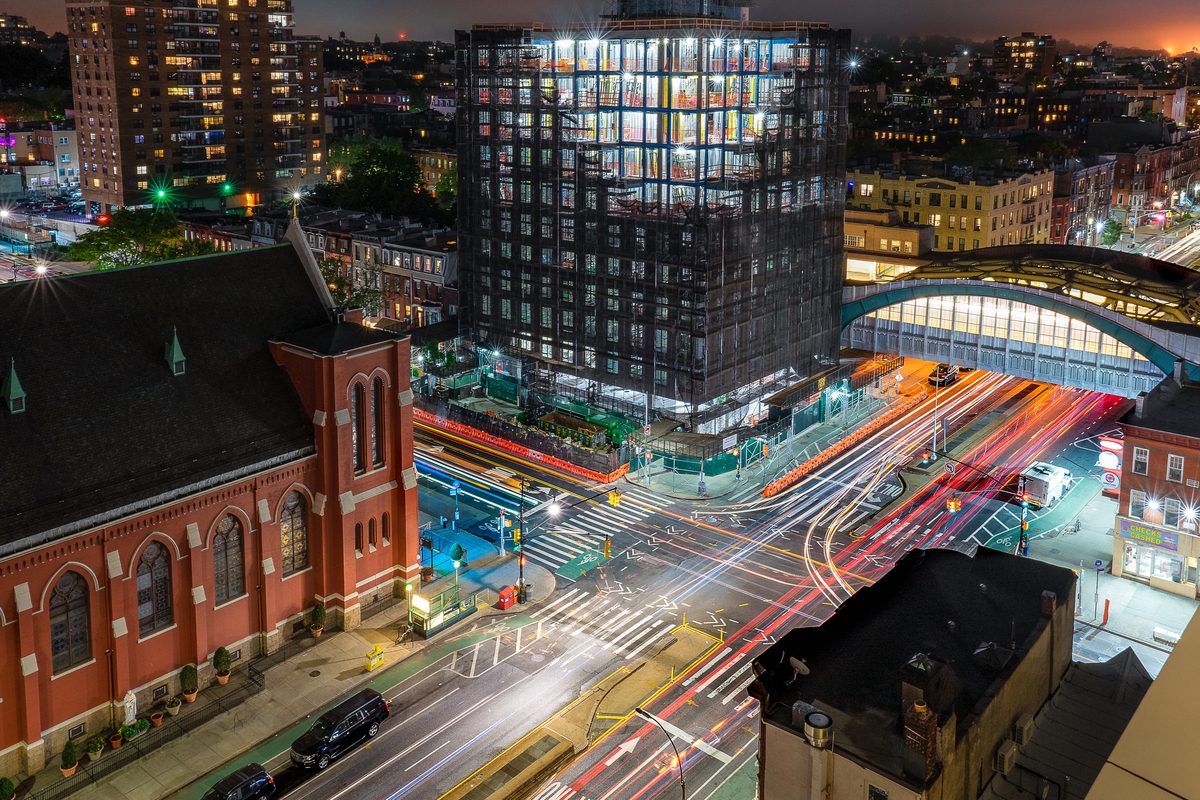 Walk Score: 96
Transit Score: 100
Bike Score: 88
Not long ago, the most famous feature of Gowanus was its sewage-polluted canal. Forming the neighborhood's spine, it was contaminated over decades as a busy commercial shipping waterway. It was also a rumored Mafia dumping ground for enemies wearing cement shoes.
But all that changed at the turn of the twenty-first century. Funding to clean up the canal came in 1999 and the canal was subsequently dredged, flushed and decontaminated. And almost immediately, revitalization came to Gowanus. Spacious, empty industrial buildings transformed into apartments, condos and workspaces.
Restoration advocates have labeled Gowanus the "Venice of New York," as rapid development came to the canal. Huge warehouses along the waterway were tailor-made for artists from a variety of backgrounds, who flooded into the converted creative spaces. Soon after, the neighborhood filled with nightlife, art galleries, craft cocktail bars, a Whole Foods and co-working spaces. And exciting new restaurants opened including Oaxacan spot Claro with its massive outdoor oven and regional favorite Dinosaur Bar-B-Que.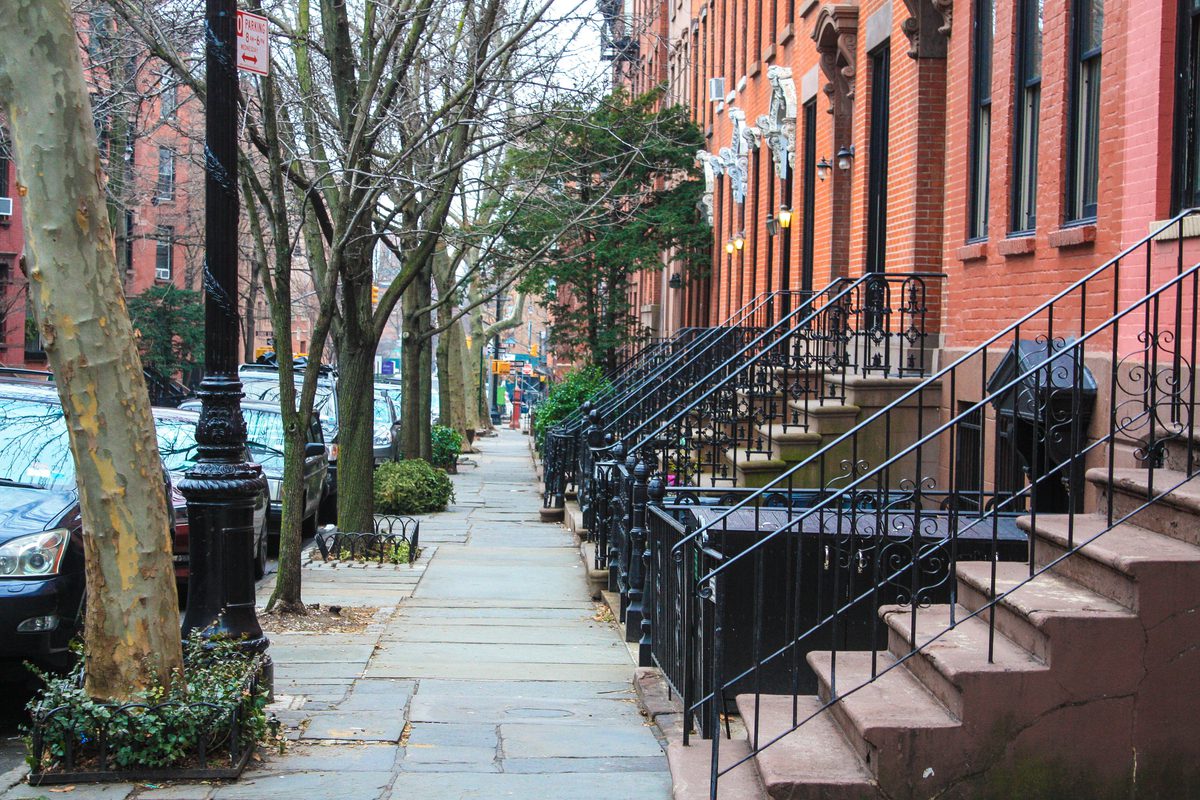 Walk Score: 99
Transit Score: 100
Bike Score: 92
The sister neighborhoods of Boerum Hill, Cobble Hill and Carroll Gardens form the district of BoCoCa. But Cobble Hill has a unique appeal all its own. Settled by Dutch farmers in the mid-1600s, the neighborhood remained rural even as others in the borough boomed.
That historic charm remains with a bevy of cobblestone streets, elaborate old churches and iconic brownstones. Old world community allure paired with proximity to Downtown has attracted young professionals and intellectuals, most with families. It's an easy commute into Lower Manhattan and features a handful of accessible parks and NYU Langone Medical Center. That makes Cobble Hill a desirable, suburban-style commuter neighborhood.
But that's not to say Cobble Hill is a boring suburb. Small businesses that date back multiple generations line quaint streets. Booksellers, indie galleries, antique shops and sidewalk cafes abound. Among the most popular are historic Cobble Hill Cinemas, Poppy's Bakery featuring some of the best cookies in the city and Homage Skate Academy.

Walk Score: 95
Transit Score: 100
Bike Score: 73
The population of Greenwood Heights is just under 40,000. But that's just those who are living. The southwest Brooklyn neighborhood is also home to 480-acre Green-Wood Cemetery — 600,000 no-longer-living permanent Greenwood Heights residents live there.
The cemetery dominates Greenwood Heights, covering three-quarters of its land area. But for those who have not yet passed, the small tree-lined neighborhood is a residential oasis with brick rowhouses and turn-of-the-century wooden homes. Many rental units have been recently remodeled inside, leaving historic exteriors with modern interiors. Apartments are popular with artists and millennials while homeowners experience low turnover.
The most intriguing locale in Greenwood Heights is the former shipping terminal of Industry City. The warehouse and manufacturing site on the bay has transformed over the last decade. Today, the 35-acre complex offers over a dozen massive buildings home to loft apartments, film and television studios, bars and restaurants, office space, tech start-ups, fashion and artist studios, a food court, retail, event spaces and more.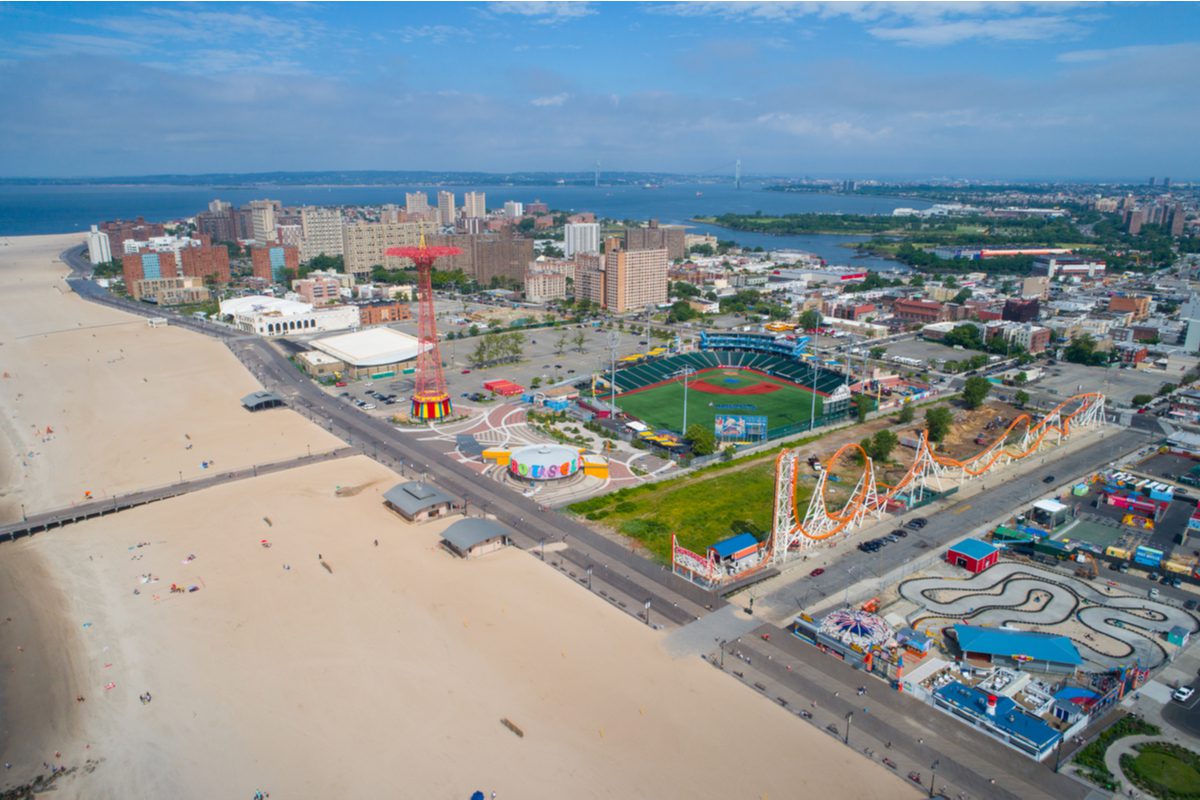 Walk Score: 78
Transit Score: 75
Bike Score: 67
Coney Island is not like other Brooklyn neighborhoods on this list. It's not trendy or full of millennials. It isn't an easy commute to Manhattan. It's not a garden haven for young families.
But, come on, who wouldn't want to live on Coney Island?
The hot dog was born here. So was frozen custard. The carnival housed the world's first roller coaster. In the middle of the last century, Coney Island was at its peak, a seaside resort and amusement town for New York's upper and middle classes.
By the end of the millennium, much of the neighborhood was run down and unappealing. But revitalization seen in regions to the west is finally coming to Coney Island. Today, visitors from around New York are again flocking to the beach, boardwalk and amusement parks. But 46,000 live here full time.
Like any good seaside town, Coney Island offers a variety of beach-style houses, apartment buildings, co-ops, condos and private communities.
There are plenty of amenities for permanent residents across the island and in Brighton Beach. Sites include a minor league ballpark, Coney Island Museum, New York Aquarium and legendary Gargiulo's and Totonno's restaurants.
Finding your best neighborhood in Brooklyn
Did your favorite Brooklyn neighborhood make the list? Is where you live or thinking of moving to one of the best neighborhoods in Brooklyn? No matter where you decide to reside, from Brighton Beach to Bay Ridge to Bed-Stuy, somewhere in Brooklyn is exactly the right place for you.
If you're ready to find your dream Brooklyn brownstone or high-rise unit with a view, be sure to check out apartments for rent in Brooklyn or homes for sale.
Comments
comments