The 20 Best Neighborhoods in Miami in 2022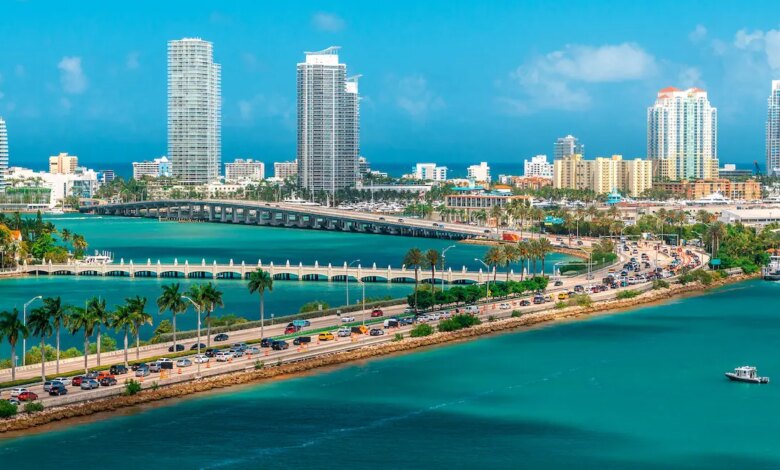 The best neighborhoods in Miami, sometimes known as Magic City, make their residents feel alive, safe and offer fun experiences. Luckily, several Miami neighborhoods serve these in spades. Often, people choose to live, play and shop in their neighborhood to make it easier to get around.
Like many other major metropolitan cities, those living in the Miami-Dade County, which includes several South Florida cities like Miami and Fort Lauderdale, as well as Everglades National Park, need a car to get around since public transportation isn't readily available. Areas like Key Biscayne are also accessible by boat and car.
Some choose the neighborhoods in Miami based on where they work or attend school. And others choose where to live in the Florida city based on features they want easy access to. Those features include tree-lined streets, green spaces, trendy restaurants, living within an island community, gated communities, beach access or state parks.
Whatever the reason the Miami area is calling you home, here are 20 of the best neighborhoods in Miami.
1. Brickell
Located just south of Downtown Miami, Brickell is often called the Wall Street of the South. It has Miami's Financial District and the second largest international banking center in the country. It's a dense upscale neighborhood filled with young professionals living in high-rise condominiums and apartment towers.
While Miami makes it hard to get around without a car, Brickell is a walkable neighborhood. There are plenty of popular restaurants, shops and entertainment in the area to stick around. The Brickell City Centre is popular among locals and visitors. The Miami Metrorail at the Brickell station and five stations of the Metromover's Brickell Loop serve the area. To get to places like Key Biscayne or Little Havana, though, you'll need access to a car.
2. Midtown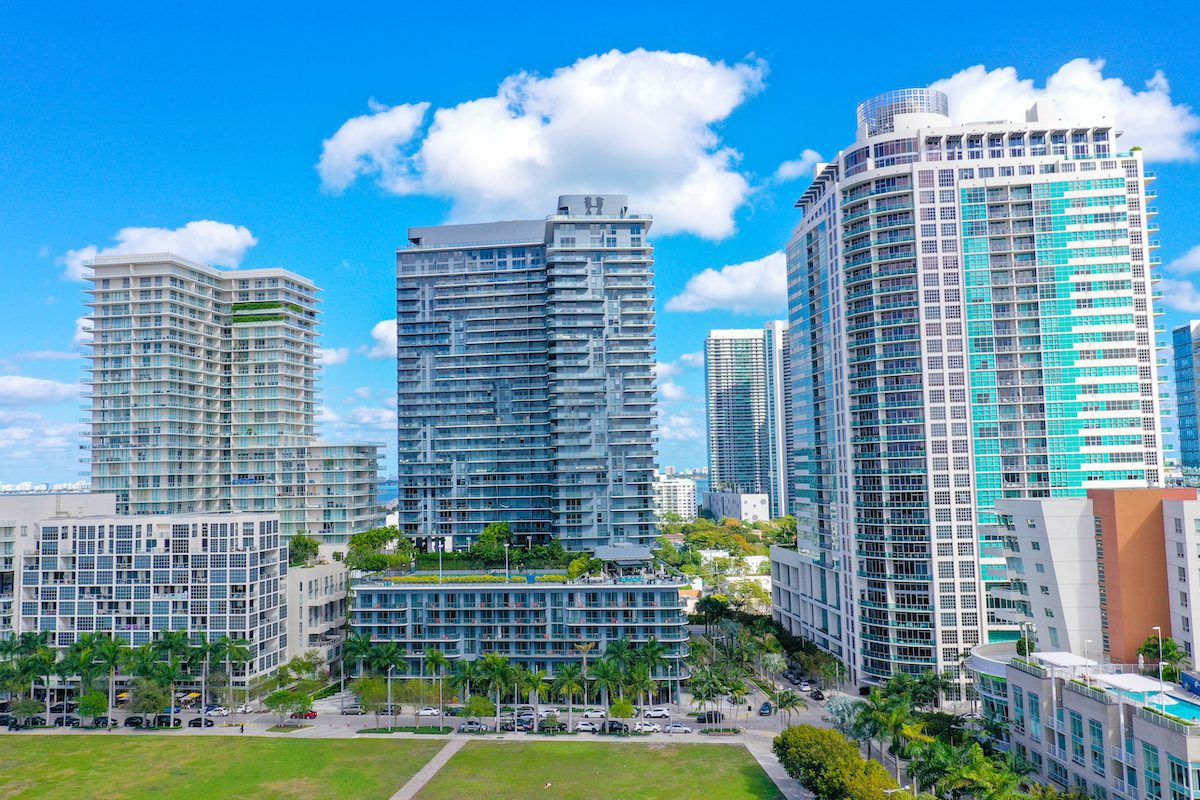 Located in the middle of Miami and right below the Design District, Midtown is an under-the-radar neighborhood that's also family-friendly. While it's near Downtown, it has its own great restaurant and nightlife scene, too.
Locals and visitors alike are loving Salumeria 104, a rustic, trattoria-style restaurant. They serve signature salumi dishes and traditional homemade Italian classics. Don't be surprised if it's busy during lunch and dinner any time during the week.
3. Downtown Miami
Located next to Brickell, Downtown Miami is an urban neighborhood and the city's business district. Most people who live in this neighborhood don't have a car. There's little parking available and you have to pay for any parking that is available 24/7.
Those who live in Downtown Miami tend to work in the area, as well. They use their bikes or scooters to get around. So, if a weekend trip has you heading to the lush grounds of Key Biscayne, you may need to rent a car. One of the hottest places to eat right now is at Black Market Miami, a Miami sports bar that calls upon the nostalgia of 80s Miami.
4. Coconut Grove
Also known as "The Grove" by locals, Coconut Grove is an established and upscale, tree-lined neighborhood with boutiques in and around the CocoWalk mall. Located along Biscayne Bay, there are several waterfront properties. Coconut Grove is also home to the Vizcaya Museum and Gardens and the Miami Science Museum and boasts a hot food scene right now.
For authentic Greek food, locals head to Meraki In The Grove. Thousands visit the popular Coconut Grove Arts Festival annually, a three-day outdoor art festival complete with live performances and culinary displays. Also in the Coconut Grove neighborhood is Barnacle Historic State Park, a five-acre Florida State Park and the oldest house in its original location in Miami-Dade County.
5. Design District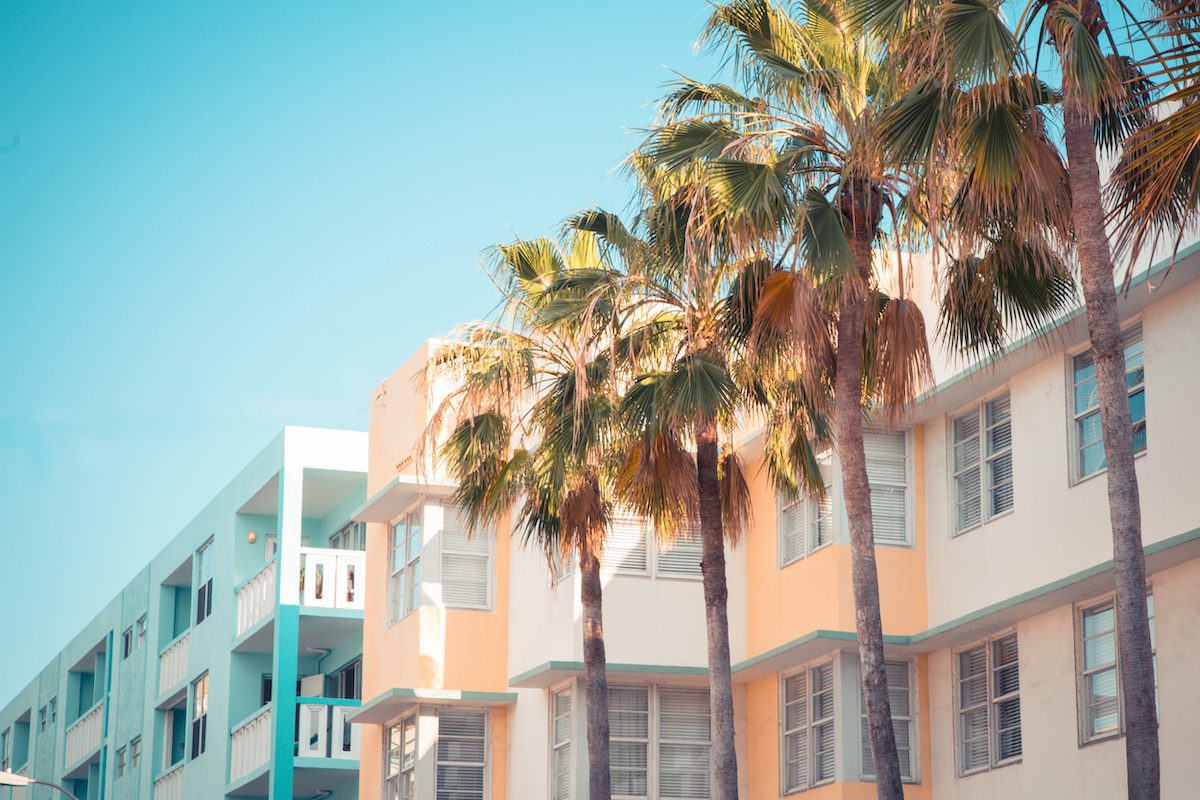 Those who love modern architecture, contemporary designs and art galleries will find the Miami Design District welcoming. Public art is throughout this creative and pedestrian-friendly neighborhood north of Midtown filled with fashion boutiques, cafés and celebrity-chef restaurants.
6. Wynwood
Wynwood welcomes locals and visitors alike as Wynwood's outdoor museum features colorful building murals and other large-scale works by well-known street artists. There's limited housing in and around this bustling arts center but a hip and trendy young crowd regularly hit up the converted warehouses that now house craft breweries and local boutiques.
7. Edgewater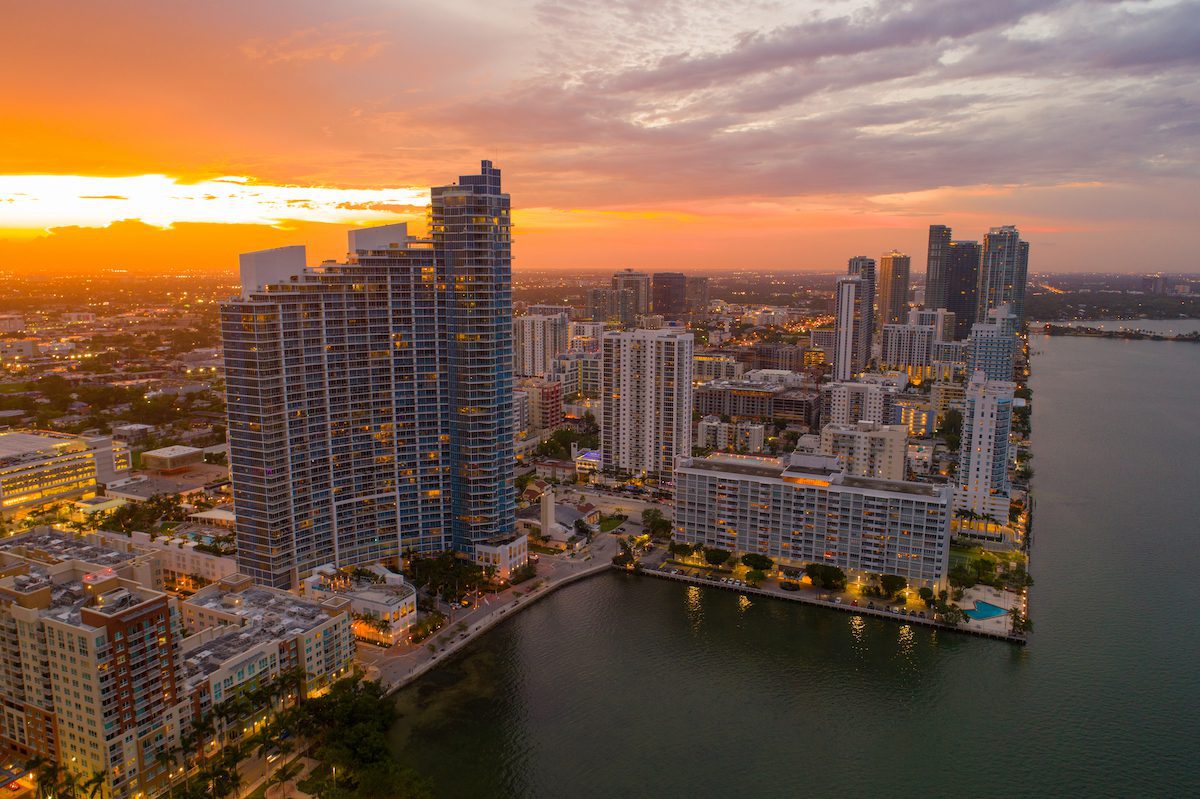 Some people debate moving to Brickell or Edgewater and the primary difference between the beautiful neighborhoods is Edgewater is quieter and more residential waterfront Miami neighborhood as it's nestled on the shores of Biscayne Bay.
Much of the activity in this small neighborhood centers around the eight-acre Margaret Pace Park as it has volleyball, tennis and basketball courts. Brickell is more walkable but a quick car ride and through Overtown is Wynwood and the Design District.
8. Little Haiti
A vibrant and culturally-rich neighborhood, Little Haiti often gets overlooked as a Miami neighborhood which is a shame since residents here love the community, access to Creole cuisine and a bustling cultural center. Artists and creatives feel at home here as spaces like the Laundromat Art Space, a reclaimed laundromat that's now an artist-run studio and exhibition space, supports local artists. The Tower Theater, considered a historic landmark, screens independent and revival films. Little Havana is near Downtown and Brickell.
9. Brickell Key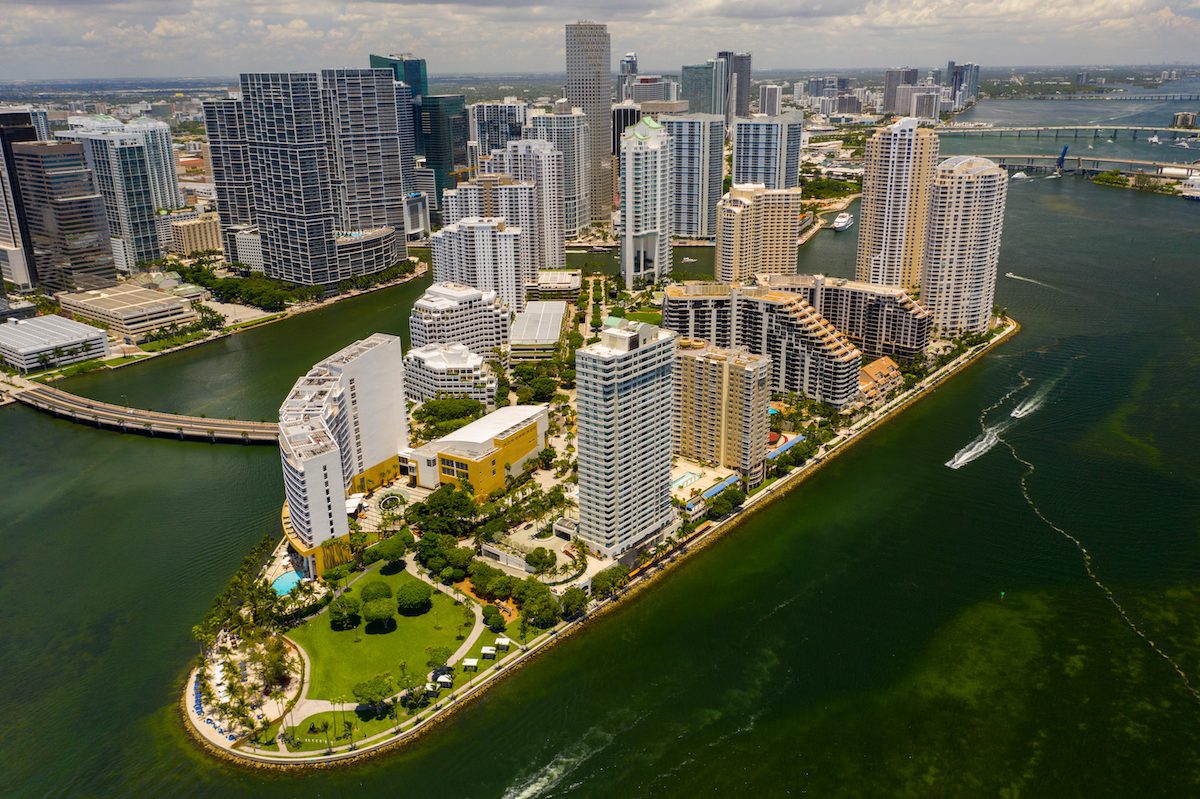 If privacy and being away from the hustle and bustle of Miami's neighborhoods is for you, Brickell Key (also known as Claughton Island) is one of Miami's waterfront gated communities on a man-made island east of Brickell and connected to the mainland by the Brickell Key Drive Bridge.
Depending on who you talk to, it's part of Brickell or Downtown Miami but despite it being on its own island, its central location makes it easy to get to the airport, Coral Gables, South Beach and Coconut Grove. You can take a boat to places like Key Biscayne. The artificial triangular island at the mouth of the Miami River has several luxury residences available, including high-rise condos and apartments available for rent.
10. Allapattah
If living in a diverse neighborhood is important to you, Allapattah is a close-knit community filled with single-family homes and apartments. Live music bars, thrift shops and great restaurants along Northwest 7th Avenue help make Allapattah one of the best neighborhoods in this area.
Jackson Memorial Hospital is one of the major employers in this Miami neighborhood. Culture lovers appreciate the Rubell Museum, one of the biggest private contemporary art collections in North America.
11. Coral Way / Coral Gables
Expect tree-lined streets, green spaces and single-family homes in Coral Gables. It's a quiet, family-friendly Miami neighborhood that feels like you're living in one of Miami's largest suburbs. The Miracle Mile is a half-mile-long strip of Coral Way, between LeJeune Road and Douglas Road in downtown Coral Gables. The European-style upscale boutiques along this Coral Gables section features some of Miami's best luxury shopping experiences within its upscale boutiques.
12. Overtown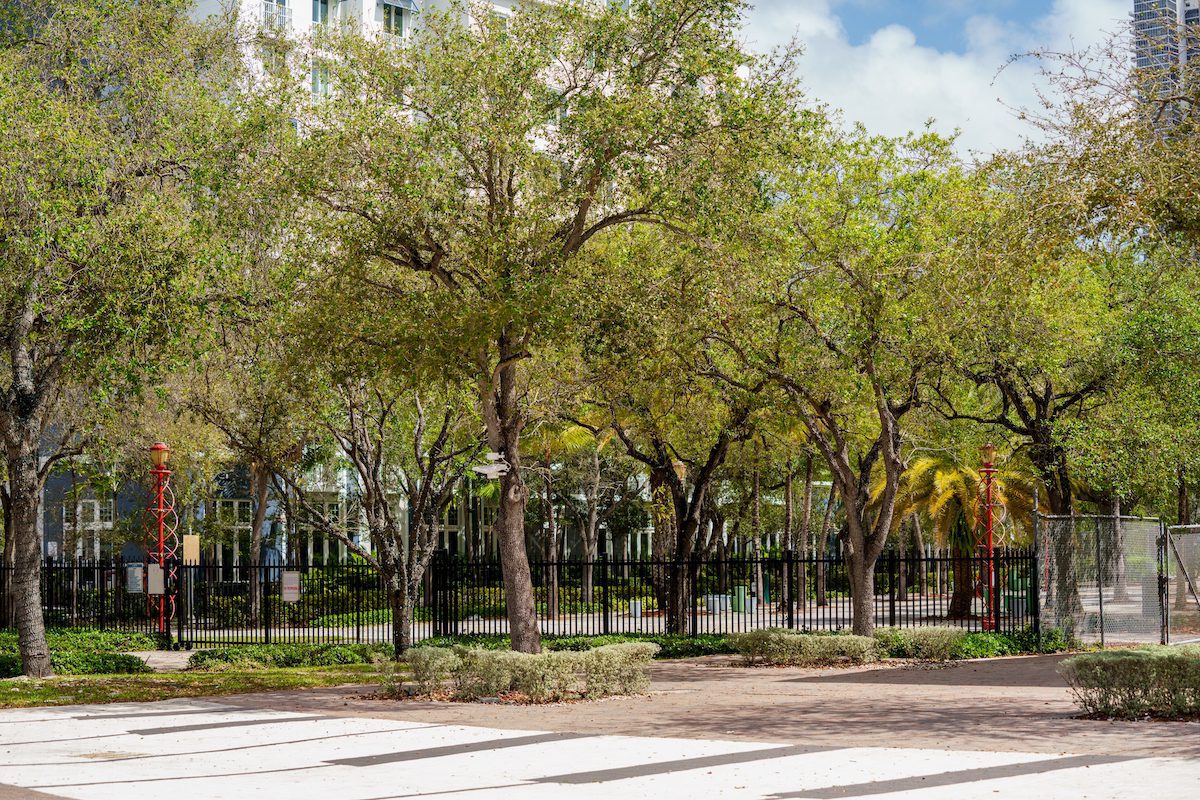 Overtown has a deep and rich history in Miami. Due to segregation, Black artists and celebrities would often stay in Overtown since Miami beach resorts wouldn't allow them to stay there. Today, locals appreciate and celebrate its Black heritage as Overtown. Located northwest of Downtown Miami, Overtown features some of the city's best Southern fare. Visitors near and far head to the historic landmarks, such as Lyric Theater. The theater once hosted entertainers like Louis Armstrong, Ella Fitzgerald and Billie Holiday.
13. Civic Center
The Civic Center is also known by locals as the Health District since the area has the largest concentration of medical and research facilities after Houston, TX. Located approximately five minutes north of Downtown Miami, it's also home to the Adrienne Arsht Center for the Performing Arts. This is a performing arts center partly built on a former Sears department store site.
14. Lummus Park / South Beach
Lummus Park is a destination among many visitors, local, national and international. Located in the hot South Beach neighborhood, the park runs along Ocean Drive from about 6th to 14th streets. It's a dense urban atmosphere filled with a lot of entertainment options. You'll find bars, restaurants and coffee shops to support tourists who visit. As a result, most people who live in or near Lummus Park rent and are part of the hospitality industry.
South Beach has several neighborhoods within the area, including South-of-Fifth, West Avenue, Lincoln Road, Sunset Harbour, Belle Isle, Collins Park and the Art Deco District. Many people have heard of Collins Avenue or A1A. But for those not as familiar with the area, the difference between Miami Beach and South Beach is the former is a barrier island between the Atlantic Ocean and Biscayne Bay and three miles offshore just east of Downtown Miami. South Beach is the southernmost 2.5 miles of Miami Beach. While Bal Harbour is on Collins Avenue, it's on the northern tip. A quick 10-minute drive north is Bal Harbour Shops, a legendary fashion mecca.
15. Bayside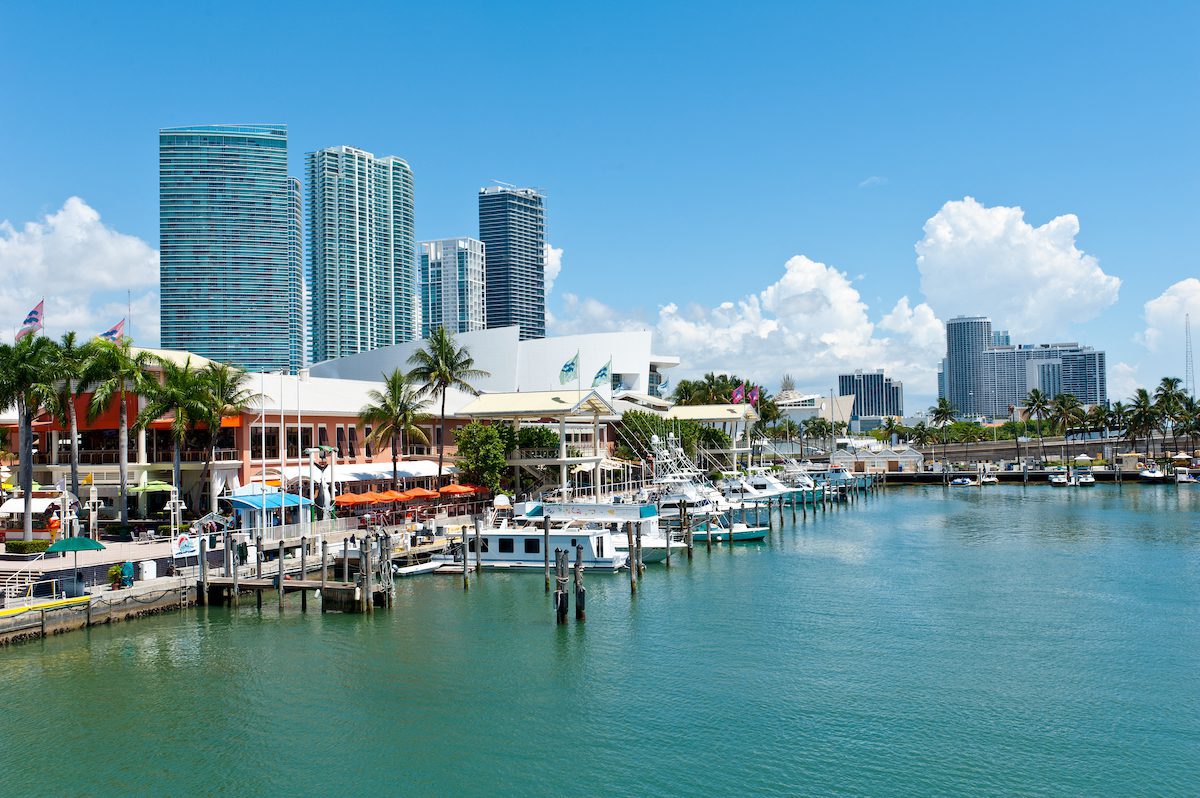 Bayside is best known for its open area mall with restaurants along the water. Live music entertains guests throughout the afternoon and evening hours. The popular waterfront dining and shopping area located on the bay in Downtown Miami includes more than 100 boutiques and bars.
The Bayside Historic District is significant in the historical, cultural and architectural heritage of the City of Miami. Bayside contains the oldest intact community in Northeast Miami, as well as one of this area's last remaining bayfront estates. It features diverse architectural styles Mediterranean Revival, Art Deco and Streamline Moderne.
16. Buena Vista
Historically a part of Buena Vista, the Miami Design District is a creative neighborhood featuring fashion, art, architecture and great food. Located south of Little Haiti, it should not be confused with Wynwood, which features more art galleries and street art. The Institute of Contemporary Art is part of the Miami Design District.
17. MiMo District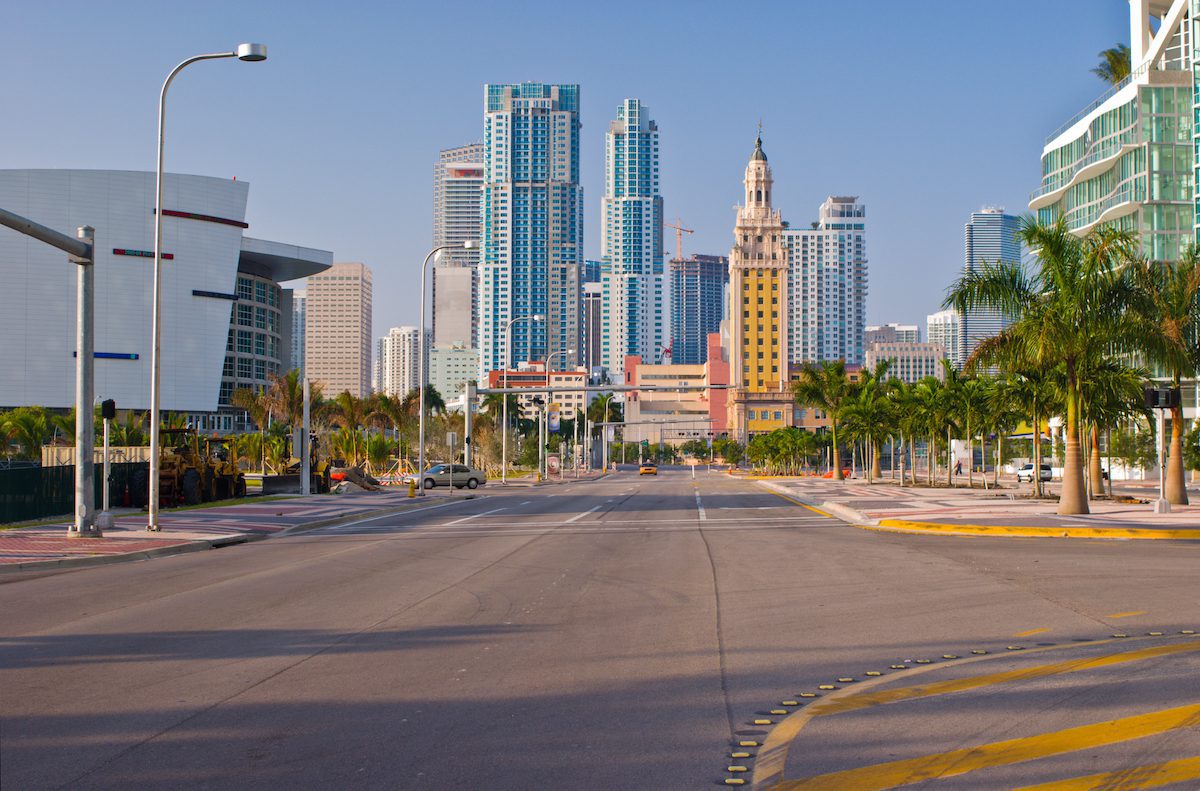 Biscayne Boulevard runs through several neighborhoods in Miami, including the MiMo Historic District, Little Haiti, the historic Morningside community and Wynwood with its growing Arts District. Within the MiMo historic district are retro Miami Modern-style motels many people associated with old school Miami like the Vagabond.
18. Morningside
If the MiMo District is home to Instagram-worthy retro motels, Morningside is the neighborhood part of the area with some of the city's most beautiful Mediterranean Revival-style homes. Morningside Park is within the neighborhood and offers locals plenty of opportunities to enjoy the generous green space outdoor gym equipment. There's also a sports area, tennis courts and more. You can enjoy the neighborhood with your dogs on a leash. And a recreation center provides even more cultural opportunities to enjoy indoors.
19. Magnolia Park
Magnolia Park is a small neighborhood near Midtown, right off the 195. Within it is the Albert Pallot Park, three acres of waterfront green space two blocks east of Biscayne Boulevard. Visitors driving over the causeway are unlikely to miss the neighborhood's park signature artwork. There are four 10-feet-tall red and white dominoes in the shape of the letter M.
20. Bayshore / Upper East Side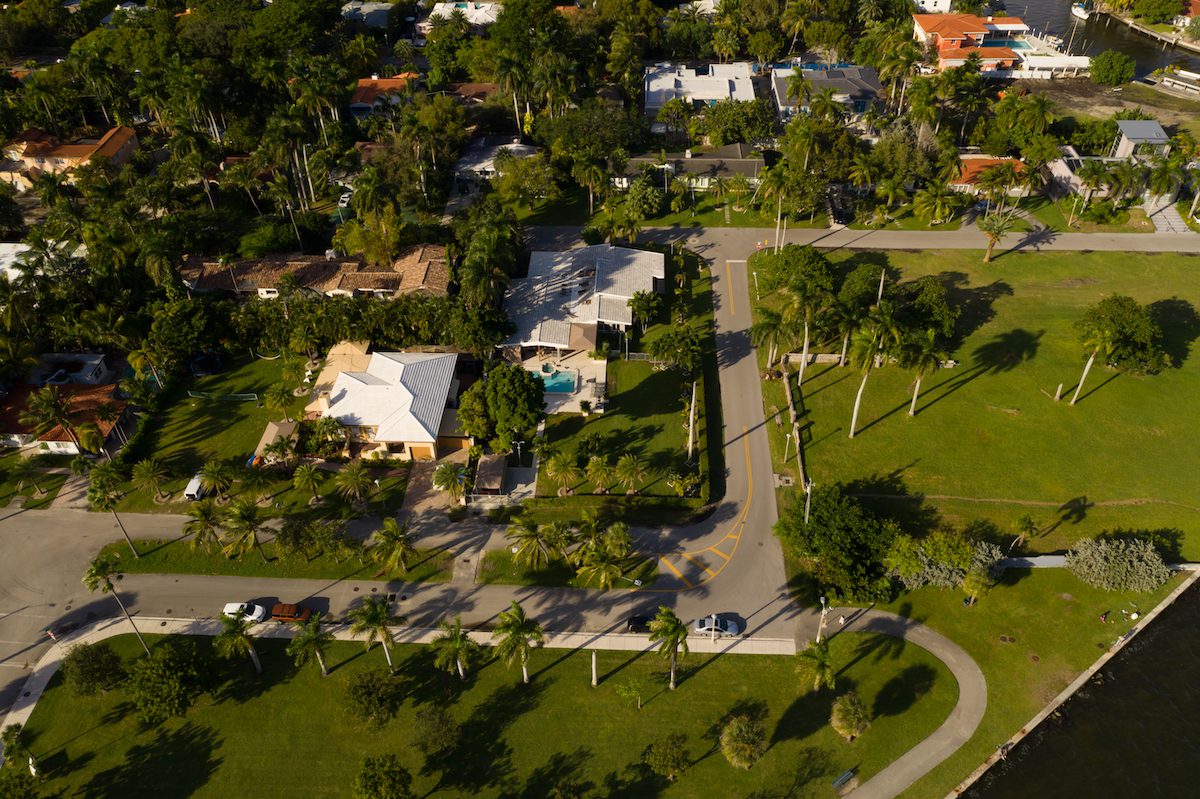 Continuing along Biscayne Blvd and heading north is the Upper East Side, sometimes referred to as Bayshore. It's also called East Side or Northeast Miami. East of Little Haiti, the residential neighborhood features several historic single-family homes.
The Best neighborhoods in Miami
The best neighborhoods in Miami is the one you call home. The Magic City has a home for everyone. No matter if you're seeking oceanfront condos in Bal Harbour or ultra-luxury condos in a gated community. Or, access to white-sand beaches or proximity to live near a coastal barrier reef. Or, if you're looking for an older community like the Coral Gables or the diversity of Little Havana.
Miami has the excitement found from the tip of North Beach to Sunny Isles Beach onward down to South Beach. And there's no shortage of fun found along any beautiful beach. If the excitement of places like South Beach is too much, just a short ways away and filled with lush greenery is Key Biscayne and Key Biscayne's beaches.
Those who love culture will appreciate Miami's many historical landmarks. Even nearby are other landmarks, such as Coral Castle in Homestead. But you don't need to leave some of the best neighborhoods in Miami proper to enjoy all it has to offer.
The best Miami neighborhood is the one that checks all the marks on your checklist. Each of these unique Miami neighborhoods has its own personality and depending on what you're seeking, you're sure to find the right home for your interests and needs.