The 20 Best Neighborhoods in Portland in 2021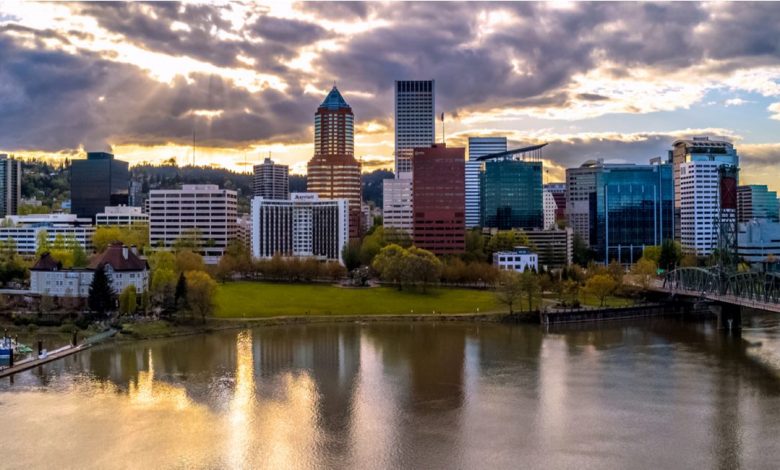 Every great city is the sum of its smaller parts. It's the individual neighborhoods, each with their own identity, that together give a city its unique character. This is especially true of Portland. Check out the best neighborhoods in Portland here!
The City of Roses is well-known for fostering a counterculture environment where "weirdness" thrives. This could be anything from a unicycling bagpipe player to the tiny toy horses you'll find around the city. Whatever your flavor of weirdness, Portland welcomes you. But there's far more to Portland than weirdness.
Here you'll find a thriving business sector, great dining, avant-garde art and near-instant access to the great outdoors.
The best neighborhoods in Portland
You may wonder about the best neighborhoods in Portland to live in. The city has six geographic sections. Locally, they're known as quadrants. The quadrants are named by their directional placement: North, Northwest, Northeast, South, Southwest and Southeast.
The city is further divided east from west by the Willamette River, and north from south by Burnside Street. Within these quadrants, you'll find Portland's 90-plus officially recognized neighborhoods.
Taking into account factors like walkability, housing options and local things to do, here are the 20 best neighborhoods in Portland to live in for 2021.
Northwest Portland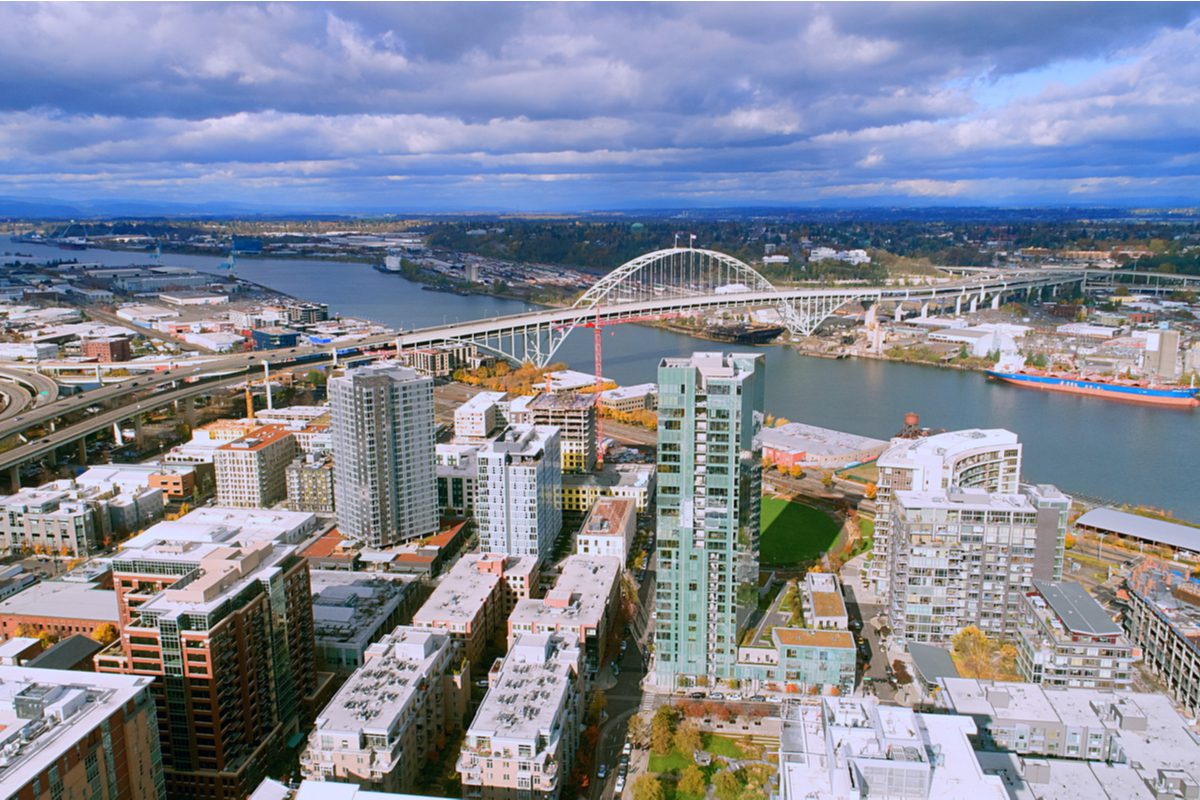 Topping the list of the best neighborhoods in Portland is Northwest Portland. Officially, Northwest is one of Portland's six quadrants. It covers a large area, including smaller neighborhoods like Nob Hill, the Alphabet District and Slabtown. Several of these we profiled earlier as some of the best Portland neighborhoods. It is the combination of these and the overall Northwest neighborhood that makes it such a great place to live. You have tons of smaller districts to choose from, each with its own architecture, food, entertainment and shopping.
In Northwest Portland, there's an area for everyone. Check out Slabtown — you'll find luxe apartment complexes, upscale stores and trendy eateries. In Alphabet City and Nob Hill, you can better experience the city's history and classic building styles. Throughout, there's some of the best dining and shopping in Portland.
Renters have their pick of older complexes full of charm and character or new buildings with space-saving micro-units. Homeowners get the privilege of living in beautiful classic houses. Forest Park is also close by for urban hikes. If you love always having somewhere to go within walking distance of your front door, live in Northwest Portland.
Nob Hill
Nob Hill comes in second place for the best neighborhoods in Portland. This compact district is in the Northwest quadrant. Different parts of this area sometimes go by different names. But Nob Hill generally refers to NW 23rd and 21st and their immediate surroundings. These two streets stretch from W Burnside to NW Thurman and Vaughn.
Nob Hill is sometimes referred to as "Snob Hill" and "Trendy-Third." This is because the area is known for its high-end shopping and dining. Along NW 23rd, you'll find a wealth of trendy shops, restaurants and stores. 21st is also a major hub for cool bars, restaurants and stores.
But don't sleep on the surrounding streets. Branching out from these main arteries, the nearby neighborhoods are full of Craftsman and Victorian houses. Nob Hill is actually one of the best places to experience a wide variety of classic Portland architecture.
The area is affluent with a high median income but renting is still the top option. While families love the giant homes, Portland's hip, younger crowd flock here for the culture, food and hipster atmosphere.
Downtown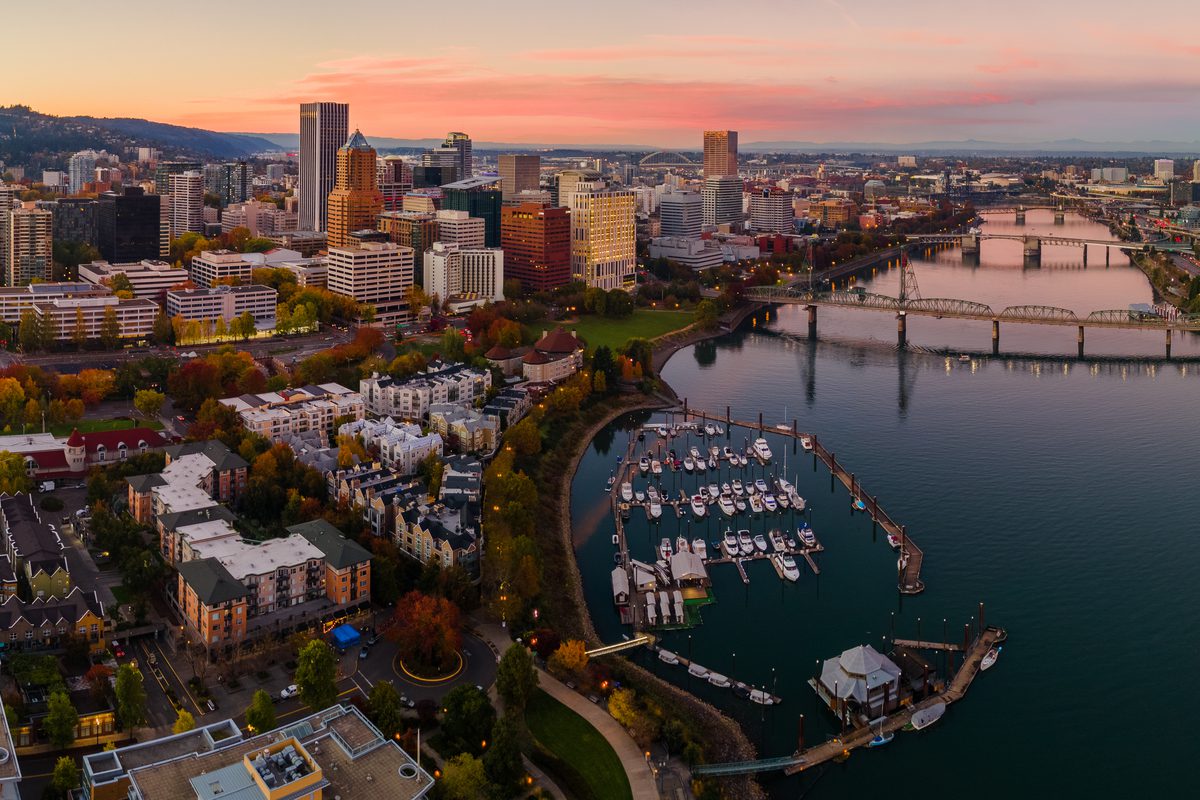 Portland's Downtown is the heart of the city. Tall skyscrapers crowd together, giving it a distinctly urban feel. In this concrete maze, you'll find a bustling world of business and culture.
Downtown Portland is in the Southwest quadrant. Its compact city blocks squeeze between the Willamette River and the West Hills. Downtown is primarily a destination for work and fun. It has one of Portland's largest business districts.
People come here for the museums like the Portland Art Museum, shows at theaters and shopping at local stores and malls like Pioneer Place. There are also varied dining options, from upscale restaurants to casual food trucks. At Pioneer Square, you can encounter public art installations and events. And sitting side-by-side with modern office buildings, there are historic landmarks like the Pioneer Courthouse.
Downtown is also a great residential neighborhood. The majority of residents rent units in new or older apartment complexes. It's centrally located, so you can easily get elsewhere in the city. TriMet's buses and rail services slither out from downtown to all corners of the city. Downtown is also easy to get around on foot or by bicycle.
If you want to escape the urban jungle, nature is not far. Washington Park sits on the western border with its many paths and attractions. Along the riverfront, there's the Tom McCall Park with its cherry blossom trees, green lawns and river views.
Hawthorne District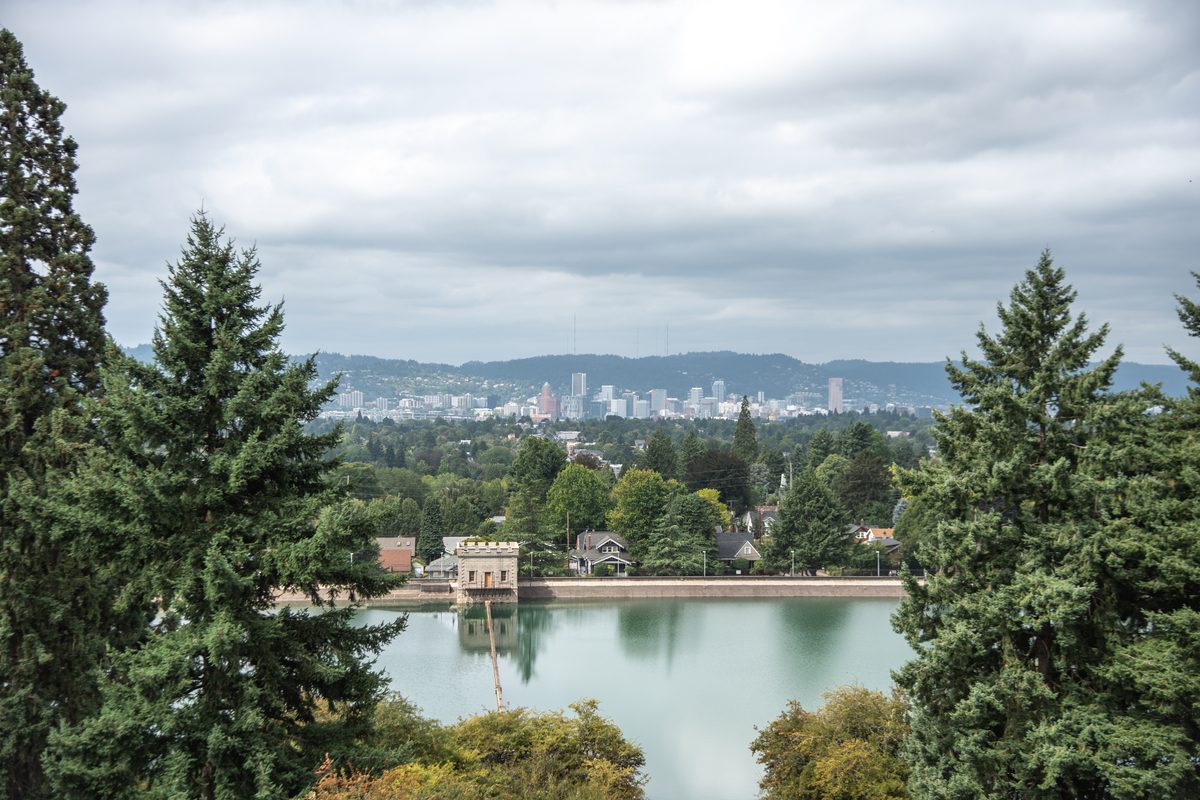 This Southeast Portland district gets its name after its main artery, SE Hawthorne Boulevard. The road itself stretches from the riverfront all the way to Mount Tabor. But the district extends from SE 12th to SE 60th at the base of Mount Tabor. The area is primarily known for its vintage shopping, food carts and restaurants, historic theaters and movie houses. Branching out from Hawthorne Boulevard, you'll find the residential areas. Here, there is a good mix of renters and homeowners.
The Hawthorne District actually has a very interesting past. In the mid-1800s, Oregon's first mental hospital opened in the area. Called the Oregon Hospital for the Insane, it essentially became an "insane asylum" for the state. For a while, the street was known as Asylum Avenue. Eventually, a new, better facility opened in Salem and the Hawthorne hospital closed. The street was then renamed after Dr. Hawthorne.
Nowadays, there is still plenty of history to discover along Hawthorne. But instead of psychiatric hospitals, there are historic buildings and antique stores. Lounge Lizard, Magpie and House of Vintage offer endless hours of browsing vintage clothing, furniture and accessories.
There are several classic old theaters, including McMenamins Bagdad Theater & Pub, CineMagic and the Hawthorne Theatre. For a neighborhood park, you can't get better than Mount Tabor. This extinct volcanic cone has lush forests, sprawling fields, a reservoir and unbeatable city views.
The only asylum you'll now find here is the Hawthorne Asylum Food Pod. This grouping of food trucks gets its name after the infamous asylum and is part of Hawthorne's eclectic food scene.
South Waterfront
The South Waterfront sits opposite Lair Hill along the western banks of the Willamette. As its name suggests, it's located in South Portland. This up-and-coming district is another prime example of urban renewal in Portland — once an industrial yard, now it's an affluent, contemporary neighborhood on par with the Pearl.
Unlike the Pearl, however, there are few historic buildings left on the South Waterfront. The district was entirely reimagined from the ground up as an ultra-modern oasis. Residents can choose from hip apartment blocks to glossy high-rises. The formerly rundown riverfront is now a manicured network of lawns, walking paths and greenery.
Just because it's a newer neighborhood doesn't mean it lacks things to do. Many businesses have set up shop to serve residents' needs. There are restaurants, doctor's offices, grocery stores, farmer's markets, gyms, salons and more.
Furthermore, the compact district is also very walkable and well-connected. There is great access to public transit to get to other neighborhoods or downtown. A great example is the Tilikum Crossing bridge linking the east and west banks. This eye-catching bridge was the first bridge of its kind in the U.S. It's only open to public transit and pedestrians.
Lair Hill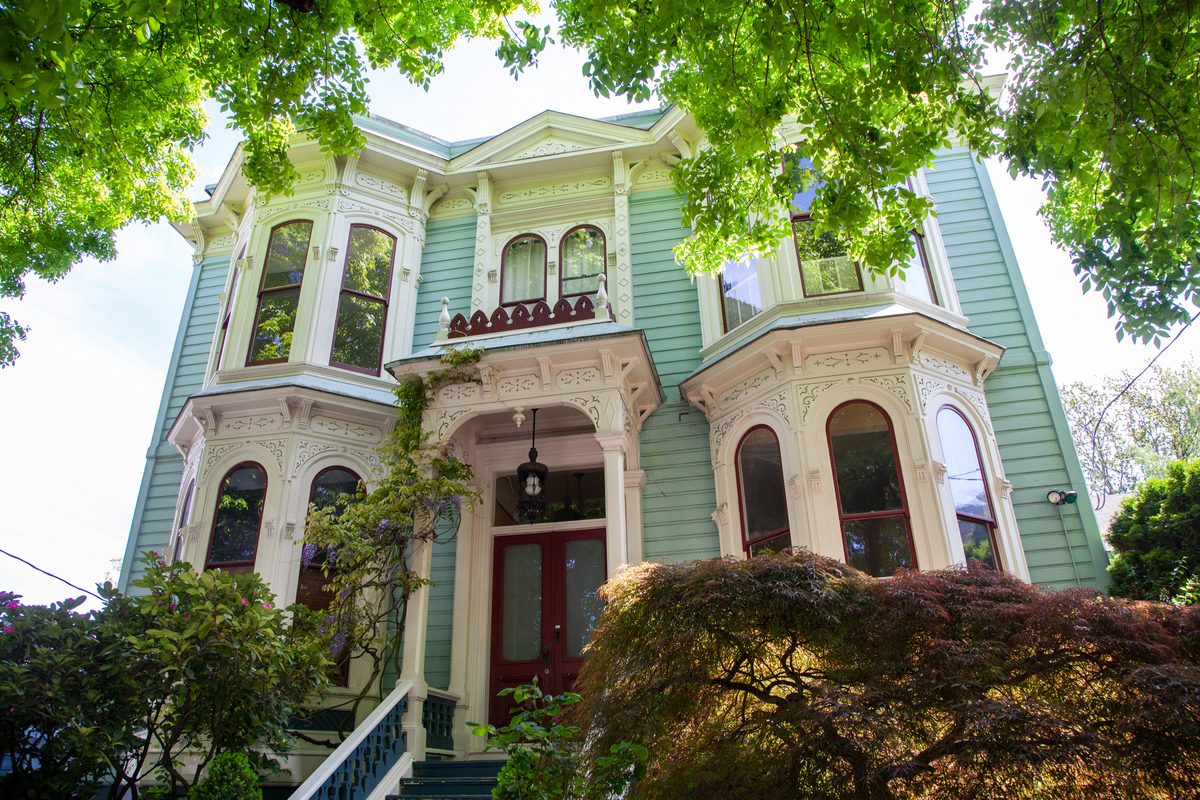 The name Lair Hill may not immediately ring a bell. Locals like it that way. This quiet neighborhood is at the base of Marquam Hill in South Portland. Bordered by Interstate 5, most motorists zip by en-route to the city center or heading out of town. So Lair Hill is one of Portland's hidden gems.
Lair Hill is home to some of Portland's finest Victorian homes. These historic houses are immaculately preserved and cruising the steep, tree-lined streets is one way to appreciate them. But you can also get a nice aerial view from the Portland Tram. This tramcar connects the bottom of Marquam Hill to the Oregon Health & Science University campus and hospital further up the hill.
The older homes are true classics worth a lot of money. So the area is largely dominated by homeowners. However, renters can still find affordable rental options.
In addition to families and long-term residents, students make up a portion of the local demographics. Nearby OHSU is a leading health and sciences university, so students can live close to school. Residents can also easily walk to restaurants, stores and parks.
St. Johns
Once upon a time, the North Portland neighborhood of St. Johns was actually its own separate town. The area settled in the 1800s before becoming a proper town in 1902. Then in 1915, it incorporated into the growing city of Portland.
Because of its location at the far northern tip of Portland, St. Johns retains its compact, small-town atmosphere. You can walk or cycle down commercial streets full of stores and businesses that have been there for years.
The area boasts of a diverse demographic blend. A slight majority of residents are homeowners, so it's a popular neighborhood for families. But young urbanites and artists also enjoy the counterculture, hipster atmosphere. There are arthouse movie theaters, great vintage shopping and diverse dining.
Portland already has a reputation for being a very green, nature-oriented city. St. Johns is one of the best neighborhoods for that purpose. It's located at the confluence of the Willamette and Columbia Rivers, so it's very lush. Wetland and forest environments are both close by. The Smith and Bybee Natural Wetlands Area offers wildlife viewing. Forest Park is a short drive away across the iconic St John's Bridge. The riverfront Cathedral Park is a beloved spot for outings and gatherings. Nearby Sauvie Island also provides access to fresh produce and outdoor recreation.
The Pearl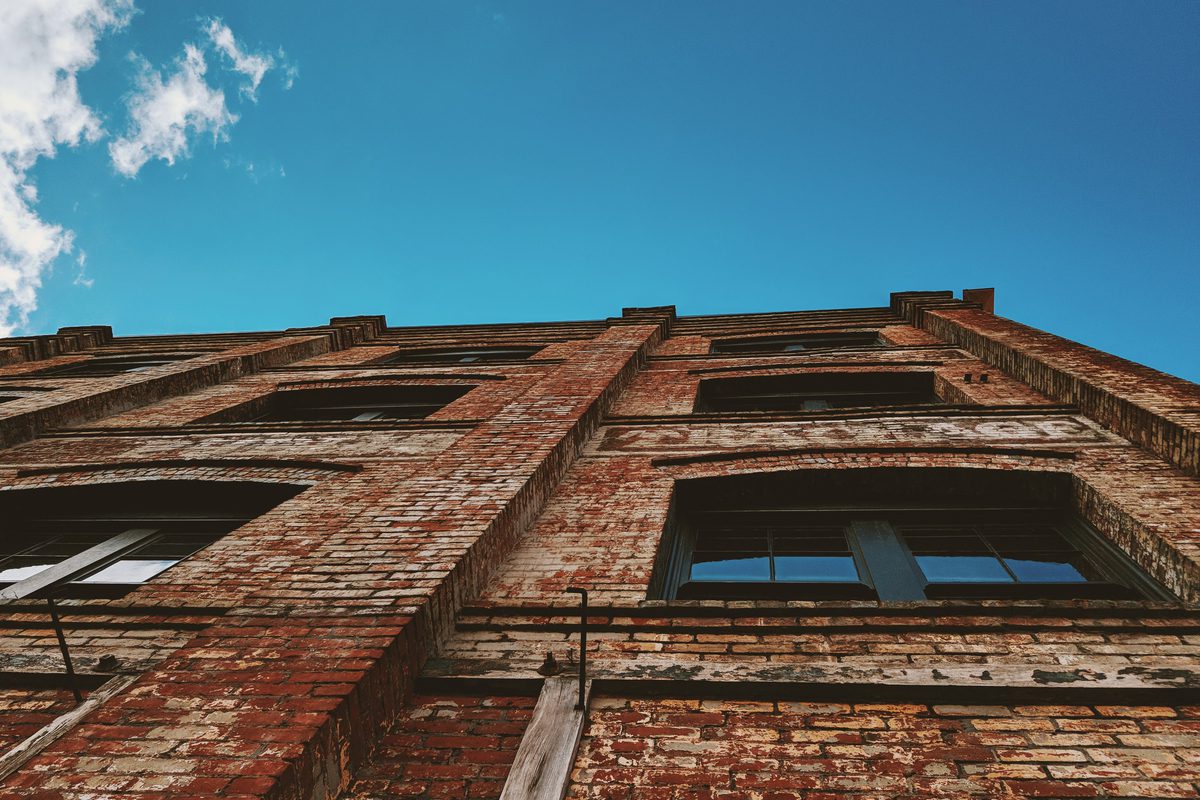 Today, the Pearl District in Northwest is one of Portland's most trendy, upscale neighborhoods. The area borders downtown, the Willamette River and Northwest Portland.
Historically, it served as a railyard and industrial area. Evidence of this past can still be seen around the district. Cobblestone streets with railroad tracks divide blocks of red-brick buildings. Many of these older buildings went through renovations into lofts, condos, restaurants, office space and stores. But the present is also alive and well here. Sleek, glossy highrises dominate the Pearl skyline — full of luxe apartments.
The Pearl area is home to some of Portland's best shopping from local, national and international brands. At MadeHere PDX, you'll find a wealth of locally-produced goods from clothing to food. Across the street, there's the famous Powell's City of Books, which takes up an entire city block. Elsewhere, you'll find top brands like Fjallraven, Anthropologie, Dr. Martens and more.
Another reason people love this neighborhood is the food and drink. Craft beer fans looking to dive into the "Beervana" craft brewing scene will find a great springboard here. Breweries like Deschutes and 10 Barrel are within walking distance of each other. There are also many great restaurants like Republica, Andina and Nola Doughnuts.
Finally, the Pearl is a must-visit destination for art. The district has tons of highly-regarded galleries and hosts an annual street gallery. Performing arts lovers can catch shows and entertainment at the Portland Center Stage at the Armory.
Alphabet District
The Alphabet District is in Northwest Portland. As its name suggests, the street names follow the letters of the alphabet. Starting from NW Burnside, the streets proceed north by letter.
The Alphabet District intersects with the Nob Hill neighborhood. Nob Hill is primarily known as a destination for dining and shopping. So if you want to live close to all that action, Alphabet District is the place.
The area is renter-dominated, with tons of historic apartment buildings. You will also find a ton of classic Victorian homes or quirky houses done up with colorful paints or whimsical decor here.
As a dense urban neighborhood, all necessities are just a short walk or bus ride away. Grocery stores include Trader Joe's and Fred Meyer's. Medical help and doctors' offices are found at the Legacy Good Samaritan Medical Center.
Multnomah Village
The Portland neighborhood of Multnomah Village is in the Southwest quadrant. Situated next to the I-5 corridor, it's slightly separated from the city center. However, the close proximity to the interstate also makes it easy to get in and out of town.
Since it's so easy to drive right past it, Multnomah Village is often overlooked by out-of-towners or new residents. Locally, Multnomah Village is often referred to as "the village in the heart of Portland" and it's considered one of the best neighborhoods in Portland.
With a good mix of renters and homeowners, residents like to set down roots here to raise families or enjoy a more laidback quality of life. There are good public schools, lush parks like Gabriel Park and quiet neighborhoods of historic homes.
Multnomah Village also prides itself on its many independent businesses. There are great local boutiques and stores, like Annie Bloom's Books and Thinker Toys.
Buckman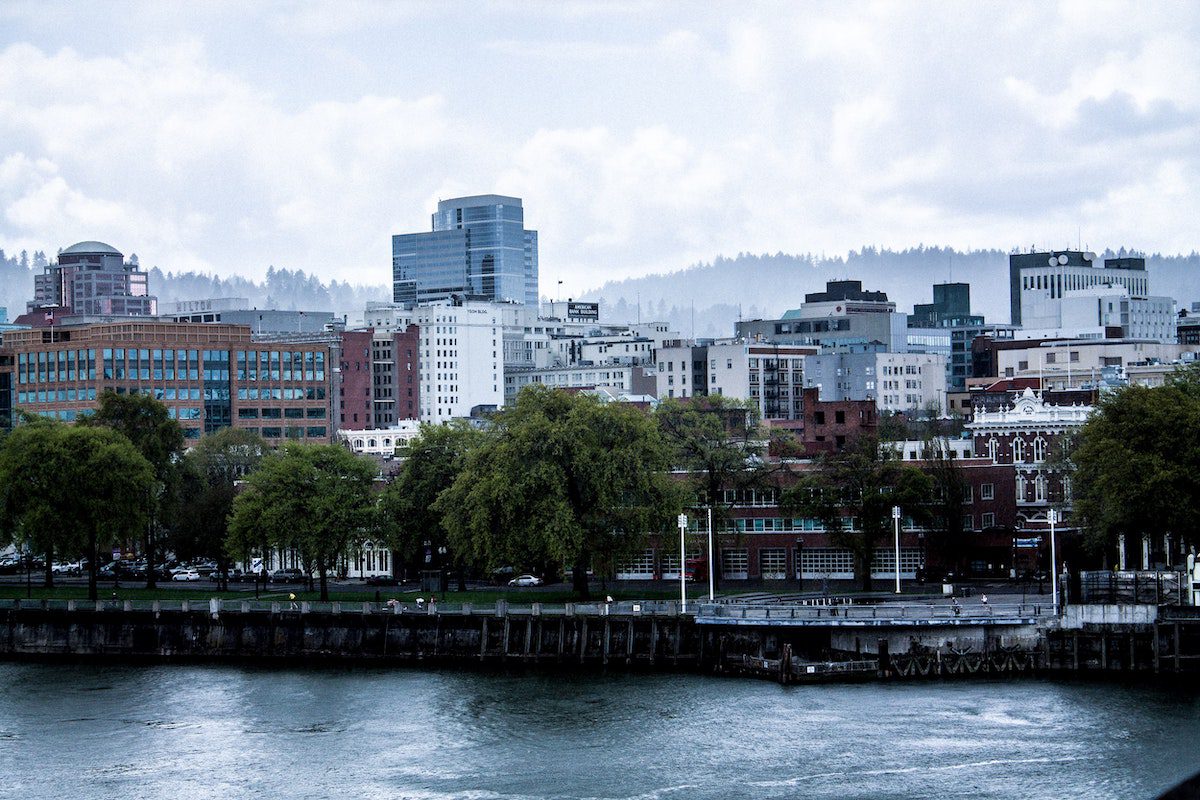 Buckman and Kerns are two peas in a pod. These side-by-side neighborhoods are edgy, trendy and eclectic. Sitting to the south of E Burnside Street, Buckman is in the Southeast quadrant.
Similar to Kerns, Buckman is a foodie paradise. There are tons of coffee roasters, multicultural eateries and cool bars. Buckman is an especially good spot for craft beer. The district is home to several local breweries, including Hair of the Dog. This popular spot is well known for its inventive, unorthodox brews. You can easily walk or cycle from brewery to brewery for an afternoon of hoppy fun.
Nearly 90 percent of Buckman residents rent their homes. As a hip neighborhood, there are many new apartment buildings for young renters and small families. Inspired by the riverfront industrial area, industrial chic is a definite aesthetic of Buckman's architecture.
Goose Hollow
Portland is a great city for sports. There's the Trail Blazers basketball team, the Timbers soccer club and many more. If you're a sports fan living in Portland, Goose Hollow is the neighborhood for you. Providence Park, the home of the Timbers and Thorns, is in the heart of the district. And local sports bars like the Cheerful Bullpen are also close by for beer and wings while watching the game.
Goose Hollow is in Southwest Portland, sandwiched between downtown and Washington Park. The area gets its name from a time before the area had tall apartment buildings and urban developments go up. Back then, residents would let their geese wander freely around nearby wooded areas like Tanner Creek Gulch. Nowadays, there are no free-roaming geese. But you will find affordable housing, tons of dining options and cultural offerings like the Portland Repertory Theater.
Even though Goose Hollow feels very inner-city with its packed-in apartment buildings, it's easy to find nature. Head uphill and you'll wind up in Washington Park. This sprawling 410-acre park in the West Hills is one of Portland's best attractions. The park is home to the Oregon Zoo, the Japanese Garden and the International Rose Test Garden.
Alberta Arts District
The Alberta Arts District in Northeast Portland actually connects several different neighborhoods. This creative, art-centric district connects the King, Vernon and Concordia neighborhoods.
These established neighborhoods are full of long-term homeowners and families. In fact, the majority of residents here own their homes. But the area is also popular among the young, counterculture crowd. This makes Alberta another great option for a small-town atmosphere in a big-city package — thanks to its community-oriented services like co-op grocery stores and an abundance of local businesses.
The Alberta Arts District is by NE Alberta Street. It's along this stretch that most of Alberta's best treasures exist. The district is a great spot to find locally-roasted coffee at cafes like Case Study. Restaurants, food carts and bars offer an eclectic mix of cuisines and dishes. Alberta is also great for shopping goods from local creators. Oh and Alberta is home to Caravan — a hotel comprised entirely of tiny houses.
Primarily though, Alberta is all about the art. Beautiful murals and street art are found on buildings throughout the district. Artists display their creations in galleries like Antler and the Alberta Street Gallery. Artists enjoy the supportive atmosphere, as spots like Flight 64 Studio provide facilities and tools for artistic creation. Once a month, local artists are also able to showcase their work at the Last Thursday art market.
Kerns
The inner Northeast Kerns neighborhood buzzes with energy and things to do. Paired with its next-door neighbor Buckman, this area is undoubtedly one of Portland's hottest districts. One of its biggest attributes? River access. Most Portland neighborhoods are somewhat separated from the Willamette River but Kerns is right next door. The Eastbank Esplanade offers scenic walks with unbeatable downtown views or waterfront access getting out on the river.
Another plus is the architecture. In the more established residential areas, you'll find a blend of classic Portland homes. But Kerns is best known for its edgy modern condos and commercial spaces. The cluster of buildings near the Burnside Bridge is a notable stand-out. The YARD and Slate apartment complexes are instantly recognizable for their sleek facades and upscale style. In contrast, the vibrant Fair-Haired Dumbbell office building gives the area a pop of color.
Kerns is a hotbed for dining and nightlife. As such, it's popular among young professionals. Over 80 percent of Kerns residents rent their homes. Kerns' prime location in the heart of the city is another plus.
Burnside and other major roads make it easy to get around Portland by transit or car. Interstate 5 also passes close by for a quick get-away out of the city.
Westmoreland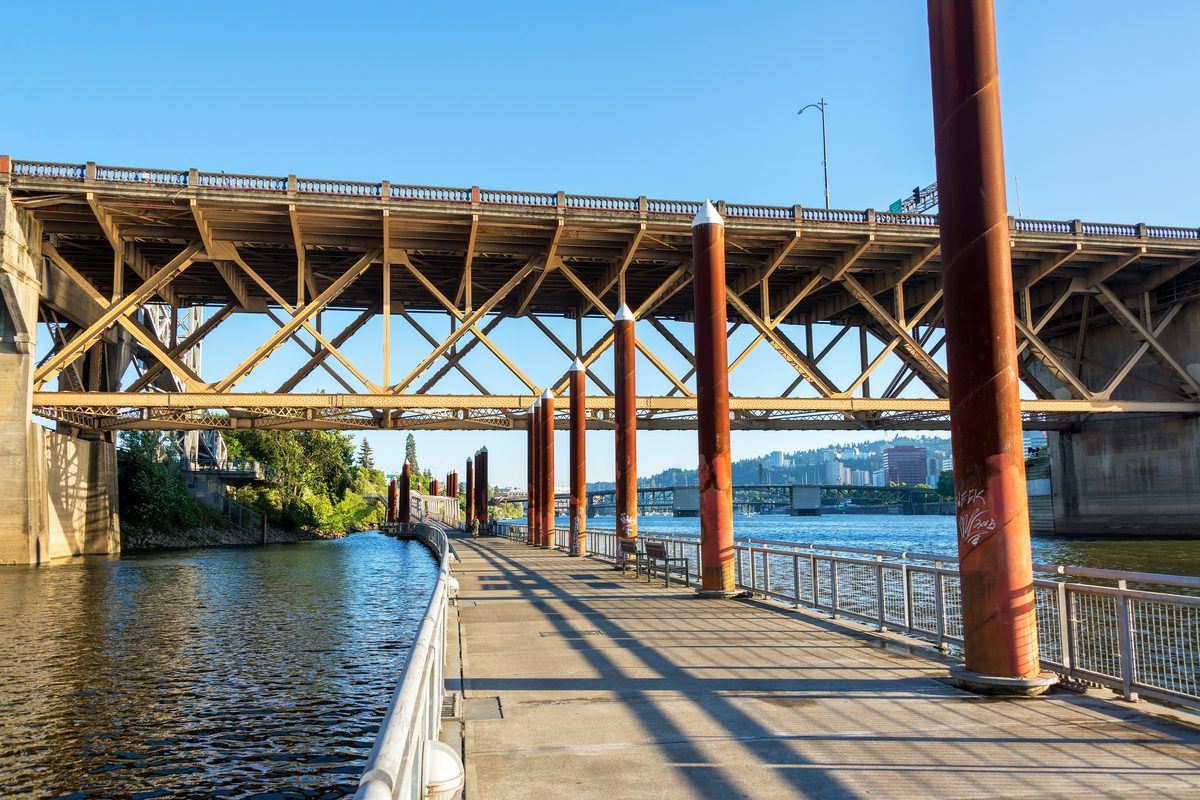 Part of the broader Sellwood-Moreland neighborhood, Westmoreland offers residents a great balance of nature and culture. Located in Southeast Portland, it's a bit out of the way compared to some of Portland's other top neighborhoods.
Similar to other Portland neighborhoods, Westmoreland is a world of its own. Residents don't need to go far to get everything they need. Whether it's groceries, a fun activity or some time spent in nature, Westmoreland has it.
For thrills, check out Oaks Amusement Park. This historic carnivalesque attraction is chock-full of great rides and games. If you love antiques and vintage shopping, Westmoreland has many top-notch shops and boutiques. The riverfront location also makes it easy to go for leisurely riverfront walks or quick dips.
Renting versus home owning is split about 50-50 here. The slight separation from central Portland offers great rates and a laid-back, chill atmosphere. But the nearby highway also makes it easy to get into town quickly.
Mississippi
The North Portland neighborhood of Mississippi has been climbing the charts in recent years. Anchored by N Mississippi Avenue, the area dates from the 1800s. After declining throughout the second half of the 1900s, the Historic Mississippi Avenue Business Association stepped up. With the help of a resilient, dedicated community, the area rebounded — making it now one of Portland's best-kept secrets.
Currently, Mississippi is a popular home for Portland's youthful crowd. Newer apartment complexes with affordable rates make the area popular with young professionals. The surrounding residential areas also have many historic homes though. Quiet and off the beaten track, it's a great district for walking and cycling. Public transit also easily connects to other neighborhoods and the city center.
Shopping and dining are also stand-out experiences here. There are hip bars, quirky coffeehouses and cozy gastropubs. One must-try is Matt's BBQ, which serves up Southern-worthy barbecue. For shopping, you have your pick of trendy boutiques or vintage haunts. Pistils Nursery is a local favorite for plant lovers.
Creston-Kenilworth
The SE neighborhood of Creston-Kenilworth is a bastion of cute, affordable homes and a diverse community. With luscious city parks, good schools and easily navigable residential areas, it's a great option for families and young professionals. The average area rent is $1,275, and homeowners will find solid, attractive houses for competitive prices.
Despite being a bit more southerly than other popular SE districts, Creston-Kenilworth is not lacking for Portland perks. There's the Hopworks Urban Brewery, which produces award-winning brews while also operating a sustainable, eco-aware business. There's eclectic dining, ranging from Mexican to Thai to comfort Southern. For shopping, residents have access to quality, trusted name-brands like Trader Joe's.
From Creston-Kenilworth, it's also easy to get around. The bordering SE Powell connects to the city center and other major streets. Neighboring districts like Foster and Hosford-Abernethy hold additional entertainment options for residents.
Irvington
If you're looking for classic Portland architecture, Irvington has it. This neighborhood is home to a variety of historic styles and homes.
Along the quiet, tree-lined streets, you'll find a taste of the American Dream. Homes here are well-preserved and come with sprawling lawns and friendly neighbors. Style-wise, you'll find everything from stately Classical Revival to quintessential Portland Craftsman. Several homes here are even listed on the National Register of Historic Places.
Despite the abundance of elegant houses, renting slightly edges out home-owning here. Homeowners and renters alike enjoy the family-friendly neighborhoods while also enjoying close access to groceries, shopping, dining and more. Irvington does a great job of retaining its historic appeal while still offering modern amenities. The area is also safe, so residents feel comfortable walking and cycling around.
Sunnyside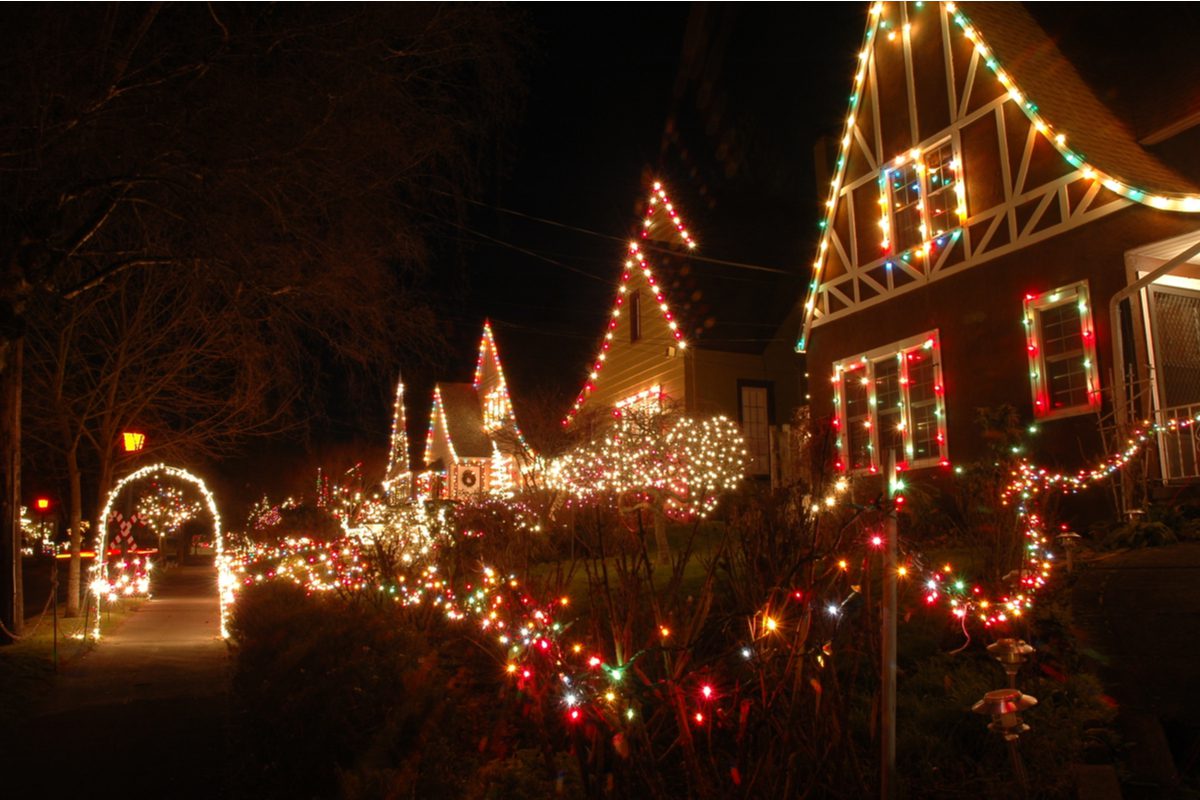 The Southeast neighborhood of Sunnyside is sometimes also referred to as Belmont. This is because of SE Belmont Street, which passes through the neighborhood and is a major commercial artery. Along SE Belmont, you'll find a multitude of local businesses, from wine shops to food carts to cafes and more. With high walking and biking scores, it's a great neighborhood for residents who enjoy a quick and easy walk to everything they need.
The majority of Sunnyside residents rent their homes in houses and apartments. But homeowners here are rightfully proud of the neighborhood's classic architecture. The area has an abundance of beautiful Victorian and Tudor homes, as well as other historic styles and businesses. Because of this distinctive style, Sunnyside is sometimes compared to Haight Ashbury in San Francisco.
Sunnyside is also a treasure trove of local history and quirks. There's the Avalon, Portland's oldest operating movie theater. Film buffs will have a ball at the Movie Madness museum. And if you're looking for the best Christmas lights in Portland? Look no further than Peacock Lane. Come the holidays each year, every house on this SE street goes all out with the lights and decorations.
Montavilla
The Portland neighborhood of Montavilla is between the Northeast and Southeast quadrants. Its name derives from its location close to Mount Tabor, a popular city park. In the 1890s, the area was known as Mount Tabor Village. On streetcar signs, it had the abbreviation of "Mt. Ta. Villa." Over time, the syllabic pronunciation of the abbreviated letters was strung together to give the neighborhood its current moniker.
Cut through by major thoroughfares like E Burnside, NE Glisan and SE Division, these streets serve as hubs for shopping, dining and entertainment. The historic Academy Theater hosts screenings of second-run and classic films. There are cozy bakeries and cafes like the Hungry Heart Bakery for meeting friends for coffee and treats. If you're looking for exceptional Lebanese food, make haste to Ya Hala. The family behind this beloved establishment is also responsible for helping create a Lebanese food scene in Portland. Shopping-wise, Montavilla is great for vintage and vinyl perusing.
In addition to Mount Tabor, the area has many tranquil urban parks like the 9.5-acre Montavilla Park. Montavilla is also easy to navigate by foot or bike, with high walking and cycling rankings. When it comes to housing, you'll have a lot of options. The area is pretty evenly split between homeowners and renters. On average, rent is also far cheaper than the citywide average of $1,820 for a one-bedroom apartment.
Finding the best Portland neighborhoods
Portland has over 90 officially recognized neighborhoods. But these top 20 represent some of the best that the city has to offer. Portland is a great city for renters thanks to its affordable rates and diverse housing options. But who wouldn't love to be the owner of one of those classic Craftsman homes? That's why the Portland housing market is red-hot right now.
No matter what you're looking for, there's an apartment for rent in Portland that's perfect for you.
Comments
comments