The Absolute Best Paint For Sprucing Up Your Kitchen Cabinets
The kitchen is often the focal point of any home, whether you live in a mansion or an apartment. This is where we gather to spend time cooking and eating with our loved ones. When you spend so much time in a room, it is reasonable to want it to be beautiful!
Cabinets can honestly make or break your kitchen decor. If they are a nice color and painted well, they can make your kitchen look amazing. On the other hand, if they look rough, your whole kitchen can take on the same vibe. A simple and affordable solution to make kitchen cabinets look better is to paint them – even the most outdated cabinets can give off a whole new vibe with a fresh coat of paint!
So how do you start painting kitchen cabinets? What paint should you use and does the type of paint make a difference?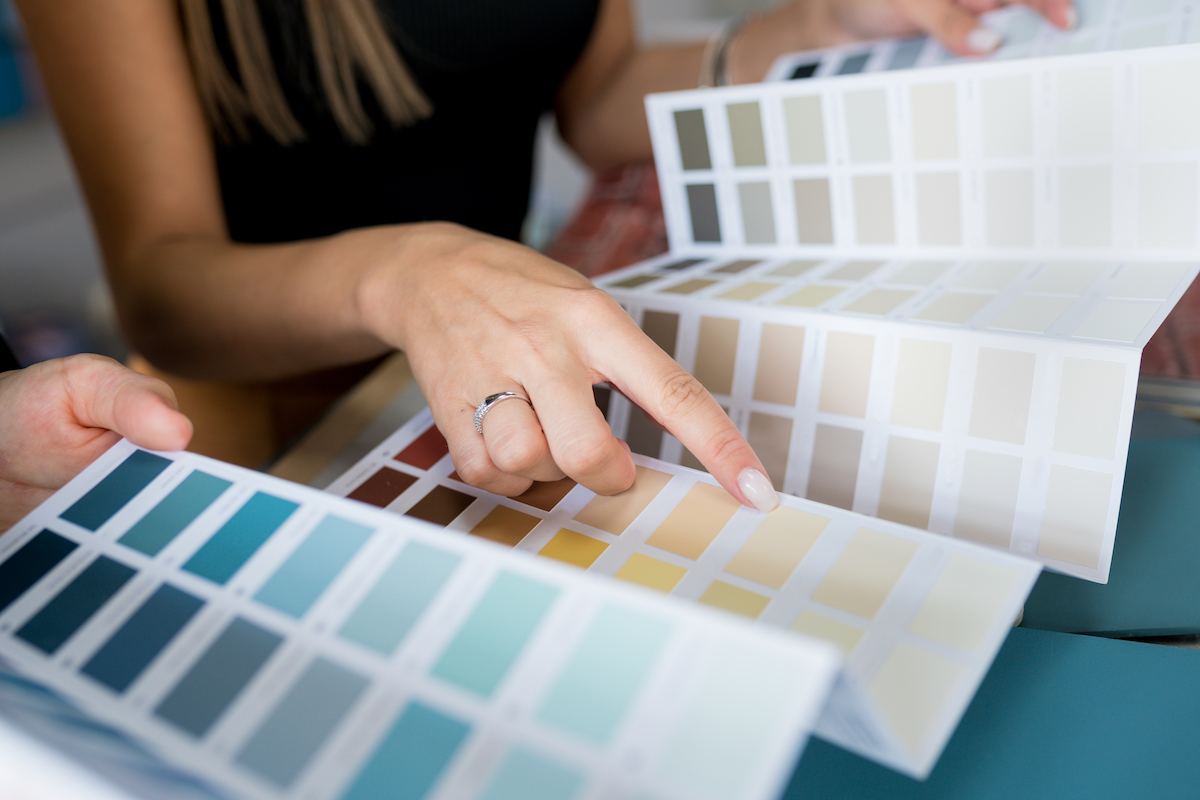 Choosing the best paint for kitchen cabinets
Painting anything is seemingly simple. Just run to the hardware store, choose your color and come home and apply a coat or two of paint, right?
Bad! Different types of paint have different functions, and cabinet paints should serve a different purpose than the paints you use for your finger painting project. In addition to different types of paint, there are different brands of cabinet paint that may meet your needs, depending on what they are.
For example, kitchen cabinets should have easy cleaning properties and stain resistance, as food can get into them easily. Bathroom cabinets, however, have to withstand a lot of water and humidity.
Here's what you need to know to find the best paint for kitchen cabinets.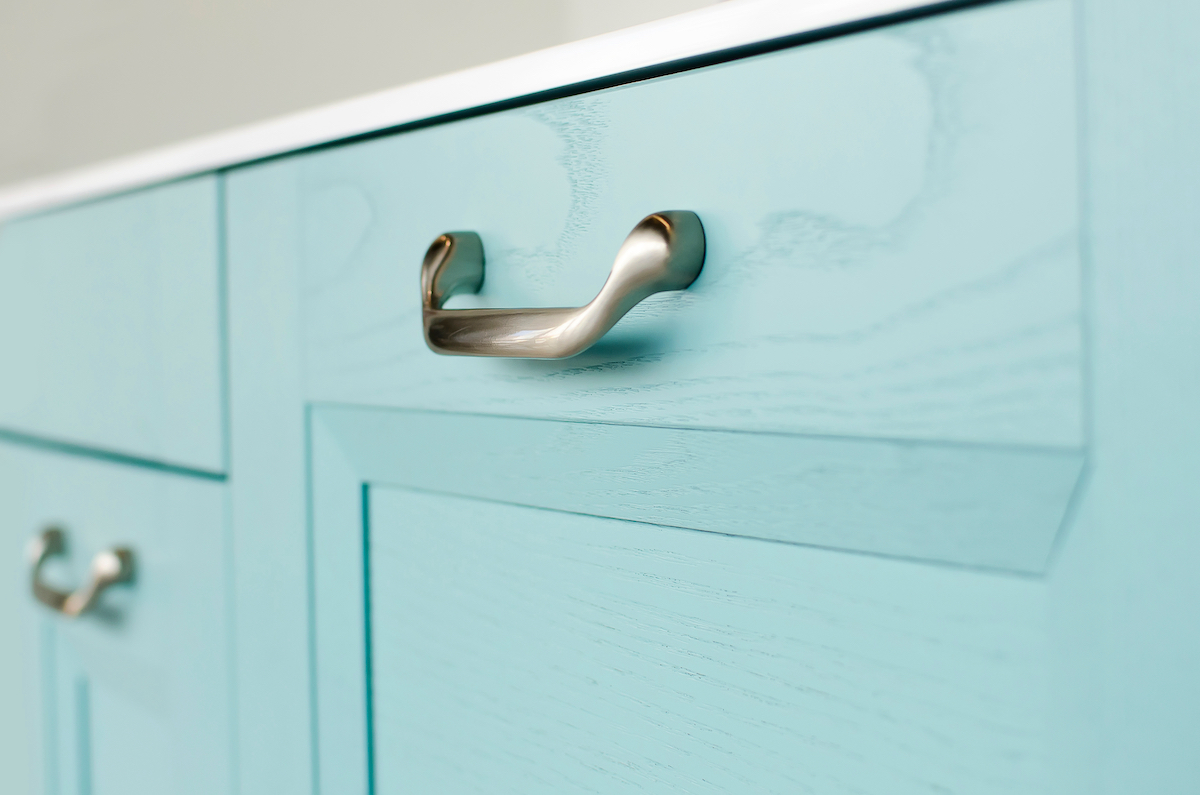 What is the difference between cabinet paint and regular paint?
As mentioned earlier, cabinets should have durable paint to keep them looking good for a long time. The paints you use for crafts, such as acrylic paints, chalk paint, and even milk paint, will be different from the paint you put on wood cabinets. You need something with a furniture-grade finish that doesn't chip easily and smudge or bubble and warp if a little water gets on it.
However, you don't need an extremely rare or expensive special paint, although it's probably not as cheap as your typical chalk paint from the craft store. There are paint companies that make the type you need and you can easily find them at paint stores at an affordable price.
And these paints are available in many finishes, just like the things you put on the walls – from semi-gloss finish to matte finish and everything in between.
Paint brands for cabinets
Two common brands known as the best kitchen cabinet paint are Sherwin Williams and Benjamin Moore, which you can find at virtually any hardware store. These brands are often used by professional painters when painting kitchen cabinets and ultimately either brand will give you the results you want.
With 3,500 colors to choose from, Benjamin Moore won't disappoint. The brand also offers different sheens (semi-gloss, gloss, satin, etc.) and offers hybrid glaze options.
Another well-known cabinet coat brand is Sherwin Williams, which is similar to Benjamin Moore in terms of paint offerings. Sherwin Williams has all finishes available, whether you want a semi-gloss or matte finish. It doesn't have quite as many color options, but still has a wide gamut of 1,700 colors to choose from, which is more than a human really needs.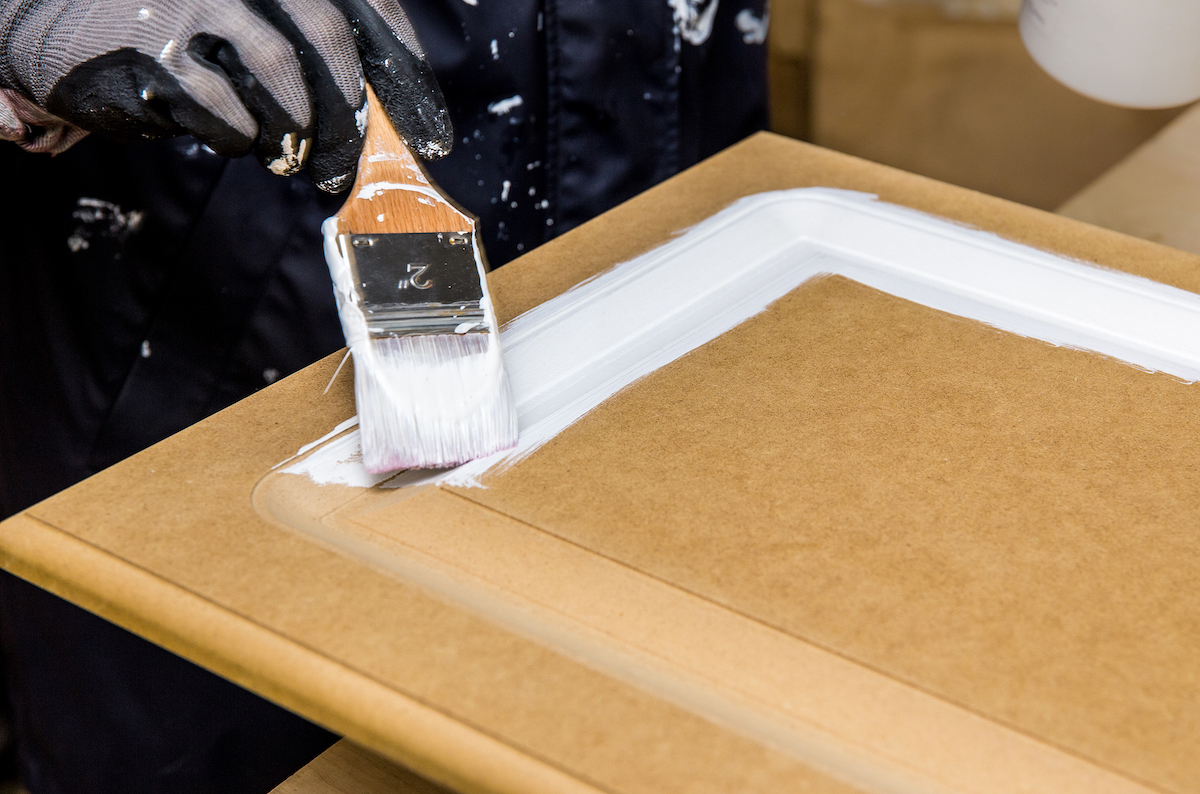 What type of paint is the most durable for kitchen cabinets?
There are different types of paint, each with its own properties that make it better or worse for kitchen cabinets. You touch your cabinet doors all the time, spill food on them, and it's easy to accidentally bump into them, so you want them to have a durable coating that doesn't chip easily. Here are the best types of paint for kitchen cabinets.
Oil-based paint
Oil-based paint was historically known as the best paint for kitchen cabinets for several reasons. It has a durable finish and gives a smooth finish, which is the goal in a place like a kitchen. However, it is not as common anymore as it is not good for the environment and dangerous to use. Use toxic mineral spirits to thin the paint, which you will be exposed to during the painting process, and disposing of things containing oil is difficult and wreaks havoc on the climate.
latex paint
At the other end of the paint spectrum are latex paints. Unlike oil-based paints, these water-based paints are much less harmful to the environment and don't leave as many toxins floating around in the air. Latex paint isn't as durable as oil-based paint, but it will still provide a durable coating that will stand up to most things.
And, if cleanability is something you're concerned about, latex paints are much easier to clean than oil-based paints. The bad part? It dries quickly, so if you're not using a paint sprayer, you'll likely see brush marks
Hybrid enamel
Right in between oil-based and latex paints are hybrid enamels. These hybrid paints combine the best of both worlds – the durable finish of oil-based paint and the eco-friendly, easy-to-clean properties of water-based paint. Hybrid Enamel is a water-based acrylic alkyd, so it looks and behaves like an oil-based paint (which alkyd paint does, just without the oil), without yellowing over time (a property of acrylic paint). This is arguably the best type of paint for kitchen cabinets.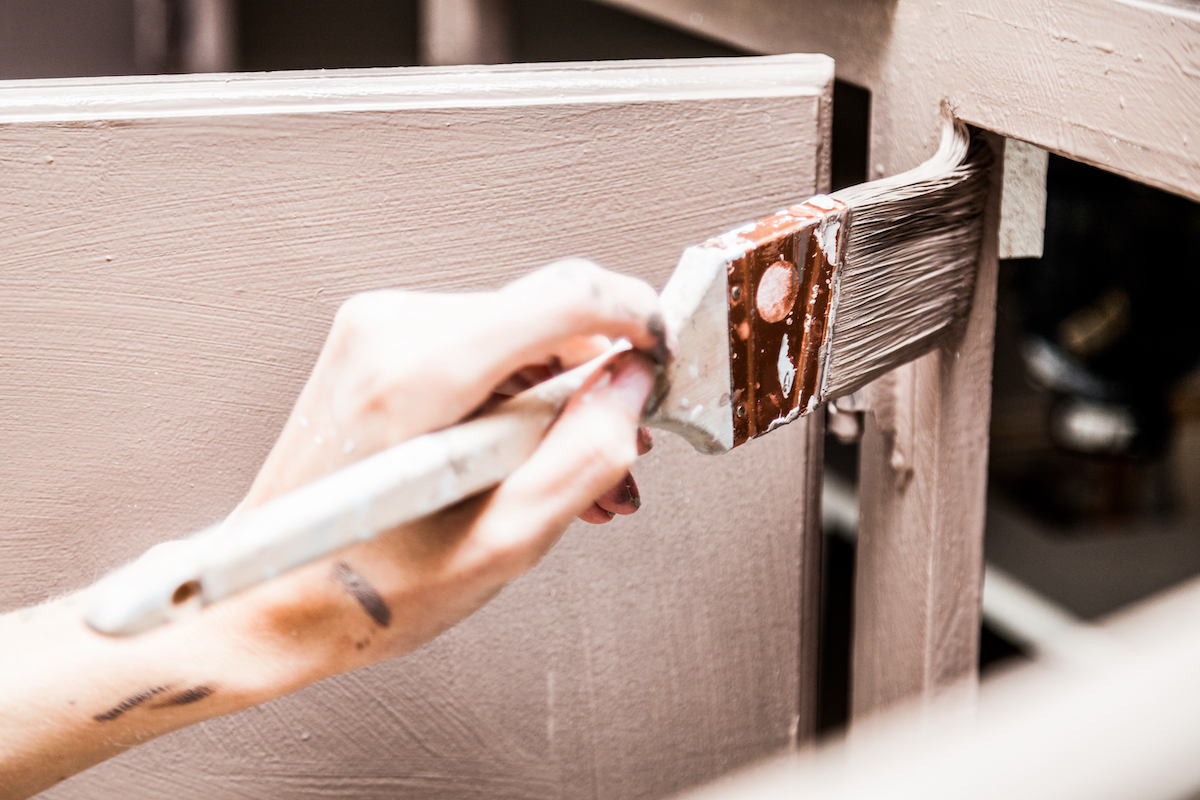 The Best Method for Painting Kitchen Cabinets
To paint your kitchen cabinets, it is not enough to choose paint and stick it on the cabinet doors with a paintbrush. You'll want to come prepared and make sure you have the right tools on hand so you can do a great job. After all, you don't want your cabinets to have sloppy, visible brush marks and an uneven surface. Here's how you can give your cabinets a smooth finish that looks like professional painters did the dirty work.
Obtain permission
Make sure that before you do anything in your apartment, you get permission from your landlord. Your lease should specify what changes you can or cannot make to your apartment, so read it to get started. Then contact your landlord or property management to make sure you're allowed to paint your kitchen cabinets or you could find yourself in trouble and end up forfeiting your deposit when you move out.
Clean cupboards
Start by cleaning the surfaces of the cabinets you are going to paint. You can use something strong like TSP (trisodium phosphate) to really cut the fat. Or, if you prefer to use something softer, grab a rag and use warm, soapy water to wipe away all the dust and dirt buildup (you may need to use a little more elbow grease with this method ). Make sure the surface is completely dry before painting.
Grab your tools and start painting
Now that you have clean cabinets, it's time to paint! There are different ways to paint that require different tools, so be sure to do the proper research to ensure you're using the most effective method for the tools you're using. The method you use to paint can also depend on the type of paint you choose.
If you use a paint gun, you'll need to thin the paint with a little water and cover everything you don't want the paint to cover (i.e. everything except the cabinets!). Using a sprayer will give you a smooth finish and no visible brush strokes. Also, it will take less time for the actual paint job, but the prep time is usually longer because you want to make sure you've covered everything except the plastic cabinets to protect them from unwanted paint.
If you're on a tight budget and don't want to invest in a sprayer, the safe bet is to use a paint roller or brush. If you are using a roller, you will still need to use a small brush to get into all the corners and edges. But, if you're using a brush alone, you'll probably need two different sizes – a small brush for corners and tight spaces and a large brush for covering large areas (so you don't spend forever trying to cover the front of a piece of furniture with a small brush).
Look from different angles
Once your cabinets have received their first coat of paint, let them dry completely and then examine the paint job from different angles. When the paint dries, you may find spots where you accidentally painted against the grain of the wood that stick out under strong lighting. Or, if you used gloss or semi-gloss paint, you might find a spot that doesn't look quite as glossy. Once you've taken a look and noted the spots that need a little extra help, then move on to your second coat and pay close attention to the spots that need fixing.
Let the paint dry before using your cabinets
The paint is on the cabinets and they have an impeccable finish! But don't get too excited and start using them right away – you'll want to let them dry for at least 24 hours or more. Even if the paint looks dry, there may still be spots where the paint isn't completely set and it may smudge or wrinkle if you're not careful. Once you've waited at least a day, you can start using your cabinets again!
Enjoy your "new" cabinets
Now you know everything you need to start sprucing up your kitchen cabinets. So keep all of this information in mind when choosing the best paint for your kitchen and get to work! Whatever color and finish you choose, whether it's a semi-gloss beige or a matte neon green, you can make your kitchen reflect your personal style.