The Average Rent in Tampa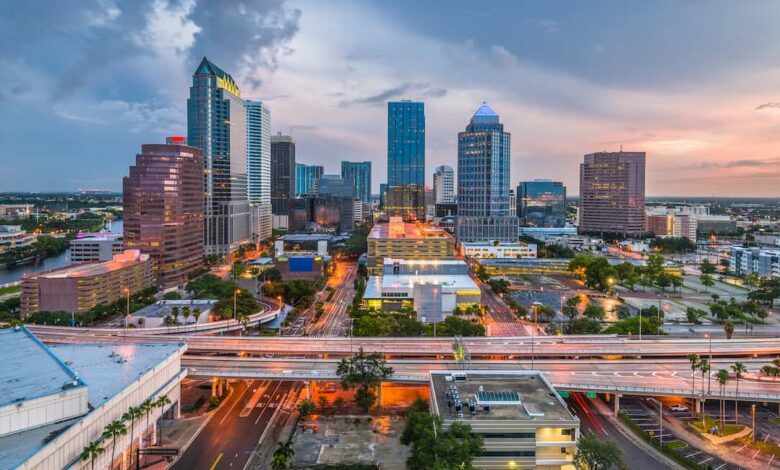 Home to nearly 400,000 inhabitants and more than 3 million Across the Tampa Bay area, Tampa is one of the most populous cities in the Southeast. With all the amenities of a large metropolitan city and proximity to world-famous beaches and theme parks, it's no wonder the Tampa Bay area has grown. about 10.5 percent over the past 10 years.
And the good news for tenants? The average rent in Tampa has not increased at the same rate.
What's the average rent in Tampa?
Tampa is known to be one of the most affordable cities in Florida with a booming job market. There are plenty of cheap and upscale neighborhoods to choose from, and the average rent in Tampa is $ 1,348 for a one-bedroom apartment.
This is about 10.25 percent lower than the same period last year. Average rental prices are significantly lower than the national average of $ 1,598 for a one-bedroom apartment.

How Much Do I Need to Earn to Live in Tampa?
The best way to live comfortably in Tampa is to make sure you have enough money to pay the rent and that you have enough left over to cover your expenses. The general rule for living is not to spend more than 30% (before tax) of your annual income on rent.
With average room rental prices at $ 1,348, you'll need to earn at least $ 53,920 per year to live comfortably in Tampa. Currently, the average salary in Tampa is $ 65,000 per year, which can give you the freedom to spend a little more on rent or have a little extra money to spend or save each month.
With a wide range of rentals available in Tampa, you're likely to find one that meets your needs and budget. To find out exactly how much you can afford to rent, go to our rent calculator.
The cost of living in Tampa
Once you've figured out how much you can afford to pay in rent each month, you also need to think about other expenses that impact the overall cost of living in Tampa. One of the best ways to do this is to determine the cost of certain items in Tampa relative to the rest of the country. These numbers help analysts build a cost of living index. Tampa has a cost of living index of 96.6%, which is 3.4% lower than the national average.
Some factors that affect the cost of living index include housing, transportation, groceries, health care, utilities, and various goods and services. Here's how Tampa compares to other US cities in these categories.
Housing: The cost of housing in Tampa is 12.2% lower than the national average.
Miscellaneous goods and services: The cost of miscellaneous goods and services in Tampa is 3.3% lower than the national average.
Utilities: The cost of utilities in Tampa is 3.1 percent lower than the national average.
Health care: The cost of health care in Tampa is 1.6% lower than the national average.
Transport: The cost of transportation in Tampa is 4.3% higher than the national average.
Groceries: The cost of groceries in Tampa is 7.9% higher than the national average.
While transportation and grocery costs are higher than the national average, these costs are offset by lower housing, utilities, and health care costs. It makes Tampa an affordable place to live.
By arming yourself with the above information, you will be able to get a clear idea of ​​what exactly it will cost to live comfortably in Tampa. You can then take your budget and start looking for rentals that match your price.

Most and cheapest neighborhoods in Tampa
Tampa has several distinct neighborhoods which each have their own unique appeal. There are pockets of expensive areas all over the city, although most of them are on the north, south, and west outskirts of downtown Tampa. The cheapest areas are usually clustered in the city center and on the eastern outskirts of the city.
In the expensive northern neighborhoods, you'll find Old Seminole Heights and Northeast Tampa. The other popular, and therefore expensive, area to travel to is South Tampa. Some of the more exclusive neighborhoods include Hyde Park North, Uptown Tampa, Channel District, Harbor Island, Southeast Tampa, North Hyde Park, and Sun Bay South.
The cheapest neighborhoods tend to be close to the city center and east of the city center, although you can find affordable housing throughout the city. Some of the more popular budget neighborhoods are University Square, Tampa Heights, and New Tampa.
The most expensive neighborhoods in Tampa
One of the more expensive neighborhoods in Tampa is Hyde Park North. Located along Bayshore Boulevard, this historic district was Tampa's first western neighborhood. It's home to plenty of dining, entertainment, and shopping, and has several of the city's nighttime hot spots.
The Channel District is another highly desirable area of ​​Tampa. This exclusive neighborhood enjoys some of the highest rental prices in town, but it also offers some of the best views in town. This area has a large entertainment complex, is close to the downtown business district and has good schools. The Florida Aquarium, Sparkman Wharf, and the Tampa Bay History Center are all located in the Channel District Area.
Located due east of the Channel District, Uptown Tampa shares many of the same amenities. Its views offer the Hillsborough River instead of the Channel District's Ybor Canal. Uptown Tampa also encompasses the historic North Franklin Street district and includes the Curtis Hixon Waterfront Park.
If you're looking for an upscale apartment north of downtown, you might want to consider Old Seminole Heights. This booming neighborhood is family friendly, has easy access to ZooTampa in Lowry Park, and is known for its charming architecture.
Cheapest neighborhoods in Tampa
Some of Tampa's cheaper neighborhoods are near the University of South Florida and east of downtown. While these neighborhoods don't have the best views in the city or the quickest access to St. Petersburg beaches, they still offer great value to residents.
University Square is one of the cheapest neighborhoods in Tampa, with average rental prices under $ 1,000 per month for a one-bedroom apartment. This neighborhood has a college town vibe but is also close to several popular Tampa attractions. Busch Gardens Tampa Bay and the Museum of Science and Industry are located in the University Square area. Additionally, this district is home to some of the city's major hospitals and research centers, including the Moffitt Cancer Center, Shriners Hospital Orthopedic, and Johns Hopkins Children's Center.
If you're looking for something more central, consider downtown Tampa Heights. This neighborhood is located right next to historic Ybor and is known as one of the booming neighborhoods in Tampa. One of the most popular attractions in the area is Waterworks Park, a large waterfront park with a picnic area, playground, and children's play area. Another popular spot in Tampa Heights is the Heights Public Market, which is home to several independent food vendors and stalls.
With some of the highest rentals available, Northwest Tampa is another budget option. This great area of ​​Tampa has easy access to downtown, is close to the Tampa International Airport, and has average room rental prices under $ 1,200 per month.
Suppose you prefer something a little further. In this case, New Tampa offers below average rental prices and great access to parks, a family atmosphere, and all the amenities that a big city has to offer.
* May not be a true representation of the market due to insufficient inventory
Average Rental Prices in Tampa Neighborhoods
Needless to say, Tampa offers a wide range of rental prices. You can rent a one-bedroom apartment for as low as $ 809 in North Tampa or up to $ 2,207 in Hyde Park North.
If you are looking to move to Tampa, there is definitely something for every budget. See how other areas of Tampa stack up against these prices.
* May not be a true representation of the market due to insufficient inventory
Find your Tampa neighborhood
More … than 30 million people visited Tampa Bay in 2019. The entire area has hundreds of beaches and parks, easy access to world-class theme parks, a booming economy, and everything you could want in a big city. It's easy to see why Tampa continues to gain popularity each year.
If you are thinking of relocating to the Sunshine State, consider Tampa. Check out some of Tampa's best neighborhoods in your price range, then move on.
Rental prices are based on a moving weighted average of the Apartment Guide and Rent.com's Multi-Family Rental Property Inventory for one-bedroom apartments. The data was pulled in February 2021 and is one year old. We use a weighted average formula that more accurately represents price availability for each individual unit type and reduces the influence of seasonality on rental prices in specific markets.
Neighborhoods with insufficient inventory were excluded.
The rental information included in this article is used for illustration purposes only. The data contained in this document does not constitute financial advice or a price guarantee for any apartment.
comments
comments