The Best Cities for Fishing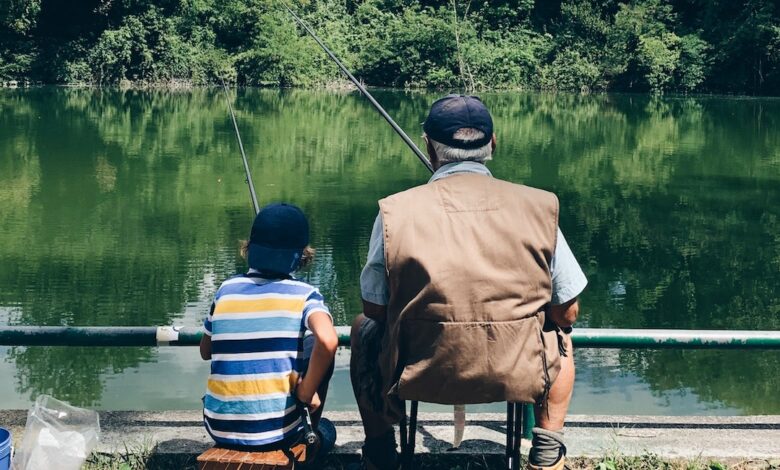 Summer's here and the time is right for fishing season. Largemouth bass, flathead catfish and walleye pike are biting and waiting on you. All you need to enjoy is a pole, a hook and maybe bait. Well, that and somewhere to fish. Somewhere well-stocked, quiet and inviting.
Americans of all backgrounds love fishing. City dwellers love fishing. Suburbanites love fishing. Rural homesteaders love fishing. Over 55 million people actively participate in fishing each year. And that number has only increased through the latter stages of the pandemic as people seek out outdoor activities. Overall, fishing is a $10 billion industry domestically. About 57,000 businesses are in the fishing trade.
But as we know, fishing is about more than catching fish. It's about enjoying solitude or time with special family and friends, whether you're on vacation, meditating, competing or even just having a fun day in the sun on the water. It's a simple activity, just you and the fish. And a place to do it. There are fishing holes and lakes and ponds and streams across the nation in and near every city. But what are the best cities for fishing overall in the U.S.? What are the top 10?
We studied every city in the U.S. with a population over 50,000. For each of these cities, we found every public fishing lake, pier and preserve. We uncovered every wildlife conservation organization and service. And we researched every fishing gear outfitter. We then calculated how many of each city offered per capita, to make the comparison fair. We then ranked totals for each city in each category per capita, assigned each category and subcategory a weighted score and added them all up. Below are the top 10 best cities for fishing based on these factors.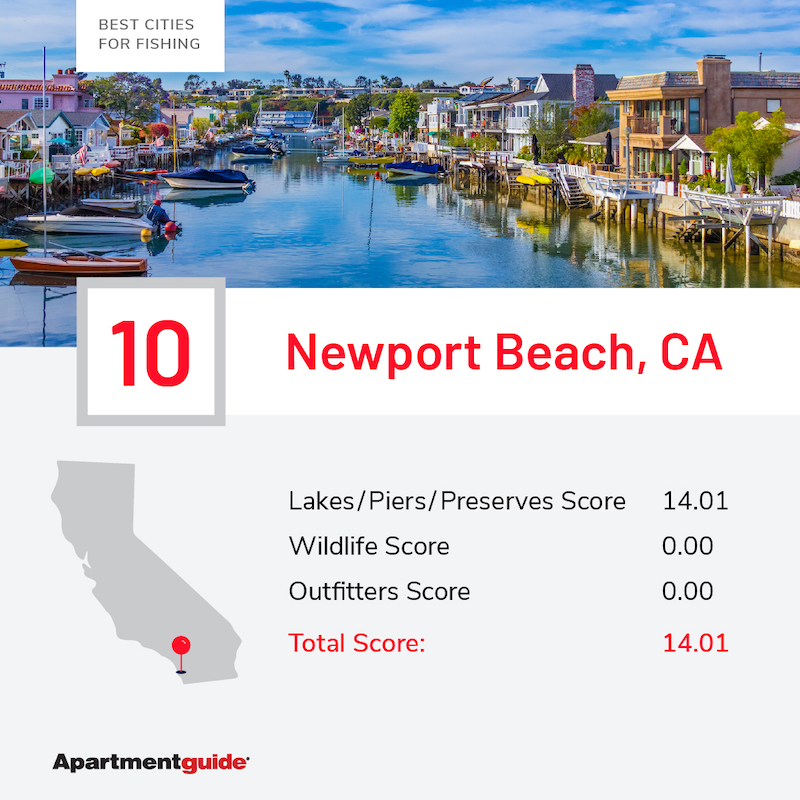 While Newport Beach might be better known for volleyball, surfing and beach umbrellas, it's one of the hottest spots in California for fishing. The beach town, on the edge of Crystal Cove State Park, has the third-most wildlife preserves per capita of any city in the nation. It also offers the most and highest percentage of water area of any city in the top 10.
The city ranks high in preserves and water areas, primarily due to the beautiful and extensive Upper Newport Bay Nature Preserve which is entirely contained within the city. The reserve is a 752-acre land trust that contains habitat for marine fishes and is home to over 80 species. You can fish from the shore at North Star Beach closer to the lower bay.
But the most popular form of fishing in Newport Beach is deep sea fishing. There are numerous charters and excursion boats available for reservation. The waters off Newport offer over 30 types of game and trophy fish, including giant yellowtail, sea bass, mako shark and yellowfin tuna. Looking to stay closer to land? Drop your line from either the 1,030-foot-long Newport Pier or the 1,000-foot-long Balboa Pier.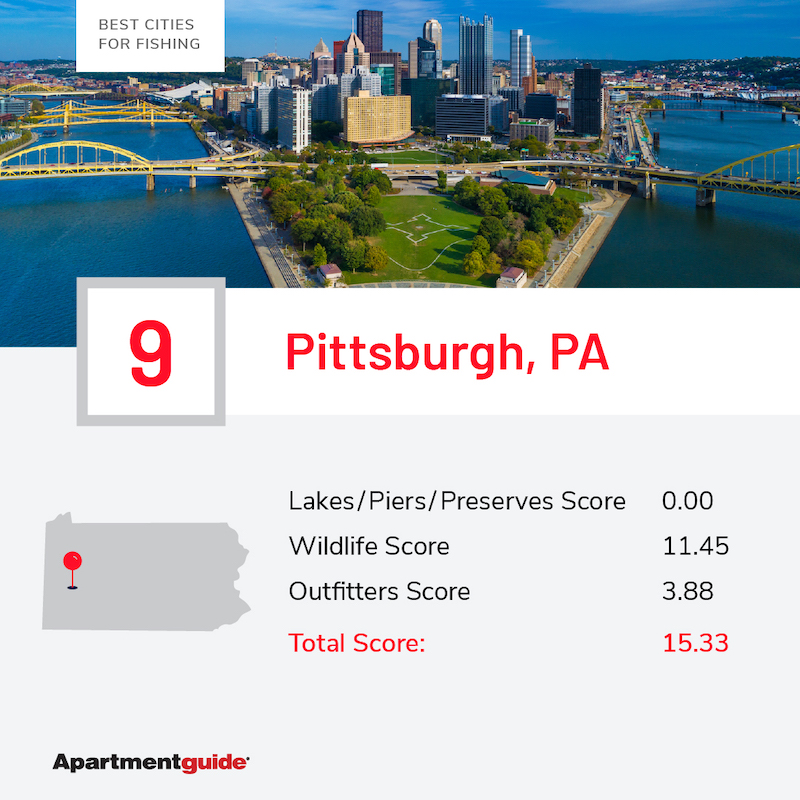 Why yes, Pittsburgh. Steel City doesn't have a famous reputation as a world-class fishing city, but perhaps it should. The largest city in the top 10 by far, it is, after all, the city of bridges. There are a total of 446 bridges that cross the Allegheny, Monongahela and their famous confluence with the Ohio River. That certainly sounds like ample opportunity for great freshwater river fishing.
The old, dirty, polluted Pittsburgh of the steel mill heyday was not ideal for fishing. But the rapid and astonishing transformation of the city in the last 40 years has changed all that. And there is a bevy of great fishing spots around the city to find local populations like largemouth bass and channel catfish. The dams, tributaries and bridges associated with the three primary rivers are the main draws.
The Allegheny River is cool and clear. Check out angling at 40th Street Bridge, Millvale boat ramp, Highland Park Dam and by the Heinz Plant downtown. The Monongahela is darker and murkier. Fish gather around old walls and docks, and at spots like South Side Riverfront Park, Duck Hollow and Nine Mile Run. The Ohio River is deep and wide. Fishing lovers enjoy staking out at Neville Island, Emsworth Lock and Dam and right in downtown's Point State Park.
Florida fishing is all over the top 10 best cities for fishing. The trendy, upscale city of West Palm Beach, an hour north of Miami, is the best on its Atlantic Coast. And, in fact, the city of 117,000 is known around the world for its saltwater fishing and a wide variety of trophy fish.
Palm Beach Inlet is the gateway to some of the region's top fishing grounds. Nowhere in the nation does the Gulf Stream come closer to the coast than in West Palm Beach. That means easy access to the fertile Sailfish Alley. As the sailfish follow the warm current, readily available sport fishing charters will take you to the best spots. The city's charter fleet is known for its experienced and knowledgeable captains and guides.
But the ocean isn't the only game in town. Freshwater fishing is abundant throughout the oldest city in South Florida. Inshore spots like lakes and canals are plentiful, with tarpon and snook among the popular catches. Lake Worth Lagoon, part of the Intracoastal Waterway, offers a bevy of seawalls, mangrove shades, channel edges, bridges and docks from which to drop a line. And it's all nearby West Palm's lively bars and fashionable shopping opportunities.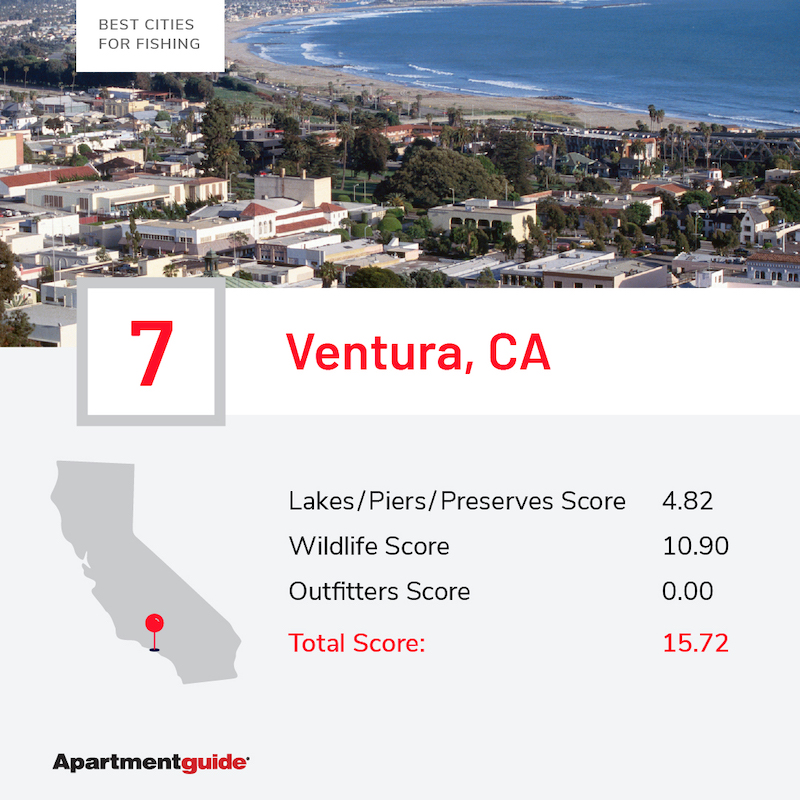 The best city for fishing on the west coast is this small city of 110,000 along the Pacific Coast an hour and a half northwest of Los Angeles. Ventura isn't a spot for dropping a line in the woods or finding an isolated cove. This is beach, harbor and pier fishing at its best.
It's California so the beaches are among the top in the world. And it's no exception in Ventura. The city offers some of the premier surf fishing spots on the Coast. Rockfish, sea bass and halibut are plentiful, and beach parking is free in most locations. But you don't have to hit the beach for great Ventura fishing.
The iconic Ventura Pier is one of the most popular fishing locales in the state. It's a hotbed for smelt, mackerel and cod. The best part? It's one of the few spots in the county where you don't need a license to fish. And for the best in urban fishing, stop by Ventura Harbor. The harbor, just down the coast from downtown, offers a plethora of fishing docks and spots and a slew of fishing boats for rent, as well as several seafood restaurants and a trendy retail shopping village.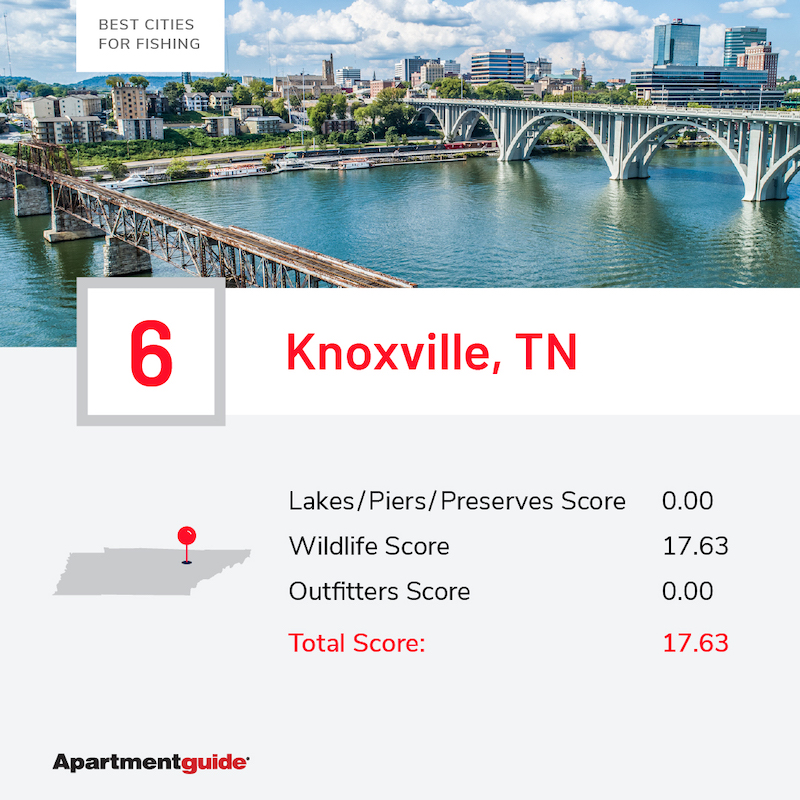 Despite assumptions, you don't need the ocean to have a great fishing city. Freshwater fishing in the mountains is its own part of paradise. As the Gateway to the Great Smoky Mountains, Knoxville is no exception. It's a city known for its striking vistas, clean air and abundant outdoor recreation.
To that end, the city offers the top wildlife service score outside of Florida, along with the most per capita away from the Alligator State. There are many wildlife recreation areas around the city, including the River Bluff Wildlife Area, Forks of the River Wildlife Management Area, Seven Islands State Birding Park and Ijams Nature Center. All of these areas also feature designated protected fishing facilities.
But you need not go out to the park to find quality fishing opportunities. On any nice day, you can find anglers fishing from the urban banks of the Holston and Tennessee rivers, and along the city's numerous creeks and ponds. As well, the rivers see frequent fishing boats, many gathered at slips and marinas lining downtown from Volunteer Landing to Neyland Stadium and beyond.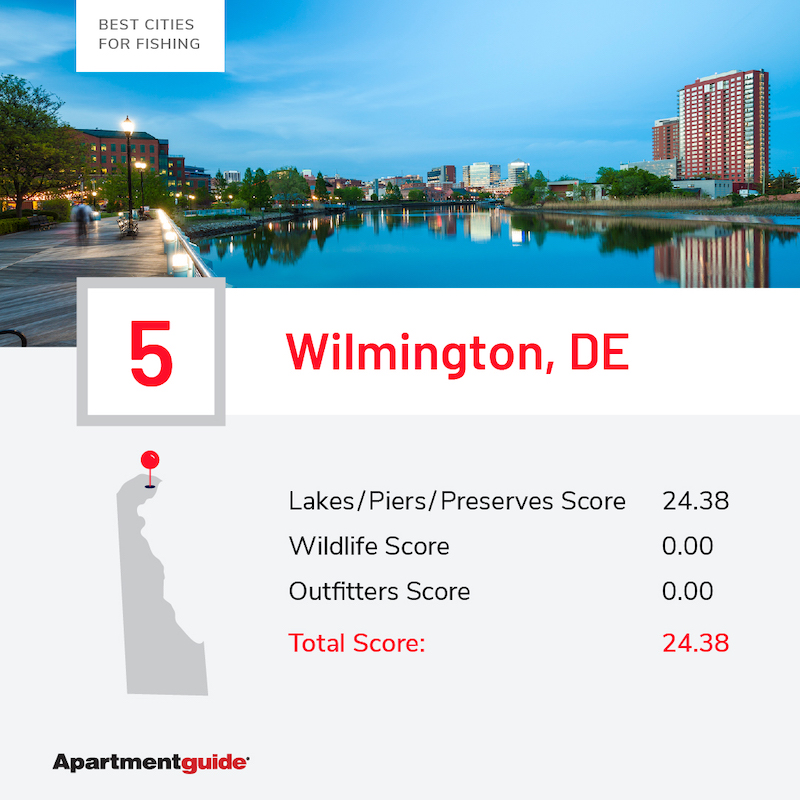 Imagine being whisked away, said Mike Myers in "Wayne's World," to Delaware. "I'm in Delaware." Sure, it's easy to take shots at the diminutive First State. But for fishing lovers, there's no better place in the Northeast U.S. than Delaware's largest city, Wilmington. The finance capital has the No. 1 top lake score of any city, with the most lakes per capita. Take that, Garth. And the city, well-known for environmental conservation, has the highest preserve score, and most preserves, of any city in these top 10.
The main waterways through Wilmington are the Christina and Brandywine Rivers. The latter stretches from the Delaware River to Brandywine Creek State Park. The state park is one of the area's most popular for anglers. Many fish flow through the park's narrow creeks filled with brown trout, bluegill sunfish, largemouth bass and more.
But you don't have to hike deep into the park to find great Wilmington fishing. There are plentiful fishing spots all along Brandywine Creek as it flows through the city. Anglers love dropping a line from one of the many creek bridges or from recreational kayaks floating downriver. A favorite spot is North Market Street Bridge, where the tidal and non-tidal sections converge. It offers shallow rapids which provide some of the best fly fishing opportunities in Delaware.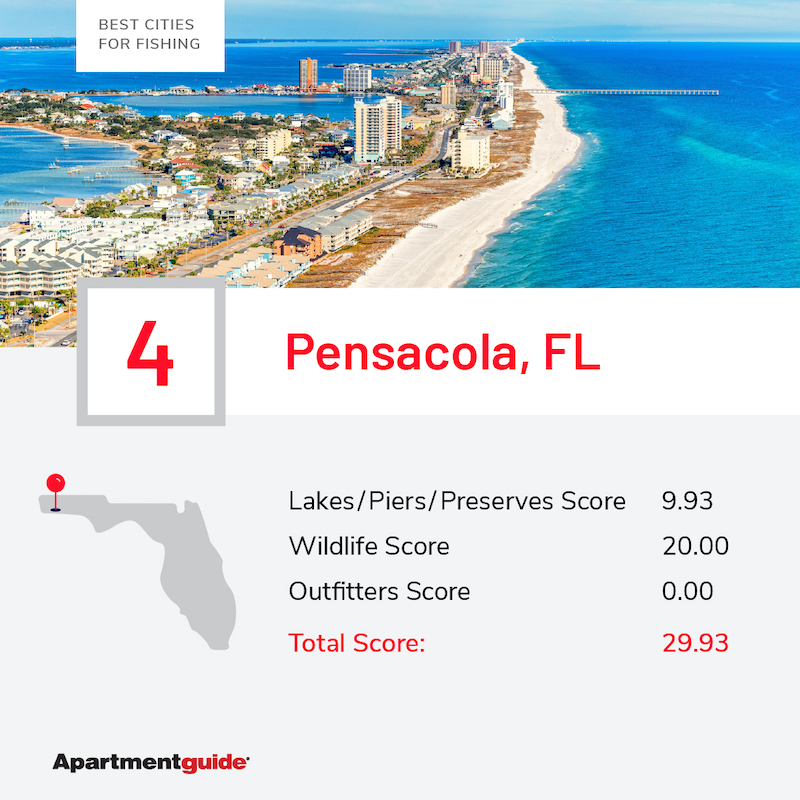 Among the four Florida cities in the top 10, Pensacola is unique. Unlike the others, Pensacola lies on Florida's northwestern panhandle. It has much more in common with its Alabama, Mississippi and Louisiana neighbors than it does folks in Miami or Tampa. It's also a military town, home to America's first Naval Air Station. And fishing is a hugely popular activity among locals, as well as sailors and airmen on downtime.
Pensacola notches the highest score for wildlife services. It brings home the second-best public lake score of any city, with the third-most public lakes per capita. But what anglers love most about Pensacola is the deep-sea fishing opportunities, which are a large segment of the city's tourism industry. These excursions are both in Pensacola Bay (and its various coves) and out deeper in the Gulf of Mexico.
But all modes of fishing are popular in this gulf resort community. Pensacola is the Red Snapper Capital of the World. The fish bite hungrily along its river and three primary bays. While it's known for its deep water fishing charters, inshore angling is still hugely attractive. Some favored spots include Pensacola Beach Gulf Pier, Pensacola Bay Fishing Bridge, Navarre Beach Fishing Pier and the Pensacola Catwalk.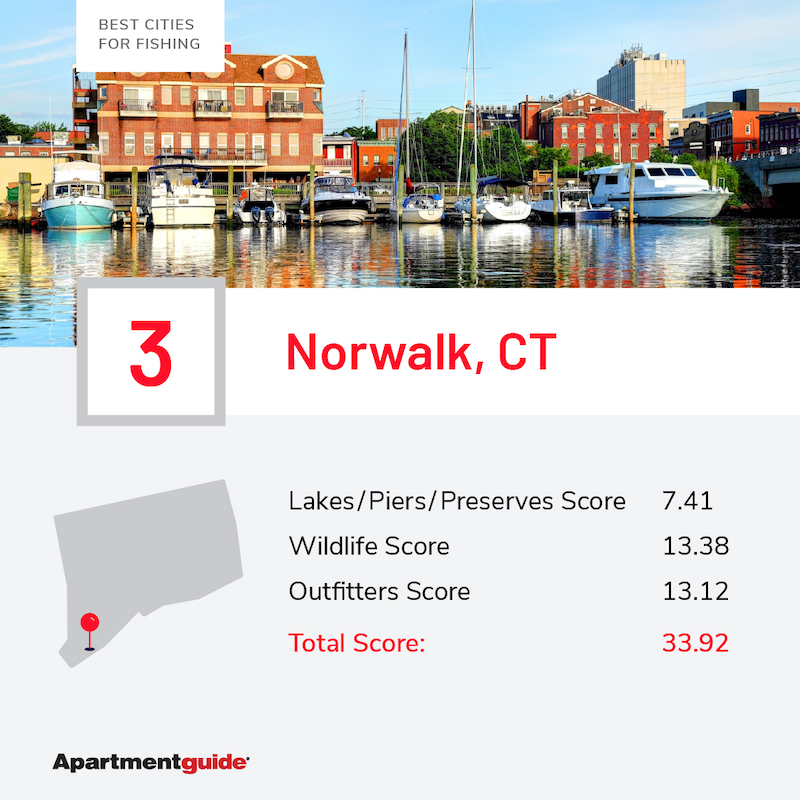 The best city in the nation for fishing not in Florida? Why that's Norwalk, of course. Not what you may expect, the sixth-biggest city in the state covers a quarter of the Connecticut Panhandle right on Long Island Sound. Quality fishing is found all along the coast, and deep into Norwalk Harbor and its numerous reaches.
Norwalk maintains the best outfitters and best conservation scores of any non-Florida city in the U.S. It also has the most wildlife conservation organizations and outfitters overall of any city outside the Sunshine State. Just an hour and change by car from Midtown Manhattan, Norwalk is a popular fishing and water recreation getaway for New Yorkers looking to get out of the city.
But the best fishing in Norwalk is about three-quarters of a mile off the mainland coast. The chain of more than two dozen islands stretches six miles across. The islands, including Sheffield, Shea, Temperance and Chimon, are uninhabited, isolated, protected and a recreation paradise. Open sound fishing off these islands can yield striped bass, bluefish, fluke, flounder, dogfish and much more. Closer to land, the herring run abundantly in the waters of Norwalk Harbor.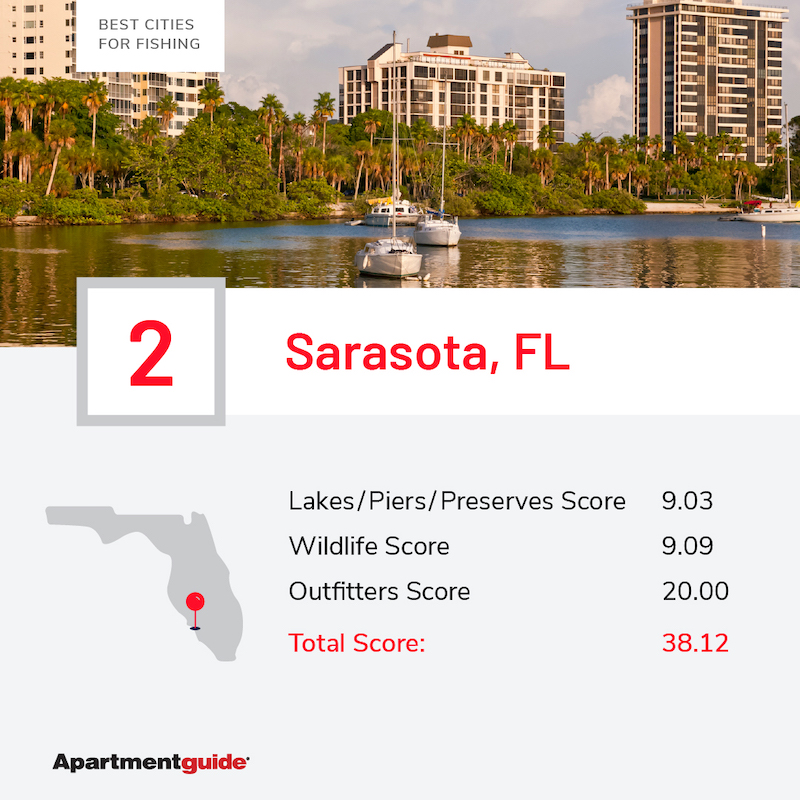 With nearly 25 miles of coastline including seven coral reef keys, Sarasota just feels like a great place for fishing. It offers the most outfitters per capita of any city and maintains the highest outfitters score. It also garnered the third-best lake score and incorporates the sixth-most lakes per capita of any city in the US.
Many of the lakes that scored Sarasota so high are within the eastern portion of the city, away from Sarasota Bay. Many are neighborhood lakes, several of which are prime for man-made lake fishing, surrounded by apartment and condo communities. That's one reason why the city is well known for its year-round inshore fishing. The region offers seasonal selections of redfish, flounder sea trout, snook and tarpon.
Fall is a popular time for fishing in Sarasota, from October through Christmas. This is when migratory patterns change and the tourists have mostly left. Sarasota is also flush in winter, particularly as the water temperatures get colder, and creeks, rivers and residential canals become fishing hotspots. And migrating fish use Big Sarasota Pass and New Pass as commuting superhighways.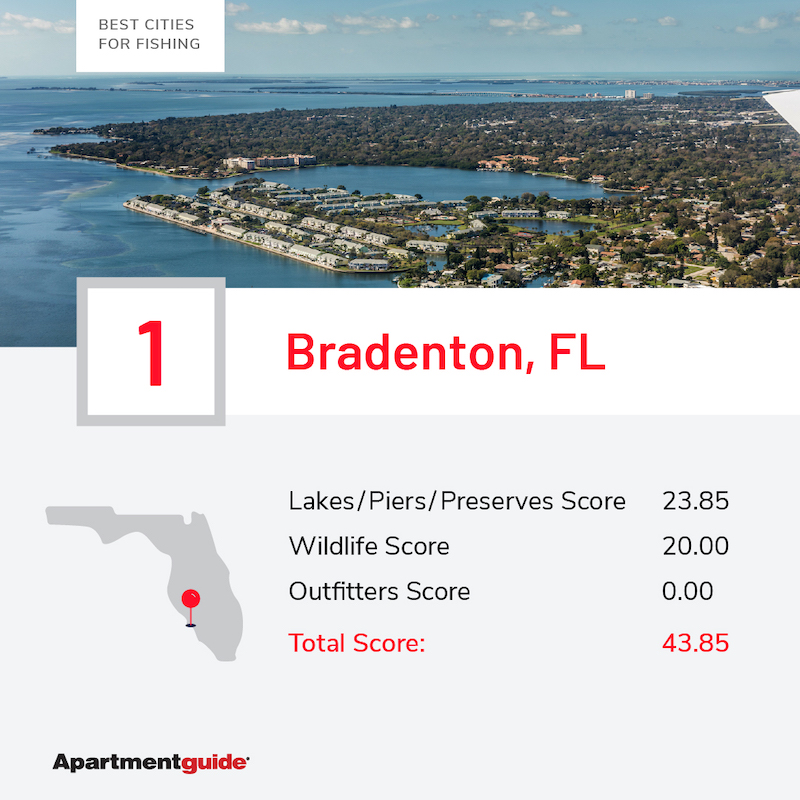 As we've mentioned, Florida, for obvious reasons, dominates our top 10. But standing above them all is a city you may not expect at number one. It's not a South Florida tropical paradise or an Everglades-adjacent preserve. It's the Tampa Bay-area city of Bradenton.
The city lies across Lower Tampa Bay from St. Petersburg, along the peninsula formed by the Manatee River. Bradenton leads the nation in several categories. It offers the most wildlife conservation organizations of any city and features the most fishing piers anywhere. It garnered the top score overall in both categories, as well.
Because of its location, Bradenton offers freshwater, in-shore and offshore fishing along its unique coastline. Popular angling fish in this region include largemouth bass, bluegill, grouper and mahi-mahi. Fishing charters are particularly popular, with high success excursions through the well-stocked grass flats. And during the spring and fall, shallow beach fishing is popular as the warm Gulf waters push fish closer to shore.
Some prominent fishing spots in and nearby Bradenton include Jiggs Landing, Anna Maria City Pier and Palma Sola Bay.
Methodology
Cities were ranked using a weighted scoring system based on three broad categories: Lakes, Piers, and Preserves; Wildlife Conservation and Services; and Outfitters.
Lakes, Piers, and Preserves (Total Weight: 40):
Public lakes: 15
Piers: 15
Preserves: 10
Wildlife Conservation and Services (Total Weight: 40):
Conservation: 20
Services: 20
Outfitters (Total Weight: 20):
Cities with a proportion of total water to total land area less than the median for that measure were eliminated from this study. All measures were scored on a per capita basis of 100,000 residents. Data for counts of lakes, wildlife organizations and outfitters are from commercially licensed business listings. Land and water area data are on 2019 estimates from the U.S. Census.