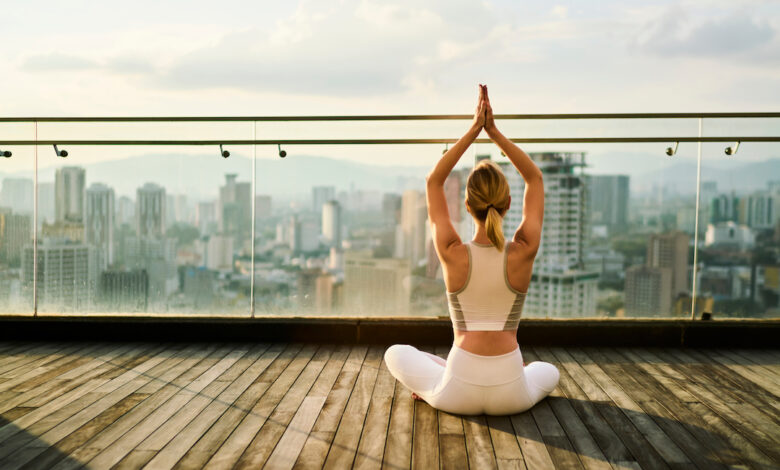 Yoga as an artistic, spiritual and religious form dates back to India in 2700 B.C. A Swami introduced it to the U.S. in the late 1800s presenting the ancient form to a convention of diverse religious leaders.
But, it wasn't until the 1960s that yoga became the yoga we think of today. Modern western yoga — as a combination of meditation, wellness and exercise — traces its roots back to early counter-culture and New Age movements, particularly in California, which evangelized at festivals, in parks and on television. Even the Beatles played a part.
A wider audience came aboard and approachable and practical yoga forms like Bikram, Vinyasa, Hatha, restorative yoga, hot yoga and power yoga took off. Today, yoga has grown to become one of the most popular forms of exercise in the nation. Nearly 36 million Americans practice some form of yoga — 80 percent of those are women—supporting a $16 billion a year industry in the U.S.
But where in America is it most popular? What are the best cities for yoga and yoga lovers? And what makes a good yoga city in the first place?
"A good city for yoga lovers is a city with lots of studios to choose from. A diverse yoga community is kind of like a really amazing buffet. Some students may want a more power based, vigorous Vinyasa flow class, while others may want to do more yoga therapy style classes or something much more slowed down like restorative or yin." – Jasmin Parkin, musician and instructor, Maa Yoga Studio, Vancouver, B.C.
We studied the 200 biggest cities in the nation and researched how many yoga schools, yoga instruction programs and yoga centers each had available. We then calculated how many of each a city offered both per capita and per square mile. These scores were compiled and ranked to determine the top-10 best cities for yoga in the U.S.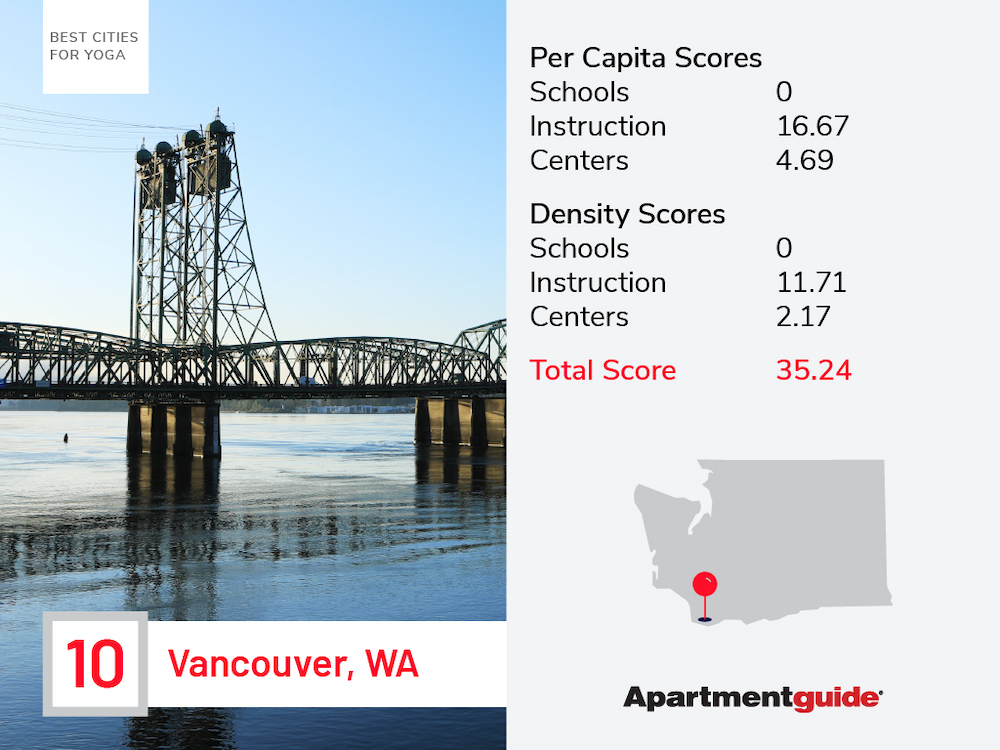 One would expect to see Portland, OR, on a list of best yoga cities. But it doesn't rank until No. 16. However, its largest suburb certainly cracks the top 10. Vancouver, WA, lies just across the Columbia River from Portland and five hours from that other Vancouver.
In this fitness-forward suburb, yoga has taken hold with popularity rivaling its west coast neighbors. The city of 160,000 offers the most yoga instruction per capita of any American city. Some of the several yoga facilities in Vancouver include Breathe Wellness Company, Hot Yoga Vancouver and Parallel 45 Yoga.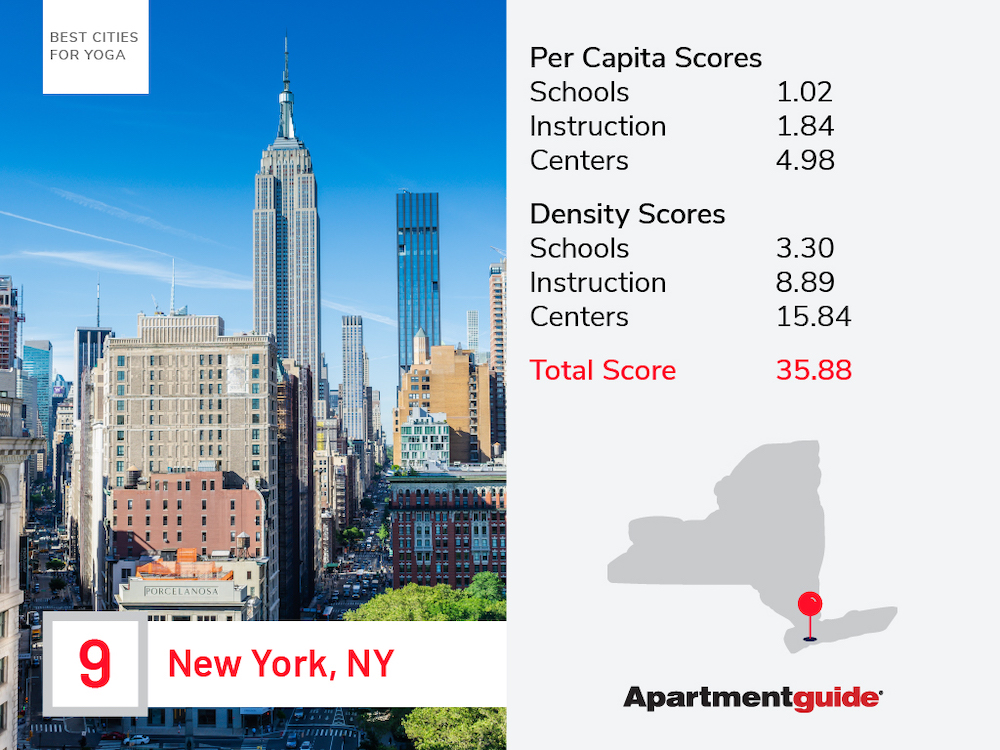 Well, of course, New York is one of the best cities for yoga lovers. Like anything, as goes New York, so goes the nation. Richard Hittleman first brought yoga to New York in the 1950s. Swami Satchidananda arrived in New York in 1966, three years before his convocation opened Woodstock. Soon after, yoga as a trend was quickly adopted in the city. From there, it spread up and down the east coast.
Today, residents of New York City are 34 percent more likely to have an interest in yoga than the average American. And with its size and population, nearly every form of yoga is widely available throughout the city. Clinical yoga, dance yoga, vinyasa yoga and you can find rooftop yoga any day of the week. New York has a nearly exhaustive variety of teachers of every discipline. It has become an incubator for the nation's most successful teachers. Rivalries rarely exist here. New York Studios have formed a tight community.
To no surprise, New York offers the most yoga studios, most yoga instruction and most yoga schools of any city in the U.S. Despite its size, the city features the second-most yoga schools per square mile in the nation. Urban Zen, based in New York and founded by Donna Karan, connects yoga professionals around the world. And in 2012, 15,000 gathered for a GLBL yoga practice session in Central Park.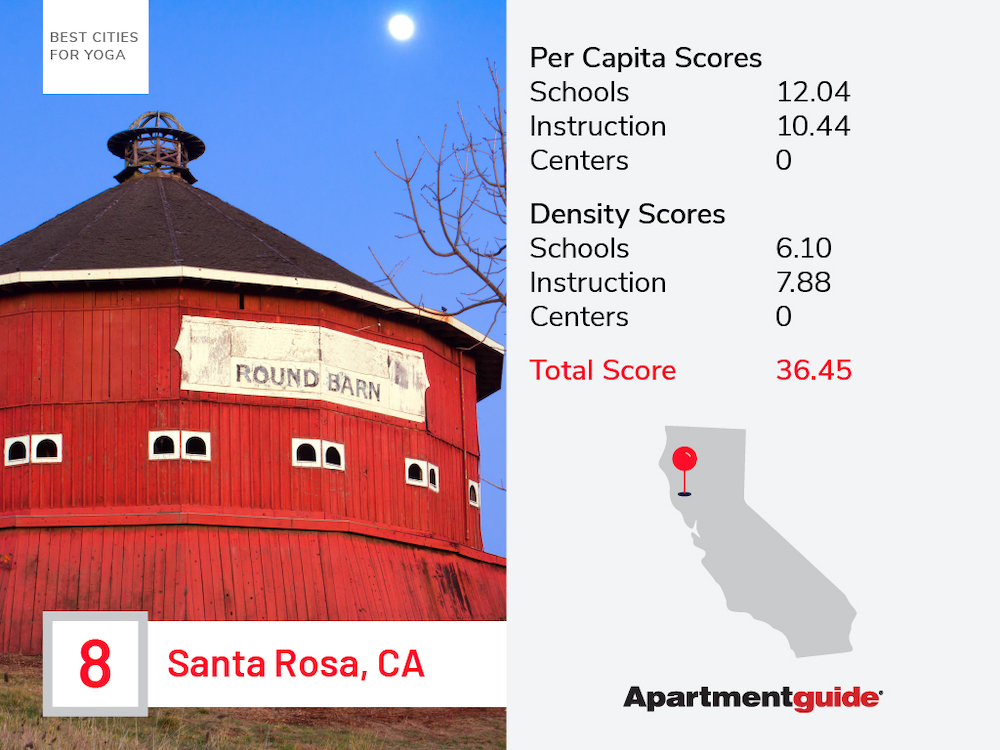 Sometimes, yoga is about getting away from it all. Peace and serenity in the open space. That's one of the draws of the yoga community in Santa Rosa. The city of 180,000 sits an hour north of San Francisco and 30 minutes from the ocean. It has the nation's second-highest number of yoga schools per capita.
Santa Rosa is by no means remote, as the Bay Area's second-largest suburb. But it is quaint and peaceful and the heart of Sonoma wine country. And that's the vibe in Santa Rosa. Sunrise yoga in the morning and an afternoon sipping reds in Napa Valley. So, why not combine them both? Santa Rosa's wine tourism has opened the door for many wine and yoga events and retreats.
Yogis and oenophiles come together for yoga at vineyards, wine tastings after a yoga class or even wine pairings while you're downward dogging. There are even multiple wine and yoga tours. Think bar crawl, but one that clears your mind while tipping back wine glasses.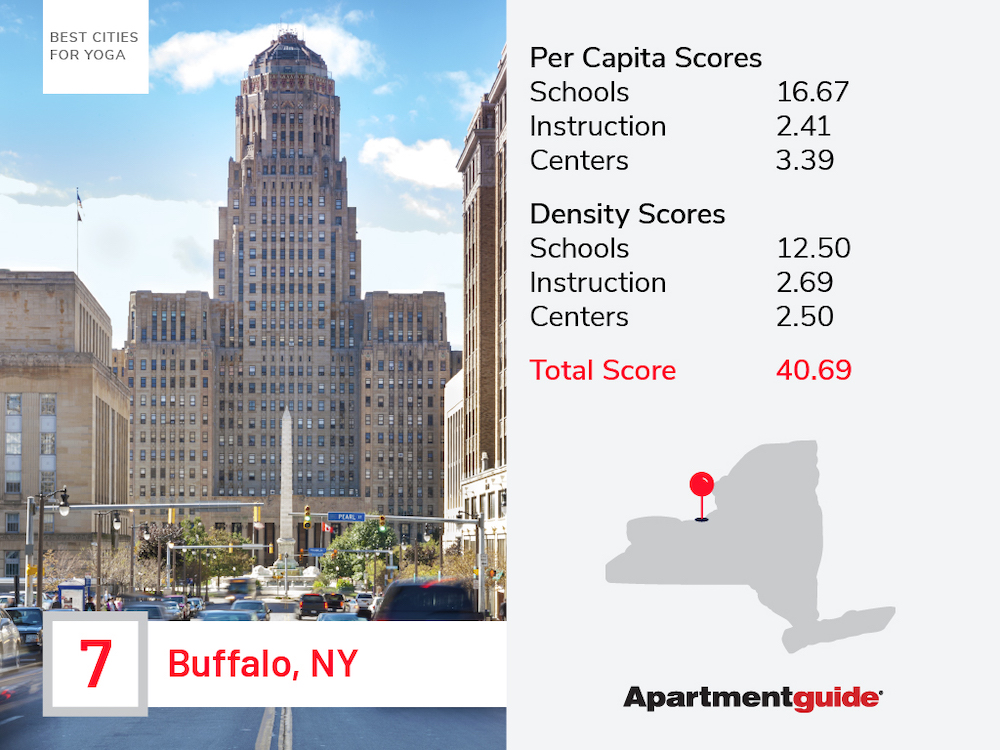 It's different in Buffalo. There are no glorious mountains like in Denver, no sunny beaches like in Miami. Frankly, much of the year it's cold. Actually, it's one of the coldest cities. But, that's why it's such a great city for indoor activities that don't have to entail eating wings and cheering on the Bills on TV. Buffalo is a great yoga city. It's even No. 1 in the nation for yoga schools per capita. This hardened snow belt city loves its yoga.
"Buffalo provides a rich landscape for yoga offerings. Our Queen City provides unique spaces and opportunities to take classes across the seasons, from world renowned architecturally brilliant buildings to the Bills stadium, Olmsted parks and our magnificent waterfront." – Colleen E. Heidinger, Founder, Space on Seneca Yoga and President, 43North
The region offers a variety of yoga from level one basics to level four advanced, hot to aerial to meditative. Yoga Parkside runs classes in the gardens of Frank Lloyd Wright's Martin House and in the grandeur of Graycliff Estate. Evolation Yoga Buffalo was the first in the city to offer Bikram yoga. One Yoga is a traveling yoga experience often held outdoors in parks. Heart fire Yoga specializes in yoga for BIPOC, LGBTQIA and women affected by trauma and addiction.
But, the most unique yoga in Buffalo actually happens on the water. Canalside, the revitalized waterfront and urban beach, is where to find it. Sure, weekly Graceful Warrior Yoga, Love in Motion Yoga and Fitness with Yoga Steve classes on the lawn are lovely. But, step up your game with longboard yoga, yoga while balancing on a paddleboard floating in the river.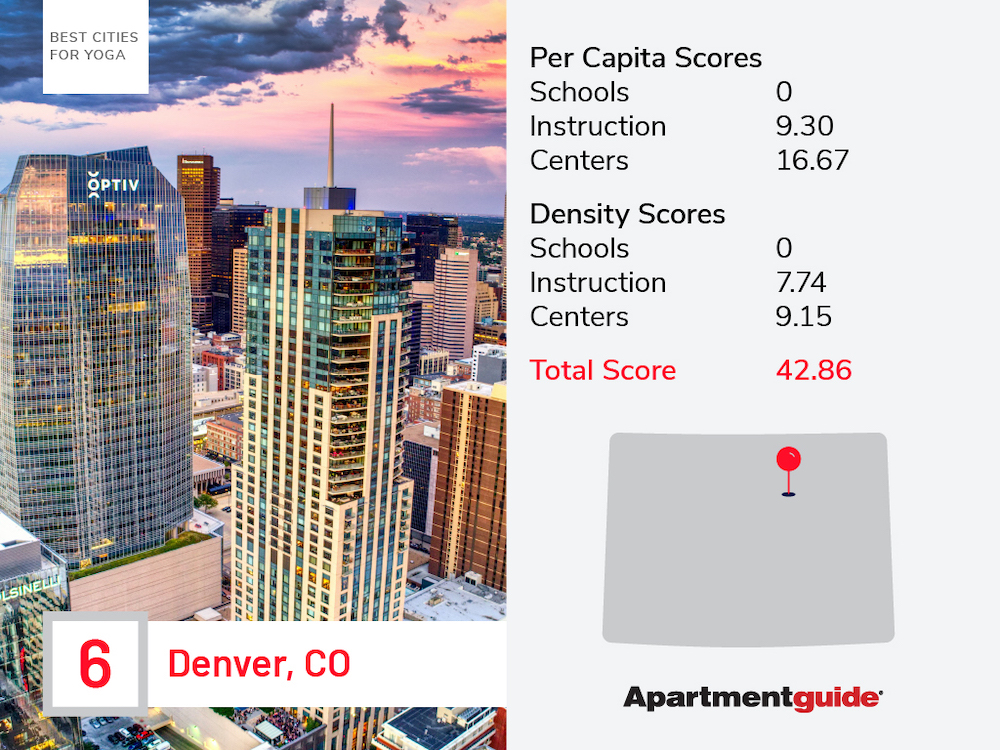 Crisp Rocky Mountain air, a healthy and free-spirited population and beautiful surroundings. It's hard to imagine a city more suited for yoga lovers than Denver. Overall, Denver has the second-most yoga centers in the nation and the fourth-most yoga instruction programs. It offers more yoga centers per capita than any city in the nation.
Denver is one of the fittest and healthiest cities in America. Which makes it no surprise that it ranks as the top city most interested in yoga. It offers large parks and natural areas combined with stunning vistas and comfortable, high-altitude air. Studios are in demand and the city offers some of the nation's most challenging classes.
And it's permeated the culture. Yoga For The People is a volunteer organization donating classes around the Denver community, including at hospitals and low-income housing facilities. The Denver Botanic garden offers Sunrise yoga. Zen Out Yoga combines hiking into the hills with periodic yoga breaks. Rainforest Yoga is held inside the Butterfly Pavilion. Yoga Rocks the Park is a tradition at Rockies games. And, most famously, Yoga on the Rocks presents seasonal classes inside iconic Red Rocks Amphitheatre.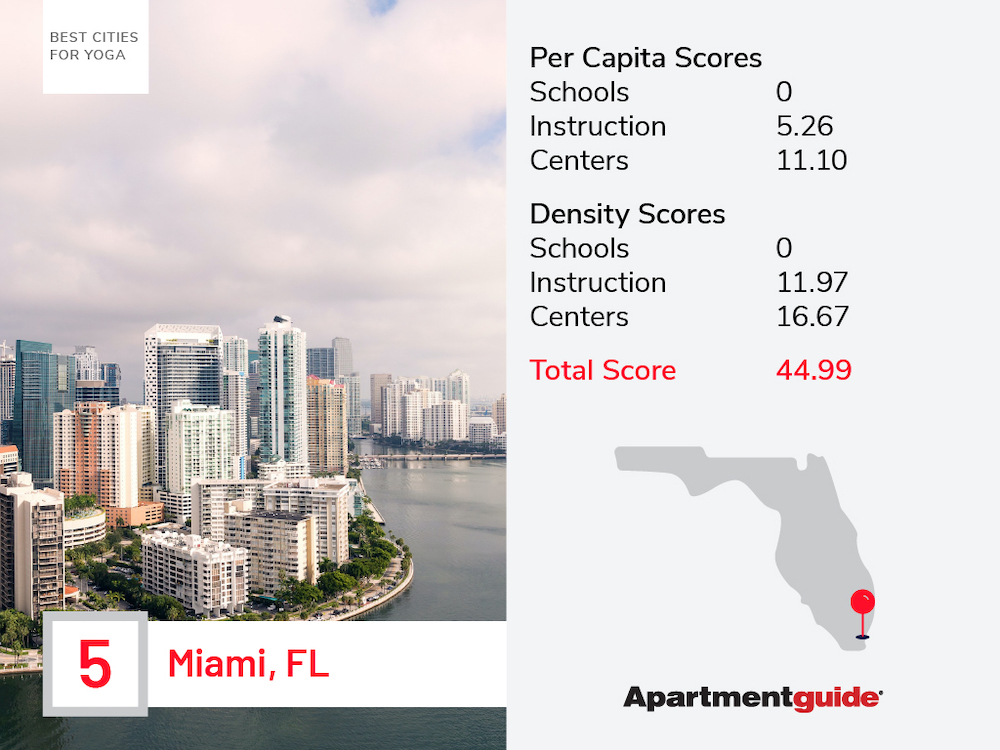 What makes Miami one of the best cities for yoga in America? Why, it's the beach, man! Well, that, and the weather and the entire tourism industry. Miami has the highest tourist to resident ratio of any city in the world. Tourism has touched every single aspect of the South Florida economy and yoga is no exception.
Yoga tourism has become extremely popular throughout the state. And, why not? Sunny skies, pristine beaches, warm weather. Sounds like a perfect yoga opportunity. Yoga retreats and yoga workshops abound. Popularity in neighborhoods like South Beach, Wynwood/Edgewater and Brickell soared. This even remained true through the pandemic, with all of the outdoor opportunities available.
Beaches across Miami-Dade and along the Intracoastal are hotbeds for outdoor yoga, as are resort spas, parks and a plethora of locally-owned studios. Yoga retreats are often found in spacious, beautiful mansions near the beaches. In fact, Miami ranks No. 1 in yoga centers per square mile.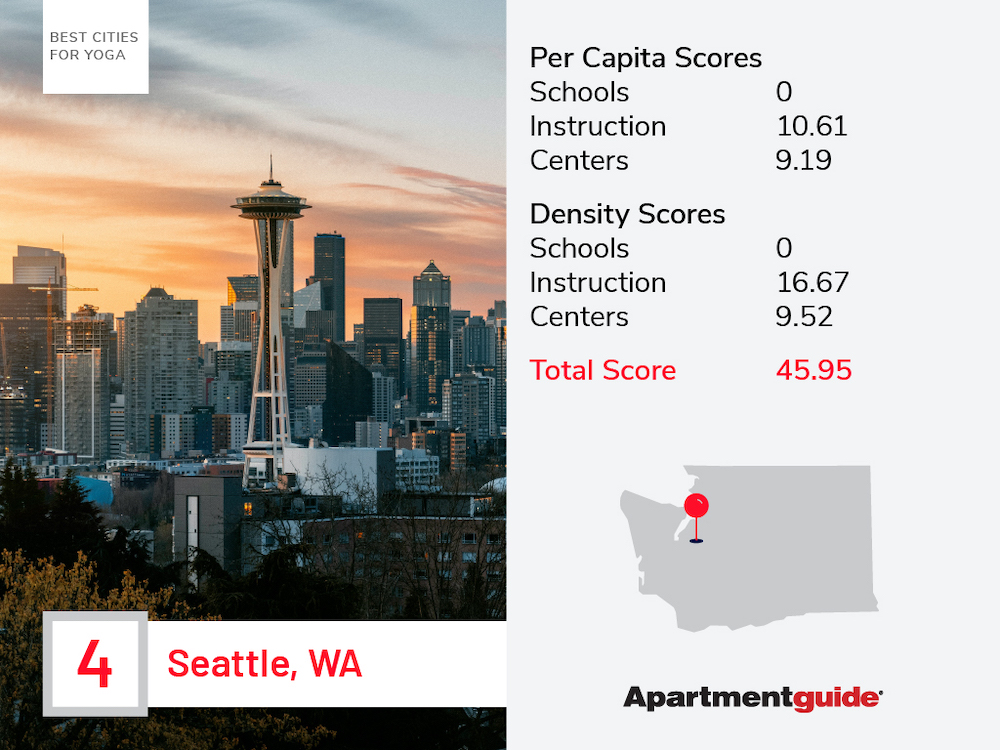 Seattle is well known as a city that's into fitness and progressive living. You can see that from its ethical coffee culture to its citizenry's love of the forested outdoors. And even when the rain forces folks inside, yoga has long been a staple of the Seattle scene.
Washington residents are 46 percent more likely to practice yoga as an activity than those in other states. Seattleites themselves rank sixth in the nation for general interest in yoga and yoga culture. It's even one of the best cities in the nation for starting up a yoga studio. And that they've done. The city numbers the third most yoga instruction spots of any city with 13. And it's No. 1 in the country for yoga instruction per square mile.
And, the culture is pervasive. A popular Seattle summer activity is yoga classes and yoga festivities outdoors at Seattle Art Museum's Olympic Sculpture Park. The Seattle Mariners became one of the first professional sports teams to add yoga to regular training in 1991. The Seahawks utilize yoga in training, as well. And Seattle is one of just a handful of cities with a Yoga To The People program, an organization that helps offer yoga classes at lower prices as costs for yoga instruction skyrocket.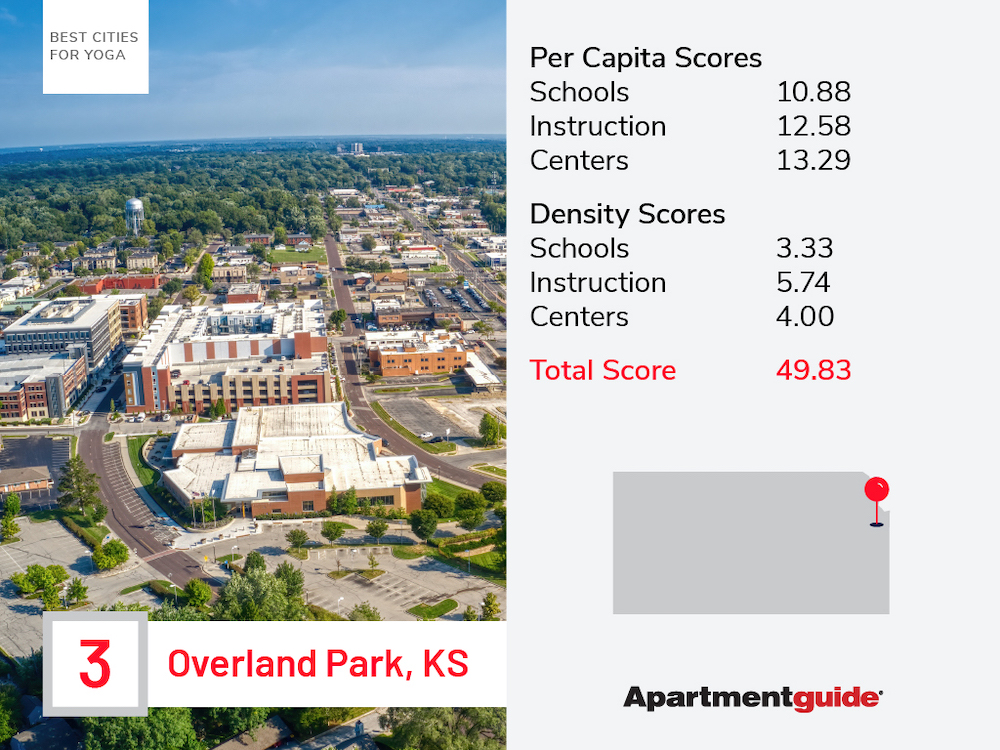 Not familiar with Overland Park? Maybe you should get acquainted. This is not a Kansas Cowtown. This isn't Dorothy's house. Overland Park, just south of the two Kansas Cities, is one of the richest cities in America. And, it's not just rich. It's also one of Money's Best Places to Live in the country. Take that, Wicked Witch.
As one of the best and wealthiest cities in the nation, it makes sense that it would be a city whose residents would be high on yoga. The Johnson County suburb is top five in the nation for yoga studios, yoga schools and yoga instruction centers per capita. It's not O.P.'s first rodeo.
With an unemployment rate of just 3.6 percent, Overland Park is a livable city with disposable income and the right target audience. There are many yoga experiences, from community to luxury, throughout the city at studios like Darling Yoga, Everglow, Lotus Yoga and YogaSix.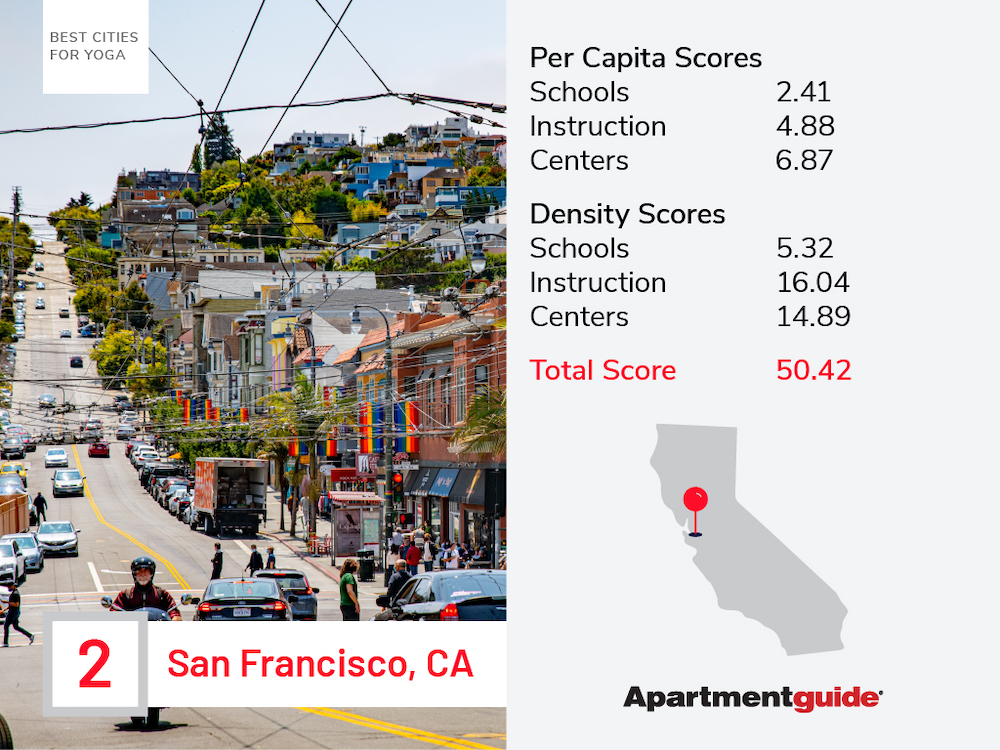 It makes sense that San Francisco is one of the top best cities for yoga. The Bay Area city ranks second for yoga instruction facilities per square mile, third for yoga centers and sixth for yoga schools. It's a progressive city, rooted in hippie and hipster cultures, wellness and counterculture chic. It's not just one of the best cities for yoga, it was one of the first.
California was precisely where the yoga revolution in the U.S. began. The free-minded ethos that pervaded the 1960s had its heart in San Francisco long before the Summer of Love. Indian guru Swami Vishnudevananda brought yoga to the U.S. in San Francisco in the late 1950s. It was further entrenched as Walt and Magana Baptiste's San Francisco studio opened soon after. In the early '70s, the city became home to the first Iyengar teacher training program in the nation and the International Iyengar Convention was first held here in 1984.
The counter-culture latched on hard and San Francisco never waned in its yoga leadership. The San Francisco-based Yoga Journal holds an international five-day yoga conference in the city each year. Tech companies like Google, Twitter, Facebook, Samsung and Airbnb all offer free yoga workshops and studio space to employees. At-risk youth in city schools enroll in yoga programs. San Francisco International Airport was even the first airport to open a yoga room.
In fact, residents of San Francisco are 60 percent more likely to practice yoga than the average American. Need more proof? The city is even No. 1 on Popsugar's "Yoga Pants Index." San Franciscans are more interested in yoga pants information online than those in any other city.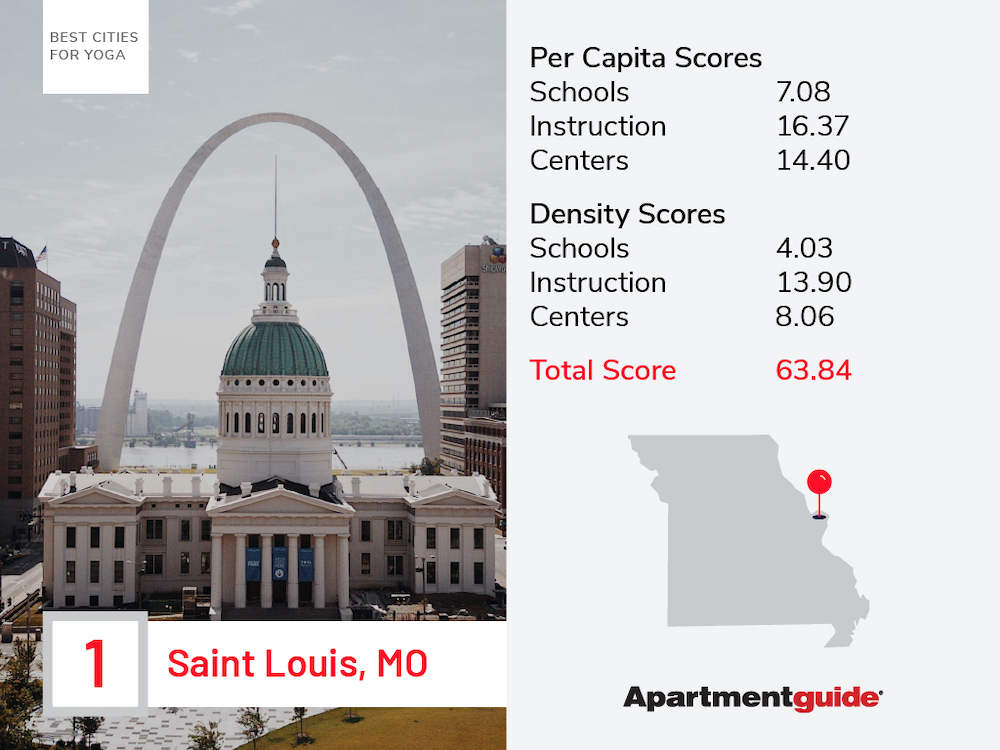 It's not some beach city in California. It's not some green New England oasis. The best city for yoga in the entire nation is smack dab in the middle of the country. The Cardinal city is second among all cities in yoga centers per capita and yoga instruction sites per capita, as well as third in yoga instruction site density.
As with much of the Midwest, yoga's ubiquity came to St. Louis later than it had on the coasts. One benefit of this late adoption is the availability of yoga level 1 beginner and yoga level 2 experienced-beginner classes and instruction. This allows more people to access yoga. Of course, there are still plenty of higher-level sessions available.
St. Louisans love to get out and about and there are always fabulous events in and around the city. Of course, those involving yoga are no exception. Events include immersive yoga flow classes inside a giant van Gogh painting at the Saint Louis Galleria, yoga brunches at the St. Louis Zoo, weekly free yoga at the Ballpark Village outside Busch Stadium and free yoga classes in Kiener Plaza Park in the shadow of the Gateway Arch.
Methodology
To determine the best cities for yoga, cities were ranked based on the number of yoga center, places of instruction, and schools. restaurants. Calculations were made for per capita (100,000 residents) and per square mile. Per capita and per square mile calculations were scaled and scored on an evenly weighted system. Rankings are based on a city's total score.
Rent prices are based on a rolling weighted average from Apartment Guide and Rent.com's multifamily rental property inventory as of April 2022. We use a weighted average formula that more accurately represents price availability for each individual unit type and reduces the influence of seasonality on rent prices in specific markets.
The rent information included in this article is used for illustrative purposes only. The data contained herein do not constitute financial advice or a pricing guarantee for any apartment.