The Best Cities to Work from Home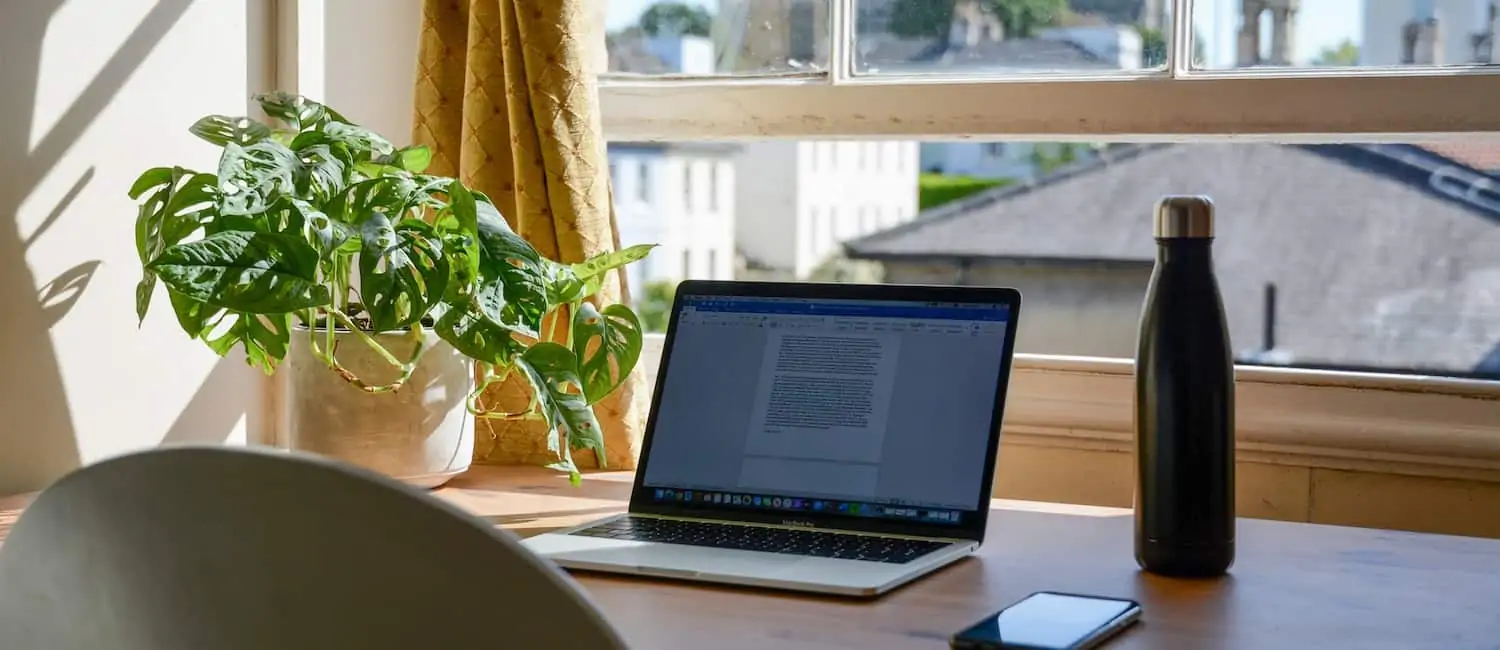 Nearly a year after the start of the coronavirus crisis, many Americans are getting used to working from home. A number of people have had their jobs shift from temporarily remote to permanently or long-term remote. And even those that will be going back to the office are still at home longer than expected. What has become key in working from home is making sure your home office is as productive as an office, while being as affordable and comfortable as a home.
But not every home is equal in the world of work from home. Apartment dwellers have unique challenges like space, noise, convenience and infrastructure. And some cities are better made for this environment. So, what then are the best cities to work from home in the nation?
In this report:
The 10 best cities to work from home
We studied the most populated cities from New York to Tacoma to determine which are best for remote workers. For each of these, we targeted several factors that make a home remote-friendly. We calculated rent and square footage for an average two-bedroom apartment in each city. We also determined each one's cost for an average family cell phone plan, as well as their fastest internet speeds on the fastest carrier.
After all that number crunching, these are the best cities to work from home.
10. Columbus, OH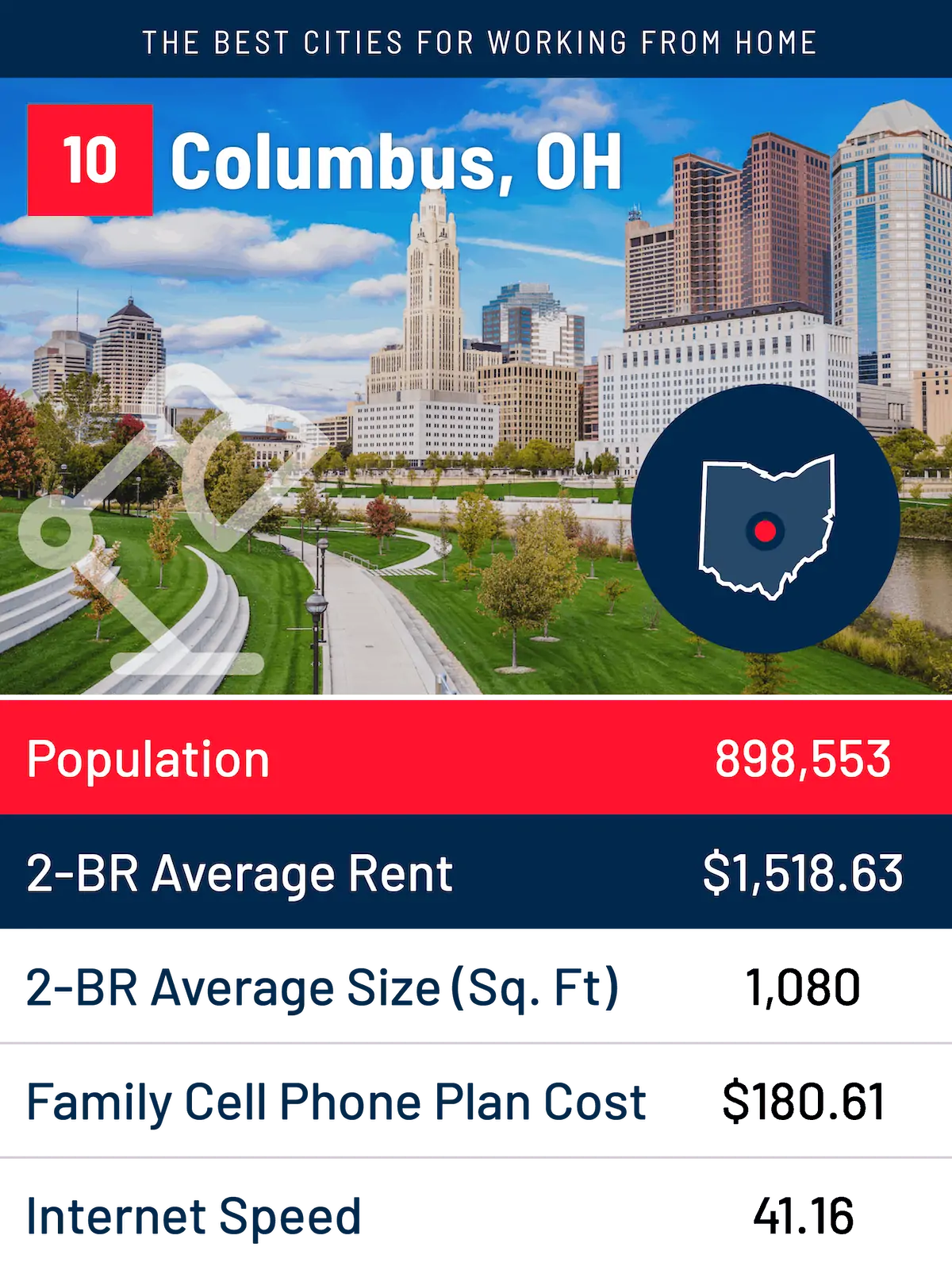 Quick: What is the largest city in Ohio? It's not Cincinnati or Cleveland. It's Columbus, the state capital. In fact, Columbus is the second-largest city in the Midwest behind only Chicago, and the nation's third-largest state capital. And it is, of course, home to Ohio State University, the fourth largest in America.
Underrated Columbus is a hidden gem and the largest city in our 10 best cities to work from home. It's a trendy economic and entertainment city with a booming nightlife. And Columbus itself is also booming. The city has seen an increase in population every single census since its founding and double-digit growth for 30 years.
But not only is Columbus bigger than you imagined, but it's also one of the best cities for working from home. For its size, rents are relatively cheap. New construction is booming to keep up with growth and demand has flattened rental rates. The lease rate for a two-bedroom apartment is $1,518 monthly on average.
9. Atlanta, GA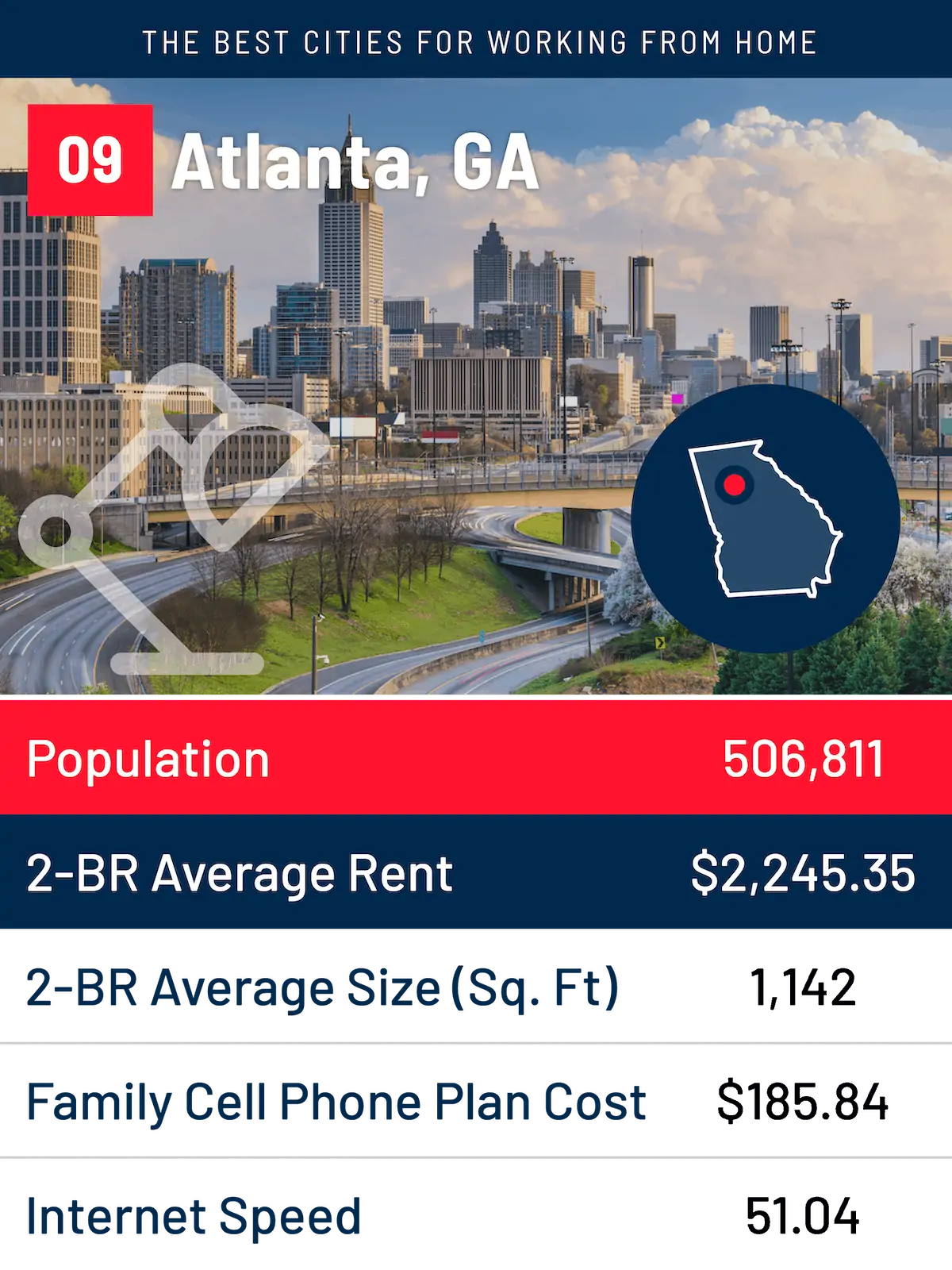 There are very few cities where working from home is more desirable than Atlanta. It's a city notorious for both frustratingly-bad traffic and an inefficient rail system. Trying to get to a meeting out of town? Atlanta Hartsfield–Jackson is the world's busiest airport. And in the summer, it's often too hot to go outside. The season's mean maximum temps average more than 95 degrees. Who wants to leave home when they can work remotely?
Metro Atlanta is home to the third-most Fortune 500 companies in the nation. This includes companies like Coca-Cola, Delta Air Lines, Chick-fil-A, Home Depot, AT&T Wireless and UPS. So, it's no surprise that Atlantans spend nearly two hours on the road each day on their way to and from the office. But with more companies offering the ability to work remotely, Atlanta has become one of the best places in the nation to do so.
In a boon for remote workers, Atlanta offers the fifth-fastest internet speeds in the nation. As well, Atlanta's two-bedroom apartments are the ninth-largest in the U.S. at an average of 1,142 square feet. Both of these are the second-best of any city in our top 10.
On the flip side, Atlanta has the most expensive cell phone plan of any of the top 10 best cities to work from home. And, unfortunately, this amazing city in which to live also has the highest rent of our top 10. Its average two-bedroom apartment rents are $2,245 a month, the 31st highest in the nation.
8. Minneapolis, MN
It's really cold in Minneapolis. In fact, it's the coldest. So, what better spot than the bigger Twin City to commute to work every day without leaving the house. Minneapolis is the top city for working from home in the Upper Midwest. One reason is the city's strong infrastructure. In fact, it's the No. 1 city in the nation for the highest internet speeds. That will help get the work done.
With a daily mean winter temperature of 19 degrees, it's a good thing your job is at home. All the rippchen, deep-fried cheese curds and walleye fritters in the world may not make you venture outside. And if your home is a two-bedroom apartment, an average lease price runs $2,134 a month. But remember, Minneapolis is still a major metropolis. That figure is the second most of any of the top 10 work-from-home cities.
7. Gilbert, AZ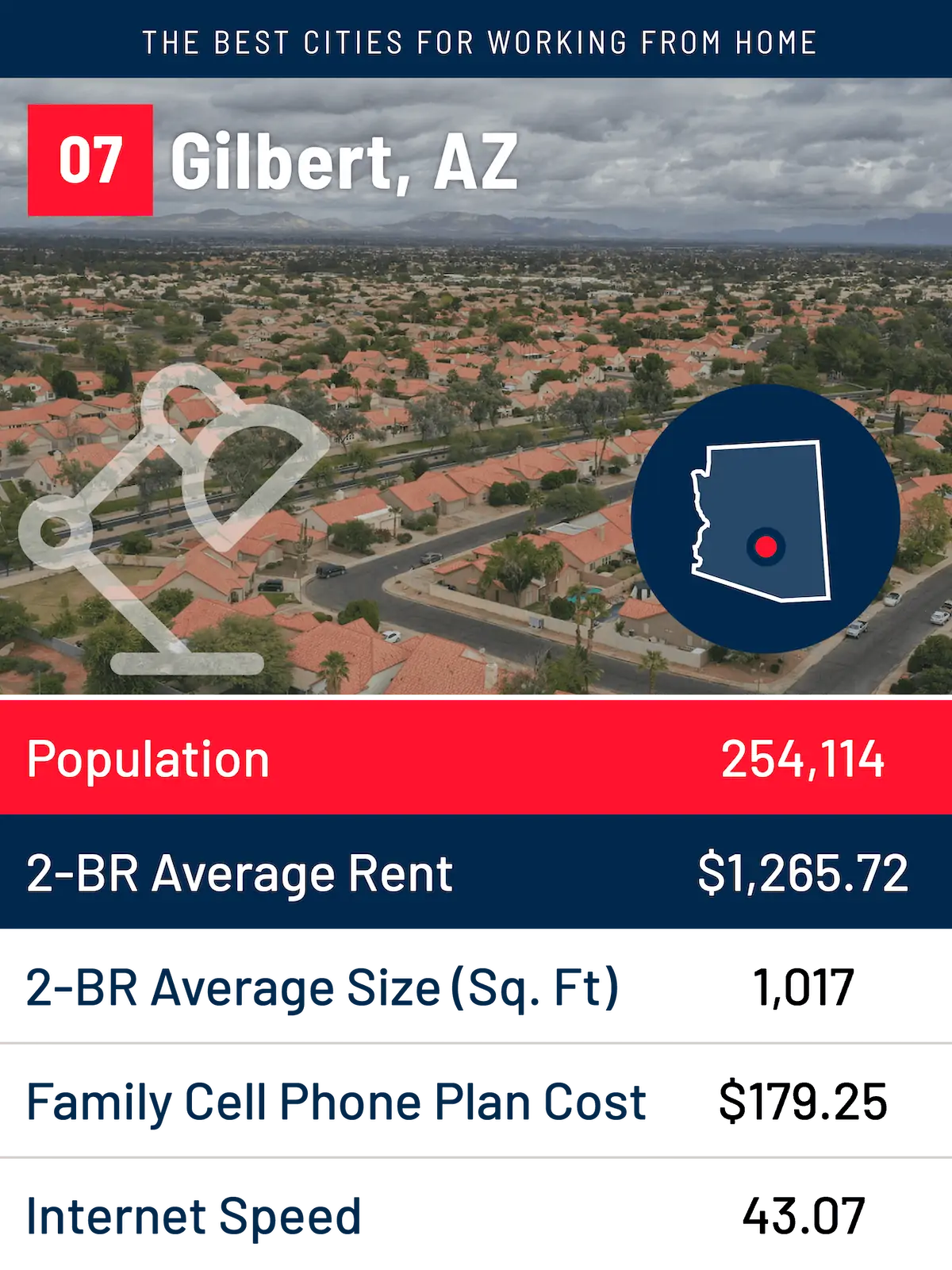 Gilbert is the smaller and more expensive suburb to its next-door neighbor Chandler, which (spoiler alert) topped this list. It's the second-smallest city among the top 10 best remote work cities. As well, it features the smallest two-bedroom apartments on the list at just 1,017 square feet on average.
While the Phoenix suburb shares a border with Chandler, it's much more of a standard bedroom community than its neighbor. It's much more strictly residential and doesn't feature a defined downtown outside of its three-block Gilbert Road main street.
But what Gilbert does offer is safe, comfortable, family-friendly living. The suburb has found its way onto many 'best of' lists for its security, livability, walkability, economy and family atmosphere. As well, suburban Gilbert offers suburban rent prices. An average two-bedroom unit rents for a monthly rate of $1,265, significantly lower than neighboring Chandler.
6. Fort Wayne, IN
Isolated in northeast Indiana and surrounded by not much, Fort Wayne is a poster child for great work from home cities. Sure, there are plenty of great things in Fort Wayne. The city has its own delicious version of the Coney Island hot dog. Manufacturing jobs have transitioned the city into a hub for the defense industry, transportation and logistics professionals. The NBA was even founded here!
To be frank, it's not Detroit. It's not Chicago, and it's not even Cleveland. Fort Wayne has a lot, but it's not one of its gigantic Midwest neighbors. But that's the point. You don't have to live in one of those big, expensive cities to work in one of those big, expensive cities. And while you're remote working anywhere in the world, you can live in an economical, friendly city like Fort Wayne.
Need to get online across the world? Fort Wayne offers the ninth-fastest internet speeds in the nation. And if you're able to live anywhere, why not here? Rents for average two-bedroom apartments are the 10th-cheapest in the nation, the lowest cost among the top 10 cities, at just $1,021 monthly.
5. Raleigh, NC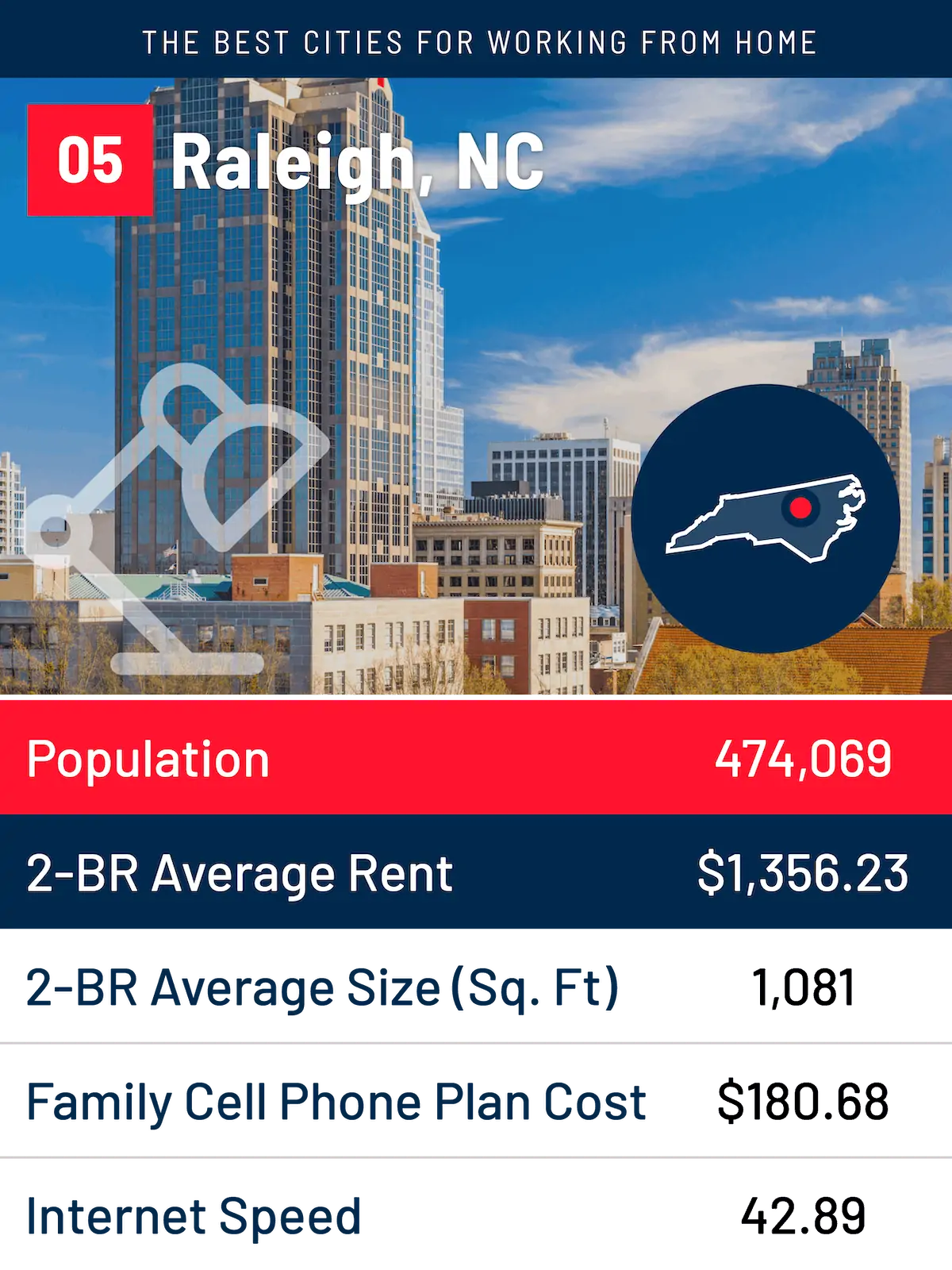 If you're working from home, North Carolina sure is the place for you. At No. 5, Raleigh is one of three Tar Heel State cities among the top five best cities to work from home in the nation.
For its part, Raleigh is built for working from home. The city is the state capital, with all of the high-level technology and utility infrastructure that comes with its status. It's part of Carolina's Research Triangle, one of America's largest and most successful research regions. It's home to North Carolina State University, a major research institution. And not only is it one of the nation's fastest-growing cities, but Raleigh is also one of the country's top three places for businesses and careers.
Sure, working from home in Raleigh is great, but what's the price to rent your home office? Cheaper than Charlotte below, its rates are relatively middle of the road. A two-bedroom apartment leases for $1,356 monthly on average.
4. Charlotte, NC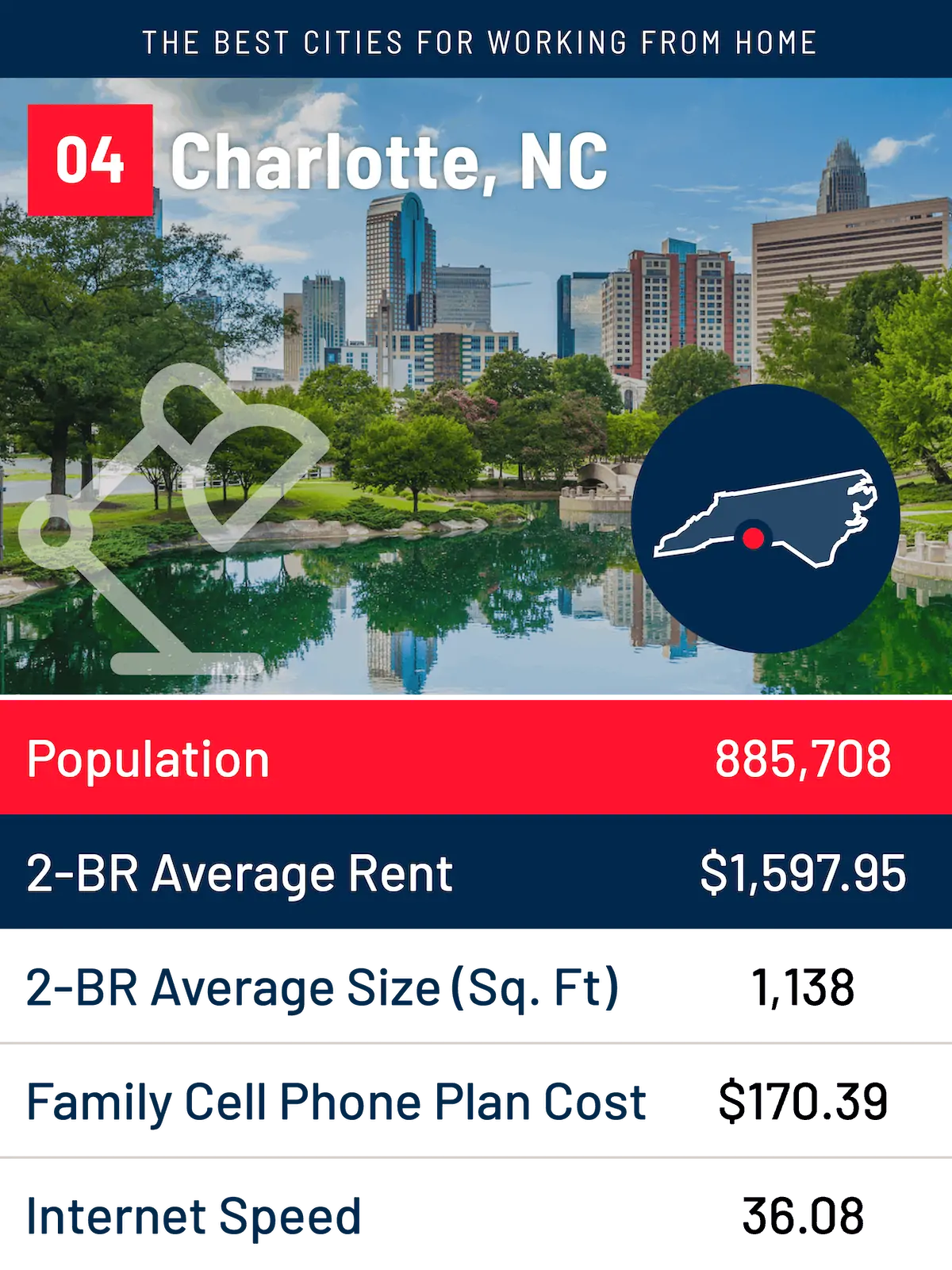 The second of the three North Carolina cities on our list, Charlotte is the second-largest city among the top 10 best cities to work from home. Its two-bedroom apartments are the 11th biggest in the nation and it ties for the lowest family phone plan at just $170. However, with a speed of 36.08, Charlotte's internet speed is the slowest among cities on this top 10.
Charlotte is the fastest-growing metro area in America. And what's driving this? Millennials. The city is tops in the nation for millennial population growth. With these numbers, it's no wonder that Charlotte is one of the best cities to work from home in the country. And many of these millennials are working both at home and in the office in one of Charlotte's many financial institutions. In fact, as home to Bank of America, Truist and Wells Fargo East Coast among others, the city is the second-largest banking and financial center in the United States.
Home to two major league sports teams, as well as NASCAR's annual All-Star race, Charlotte is a city made for large gathering crowds. But until then, it's one of America's best for remote working. Rents here for an average two-bedroom list at just under $1,600 a month.
3. Winston-Salem, NC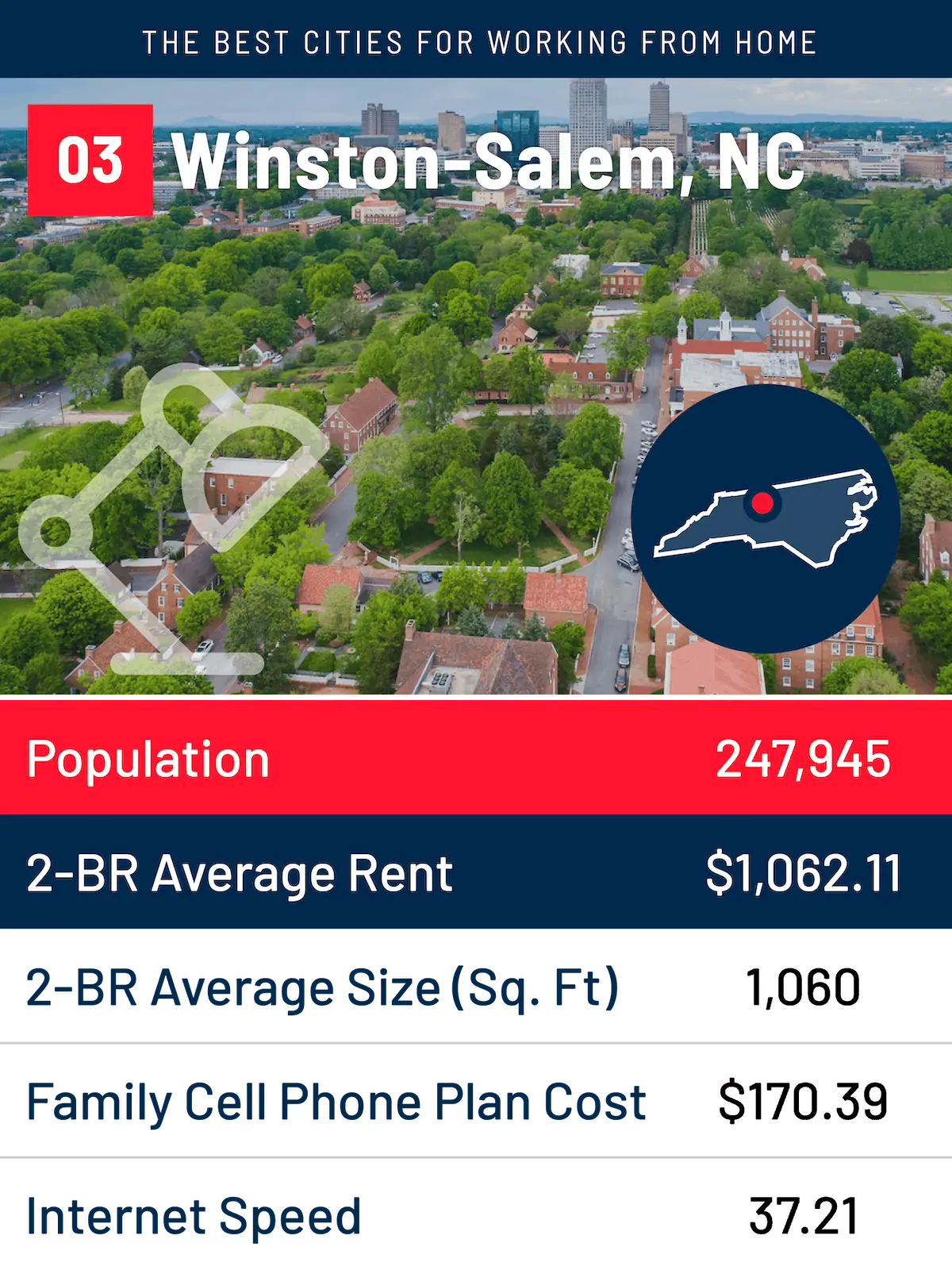 Sure, Winston-Salem, NC is one of the 10 best places in America to retire. But if you're still working, you'll enjoy the experience of working from home in the Camel City. Rents here are the second-lowest in our top 10 and the 13th lowest among the top 100 largest cities. And the Twin City ties for the lowest family cell phone plan in America at just $170. And at a little less than a quarter-million residents, it's the smallest among the top 10 best cities to work from home.
Salem and Winston, of course, started as separate cities. But just more than 100 years ago, the cities voted to become one. And only a few years later, the company that would become R.J. Reynolds Tobacco set up shop here and changed the history of Winston-Salem (both of which would become names of R.J.R. cigarette brands).
Today, you can work from home for some world-class local companies. Hanes, Krispy Kreme, Lowes Foods and Blue Rhino are among companies headquartered in Winston-Salem. It is, of course, part of Tobacco Road and home to Wake Forest University.
2. Cincinnati, OH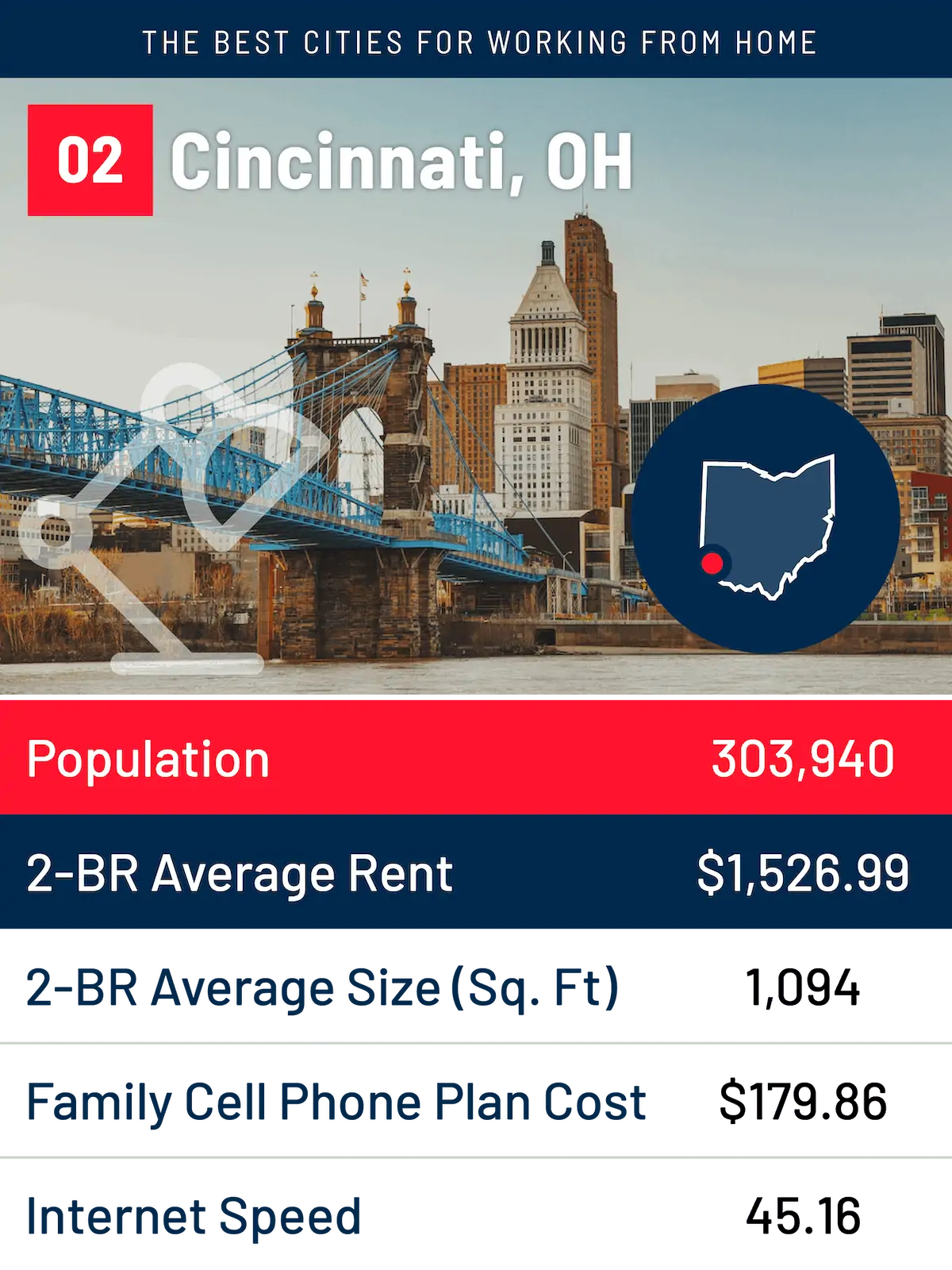 The Queen City is the second-best city — and the best in the Midwest — for working from home. Sitting along the Ohio River across from Kentucky, Cincinnati is a modern and diverse cultural city. With more than 300,000 residents, it's the third-largest city in the state of Ohio.
While you can live in Cincinnati and work remotely anywhere, the city is home to a number of major corporations. In fact, six Fortune 500 companies are headquartered in Cincinnati, including Kroger, Procter & Gamble, Fifth Third Bank, American Financial, Western & Southern Financial and Cintas, plus General Electric's Global Operations Center. And thanks to food delivery, you can work from home but still have your favorite Cincy foods brought right to your door. Chili five-way, goetta and Graeter's Ice Cream can show up at the click of an app.
Baby, you and me were never meant to be. But if you think of me once in a while, I'll be in my two-bedroom apartment in Cincinnati, which rents for an average of $1,526 monthly.
1. Chandler, AZ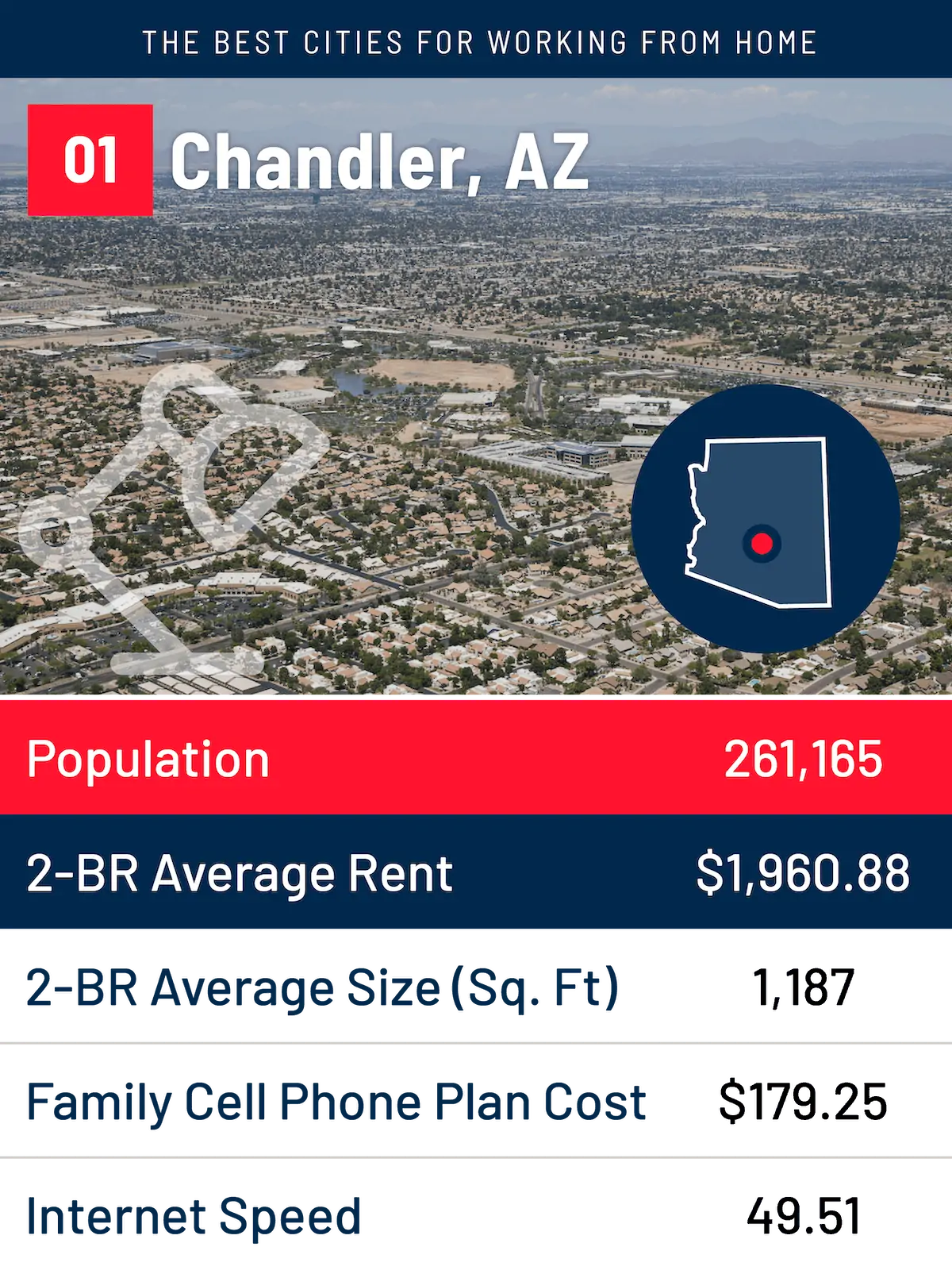 It's warm. It's quiet. And it's close enough to the city if you need it, yet secluded enough to foster a calm remote office environment. It's the Phoenix suburb of Chandler, the region's second-largest. And America's best city for working from home in 2021.
With features including the fourth-largest two-bedroom apartments in the nation and the sixth-fastest internet, Chandler, AZ is a work from home haven. The suburb itself is more than just a Phoenix bedroom community. Several gigantic corporations have a significant presence in Chandler, including Intel, Wells Fargo, Bank of America, Northrup Grumman and NXP Semiconductors.
Chandler is also one of the fastest-growing cities in the country, with population growth from near zero to more than a quarter-million residents in only a century. In the 1990s alone, the population grew more than 200 percent. But if you need to get away from everyone, it's just a step into the Sonoran Desert between Chandler and Tucson.
The lone downside to working from home in Chandler is the price of that home. Chandler has the 34th highest rent among the top 100 cities and the third highest in this top 10 at an average of $1,960 a month for a two-bedroom.
Top 50 cities for working from home
Even if you're able to live anywhere to do your job, you may not be able to live in one of the top 10 best cities for it. Especially if you live outside the regions above.
The best city in the Northeast doesn't come until Newark, NJ at No. 18. The West Coast is not seen until No. 26 San Diego. You won't find a Texas city before Lubbock down at No. 28. New York is all the way at No. 44. And Chicago, Houston and Philadelphia don't even crack the top 50.
6 tips for successfully working from home
Sure, it's great to live in a city tailor-made for remote work. But not everyone resides in one of the best cities to work from home.
For the rest of us, how can we maximize our ability to do remote work? How can we be comfortable, productive and balanced? There's no single way for every person to work better from home. However, these six tips for being successful working from home are a great start.
1. Create a dedicated workspace
To be productive, you'll need a dedicated workspace you go to every day. This is hard in apartments. But dedicated doesn't always mean an office or separate room. Just a specific place where you and your stuff are comfortable. Place a desk in the living room or your bedroom. Work on the kitchen island. Whatever fits.
Don't forget the essentials for that workspace. Quiet if you make phone calls. An ergonomic chair. Proximity to the Wi-Fi. Natural light. Every apartment is different, so do your best to create a productive workspace. But one you consistently visit every day.
2. Dress for work
While it's tempting to work in your pajamas, don't. Unless you work for a pajamas company. It's likely detrimental to your productivity. This doesn't mean you have to get dressed up in a suit. Wear something you would in a business casual office or on dress-down Friday, depending on your office's culture.
Getting dressed for remote work will help you be presentable if you have to hop on a video call. But it also separates home from work life. You get dressed to go to the office, do the same with the home office. Wear comfortable clothes, but stay neat.
3. Maintain a routine
Keeping a routine just like you do in the office is key. And getting dressed is just the start. Have a consistent morning: Set an alarm, make coffee, listen to news headlines, be in your seat at 8 a.m. Work time? Log in, check your emails, check in with the boss. Whatever is normal for you.
Throughout the day, do as you would in the office. If you normally take a 10:30 snack break, keep doing it. Have regular meetings. Take a consistent lunch (and use all 60 minutes). The goal is to stick to a normal office procedure as best you can.
4. Set ground rules with people in your apartment
One difference when working at home is having people around that aren't coworkers. A roommate or spouse is in another room doing the same thing you are. Kids might be Zooming into class. You can't help that other people are around, so set ground rules for those that share your space.
Talk with them about privacy. That when the door is closed, there's no interrupting. That just because you're home, you can't text all day. That laundry and TV watching should be at limited times. And if you have kids coming home from school midday, discuss interruptions and making noise.
5. Get up
When working from home, your day can fly by. Be sure you get up and move. Find time to get outside. Sitting in the same spot all day is bad for your mental and physical health.
Plan five-minute breaks throughout the day to move around. Stretch, play with the dog or grab a quick walk around the block. Take all of your lunch hour and stay away from your computer. Have a scheduled check-in phone call with a friend in the afternoon. If you have trouble remembering to take breaks, set alarms and abide by them.
6. Keep connected
With no coworkers around, you can quickly feel isolated. Use tools like Slack, Zoom and Hangouts to see and talk to your colleagues. Set regular morning video meetings to see faces and stay on the same page and check in throughout the day to keep up productivity.
And since you're not bumping into people in the break room, use these tools for socializing, as well as work. Send a good joke or meme to the team over Slack or use Zoom to have lunch together. Need fresh air? Have a phone meeting over Bluetooth while you're strolling the neighborhood.
Where and how to work from home better
In the end, if you've transitioned into the work-from-home life and are looking to do so long term, you have a number of advantages. If you live in one of the best cities to work from home, factors like rent and internet speeds can make some cities havens for remote workers. But no matter where you live, some simple work-style tips can maximize your home office productivity.
Methodology
To determine the best cities to work from home, we looked at the 100 most populated cities in the country according to the U.S. Census Bureau's 2019 estimates and then ranked each city by the following factors:
Two-bedroom average rent prices based on a rolling weighted average from Apartment Guide and Rent.com's multifamily rental property inventory. Data was pulled in December 2020 and goes back for one year. We use a weighted average formula that more accurately represents price availability for each individual unit type and reduces the influence of seasonality on rent prices in specific markets.
Two-bedroom average square footage from Apartment Guide and Rent.com's multifamily rental property inventory.
Cost of a family cell phone plan per metro area from the Council for Community and Economic Research.
Internet speed score from Speedtest.com. The score is based on the speed of the fastest available internet service provider in the market.
Each of these factors was weighted equally, and the cities with the best overall score were determined to be the best cities for working from home.
The rent information included in this article is used for illustrative purposes only. The data contained herein do not constitute financial advice or a pricing guarantee for any apartment.
Comments
comments