The Best Neighborhoods in Dallas to Live in 2023
There's a popular saying that everything is bigger in Texas, and that expression definitely holds water when it comes to the city of Dallas. Part of the larger Dallas-Fort Worth metroplex, this sprawling city is the third-largest city in Texas and the fourth-biggest metro area in the United States.
Within all that sprawl is a lively, vibrant city with tons to offer its residents. For one, it's a regional hub for business with thriving industries in IT, defense, telecommunications, financial services and transportation. With seven professional sports teams including the Dallas Cowboys, sports fans can find a team to cheer on throughout the year. Dallas also boasts a one-of-a-kind art and cultural scene, with museums, art galleries and performing arts. It's also a very diverse area, with a large and prominent LGBTQ+ population. With tons of retail centers and restaurants, it's also a fantastic destination for shopping and dining. All in all, Dallas offers renters everything they need for well-rounded, exciting city life.
If living in this larger-than-life, endlessly exciting city sounds like your cup of tea, these are the best neighborhoods in Dallas to consider living in for the coming 2023 year.
The best neighborhoods in Dallas for renters in 2023
Due to its massive size, Dallas renters have no shortage of neighborhoods to choose from. Options range from compact, urban districts in the heart of the city to spread-out, peaceful suburban-style areas. Everyone from young professionals to growing families can find a Dallas neighborhood to fit their lifestyle and budget.
The cost of living in Dallas
Another benefit of living here is the affordability and cost of living. While its cost of living is 7.7 percent higher than the national average, living here still costs far less than in other major metro areas. The average monthly rent for a one-bedroom apartment is $1,457 and $1,926 for a two-bedroom unit. While rental rates vary, each Dallas neighborhood offers something different and unique.
Taking into account factors like average rental rates, walkability and things to do, these are the top 15 Dallas neighborhoods to live in in 2023.
Bishop Arts District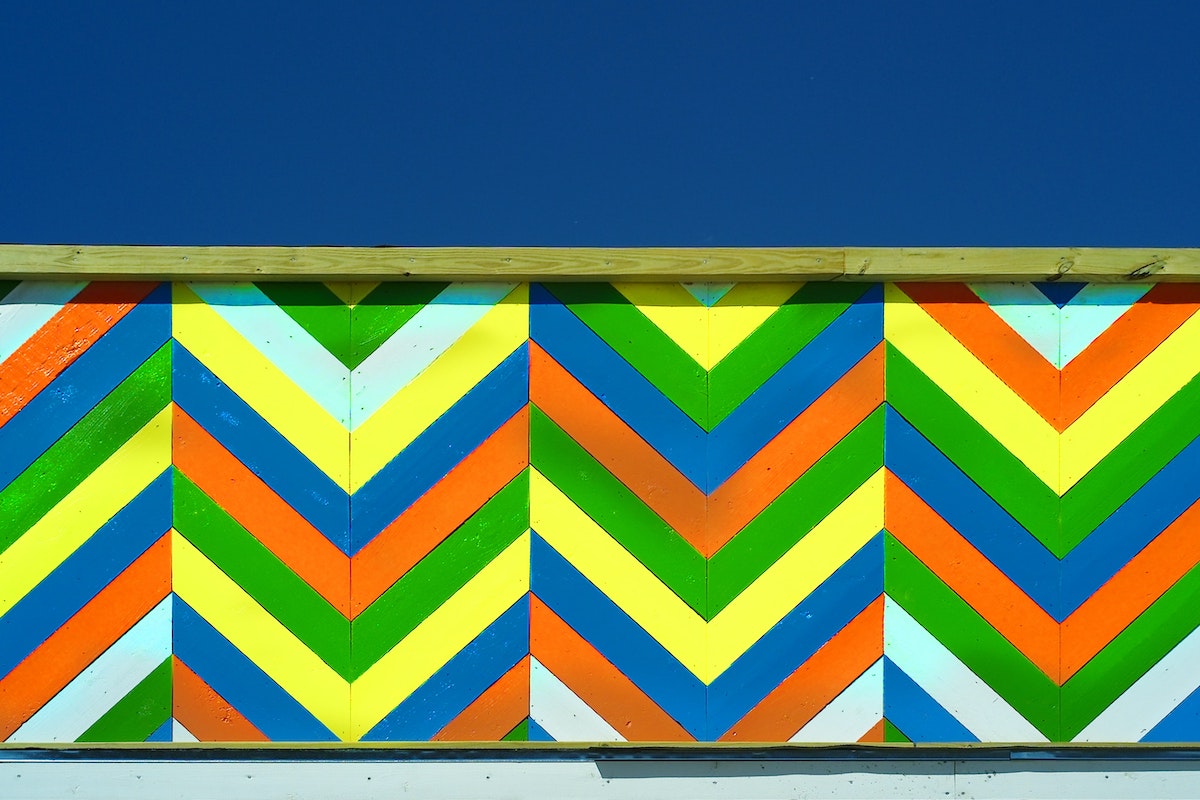 Located roughly 10 minutes south of Downtown, the Bishop Arts District feels like its own small town within the Dallas area. Within a few compact blocks, you'll find a whole world of charming detached single-family homes, historic storefronts and delightful street art. All this is within walking distance of each other.
During the day, residents can drink at coffee shops, shop in chic boutiques and enjoy the many restaurants serving everything from barbecue to Afghani food. At night, the vibrant nightlife, live music and bars make for a great evening out. For entertainment, you can catch cult and art house films at the Texas Theatre or listen to live music at the Kessler Theater.
Living here, it makes sense to size up to larger apartments regardless of whether you have roommates or not. The average rent for a one-bedroom apartment is $1,900, but a two-bedroom unit is only around $1,350.
For this reason, the Bishop Arts District boasts a unique demographic mix from four-plus person households and families to couples.
Deep Ellum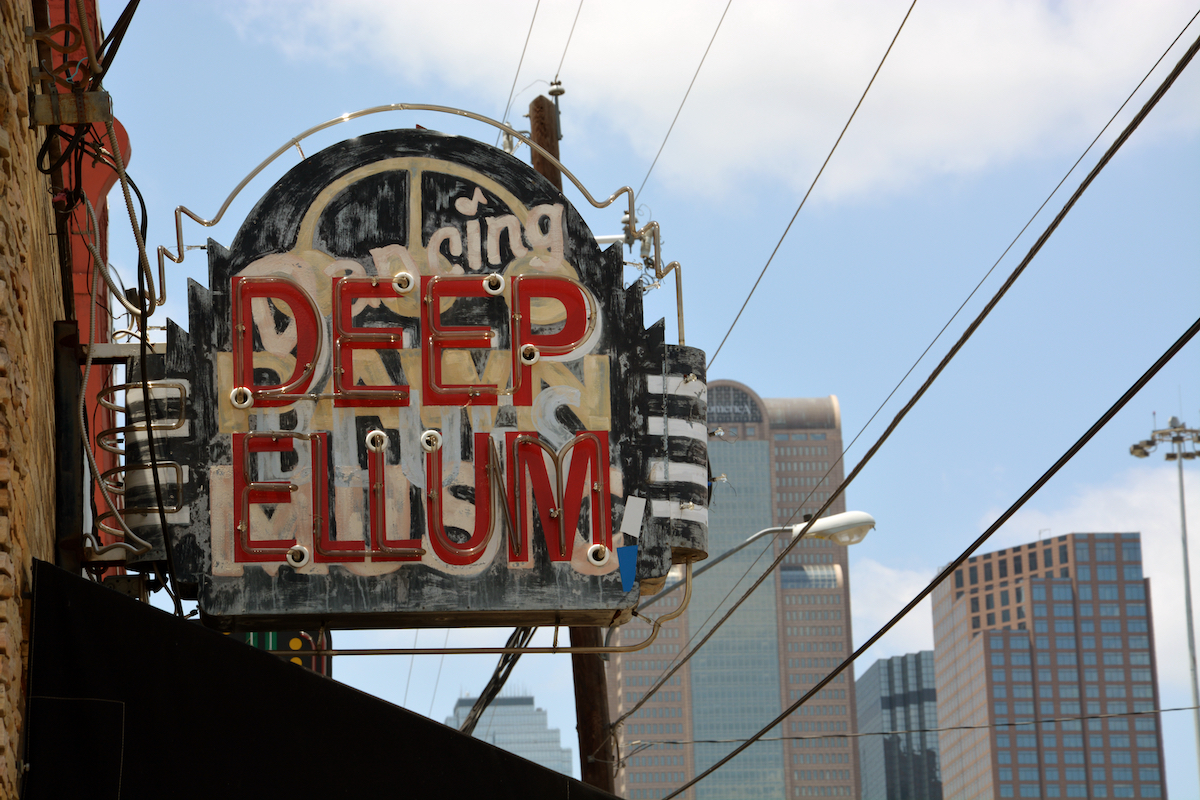 Along with the Bishop Arts District, Deep Ellum is Dallas's artsiest neighborhood. Splashed with street art and filled with craft breweries, cocktail bars, galleries and diverse dining, Deep Ellum is ground zero for Dallas' live music scene. Blues music is the main feature here, and you'll hear some of the best blues artists of your life in jazzy clubs and theaters. Some of the best places to catch a show are the Undermain Theatre, Trees and The Factory.
Deep Ellum is also just steps from other trendy Dallas neighborhoods like Downtown.
As such a hip, artsy district, your neighborhoods are likely young adults and couples who love being out and about. Among other central neighborhoods in Dallas, rental rates here fall in the mid-range at around $1,957 per month for a one-bedroom.
Design District
Source: ApartmentGuide.com/Gables Republic Tower Apartments
As the name suggests, this edgy district close to Downtown is big on design, art and culture. A former industrial area along Trammell Crow Park, it's now a hub for art galleries, outdoor sculptures and trendy dining. At the Goss-Michael Foundation, you can see innovative work from British contemporary artists.
On account of its artsy scene, it's also a major shopping district. You'll find antique stores, high-end textiles and home furnishings.
All this draws a local population of young professionals and couples who can expect to pay around $1,519 per month for a one-bedroom.
Downtown Dallas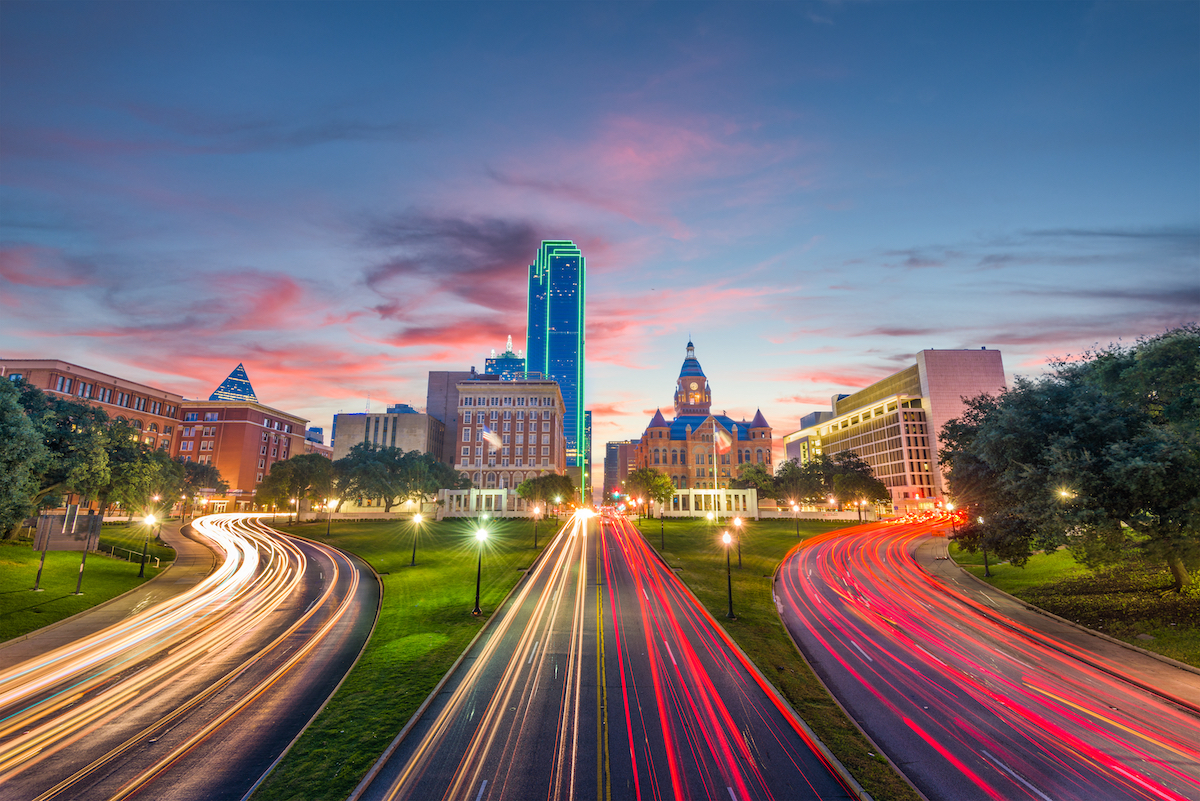 With its eclectic dining, arts offerings and high walkability, the Downtown Dallas neighborhood is popular among young couples and young professionals. The neighborhood borders U.S. Route 75 to the east, state highway 366 to the north, Interstate 30 to the south and Trammell Crow Park to the west. These major arteries provide convenient access to other parts of Dallas and surrounding neighborhoods.
With a high walk score of 92, residents can easily walk to everything downtown has to offer from museums to shopping. Dining options include Tex-Mex, Italian and steakhouses. You can take in a show at the Winspear Opera House, go shopping at the Dallas Farmer's Market or take in city views from the Reunion Tower. It was in Downtown Dallas that President John F. Kennedy was assassinated in 1963, which is now commemorated with a memorial square and a museum.
As a modern neighborhood that also doubles as a major business district, modern condos and luxury apartments are the main housing options here. Renters can expect an average monthly rent of $1,529 for a one-bedroom apartment in Downtown Dallas.
Greenway Park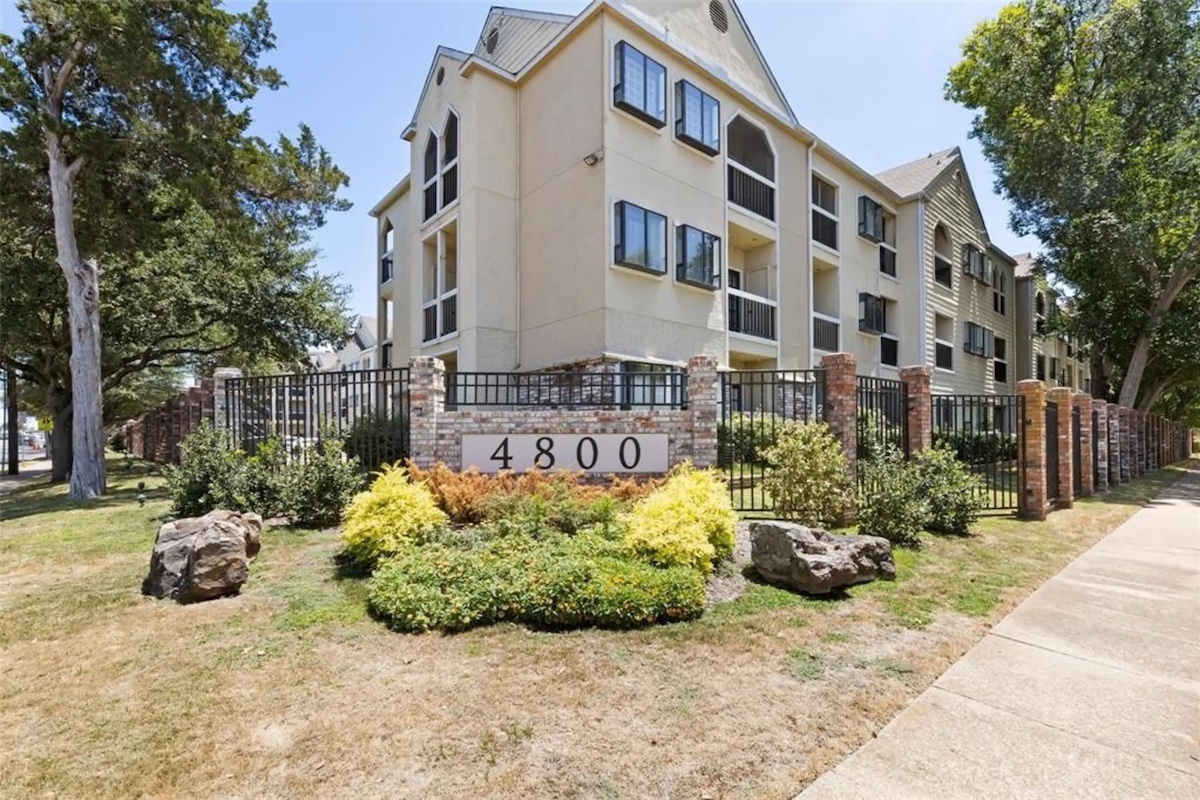 Source: ApartmentGuide.com/W Lovers Ln.
This charming suburban neighborhood in north Dallas offers tree-lined streets, lush lawns and beautiful townhouses for renters and homeowners alike. Apart from a few small businesses, it's largely residential. But the Dallas North passes right by the east, connecting to downtown and other great dining and shopping areas.
With an average one-bedroom rent of $1,155, the population here consists of families and couples.
Lake Highlands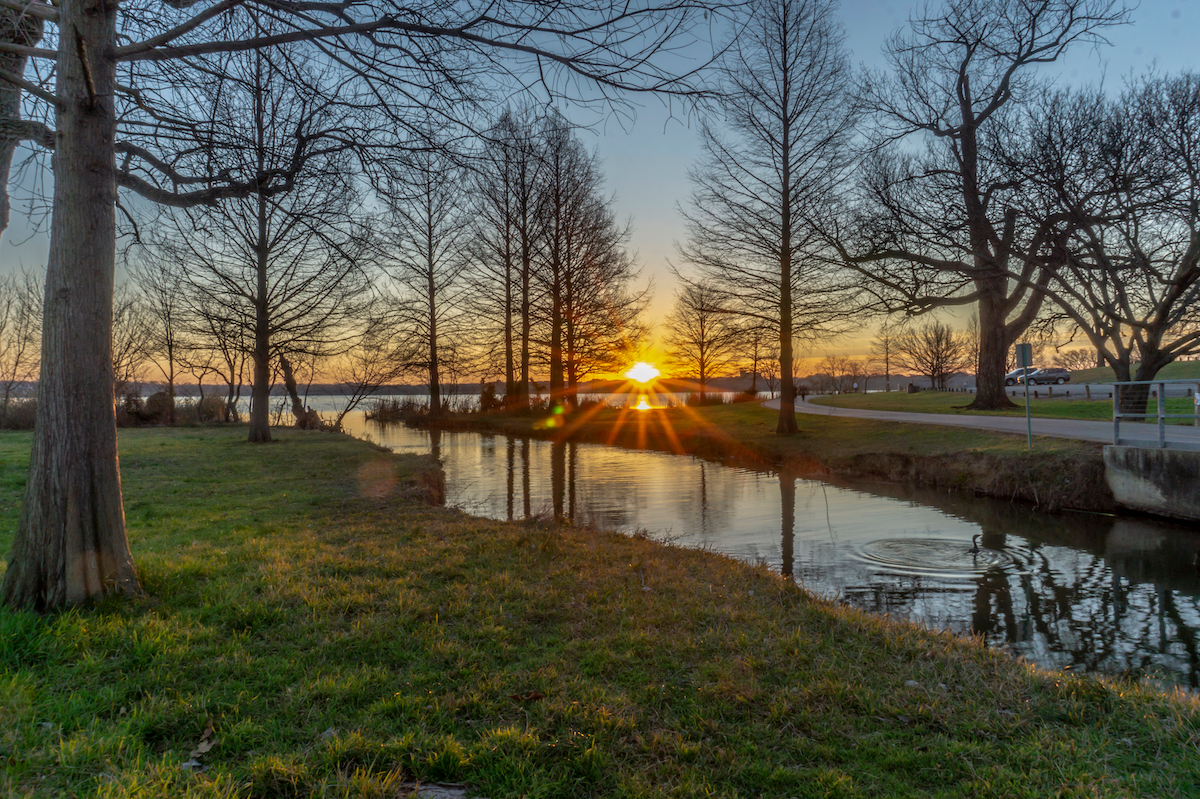 The residential Lake Highlands neighborhood in north Dallas attracts renters with its family-friendly atmosphere, well-regarded schools and access to White Rock Lake. Peaceful and quiet, residents of this lush and prosperous district can shop at the local farmer's market, dine at chain restaurants and shop at trusted name-brand stores.
Along with White Rock Lake, several parks rim the western edge of the neighborhood with hiking trails, tennis courts and more.
With an average rent of $1,097 for a one-bedroom, the affordability of Lake Highlands is another plus of renting here.
Lakewood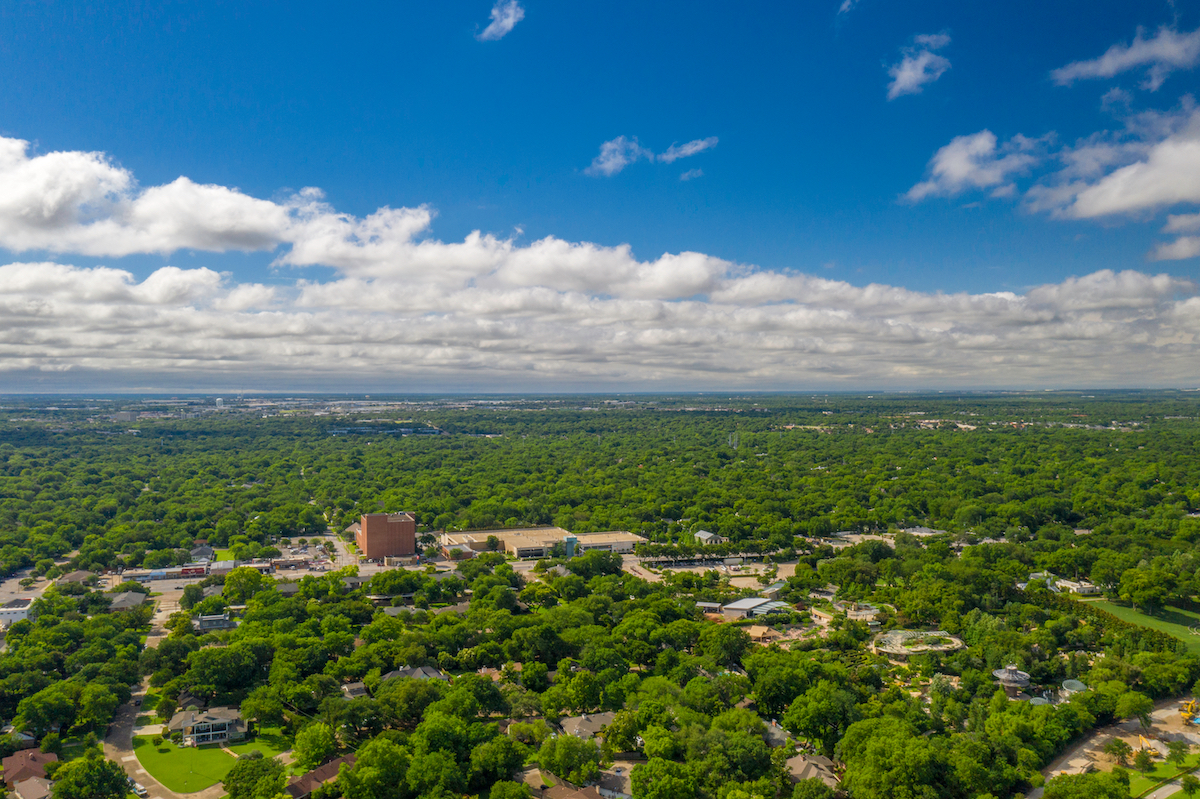 With elegant estates and apartment complexes, this upscale district in south Dallas offers a lovely escape from the hustle and bustle of the city center.
With a walk score of 69, it's a good idea to have a car here to take advantage of Lakewood's many outdoor activities. Per its name, Lakewood sits right on the western edge of White Rock Lake, making this neighborhood a good option for nature lovers. The lake and its bordering parks are open to hiking, walking, boating, picnicking and other outdoor activities. You can also stroll through the Dallas Arboretum and Botanical Gardens on the eastern shore. Along with hiking, walking and water sports, residents can take in shows at the 1930s-era Art Deco Lakewood Theater.
Demographically, Lakewood is a mix of young professionals, couples and families who both rent and own. If you plan to rent, the average monthly rent for a one-bedroom apartment is $1,600.
Lower Greenville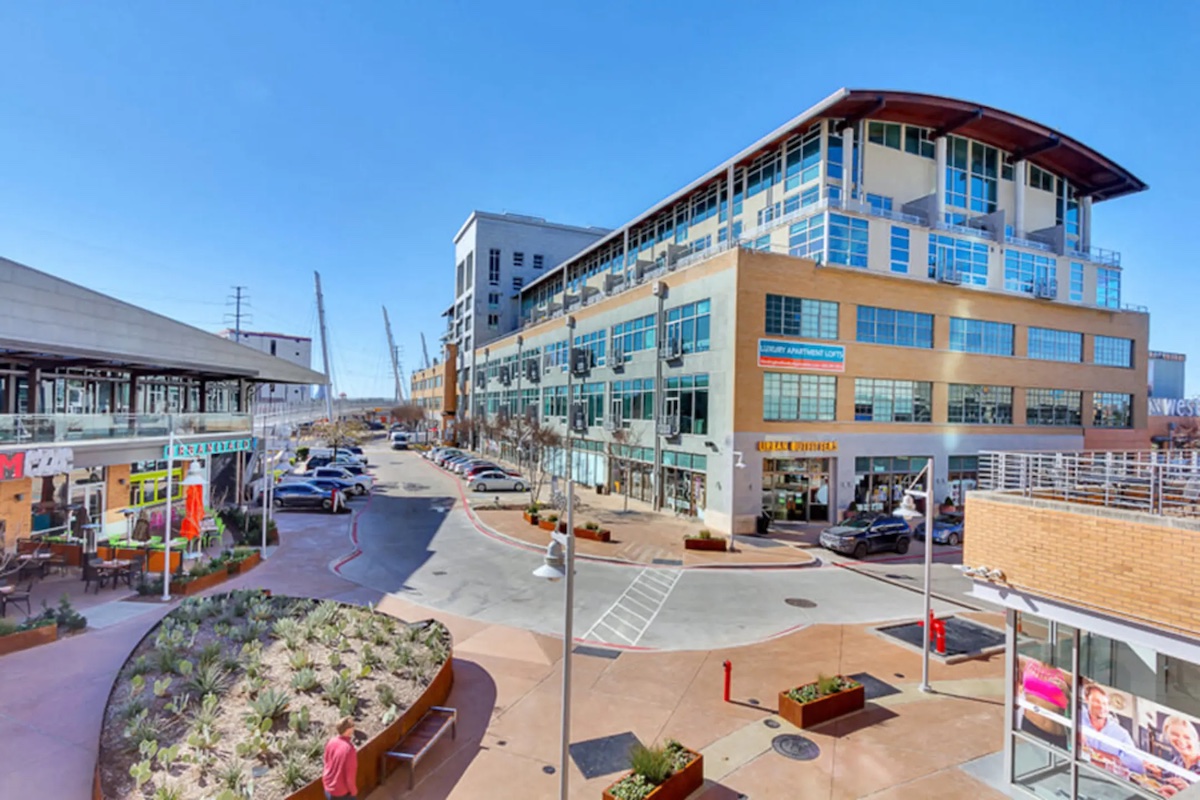 Source: ApartmentGuide.com/The Lofts at Mockingbird Station
Attracting young couples with its $1,050 rent and wealth of activities, Lower Greenville is a beacon of fun close to tranquil Lakewood.
From contemporary apartments and industrial-chic lofts, renters can walk to the tequila bars, clubs, cafés and bistros in the heart of the district. Nightlife is a big deal here, especially at popular music venues like the Granada Theater.
M Streets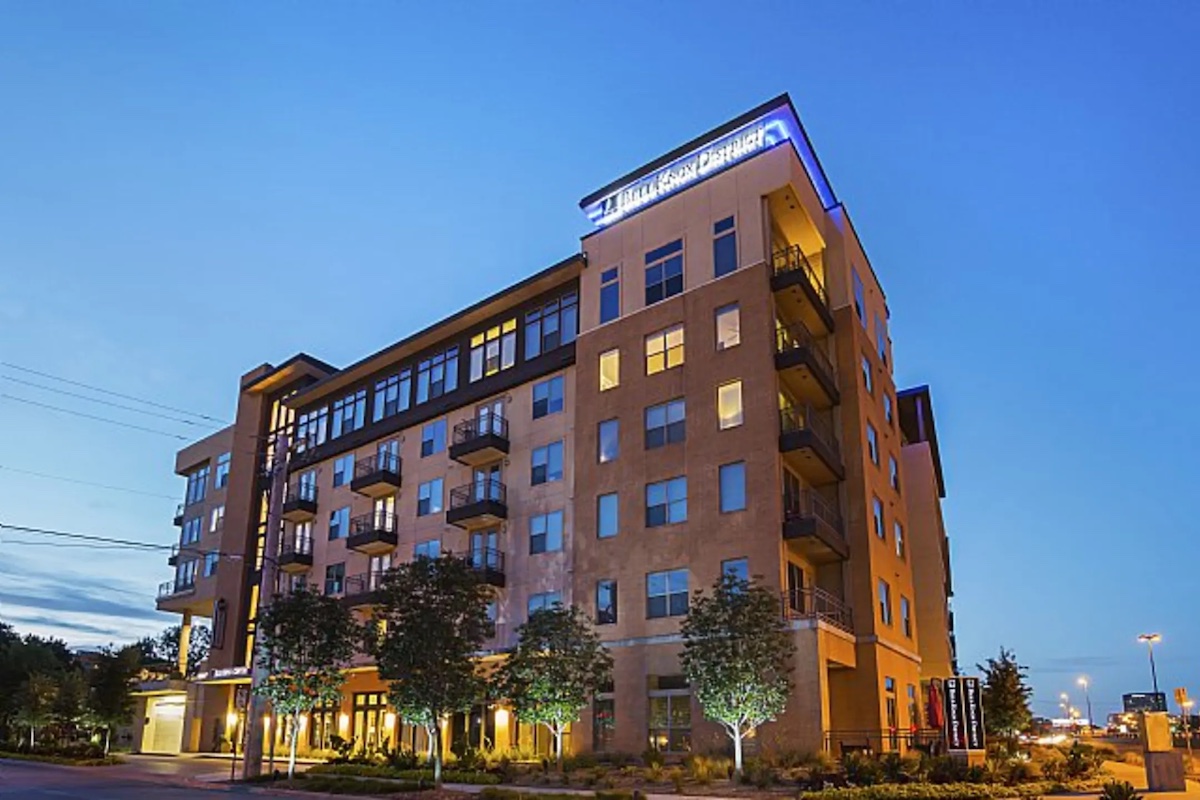 Source: ApartmentGuide.com/Bell Knox District Apartments
Having a Dallas address in this area comes with a certain amount of cachet. Named for its many streets that start with the letter "m", the prosperous M Streets neighborhood in north Dallas attracts families and young couples. Along with neighboring Vickery Place, it's one of Dallas' top school districts and the quiet streets have lovely homes. Shopping and dining like Window Seat Coffee fringes the district.
Renters can expect to pay around $744 for a one-bedroom apartment.
Oak Cliff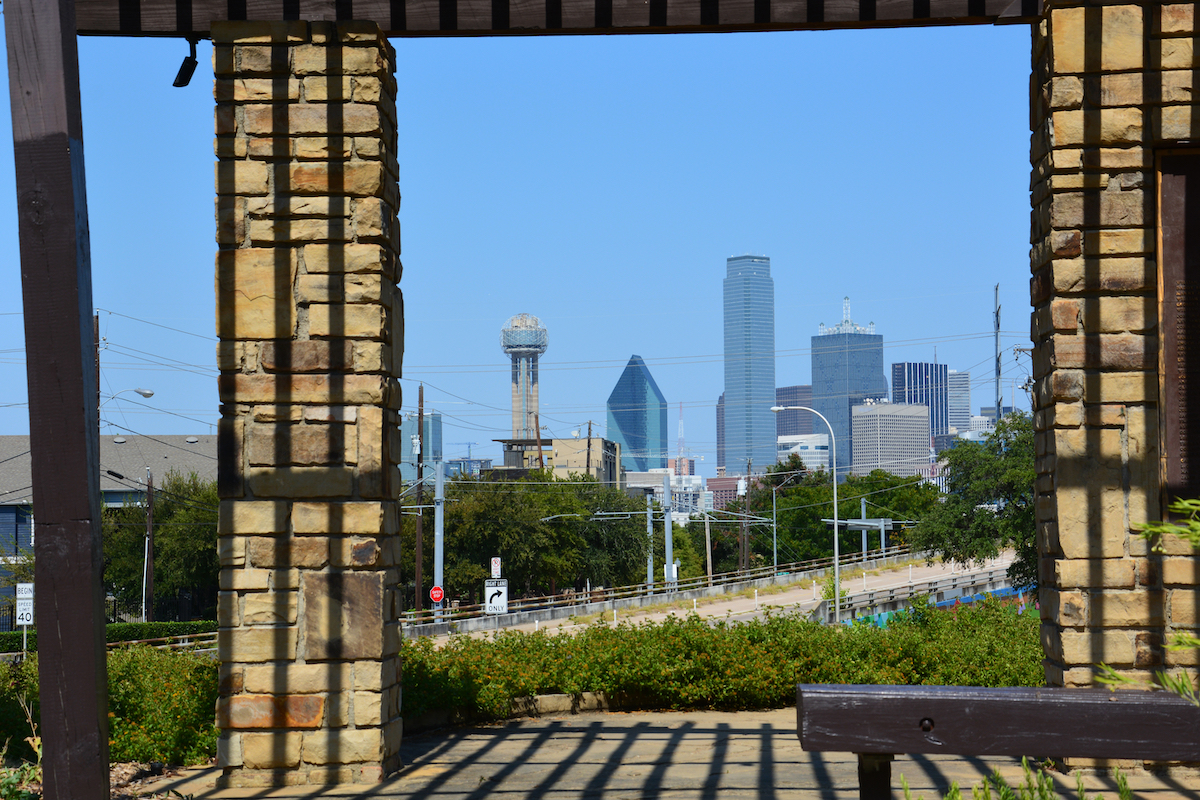 The idyllically-named Oak Cliff neighborhood gets its name from the oak trees and rolling hills that once characterized the area. Today, it's a family-friendly neighborhood that offers a blended urban and suburban living experience.
Historic mid-20th century homes dominate the residential parts of the neighborhood, appealing to families. But, the hip young adult crowd can find walkable districts with shopping, dining and entertainment in smaller districts like the Bishop Arts District. With a walk score of 50, it's recommended to have a car to get around with ease.
Golf courses like the Dallas National Golf Club and the Oak Cliff Nature Preserve are Oak Cliff's main outlets for outdoor recreation. For families with school-age children, it has a mix of quality public schools and private schools.
Oak Cliff's affordability is another draw, with an average rent of $1,299 for a one-bedroom apartment.
Old East Dallas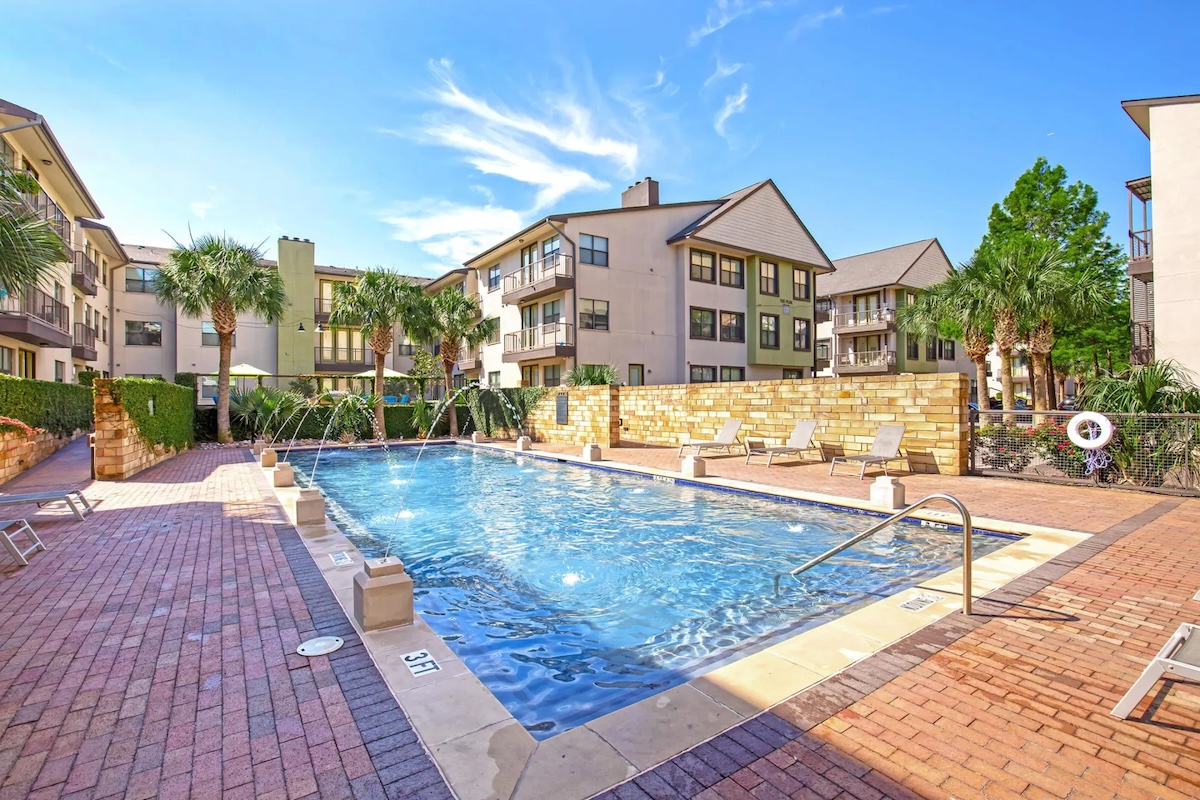 Source: ApartmentGuide.com/Vue Live Oak
If your tastes tend more toward classical homes in the Neoclassical and Queen Anne styles, you'll love the Old East Dallas district.
Located above Deep Ellum, Old East Dallas holds the title of the city's oldest neighborhood. Young couples love it for its proximity to central Dallas and growing supply of modern developments. Families love the historic, rooted and residential parts of the neighborhood with its parks and accessible shopping. The area also has a strong Latino heritage, which you can learn about at the Latino Cultural Center.
Another benefit is the affordable rents, with one-bedrooms averaging $1,345 a month.
Pleasant Grove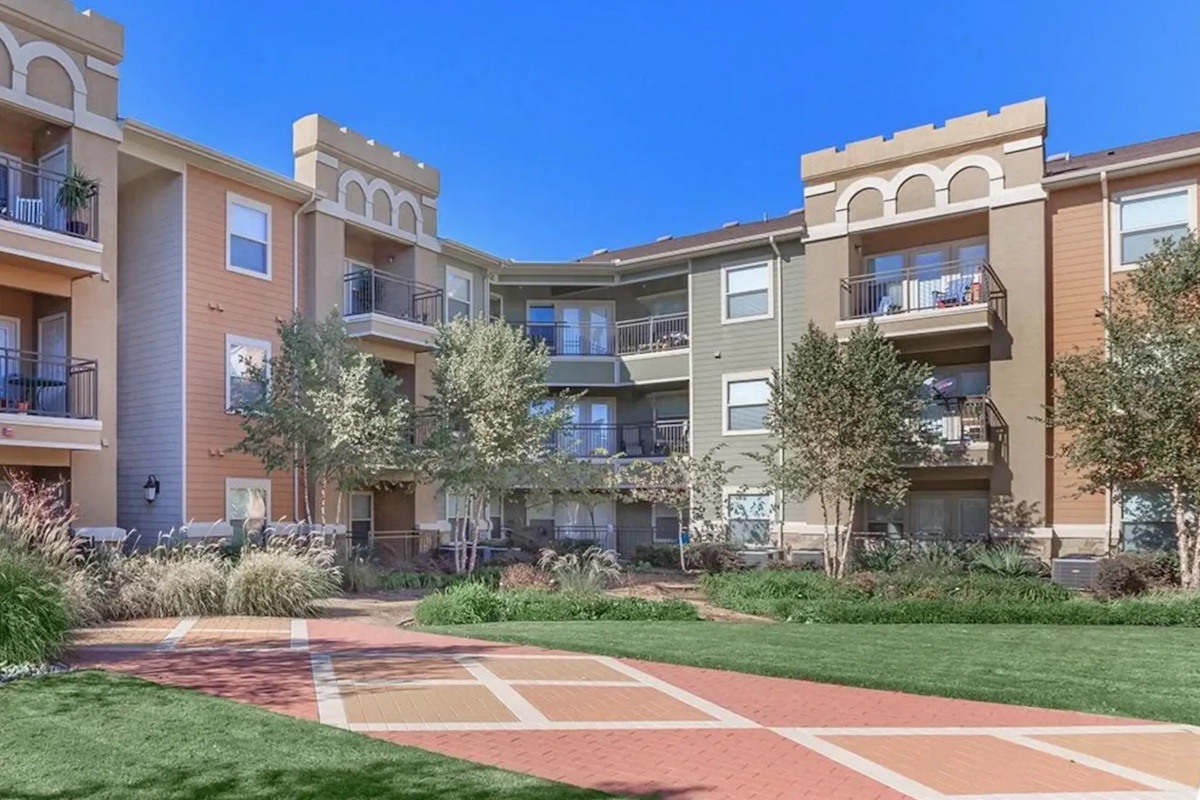 Source: ApartmentGuide.com/Peachtree Senior Living Apartments
Located in southeast Dallas, this friendly, community-oriented neighborhood appeals to families and young adults. There are several schools, as well as parks like the Crawford Memorial Park. Although it's mainly residential, there's shopping and dining throughout the district. The C. F. Hawn Freeway connects to nearby Downtown for commuters or accessible urban fun.
With an average rent of $989 for one-bedrooms, the affordability is another plus of living here.
Preston Hollow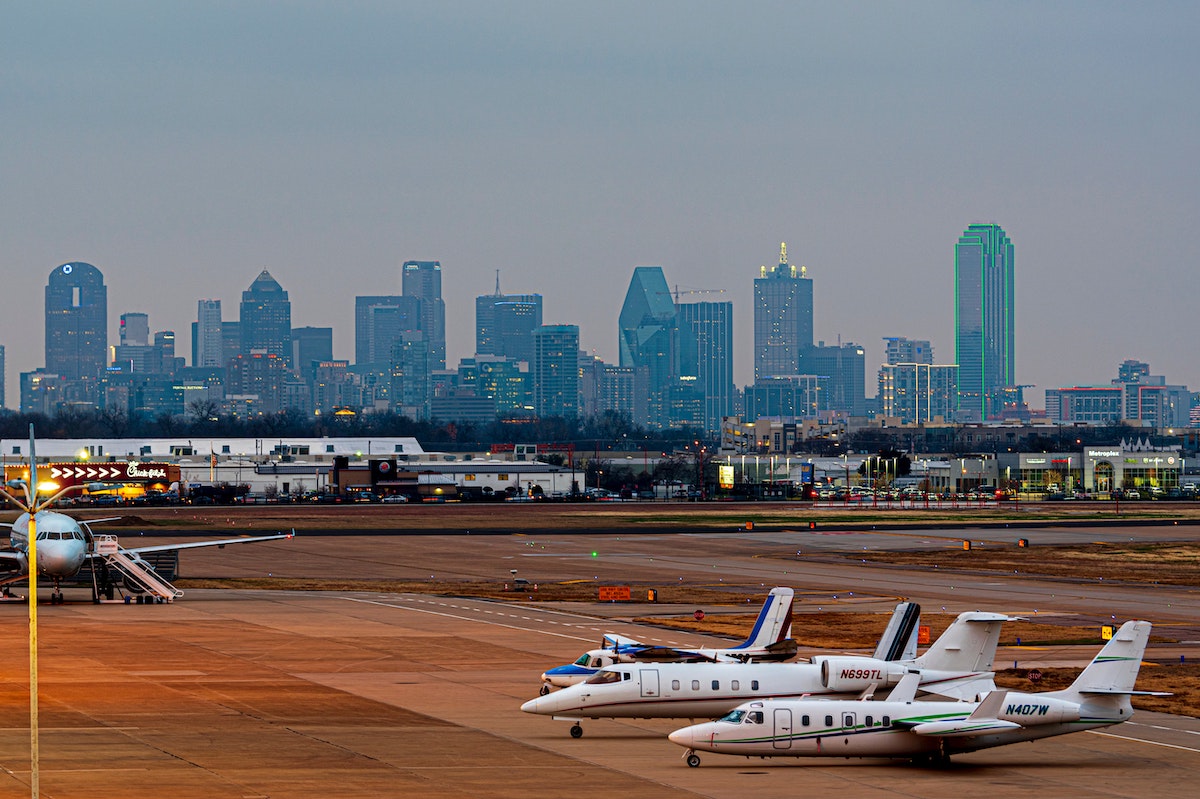 Popular among retirees, older adults and families, renters can find peace and quiet in this laidback neighborhood close to University Park in north Dallas. Mainly residential, families value good schools and safety.
Preston Hollow is also conveniently close to the Dallas Love Field Airport, making this an ideal neighborhood for frequent travelers. The Dallas North roadway also passes right through the neighborhood, connecting to Downtown and beyond.
With most rental options consisting of single-family houses, the average rent is a bit on the high side at $2,704 a month for a one-bedroom unit. So, if you're looking to rent a house for more space, this could be right up your alley. If ranch-style homes are your dream home, you'll like the selection here.
University Park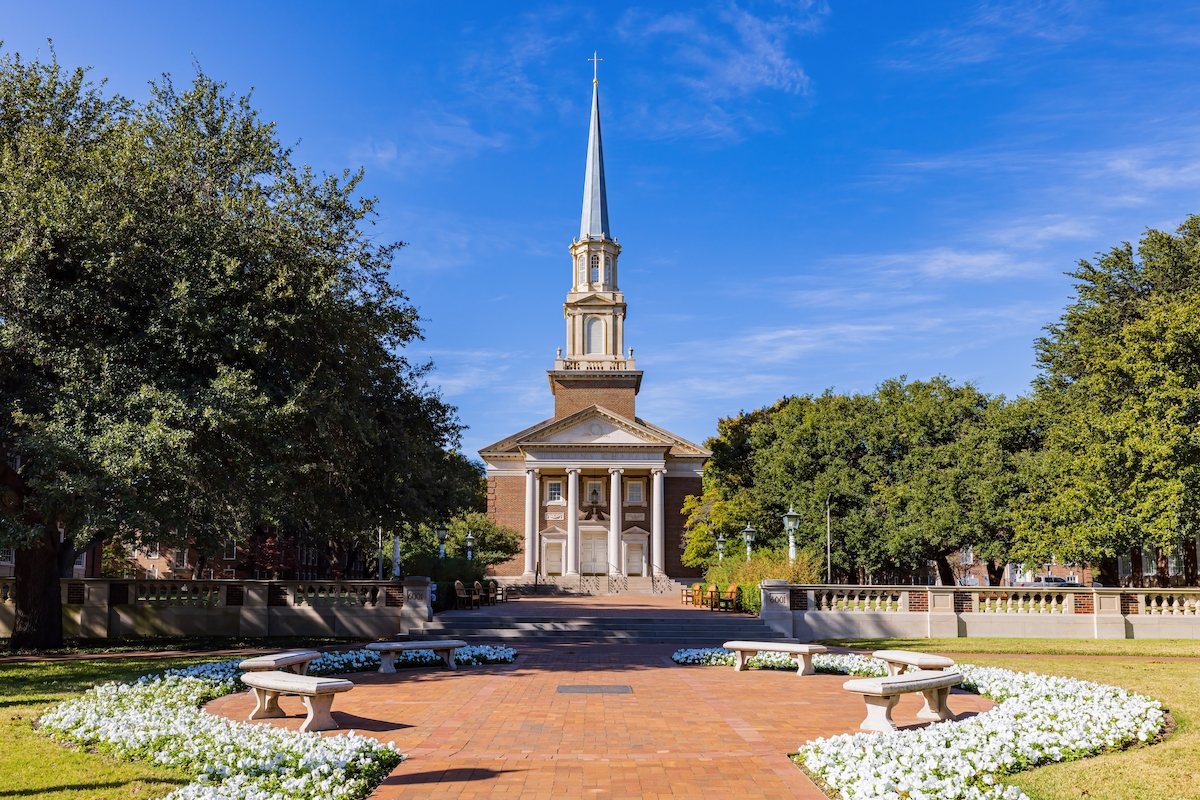 This affluent and upscale neighborhood in north Dallas gets its name from the prestigious Southern Methodist University. Tucked into the southeastern corner of the neighborhood, this top-ranked private university draws major talent and intellect to the district. Many on-campus attractions are open to the general public, including the George W. Bush Presidential Center honoring former president George W. Bush. Residents can also attend shows at the McFarlin Auditorium and view 15th-century Spanish art at the Meadows Museum.
But, the university isn't the only reason to consider living here. With its abundance of single-family homes and great schools, University Park is a great place for families or young renters seeking non-apartment rentals. The many beautiful single-family houses also make University Park a hot market for home buyers. If you're a real estate agent, take note of the housing prices. The median home value is $2.745 million.
Although primarily residential, restaurants, grocery stores and other shopping are on the outer edges of the district. Parks like Coffee Park and Goar Park dot the neighborhood. For easy access to Downtown, the Dallas North Tollway runs along the neighborhood's western edge.
Uptown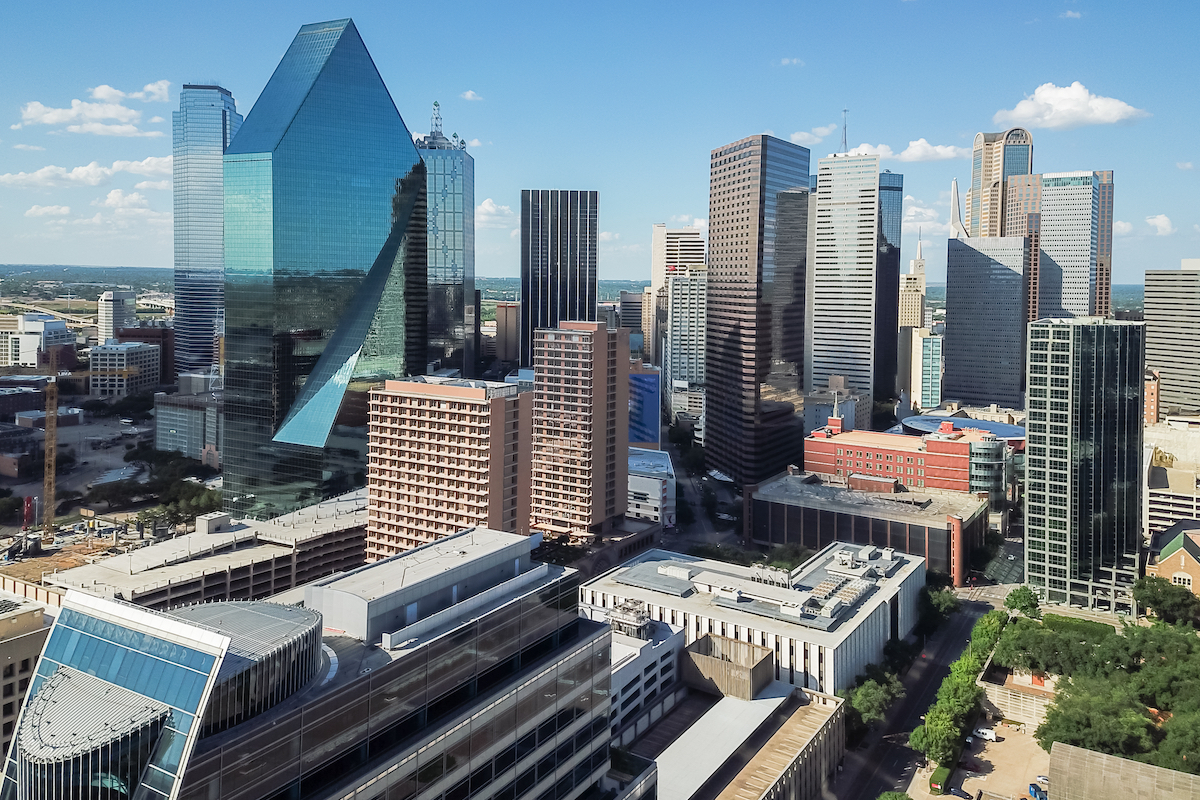 Sitting to the north of Downtown Dallas is the Uptown neighborhood. This is one of the best neighborhoods for young professionals and couples living in the heart of the city. There's diverse international dining from Japanese to Mexican, as well as trendy cocktail bars and stylish cafes. McKinney Avenue and Cedar Springs Road are the social hubs of Uptown, home to shopping, dining, entertainment and city views.
Renters can choose between sleek condos and contemporary apartments. It's also close to the medical district, providing fast and easy access to quality medical care and the vibrant Knox Henderson neighborhood.
Despite being right in the middle of the city, Uptown is one of the best Dallas neighborhoods for outdoor fun. One of the best bike trails in town, the 3.5-mile Katy Trail attracts cyclists, joggers and walkers, passing through Uptown and other neighborhoods like Oak Lawn.
However, living in this highly-desirable district does come at a price. Renting a one-bedroom apartment costs an average of $2,500. A two-bedroom unit is even costlier at $3,457.
Finding the right Dallas neighborhood for you
While Dallas has hundreds of neighborhoods to choose from these, these 15 best neighborhoods in Dallas offer a great mix of price ranges, activities and amenities. By knowing your options, you can easily find the perfect neighborhood in Dallas to call home.