The Best Neighborhoods in Houston to Live in 2022
As the fourth-largest city in the U.S., Houston is a buzzing metropolis that 7 million people call home. According to a 2019 study, millennials are moving in droves to seven metropolitan areas, including Houston. Dubbed 'Space city,' Houston has a rich history.
As you can imagine, downtown can't hold everybody. Considering that Houston is one of the most diverse cities in the U.S., that's not such a bad thing. Residents speak at least 145 languages in Houston, making it one of the most diverse metros in the U.S.
From 19th-century architecture and local businesses to NASA's Johnson Space Center Houston, this Texas city has a lot to offer if you're looking for the best neighborhoods to live in. With dozens of unique areas in the Houston area, anyone who comes to the city is sure to find a place where they fit in, from families looking for a good school district to singles.
We put together a Houston neighborhood guide for you to check out, whether you're moving from out of state or another area in the city.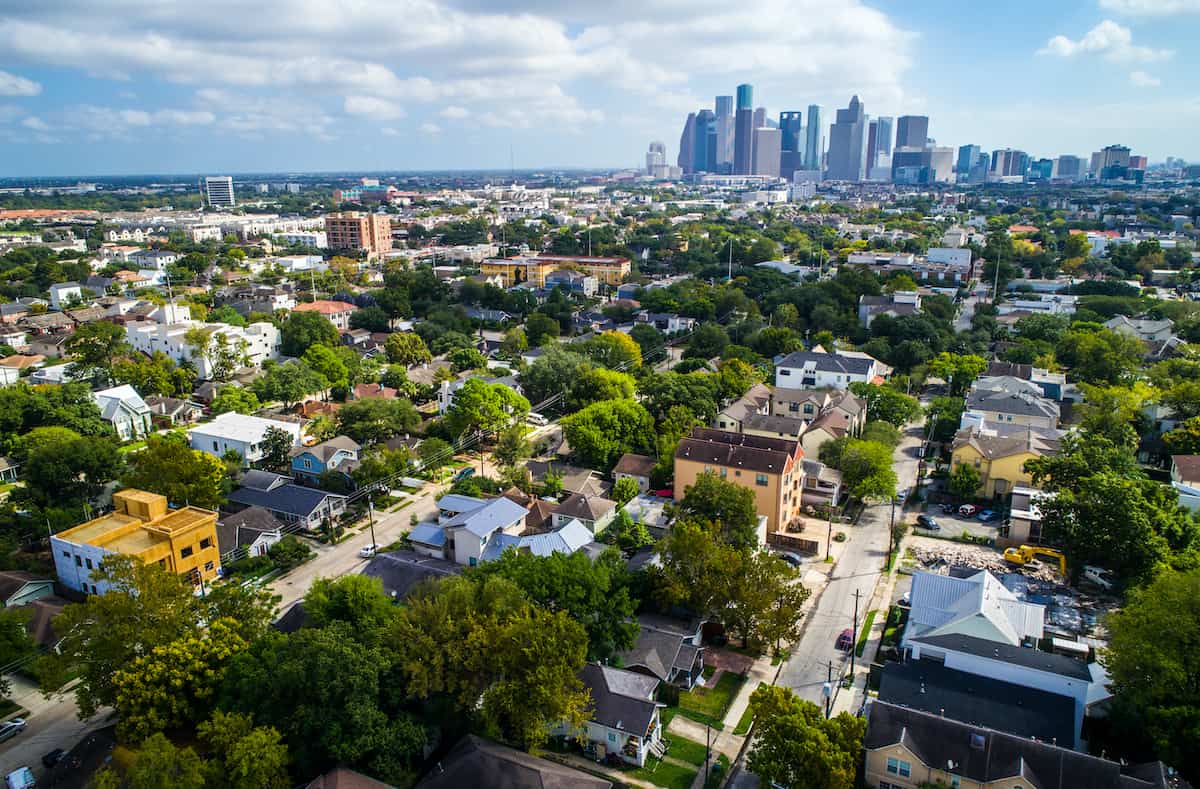 Montrose maintains much of the downtown area's energy on the west side of Houston, just with an additional sense of chill. It has an artsy, eclectic vibe, especially given that it's home to the Museum of Fine Arts, Rothko Chapel and the Contemporary Arts Museum. On the weekend, grab brunch at Hugo's.
Spend your days shopping at local boutiques, jogging in nearby Eleanor Tinsley Park and relaxing on hot summer nights at one of the many coffee shops, and you'll see what makes Montrose such an attractive neighborhood. Montrose is a great fit for young professionals and singles as the neighborhood boasts great nightlife and gay bars.
The average commute is 20 minutes in this neighborhood, but it's extremely walkable with a 90 walk score and 75 bike score. It has cute walkable streets to lead an active lifestyle.
When it comes to apartments, you'll have a decent amount to choose from — restored old buildings dot Montrose streets and multi-family dwellings and bungalows, too. You can find a one-bedroom apartment in the neighborhood for $1,265 a month on average.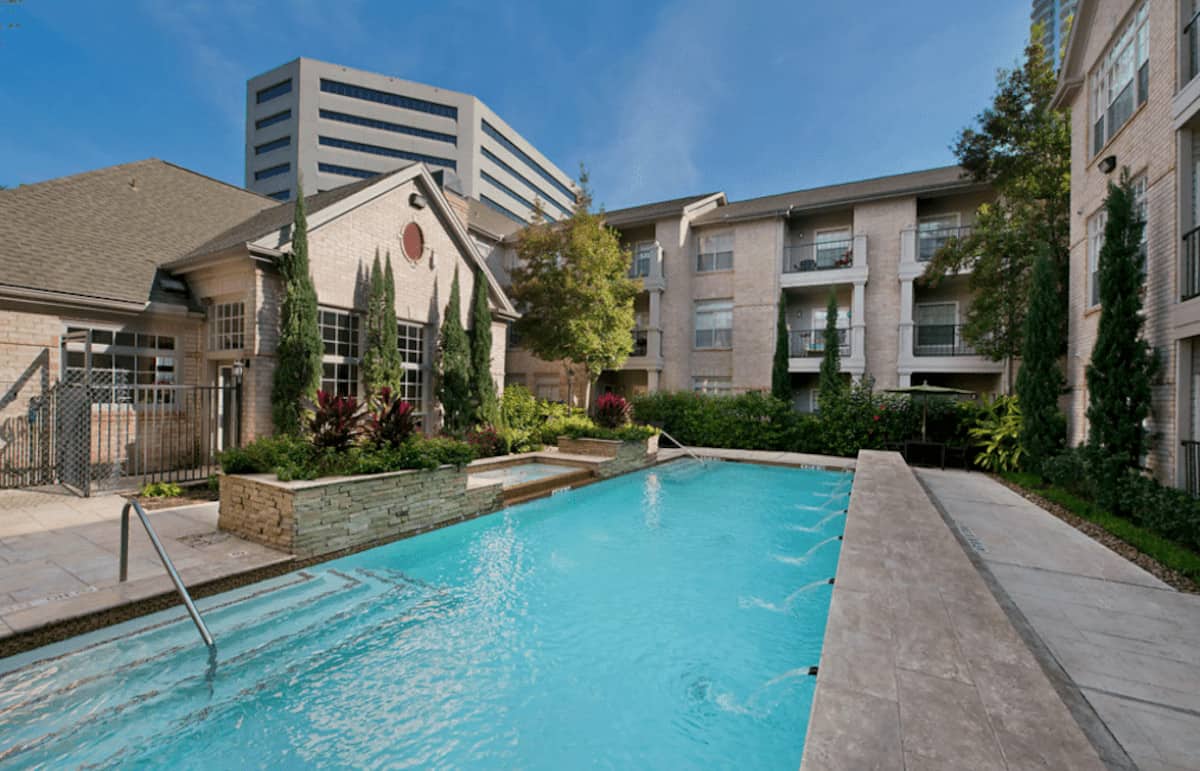 Source: ApartmentGuide.com/The Essex House
Considered one of the wealthiest areas of Houston, River Oaks boasts tree-lined streets, well-manicured lawns, historic mansions and large, single-family homes — making it feel more like a Houston suburb than a city neighborhood, despite its ZIP code. The affluent community is home to Houston's oldest country club, too.
Because it's such a picturesque place with high-profile residents (George H. W. and Barbara Bush used to live there), the cost of living is higher than in other nearby neighborhoods. The demographic leans toward older residents and established families. The median home price is $1.2 million, much higher than nearby median home prices.
However, getting downtown quickly is worth the high rent for many, as well as the proximity to excellent dining like Armando's, a golf course and the indie film theater River Oaks Theatre. Not only that, but you can walk to the River Oaks Shopping Center with a 55 walk score. Most people commute between 15 and 30 minutes.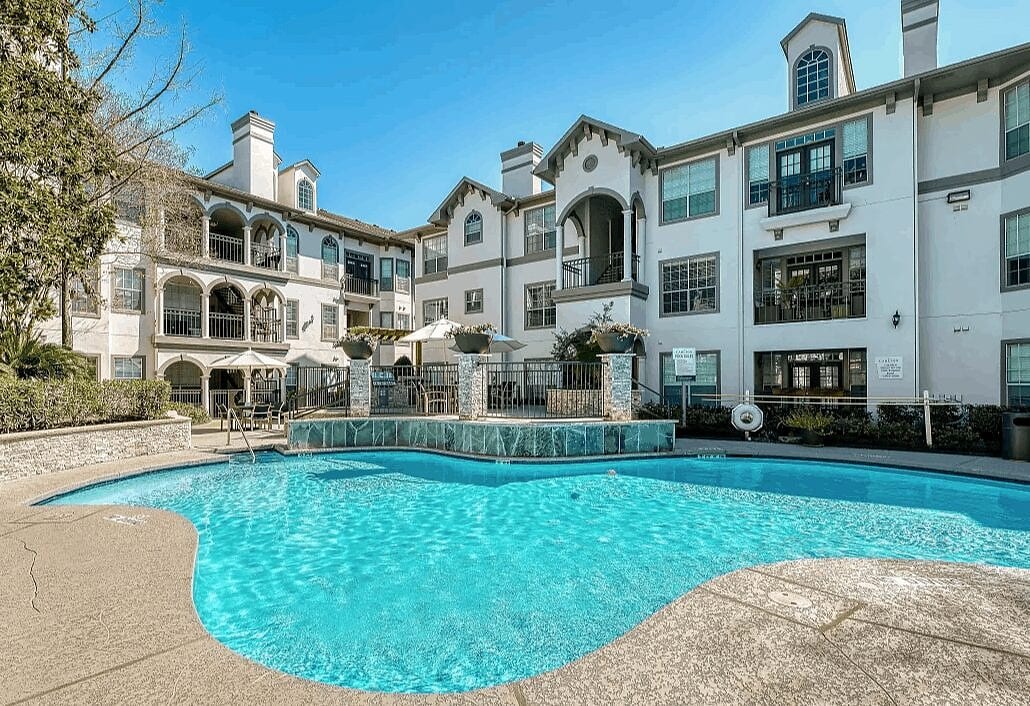 Source: ApartmentGuide.com/The Carlton Apartments
One of the city's most popular areas, Greenway/Upper Kirby, locals refer to it as "The Loop." Its proximity to Interstate 69 makes it incredibly well-placed within the city. Nearby, Levy Park offers a reprieve from city life with ample green space with a softball field, dog park, outdoor fitness classes and several walking trails.
If you like to go out dancing every weekend or grab a couple of drinks at a low-key bar, you'll feel at home here. The neighborhood offers plenty of entertainment and nightlife — spanning from great bars with live music like Music Box Theater and comedy clubs like McGonigel's Mucky Duck to indie art galleries along Alabama Street.
You can find a one-bedroom apartment in the area for $1,674 a month on average. The neighborhood has a 78 walk score, perfect for singles and many young professionals ready for a happy hour drink.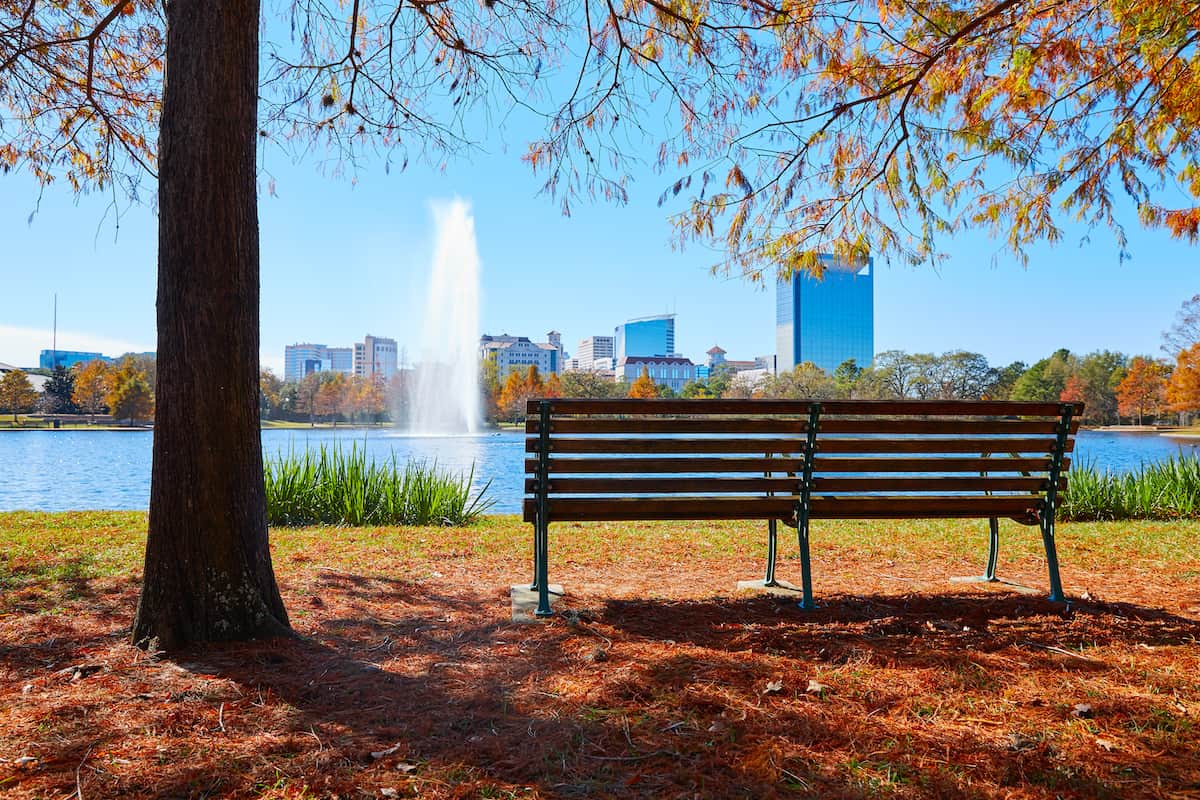 Houston's Medical Center neighborhood has a doozy of a name, but it has more to offer than the city's medical system. The district encompasses a large area with Rice University's campus, Houston Zoo, Hermann and Brays Bayou parks and the Houston Museum District all nearby. Eighty-three percent of locals commute to and from work by car due to the area's walk score of 55.
Don't miss the Texas Medical Center Orchestra's performances, one of the only orchestras in the world composed of those in the medical field. Whether you have a job in the Medical Center or are a college student at Rice University, you can find a one-bedroom apartment for $2,029 a month.
Nearby, you can find the conveniently located Rice Village shopping centers, a 16-block area of boutiques, antique shops, bars, coffee shops and restaurants, like Sweet Paris and Prego.
How would you like to wake up every day and see the Houston skyline outside of your window? Separated from downtown Houston by I-45, Midtown is one of the best neighborhoods in Houston with many big city amenities and luxury high-rise condos. It borders the museum district to the south.
You get to enjoy the walkable grid streets, the METRORail Red Line and plenty of access to breweries like Axelrad Beer Garden and piano bars like Howl at the Moon. Houston's midtown neighborhood has an impressive 88 walk score and 68 bike score.
Midtown is a very rent-friendly area with a demographic of singles, young professionals and contemporary single families. In one of the more affordable areas, you can find a one-bedroom apartment in the area for $1,581 a month on average.
The neighborhood is a mixed-use area with both businesses and housing here. From offices to shopping centers to restaurants to bars, the business part of Midtown is as diverse as its population.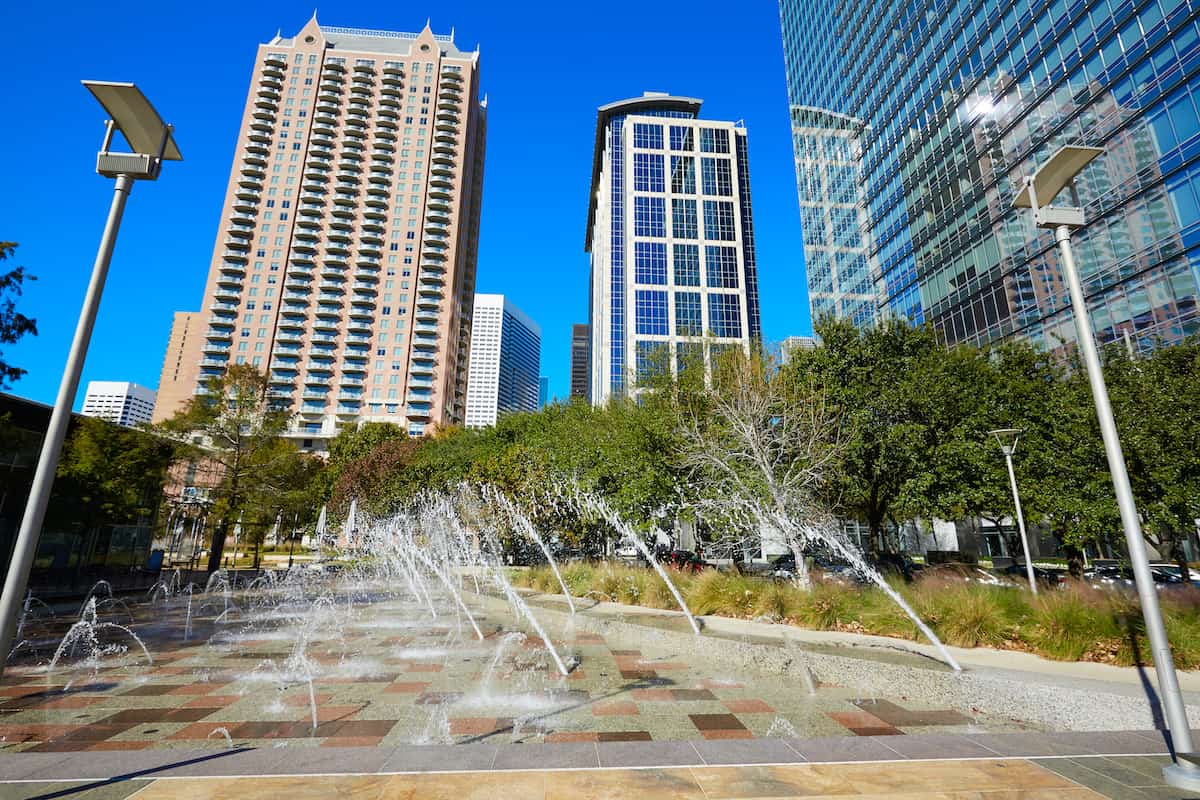 If having a quick and easy commute to work is vital to you, check out apartments in downtown Houston. Just because you're in the middle of the city's business center doesn't mean you won't find things to do on the weekends. The nine downtown districts have tons of offer.
The oldest brewery in the state, Saint Arnold Brewing Company, is nearby for a good pint. The 12-acre Discovery Green Park hosts street fairs, and film and dance events in its outdoor amphitheater.
On the weekends, rock out at the gothic Dirt Bar, where only heavy rock songs pour out of the jukebox. If this sounds like your vibe, you can find a one-bedroom for $1,287 a month on average in downtown Houston. It's one of the most walkable neighborhoods in Houston with a walk score of 77.
One of its districts, Old Sixth Ward is a historically protected area, which has the largest concentration of Victorian Queen Anne houses in the Houston area.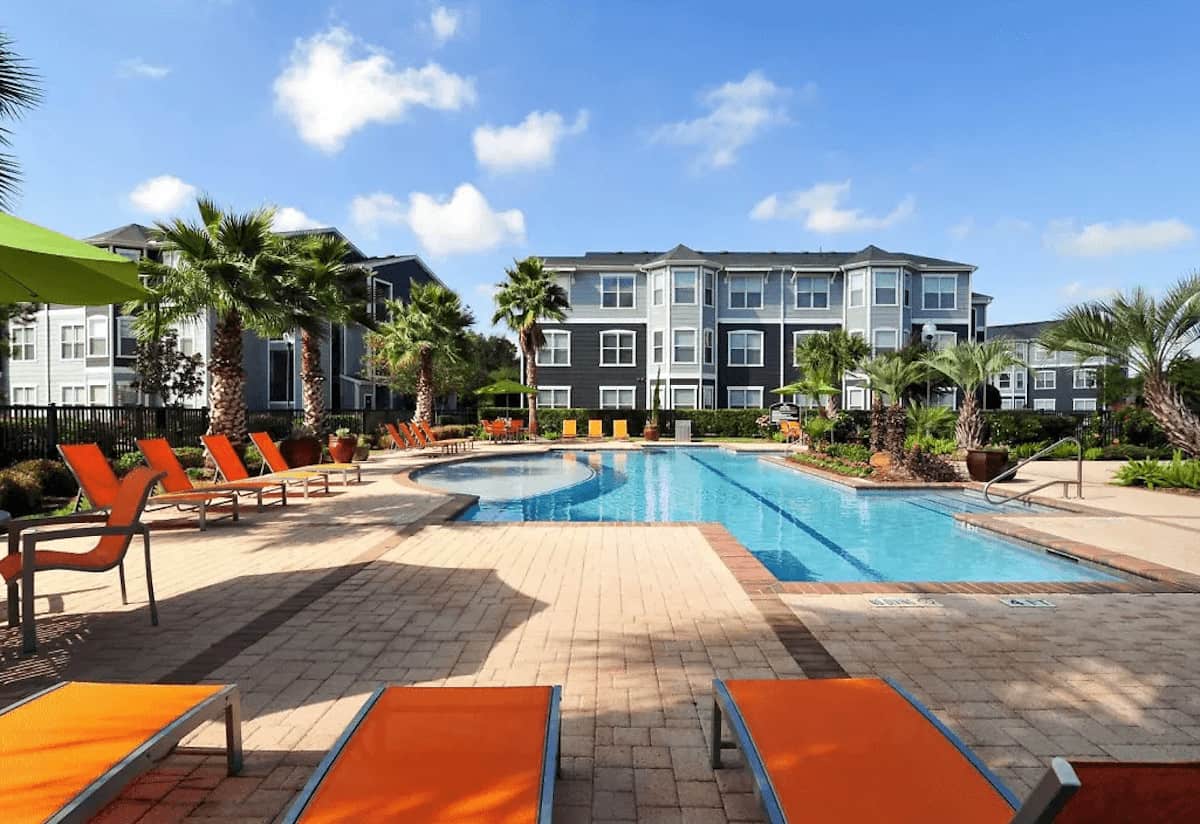 Source: ApartmentGuide.com/Abbey at Grant Road
About 25 minutes northwest of Houston, Willowbrook offers a quieter suburban lifestyle but is still accessible to the city center. If you're looking for a variety of food, head to The Vintage, where you'll find South African, Mexican, Italian and Brazilian food choices.
Nearby, you can find the notable Sam Houston Race Park, a horse racing track that's also used for festivals and concerts during the offseason. There's also an Alamo Drafthouse in the neighborhood for movie buffs. The neighborhood offers affordable housing with a one-bedroom apartment setting you back $1,289 a month on average.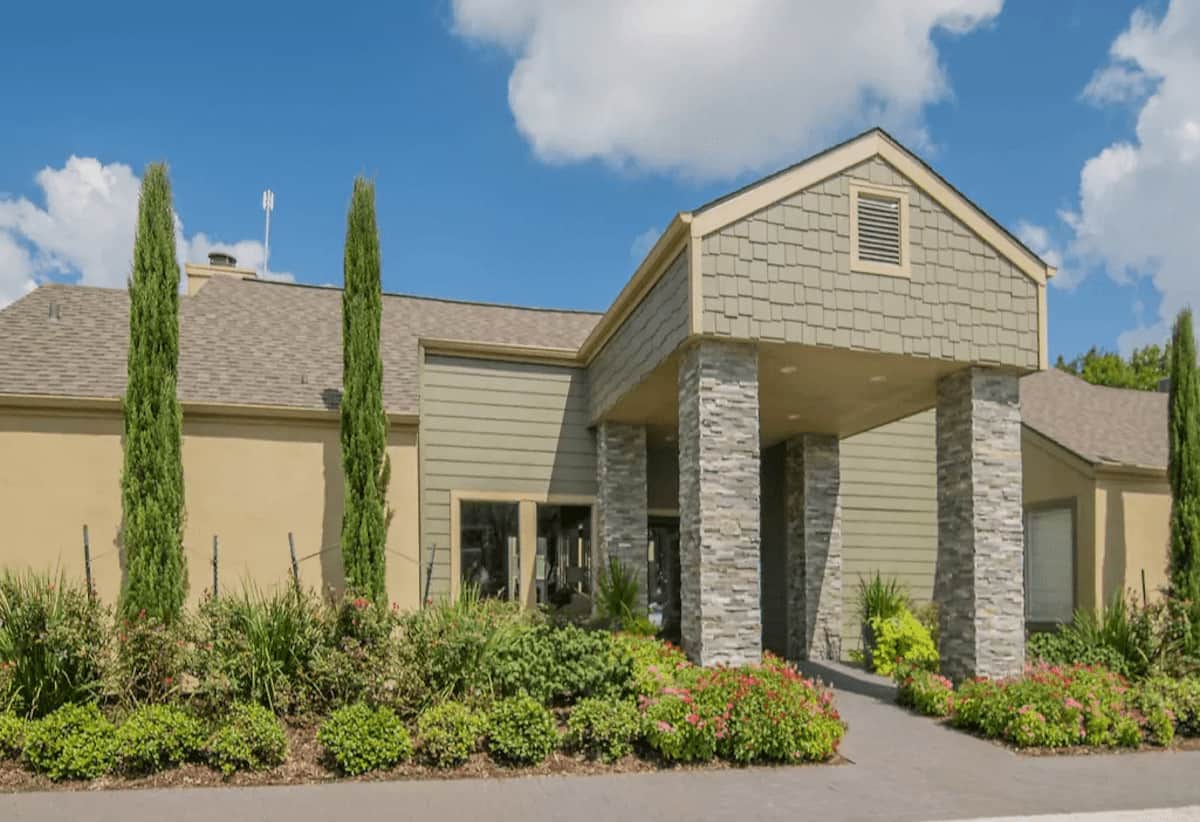 Source: ApartmentGuide.com/Silver Springs Apartments
Located not too far from Medical Center, Southwest Houston borders the Brays Bayou River, flowing through the county. Residents can enjoy more than 30 miles of trails in the park, connecting with other downtown green spaces like MacGregor and Hermann parks. The area has a 47 walk score, but plenty of outdoor space for nature lovers.
Due to its growing immigrant population, you can also find great shopping centers and food establishments in the area with Mexican and Cajun influences. Southwest Houston has a strong Jewish community as well. You can find a one-bedroom apartment in the area for $971 a month on average.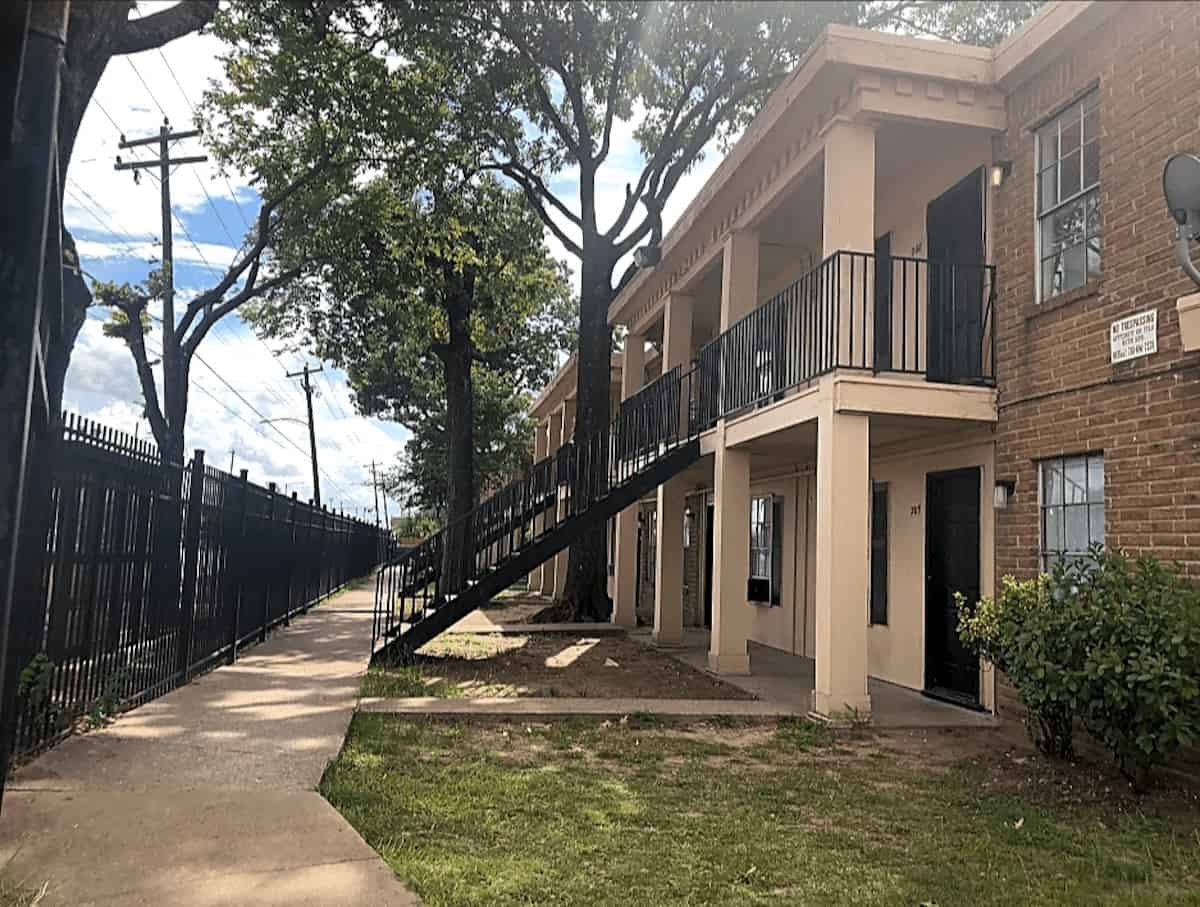 Source: ApartmentGuide.com/Palma Royal Apartments
Located within the city of Houston, Spring Branch is actually older than the city itself. A German family founded it before Houston back in 1830.
Nowadays, it's one of the best neighborhoods in Houston and houses many young families who want the quiet of suburbia but the closeness of the city. Traditional single-family homes and new builds remain predominant in the area, as well as mom-and-pop shops, shopping centers and modern eateries.
Spring Branch also has an excellent, highly-rated school district. Only 20 minutes from downtown, Spring Branch is mostly affordable for renters and home buyers alike. You can find a one-bedroom apartment for $981 a month on average.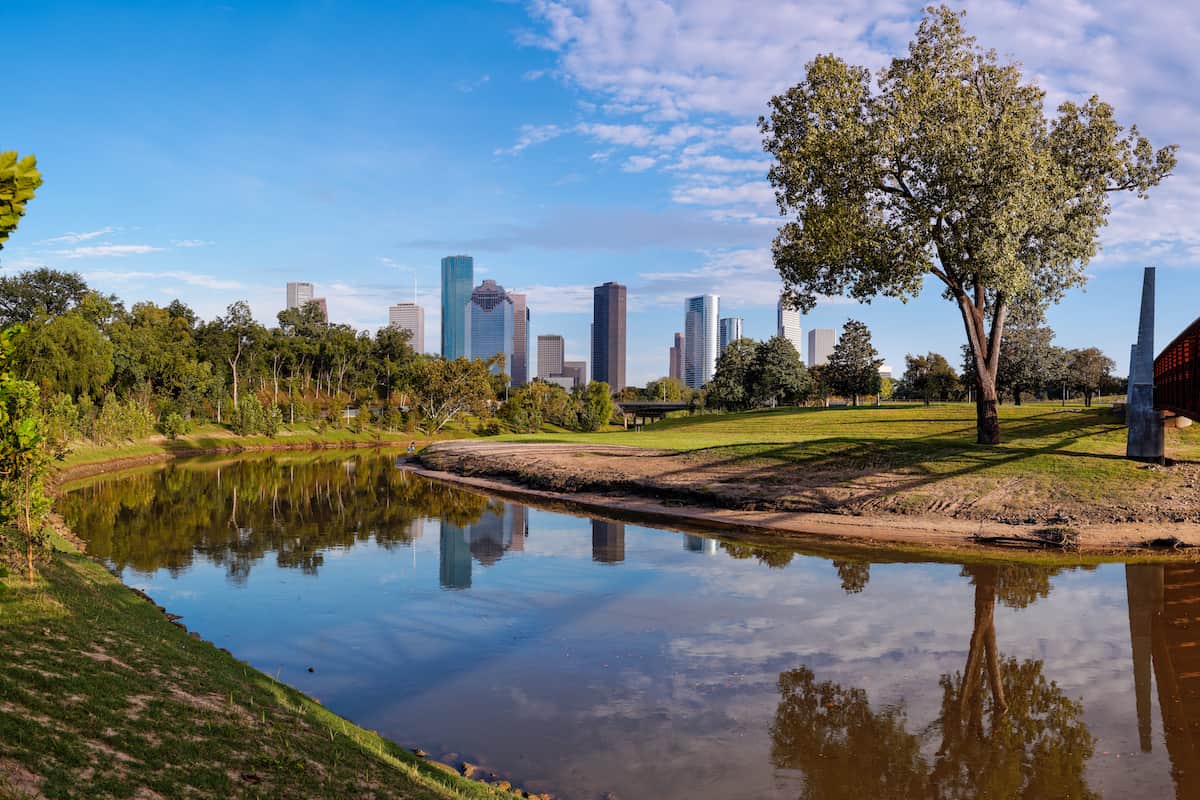 One thing to know about the Inner Loop neighborhood in Houston is that it encompasses half the city. And while a 2019 study found that the Houston metro area has the seventh-worst congestion in the country, those who live in the Inner Loop have the advantage of public transit, a 73 walk score and bike routes — sounding good already? Interstate 610 loops around the city.
A one-bedroom apartment will cost $1,718 a month on average. You'll have access to all the city has to offer from James Beard-award-winning dining, entertainment and late-night activities within the Theater District and Art Gallery row. You can visit the Houston Arboretum & Nature Center, NRG Stadium and Museum of Fine Arts. Demographics skew young in this neighborhood skews young.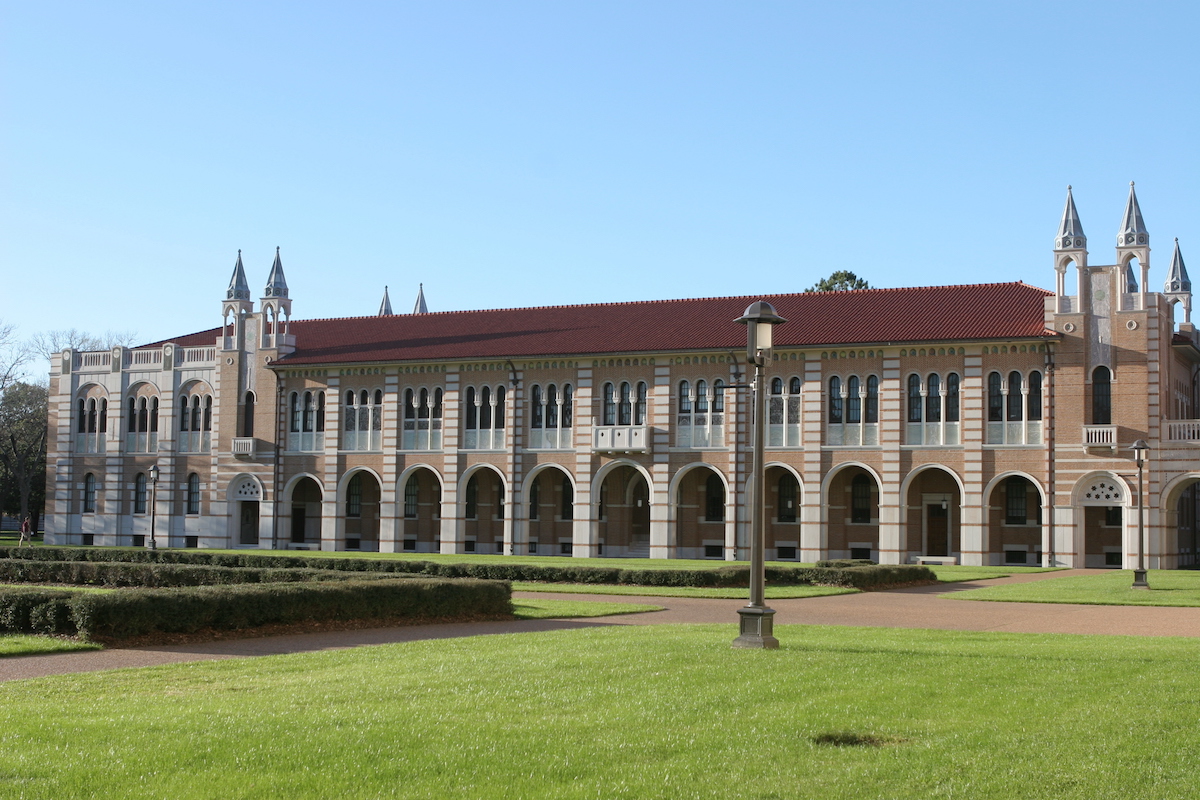 While it's one of the most expensive neighborhoods in Houston, West University — or West U as the locals call it — has a lot to offer. The college town is home to Rice University, so you'll find a mixed demographic of upper-middle-class families, college students and young professionals.
West U is just outside the main city center boundaries, nicknamed the 'neighborhood city' due to its proximity to Houston.The tree-lined streets and streets named after poets really give the neighborhood a collegiate vibe.
You'll find many apartments at West University Place for about $1,280 per month on average. West U also has a significantly high walk score of 61 so you get to enjoy your surroundings without a car.
For outdoor enthusiasts in West U, enjoy a weekend afternoon at Hermann Park by hopping on swan boat rides. Then, grab a crepe with a friend at Sweet Paris Crêperie & Café.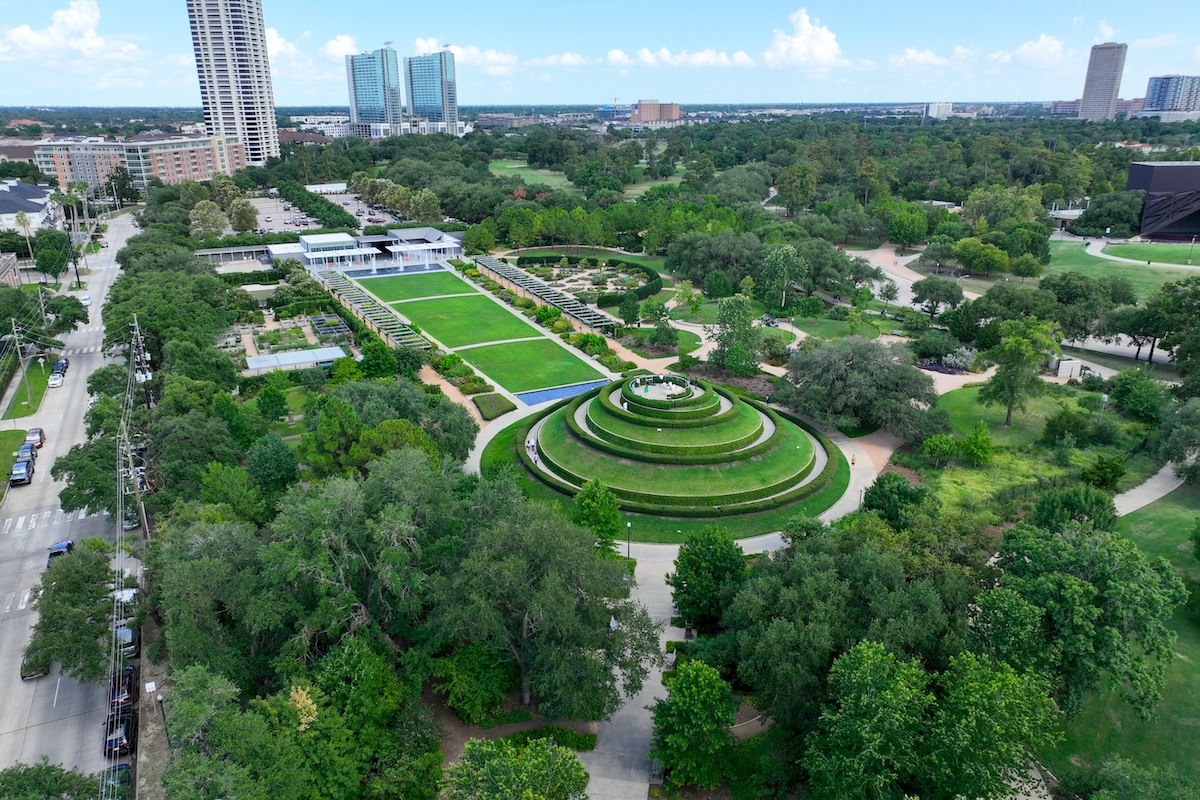 Located in the heart of Hermann Park, the Miller Outdoor Theater is one of a kind, as it's the only free admission outdoor amphitheater in the U.S. Programming includes ballet, live music, concerts from popular artists and summer films. This is just one of the gems you can find in the Museum District.
The neighborhood houses primarily young and single residents. There aren't as many young families in the area, but the Children's Museum is definitely a stop for many Houston families.
You can find a one-bedroom apartment for $2,008 per month on average and enjoy a walk score of 74 in the Museum District. Enjoy one of the 20 museums and galleries in the area, including the Museum of Fine Arts, then, grab a drink and a snack at Southern restaurant Lucille's.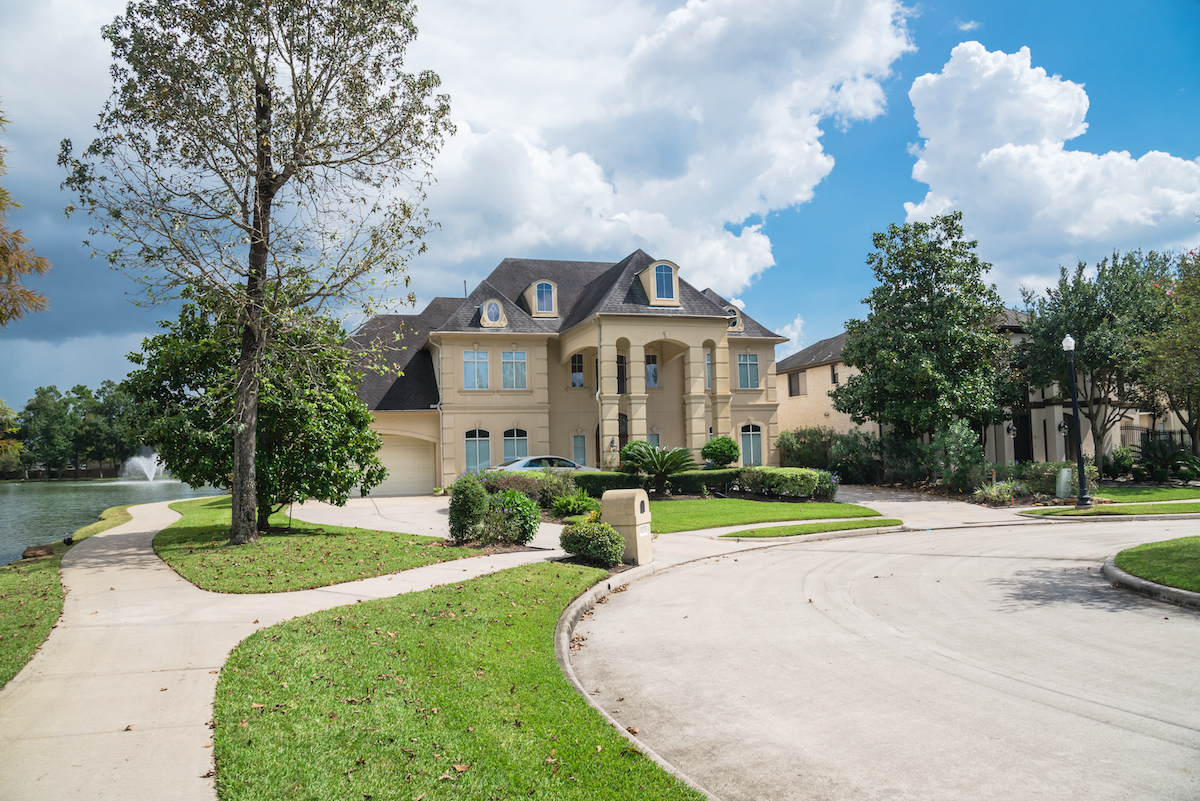 A haven for families, Garden Oaks has a great school district and green spaces for everyone to enjoy. About 10 miles from downtown, you can easily access the city, as well. You may hear locals call the neighborhood, GOOF, after Garden Oaks/Oak Forest. The homes in the area are cottage-style and charming.
You can find new shopping centers and dining options in the area as it's quickly changing. Grab one of the 40-plus brews on tap at Cottonwood and then, head to T.C. Jester Park for outside time. For dinner? Grab Gatlin's BBQ and their baby back ribs. Apartments in this neighborhood remain affordable at $945 per month on average.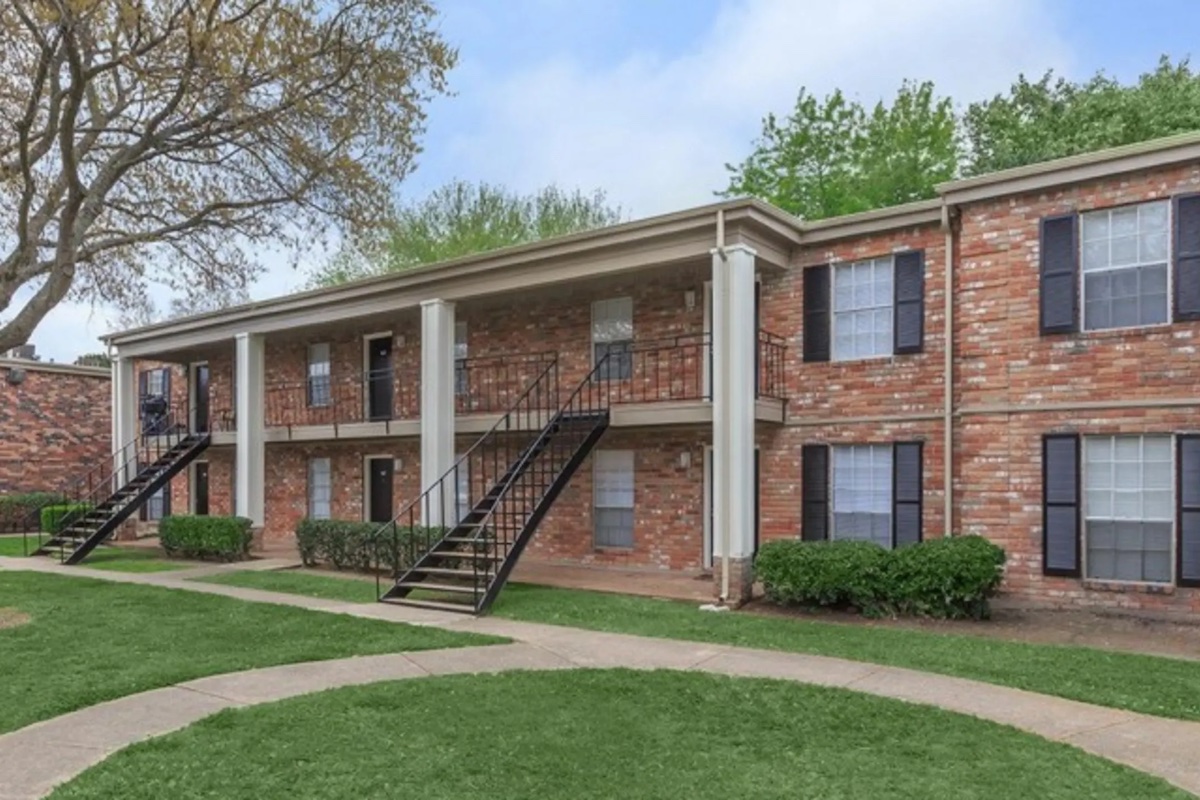 Source: ApartmentGuide.com/La Carmona Apartments
The Braeburn Country Club is right in the quiet neighborhood of Braeburn/Willowbend. This is a very affordable, renter-friendly area with a one-bedroom costing around $910 per month on average.
The demographic is middle class with families with younger children. The area is a bit walkable with a 55 walk score, but it's extremely bike-friendly with a 64 score. There are more than 15 miles of hiking and biking trails nearby as the Brays Bayou is nearby.
Only 13 miles from Downtown Houston, you can easily access the Inner Loop, NRG Stadium and the Texas Medical Center. Don't miss the tacos and pupusa offerings in the area — Taqueria y Pupuseria La Roca serves both.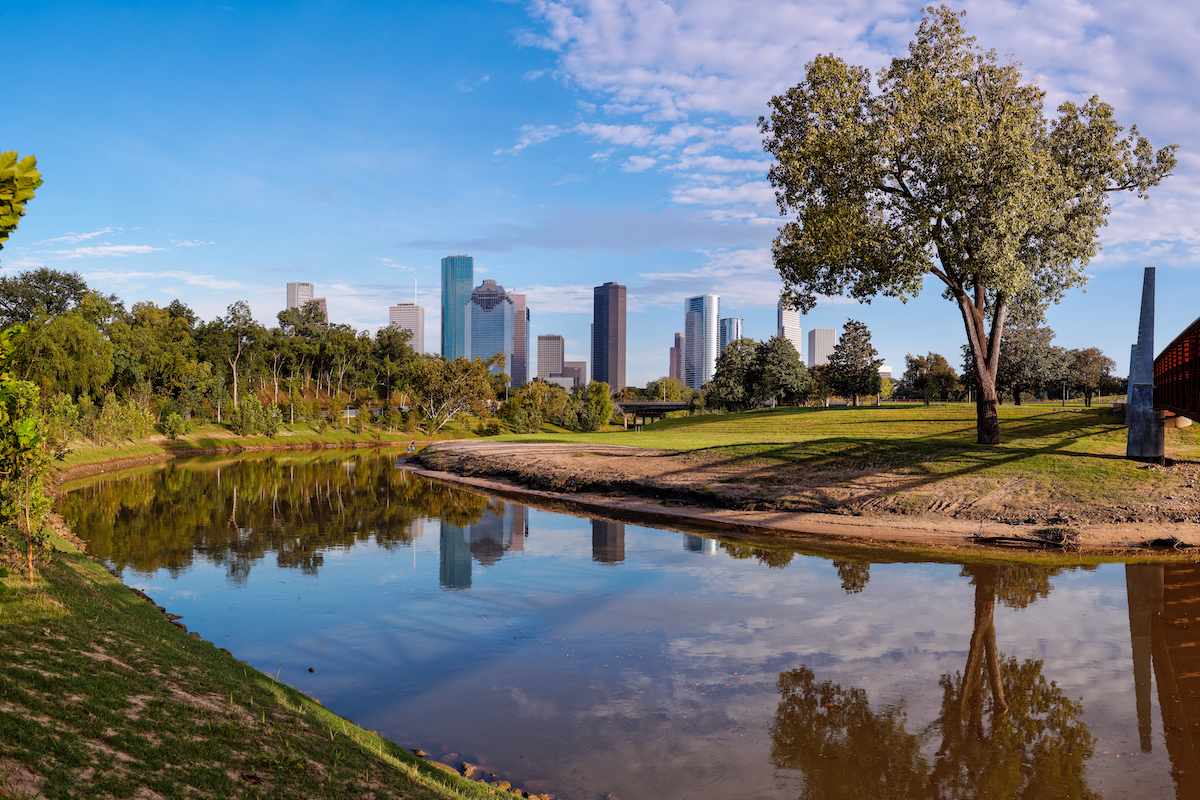 Only about 7.5 miles away from downtown, Lazybrook/Timbergrove is perfect for the Houston resident looking for proximity to the city life but has the quiet, too. Most residents have a commute of less than 30 minutes.
The rent-friendly neighborhood is full of trees and trails, with a walk score of 55. You can find a one-bedroom apartment for $1,500 per month on average. Often named one of the best neighborhoods to live in Houston, the area was originally settled by German farmers. The neighborhood came about in the 1960s, so you'll see a lot of mid-century architecture.
Grab a banh-mi burger at Hughie's Tavern and Vietnamese Grille or pair a brat with a cold beer at King's BierHaus for a quick trip to Germany.
Explore all the Houston neighborhoods
As the fourth most populous city in the U.S., Houston has a lot to offer in terms of entertainment, food, housing options and, thanks to its mild weather, even nearby beaches.
Find your dream home in one of the best neighborhoods in Houston.
Rent prices are based on an average from Rent.'s available rental property inventory as of September 2022. The rent information included in this article is used for illustrative purposes only. The data contained herein do not constitute financial advice or a pricing guarantee for any apartment.