The Best Neighborhoods in Los Angeles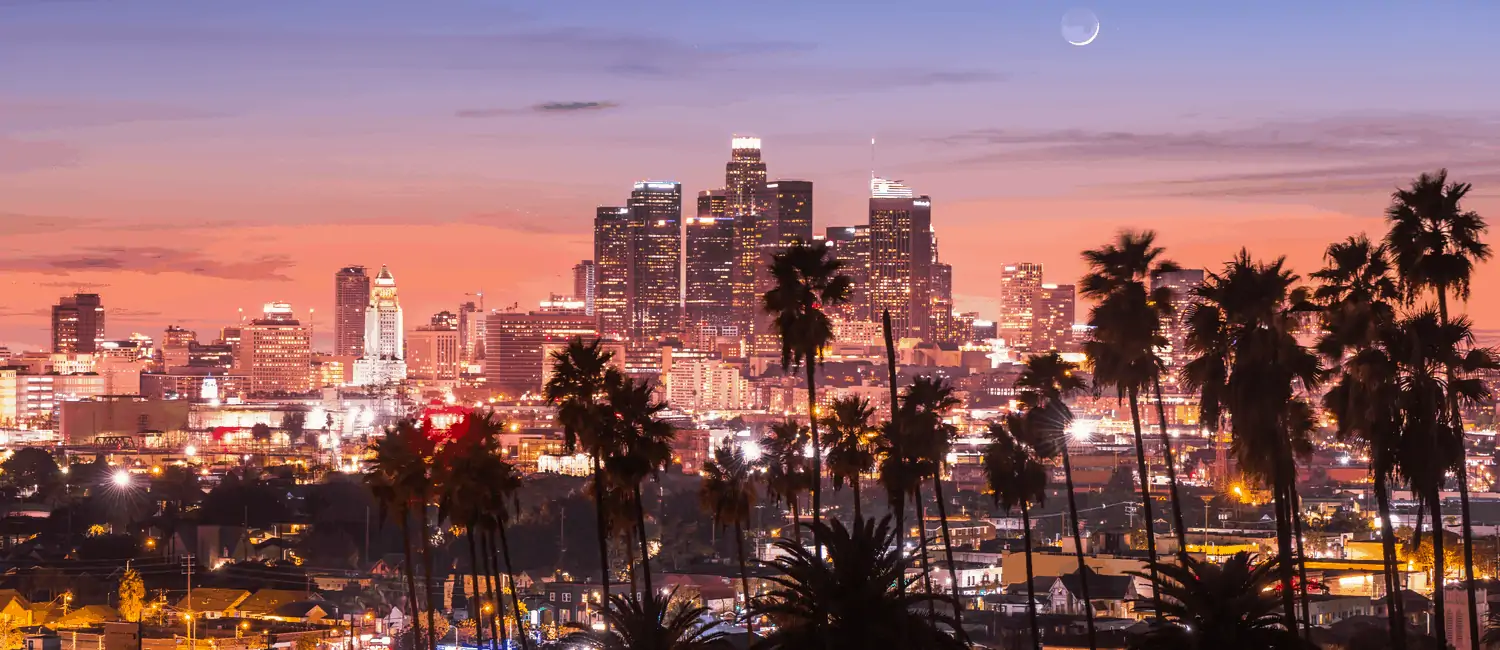 Thinking about moving to the City of Angels? Los Angeles is a place where you'll find a collection of unique people and neighborhoods. Whether you're going there to become a star or just looking for a new adventure, Los Angeles has it all.
However, no matter where you're moving to, finding the right neighborhood to settle down in is difficult. Here are 15 of the best neighborhoods in Los Angeles to call your next home.
1. Mid City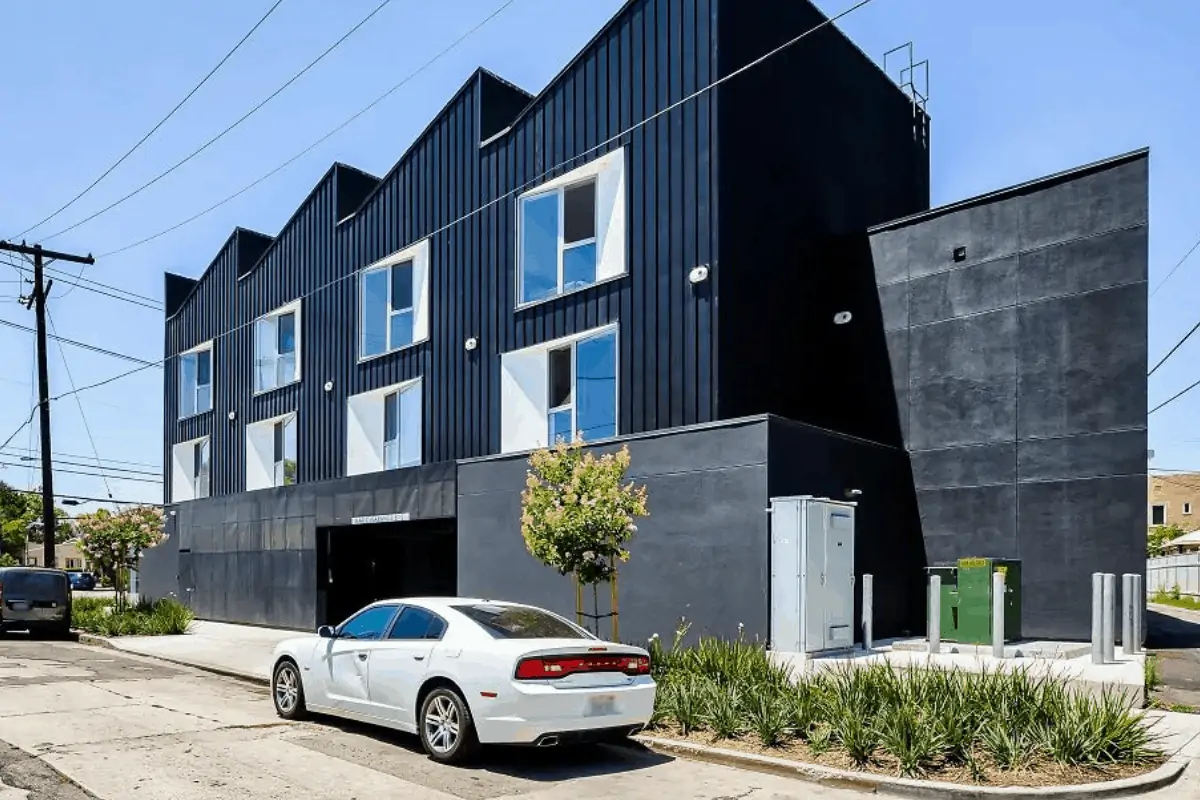 Photo source: 5263 West Adams / Apartment Guide
Mid City is exactly as the name suggests — in the middle of the city. You can't get more centrally located than this neighborhood. It's a great area if you're looking to get to other parts of L.A. fairly easily.
While it's a less walkable neighborhood compared to others it's "L.A. easy" to get around by car and public transportation is easily accessible.
Mid City is also more affordable than other neighborhoods in L.A. There are mainly small-rise apartment buildings mixed in with family homes. Since it's close to other neighborhoods you can easily visit places such as Culver City, Miracle Mile and Downtown L.A.
Mid City also offers some of L.A.'s most recognizable restaurants such as Roscoe's House of Chicken and Waffles and Leo's Taco Truck. There is also the Underground Museum, which hosts some of the best art in the city as well as free public activities.
2. Chinatown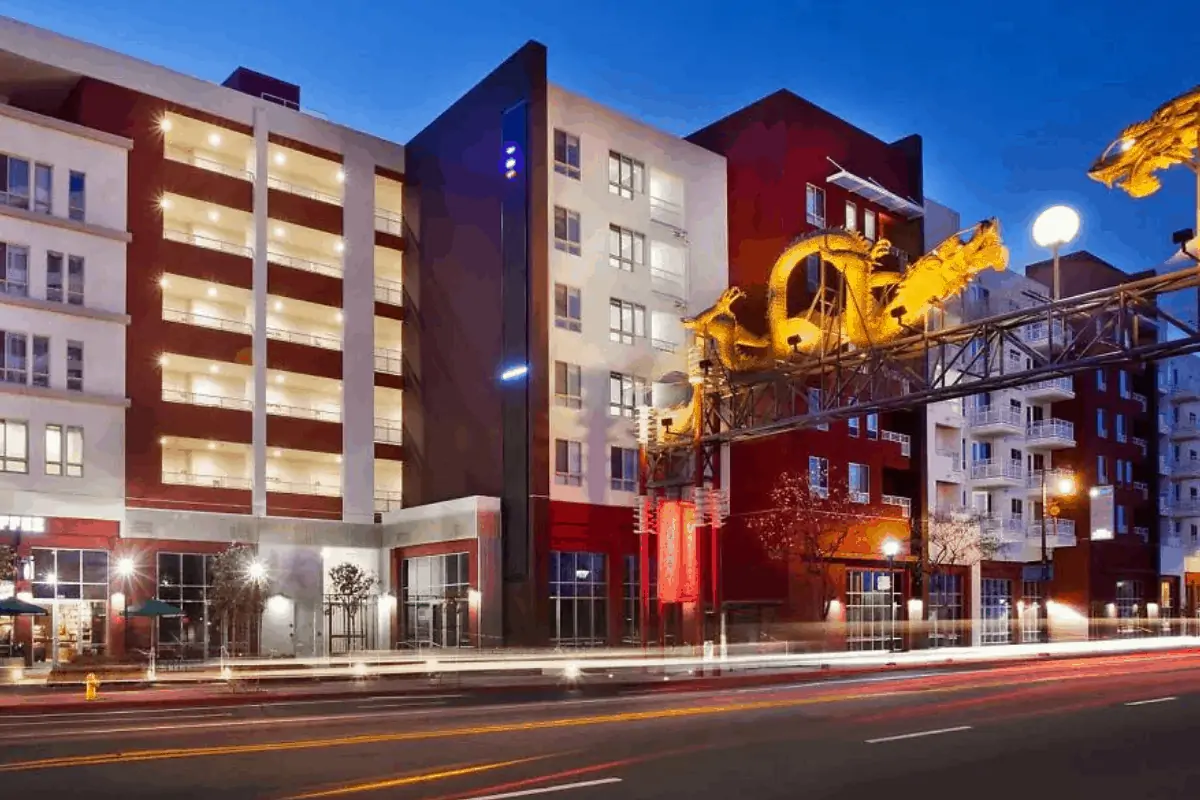 Photo source: Jia / Apartment Guide
When Chinatown was first becoming a neighborhood back in the 1930s, it was a hotspot for immigrants hoping to open new businesses. In the past couple of years, it has expanded into what some people are calling "new Chinatown." This neighborhood is full of culture and unique attractions.
The rent is more affordable in this neighborhood, too, and there is easily accessible public transportation, which is great because L.A. isn't the most walkable city. You can get dropped off about a block away from the heart of Chinatown by the Metro Gold Line. There are also many bike-share stations and since it's close to downtown.
There are also many different schooling options in this neighborhood as well as fitness centers, parks and many fun attractions.
Chinatown is one of the best neighborhoods in L.A. for food. There you'll find one of the oldest and most sought out restaurants in L.A. — Philippe The Original — best known for its delicious french dip sandwich. There are also some amazing dim sum restaurants such as Golden Dragon. You'll be able to find some amazing fried chicken at Howlin' Rays but get there early as wait times are often lengthy.
Along with great restaurants, there are many great attractions in Chinatown. The Central Plaza modeled after buildings in Shanghai is one of the prettiest places in Chinatown. There is also the Chinese American Museum.
3. Downtown Los Angeles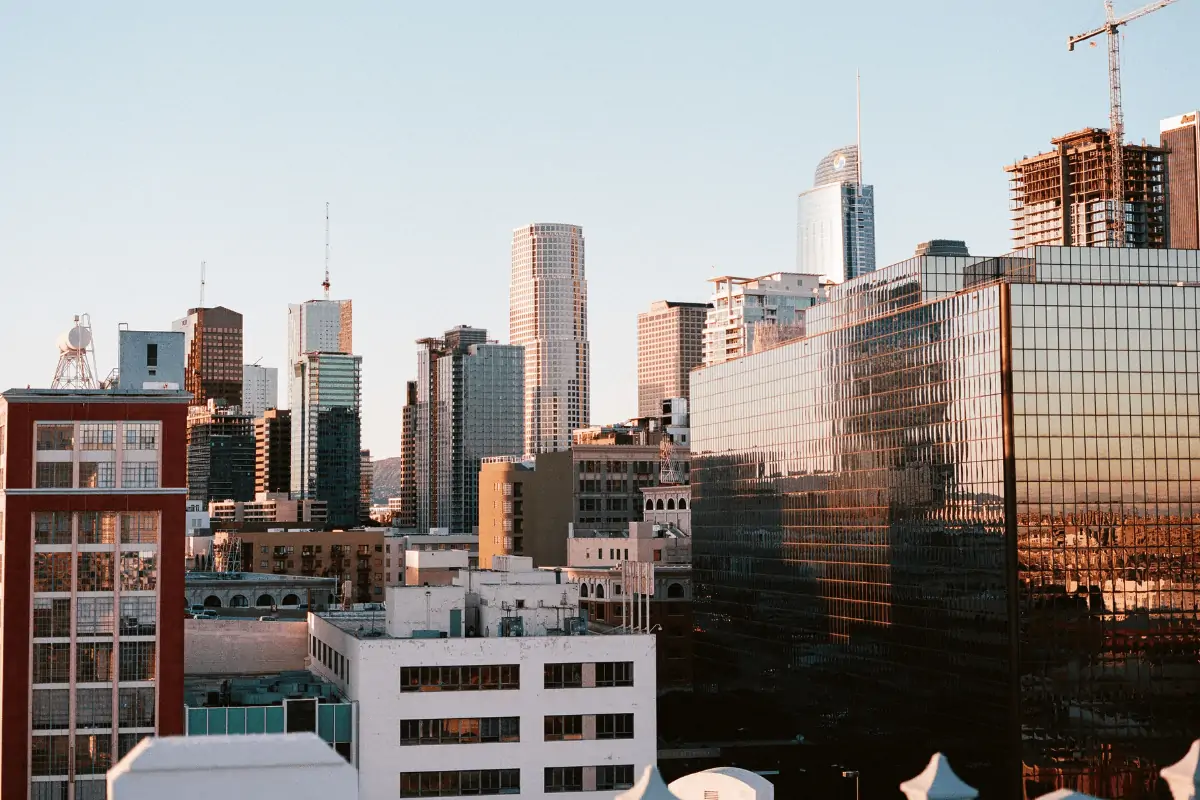 Looking for a city feel? Then downtown L.A. is for you. Formerly, downtown was more of a place to work and less of a place to live, however, it is currently going through a transformation. From new apartment buildings to a booming restaurant scene, downtown seemingly has it all.
The Arts District, which is part of Downtown, is seemingly the new hot spot for young people. It feels like a neighborhood in and of itself. It's home to different companies such as those in green technology, architecture and of course, entertainment.
There are also work/live spaces available such as Art Share L.A. If you're planning on working downtown, living there is a great option as the commute can often get lengthy if you live too far away. Another one of the benefits of living downtown is that it's pretty walkable.
If you're a foodie, then downtown might be another reason this neighborhood is the place for you. Downtown L.A. is one of the best neighborhoods in Los Angeles for food. Over the past couple of years, new restaurants have been popping up everywhere. Some of the best restaurants in Los Angeles are in the heart of downtown. Some of these include restaurants such as Bavel, Q Sushi, Woodspoon, Red Bird and Broken Spanish.
If a sit-down restaurant isn't your style then Grand Central Market is something you'll love. It's packed with several different restaurants so you can get a little something from everywhere.
If you're more of a coffee person downtown has you covered, as well. You can find coffee shops everywhere full of aspiring writers and coffee lovers alike. Places like Blue Bottle or Verve are a must-try. You can even find a Harry Potter-themed coffee shop called Nimbus Coffee.
Downtown is one of the few places in L.A. that has a familiar feel to it. Most of the big sites downtown are places you've probably seen in movies or TV shows. There are so many attractions to visit like the Bradbury Building, Angeles Flight Railway, The Broad and so many more.
4. Koreatown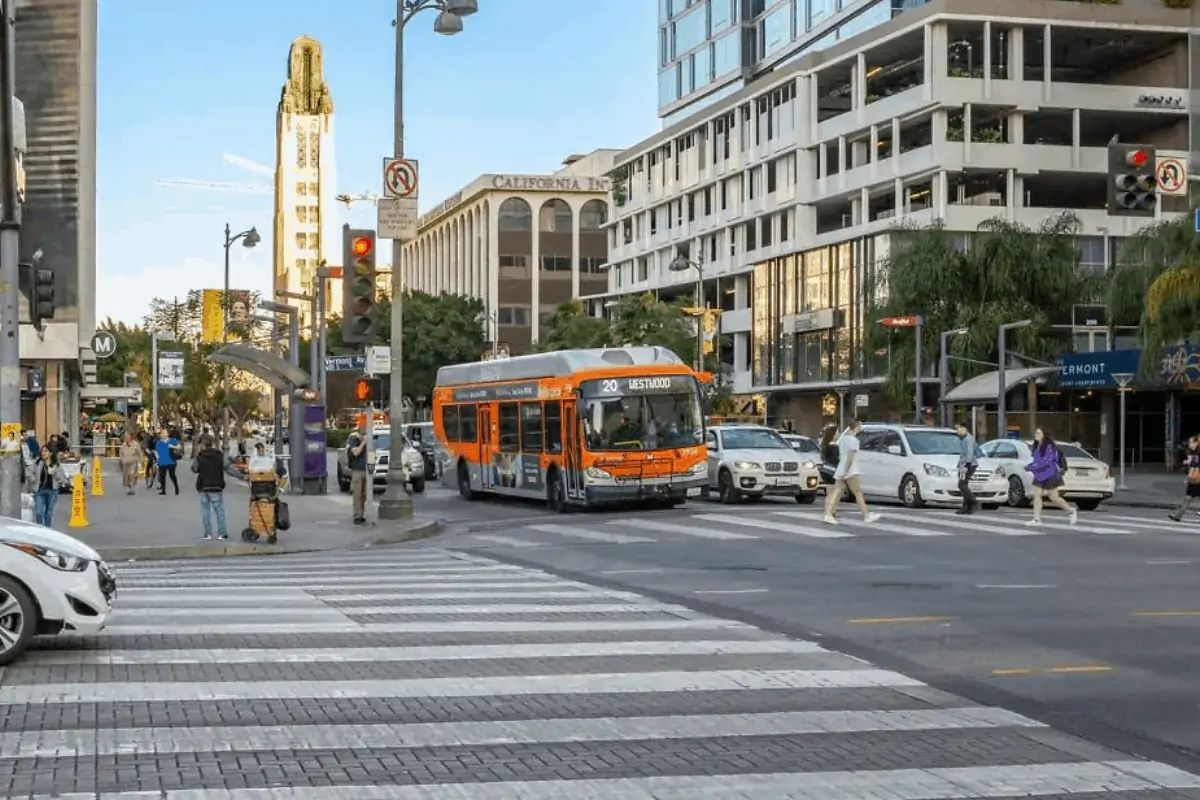 Photo source: Radius Koreatown / Apartment Guide
Koreatown, located between East Hollywood and Mid City, is one of the most unique and exciting neighborhoods in Los Angeles. It offers several different affordable housing options as well as an abundance of restaurants and attractions.
The neighborhood is easiest to get around by car but is slowly becoming more walkable. With many new renovations in the works this neighborhood certainly will turn into L.A.'s next "hot spot."
Many people come to Koreatown for its delicious food. There are plenty of all-you-can-eat Korean barbecue places as well as plenty of food from other cultures. Koreatown is one of the best neighborhoods in L.A. for its abundance of nightclubs. The neighborhood has some great and fun dessert bars. From cereal bars to shaved ice to "boogie" ice cream — Koreatown is the place to visit.
5. Silver Lake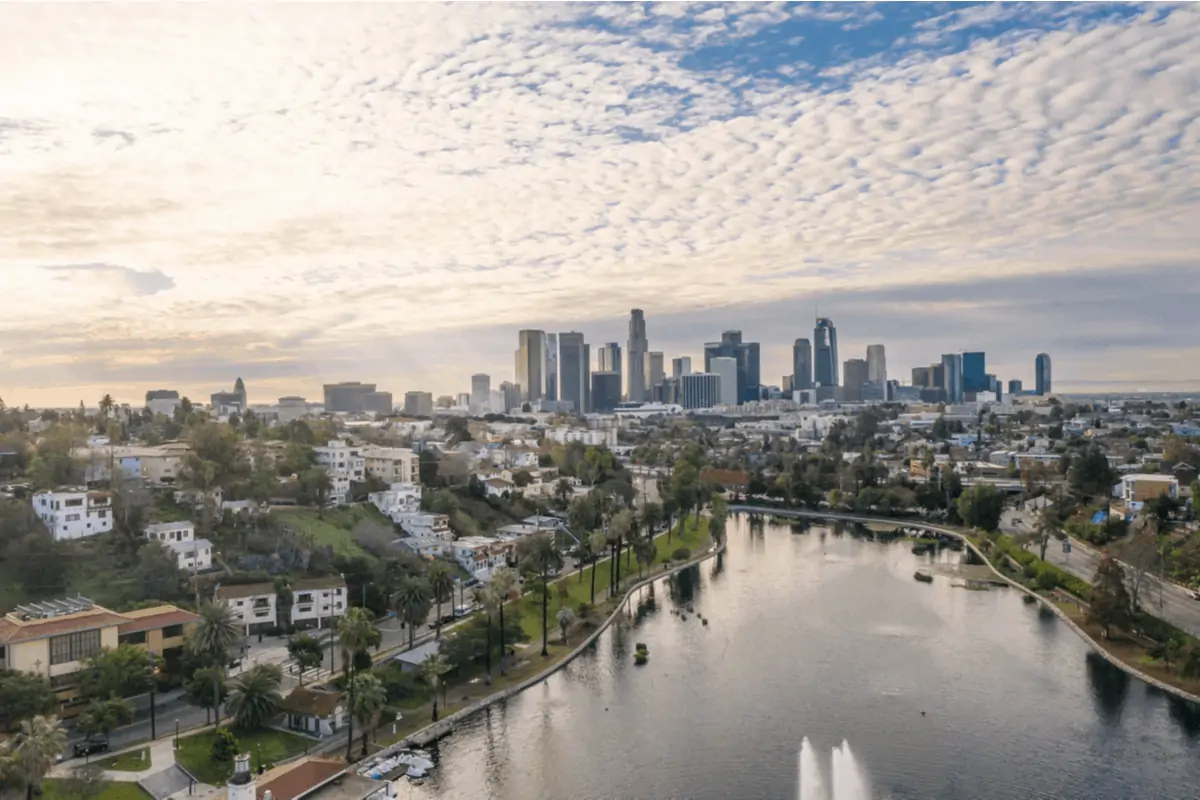 Known as one of the "hippest" neighborhoods in Los Angeles, Silver Lake has a lot to offer. While it's true that this neighborhood is full of creators and hipsters alike, it's also home to all different types of people.
The rent in Silver Lake is relatively low for Los Angeles and it's one of the more walkable neighborhoods in L.A. One of the downsides of Silver Lake is that it gets very crowded, so parking is hard to find.
Silver Lake has great cafes and coffee shops throughout the neighborhood. Some of the best places are Dinosaur Coffee and Scout. On Saturdays, there is the Silver Lake Farmers Market which is a great place to spend your morning.
The neighborhood is also home to some great parks for sitting and relaxing outside such as Silver Lake dog park.
6. Brentwood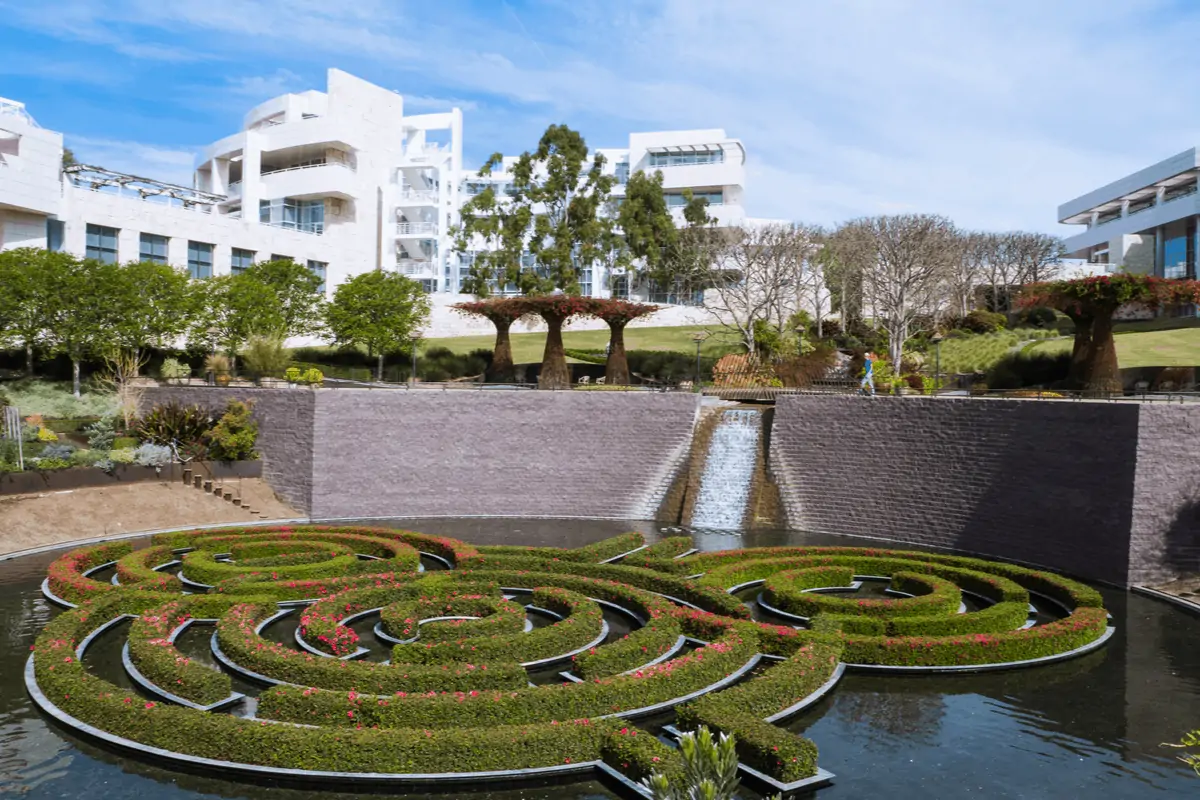 Brentwood is between Bel Air, Westwood and Pacific Palisades. This is an affluent community that's a great place for newcomers, as well. This area is also somewhat of a college town because it's located close to UCLA.
Brentwood is also centrally located so it's easy to get anywhere from the beach to LAX or downtown L.A. Brentwood has a homey feel to it and is home to many families. There are great schools located in Brentwood like Warner Avenue Elementary School and UCLA. The neighborhood is a tight-knit community with many of the residents living there for many years.
Brentwood is home to many different health-conscious restaurants. If you're a health nut then Brentwood is your town. Also if you want proximity to the beach — Brentwood is a great place to settle. It's close to Venice Beach, Santa Monica Beach and Malibu.
The Getty Center, found in Brentwood, is a must-see too.
7. Palms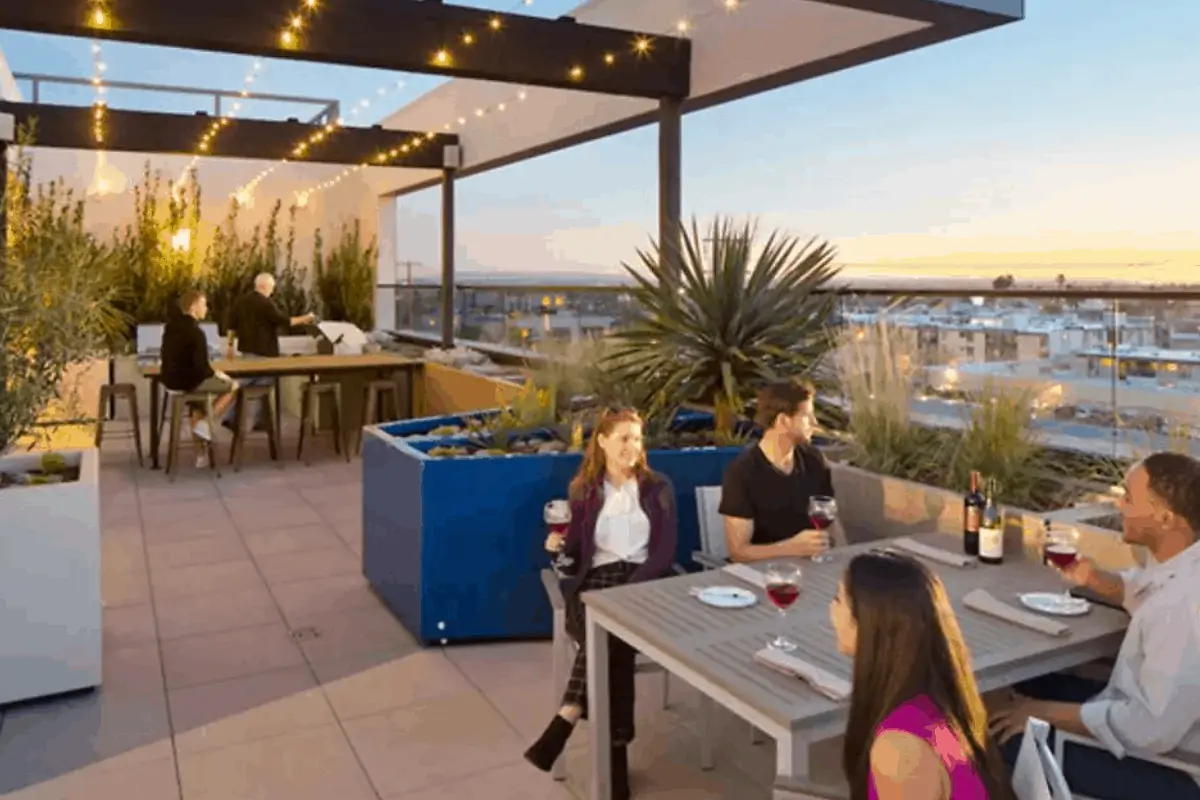 Photo source: The Roy / Apartment Guide
One of the oldest communities, Palms is one of the best neighborhoods in L.A. Palms is close to Brentwood and only five miles from UCLA.
Palms is full of families looking to make a home in Los Angeles as well as young people just getting into town. It neighbors Beverly Hills and Rancho Park. The best way to get around in this neighborhood is either by car, bike or car service. The area is relatively affordable, of course, depending on your budget.
There are plenty of restaurants to go around in Palms. Like its neighbors, Palms has an abundance of healthy restaurants. Don't worry though there are also plenty of other options such as The Doughroom.
Palms is also home to fun attractions like the Museum of Jurassic Technology. Oh, and we can't forget the annual "Bike Rodeo" to promote bike safety for children.
8. Beverly Grove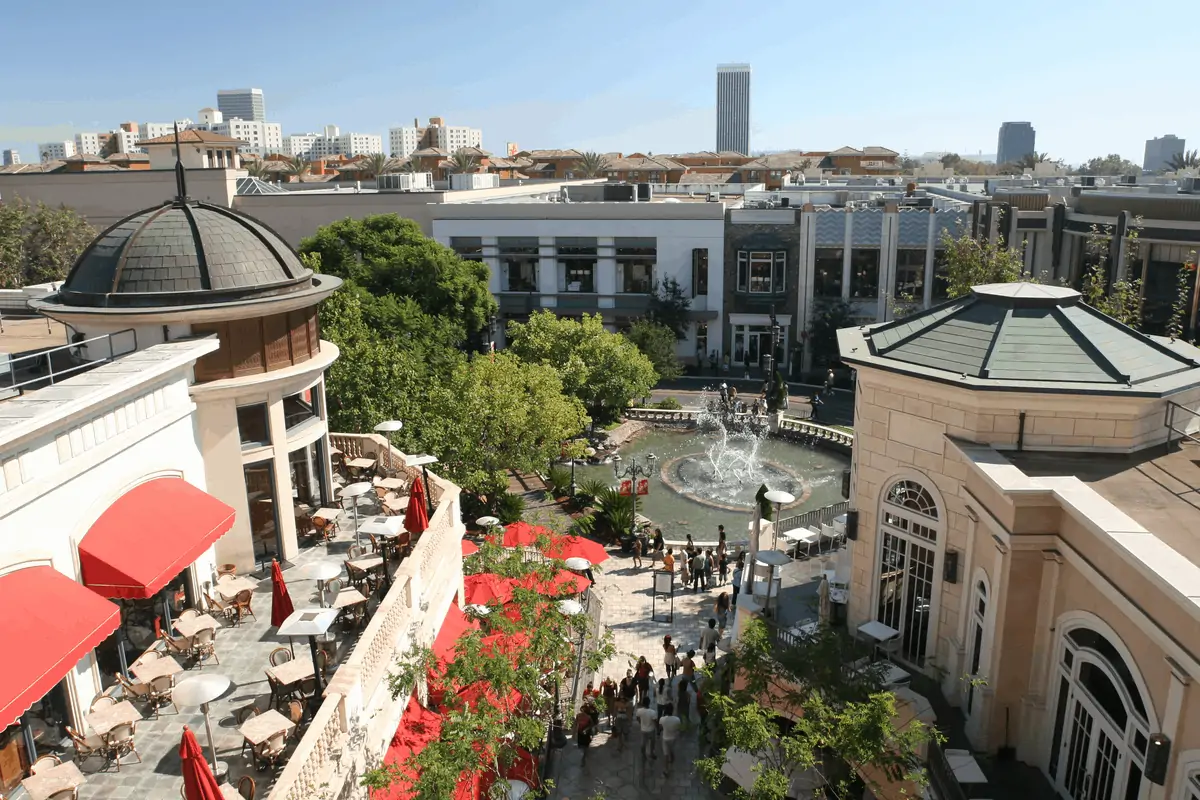 Beverly Grove is within Mid City and is a fast-growing neighborhood. The neighborhood is a great place for families and singles looking to settle down. Charming homes and apartments are abundant throughout the neighborhood.
It's also a great place for people who commute to work as you can get to Downtown or Century City in an hour. It also has many different schooling options — perfect for families with young children.
There are many attractions and restaurants in this neighborhood. You could say it's one of the best neighborhoods in L.A. for dining and entertainment options. The Grove, a massive outdoor mall, is in the neighborhood and it's home to several shops, restaurants and a movie theater.
There is also a lawn area where you can relax and escape from the city. It's a great place for families to hang out as well. Depending on where you live this area is fairly walkable.
9. Fairfax District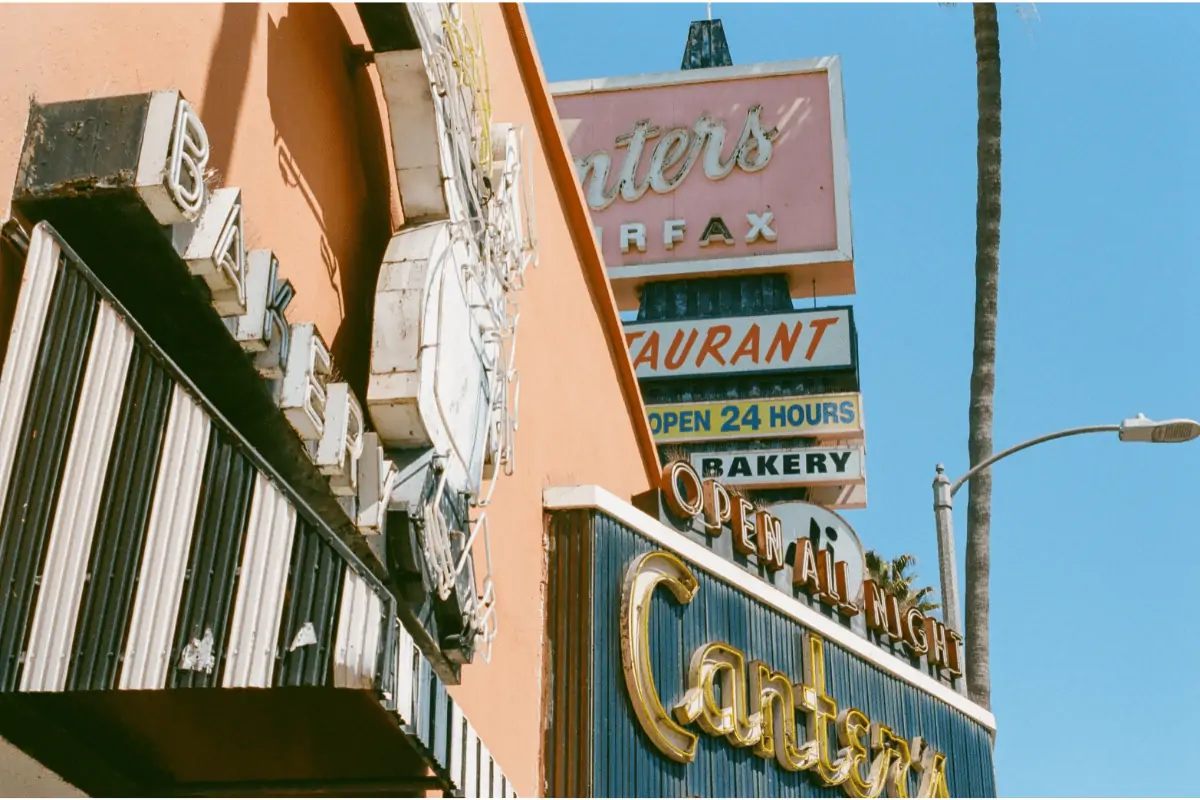 Neighboring Beverly Grove is the Fairfax District. This neighborhood has many famous sites and restaurants like Canter's Deli and The Farmers Market. The Farmers Market is a staple of L.A. and this neighborhood. It's a large outdoor market that consists of delicious restaurants, adorable shops and boutiques.
Fairfax is also home to Canter's Deli, one of the best sandwich and Jewish delis in L.A. Just walking up Fairfax Avenue and you'll be surrounded by trendy boutiques and restaurants.
Like its neighbor, Fairfax is a great place to live if you are commuting to work. The area is reasonably priced and is a good neighborhood for people just moving to L.A.
10. Westlake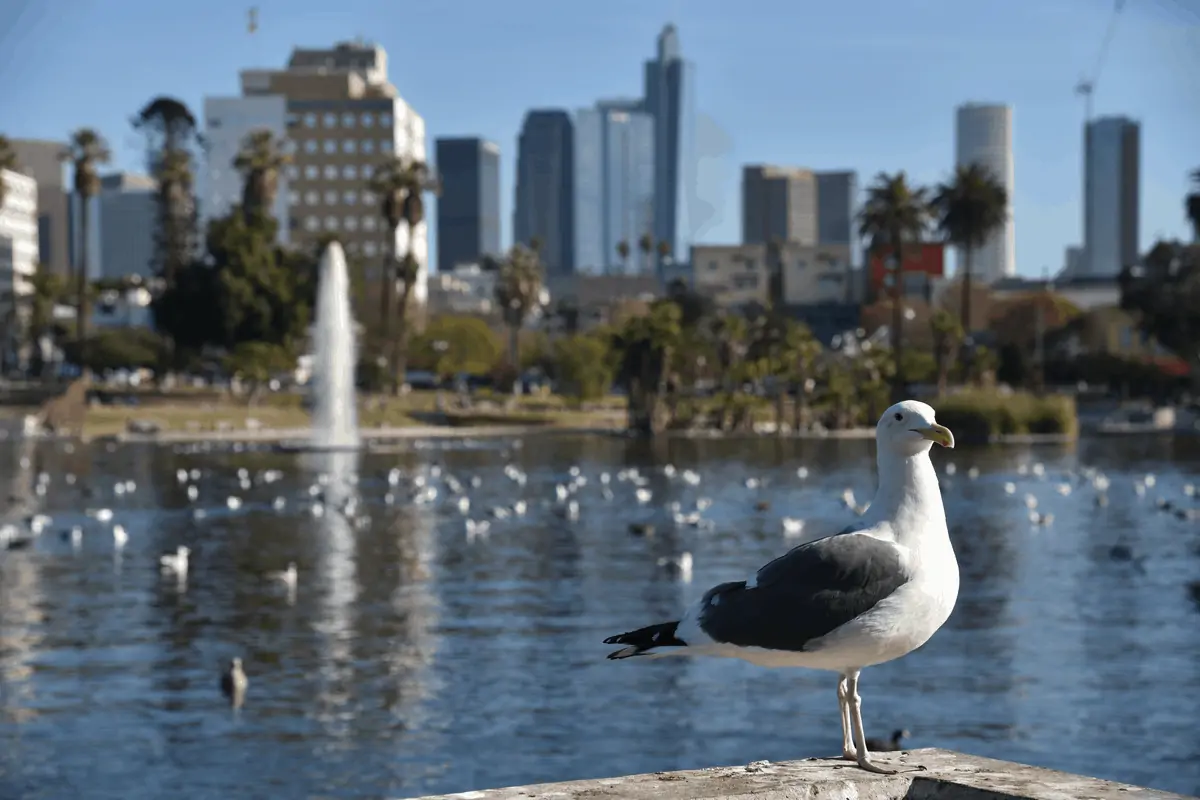 Westlake, located near Downtown L.A., is a great neighborhood of young families and artists to live in as it has lower rent rates. Not to get mixed up with Westlake Village, Westlake is one of the oldest neighborhoods in Los Angeles. This neighborhood is full of unique people and creatives alike.
There are also many restaurants in the neighborhood and places to visit. Some of the best restaurants to visit are Langer's Deli and Original Tommy's World Famous Hamburgers.
Within Westlake is MacArthur Park, a great place to go and be with nature.
11. East Hollywood
Photo source: Romaine St. Luxury Townhomes / Apartment Guide
East Hollywood, once a drive-through neighborhood, is becoming a hot spot for small businesses.
East L.A. is also a great walkable neighborhood with a walk score of 90. It's close to Hollywood and also is close to major freeways for anyone who has to commute to other neighborhoods.
Near East Hollywood are some great hiking options in Runyon Canyon. There is a diverse restaurant scene with food ranging from Middle Eastern food to Mexican food. Due to the great food and affordable prices, East Hollywood attracts many millennials.
12. Hollywood Hills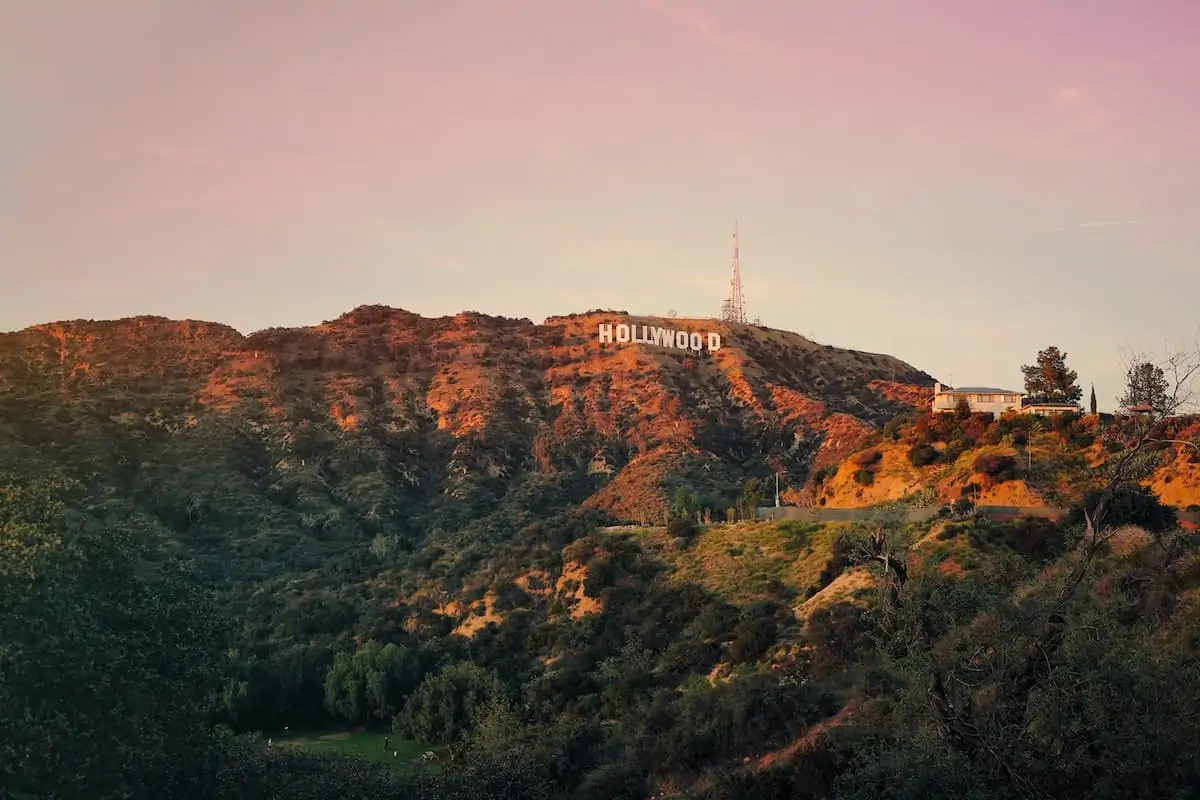 If you like amazing views and privacy then the Hollywood Hills are for you. Located near the Sunset Strip, the Hollywood Hills attract anyone from new families to celebrities. One of the attractions of the "hills" is the fact that it's private but close to the city.
Homes in this neighborhood range from starter homes to multi-million dollar mansions. The neighborhood is full of beautiful nature and trees. While there are very expensive houses in the neighborhood, there are also many fixer-uppers and apartments to rent. Because the Hollywood Hills is a popular route to get from place to place the traffic through the windy roads does get heavy.
If you like the outdoors you'll be happy to know that Runyon Canyon is part of the Hollywood Hills. Because you can get to the valley or downtown from here — you have a diverse amount of restaurants and entertainment to choose from.
13. Laurel Canyon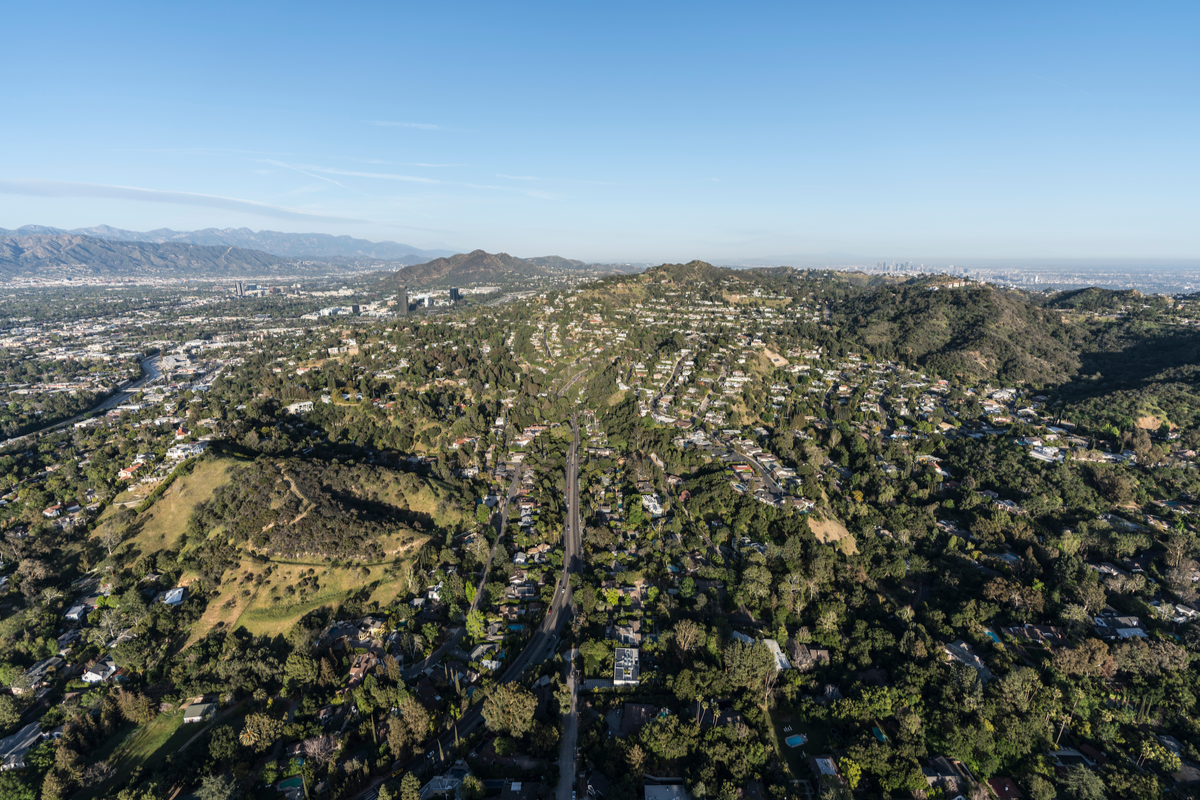 Not to be confused with "The Hills" star Lauren Conrad, Laurel Canyon is a great neighborhood to live in.
This canyon was home to famous musicians such as Carole King, Jim Morrison and David Crosby to name a few. Laurel Canyon is still home to many famous people. The rent in this neighborhood is pricey and currently getting pricier. It's also located close to the Sunset Strip making it a highly desirable spot for the elite of L.A.
Although it's home to celebs, Laurel Canyon has kept its 1960's charm. Drive through and you'll find places like Canyon Country Store, a staple of the canyon. Laurel Canyon is a direct pathway from Sunset Boulevard to the valley, and it can often get very congested.
If you're a fan of one Mr. Harry Styles, visit the Beachwood Cafe and grab a cup of coffee, relax and you might see a celebrity sighting.
Due to the location, you can easily access Studio City, where you'll find many different restaurant options and shopping. You can also easily get to Universal Studios and spend the day on rides and having fun.
14. Little Tokyo
Photo source: STOA / Apartment Guide
Little Tokyo, located downtown, is home to many Japanese Americans. This neighborhood is starting to expand with more apartments and shops starting to open up. Little Tokyo is rich in culture and diversity. This neighborhood is one of the more walkable neighborhoods in Los Angeles. Many seniors live in this community and can walk to grocery stores and restaurants.
Little Tokyo is full of delicious restaurants and attractions. Suehiro Cafe is known for its delicious sushi and reasonable prices. Another great restaurant is Fugetsu-Do where you can try delicious desserts like mochi bites.
The Japanese American National Museum spans more than a century of the history of Japanese Americans in the U.S.
15. Hancock Park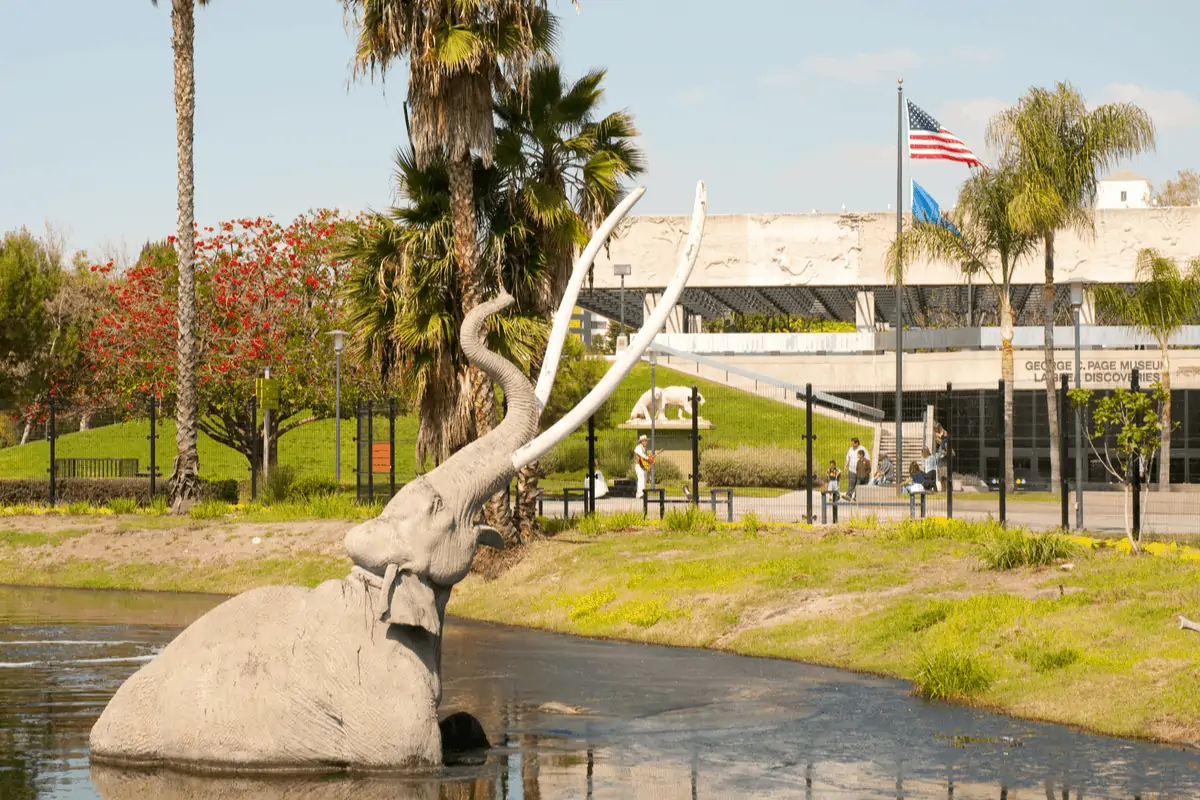 Hancock Park is a laid-back community nestled between Mid City, Korea Town and East Hollywood. Although this neighborhood is near busy streets, it manages to maintain a private suburb feel. It's also located next to many of L.A.'s attractions.
From Hancock Park, you can get to the beach or Runyon Canyon in a short amount of time. It's also located near the charming Larchmont Village. There you can find unique boutiques and charming restaurants.
Hancock Park has great schooling options as well. The Third Street Elementary, which according to the Los Angeles Times is one of the most sought-after schools, is in Hancock Park.
Family residents have access to many family-friendly activities and places like the La Brea Tar Pits.
Neighborhoods in L.A. are abundant
No matter which neighborhood you choose, you'll love it and if not there are plenty of other ones to pick from. These neighborhoods in Los Angeles are each unique and offer a lot to their residents.
Comments
comments