The Best of Milan Furniture Fair 2022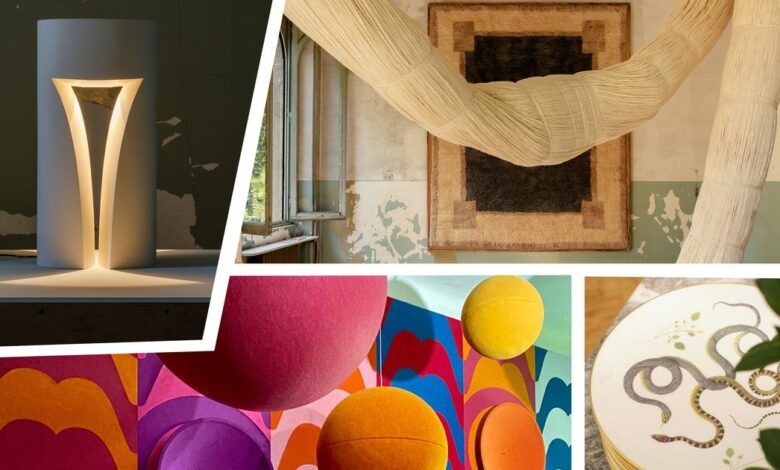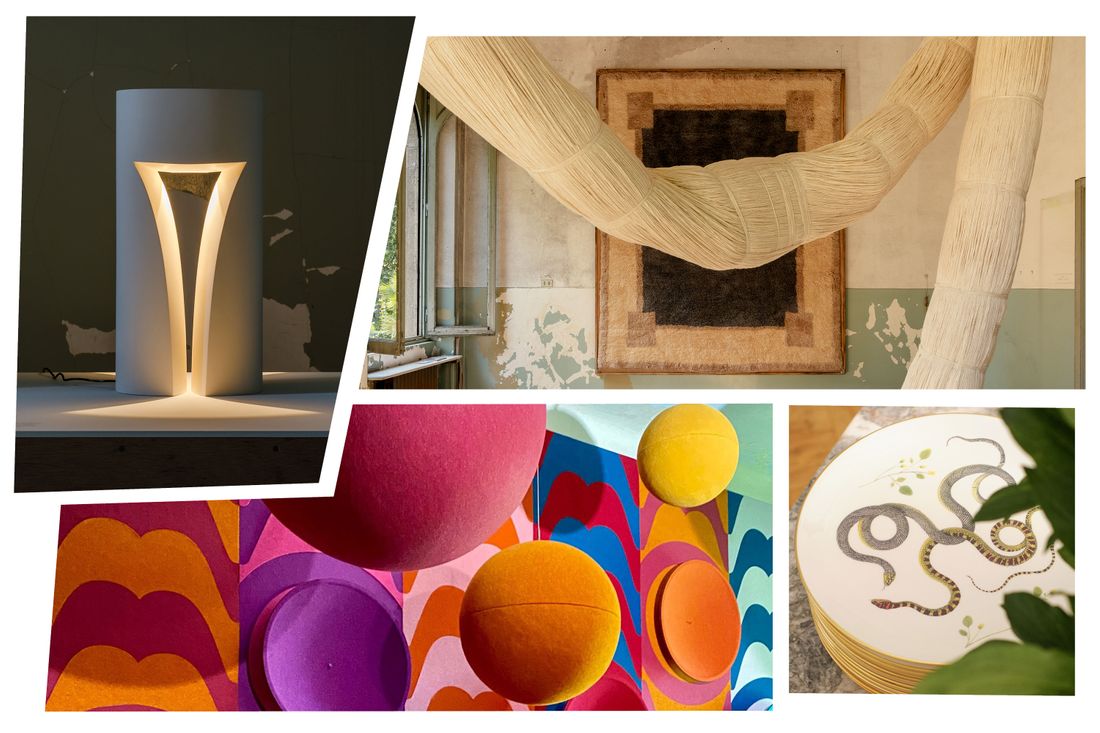 Photo: Giuseppe De Francesco, Sean Davidson, Wendy Goodman, Carlo Banfi
The Milan Furniture Fair (or Salone Internationale del Mobile) has rebounded considerably after two years that included a scaled-down show in September and a canceled show in 2020. The event usually takes place in April, but Salone president Maria Porro , pushed the return to June, which sparked even more anticipation for the world's biggest exhibition of design. Here are some highlights I saw during the sprawling citywide showcase.
Installation "Divided Layers" by Daniel Arsham
Photo: Wendy Goodman
Daniel Arshamit is Divided layers collaboration with Kohler was a large-scale sculptural portal composed of undulating arches set in a reflecting pool that filled one end of the courtyard of the Palazzo del Senato (and echoed the stacked sink he had created for the company) .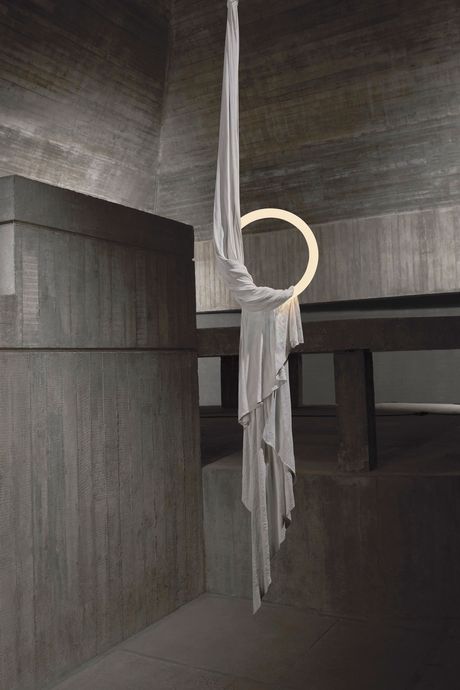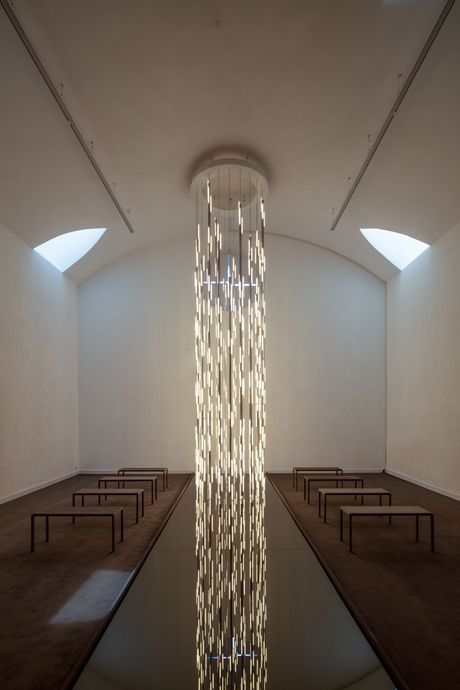 Lee Broomit is divine inspiration transformed a gallery space into a series of sanctuaries that featured six new lighting collections. Most spectacular was a cascade of fluted aluminum tubes that cascaded over a mirrored floor. (He was inspired by the Rapture.)
Lamps by Tomás Alonso in the Hermès installation at La Pelote.
Photo: Maxime Verret/Courtesy of Hermes
As per usual, Hermes took over La Pelote, a reconstructed 1947 arena built to play pelota, a game similar to a combination of squash and handball. Hervé Sauvage and Charlotte Macaux Perelman designed four colorful and bright towers made of wood and translucent paper that showcased the new collection of textile pieces, including bright cashmere patchwork throws by Carson Converse and sorbet-colored bamboo table lamps covered with parachute fabric by Tomás Alonso.
Lani Adeoye's RemX walker.
Photo: Studio Lani
The theme of SaloneSatellite, the showcase for designers under 35 organized in the huge Milan exhibition center, was "Designing for Our Future Selves". nigerian designer Lani Adeoye was selected for the top prize by MoMA Design Curator Paola Antonelli for her elegant sculptural walker, "RemX", which she made for her grandfather. "While helping to care for my grandfather for the past few years, I've seen how many objects intended to help still tend to have a 'clinical aesthetic,'" she said. "I wanted to design a walker that exuded a certain dignity. Something that would stimulate the user's mind. Something they would appreciate in their environment and be truly empowered to use. The water hyacinth she used to cover the pipes adds a warm feeling to the walker.
Calico's "Forest of Reflection" wallpaper.
Photo: AB Concept for Calico Wallpaper
Nice setup of Extinct animals.
Photo: Wendy Goodman
Calicoit is reflection forest wallpapermade in collaboration with AB Concept, captivated me with its non-repeating alpine tree motif based on photographs of a forest in Karuizawa, Japan. pleasant continued his extinct animals collection by mixing make-up creatures like the Queen Cobra and the Golden Tiger with floral wallcoverings and rugs. For the Golden Tiger design, laser-cut wood veneer panels with gold leaf covered the walls.
Ferm Living chair.
Photo: Courtesy of Ferm Living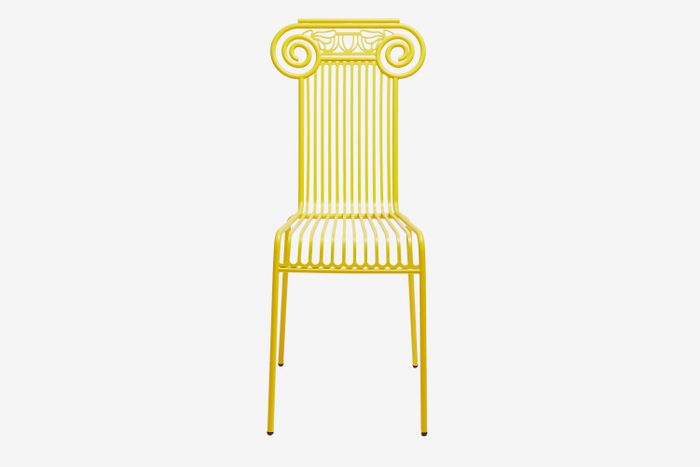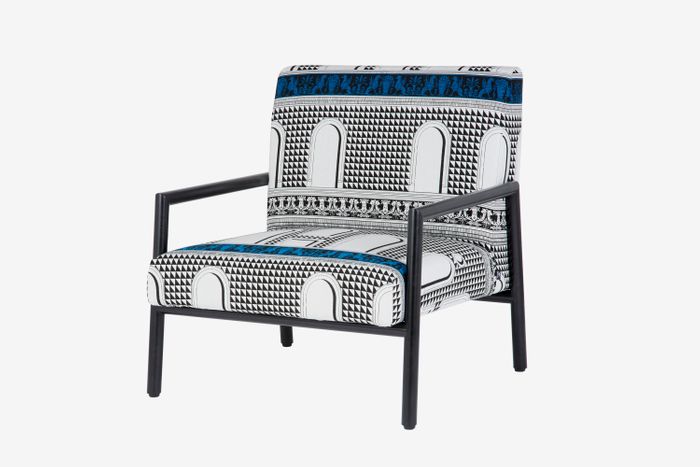 Photo: Loop design by India Mahdavi for Gebruder Thonet Vienna GmbH
Rossana Orlandi present Farm Livingfurniture and flooring fabrics woven in a material (made from recycled plastic bottles) that is surprisingly soft. For the garden, Fornasetti launches a collection of outdoor furniture with graphic prints and bright colors, a tribute to the aesthetics of the founder Piero Fornasetti. India Mahdavi's Loop Armchair, a reinterpretation of the classic Thonet chair with casual circular armrests for Thonet Brothers Vienna, references the iconic bentwood chair with new colorways and a graceful, modern twist.
One side of the installation room for This Is America in Alcova.
Photo: Jonathan Hoklo
Lights by Ryuichi Kozeki.
Photo: Giuseppe De Francesco
Installation of Beni Rugs in Alcova, a collaboration between artistic director Colin King of Beni Rugs and artist Amine El Gotaibi.
Photo: Sean Davidson
For me, design week also means discovering surprising new spaces in the city through atypical presentations, such as the former military hospital chosen by Alcove, a platform of independent designers founded by Valentina Ciuffi (from Studio Vedèt) and Joseph Grima (from Space Caviar), for its fourth edition. The stars were Ryuichi Kozekiit is first lighting collection of four different sphere-shaped lights (each emitting pools of light that projected a sense of serenity and calm) and the collaboration between designer and art director Colin King of Carpet me and artist Amine El Gotaibi, who hung a large rope of the natural wool yarn used in hand-woven rugs in Morocco in their space. Alcova also presented "This Is America," a first group exhibition co-curated by cause-focused design PR collective Hello Human and experience design studio Aditions. Both companies, founded by women of color, saw an opportunity in Milan to showcase a diverse group of designers and artists, including Madeline Isakson, Ginger Gordon, Jialun Xiong, Nifemi Ogunro, Monica Curiel and Mym Studio. In another installation in Alcova, Isabella Del Grandi built a silent space for the Italian acoustic company Slalomcovering the walls with a lively array of colorful felt op arty shapes.
Slalom installation in Alcova.
Photo: Wendy Goodman
Pictalab and Nicolò Castellini Baldissera's Herbarium of Portaluppi wallpaper.
Photo: Wendy Goodman
Pictalab and Nicolò Castellini Baldissera presented a new collection of floral wallpapers, Herbarium of Portaluppi, in an installation in Alcova to mirror the entrance hall of Casa degli Atellani, the family home of Milanese architect Piero Portaluppi, Baldissera's great-grandfather. The carpet of the installation was designed by Federica Tondato.
A plate from a collection of the Laboratorio Paravicini.
Photo: Carlo Banfi
Of course, there were also parties, which allowed guests to see new collections and meet old friends in beautiful locations. The first was The great tourist podcast host Dan Rubinstein and Federika Longinotti Buitoni's energetic and fun welcome brunch (to be presented Collection at Nicolas Bellavance-Lecompte), which banished jet lag. The plate shown here is from Paravicini Laboratory.
Moore Center Hall Table by Ralph Lauren.
Photo: Courtesy of Ralph Lauren
The courtyard of Palazzo Gallarati Scotti for the celebration of Poltrona Frau.
Photo: Alessio D'Aniello
The team at Ralph Lauren opened their palace, which they have owned for more than 30 years, to display the Moore Center Hall table, part of a new collection of furniture. Armchair Frau CEO Nicola Coropulis celebrated the company's 110th anniversary with an exquisite dinner by Chef Andrea Berton of Ristorante Berton at Palazzo Gallarati Scotti. Martina Mondadori, founder of Magazine Hutopened up his beautiful childhood home designed by Renzo Mongiardino (now a setting for Cabana Special Events) for a breakfast to present HutThe new line of lighting from is inspired by the original decor of Mongiardino. Its table decor, from the plates to the tablecloth, came from the company's collections.
A floor lamp from Cabana's new lighting collection.
Photo: Cabana
Table top from the Cabana collection.
Photo: Wendy Goodman