The Cheapest Beach Towns for Renters in America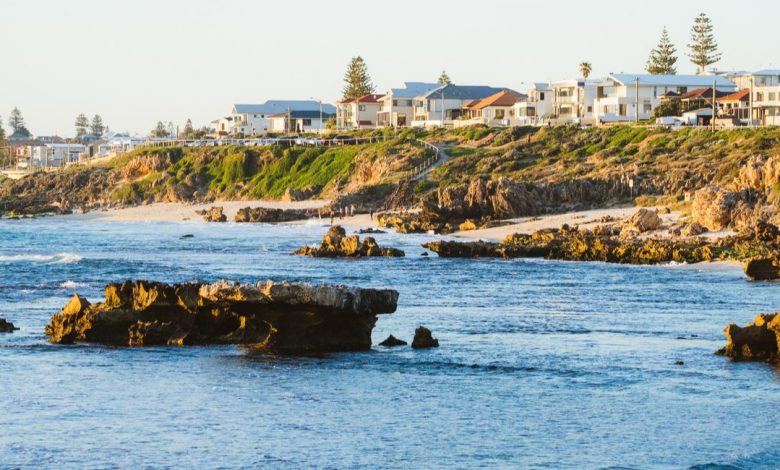 Do you like the beach ? Don't make it a summer-only destination. Move to one of the cheapest seaside towns and live the good life.
Half the battle in finding a reasonably priced beach rental is just knowing where to look. We've made it easy for you, with the cheapest beach towns in 10 different states.
The 10 cheapest seaside towns
Before diving into the list of the cheapest beach towns in detail, take a look at what to expect using this handy map. To land on these areas, we looked at cities in different states that have the best price per square foot near a certain type of water (ocean, river, or lake).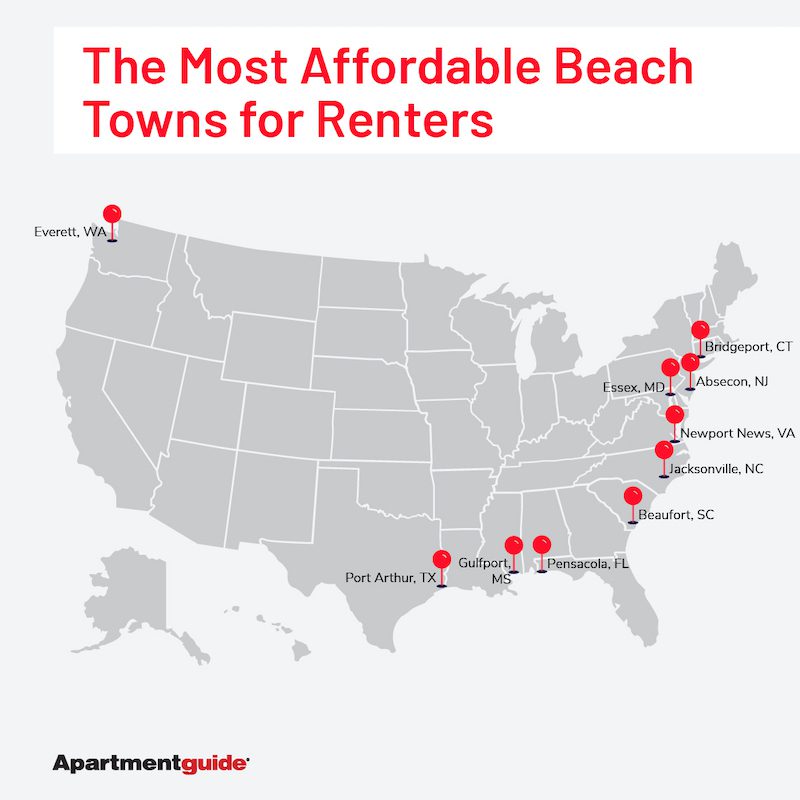 Each town also has an inventory to choose from near the beach. A few key points to note – many cities are in the South, where real estate is generally cheaper. Additionally, the average sizes of the largest units are found in the more expensive cities on the list.
Also, to even out the sandbox a bit more (if you will), we only selected one city per state.
So, get ready to dip your toes in the water at these 10 cheapest beach towns in America.
10. Everett, WA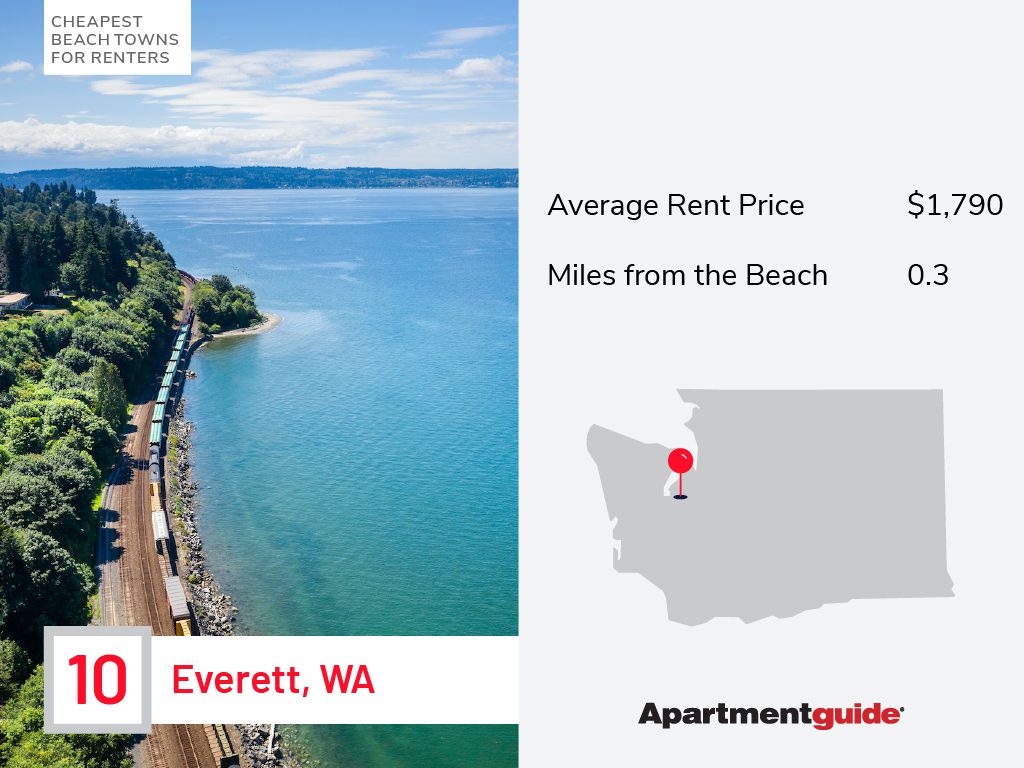 Right on the incomparably beautiful shores of Puget Sound and Possession Sound is the first town on our list. The city of Everett, in western Washington, costs an average of $ 1,790 for an apartment. The units average only 0.48 miles from the beach.
Residents of this dog and kid friendly town love to pack a picnic to enjoy at Boxcar Beach or snack at one of the local waterfront restaurants. Paddleboarding, whale watching, fishing, and kitesurfing are other popular pastimes.
Check out the Marina Music calendar, but grab a sweater as the area gets chilly once the sun goes down over the horizon.
9. Beaufort, South Carolina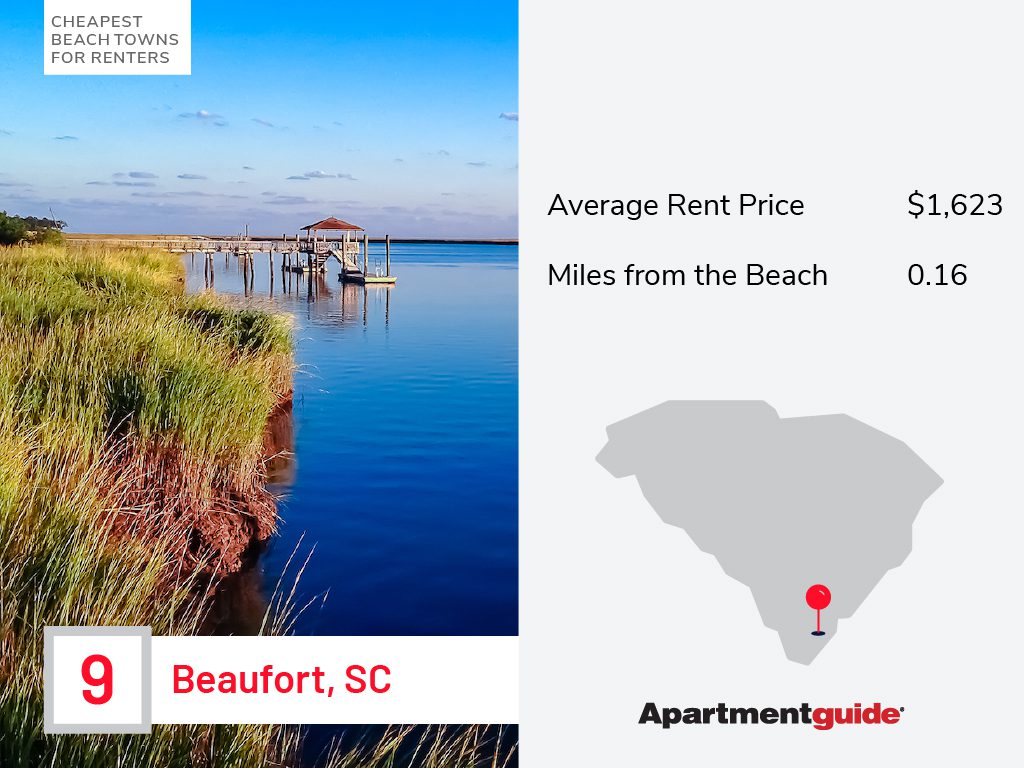 The first (but not the last) southern city on our list of the cheapest beach towns is South Carolina. An apartment (1009 square meter average) in this Beaufort (about 0.04 mile from the beach) costs $ 1,623 per month.
For beach lovers, the price is well worth it, as the town offers water entertainment, including kayaking, paddleboarding, and fishing. Locals also love the charming town center, with everything from ice cream parlors to vibrant nightlife.
8. Bridgeport, Connecticut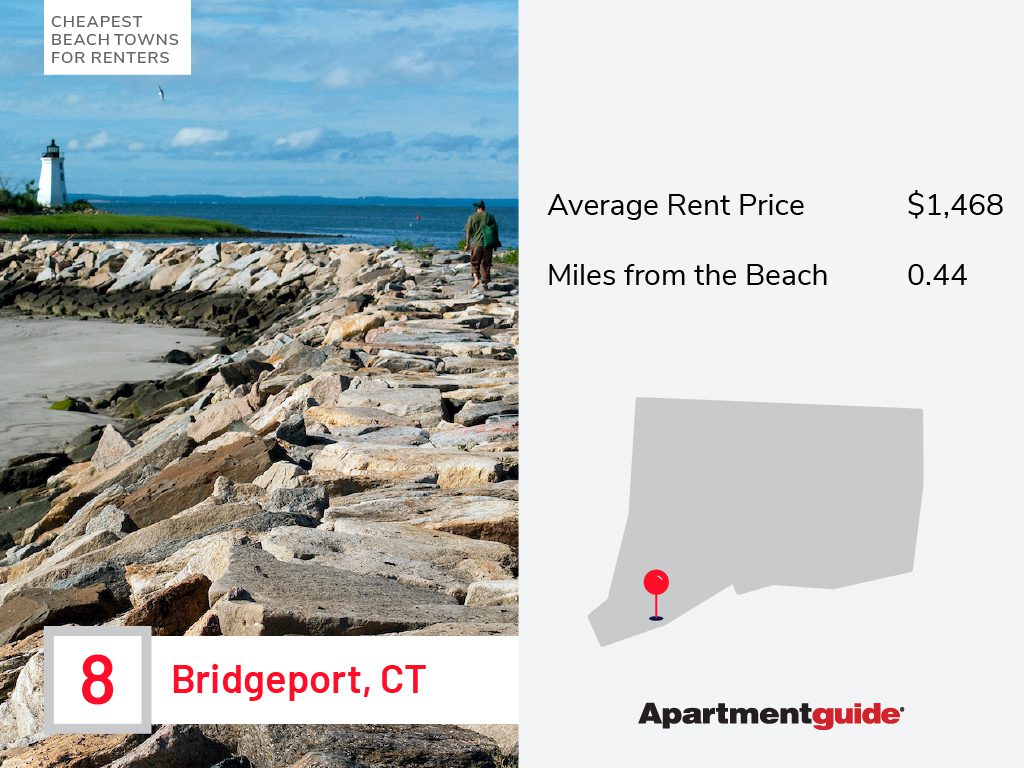 Continue up the east coast to the town of Bridgeport, CT, immortalized in so many artistic renderings of lighthouses. You can expect to pay an average of $ 1,468 for an apartment (about 742 square feet) in this quaint New England town, about 0.4 miles from the beach.
Smack on Long Island Sound is the largest city in an otherwise tiny state, and it's a historic seaport. In addition to all the beach related activities, the friendly community offers shopping at Harborview Market, a planetarium and a zoo! Don't forget to make regular stops at Seaside Park, as this 325-acre park was run by none other than PT Barnum.
7. Absecon, New Jersey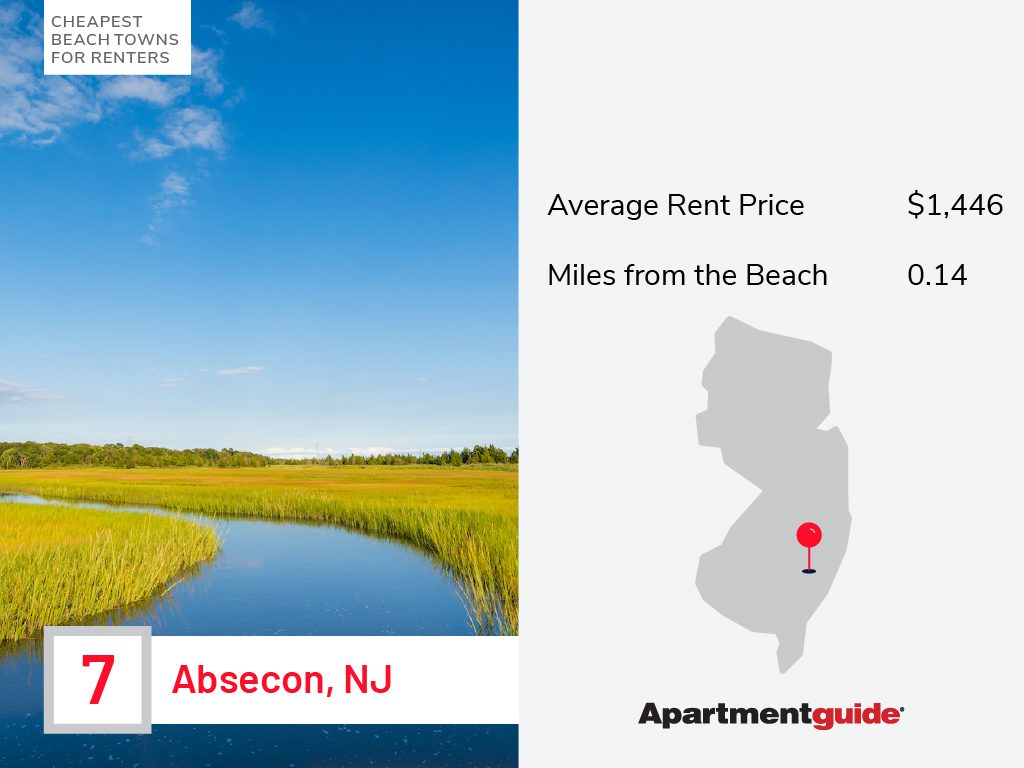 In this seaside town, you will definitely get more for your money, at least compared to Bridgeport! An average 1,227 square foot apartment in Absecon costs about $ 1,446. Plus, it's only about 0.14 mile from shore!
The town of South Jersey Shore is relatively small, with less than 9,000 residents. Just six miles from Atlantic City, Absecon is a surprisingly united city, located on Absecon Bay. Locals also fiercely protect the city's natural integrity, with 3,700 acres of protected marshes that are ultra-popular for birding and fishing.
6. Pensacola, Florida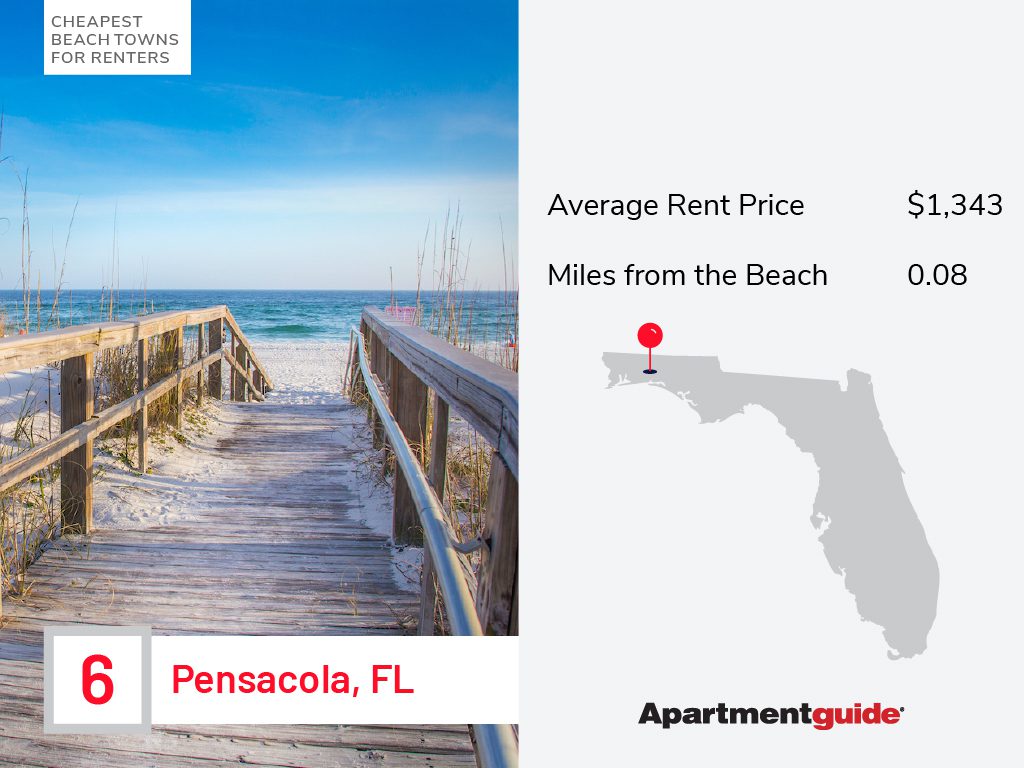 The Gulf Coast is known for its pristine white sand beaches. At the heart of it all is the military town of Pensacola, which is home to multiple bases. $ 1,343 per month will get you a 967 square foot apartment, just 0.08 miles from the beach.
As the westernmost town in the Florida Panhandle, Pensacola is one of those beach towns where it's easy to live, work and play. Locals love to sail, stroll the promenade, and do all the other beach activities, of course.
Maritime Park, in particular, has an impressive list of events, like the Blues on the Bay concert series, Movies in the Park, and free yoga and pilates classes.
5. Essex, MD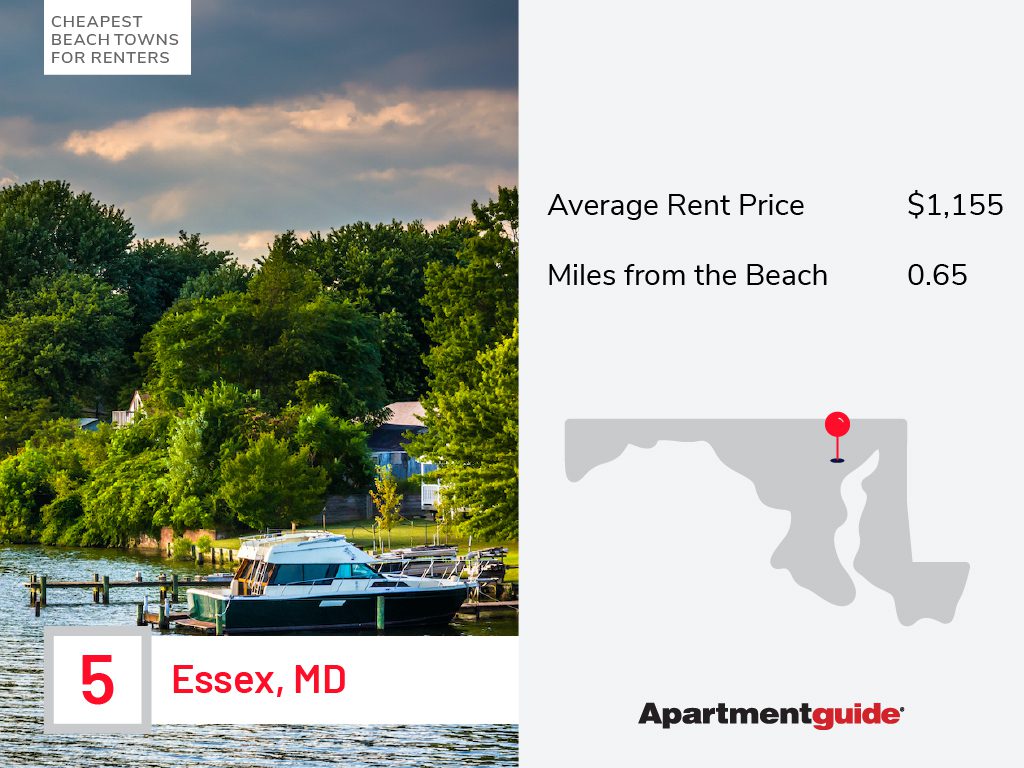 In the coastal town of Essex, Maryland, a tenant can expect to pay an average of $ 1,155 for an 811 square foot apartment 0.6 miles from the water. Located in the Baltimore metropolitan area, Essex sits on the Back River, a tidal estuary. In fact, Delaware is just a hop, a jump, and a boat ride on the Back River!
Locals are particularly drawn to boating, as Chesapeake Bay is home to some of the best sails in the world. There are still plenty of other things to do. Stop at Autobahn Speedway for their indoor running track, or take one of the local trails for a run, walk or bike ride. Don't forget to stock up on oysters!
4. Jacksonville, North Carolina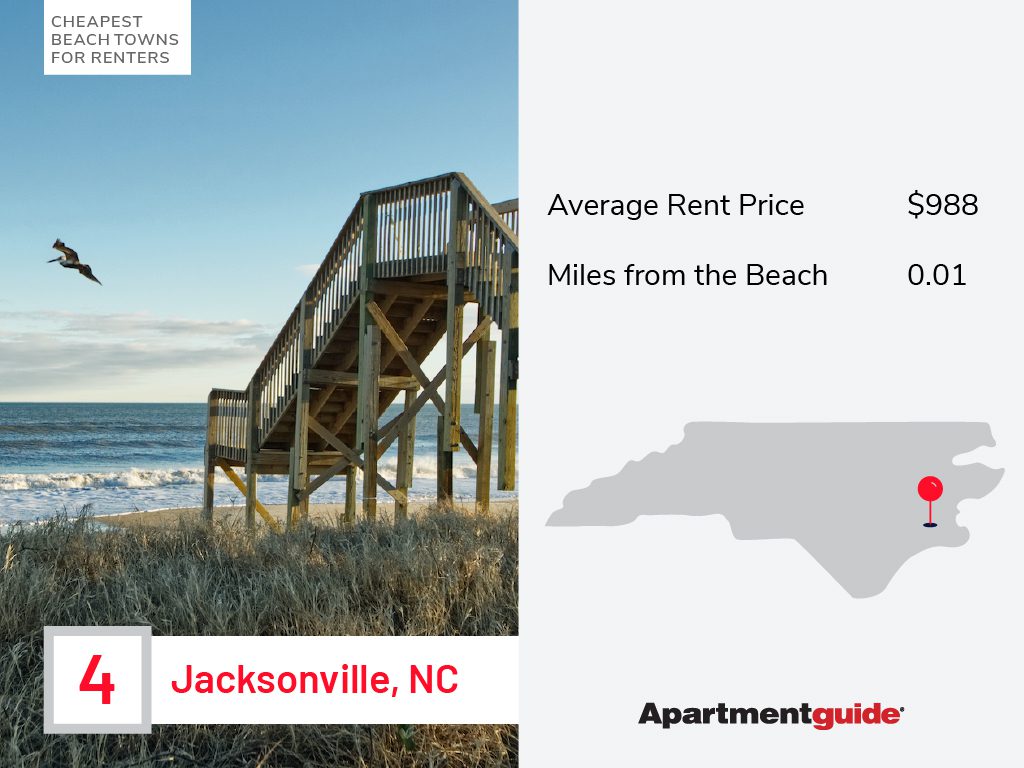 Jacksonville, North Carolina, is home to the first rents below $ 1,000 for an apartment. The average area of ​​such a unit is 1,071 square meters, which is particularly impressive because they are only 0.01 mile from the shore! This city, although not far from the ocean, is actually located on the banks of the New River. That said, it's about a short distance from the Atlantic.
Jacksonville is probably best known for housing the largest United States Marine Corps base in the east, Camp Lejeune. The city holds events at least once a month, many of which were unsurprisingly centered on patriotism. That said, they also have a killer Oktoberfest and Fashion Week.
3. Newport News, Virginia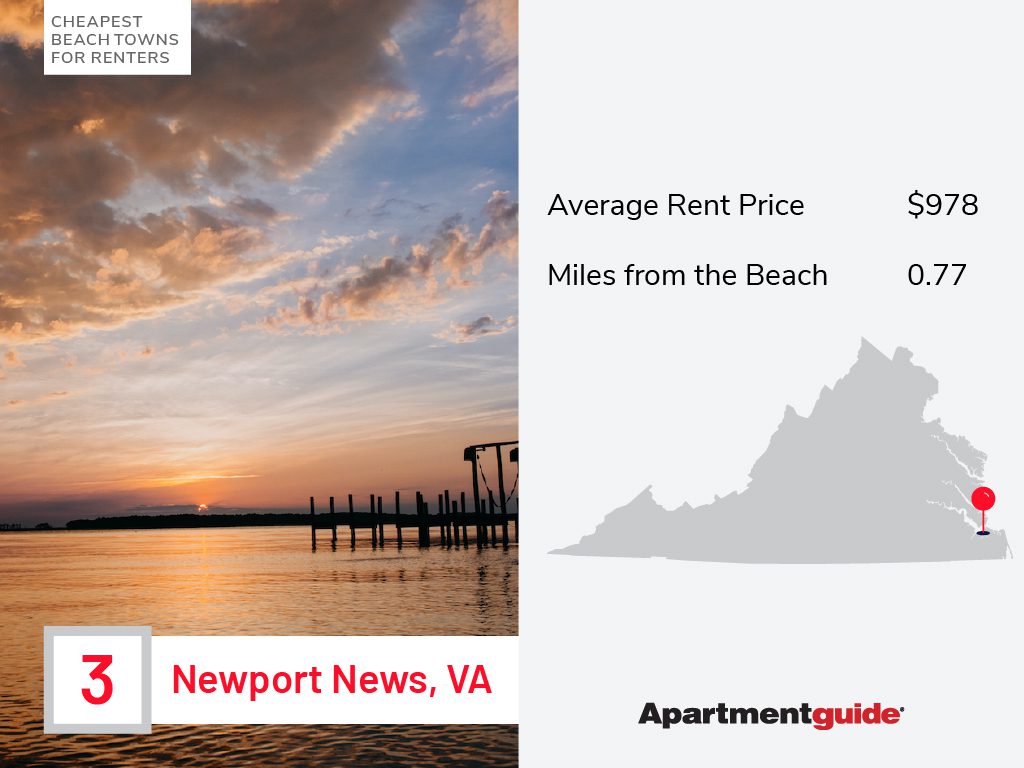 Newport News is another opportunity for a riverside residence. Located on the shores of Hampton Roads Harbor, a 957 square foot unit costs about $ 978 per month for a unit about 0.8 miles from the shore. There is water in almost every direction, from the James River to the York River to Virginia Beach.
In addition to the obvious water-related activities, Newport News is rich in historical significance. The colonial towns of Williamsburg and Jamestown are just down the road. Or, if you're looking to sip something strong, try it Toast the Coast: Beer, Wine and Glow Trail, which has spots in Newport News, Hampton, Smithfield and Williamsburg.
2. Port Arthur, Texas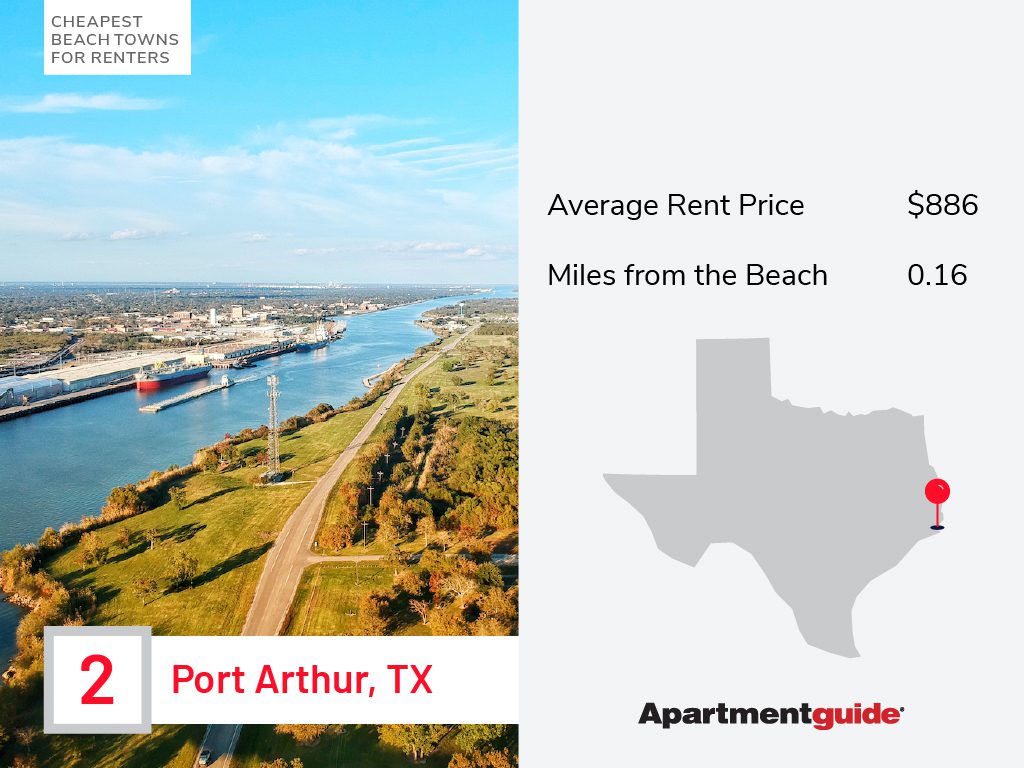 Can't decide between a lake or the ocean? Move to Port Arthur! This South Texas town sits on Sabine Lake, but it's just a quick getaway to the Gulf of Mexico. A rental of $ 886 per month gives you access to 871 square feet just 0.16 miles from the beach.
The area is a popular getaway for inland Texans because there is so much to do. The fishing on Sabine Lake is excellent, there is tons to do on Pleasure Island, and Sea Rim State Park is a natural paradise. The Faith Trail is a spiritual experience for those discovering the rich array of religions that have marked the region over the centuries.
1. Gulfport, MS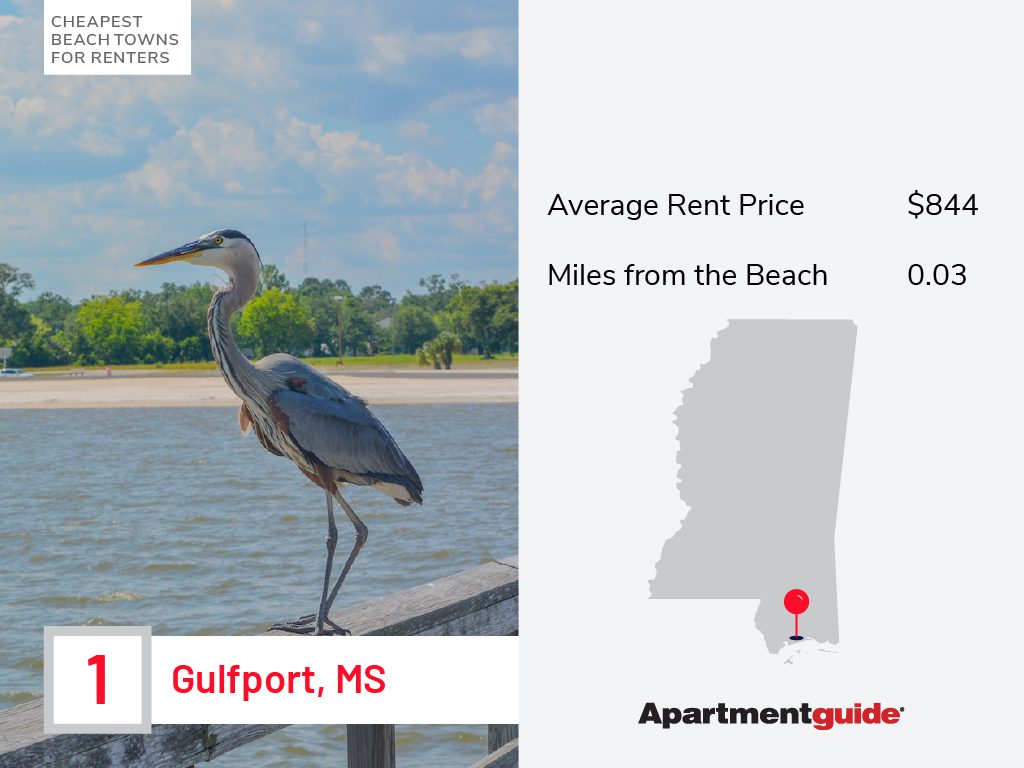 Back there, Gulfport, MS is the cheapest beach town on our list. A 999 square foot unit costs around $ 844 per month – conveniently located just 0.03 miles from the beach.
Just down the coast from the gambling town of Biloxi, Gulfport has a lot to offer in itself. Locals and visitors alike love to engage with nature on one of the area's barrier islands, go out on a fishing boat, or hire a paddle board to ride one of the Blue Lanes. There are also a lot of good mood issues getting into one of the local nightclubs or casinos.
Tips for finding an apartment in a seaside town
The process of finding a beach unit is slightly different from a regular subway apartment. Fortunately, you don't have to fly blind. Here are some tips to help you find the beach unit of your dreams.
Prioritize what you want
Before you even start looking, make a list of what you want most from a beach apartment. Being closer to shore will likely equate to less square footage, so know which one you're okay with making a sacrifice on.
Visit the region
Beach towns have different variables than the standard metropolitan area. If possible, take a few days to visit and get to know the different areas of the city. Notice how touristy it is and how much you are willing to put up with.
Work with a real estate agent
A local real estate agent is likely to know all the trash in a given area, such as the most tourist-friendly parts of town, parking situation, most commuter-friendly places, etc. Engage the services of an agent (usually at no cost to you) to ease the process of finding a beach apartment.
Find out about the weather
Beach apartments pose a higher risk of weather-related issues, such as tropical storms and hurricanes. Before signing a contract, educate yourself in detail about the terms. Are your belongings covered or do you need additional insurance? What about your car? How is the evacuation process going? Don't be surprised with your swimsuit on this one.
Talk to the locals
If you're nearly sold for a particular unit, wander around the area and find friendly locals to interview. Find out about the reputation of the resort, how management deals with noise issues and things like that. Beach towns (like college towns) are notorious party areas, so find out if this is a regular potential issue and how it's handled.
The beach is calling, how are you going to answer?
Now that you know some of the cheapest beach towns, it's time to take action. Wherever you land, make sure you have a sofa bed in the living room. Nothing attracts customers more than proximity to the beach!
Methodology
To find the cheapest beach towns, we looked at all towns within a mile of a shoreline (ocean, bay, river, etc.) and at least 10 units available as of June 2021. We have limited our results in one location per state.
Rental prices are based on a moving weighted average of all unit types in Apartment Guide and Rent.com multi-family rental property inventory as of June 2021. Our team uses a weighted average formula that more accurately represents the availability of prices for each type of unit and reduces the influence of seasonality on rental prices in specific markets.
comments
comments